Disclosure: The team at My Open Country highlights products we hope you might find interesting. If you buy them, we get a small share of the sale revenue from our partners at no additional cost to you. This never drives our decision as to whether or not a product is featured or recommended.
Jetboil Minimo Review
Our Rating: 3.8/5
Campfires are great for roasting marshmallows, but for serious trailside cooking, look no further than the Jetboil MiniMo stove system.
In our Jetboil MiniMo review, we found that not only could it boil ½ liter of water in under two and a half minutes, but details such as its great simmer control knob, the strainer and drink spout on the lid, combined with the convenient measurement markers on its plastic cup/bowl make the Jetboil MiniMo super functional and easy to use.
Key Features
Holds a full liter of water & can produce ½ L of boiled water in 2 min 15 sec
Stability stand to keep the canister level on uneven ground
Simmer control regulator valve allows for precise temperature control
Weighs 14.6 oz (415 g) without fuel canister
Category Scores
Fuel Efficiency
Time to Boil
Versatility
Stability
Weight & Packed Size
PROs

Cooking cup is shallow and wide so you can eat straight from it
Fuel efficient; will boil 12 Liters of water per 100g gas canister
Plastic bow/cup has graduated markings on it to measure ingredients and water
Lid for cup has an integrated strainer and drink spout

CONs

Automatic piezo igniter seems prone to failure
Only compatible with Jetboil equipment and accessories
Not as compact as other ultralight camp stove systems
Bottom-Line: A compact integrated canister system with awesome simmer control and great fuel efficiency.
Hands-On Review
Fuel Efficiency
In our review of the Jetboil MiniMo we found this integrated canister stove to be one of the more efficient systems available to outdoor enthusiasts. Partly, this is due to the simmer control knob which allows the Jetboil MiniMo cooking speed to be more easily controlled and therefore saving on fuel. If you don't need to bring your food or water to a full boil, you can set the knob to a lower setting and merely warm it.
The second feature which enhances the MiniMo's fuel efficiency is the excellent design of the FluxRing technology cooking element. While it is bulkier than most lightweight cookstoves that typically have a small tripod on which to set a pot, the design of the MiniMo keeps the flame better protected from the wind and inclement weather. Even during windy conditions, the heat produced by the heating element remains directed at the cooking cup. This means that the MiniMo will cook your food faster and with less fuel than other stove systems during windy conditions.
Time To Boil
The amount of time it takes to boil water in the Jetboil MiniMo will, of course, depend on the conditions at your campsite. Under most circumstances, the MiniMo will have half a liter of water boiled in just 2 minutes and 15 seconds. This is impressively quick compared to other camp stoves or using a campfire. Other models typically take about 3 minutes to bring a similar amount of water to a boil, and cooking over wood or other solid fuels can take much longer.
Understandably, all camping stoves will suffer a drop in performance when it is cold, but Jetboil stoves seem to handle inclement weather better than others. The company guarantees consistent performance down to 20°F (-6°C), but if used below that temperature, or if exposed to rain or moderate winds, it may take longer for food to cook.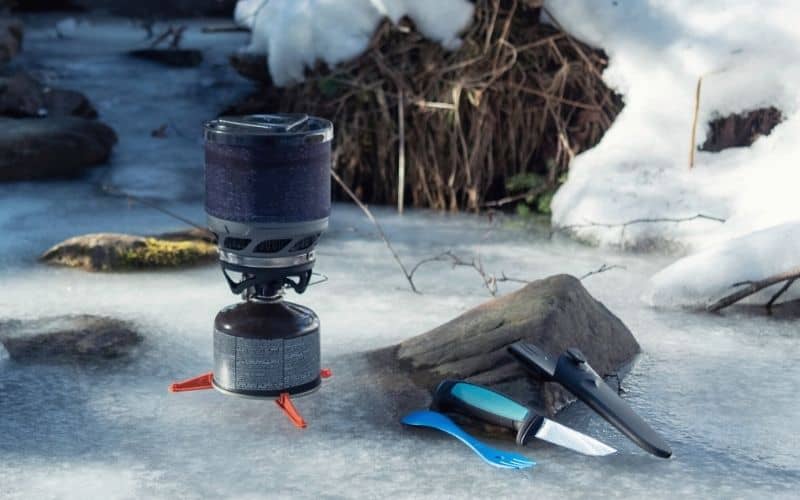 Versatility
Versatility is a strong point for the MiniMo and you'll find this basic model can cook most trail foods quickly. Unlike other integrated canister products, it's possible to do more than simply boil water on the MiniMo and we found it to be better than its competitors at simmering and other temperature-dependent cooking. Separate accessories available make it possible to use a small frying pan with the MiniMo, and there are also items such as a coffee press that expand this system's usefulness.
The redesigned squatter shape cooking cup was specially engineered to be shallower and wider than previous Jetboil models so you can eat directly from it. The cup also has insulated sturdy metal handles for easy holding and is covered in an insulating cozy so your food or drink stays warmer for longer.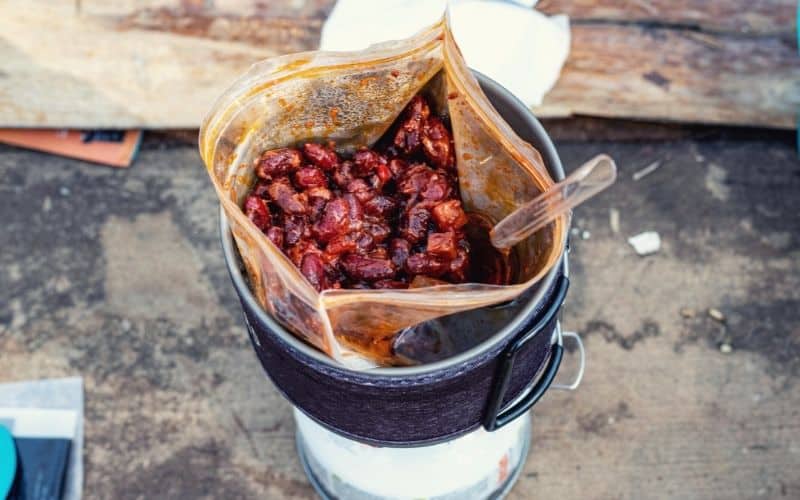 The convenient drink spout on the lid means you can drink your coffee or hot cocoa without the liquid losing a lot of its warmth. The lid also has a strainer in it so that you can cook and strain pasta, rice, or other foods.
https://www.instagram.com/p/-LIW_Zs7Di/?utm_source=ig_embed
Weight & Packed Size
The Jetboil MiniMo system weight comes in at 14.6 oz (415 g) which makes it lighter than many other integrated stoves, but heavier than ultralight systems which make use of a simple folding regulator. This happy medium means that it is more stable and user-friendly than its lighter competitors.
The MiniMo packs down to a convenient pack size of 5" x 6" (127 mm x 152 mm) and all of the components fit inside the cooking vessel for ease of travel. The plastic measuring cup attaches to the bottom of the device and protects the FluxRing element. A small cloth bag is included for the regulator that protects the non-stick surface of the cooking cup from scratches and also keeps clanking to a minimum. A 100g canister will fit inside the cup along with the stand and regulator.
https://www.instagram.com/p/BDUhfDIixb1/?utm_source=ig_embed
Stability
Since you're unlikely to find an ideal flat surface to cook on while camping, it's important to have a product that performs well while at a slight tilt or on uneven ground. The MiniMo has several features that make it more stable than other stoves under less-than-perfect conditions. Like other integrated canister stoves, the canister and cooking vessel form one unit during use. This keeps the cooking vessel from sliding off of the burner head, but also creates a tall and narrow structure that can be unstable and easier to tip over. Because the MiniMo has a shorter pot and is wider than other Jetboil models, it is sturdier and more stable than most.
The MiniMo can be used with only a canister beneath it, but for greater peace of mind, there is an included three-pronged canister stabilizer that can be used to make the product much sturdier. The stabilizer has notches that allow it to fit with several sizes of fuel canister so can be used with Jetboil JetPower or with other brands of isobutane canister.
Technical Specifications
| | |
| --- | --- |
| Best Use | Backpacking |
| Fuel Type | Canister |
| Fuel | Isobutane-propane |
| Auto Ignition | Yes |
| Integrated Pot | Yes |
| Burn Time (Max Flame) | 100g canister: 60 minutes |
| Average Boil Time | 4 min. 30 sec. |
| Dimensions | Packed: 5 x 6 inches |
| Liquid Capacity (L) | 1 liter |
| Liquid Capacity (fl. oz.) | 33.8 fluid ounces |
| Weight | 14 ounces |
Best Applications, Limitations & Value
Overall, the Jetboil MiniMo hits the sweet spot for most outdoor enthusiasts. For solo backpackers or those out with a partner, this stove is the perfect size for preparing meals or boiling water for just one or two drinks. Its stability, reliability, and quick boiling time make it a great option for just about any location, and if used with Jetboil's Jetpower 4-Season Fuel Blend, the MiniMo is effective even during the coldest weather.
The main limitation of this camp stove is its price. While it is true that it comes as a complete cooking system and contains everything you'll need, aside from the gas canister, it is about ten times more expensive than a simple, budget camp stove regulator. This prices out many hiking and camping newcomers and those who don't have a ton of cash to spend on camping equipment. The MiniMo is also heavier than many camp stoves, and ultralight backpackers may want to consider a more compact and lightweight alternative.
If you're able to afford the MiniMo, however, you'll find that it is one of the most fuel-efficient and useful stoves on the market. Anyone who has ever scorched their dinner while trying to evenly heat food on a traditional camp stove will appreciate the fine control provided by the simmer knob. If you're planning a long expedition or if you need to heat large quantities of water during your trip, you'll be amazed by how little fuel the MiniMo needs to fulfill these tasks.
Other Versions & Accessories
The MiniMo comes from a diverse line of camping stoves. Jetboil produces several successful and practical alternatives to meet different needs. The Sumo Cooking System is a larger version and can hold 1.8 liters at one time. If you need a larger stove for a group of hikers then the Genesis Base Camp System is a great choice as it provides multiple surfaces so that more than one meal can be cooked at the same time. The Jetboil Zip, Jetboil Flash, and Jetboil MicroMo are the lightest stoves in the lineup and are perfect for an individual hiker who wants a lightweight camp stove.
Jetboil also offers a large number of accessories that fit all of its models. One of the most popular is the pot support making it possible to use a small pot or skillet on your chosen stove. There is also a coffee press which makes brewing a morning cup of joe a cinch.
Although the MiniMo will work with any standard isobutane canister, Jetboil sells its own canisters in multiple sizes. Standard Jetboil Jetpower isobutane fuel canisters are available in 100g, 230g, and 450g. For four-season camping, you can also use the Jetboil Jetpower 4-Season Fuel Blend which makes preparing hot meals in winter easier and more efficient.
Alternatives
Best Value
Petforu Ultralight Portable Outdoor
The Petforu Ultralight Portable Outdoor Camping Stove offers some of the features of larger camping stoves but in a tiny package. The ultralight element is only 0.4 pounds and folds down to an incredibly compact size for transport.
Unlike many ultralight stoves, the Petforu Ultralight has a fuel control valve and a high-energy ceramic piezoelectric ignition. It also has better fuel consumption and is more powerful than many other small stoves despite being one of the least expensive on the market. You can purchase the element on its own, or you can purchase it with the pot set.
Best Wood Stove
Fameley Lightweight Folding Wood & Fuel Stove
If you need a stove for emergencies or prefer using natural materials rather than isobutane canisters, the Fameley Lightweight Folding Wood & Fuel Camping Stove offers you the ability to use wood, sticks, leaves, charcoal, or any other solid fuel to prepare a hot meal.
The stove's design is lightweight and compact, and you won't have to carry heavy fuel canisters, saving even more weight. Keep in mind it has a boil time of around 8-10 minutes for water, but if flexibility is your goal, the Fameley stove won't disappoint.
If you want the full low-down on wood-burning stoves then check out our buyer's guide here.
Best Ultralight
MSR PocketRocket 2
MSR has long been an industry leader and is well-respected by nature enthusiasts who appreciate the reliability of these camp stoves. The MSR PocketRocket 2 Stove is MSR's smallest stove and weighs just 73 g (2.6oz.).
It's easy to use with a fully adjustable flame and will bring one liter of water to a boil in only 3.5 minutes. While the PocketRocket 2 Stove isn't as stable or as quick to boil as larger models, if you're looking to shave weight from your pack, this stove is a great option.
Other Stove Reviews
Not sold on the Jetboil Minimo? Check out our other camping stove reviews:
Final Verdict
The Jetboil MiniMo is, in short, a great all-rounder. It's fuel-efficient, versatile, and generally a solid practical option for a solo camper. The MiniMo offers great functionality courtesy of its push-button ignition, built-in temperature regulator, and awesome simmer control. Its shorter and wider build provides better stability than most other models, and the wider diameter also makes it easier to eat directly from the pot. If you plan on cooking up more elaborate meals that require more precise temperature control then the Jetboil Minimo is the way to go.
How did you like our review of the Jetboil Minimo? If you have any questions or comments, please drop them in the comments box below. And if you'd like to share this post with your friends, share away!