The Red River Gorge Geological Area is a paradise for outdoor enthusiasts of all kinds.
This designated geologic area is home to stunning sandstone arches, rock bridges, wildflowers, black bears, bobcats, and much more.
Below, you'll find our 9 favorite hikes in the area from easy, family-friendly hiking to challenging backpacking trips.
And the best thing: Daniel Boone National Forest is only an hour's drive from Lexington, KY. So, pack your bags and go see what Red River Gorge is all about.
1. Double Arch Trail, Star Gap Arch, Arch of Triumph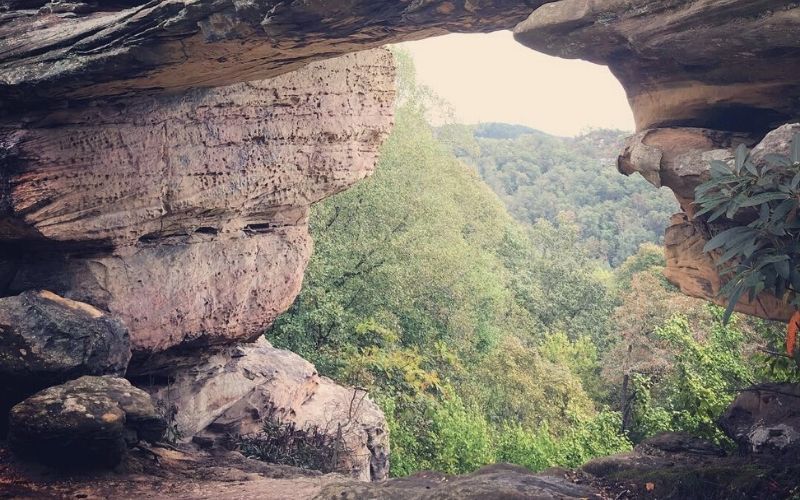 5.7 miles
Difficulty: Moderate
Type: Out-and-back with side trails, partially unmarked
This hike starts in the Auxier Ridge parking area. You'll follow an unused gravel road to get to the Arch of Triumph and Star Gap Arches. Both of these are unofficial trails, so they're unmarked, but they're well worth the confusion!
From the top of each arch you'll enjoy expansive views of different valleys. You'll see granite walls peeking from valleys of green trees. And after you find these arches, the Double Arch Trail will be a breeze. This arch is truly unique. As its name implies, it is actually two arches stacked on top of each other.
This hike can also be combined with the Auxier Ridge and Courthouse Rock trails to create a 7.3-mile loop hike.
RELATED READING: Check out this page for more of the best hikes in Kentucky.
2. Wildcat Trail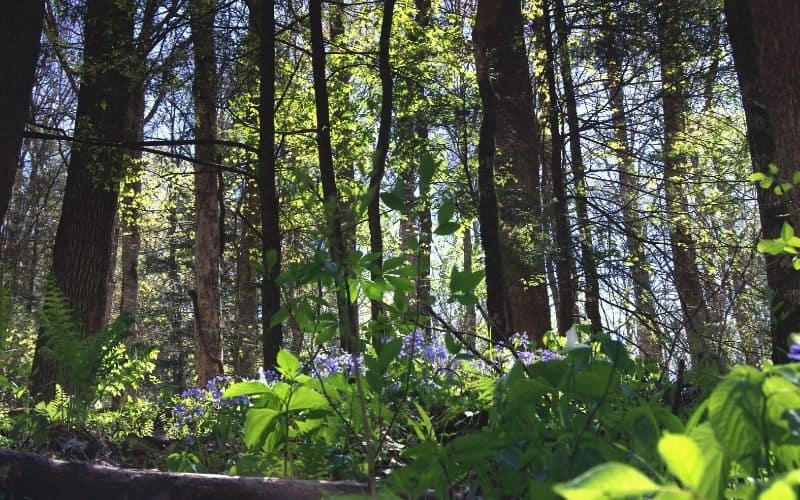 1.8 miles
Difficulty: Moderate
Type: Point-to-point
The Wildcat is a short hike that can be combined with others in the area or hiked on its own as an out-and-back route (just double the mileage).
You'll follow Wildcat Creek for the majority of this hike. Expect to see wildflowers, mossy trees, and plenty of wildlife. You can also take a side trail to an old cemetery from here. After you pass an old logging road, follow the unmarked trail uphill at a fork. A few hundred yards uphill you'll find the cemetery.
The route ends at the Swift Camp Creek trail. You can extend your day by looping back to where you started from here.
3. Pinch Em Tight Trail and Hanson's Point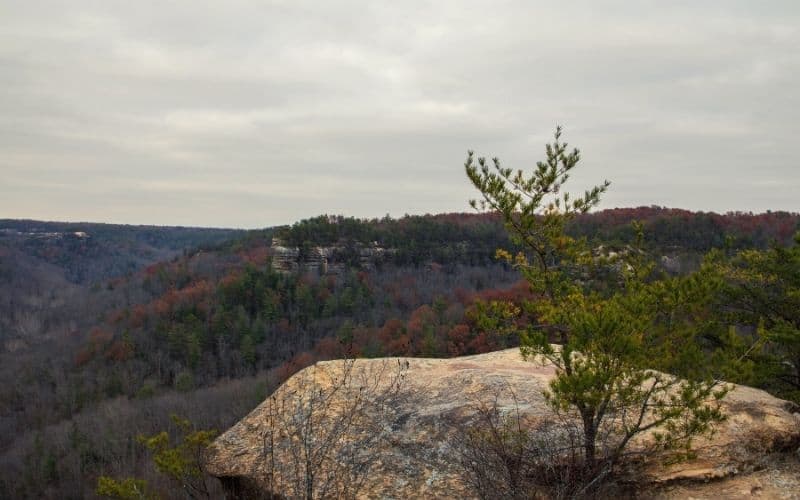 5.1 miles
Difficulty: Moderate
Type: Out-and-back
This hike is a moderately difficult out-and-back. It leads to Hanson's Point, a large rock outcropping with views of what feels like the entire gorge.
Though this route is harder to follow than some, the views at the end are worth the difficulty. Most of the trail is surrounded by pine trees. You'll know you're getting close to the payoff when it gets steeper. The path will be pretty narrow by then, too.
Suddenly, you'll be out of the trees and surrounded by beautiful views. You'll see the sandstone cliffs jutting out of the forest below. These cliffs will make you understand why Red River Gorge is also a world-class climbing destination.
4. Swift Camp Creek Trail, Clifty Wilderness
7.2 miles
Difficulty: Hard
Type: Point-to-point
A day on the Swift Camp Creek Trail will give you a taste of everything that Red River Gorge is all about. This is a point-to-point, so you'll need to double the distance if you want to make a day hike out of it. A better option: bring a tent and split it into two days by doing some backcountry camping.
This trail weaves through dense forest and feels wild. You'll see historic rock shelters where ancient indigenous people lived. There will be steep climbs and descents. But, you'll get magnificent views of the surrounding countryside from the tops of those climbs.
The trail follows a stream. There are great swimming holes all along it, so bring your swimsuit and take a dip!
Before you head back, you can add the short 1.3-mile Rock Bridge Loop onto the end of this hike. This would make for one long day of hiking, so making this a two-day trip is recommended.
5. Indian Staircase and Indian Arch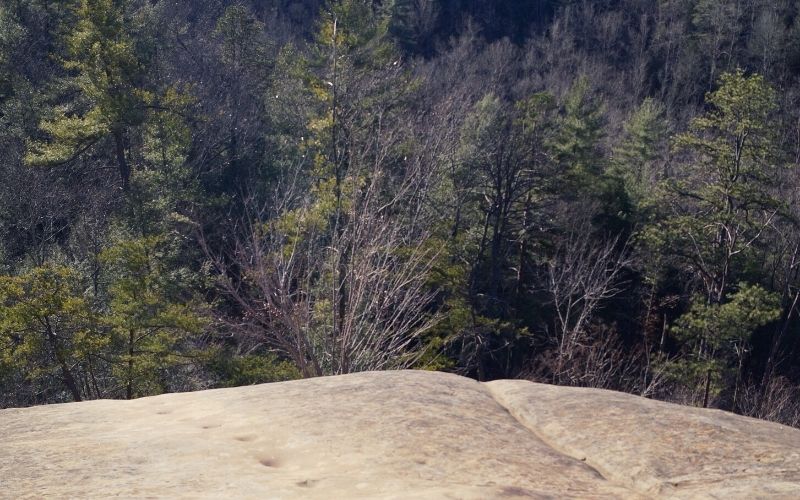 3.5 miles
Difficulty: Challenging
Type: Lollipop
The Indian staircase is not an official trail, but a series of pockets in steep sandstone rock leading to the top of a cliff. Getting up there, we assure you, is a truly unique experience, and the views from the top are well worth the slightly scary scrambling you have to do to get there.
The hike starts on the Bison Way Trail, then goes onto Sheltowee Trace National Recreation Trail. From the Sheltowee Trace, you'll turn onto an unmarked dirt path after about half a mile. After some scrambling and bushwacking, you'll be on the Indian Staircase.
Be ready for some difficult scrambling on the way up. This route can be very dangerous, so don't attempt it alone or if you have no prior experience of scrambling. And of course, be sure to bring a topographical map, compass, and GPS for navigation.
6. Auxier Ridge Loop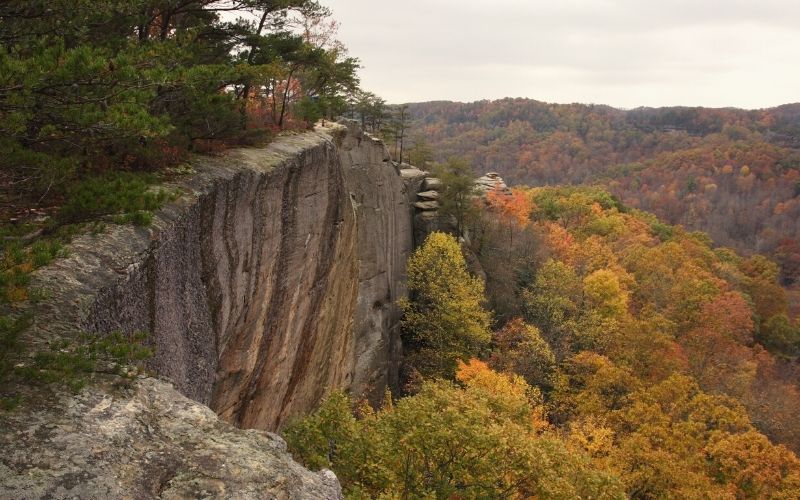 5 miles
Difficulty: Challenging
Type: Loop
This loop hike is another epic. We've rated this as 'challenging' since there's a fair bit of climbing involved. Most of this elevation gain will be going up stairs, though, so it is not as difficult as other hiking trips in the area.
Take Auxier Ridge Trail up to the top, where you'll be rewarded with views of Haystack Rock and Courthouse Rock. Then, take the Courthouse Rock Trail back down to complete the loop.
7. Natural Bridge and Laurel Ridge Trail
3.0 miles
Difficulty: Easy
Type: Loop
This isn't technically in the Red River Gorge, but it is one of the more famous sites in the area, so we decided to include it here. This hike is within the Natural Bridge State Park. It leads to the Natural Bridge, a giant rock bridge carved over millions of years. This bridge is over 75 feet long and 65 feet high.
There are several ways to get to the top of the Natural Bridge, but we think this way is best. Taking the Natural Bridge Trail up and Laurel Ridge down via Battleship Rock makes for a more interesting loop. On the way down Laurel Ridge, head out to Lovers Leap for another epic view.
Also, there is a skylift to Natural Bridge if you don't feel like hiking. Check the park's website (above) for more info.
8. Rough Trail and Gray's Arch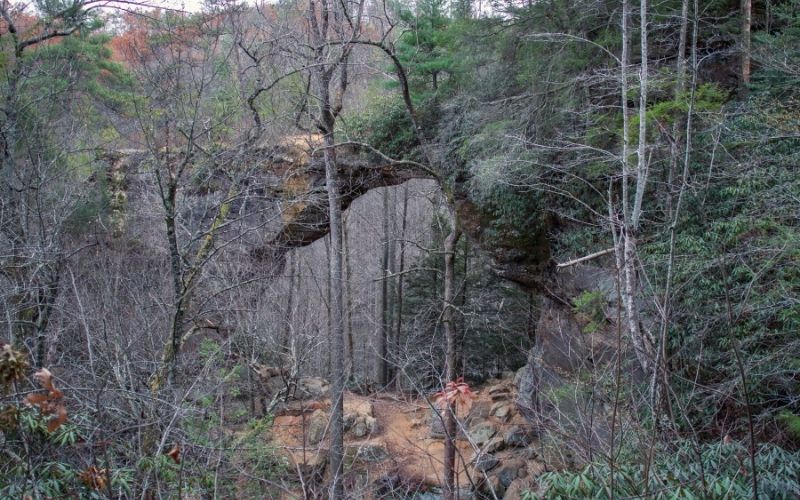 4.0 miles
Difficulty: Moderate
Type: Out-and-Back
This is one of the most popular hikes in the area. It starts off flat, winding through dense forest, then turns steep near the arch. Rough Trail can get pretty rough, too, as the name suggests. Be ready for lots of up and down if you venture further along this one. 
Gray's Arch provides views of the surrounding area. You can scramble up to the top of this rock bridge from the back side, just be sure to take extra care when doing so!
9. Whittleton Arch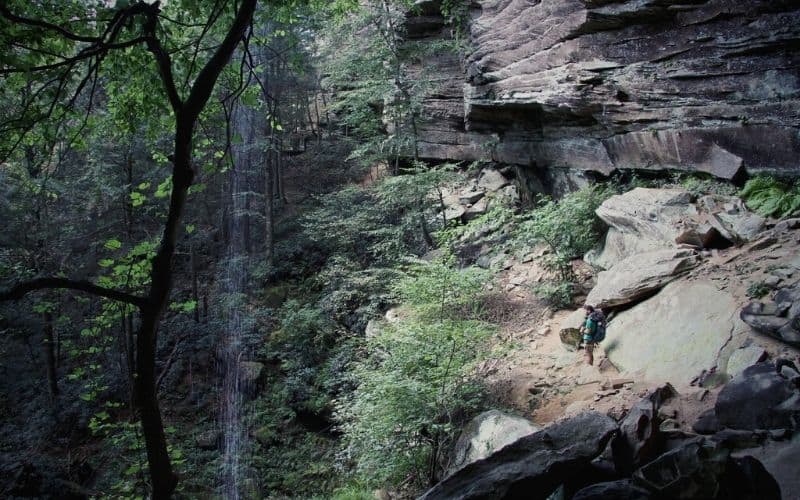 2.5 miles
Difficulty: Easy
Type: Out-and-Back
This is one of the easier trails on this list but has no shortage of natural beauty. This out-and-back follows a creek up to Whittleton Arch. You'll see wildflowers and loads of other wildlife on the way up.
This arch is very impressive. It has a stream flowing off the top that falls into the huge boulders below. An easy climb to the top lets you see where the water pools before it tumbles off the sandstone arch.
Red River Gorge Hiking: The Only Time It's Good to Be In "The Red"!
Alright y'all, start blasting some bluegrass tunes. It's time to lace up those hiking boots and head out to the Red River Gorge.
We hope you found this list of our favorite trails in the Red River Gorge area helpful in planning your next trip. Did we miss your favorite hike? Have any lingering questions? Leave us a comment below!