Minnesota ain't called "The Land of the 10,000 Lakes" for nothin'! With endless state parks, national forests, and unspoiled wilderness to explore, you'd need at least 10,000 days to take in all the wild and untamed nature Minnesota offers up.
Plan your next outdoor adventure with our guide featuring everything from fancy RV parks to primitive, middle-of-nowhere campsites. Included you'll also find all the best local attractions, hiking trails, and sweet R&R spots you won't want to miss at each camp.
Ready to get started? Check out our guide and prepare for breathtaking beauty and unparalleled adventure!
1. Woodenfrog Campground, Kabetogama State Forest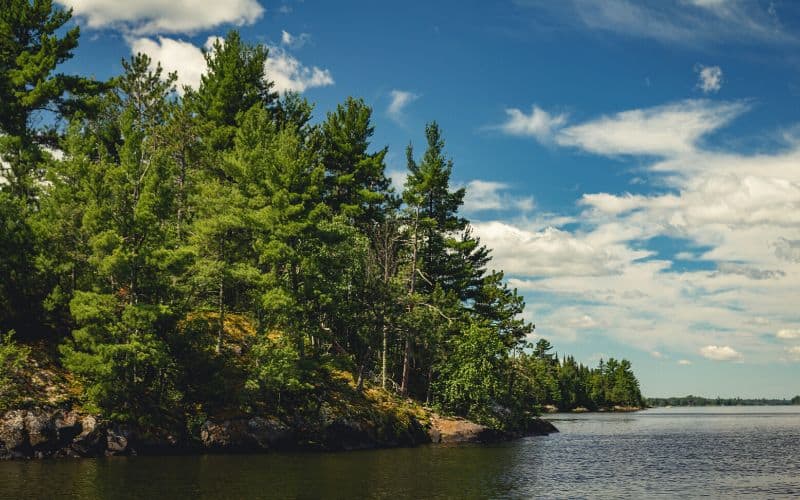 If rustic, lakeside camping sounds like your idea of a good time, then check out the Woodenfrog Campground. All the campsites are located just off Kabetogama Lake, where you can spend your days kayaking, canoeing, or fishing on the postcard-worthy lake.
For those looking for a little R&R, the pine-covered shoreline offers the perfect spot to go for a swim or soak up some rays.
Kabetogama is a state forest, meaning you'll save quite a few bucks on-site fees. The campground features 61 spacious but primitive sites with just the bare necessities. This includes pit toilets, fire rings, and picnic tables. All the sites are first-come, first-served, and they're known to book up fast, so get there early!
2. Gull Lake Recreation Area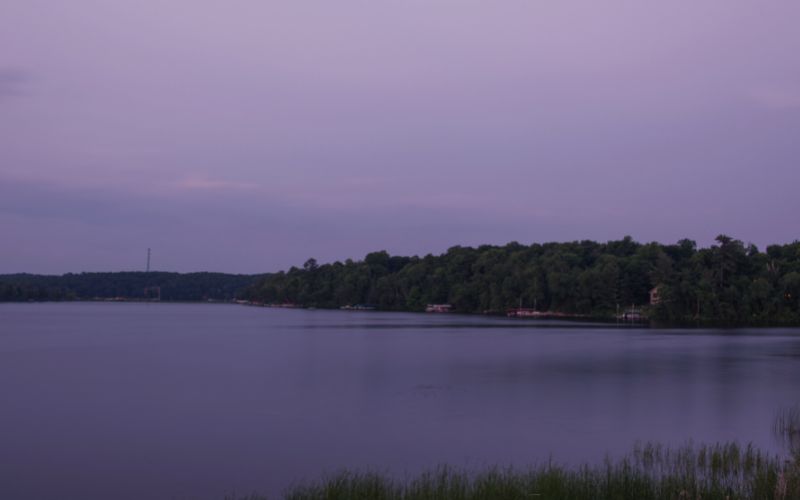 The Gull Lake Recreation Area includes the largest of the 10 lakes that make up the Gull Chain of Lakes. The entire area was formed by a receding glacier that fought its way southward from Canada, carving up the landscape as it made its voyage. The result is an area of vast geological importance and natural beauty.
The Gull Lake Campground is popular for its wooded campsites, all with electric hookups, picnic tables, and fire rings. Other campground amenities include centrally located showers, a boat ramp, and plenty of playgrounds.
3. Afton State Park Backpack Sites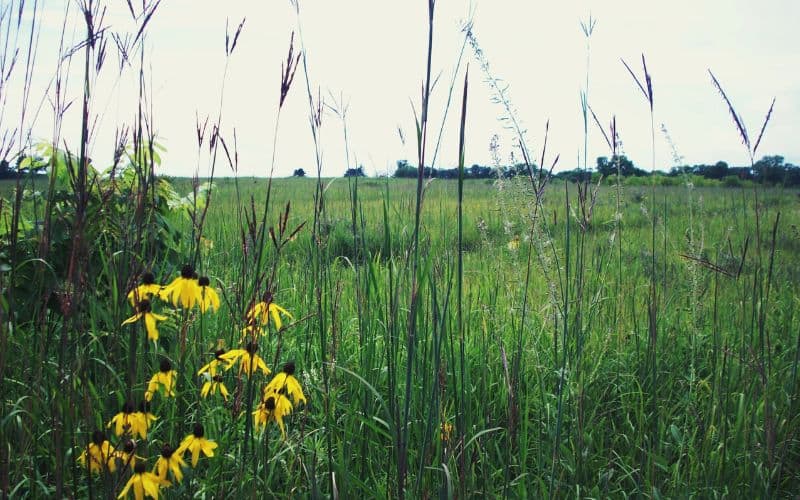 Afton State Park offers almost 30 miles of hiking, mountain biking, and horseback riding trails to explore, but to get to them you'll have to walk! All of the 27 sites available at the Afton State Park are pack-in only. They are, however, conveniently located less than a mile from the parking lot. If you're not up for lugging everything on your back, try one of the cabin or yurt rentals.
If you love your camping quiet and rustic, it's hard to beat these spacious campsites. Each one is nestled in the woods and located so far apart from one another you'll be left wondering if you're all alone amongst the trees. Afton State Park Campground amenities include fire rings, picnic tables, potable water, and pit toilets.
4. Lakeview Campground, Father Hennepin State Park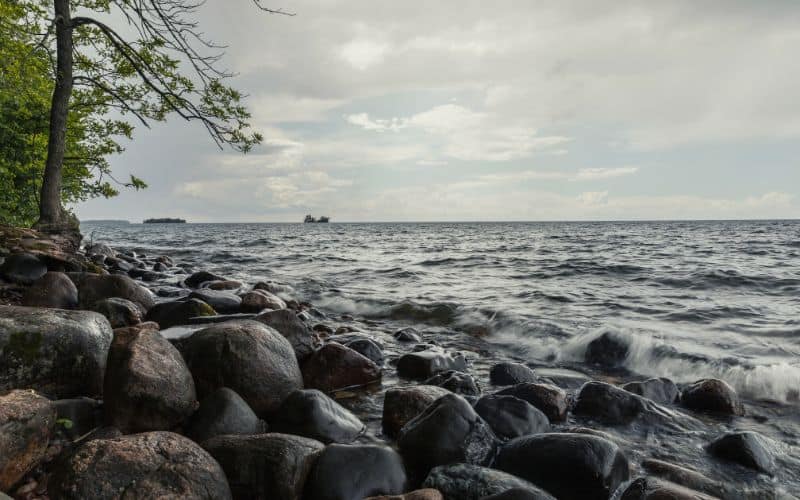 Father Louis Hennepin, a 17th century priest, fell so in love with the Mille Lacs area he wrote extensively about its beauty. Come and pay your own respects to the wild and rugged landscape! It features everything from sandy beaches and forests to fascinating bogs and swamps.
In the heart of Father Hennepin State Park you'll find the Lakeview Campground. The camp features both electrical and non-electrical sites. You'll have easy access to Lake Mille Lacs thanks to two boat ramps, a fishing pier, and several places to moor your boat. Amenities include seasonal showers, a playground, and flush and vault toilets
5. Eagle Cliff Campground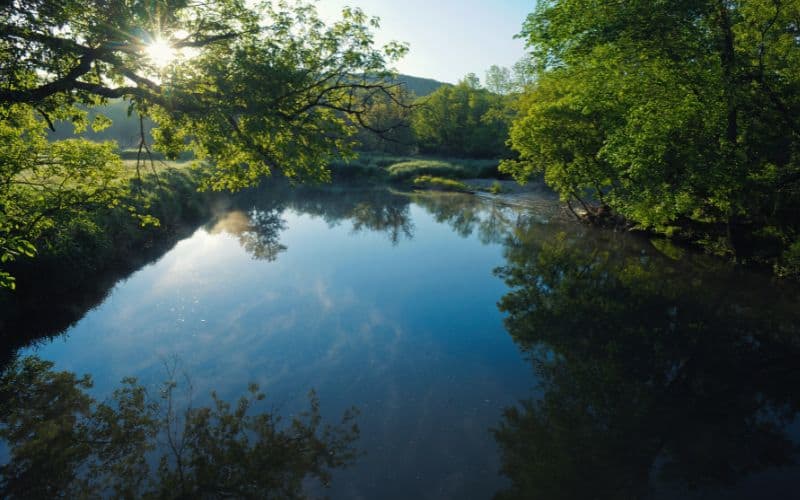 Located just outside the city of Lanesboro, Eagle Cliff Campground offers family fun for every type of camper. The campground lies on the banks of the scenic Root River and offers opportunities for all kinds of water sports including swimming, tubing, canoeing, and kayaking.
Eagle Cliff offers a variety of campsites to choose from, including riverside tent camping, full hookup sites, and even a five-room motel. The campground is jam-packed with comfort-enhancing amenities. These include clean restrooms and showers, an on-site ATM, a game room, a canoe launch, and complimentary Wi-Fi all over the camp.
6. Split Rock State Park Cart-In Campgrounds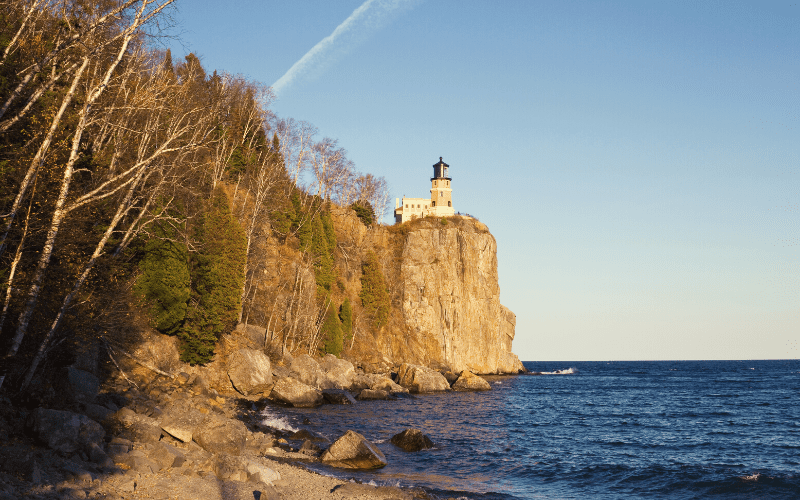 Rugged adventure awaits you on Lake Superior's north shore. During the winter, you'll enjoy well-maintained snowshoeing and cross-country skiing trails. The summer months, on the other hand, bring plenty of opportunities for swimming and sailing on the lake. Don't miss the local Split Rock waterfalls, although you'll only catch them following spells of above-average rainfall.
The Split Rock Lighthouse State Park Cart-In Campgrounds are located approximately 2,000 feet from the parking lot, so you're in for a bit of walking. Hauling along your stuff is well worth it to enjoy the wild and rugged wilderness that surrounds Lake Superior.
Campsites can be booked up to a year in advance so try and snag one of the coveted spots on the lakeside part of the campground.
7. Jay Cooke State Park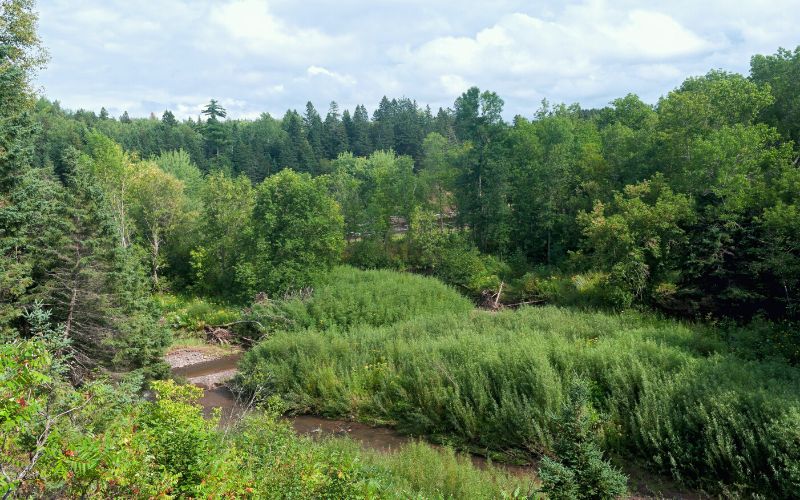 There's no better place for hiking in Minnesota than Jay Cooke State Park. With over 50 miles of hiking trails spread across 8,000 acres, you're in for some quad-and-calf-busting adventures. Don't miss the iconic swinging bridge over the St. Louis River or walk along a part of the historic Grand Portage Trail.
Jay Cooke State Park Campground features over 80 campgrounds ranging from full-hookup RV sites to walk-in sites perfect for tent camping. Look forward to amenities like hot showers, flush toilets, and picnic areas. Camper cabins are also available for rent
8. Portsmouth Campground, Cuyuna Country State Recreation Area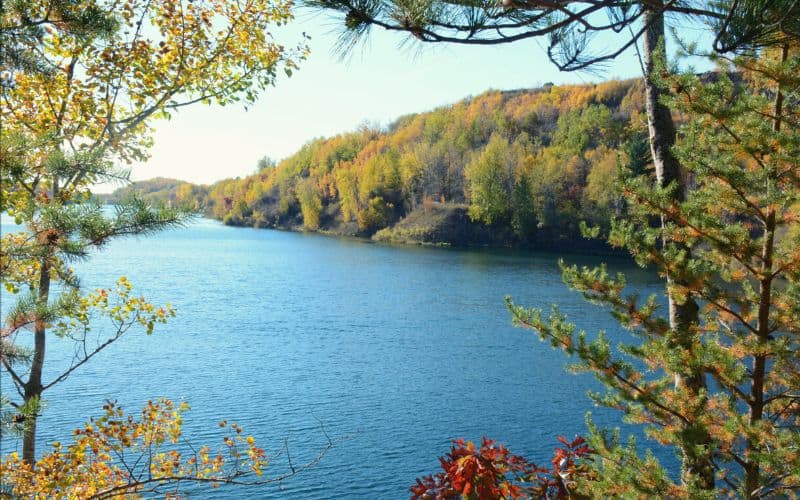 You won't need to go into hibernation during the winter months if you head to the Cuyuna Country State Recreation Area.
Rent a yurt and stay nice and toasty warm thanks to a cozy, wooden stove or head out to the backcountry for some snowshoeing or cross-country skiing. And if you visit during the peak season, you'll find miles and miles of hiking and mountain biking trails to keep you occupied!
The Portsmouth Campground features 18 electric and 15 non-electric sites. Amenities include all the usuals like showers, restrooms, picnic areas, and fire rings. The quaint little town of Crosby is also nearby in case you need to stock up on anything.
9. Cedar Hill Campground, Whitewater State Park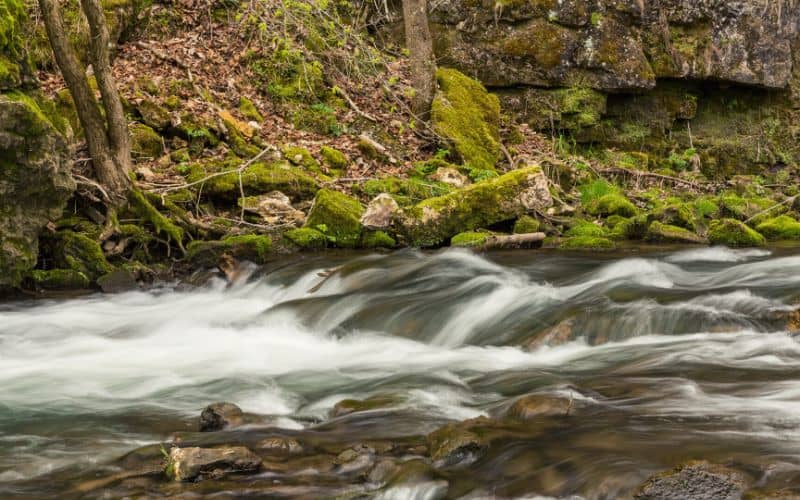 Whitewater State Park is where adventurers go on their days off. Start your morning with a trek along the bluff-lined hiking trails up to Inspiration Peak. Conquer this quad-busting hike and you'll be rewarded with gorgeous views of the churning river valley below.
If you're still in need of more outdoorsy fun when done with that, go tubing down the Whitewater River or head to Trout Run Creek and try to catch dinner.
At Whitewater State Park, you'll find one of the best campgrounds in Minnesota, the Cedar Hill Campground. Boasting everything from primitive sites to pull-through electric sites, you'll feel right at home thanks to showers, restrooms, and sheltered picnic areas. Don't miss out on the Whitewater State Park Visitor Center just a short walk from the camp! 
10. Fall Lake Campground, Boundary Waters Canoe Area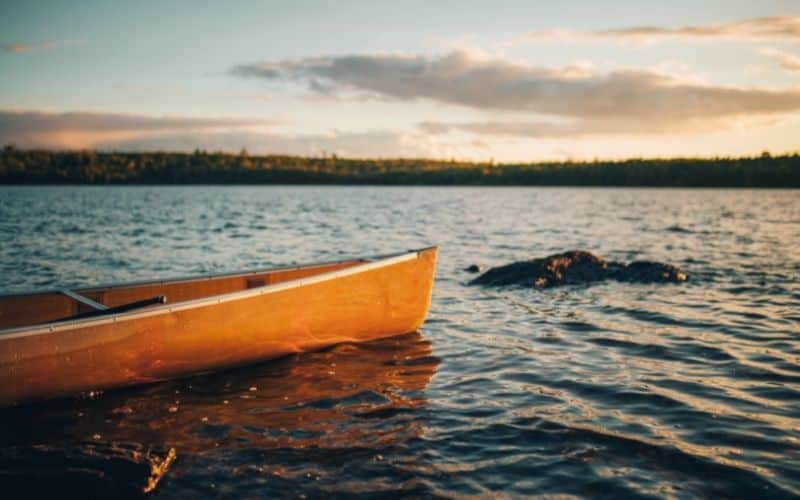 Head to northeast Minnesota to enjoy one of the most beautiful and remote areas in the entire North State. The Boundary Waters Canoe Area extends 150 miles across the U.S./Canadian border. It offers unparalleled access to Minnesota's vast and varied natural environments, including over 1,000 lakes, rivers, and streams.
Boundary Waters Canoe Area is also Minnesota's first designated 'Dark Sky Sanctuary' making it the perfect spot to see the Northern Lights. Catching the Northern Lights is notoriously tricky, but the dark and vast skies of fall and winter offer up your best chances!
Once named one of the "50 Places of a Lifetime" by National Geographic, you've got to experience Boundary Waters' natural beauty to believe it.
You'll need a special permit to spend the night here but, thankfully, you can gain direct access to Boundary Waters Canoe Area from Fall Lake Campground. This modern campground offers showers, flush toilets, and a playground.
11. Wild River State Park Campground
Along the calm and scenic St Croix River lies the Wild River State Park Campground. As one of the original eight National Wild and Scenic Rivers, the area is brimming with wildlife. It offers birdwatchers the opportunity to spot many of their favorites like bluebirds, grouse, woodcocks, and eagles.
With over 6,000 acres of state park to explore, the hiking trails are plentiful! At the heart of the park's 25-mile trail system is the park's visitor center. Learn more about the park's history, take part in interactive wildlife displays or enjoy one of the year-round naturalist programs available.
Pitch or park in any of the 90+ available campsites along the St Croix River. At the Wild River State Park Campground, amenities are basic. Half the sites provide electricity and all of them have a picnic table and fire ring.
12. Itasca State Park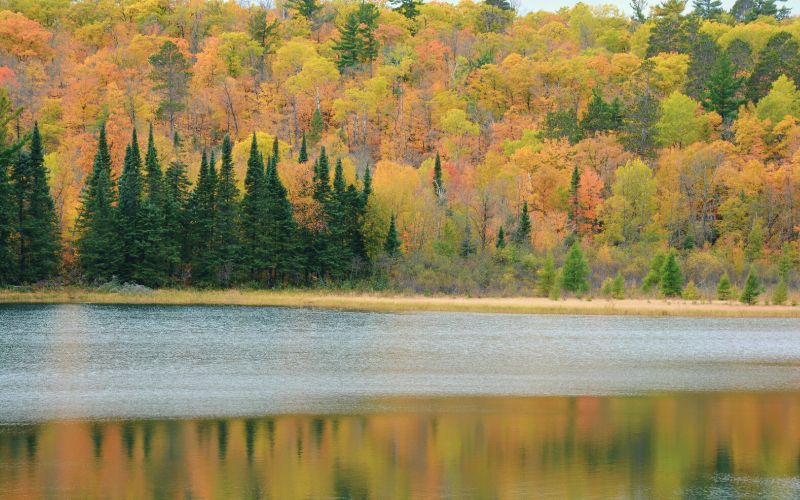 Established in 1891, Itasca State Park is Minnesota's oldest state park and a natural national landmark. The park is home to the headwaters of the mighty Mississippi River, so make sure you say hello before the river begins its long descent to the Gulf of Mexico.
The park is jam-packed with other must-see highlights. These include historic sites, guided history and wildlife boat tours, fishing on one of Itasca State Park's 100 lakes, or meandering down any of the 49 miles of hiking trails.
Once you're properly tuckered out from all that outdoorsy fun, catch some zzz's at the Bear Paw Campground. You'll find 81 RV and tent camping sites along with all the usual state park amenities you'll need to enjoy your trip.
13. Camp Holiday Resort & Campground, Turtle Lake
We all know there are lots of lakes in the "Land of the 10,000 Lakes" but few can match the tranquil serenity of Turtle Lake. Anglers aren't going to want to forget their rods since the lake is well-known for its largemouth bass fishing. The lake's crystal-clear waters and sandy beach make it the ideal spot for swimming or relaxing.
If fishing isn't your thing, don't worry. The many secluded bays along the shores of the lake provide ample opportunity to catch sight of local residents like black bears, deer, moose, and waterfowl.
With 12 camping cabins, a seven-bedroom lodge, and over 40 campsites, there's plenty of room at the Camp Holiday Resort. This family-friendly resort offers lots to do and see including beaches, docks, a playroom, camp-wide Wi-Fi, playgrounds, and more.
14. Fall Lake Campground, Superior National Forest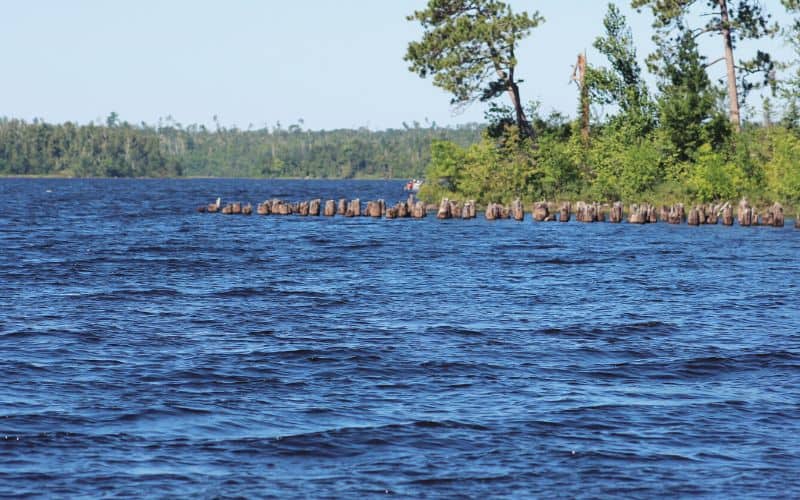 Northern Minnesota is the wild and untamed part of the state and where some of the best rustic campgrounds are hiding. Superior National Forest holds the crown jewel of them all at Fall Lake Campground.
Fall Lake Campground is a modern campground nestled in the heart of wild and rugged landscape. Campsites include everything from boat-in-only primitive spots to fancy, full-hookup RV sites.
What really makes Falls Lake Campground shine is its proximity to the Boundary Waters Canoe Area Wilderness. Because you need a special permit to stay overnight in Boundary Waters, it's easier to stay at Fall Lake and just paddle over for a visit.
15. Stony Point Campground, Chippewa National Forest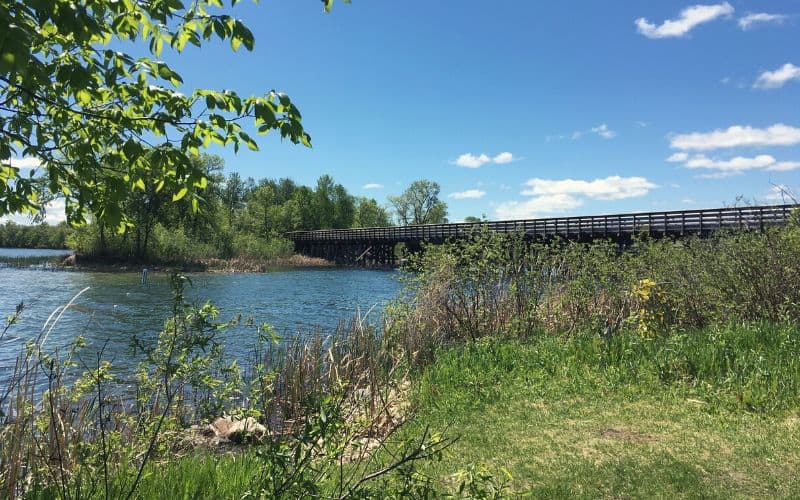 Get ready for some relaxing R&R on the shores of Leech Lake. The lake is just one of the many bodies of water in Chippewa National Forest. In fact, Chippewa is filled with more lakes and wetlands than any other national forest in the US! If you feel like stretching your legs, adventure down any of the 290 miles of hiking and mountain biking trails.
The Stony Point Campground hosts 44 campsites and each and every one has access to the majestic lake and its swimming beach. Get out on the water via the boat ramp or one of two harbors, or just kick back and enjoy the peaceful scenery. Amenities here include flush toilets, hot showers, and a playground.
16. Grand Marais Campground & Marina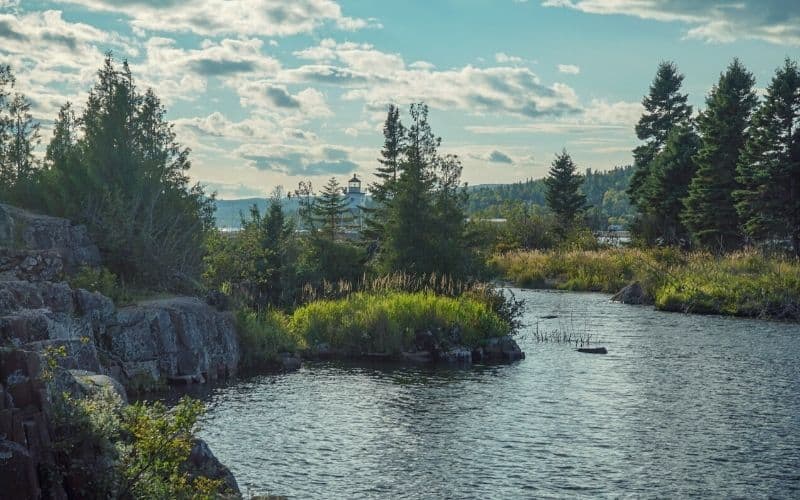 Looking to get back to nature but still enjoy all the comforts of big city living? Then check out Grand Marais Campground & Marina. It's hard to beat this stunning spot sandwiched between a harbor and the shores of Lake Superior. You can enjoy boundless nature by day and city living by night thanks to the many restaurants and downtown shops just a short distance away.
The campground is massive and features over 300 campsites. These range from primitive spots to full-hookup lakeview sites. Enjoy the finer things in life with amenities such as clean bathhouses, discount green fees, playgrounds, a softball field, and boat service to Isle Royale National Park.
17. Lake Maria State Park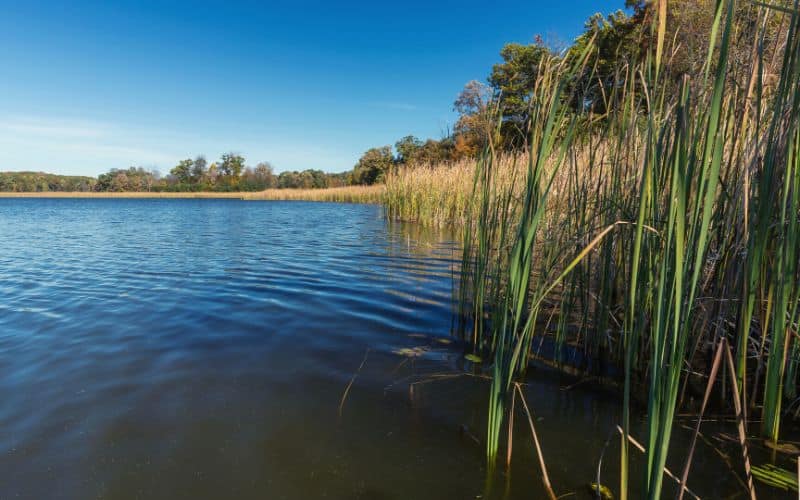 Minnesota was once covered in what is known as 'The Big Woods' – an incredibly thick maple, oak, and basswood forest where the trees were so intertwined sunlight could barely reach the forest's floor.
These days, Lake Maria State Park is one of the last places you can catch this natural phenomenon. Head to this scenic state park for some hiking, rock climbing, or horseback riding.
If you're looking for the perfect weekend getaway close to the Twin Cities, try Lake Maria State Park Campground. The walk-in and primitive campsites offer a rustic and secluded escape from the hustle and bustle of the city. Be prepared to stretch your legs as each campsite is at least a mile away from the parking lot!
18. Ann Lake Campground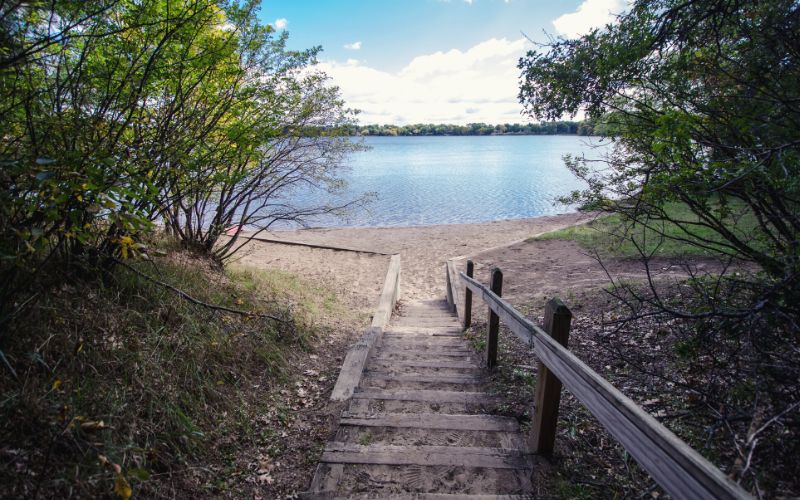 If you like your camping rugged and primitive, Anne Lake Campground is for you! Offering just bare-bones amenities, the Ann Lake Campground offers a truly back-to-nature experience.
The campground lies on the shores of Lake Ann, the perfect spot for some swimming or panfishing. Be sure to get there early, though, because these first-come, first-served sites book up fast.
19. Voyageurs National Park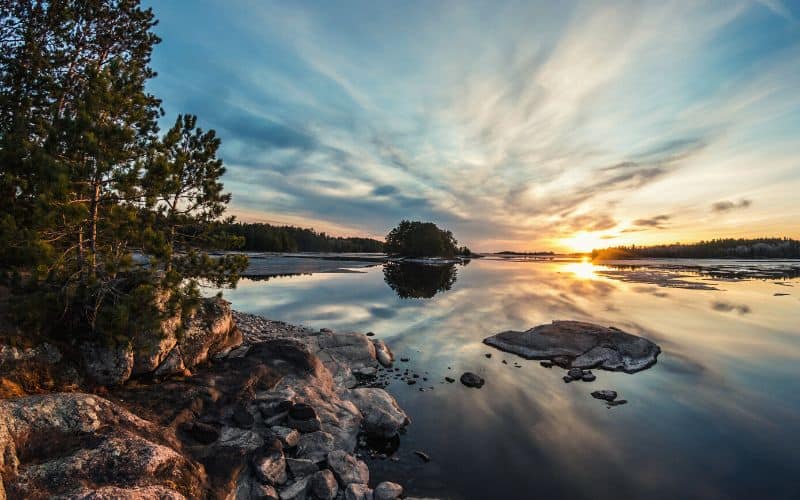 You might be surprised that Minnesota only has one national park. Until, that is, you find out that this national park has close to 220,000 acres of endless wilderness to explore!
The vast and scenic Voyageurs National Park is an outdoor-lover's paradise. Its highly diverse landscapes include mighty cliffs, wetlands, forests, streams, and four major lakes. Visit the park in the right season and you might even catch a glimpse of the Northern Lights!
Land lovers, find your sea legs, because all the campgrounds in the Voyageurs National Park are only accessible by boat. Both frontcountry and backcountry sites are available and you'll require a permit for either one. Winter camping spots are also available and can be reached by either foot or snowmobile.
20. Lake Vermilion-Soudan Underground Mine State Park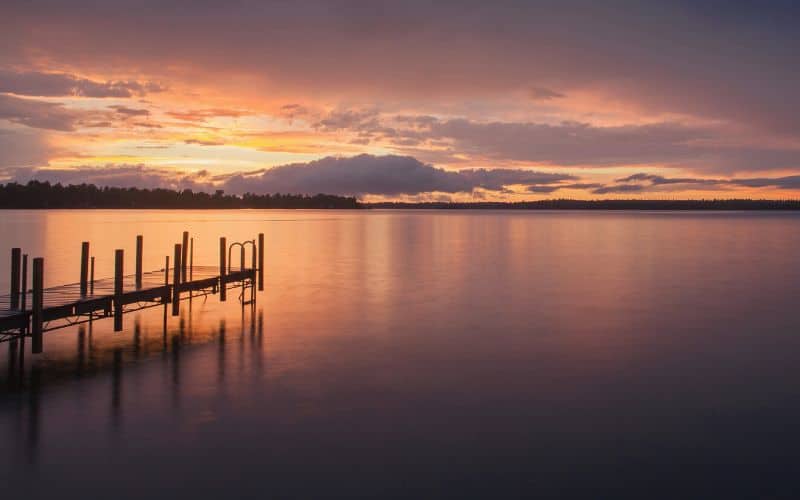 History buffs looking to geek out a little during their Minnesota adventure will love Lake Vermilion.
How cool does exploring an underground mine sound? The park's biggest attraction is its underground tour of the Soudan Mine, an underground iron mine that was active from 1892 to 1962. Other local activities include swimming and fishing on Lake Vermilion, or hiking the nearby Mesabi Trail.
Vermilion Ridge Campground hosts 50 campsites and eight cabin rentals. Two additional boat-in campsites are available on a first-come, first-served basis. Expect to find all the usual state park amenities like showers, restrooms, and picnic areas.
21. Gooseberry Falls State Park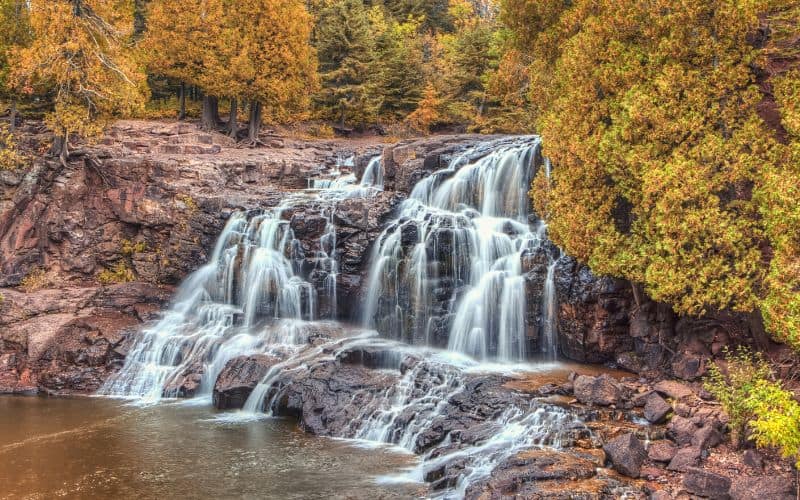 Gooseberry Falls State Park is one of the most popular spots along the north shore of Lake Superior. Plan to stay awhile, because this park is filled with both natural beauty and tons of fun, recreational activities. Visit the local waterfalls, the Visitor Center, or try an interpretive program to learn all about the park's history and wildlife.
You'll find plenty of North Shore overnight accommodation options, but few as fantastic as Gooseberry Falls Campground. The camp is located right on the Lake Superior shoreline, so book early to snag one of the coveted lakeside sites. With 69 spacious campgrounds, there's plenty of room, but you'll want to make sure to book ahead of time during the peak season.
Best Campgrounds in Minnesota!
With landscapes ranging from roaring river valleys to peaceful prairies, Minnesota is truly an outdoor lover's paradise. No matter where you decide to pitch or park, the North Star State offers boundless wilderness just waiting to be discovered!
We hope that our list of our favorite 21 campgrounds has helped you plan for your next adventure. If you have any questions or comments, don't hesitate to leave a comment below. And don't forget to follow us on social media for more trip inspiration!
Further Reading