Nighttimes in your tent can make or break your camping trip. Sleep comfortably and you'll have all the energy you need to enjoy the next day's activities and make the most of your stay. Get a bad night's sleep and you'll soon be dreaming of your bed at home or recalling with regret that motel you passed a few miles before reaching camp.
Getting a good night's sleep at camp depends on many factors, granted, but the most important is your sleep system. For most campers, air mattresses do the trick, serving as a passable stand-in for our bed at home. For some of us, however, they leave a lot to be desired…
If you happen to fall into the latter category, we're here to help. In this guide, we'll introduce you to seven alternative options, from repurposed household furnishings to minimalist options for backpacking.
Disadvantages of Air Beds
1. They Need Inflating!
If you're a fan of convenience in your outdoor gear, then you're sure to begrudge the hassle of inflating your camping air bed (whether with a foot pump, hand pump, or lung power) while your camping cohorts blithely roll out their foam pads or other user-friendly pads and move on to more interesting things.
Splurging on a self-inflating mattress is an option, of course, but will put a serious dent in your bank balance.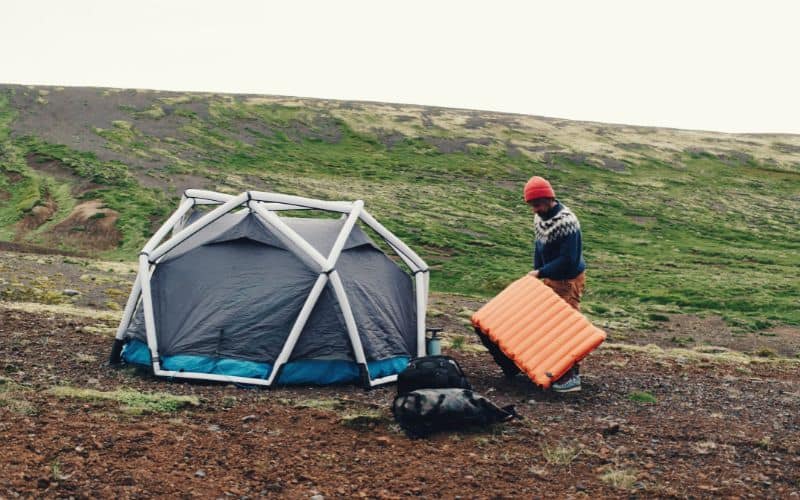 2. Punctures & Leaks
This is by far an air bed's greatest shortcoming. While most models are made with burly materials designed to withstand rough treatment, few are a match for extra-sharp rocks, tent pegs, twigs, or thorns.
All models are sold with repair kits, sure, but doing repairs on a half-deflated bed in a field is no one's idea of a good time!
3. Noise Levels
The fabrics with which most air mattresses are made are far from silent. Combine this with the rustle of your sleeping bag every time you or your campmates shift in your sleep and the decibel level will be suboptimal for restful sleep.
Inflating can also be noisy – something to bear in mind if you tend to rock up to campsites late and are conscientious about waking your neighbors.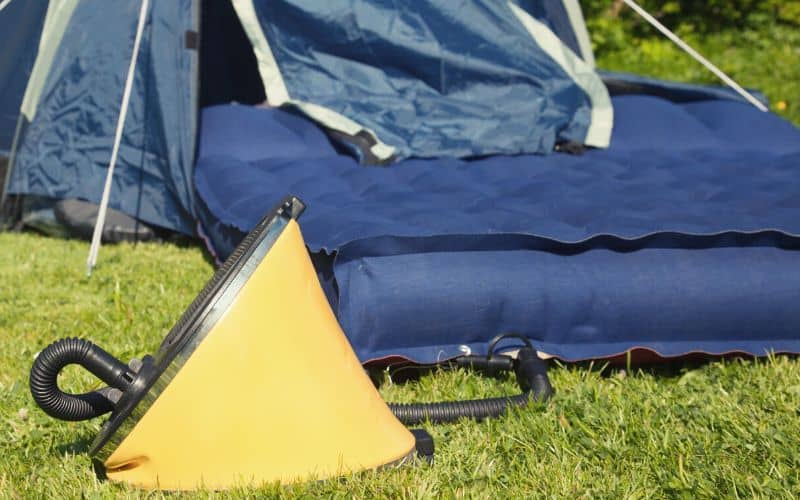 4. Lack of Breathability
Why is breathability important in a temporary bed – or any bed, for that matter? Breathability refers to any material's ability to let hot, humid air escape through it. If the material isn't breathable, overheating and clamminess await.
The chambers of most air beds are made with polyvinyl chloride (PVC) or textile-reinforced urethane plastic or rubber, none of which are in the slightest bit breathable.
In warm conditions, when breathability is a must, we turn to our memory foam pad or use a hammock with just a sleeping bag to ensure there's enough airflow to keep our skin cool and sweat-free.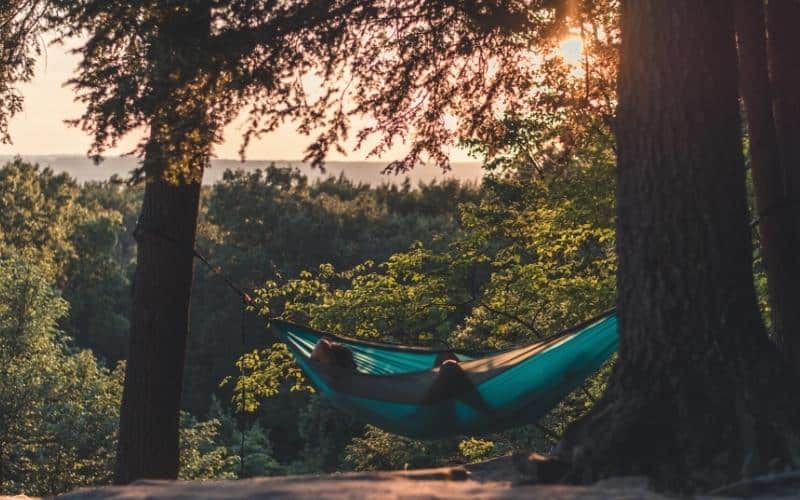 5. Not Ideal for Winter Camping
Most air beds rely on nothing more than a thin slither of material and air to provide insulation. While this works in most conditions, in cold weather you might need something a little more substantial between your body and the cold ground.
A memory foam sleeping pad, insulated camping mattress, or hybrid (open-cell) sleeping pad, all of which use some form of insulation, are better options.
While air beds can be used in winter, to make them effective you'll need to carry extra kit, such as a blanket or fitted sheet for the top and a tarp to lay on the tent floor to insulate the underside.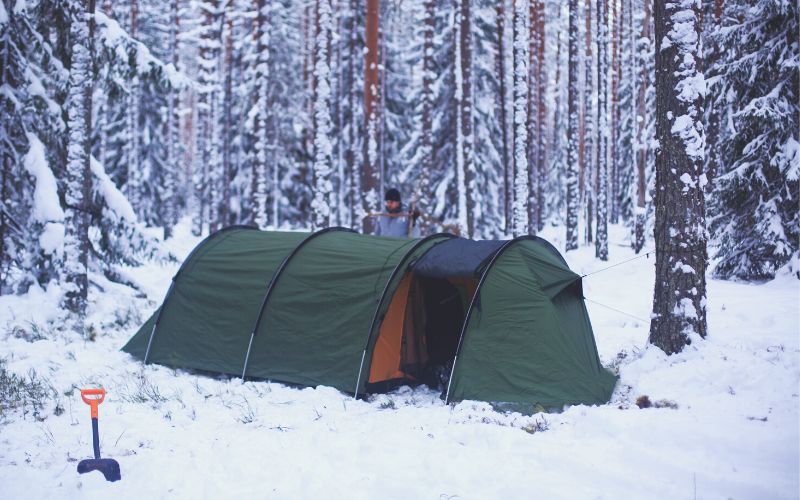 6. Not Machine Washable
Our camping gear gets exposed to a lot more dirt, sweat, and other contaminants than our furnishings and accouterments at home. This being so, they need more frequent washing. And while it's easy to throw a bedsheet or two in the laundry, cleaning a chunky, PVC air mattress is a whole different story.
Best Air Mattress Alternative: 7 Ideas
1. Camping Cots
If you're looking for a camping sleep system that will most closely mimic your regular bed at home (other than an air bed of course!), a camping cot is the way to go.
Camping cots lift you up from the floor and provide a solid, sturdy sleeping platform. While a little on the heavy and bulky side, they actually save a lot of space compared to an air mattress. While a queen-size mattress will deprive you of around 33 square feet of space and a regular mattress about 22 square feet, you'll have all that room for storage underneath a cot.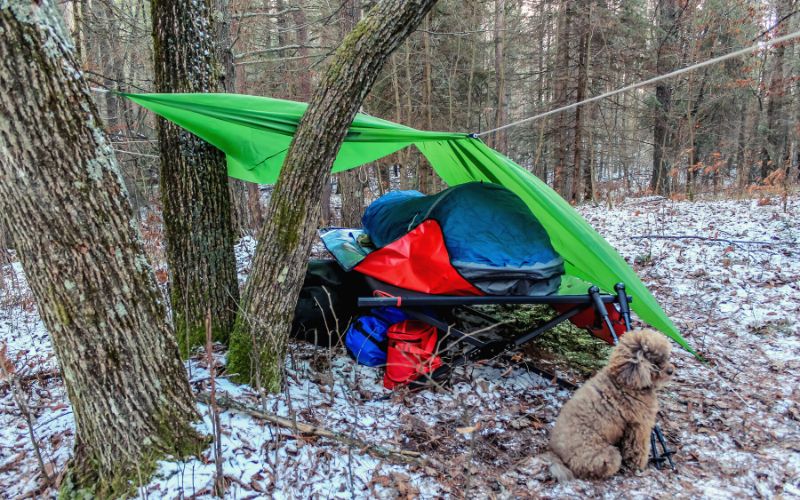 Cots also score extra points for their versatility. When not using it on camping trips, you could use yours as a guest bed in your home.
There are a few reasons, however, why a cot might not be the best option for you.
Firstly, they take up a lot of storage space when not in use. Secondly, they're too heavy and bulky for camping at sites that aren't car-accessible. Thirdly, some models are poorly designed, using supporting frames that press into your body through whatever mattress or bedding you top them off with.
Pros
Stability
Durable
Versatile – you can also use them for guests at home
Reliable (can't be punctured!)
Plenty of space for storage under the cot
Our favorite cots are the REI Kingdom 3 and the Kamp-Rite Double Kwik-Cot. NB. None of the above detractions apply to either of these cots!
2. Hammocks
If you struggle to sleep on an air bed because they're too hard or too close to the floor – and, hence, the bugs – it might be worth considering a hammock.
Hammock camping isn't for everyone, granted, but many campers have discovered that it's a comfortable alternative to sleeping in a tent. Hammocks are lightweight, lift you up above the cold, hard ground (and the bugs), and a whole hammock camping sleep system will set you back significantly less than a tent, sleeping bag, and regular air mattress.
The downsides to hammocks are their limited capacity (no room for pets!), their lack of privacy, and their slightly restrictive feel. Generally speaking, hammocks work well for back sleepers but are often uncomfortable for side sleepers and, for obvious reasons, entirely unsuitable for front sleepers.
Pros
Lets you sleep up above the ground
Hammock camping setup is cheaper than a tent camping setup
Very comfortable
Lightweight
Great for stargazing
Easier to prevent overheating on warm nights
Cons
Airborne sleeping isn't for everyone
Setup is quite tricky to master
Trees needed
Not a good option for front sleepers and some side sleepers
Our favorite hammocks are the Kammok Roo and ENO Doublenest, both of which are roomy enough for two sleepers, made with rip-resistant fabric, and weigh under 1.5 pounds.
3. Futon Mattress
Futon mattresses are heavy, bulky, and hard to squeeze inside your tent but can often be folded in two, need no inflation, and can moonlight as guest beds when not being used for camping.
The main benefit of using a futon is comfort. While they won't raise you off the ground the same way as a camping cot, they're otherwise the most comfortable alternative to your bed at home.
Pros
Sustainable? If you have one lying in your garage or guest room, why not repurpose it as a camping bed?
Breathable
Durable material
Far more comfortable than a standard air mattress, sleeping mats, bean bag chairs, or any other option you might think of
Cons
Very heavy
Not suitable if you have limited space in your vehicle
4. Open-Cell Foam (Self-Inflating) Sleeping Pads
Open-cell sleeping pads are, essentially, hybrids that combine the benefits of closed-cell foam pads and inflatable pads.
Open-cell pads are very easy to use. When you open the valve, the foam expands and draws air into the chambers, saving you the hassle of blowing it up with lung power or a pump.
While a little heavier and less packable than inflatable pads, they're softer, more durable, more breathable, and still light enough for backpacking.
Pros
Lightweight
Easy to adjust firmness
More durable than air pads
More comfortable than air pads
Cons
Can be punctured
Heavier, bulkier, and more expensive than air pads
Our favorite self-inflating pad is the Therm-A-Rest ProLite Plus, which provides awesome insulation (3.2 R-value) and weighs just 1 lb. 7 oz.
5. Foam Sleeping Pads
These pads are made from dense foam packed with millions of minute closed-air cells. While they're lightweight, durable, can't be punctured, and are far cheaper than any other option, they're also bulky and far less comfortable.
Pros
Affordable
Can't be punctured
Durable
Cons
Less comfortable than other options
Bulky
Our favorite foam pad is the NEMO Switchback.
6. Blankets/Mattress Topper
Blankets are a great option if you happen to have plenty of them lying around your home and want to give them a second lease of life as part of your camping gear.
When we say "camping", we mean, of course, car camping – even if you were to use ultralight microfiber blankets, you'd need so many of them to provide decent insulation that carrying them on backpacking trips simply wouldn't be practical. With regular cotton blankets or comforters, it would be virtually impossible without a pack animal or two to do the carrying.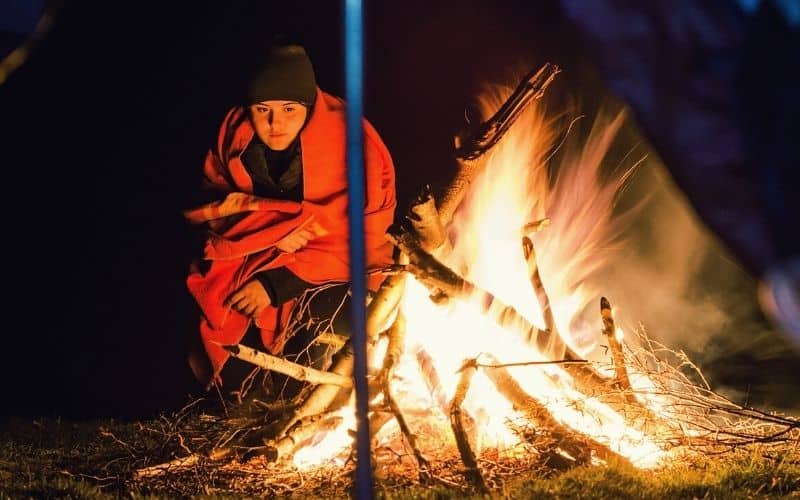 That said, blankets score highly in the comfort stakes and are also more breathable than air mattresses or pads. Pile two or three together, and you'll have decent insulation and a super-soft, cozy bed. If you have a few lying around and are camping at a car-accessible site, they're well worth giving a try.
Pros
Warm
Comfortable
Easy to customize
A great way to repurpose blankets
More breathable than an air mattress/pad
Cons
Heavy and bulky (suitable for car camping only)
You'll have a lot of laundry to get through post-trip
7. Just a Sleeping Bag?
If you consider yourself an especially rugged human or aspire to Chuck Norris levels of badassness, you could elect to do away with any form of mattress and use your sleeping bag alone.
The benefits of this are fairly obvious: not only will you save the expense of a mattress, but you'll also save yourself the weight, bulk, and the hassle of setting up a mattress, cot, or pad before hitting the hay.
The disadvantages, however, are equally as compelling.
For starters, you'll have next to no insulation on your underside. Sleeping bags rely on their loft to trap body heat and protect against convective heat loss (heat lost via air) and conductive heat loss (heat lost via contact with cold surfaces). When the insulation is squished by your body weight, however, the loft vanishes, leaving no buffer between your body and the cold ground.
Using a sleeping bag alone is also a sure way to damage the bag, will leave you exposed to every small critter roaming the floor of your tent, and is – we speak from experience – mightily uncomfortable.
Pros
Saves weight and pack space
Saves $ on a mattress or mattress substitute
Saves effort of setting up mattress/cot/pad
Cons
Easy to damage your sleeping bag
Not comfortable
No insulation for your underside
Our Favorite Air Bed Substitutes?
The answer to this will ultimately come down to personal preference, how much you're willing to spend, and what kind of camping you're doing.
If we're car camping, our go-to air mattress alternative is the camping cot. We love that cots leave plenty of storage space underneath and get us up off the ground. Paired with a decent sleeping pad, they also provide more than enough comfort for a good night's sleep.
For backpacking, our choice depends on the duration of our trip. For overnight trips, we tend to take an open-cell pad for comfort, even if it does mean carrying a few more ounces. For multi-day trips, the only viable options are closed-cell pads and air pads. Both have their shortcomings but the latter wins our vote for its cushier feel and packability.
If you liked this article or have any questions, drop us a line in the box below. And if you'd like to share it with your friends, please do!