Disclosure: My Open Country highlights products we hope you might find interesting. If you buy them, we get a small share of the sale revenue from our partners at no additional cost to you. This never drives our decision as to whether or not a product is featured or recommended.
The Big Agnes Copper Spur UL2 is a great option for two backpackers who need something light that doesn't add much weight to their load. If you are going for a multi-day backpacking trip, camping or paddling, this would be an excellent choice.
In addition to being lightweight, it is the most comfortable two-person tent on this list. Compared to the Hubba Hubba NX, it is more livable and lighter. Its main drawback has to do with the expensive price tag. It is, however, worth the price and this makes it the all-round winner of the roundup.
Bottom Line: The Big Agnes Copper Spur UL2 manages to combine a lightweight piece of kit without skimping on comfort and livability and is our top pick for best backpacking tent.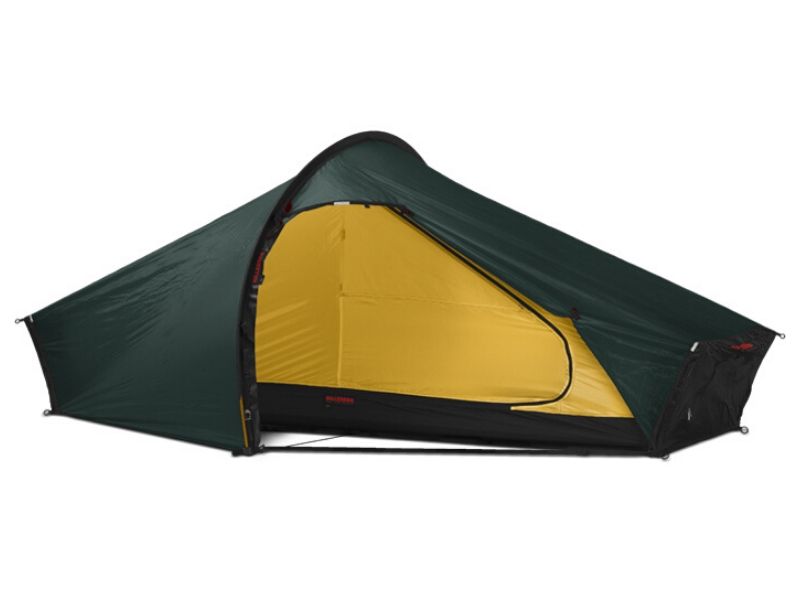 The Hilleberg Akto takes the crown when it comes to one-person tents. Its double-walled design that allows one to first pitch the outer then inner sections is a favorite feature for many backpackers. The tent also offers revolutionary ventilation options including a mesh window and a small beaked window in the vestibule that comes in handy when it snows or rains.
The large vestibule combined with the five-sided inner floor do a good job of making the interior spacious so that one can stretch and store their gear. There is an additional kit, sold separately, that lets one set up the inner kit without the rainfly. The tent is easy for one person to set up, although it requires a little getting used to.
Bottom Line: Travelling Solo, you can't beat the Hilleberg Akto
If you need something for long backpacking trips without having to worry about slowing down, the Nemo Hornet 2P is a pretty good bet. You can use it on expeditions like hiking the mountains, hunting in the backcountry, camping, and general ultra-light backpacking.
The slanted walls combined with a small interior space and light fabric help keep the weight down. The two vestibules and two doors are a nice addition. This tent is designed for backpackers who spend little time in their shelters but want the comfort that comes with a semi-freestanding and double-walled tent.
Bottom Line: If you are in to whittling down your toothbrush to save weight on the trail, then the Nemo Hornet 2P should be on your shortlist of best ultralight tents.
Best Backpacking Tents: Our Top 9 Picks Of 2021
Looking for the Best Hiking Tent
You're in the right place! In this guide, we will be covering the following:
Why you need a backpacking tent
What you should consider when buying ultralight tents
Reviews of the best backpacking tents on the market
Our unbiased recommendation on the #1 backpacking tent
Do you need help shopping for a quality backpacking tent that suits your needs? We get it. The first time buying a backpacking tent wasn't easy for us, and I bet every newbie feels the same. The options are endless, and it seems like there is always new information to consider. Don't worry because, in this guide, you will learn everything you need to know about purchasing a backpacking tent, including reviews of nine of the top backpacking tents currently on the market.
MSR Elixir 2
Big Agnes Copper Spur UL2
REI Halfdome Plus 2
Kelty TN2
Nemo Hornet 2P
MSR Hubba Hubba NX 2
North Face Stormbreak 2
Hilleberg Akto
Tarptent Notch
Lightweight Backpacking Tents – How to Choose
Whether you are a seasoned backpacker or a complete novice, investing in the right backpacking tent is of utmost importance. It will allow you to stay warm while on the road, give you plenty of privacy and even protect you from bugs. Put simply; your backpacking trip will be more fun if you have the best tent. But how do you choose good tent? What factors should you consider?
Size/Sleeping Capacity
Every model comes in different sizes and what is ideal for two people may not be ideal for three people. A two-person tent from one manufacturer may feel roomier compared to a three-person tent from another brand. It helps a great deal if you buy one size larger if you are nervous about getting something smaller than what you actually need.
Be sure to check all dimensions when looking at tents. Including the floor area in square feet, floor dimensions as well as the peak height. If you are tall, you should look for something with longer floor length and peak height. Two tents may have equal floor dimensions but completely different shapes.
Another important feature when it comes to size is the peak height. This just refers to the highest vertical point on the interior of the tent. It is also called interior head room. The last thing you need to hunching over in your tent because the head doesn't allow you to stand up straight. The more peak height your tent has, the roomier it will feel.
Tents are classified into 1-person, 2-person, 3-person and 4-person tents. Depending on the number of people that will be sleeping in a given tent, these capacity sizes ensure that all of you can spend the night comfortably. Extra large tents are also available for those who need extra length as well as width.
Season Rating
In addition to size, it's important to consider the type of tent you need in regards to expected weather conditions. Your choices here include a 3-season tent, extended season tent and 4-season backpacking tent.
3-Season Tents
These are by far the most popular backpacking tents and understandably so. They are best suited for mild and temperate climates. Many 3-season tents feature double wall construction and mesh paneling that increases ventilation. Convenient features you will found on these tents include rainfly vents, multiple doors, and gear pockets or lofts. Three-person tents are designed to withstand light snows and downpours but aren't the best for heavy snow, violent winds or harsh storms.
Extended Season Tents
These tents are an excellent option for trips in the late fall, summer and early spring. They are also ideal for outdoor enthusiasts who frequent exposed, high-elevation destinations. Some of the key features include one or two more poles compared to 3-season tents for strength and fewer mesh panels for greater warmth retention. They also have more upright walls to allow for more interior headroom. The ability of extended-season tents to blend the need for tent strength, ventilation and keeping users warm is what makes it a favorite for many.
Four Season Tents
Four season tents are designed to withstand storms and heavy snowfalls, making them the ideal choice for someone who backpacks throughout the year. They have extra reinforcing and can, therefore, hold up when hit by violent wind. Because of their ability to survive rough weather conditions, they are also known as expedition or mountaineering backpacking tents. They are built with more durable and heavier fabric. You can choose between single-walled or doubled-walled construction.
Ventilation
It's also important that you think about the kind of ventilation you want. Without proper ventilation in your tent, you will end up seeing water condensation at the top of the tent. The tent may also end up being too stuffy. While mesh panels do a good job of improving ventilation, there is always the risk of getting too cold. This is particularly true if your tent has a lot of panels. You can take out the rain fly if you need more ventilation at night during the summer. However, ensure that you don't misjudge the weather when doing so. Another advantage of opting for a tent with mesh panels is that they protect you from bugs at night, thus a peaceful night's sleep.
Vented rainflys are also effective when it comes to reducing condensation. Considering that they have more vents than standard rainflys, they provide excellent ventilation that is direly needed on long, humid nights. They help a great deal when it is too cold to unzip the tent door as they ventilate the interior while allowing you to stay warm.
Weight
Your choice of a backpacking tent is an opportunity for you to lighten your overall load. Tent design has advanced so much over the past few decades that finding a model with a per-person weight of less than 5 pounds that is comfortable and spacious is not impossible but is now becoming the standard.
Some of the tent weight specs that you will come across in our search include:
Packed size: The amount of space that a backpacking tent takes up in a pack affects the ease of transportation and portability.
Packaged weight: Refers to the total weight of the components that come with a purchase including pole sack, instruction manual, stuff sack, stakes, rainfly poles and the body. The amount you end up carrying on the trail will range between this and the minimum weight.
Minimum weight: This refers to the weight of the bare essentials i.e. tent body, poles, and rainfly. Depending on the nature of your expedition, where you will be going and the weather conditions, you may need to pack more than just the essentials.
Ultra-light tents are a great option and generally weigh around one-pound per person. They are designed to be less robust and less spacious. They can, however, benefit from more advanced features. Choosing an ultra-light tent that is one-person larger than what you need can help improve livability and comfort.
Materials
Backpacking tents often come with durable and lightweight aluminum poles. Manufacturers have, over the years, used aluminum to maintain strength while reducing the weight by shrinking the wall thickness as well as diameter.
There are plenty of choices available to backpackers when it comes to tent fabrics and denier. The most common ones are specialized polyesters and nylons. Denier is a popular spec seen on tents that, despite the fabric, indicates the weight (in grams) of the fabric's yarn based on a 9000-meter length of the yarn. Lower deniers mean less durable fabric and lightweight tents while the vice versa is true for higher deniers. Only compare deniers in similar fabrics.
In the event that you are compelled to take a closer look at the specs, focus on the poles provided. The best tents come with high-grade poles. The seasonal rating will also give you insight as to how strong the tent is, particularly since the fabrics and strength of poles affect the rating.
Alternatives to Hiking Tents: Going Minimalistic
Backpacking tents usually have a double-wall design that includes an exterior rainfly and the main tent body. This can make them quite expensive. The good news is that if you want to save as much as possible without compromising on quality, there are other options you can look to. Such include:
Bug shelters: They are made up of poles and some netting, but no floor. Some have entire canopies made out of bug netting.
Hammock: This version of backpacking tents has an entry point on the bottom, bug netting, and a rainfly that resembles a tarp. They a little getting used to, and one sleeps midair. Trees in close proximity are required for setup.
Tarp shelters: They have a lightweight rainfly that protects users from snow and rain. They, however, can't protect one from damp ground or bugs.
Bivy sacks: Otherwise known as bivouac sacks, these shelters act as a waterproof but breathable barrier for sleeping bags.
Single wall ultralight tent: They are best suited for dry conditions. They don't have a rainfly, but the entire fabric is waterproof. Single-wall tents are designed to keep snow from getting through the fabric, and their reduced weight makes them more suitable for long backpacking trips compared to double-wall tents.
Advantages and Disadvantages of Backpacking Tents
Advantages
Protection: These tents help protect campers from adverse weather conditions like low temperatures, rain, and heavy snow. They also protect you from nasty bugs and mosquitoes at night. Pitching only requires one to drive stakes in the ground in a flat-level area. This means that unlike hammocks, you get to preserve the environment and protect it.
Privacy: Everyone wants a little bit of privacy, even in the outdoors. Backpacking tents provide plenty of privacy as compared to hammocks, tarps, and sacks.
Disadvantages
Weight: While they can be lightweight, they are not necessarily the lightest sleeping options, when compared to minimalist shelters such as hammocks or bivvy sacks.
Ground: One needs a flat, level ground to set up. Such locations aren't always easy to find due to things like small rocks and unseen roots that make for an uncomfortable sleep.
The Results
MSR Elixir 2
The MSR Elixir 2 is a roomy option that comfortably accommodates up to two people along with their gear. It is just over 1m tall, which though doesn't sound like much, allows the average camper to sit up and move around. It comes with three poles, two of which are attached to a hinge and cross one another while the third one goes across the top. This not only makes the model sturdier but also widens the head space.
There is a door on either side of the inner and outer, with plenty of space in-between to store a backpack. The two ventilation windows help stop most of the condensation, and the porch area is a much-appreciated feature. It weighs just under 6 pounds, which you can reduce considerably by just taking the flysheet and footprint.
PROs

The unique pole geometry allows for optimized headroom
Color-coded poles, clips, and webbing make set up easy
Dual rainfly vents provide cross-ventilation
It comes with pockets on the sides for storing small essentials

CONs

It isn't built to withstand strong winds
At the heavier end of the spectrum
Bottom-Line: The MSR Elixir 2 is a decent entry-level model that does well across the board, but is a master or none.
Big Agnes Copper Spur HV UL2
Best Backpacking Tent
This is a high performance, our pick for the best 2-person tent that's well suited for backpackers who need more comfort and space. At 52.6 ounces or 3 lb. 4.6 oz, it is one of the lighter options available on the market, but more remarkably its space-to-weight ratio is well above average, making it feel much much roomier.
Some of its outstanding features include ample headroom, adequate storm protection as well as double doors that allow users to move freely. On matters of gear storage, Big Agnes offers four upper pockets as well as two supportive side pockets for keeping nighttime essentials.
The unique geometry of the Copper Spur HV UL2 produces a tight pitch that holds steady in the winds. Three guy heads at the top combined with one at the foot help improve weather resistance. It comes with one large vent above the head area that helps curb condensation.
Unfortunately, Big Agnes sacrifices a great deal of durability for a lightweight yet roomy design. While it is a good compromise, users should take good care of the tent. The fabric from which it is constructed is not very abrasion resistant, hence the importance of leaving it staked down.
PROs

It is lightweight
Hubbed pole configuration and two vestibules help make the interior spacious
High peak height of 42."

CONs

It sacrifices durability to keep the weight down
Bottom-Line: The Big Agnes Copper Spur UL2 provides comfort and livability while still weighing in at just over 3 pounds, making it our top pick for the best 2-person backpacking tent.
Kelty TN2
The TN2 is one of the newest additions from Kelty and at its price range, it offers excellent weather protection as well as lots of room for movement and storage. It has a width of 50-inches, which is plenty of space for two people along with their gear. The 42-inch height creates plenty of room for sitting up while the pole structure pulls the tent walls vertically, hence more headroom and elbowroom. A 20-square foot floor area, two vestibules, and two large doors make it feel roomier.
The tent comes with a cube-shaped stuff sack, and the pole sections are only 14 inches. This makes it compact and easy to store. At two-pounds per person, there isn't much to complain about when it comes to weight. Setting up is easy with two poles that cross each other and one that cut across the top. The fact that they are color-coded is a bonus for users.
On the issue of durability, the Kelty TN2 is constructed using 40-Denier Sil Nylon. It is known for its thickness and durability. The floor of the tent is made from a 70-Denier material that can withstand any rocks or pine cones you set it on.
PROs

The construction features 40-denier Sil Nylon and 70-denier material for durability
It is easy to setup
Plenty of room for two people and their gear
It has a lot of headroom for users to sit up at the same time

CONs

It can use more pockets and gear lofts
It is not the best option for people who are over 6-feet tall
Bottom-Line: The Kelty TN2 is comfortable and easy to setup 2-person model for a reasonable price.
MSR Hubba Hubba NX
MSR managed to trim a whole pound off the weight during its makeover in 2014. This was achieved by incorporating a thoughtful design, mini zippers as well as lightweight fabrics. The new Hubba Hubba NX was specially designed to minimize weight while optimizing the space.
This 2-person backpacking model comes with two doors so that one can go in and out without disturbing their partner. For a lightweight tent, it has adequate space and excellent ventilation. The latter is made possible by two vestibules, mesh walls as well as kickstand vents. The low peak height is a bummer as it makes it hard for two people to sit up at the same time.
It's packed weight is 3 pounds 12 ounces, which can be reduced down to 3 lbs 6 ounces with just poles, fly and tent body. This helps improve portability. It comes with a stuff sack that has a wide-mouth draw cord design and features compression straps. This allows for easy storage when not in use.
PROs

Setup is incredibly easy
It is lightweight, making it a perfect for long trips
It provides superior ventilation

CONs

It lacks sufficient guy points, which compromises its ability to withstand rough weather
It is not the best choice for tall people that need more headroom
Bottom-Line: The Hubba Hubba NX from MSR is another super product across the board without excelling in any one area.
North Face Stormbreak 2
Best Budget Backpacking Tent
The North Face Stormbreak 2 is a great choice for summer camping trips when plenty of ventilation proves useful. It has a peak height of 43 inches and thus provides lots of headroom to sit up. With dimensions of 87 by 50 inches, it is not the best option for tall people. The vestibule door creates a large entrance for moving large inflated sleeping bags as well as other gear in and out. It also features two pockets that one can use to store small essentials.
Unfortunately, despite the name, the North Face Stormbreak 2 is not built to withstand storms. The thin diameter poles can't stand up to high winds, and the high peak height doesn't help matters. The nylon panels combined with bathtub floors help prevent splash-back during heavy rains.
The tent weighs 94.2 ounces, the heaviest on the list, and the space-to-weight ratio is among the worst. It is also constructed using relatively bulky materials, which don't pack down well. On the flip side, setup is incredibly easy.
PROs

It is cheap and affordable
It has large doors
It has a roomy interior

CONs

The heavy weight makes it unsuitable for long backcountry trips
The poles are low quality and so are the stakes
It is not the best for rough weather conditions
Tarptent Notch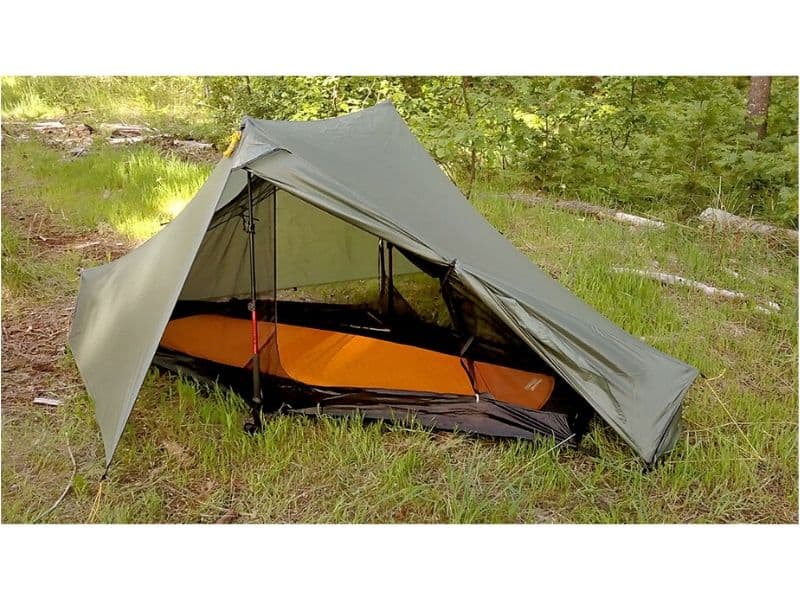 This is a single-person, double-walled lightweight backpacking tent that weighs 27 ounces. It has two vestibules and two doors, making it spacious and easy for one to get in and out. The removable inner vest that also includes a bathtub floor allows one to pitch the rainfly either as a complete double-walled tent or as a standalone tarp depending on your needs.
The Tarpent Notch is a Dual Apex shelter meaning that it has two peaks and, therefore, requires two trekking poles to pitch. This design provides more space for one to store their gear and sleep comfortably. As for ventilation, it comes with two zippered vestibules. Keeper toggles found along the side seams can be rolled up to increase ventilation. Another way to improve airflow involves pitching the tent higher. The increased space between the bottom of the fly and the ground helps regulate airflow more efficiently. Setting up is incredibly easy, although you may need to practice it a few times.
PROs

The inner nest can be pitched from the inside after the rainfly to keep it dry
The tent provides excellent ventilation
It requires small footprint and is incredibly easy to pitch, even in narrow forest pitches

CONs

The end pitch lock struts make it harder to pitch the tent
The small attachment points found on the inner nest can prove quite the hassle to secure
Bottom-Line: Looking to go ultralight, the Tarptent Notch uses your hiking poles as the frame to keep the weight low.
Hilleberg Akto
Best Expedition Tent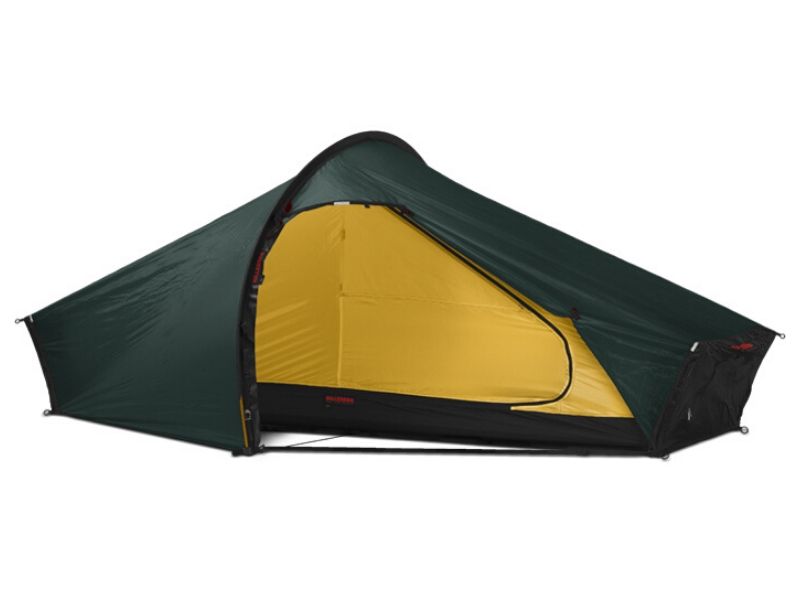 This single-person, 4-season tent was first introduced to the market in 1995. The design allows one to first pitch the outer then hang the inner tent inside the outer one. The idea is to offer optimum protection from the rain. To stop internal condensation, Hillberg incorporated revolutionary venting options. Along with a large vestibule, these features make the Akto a comfortable shelter for backpackers.
The floor of the inner tent is five-sided, thus providing enough space for one to stretch and even store their gear. Also, you can completely unzip and roll back the right side to create a barrier between the inner tent and side vestibule. The triangular mesh window on the side can be zipped or unzipped depending on whether you need to retain heat or gain more ventilation.
Since the vestibule is bi-directional, you can fine-tune it to counter internal condensation, prevent carbon monoxide when cooking or increase ventilation. The small-beaked window on the vestibule provides additional ventilation, even in the event of snow or rain.
PROs

Great ventilation options
Roomy interior space
Inner vestibule provides ample protection in winter conditions
The center hoop acts as an excellent wind breaker

CONs

It is not freestanding
Setting up requires a fair amount of practice
One needs a clothes pin to keep the vestibule door open as it can't on its own
Bottom-Line: The Hilleberg Akto is one of the worlds most renowned one-person, four-season expedition tents.
Nemo Hornet 2P
Best Ultralight Tent
This is a two-person model that weighs a little over one pound, without the stakes and stuff sacks. This makes it lighter than most 2-person tents and a great option for long backpacking trips. It is a semi-freestanding tent, meaning that it hangs from a spoke pole and an exoskeleton style hub by utilizing plastic clips. In addition to making setup easy, this design creates a large air gap between the rainfly and inner tent for increased ventilation as well as reduced condensation.
One of the best features of the Nemo Hornet 2P is that it has two doors, allowing one to get in and out at night without disturbing their partner. The vestibules and doors can be rolled up and secured with toggles, adding great functionality without increasing the weight. The inner tent is designed in such a manner that it is narrow at the feet and wider at the head where more space is needed. It has sloping sides with A-frame style that has a high center point.
There is plenty of space to store nighttime essentials. Every occupant gets their own side pocket as well as a large shared pocket located at the head end of the back tent wall. Much of the weight saving in the Nemo Hornet 2P comes from the 10-denier Sil Nylon/PU rainfly as well as the DAC Featherlite NFL hub and spoke pole.
PROs

It is semi-freestanding and can, therefore, be pitched quickly without worrying about surface conditions or staking
It is a double-walled model, making it perfect for extremely cold weather
It weighs less than two pounds

CONs

The sloped side walls limit headroom considerably
Narrow vestibules make it hard for occupants to store large backpacks upright
The width is tapered, thus limiting use of wide sleeping pads
Bottom-Line: Our top pick for the best ultralight tent, the Nemo Hornet 2P is one of the lightest 2 person tents on the market.
REI Half Dome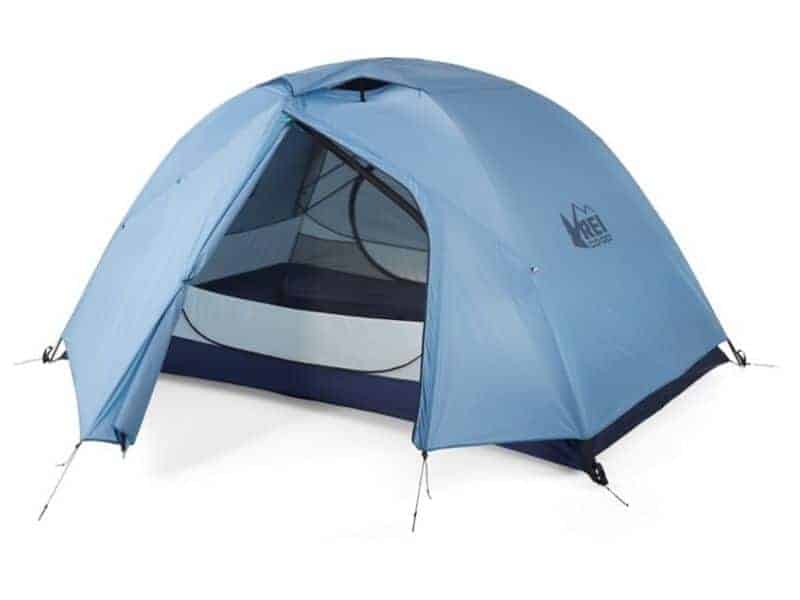 Well designed and constructed with quality materials, the REI Half Dome 2 Plus is a great backpacking tent is ideal for those on a budget and weekend expeditions. The design features useful elements like ventilation as well as mesh pockets in the interior. You can also roll back the rainfly halfway for a little bit of stargazing in the evenings.
Compared to the previous model that had a 3-piece pole design, the poles are a single unit. This is to say that two hubs combine one ridgepole that runs across the center with two poles that run along each side. Being a three-season tent, the REI Half Dome 2 Plus is best suited for weather that isn't nasty.It comes with four rainfly vents that do a great job of ventilating the interior, even when it's raining. The large swaths of mesh in the upper part also help with ventilation.
PROs

Strong and offers great value at its price range
It has plenty of room for its weight

CONs

Doesn't hold up well in rough weather
It could use more guy lines and stakes
It is too heavy for long backpacking trips
Bottom-Line: The REI Half Dome Plus is a comfortable and affordable two-person model for those on a budget.
Other Backpacking Gear Reviewed
If the backpacking tents below don't fit your particular needs then check out our other reviews on:
Last update on 2021-03-04 / Affiliate links / Images from Amazon Product Advertising API