Best Tents For Backpacking: Our Top 11 Picks For 2022
Looking For The Best Lightweight Tent for Backpacking?
You're in the right place! In this guide, we will be covering the following:
Why you need a backpacking tent
What you should consider when buying ultralight tents
Reviews of our 9 best backpacking tents
Our unbiased recommendation on the #1 hiking tent
Want to make your camping trips in the backcountry as safe, comfortable, and convenient as can be? If so, it's time to ditch your regular car-camping tent and invest in something that's custom-made for the rigors and specific demands of life on the open trail.
In this post, we'll introduce you to 11 awesome tents that fit that bill to a 'T'.
We'll also provide you with all the info you need to choose the best backpacking tent for your future adventures and point out what the ideal picks for different types of backpackers are. Whether it's an ultralight tent for the gram-counting minimalist or a four-season bomb shelter for all-weather warriors, our list has it all!
Editors Choice
Big Agnes Copper Spur HV UL2
The Copper Spur HV UL2 is one of the most popular tents for backpacking on the market and it's not hard to see why. It lies in that sweet spot between livability, weather protection, and low weight – making it perfect for any adventurer who wants a little more comfort while out on their trip!
With 29 square feet of sleeping space and a 40" peak height, it is comparable to its closest rivals the Sea to Summit Telos and the MSR Hubba Hubba. However, it ups the ante by the fact that it weighs only 3 lbs and 2 oz. This makes it almost nine ounces lighter than the Telos and 12 ounces lighter than the Hubba Hubba.
With two door vestibules, each with 9 square feet of space, an oversized ceiling pocket, and several other interior pockets and gear loops there's plenty of room to store your gear.
Bottomline: The Big Agnes Copper Spur is the perfect blend of lightweight and functionality. This option strikes that balance better than any other backpacking tent we've reviewed which is why it has claimed the top spot.
Backpacking Tents: Quick Recommendations
Reviews for Best Backpacking Tent
Big Agnes Copper Spur HV UL2
Editors Choice
The Big Agnes Copper Spur HV UL2 is one of the most popular backpacking tents on the market and it's not hard to see why. It is one of the few tents that manage to lie in the sweet spot between livability, weather protection, and low weight.
The Copper Spur has a freestanding design with 29 square feet of sleeping space and a peak height of 40". The pre-bent pole design with central hub does a good job of pulling the inner tent outwards to give you more head and shoulder space.
While these stats aren't overly remarkable, sitting within the average of all the tents on this list, it's the fact that the Copper Spur weighs only 3 lbs and 2 ounces, making it 1 to 3 pounds lighter than all of the larger tents reviewed. Even in comparison to its nearest (and similarly sized) competitors, the Sea to Summit Telos and MSR Hubba Hubba are respectively 9 and 12 ounces heavier.
In addition, the Copper Spur has a good amount of storage space. Featuring two 9 square feet vestibules outside each of the two doors, an oversized pocket in the ceiling, as well as several interior pockets and loops to attach a gear loft.
The downside to the Copper Spur is the price and the more delicate materials used on the interior. While not unusual for a premium lightweight tent, those concerned about overall durability may want to opt for the MSR Hubba Hubba. A similar model but constructed with more durable 20/30D fabrics but evidently, this does contribute to the 12 additional ounces in the overall weight. Alternatively, if the price is your main concern then check out the REI Half Dome SL 2.
Overall, the Big Agnes Copper Spur UL HV seems to have hit the sweet spot of just enough liveable space for its occupants, while minimizing the overall weight. There is also the option for a three-person tent available as well.
Specs
Type: Freestanding
Floor: 29 sq ft
Height: 40"
Vestibule: 18 sq ft
Packaged Weight: 3 lbs 2 oz
Packed Size: 19.5 x 6 in.
Rainfly: 1200 mm
Floor: 1200 mm
Number of doors: 2
You can check out our full review here.
PROs

Good floor space per ounce
Decent headroom
Easy to pitch

CONs

Interior materials are delicate
Zippers can snag occasionally
Bottom-Line: Few lightweight tents manage to strike a balance between weight and functionality, but in our opinion, the Big Agnes Copper Spur comes closest to perfection — our pick for the best overall backpacking tent.
MSR Hubba Hubba NX 2
Runner-up
The MSR Hubba Hubba NX 2 is another popular 2 person backpacking tent in the running for our top prize due to its great ventilation and liveability. What sets it apart compared to its nearest competitors, the Telos, Hornet and the Copper Spur HV UL2 is the use of stronger, more durable fabrics on the rain fly and bathtub floor.
The Hubba Hubba is a freestanding 2 person model with 29 sq feet of floor space and a peak height of 39". The Easton® Syclone™ poles are held in place with a hub design, and the use of a cross-pole helps pull mesh outwards for more headspace which gives the tent a roomier feel. The overall internal space feels similar to the Copper Spur but feels a bit smaller compared to the taller (43") Telos and the larger Nemo Hornet (31 sq ft / 42").
Of all the low-weight two-person backpacking tents, the MSR Hubba Hubba NX 2 uses the strongest fabrics. Using a 20D ripstop nylon fly with PU/silicone coating and a 30D ripstop nylon bathtub floor means it can take a bit more of a bruising than the Telos, Copper Spur or Dagger. Unsurprisingly, this does partially explain why the Hubba Hubba is 12 ounces heavier than the Copper Spur HV UL2 and 3 ounces heavier than the Sea to Summit Telos.
Ultimately, this extra weight is why we decided to award the crown to the Copper Spur HV UL2, but there is an argument to be made for the Hubba Hubba if you need a more durable option.
Specs
Type: Freestanding
Floor: 29 sq ft
Height: 39"
Vestibules: 17.5 sq ft
Weight: 3 lbs 14 oz
Packed Size: 8.3 L
Rainfly: 1200 mm / 20D
Floor: 1200 mm / 30D
Number of doors: 2
PROs

Great quality of build
Brilliant liveability
Better durability than the Copper Spur HV UL2
Great ventilation

CONs

Heavier than the Telos and Copper Spur
Bottom-Line: A close second place, the MSR Hubba Hubba NX 2 is a great two-person backpacking tent that is more durable than our winner but comes at the price of increased weight.
ZPacks Duplex & Triplex
Best ultralight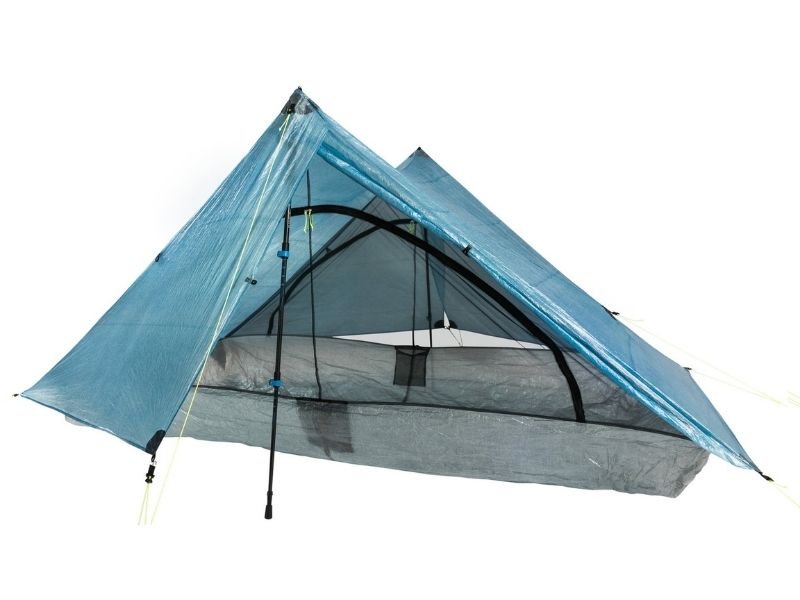 In the world of ultralight tents, the Zpacks Duplex (and its three-person Triplex) is incredibly lightweight without much sacrifice in terms of livability and protection from the elements.
This non-freestanding tent uses super lightweight Dyneema fabrics, as well as your trekking poles, to create it's A-frame shape. The result is a shelter that weighs in at just 19 ounces.
The resulting structure is 7.5' by 4.5' making it wide enough for two sleeping pads and long enough for even the tallest of backpackers. In addition to the 30 square feet of sleeping space, the two doors open out onto two 12 sq ft vestibules, one of the largest vestibule areas on our list.
Thanks to the length of your trekking poles, the Duplex has a peak height of 48". However, the roof does slope away rapidly from the apex making head and shoulder space limited. It also lacks the liveability of tents such as our winner the Big Agnes Copper Spur HV UL2.
The non-freestanding nature, and the use of trekking poles, also makes it susceptible to gusts of wind — you're well advised to double-check your guys and tent stakes if windy weather is approaching.
Specs
Type: Non-Freestanding
Floor: 30 sq ft
Height: 48″
Vestibules: 24 sq ft
Weight: 1 lb 3 oz
Packed Size: 8 L
Rainfly: 15000 mm
Floor: 15000 mm
Number of doors: two
PROs

Astonishingly lightweight
Best interior space per ounce
Good in wet weather

CONs

More difficult to pitch
Condensation can be an issue
Expensive
Poor wind protection
Bottom-Line: If you're looking to really shave every ounce possible, then the Zpacks Duplex at 19 ounces is our top pick if you want an ultralight trekking pole tent.
REI Co-op Passage 2
Best Budget Backpacking Tent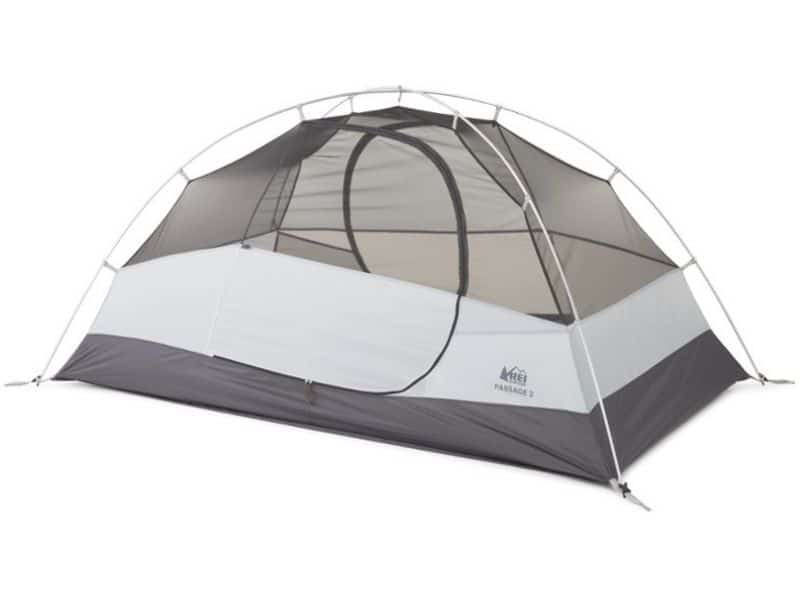 With the Passage 2, REI once again demonstrates it has a knack for understanding what makes great outdoor gear and somehow manages to build it cheaper than the competition.
A quick search online will turn up multiple tents from small brands at around the same price point. However, few budget 'backpacking tents' have anywhere near the quality of tent poles, fabrics, and overall design as compared to the Passage 2 — leaving it to compete in a category almost entirely of its own.
This model has 31 square feet of floor area and a peak height of 40" making it one of the larger options. However, the lack of ridge poles does mean the mesh walls do impinge on your headspace. While the Hubba Hubba and Copper Spur have a smaller footprint, their near-vertical walls give the structure a roomier feel.
Ultimately, where you pay the price is not with your wallet, but with the weight at 5 lbs and 10 oz, the Passage 2 is a heavy tent. Even divided up between its two occupants, at nearly 3 lbs per occupant it is best suited for car camping and the occasional shorter backpacking trip. If you can afford to spend a little bit more then the REI Half Dome SL 2 is a lighter tent at 4 lbs 5 oz.
Specs
Type: Freestanding
Floor: 31 sq ft
Height: 40"
Vestibules: 19 sq ft
Weight: 5 lbs 10 oz
Packed Size: 14.7 L
Number of doors: two doors
PROs

Simple/intuitive design
Durable
Great price

CONs

Too heavy for backpacking?
Lack of ridge pole makes it feel more cramped
Bottom-Line: If you're looking for a bargain, then the REI Passage 2 is a cheap option that still uses quality materials and performs admirably in the field.
REI Co-op Quarter Dome SL 2
Best Budget Ultralight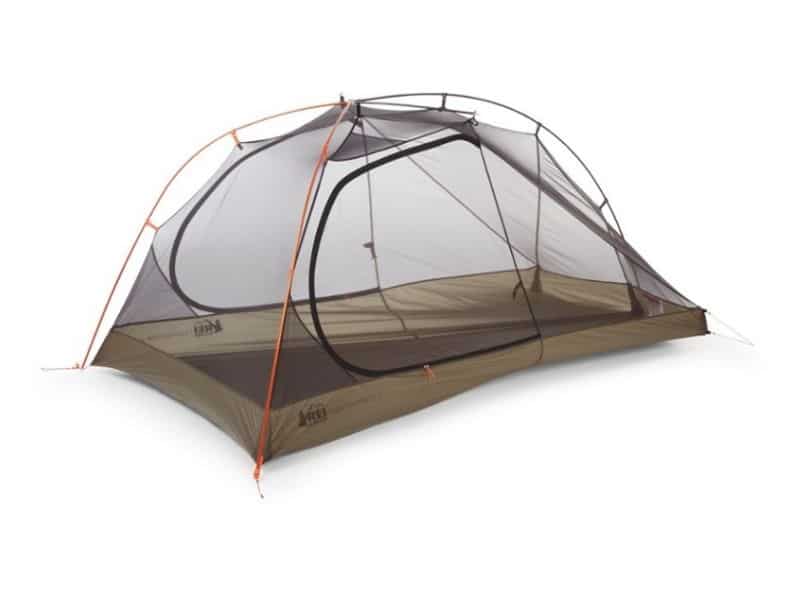 At less than 3 pounds, the REI Quarter Dome marks REI's entry into the ultralight market with all the typical forethought you would expect from this company.
This semi-freestanding entry into the ultralight category weighs in at 2 lbs 14 oz, and does so at a cheaper price than its closest rivals. You get 28.7 sq ft of floor area and a decent amount of storage space with two 10.75 sq ft vestibules and a variety of interior storage pockets and hang loops.
Unlike the Passage, the Quarter Dome uses ridge poles in its design to help pull out the mesh walls and create more headroom. It feels the roomiest of the three lightweight non-freestanding lightweight tents.
The large amounts of mesh help reduce the overall weight and make it one of the better ventilated two-person tents we've reviewed.
If we're picking holes then it's not the simplest of tents to pitch (not a major issue) and it does weigh 8 ounces more than the NEMO Hornet.
Specs
Type: Semi-Freestanding
Floor: 28.7 sq ft
Height: 38"
Vestibules: 21.5 sq ft
Weight: 2 lbs 14 oz
Packed Size: 12.5 L
Number of doors: two doors
PROs

Superb price for an ultralight backpacking tent
Lots of mesh + roof vents give good ventilation
2 doors + large vestibules increase interior space

CONs

Not an easy set up
Durability issues with the poles
Bottom-Line: If you're ultralighting on a budget then the REI Quarter Dome 2 is a sub 3 pounds option that is one of the cheapest in its class.
REI Co-op Half Dome SL 2+
Best Value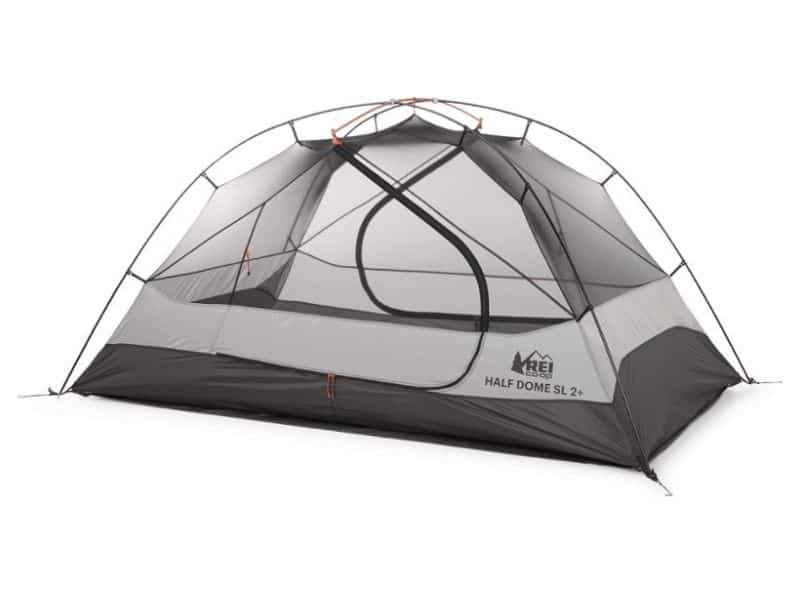 The REI Half Dome is a common sight across the country's campsites. The REI Half Dome has one of the largest floor areas and with a high ceiling gives it a very roomy feel making it suitable for backpacking and car camping.
In terms of interior space, it is tough to compete with the Half Dome SL 2. The Half Dome has 33.75 square feet of space and a 42" ceiling, combined with the ridge poles, this creates a sizable sleeping area with plenty of headroom. Tacked on to this are two 10.75 sq ft vestibules and several interior pockets to store your gear.
Unusually for a backpacking tent, it uses 30/40D materials for its rain fly and floor — this is a big step up in terms of durability compared to the other best backpacking tents on our list.
At its price point it is a great value buy, but unfortunately this does mean compromises. Mostly in the form of its overall packaged weight standing at 4 lbs and 11.5 ounces, making it over 1.5 pounds heavier than our leader the Copper Spur and a pound heavier than the similar MSR Hubba Hubba NX 2.
We should point out that this is still a pound lighter than REIs budget entry, the Passage. While heavy, it's still a haulable load over shorter trips, particularly for two people.
Specs
Type: Freestanding
Floor: 33.75 sq ft
Height: 42"
Vestibules: 22.5 sq ft
Weight: 4 lbs 11.5 oz
Packed Size: 12.8 L
PROs

Largest interior space
Length & peak height make a good choice for taller folks
Great price

CONs

Heavy and bulky
Susceptible to high winds
Bottom-Line: The Half Dome SL2 is a good quality 2 person backpacking tent that offers the most interior space of any option on our list, and is nearly a pound lighter than the REI Passage.
NEMO Hornet 2
The NEMO Hornet is a lightweight backpacking tent in the sub-3-pound category that still provides decent headspace thanks to two ridge poles that create near-vertical walls.
At 2 lbs and 6 ounces, the Hornet is the lightest of the semi-freestanding tents on our list and still manages to create a small, but liveable sleeping area thanks to the use of two ridge poles to maximize headspace.
One of the cooler, and more thoughtful features we've seen, was the use of mixed color mesh. This gives the sidewalls a modicum of privacy (using white mesh) while using black colored mesh in the ceiling to give less obstructed views of the stars.
While you can fit two regular-sized rectangular sleeping pads in (just), the Hornet can feel a little cramped for two. The floor tapers towards the feet thus removing the possibility of sleeping top-to-tail with your partner, so broad-shouldered gents could quickly become very cozy. While not hugely larger, the Tiger Wall and the REI Quarter Dome do give you a little more space across the head end of the tent. The slightly larger Tiger Wall also has more storage space for gear.
Specs
Type: Semi-Freestanding
Floor area: 27.5 sq ft
Height: 39"
Vestibules: 14.2 sq ft
Weight: 2 lbs 6 oz
Packed Size: 7.5 L
Rainfly: 1200 mm / 10D
Floor: 1200 mm / 15D
PROs

Lightweight tent
Great packed size
Mixed color mesh for privacy/stargazing

CONs

Tight squeeze for two
Partial coverage rainfly
Thin materials
Bottom-Line: The NEMO Hornet 2 is one of the lightest tents reviewed making it an excellent choice for ultralight backpackers wanting a little more headspace than trekking pole tents or as a one-person tent.
NEMO Dagger 2P
Best Value for Space
The NEMO Dagger is a freestanding tent that offers the most liveable space of any of the two-person tents on our list with the exception of the heavy REI Half Dome.
With a floor area 31.3 square meters, steep walls, and a peak height of 42" this is one of the best backpacking tents for interior space — feeling larger than its nearest competitors the MSR Hubba Hubba, Sea to Summit Telos and the Big Agnes Copper Spur. The only model that is larger in our review is the Half Dome SL 2 — although, this also weighs nearly a pound more.
The downside to the larger interior space, is, of course, total packaged weight. While roomier than its nearest competitors the Dagger is 4 ounces heavier than the Telos and 12 ounces heavier than the Copper Spur.
Specs
Type: Freestanding
Floor area: 31.3 sq ft
Height: 42"
Vestibules: 22.8 sq ft
Packaged weight: 3 lbs 14 oz
Packed Size: 10.5 L
Rainfly: 1200 mm / 15D
Floor: 3000 mm / 30D
PROs

Easy to pitch
Roomy interior
Dual colored mesh for privacy/stargazing

CONs

Poor ventilation with fly on
Fly doesn't give full coverage
Bottom-Line: The NEMO Dagger is a premium model that offers more liveable space at a lower price than the Hubba Hubba and the Copper Spur HV UL2.
Sea to Summit Telos TR2
Most Innovative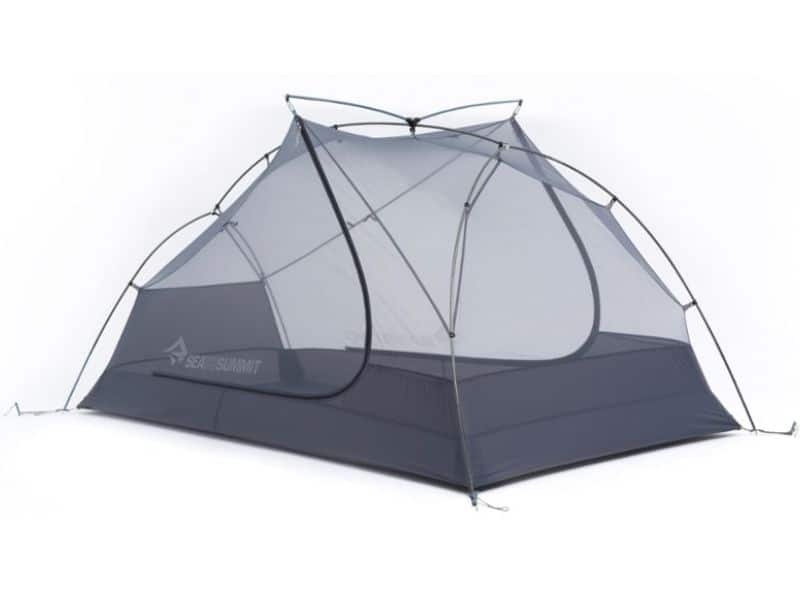 The Sea to Summit Telos TR2 is a relative newcomer to the market, and Sea to Summit has really put some thought into this one! With some of the coolest and most innovative features, we've seen they have created a backpacking tent with great livability.
Sitting in a crowded field with tents such as the Copper Spur, Dagger, and Hubba Hubba, the Telos doesn't particularly stand out in any one area. It has a comparable liveable area to the Hubba Hubba and Copper Spur, albeit with a taller peak height. However, it's still smaller in size than the NEMO Dagger. It is a similar story for storage space with the Dagger leading the way, and the Telos sitting back with the Hubba Hubba and Copper Spur.
When it comes to packaged weight, it's some way off the pacesetter Copper Spur being half a pound heavier at 3 lbs 10 oz. It does however have a slightly smaller packed volume than the nearest competitors.
So why include this tent? The Telos is in our opinion an exciting option that while doesn't win any category outright, it does do enough to keep it in the running.
Specs
Type: Freestanding
Floor: 28 sq ft
Height: 43.5"
Vestibules: 19.5 sq ft
Weight: 3 lbs 10 oz
Packed Size: 6.3 L
Rainfly: 1200 mm / 15D
Floor: 1500 mm / 20D
PROs

Great ventilation
Steep walls and tall apex give lots of headspace
Innovative features

CONs

Pricy
Heavier than the Copper Spur HV UL2
Bottom-Line: The Sea to Summit Telos TR2 is an innovative and exciting two-person backpacking tent with great liveability and some cool features.
Hilleberg Anjan 2 GT
Best for Alpine Trips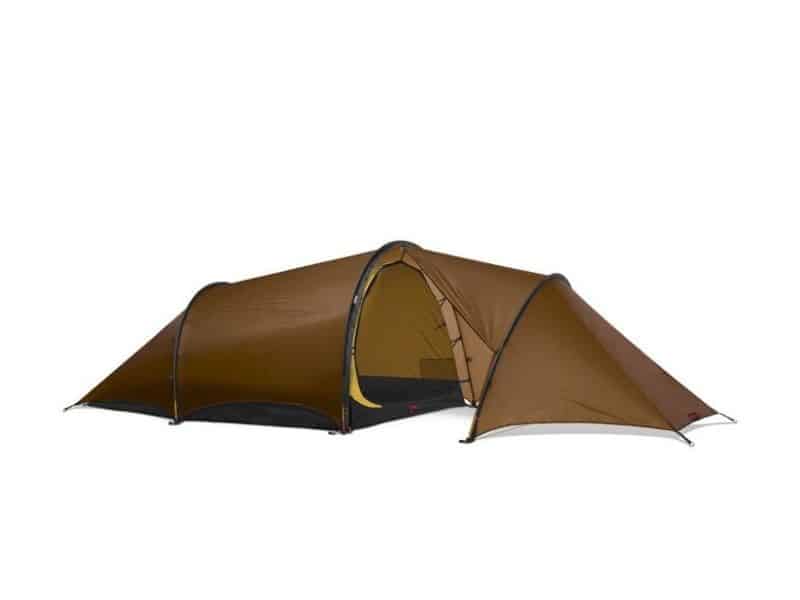 Designed in Sweden, the Hilleberg Anjan is built for harsh conditions and features superb weather protection — well above many of the other tents we have reviewed.
It has a rainfly designed with a 5000 mm hydrostatic head rating, and a floor that can withhold 12000 mm. In combination with the torpedo-like design with a single-side entrance to protect from the wind, when it comes to weather resistance the Hilleberg Anjan is head and shoulders above the rest. This has a weatherproof design created for more serious trips into the backcountry in cooler and wetter conditions.
The Anjan also has a large vestibule area of 27 square feet plus requisite interior pockets. Such a large vestibule is useful in tougher weather conditions for storing all the extra gear required to face these tougher climates.
Heavy waterproofing however means a heavier shelter at 4 lbs 12 ounces. While there are heavier two-person backpacking tents on our list, it is not an option you should go for if you expect to camp in fair to moderate weather.
Specs
Type: Semi-Freestanding
Floor: 30.1 sq ft
Height: 39"
Vestibules: 27 sq ft
Weight: 4 lbs 12 oz
Packed Size: 8.7 L
Rainfly: 5000 mm / 20D
Floor: 12000 mm / 50D
PROs

Bomber tent for harsh weather conditions
Large vestibule for extra gear
Very durable

CONs

Heavy
Trickier to pitch
Expensive
Bottom-Line: The most weather-resistant tent in our review, the Hilleberg Anjan is great for unpredictable weather above the treeline or deep into shoulder season.
Big Agnes Tiger Wall UL2 Solution Dye
Best Semi-Freestanding
In the battle of the ultralight semi-freestanding tents, the Big Agnes Tiger Wall UL2 is our favorite due to the size of the floor area, headspace, and gear storage options.
Going ultralightweight doesn't necessarily mean being crammed in like a sardine. At 28 square feet of sleeping area and 16 square feet of storage space, the Tiger Wall beats out its nearest rival the Hornet by a few square feet. While this doesn't sound like much, a 6% increase in space in an ultralight tent can really make the difference in terms of comfort.
At 2 lbs and 8 ounces, it is one of the lighter tents we reviewed, only bested by the Zpacks Duplex (19 ounces) and the Nemo Hornet (2 lbs 6 ounces) in our review.
Like most ultralight shelters, the low packaged weight does mean thinner, less durable materials used. The designers also went a little overboard on shaving weight from the fly as there is only a little overlap between the fly and the bathtub floor. If the wind is blowing the rain in from the side then you may experience some precipitation entering your tent.
Specs
Type: Semi-Freestanding
Floor: 28 sq ft
Height: 39"
Vestibules: 16 sq ft
Weight: 2 lbs 8 oz
Packed Size: 7 L
Rainfly: 1200 mm
Floor: 1200 mm / 15D
PROs

Roomiest sub 3 pound option
One of the lighter tents in our review

CONs

Minimal clearance between bathtub floor & rainfly
Less durability of thin materials
Bottom-Line: The Big Agnes Tiger Wall UL2 is slightly roomier and offers more storage space than the NEMO Hornet but does pack a couple of ounces heavier.
Critical Considerations when Choosing a Backpacking Tent
Weight & Packed Size
As a self-reliant backpacker, you're going to be carrying your shelter on your back wherever you go. While modern designs are getting lighter and lighter you shouldn't instantly opt for the lightest tent within your budget. The reduction in weight often comes with a cost to the overall livability, durability, and/or weather resistance of the structure (plus a higher price tag).
While we're all for lightweight tents, you should pick one that matches your own expectations and preferences. We are after all backpackers because we enjoy the experience of backpacking. So finding the right balance between weight savings and functionality is critical!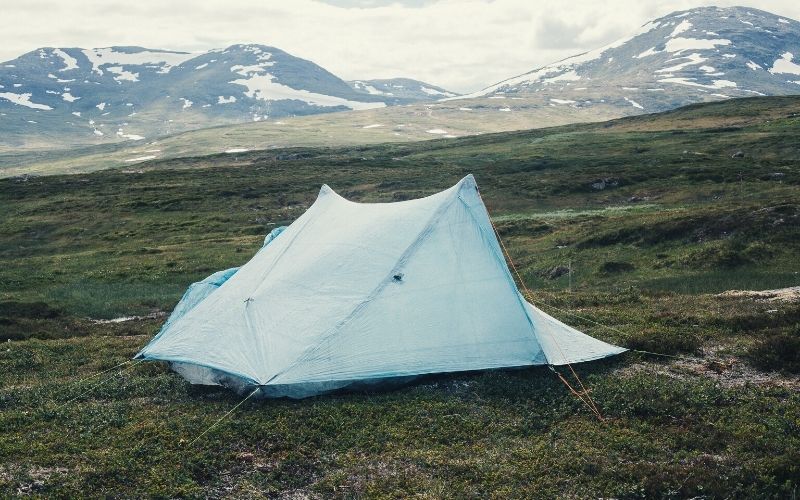 For the majority of backpackers, the best balance between livability and weight tends to be in the 3 to 4.5-pound window. Some of our favorite tents such as our top pick, the Big Agnes Copper Spur, as well as the MSR Hubba Hubba NX2, and the Sea to Summit Telos TR2 all sit in this range.
RELATED: Best Backpacking Sleeping Bag
Above 4.5 pounds you have budget backpacking tents like the REI Passage, the heaviest tent in our review at 5 lbs 10 oz, or the REI Half Dome (which is only just above this threshold). These tents are best suited for car campers who also head out on the occasional short backpacking trip.
Above the 4.5 pound mark, there is also a second category, which is the 3.5 to four-season tents like the Hilleberg Anjan designed for tougher weather conditions. These tents are best suited for colder fall or winter weather outings, or trips above the treeline.
When you drop below 3 pounds the tents use lighter, made from less durable fabrics and make compromises on interior space. These tents also tend to be semi- or non-freestanding making them more of a challenge to pitch. We'd highly recommend first-time backpackers avoid using an ultralight backpacking tent on their first few outings. Once you've cut your teeth, then choosing an ultralight backpacking tent is one of the largest weight savings you can make.
Packaged Weight Vs. Minimum Trail Weight
A quick word on packaged weight vs minimum trail weight. Manufacturers like to show both and often boast about the minimum trail weight.
The minimum weight is defined as the weight of the tent body, rainfly and poles (no stakes, guylines or stuff sacks). The packed weight is everything the tent comes with (which may or may not include a tent footprint).
While you can switch out the stakes, guylines, and stuff sacks for lighter aftermarket ones you're unlikely to go backpacking without all of them so we always list the packaged weight where appropriate.
Interior Space
Tents for backpacking are not known for being spacious and will sacrifice a lot of interior space and liveability to reduce weight, particularly in comparison to heavier car camping tents.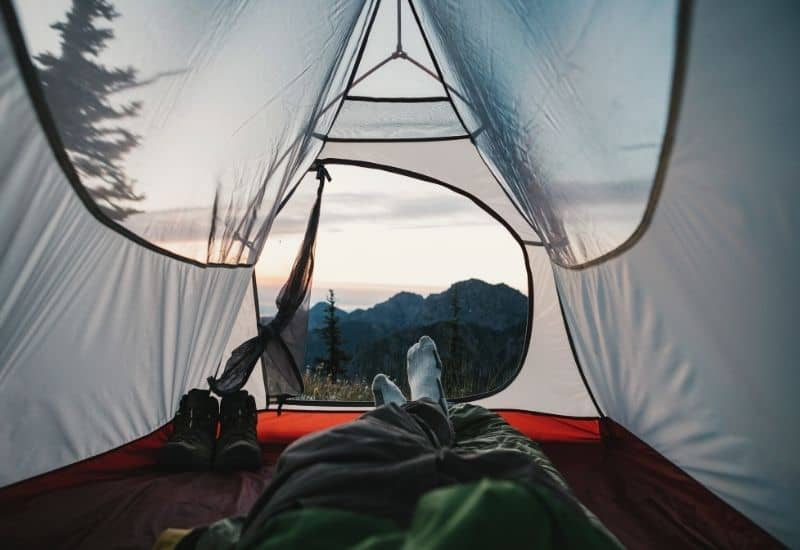 However, that doesn't mean you need to be sandwiched in like a sardine with all your gear. How much room you will need will depend on:
Whether you're camping solo or with a partner
How much gear you have
Your physical stature
Whether you can handle coffin-like confines or you'd prefer a little room to sit up and move around
Floor Dimensions & Floor Space
It shouldn't come as a surprise that tents are often tighter-fitting than their marketed capacity rating, but how much space does the average backpacker need? Knowing that a regular size backpacking sleeping pad is normally 72″ x 20″ equates to around 10 square feet of space. However, this doesn't account for things like the gear you'd want to bring into the tent and little room for some tossing and turning or stretching of your arms.
We personally find anything below 14.5-15 square feet per person is about the threshold where things begin to get too cramped. This is particularly true if you intend or need to hunker down in your shelter for hours due to passing rainstorms.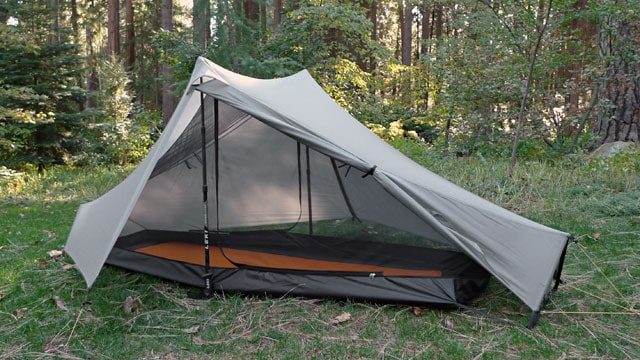 However, we don't discount tents below this figure — if you travel fast and light with little gear, or only intend to use your shelter for sleep then the extra "comfort" space may seem an unnecessary luxury.
The bulk of the tents we reviewed fall between the Sea to Summit Alto TR at 27 sq ft and the REI Half Dome SL with its 'palatial' 33.75 sq ft. Our top pick, the Big Agnes Copper Spur sits in the middle with a tight, but comfortable 14.5 sq ft per person (for the 2 person version of the tent).
Don't forget to look at the actual length and width of the structure. Many tents like the NEMO Hornet or the Big Agnes Tiger Wall shave off weight by tapering down to 42-43″ wide towards the foot end. For many this may not be a problem, but if you intend to use one (or more) wide sleeping pads you may find they won't fit next to each other.
Peak Height and Wall Slope
Also affecting interior space and general liveability are the peak height and the slope of the tent's walls. A tent with a smaller floor space may "feel" bigger than a larger option if it is taller and its walls are near-vertical.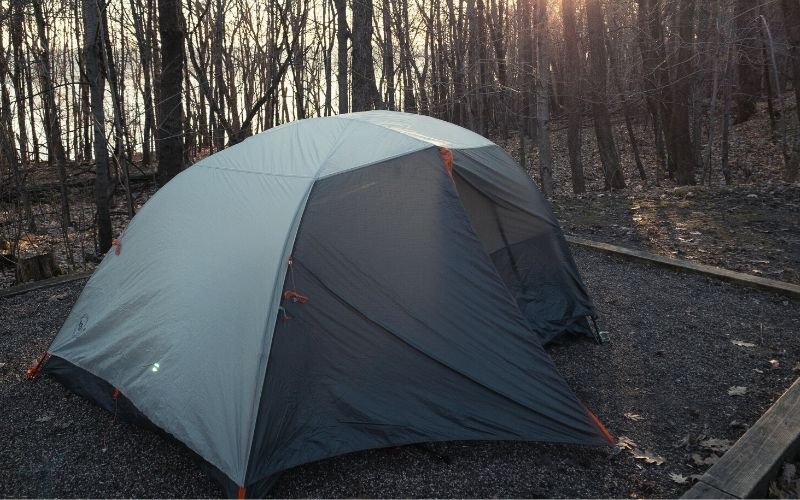 The peak height is simply the tallest point or apex of the structure, typically at the pole hub in the middle. There is no "right" peak height, but taller campers may want to opt for a taller structure if they intend to spend time sitting upright. A peak height of 39 – 43″ is pretty typical for most backpacking tents, although the Zpacks Duplex is an outlier thanks to the use of two trekking poles to create its frame, and is the tallest in our review at 48″.
Peak height only tells us one part of the story, if the walls of the tent body slope significantly, then much of the floor space is unusable if you want to sit upright. Many premium designs like the MSR Hubba Hubba NX or the Big Agnes Copper Spur stretch the walls outward and make them near-vertical by using more advanced design features like pre-bent poles and ridge poles.
Ultralight backpacking tents like the Zpacks Duplex, and budget tents like the REI Passage, will often use simplified pole structures that result in a sharper slope and less interior space.
Doors
Often overlooked is the number of doors a tent has. If you're traveling solo this isn't much of an issue. However, if you've ever partnered up in a two-person tent with only a single door, those nighttime pee-breaks can be a pain as you clamber over your sleeping companion and your gear.
If you're traveling in pairs, then we heartily recommend finding a tent with two doors. The only tent in our review that has a single door is the Hilleberg Anjan 2. However, this option gets some slack as the door is located at the head of the tent meaning no crawling over your fellow campers to get out.
Weather Protection
Whenever bad weather strikes your rainfly is your first defense, protecting you from precipitation, wind, and cold air. All the rainflys in our backpacking tent reviews have a DWR waterproof coating, are seam-sealed, and can hold up for hours without leaking.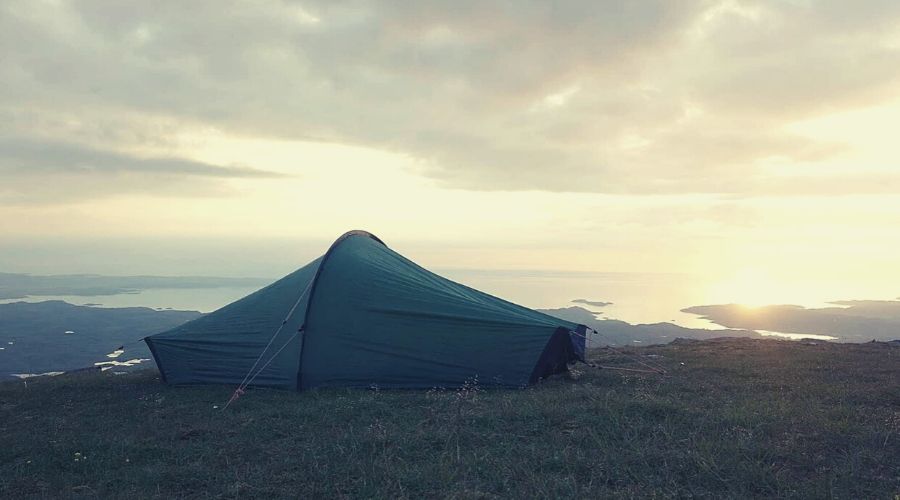 The water-resistance of a rainfly is measured in millimeters of hydrostatic head – basically, the amount of water that can sit on the fabric before the downward pressure forces liquid through. Unless you plan to backpack in very arid conditions we'd never recommend a rainfly with less than a 1000mm rating — the higher the rating the more resistant it'll be to the wet stuff.
If wet weather is on the cards, we'd always recommend a full-coverage rainfly. Partial rainflys, while great for ventilation, may also allow rain to enter your shelter when the wind happens to be blowing in the right direction. Tents with deeper bathtub tent floors (less mesh), and extra guy-out points are great for wetter or more-exposed trips.
A tent's shape, structure, and pole materials will all greatly influence its capabilities in windy and stormy conditions. Dome-shaped tents like the Hubba Hubba have fewer flat surfaces making them more aerodynamic. This aerodynamic shape assists in pushing the wind around the structure, helping them handle stronger winds over A-frame tents like the Zpacks Duplex.
RELATED: Best Backpacking Sleeping Pad
When it comes to tent poles, most backpacking tents opt for aluminum poles due to their strength and low weight as compared to fiberglass or steel. As most tents use similar types and thickness of aluminum poles, the pole structure will mostly determine the level of weather resistance with non-freestanding options being less able to weather a storm.
Lastly, to a lesser extent the number of guy out points and the quality of the tent pegs will play a role — although, we find that buying aftermarket tent stakes for your tent is usually a good (cheap) investment.
In general, the more weather-resistant the tent, the higher the cost — the most expensive option in our review, the streamlined four-season Anjan is truly bombproof with a 5000mm rainfly and 12000mm floor suitable for winter backpacking or trips above the treeline.
Wall Construction & Ventilation
Ventilation plays a key role in keeping you comfortable in both warm and cold conditions. How well your tent ventilates will depend on whether it's a single- or double-wall tent, the rainfly design & waterproofing, and the efficiency of its vents.
In wet and cold conditions, interior condensation is an eternal struggle, particularly when using single-wall tents. While many backpacking tents are double-walled some budget shelters only use a single-wall design — we'd recommend using double-wall tents unless you backpack in arid, dry climates.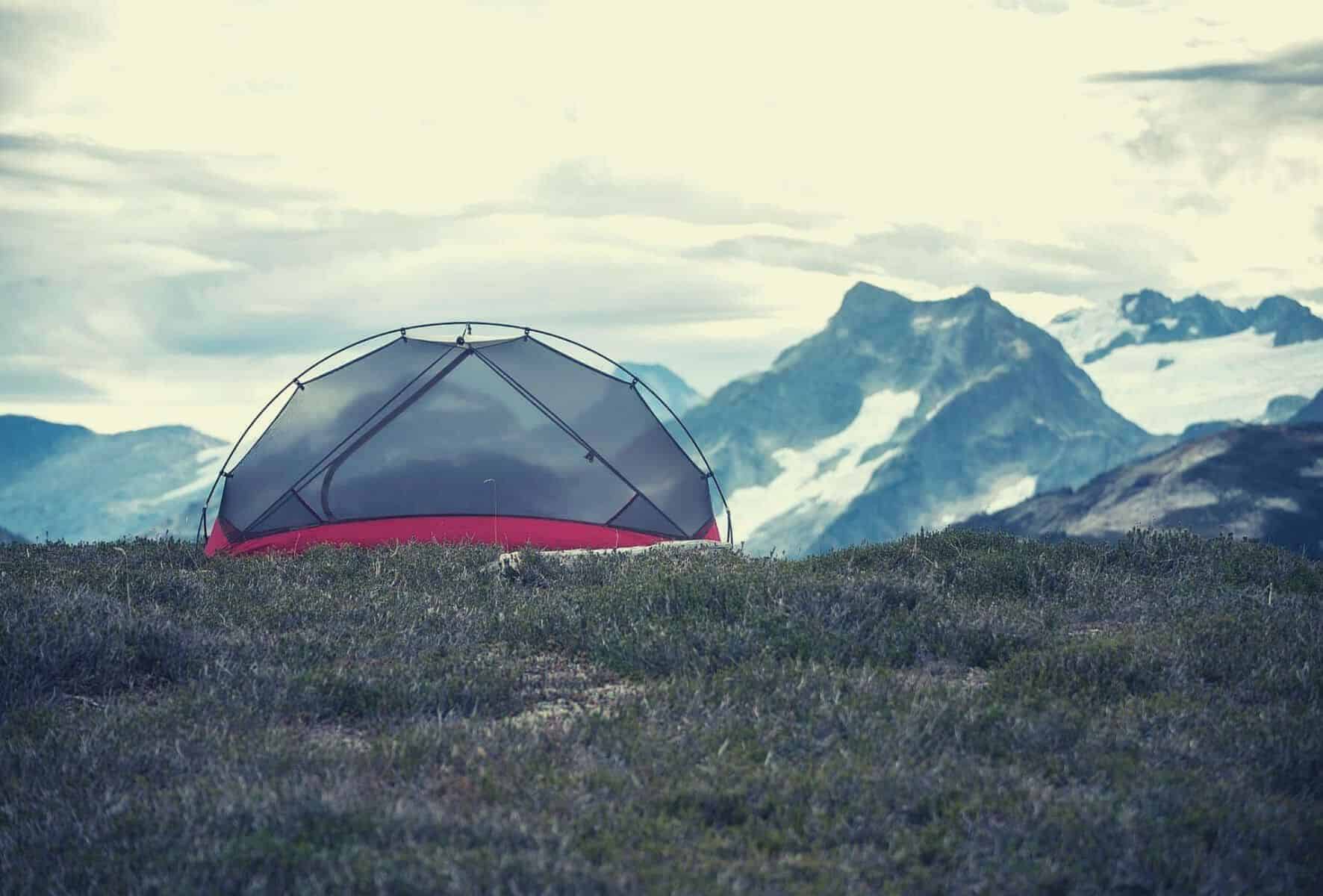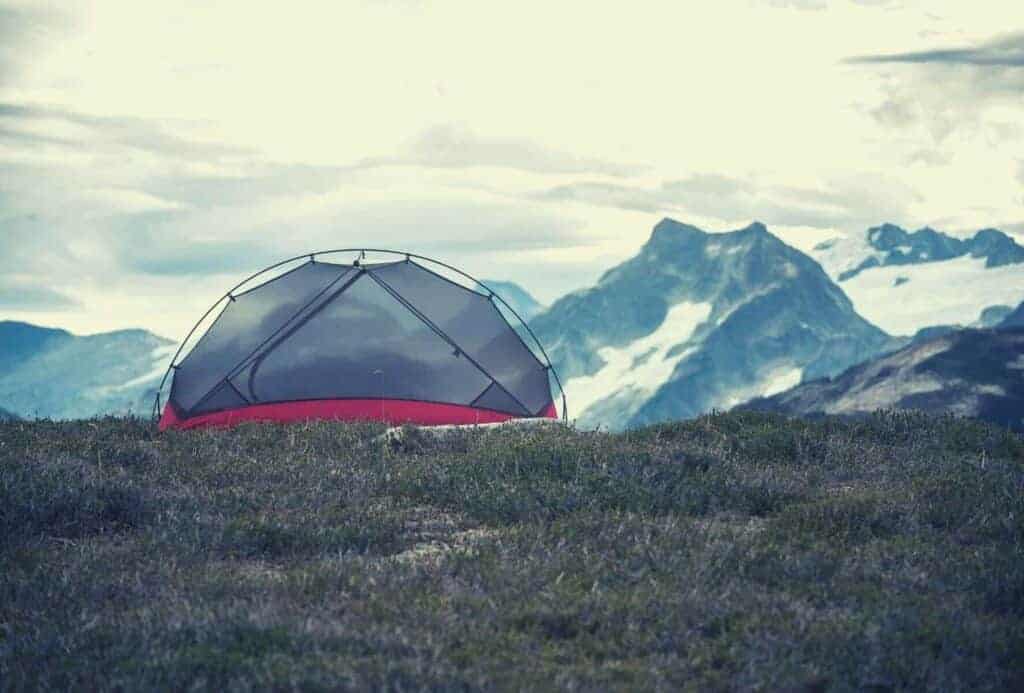 With double-wall tents, the inner body will be composed of a combination of solid nylon and mesh. As a general rule of thumb, the more mesh there is the better the inner tent should breathe.
The waterproof coatings on a tent rainfly will restrict ventilation meaning moisture and warm air get trapped inside. To help with air circulation, roof vents in the rainfly will allow warm, moist air to escape — the placement and design of the vent will determine how efficient it is at achieving this.
Tents, such as the Sea to Summit Telos, which also feature a low vent allow for better air circulation. Cooler fresh air will be introduced through the ground vent and push the warmer air up and out of the roof vents. There is also a case to be made here for tents that have a partial (or cut-away) rainfly — the reduction in coverage should aid with airflow, although be aware that this will also reduce your protection from the weather.
Pro-Tip: If you expect to do a lot of stargazing during your backpacking trip, choose an inner tent with black mesh.
On particularly warm days, removing the rainfly will provide the best airflow. Some models such as the REI Passage are designed to allow you to roll back and tie off the rainfly rather than completely removing it. This small design feature will help you to quickly get the fly back on again if a sudden shower strikes.
Durability
When it comes to tent fabrics, the "denier" often listed by the manufacturer is a measurement of the yarn's weight. While construction & material quality come into play, generally the lower the denier, the thinner the fabric is, and the more susceptible it is to tears and punctures.
Most tents will list the thickness of the tent floor, canopy, and rainfly. Of these, the tent's floor is the most vulnerable to punctures or tears, which is why we would always recommend checking your campsite for rocks or sharp sticks before you start your pitch. If you're worried you could also purchase a tent footprint (or make your own) to place underneath the floor of your tent as additional protection.
Some of the higher-end tents like the Big Agnes Copper Spur have a silicone coating applied to the fabric to add extra strength but without significant weight increase. However, as you may suspect these treatments do come with a higher price tag.
Overall, the lighter the tent, the less durable or tear-resistant the materials will be. However, with proper care and attention, all of the tents we have reviewed should last for thousands of miles out on the trail.
Ease of Setup
With the evolution of backpacking tents, most modern tents can be assembled in a matter of minutes. Improved design features such as using clips to attach the tent body to the pole structure, color-coded poles and pole hubs at the apex have resulted in faster (and less frustrating pitches).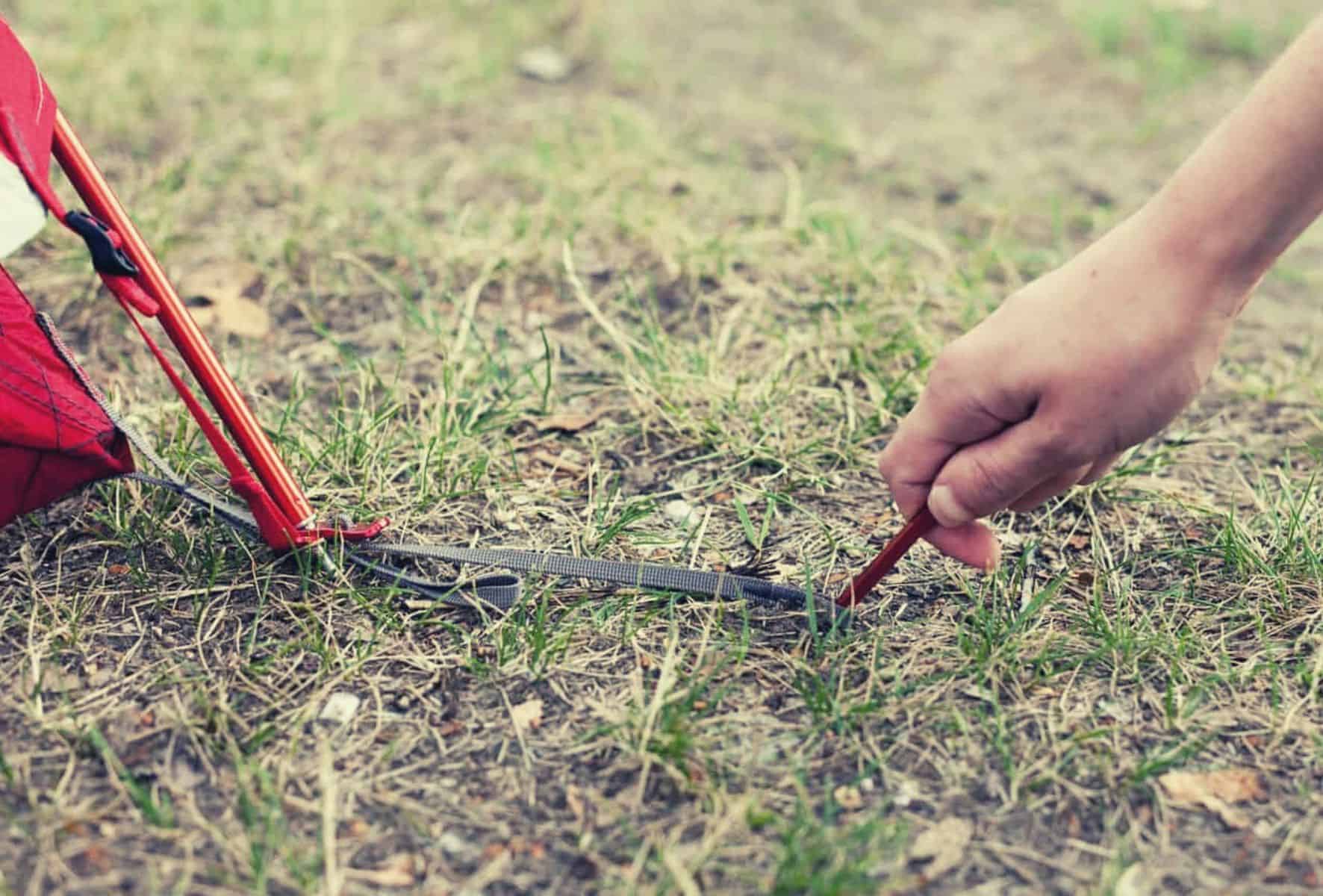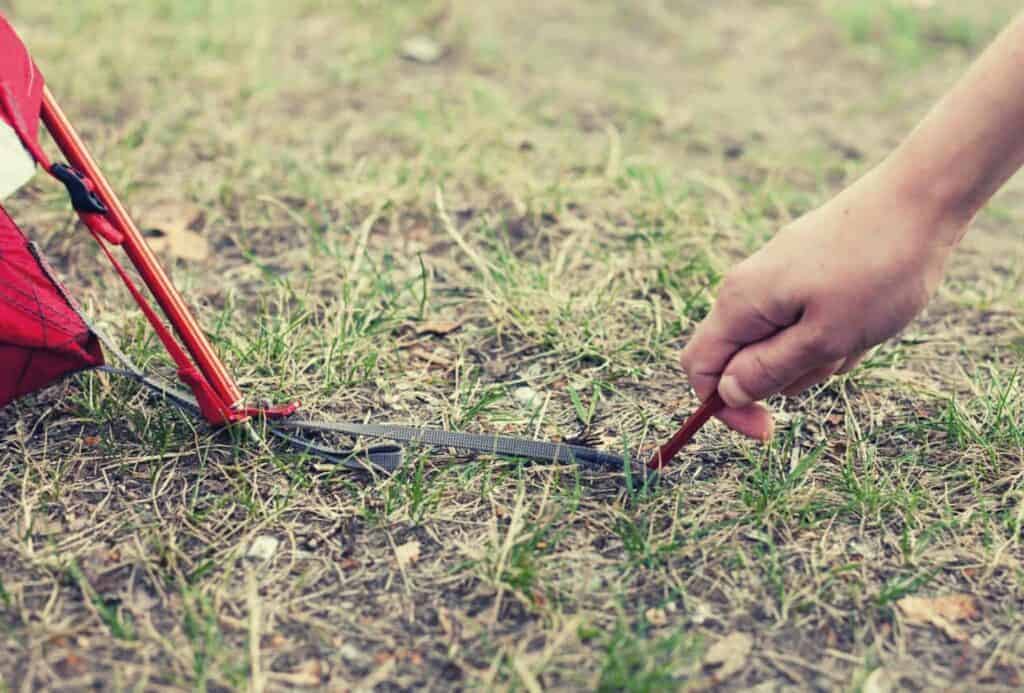 Free-standing tents that will hold their shape once the poles are attached to the tent body are the easiest to set up. Layout your footprint/tent floor, stake out the corners, connect the poles & fasten the tent body. With freestanding tents, attaching the rainfly is often the trickiest part.
With fewer pole sections, in order to create a rigid frame, semi-freestanding or non-freestanding tents need to be staked out. This does mean they can be more difficult to set up, requiring some practice to become proficient. Hilleberg tents' unique designs can make for several frustrating first attempts at pitching.
While a free-standing tent is easier to set up and can be moved once you've attached the tent body to the poles, they are heavier compared to non-freestanding or semi-freestanding models.
Whether you choose a non-freestanding or freestanding model it is always wise to practice setting up the tent at home first. This allows you to not only check you have all the parts but also means you won't be consulting the manual in a rainstorm during your first pitch in the backcountry.
Gear Storage: Vestibules and Interior Pockets
For most backpackers storage isn't a primary decision when choosing a tent, but it can help sway a tight decision between two similarly matched models. When it comes to storing your gear there are two main types of storage: interior and exterior.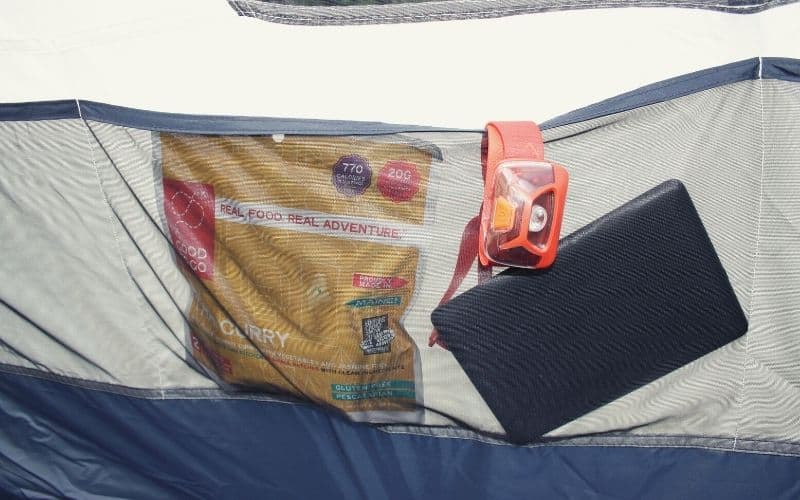 Interior storage will take the form of either mesh pockets or a gear loft, which are useful for stowing small but useful bits of kit like maps, headlamps, and extra clothing.
Exterior storage takes the form of either entry door vestibules or gear closets. Without a vestibule, you're left with the decision to either bring your dirty gear inside with you or leave it outside exposed to the elements. Thankfully, all the tents in our review have vestibules, but the amount of vestibule space can vary significantly.
The smallest vestibules in our review belong to the NEMO Hornet, which at 14.2 square feet had enough space for a couple of backpacks and hiking footwear. The Hilleberg Anjan has a massive 27 square feet, allowing you to store all that extra gear necessary for cold weather trips.