Best Camp Shoes
Aleader Men's Mesh Slip-On Water Shoes
The winner of the title of the best camp shoes out there in 2021 goes to Aleader's Mesh Slip-On. This uber-practical shoe scores high in every metric by which a shoe's performance can be measured. It's light, quick-drying, grippy, breathable, and is as comfortable as camp shoes are made.
Unlike the sandal-style camp shoes featured below, the Aleader Slip-On is a full shoe. This means they provide ample protection for your feet and toes when wandering around your campsite and bring a little more in the way of versatility.
While you might not fancy wearing these to work, they could easily moonlight as casual, post-work footwear.
Despite this full-shoe design, however, the Aleander offers outstanding comfort and breathability thanks to its mesh construction. The latter of these attributes might not seem like a deal-maker, granted. But after a hard day on the trails, your feet will rejoice that their evening wear provides the added airflow their daywear doesn't!
The mesh construction also makes these shoes lightweight, among the quickest-drying options in our review, and more likely to keep your feet warm than open-toe alternatives.
Lastly, one feature that made the Aleaner Slip-On a true standout compared to its peers is the use of a grippy rubber outsole. Sure, you're not planning on scaling any peaks in them. But if camping in rough terrain, when it comes time to fetch wood for the fire or water from the creek, that extra traction will come in mighty handy.
Bottom-line: A practical, super-comfortable, and convenient shoe that trumps its top-performing, sandal-style competitors in all but breathability.
Our Pick of the 6 Best Lightweight Camp Shoes of 2020
Looking for the Best Lightweight Camp Shoes
You're in the right place! In this guide, we will be covering the following:
What are camp shoes?
Why you need camp shoes for your backpacking trips
The most important features in shoes for camping
Which brands and models came out on top
For outdoors lovers, there are few things more satisfying than a good 20-mile hike through the wilderness. Other than, that is, the feeling you get when removing your hiking boots after that 20-mile hike through the wilderness!
But what then?
Wandering around camp in your bare feet is, of course, doable. But that doesn't mean it's advisable. Stubbed toes, splinters, cuts, insect bites, and repeated assaults by sharp rocks are some of the potential mishaps that might await.
So what to do?
Enter the camp shoe!
A good camp shoe is a nice, practical addition to any camping kit. The best camp shoes, however, will soon become an invaluable, non-negotiable feature, taking pride of place at the top of your pre-trip kit-list.
While adding to pack weight, they'll help keep your feet clean, comfortable, and likely in far better health when the time comes to strap on your boots and return to the trails.
Below, we'll help you find the best camp shoe for your upcoming adventures with a detailed explainer of what to look for when buying and a selection of our top picks for 2021.
How to Choose the Right Camping Shoes for You
What are Camp Shoes?
Camp shoes are typically a second pair of shoes, in addition to your hiking shoes/boots, that are predominantly worn around the campsite. In addition, some hikers and backpackers will also use a waterproof/quick-drying pair for fording rivers.

Types of Shoes for Camping
Sandals
Some of the lighter models of hiking sandals could be a good fit. They allow for a significant amount of breathability (as your basically exposing a large portion of your foot), are comfortable and can be used in place of your hiking boots or shoes on easier going sections of trail.
Water Shoes
These can range from a cheap pair of boat or kayak shoes, to more expensive (and better quality) mesh fabric style trail runners. These typically resemble "normal" shoes or trainers but are constructed with waterproof mesh or webbing.
The obvious benefit is their quick-drying ability, and make the obvious choice if you plan to use your camp shoes for a significant number of river crossings. Depending on how far up the price scale you are willing to go, they can also be extremely comfortable.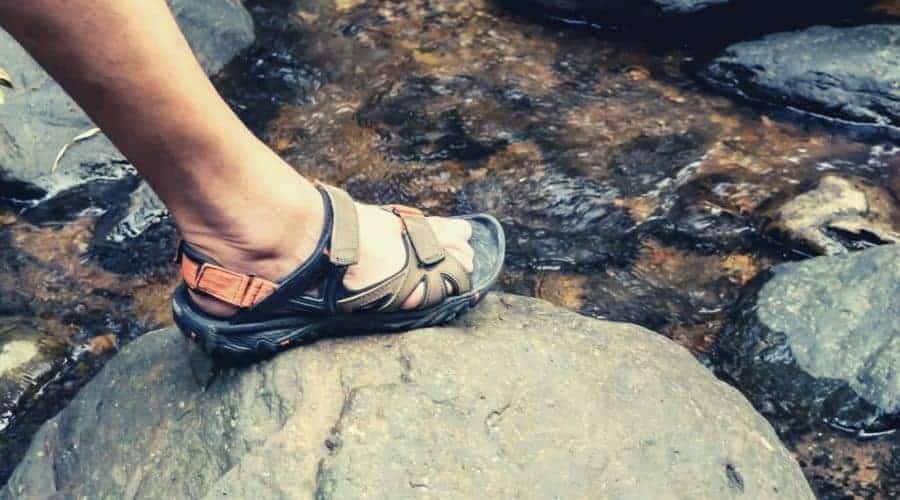 Crocs
Love 'em or hate 'em, Crocs are a dependable, hardy and waterproof option. More suited for car campers due to their bulk and weight.
Tough Socks & Toe Shoes
Increasing in popularity, both toe shoes and tough socks are essentially "gloves for your feet", comprising a fabric upper, with either a rubber base (toe shoes) or a rough coated layer (tough socks).
These win out when it comes to being lightweight and compact, but they are significantly less breathable than most other options and can take a while to dry if they get wet.
Flip Flops
If it's a campsite with maintained pavements/boardwalks, then you could consider taking a pair of cheap (or not) lightweight flip-flops. Not as sturdy as several of the other options on our list, but definitely a lightweight and cheap alternative. However, not something we recommend for dispersed or backcountry camping.
Slippers
Yes, you read that right. Slippers. For those who enjoy winter backpacking and camping, then a pair of flip-flops may be a little too breathable. In this situation, you'll want something comfortable and warm, and there are several outdoors specific brands of slipper camp shoes on the market.
Benefits of An Awesome Camp Shoe
Gives your hiking shoes/boots more time to dry
Anyone who has experienced the misery of pulling on a wet hiking boot before a long days slog knows how important this is. Taking a camp shoe to wear at the start and end of the day while you are pottering around camp, will give your boots an extra hour or two to dry out.
Editors sidenote: I'd recommend checking out these Drysure Active Silicon Shoe Dryers to help dry your boots out faster.
Lets your feet have the opportunity to breathe
After a full day of hiking, your feet will thank you for the chance to get some air. Particularly true if you are hitting the trails again the following morning – by letting your feet air out you're decreasing the chance of getting blisters, and fungus. Eeewww.
Help keep your feet healthy with a pair to wear around camp.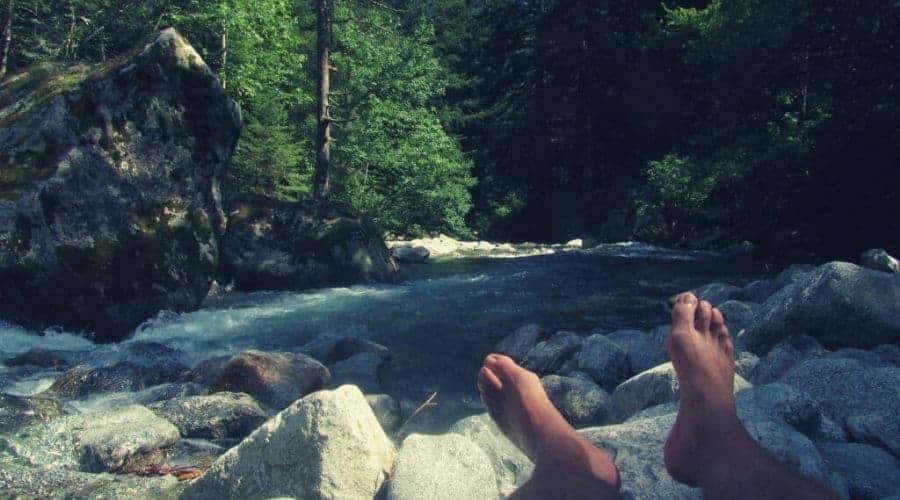 Keeps your feet clean at camp
Moving around camp or going to the bathroom in the middle of the night can be done barefoot, but you'll definitely have cleaner feet with ultralight camp shoes on. That and you are less likely to stand on something and injure yourself.
More comfortable than your boots around camp
Suffice to say, that after many miles on the trail you'd rather slip into a lightweight sandal or shoe. It's much more comfortable setting up camp and get dinner going when your feet can breathe and feel the evenings chill air.
Saves your boots from getting soaked at river crossings
If you double up and get a quick-drying waterproof pair of camp shoes, then they can be excellent for river crossings. Just down your pack, change your shoes and cross that river. Once on the other side, you can put your dry boots back on safe in the knowledge that you won't have to trudge on in wet boots.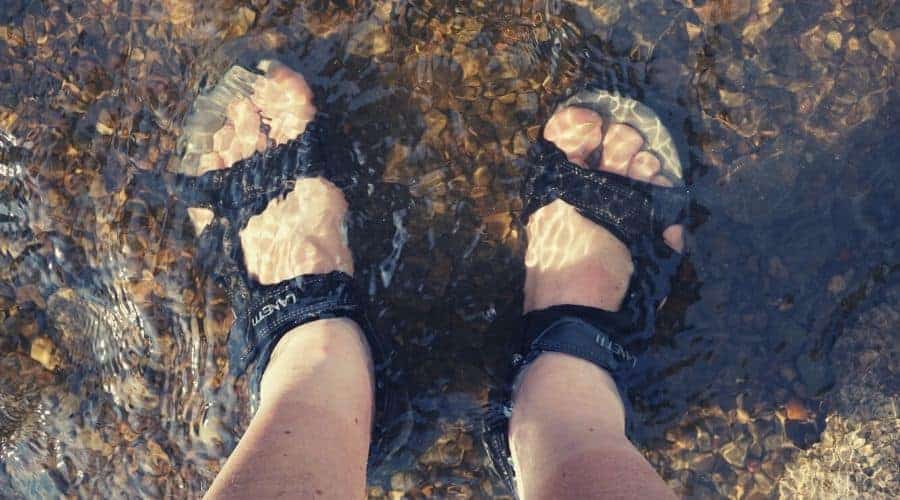 What to Look for in a Great Camp Shoe
While everybody's needs are different, there are a few common features of camp shoes that you should use to gauge whether a particular pair is appropriate for you. Taking some time to understand the following features and comparing them to your needs should help you rank which elements of a product are more important and applicable to your needs
Comfort
For many people, the main purpose of a camp shoe is to relax at the campsite, in comfort. Take the time to figure out what is comfortable for you.
I hate wearing sandals and flip-flops, so no matter what, I know I'll never be comfortable at camp in them, which is why I will tend towards a 'fuller' shoe design. For others, the reverse is true, they'll feel more comfortable with a flip flop or sandal as it exposes more skin more to the air.
Breathable
Tied closely into comfort, you want to look for a pair that allows your feet to breathe if you have had them cooped up in a pair of chunky hiking boots over the last 1000 foot ascent. Nothing beats a flip-flop or sandal for this, as the more bare skin, the greater the breathability.
Lightweight
If you intend on giving your feet (and legs) some respite at the end of the day, it's probably best not to burden them with a pair of camp shoes that feel like you're trailing two cannonballs along.
Typically you would expect a pair of camp shoes to weigh less than 14 ounces per pair, and often substantially less than this. Sandals will tend to be more towards the upper end of this (rough) scale) and the newer mesh water shoes towards the lower end.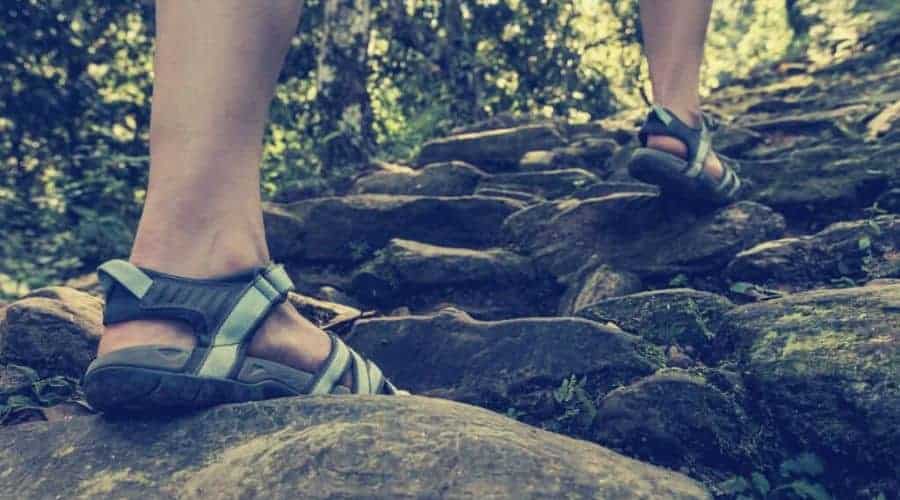 Compact
When you are transporting everything on your back, then space is a precious commodity. If you're camp shoes take up an inordinate amount of space then you'll either need to reduce on other items or get a bigger pack. We'd take the third route, and pick something that has either a slim profile (so it can slip between things), or is easily collapsible.
Waterproof & Quick-Drying
A feature that rather goes without saying, especially if you intend to use them for river crossings. The newer mesh shoe, in particular, are great at drying quickly and are typically faster drying than a sandal which tend to use fabric for the straps.
Easy-on Easy-off
Not necessarily the most important of features but one that could become a source of minor irritation as you struggle to get them on.
Which Model is Best for You?
Now that we've covered a number of different features you should investigate, let us take a look at three potential scenarios that you may fit into.
Backpacking Camp Shoes
If you are in for a long day of hiking, carrying all your equipment on your back for several days (or longer). You will likely want to minimize the weight and the compactness of your camp shoe.
The less weight you have your back for the majority of the day likely trumps the comfort for the hour or so you may be wearing your shoes in the mornings, and evenings.
Lastly, don't overlook breathability. If your feet have been stuck in a pair of boots for the last 15 miles then you'll want to give them a bit of a chance to recover and get some air while you are setting up camp.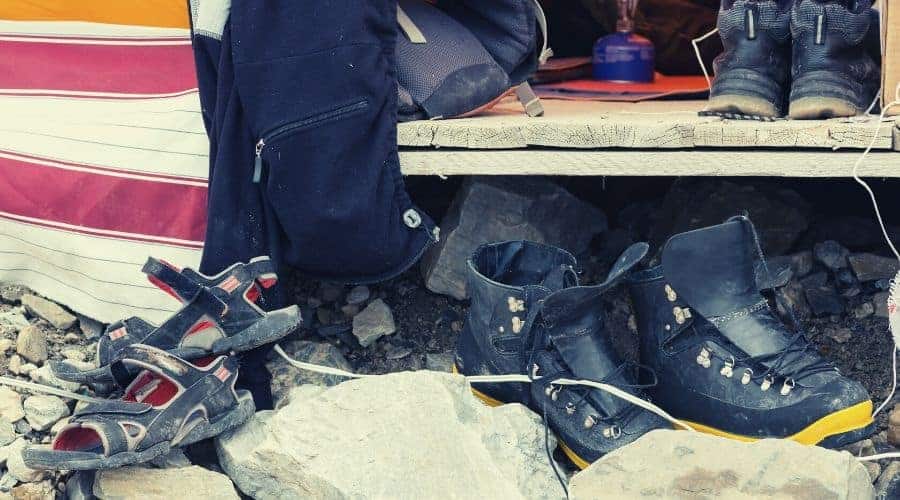 Lightweight Water Shoes
If you know your route requires several water crossings, then the focus will naturally fall on a pair of water shoes that are will dry quickly. In addition, you may also want to look at how comfortable they are if you will be hiking in them for long periods of time
We would suggest a lightweight water shoe for use with a simple on/off design at various river crossings, but if you are expecting to wear them for longer durations, then if you can afford to carry the extra weight, then pick a lightweight hiking sandal to give yourself a little bit more comfort.
Car Camping Sandal
If you have no concerns about the weight or getting your socks soaked by river rapids then focus on comfort. Your feet will thank you.
The Top Camping Shoes – The Results
Aleader Men's Mesh Slip-Ons
Our Top Pick
Our pick for the best camp shoes goes to the Aleader's Mesh Slip-On. This shoe scores well across the board. It's incredibly comfortable and actually looks and feels more like a trail runner (Ed: we wouldn't advise using it for that though).
Its mesh design allows the foot to breathe, and does it well, although, this is the one area where it falls behind some of the other products, particularly the sandals which offer greater breathability.
Being a full shoe, it does offer some protection against low branches, and rocks that you could graze yourself on. It's also got some great rubber soles for extra traction, that'll help you keep your footing around camp.
PROs

Extremely comfortable shoe that looks like a trail runner
Great drainage and drying after it has been fully submerged
Great grip and traction for wandering over slippery rocks

CONs

Not quite as breathable as a sandal
The meshy will sometimes trap sand and gravel
Bottom-Line: Narrowly loses out on breathability but tops our ranking due to its overall high scores across the board. If you want a comfortable, quick-drying camp shoe then opt for the Aleader Mesh Slip-On.
Chaco Z2 Classic Sport Sandal
Best Camping Sandals
When Chaco says "classic" they mean it, this sandal has been around since 1989. For any design to survive over 30 years then Chaco must be doing something right, and the first thing that has made this sandal a classic is it's extremely comfortable to wear.
It's one of the most comfortable models in our test, with great arch support. Thanks to the webbing design, it is highly adjustable. Meaning that those of us who have slightly abnormal foot dimensions will have no issues finding a comfortable set up (although, you may get a little frustrated from trying to perfectly find that perfect set up).
The very open design means less protection for your foot from scrapes and bumps. The Z/2 Classic is also surprisingly heavy despite this, weighing in at over ~1.5 lbs (shoe size dependent).
PROs

Extremely comfortable to wear
Best breathability in our review
Quick-drying

CONs

Less protection from grazes/cuts from rocks etc
Can be tricky to get the webbing adjustment setup correctly.
Bottom-Line: A hugely comfortable, and breathable sandals, perfect for warm and/or humid camping trips.
Keen Newport H2
Best Water Hiking Sandals
If you plan to encounter a lot of water crossing on your trip, are hiking wet arroyo's or are planning on kayaking then we would pick the Keen Newport H2 Sandal.
As with any water shoe, quick-drying materials and good traction for those slippery rocks are a must. Add on top of that the Newports' closed toe design, reducing your risk for little bumps, bruises and cuts on any unseen underwater obstructions.
The downside for the closed design is that 1) if a little pebble/stone gets in, you'll likely have to take them off to get it out, which leads to 2) these aren't a simple slip on and off design. Also, weighing in at ~2lbs (size dependent) a pair, these certainly aren't the lightest choice.
PROs

Very quick Drying
Toe Protection
Very comfortable
Decent Traction

CONs

Rocks/Sand get trapped in shoe
Not easy on/off
Heavy
Bottom-Line: The award for best water hiking sandals goes to the Keen Newport H2. It's fast drying, has great protection in the right places combined with decent traction and good comfort make it a worthy winner.
Vivobarefoot Ultra II Water Shoe
Best Women's Camping Shoes
The Vivobarefoot Ultra II Water shoe is our pick in the women's category for best camp shoe. Similar to the men's Aleader it scores high across the board.
Designed with trail running in mind, these are made to tackle the trails and creeks in comfort and style. The synthetic material and mesh design allows a great deal of breathability, combined with comfort and quick drying times.
A minor downside to this model is that after a spell through the water, you'll need to either elevate your feet or remove the shoes to completely remove all the water from the sole bed.
PROs

Lightweight/Minimalist Design
Great Breathability & Comfort
Quick drying

CONs

No drainage holes so water collects in sole
Insoles and traction boxes can separate from the bottom of the shoe over time.
Bottom-Line: The perfect pair for putting your tent (and your feet) up at the campsite, or for keeping your regular hiking boots dry while crossing creeks.
KingCamp Unisex Warm Soft Slippers
Best Winter
If you are the type that is undaunted and keeps camping when the mercury dips, then consider packing the KingCamp slippers.
These slippers are padded with hollow fiber and lined with polar fleece for great warmth on those chilly mornings. The rubber anti-slip soles and nylon waterproof shell fabric will help keep you on a solid footing, and your feet dry.
PROs

Warm and comfortable
Anti-skidding rubber sole
Easy on/off

CONs

Rubber sole can become detached after prolonged use
Bottom-Line: If you are looking for some winter warmth at camp, then these bootsies are a great lightweight addition to your pack.
KEEN Uneek Sandal
Top Camp Shoes for Backpacking
Coming through with our pick for the best sandals for backpacking is the KEEN Uneek, and unique they are.
With these sandals, you can't start anywhere else, but their design. The sandals use a webbing system that looks like a cross between a paracord bracelet and a shoe. Some people absolutely hate them (my wife), and others like the quirky design. The webbing means you get an almost shoe like design but without much weight (weighing in at just over 1lb a pair).
They are an extremely comfortable pair of sandals to wear, although some folks may find the inability to adjust the heel strap a pain. They give good traction, and are quick drying for those stream crossings.
PROs

Lightweight at just over 1lb a pair
Extremely comfortable
Unique & colorful design

CONs

Not to everyone's taste
Adjustable strap can lead to hotspots
Bottom-Line: Thanks to it's webbing design we would pick these for our next backpacking trip – comfortable around the campsite, grippy in the water and light on your back.
Last update on 2021-06-16 / Affiliate links / Images from Amazon Product Advertising API