For lovers of the outdoors, there are few things more satisfying than a good long hike through the wilderness. Aside from the feeling you get when removing your hiking boots after that good long hike!
But what then?
Wandering around camp in your bare feet is, of course, doable. But that doesn't mean it's advisable. Stubbed toes, splinters, cuts, insect bites, and repeated assaults by sharp rocks are some of the potential mishaps that might await.
So what to do? Enter the camp shoe!
A good pair of comfortable shoes for around camp is a nice, practical addition to any camping kit. A great pair, however, will soon become an invaluable, non-negotiable feature, taking pride of place at the top of your pre-trip kit list.
While they do add to your pack weight, they'll help keep your feet clean, comfortable, and in far better health for when the time comes to strap on your boots and return to the trails.
Below, we'll help you find the perfect pair for your upcoming adventures with a detailed explanation of what to look for when buying, as well as a selection of our top picks.
Our Top Picks by Category:
Sandals: Chaco Z2 and Xero Z-Trail EV
Water Shoes: Aleader Mesh Slip-Ons, Crocs Clogs, and Vivobarefoot Ultra III
Flip Flops: Hoka One One Ora Recovery Slides and The North Face Base Camp Slide III
Slippers: Teva ReEmber Slippers and Feathered Friends Booties
Editor's Pick
Chaco Z2 Classic Sport Sandal
For a camp shoe that's multifunctional, lightweight, packable, and offers comfort in spades, look no further than the Chaco Z2 (click here for women's version).
This sandal ticks all the boxes for warm-weather camping. It weighs in at 1.15 lbs., takes up little room in your pack, has a podiatrist-certified footbed, and is more than grippy and robust enough to cover multiple miles on the trail.
While many sandals lack the stability required for hiking, the Z2's adjustable straps and toe loops provide you with extra control, while the aggressive tread and 3mm lugs bring hiking-shoe-like traction in all terrains.
Being a sandal, these aren't as cozy or protective as other lightweight camp shoes in our review. They're also a little heavier than our top-rated featherweights. Nevertheless, if you're looking for one shoe to do it all, the Z2 is a solid choice.
Bottom line: A versatile, practical, hard-wearing, and uber-comfortable shoe that's ideal for three-season camping adventures.
At A Glance: Quick Recommendations
Best Camp Shoes Reviewed
Chaco Z2 Classic Sport Sandal
Editor's Pick
Type: Sandals ⸱ Weight: 1.15 lbs. ⸱ Sole: Podiatrist-certified Luvseat PU footbeds and ChacoGrip™ rubber outsole ⸱ Sizing: True to size; no half sizes
Over the last decade, the Chaco Z2s (click here for women's version) has gained a rep as one of the comfiest and most trail-worthy camp shoes on the market – and with good reason.
This shoe boasts a podiatrist-certified footbed to ease post-hike aches and pains, with robust yet supple straps that cradle the foot to mimic the supportive feel of a hiking sandal or shoe. Altogether these are among the most comfortable shoes we've ever had the pleasure of putting our feet in.
They're also among the most practical camp shoe options on the market, boasting a ChacoGrip™ rubber outsole that provides outstanding grip in any terrain, and quick-drying, antimicrobial fabrics that help keep your feet dry and stink-free.
If you're looking for a little more toe and forefoot protection, we'd recommend plumping for closed-toe shoes like the Vivobarefoot Ultra III or Crocs Classic Clogs. But for wear-anywhere functionality and a shoe that lets your feet breathe like no other, the Chaco Z2 is hard to beat.
PROs

Suitable for hiking
Grippy sole with deep lugs
Compact
Adjustable straps
Antimicrobial application for odor control

CONs

No toe coverage (a plus for some!)
Relatively heavy
Bottom-Line: Super-comfortable, packable, podiatrist-certified, and versatile enough for short hikes near your campsite, these sandals are the ideal pick for warm-weather camping.
Crocs Classic Clogs
Best Value
Type: Clog ⸱ Weight: 0.75 lbs. ⸱ Sole: Croslite™ foam cushioning midsole; EVA outsole ⸱ Sizing: On the large side (go a size down if in doubt); no half sizes
Once eschewed by "serious campers" as a shoe only fit for octogenarians and style-deficient soccer moms. However, campers just about everywhere have been won over by the Crocs Classic Clogs' simplicity, practicality, and slipper-like comfort.
These aren't the most stylish in our review, granted. Nor are they the most suitable for walking in rough terrain or anywhere near the most packable. They do, however, tick just about every other box. They're lightweight, easy to slip on/off, dry in seconds when wet, and use a plush foam midsole and EVA outsole that provide ample protection and grip, and more than enough cushioning for campsite tasks.
The Classic Clog is not suitable for any real hiking but are a comfortable (and affordable!) option for days around your campsite.
PROs

Easy to dry and clean
Lightweight
Durable
Versatile
Easy to slip on and off

CONs
Bottom-Line: Versatile, comfortable, low-maintenance, convenient, and affordable to boot, you could do a lot worse than add a pair of these time-honored classics to your collection of camping footwear.
Xero Z-Trail EV
Best Sandals
Type: Sandals ⸱ Weight: 0.68 lbs. ⸱ Sole: 3-Layer FellLite with chevron lug pattern ⸱ Sizing: True to size
This sleek, svelte, minimalist sandal is a great option for lovers of a low drop and barefoot feel.
Despite its low-profile design, the Z-Trail EV (click here for women's version) is a surprisingly robust and trail-ready shoe. In addition to the quick-drying, soft webbing that holds your forefeet secure while on the move, it has subtle heel cups that prevent slippage without chafing, an aggressive dual chevron tread pattern for grip, and 3-layer FeelLite™ soles for cushioning and foot support.
They're also adjustable and lightweight, but if you think the "barefoot" style of the Z-Trail might be a little too much for your calves to handle, a sandal with a more regular drop, like the Chaco Z2, is a better option.
PROs

Lightweight
Excellent traction
Adjustable
Breathable recycled webbing and heel strap

CONs

No toe protection
Low profile can cause toe jams
Bottom-Line: A remarkably well-designed sandal that's highly versatile and sure to be enjoyed by those who favor a low drop and barely-there feel.
Hoka One One Ora Recovery Slides
Best Flip Flops
Type: Flip flop ⸱ Weight: 0.4 lbs. ⸱ Sole: Cushioned and oversized midsole; rockered outsole ⸱ Sizing: True to size
These ultralight Hoka Recovery Slides (click here for women's version) are probably the most comfortable option in our review. Designed to aid post-hike foot recovery and soothe sore feet, their high-density, soft EVA top in combination with a generously cushioned, oversized midsole and rockered outsole essentially massage your feet while you mosey around camp.
While the Xero Z-Trail and Chaco Z2's extensive webbing and heel strap make them a better bet if you plan on putting in any mileage on trails, the Recovery Slides are ideal for letting tired feet air and enjoy some healthy R&R after a long day in your main hiking shoes.
PROs

Ultralight
Crazily comfortable
High-density, soft EVA top
Supportive
Designed to aid recovery and keep feet healthy
Approved by American Podiatric Medical Association (APMA)

CONs

Bulky
Unsuitable for hiking
Bottom-Line: A superbly comfortable camp shoe that's specially designed to keep your feet in trail-worthy condition. Not great for hiking; ideal for post-hike hanging around camp.
The North Face Base Camp Slide III
Best Budget
Type: Flip flop ⸱ Weight: 0.54 lbs. ⸱ Sole: EVA foam midsole ⸱ Sizing: True to size; no half sizes
The North Face Base Camp Slide III (click here for women's version) is a great choice if you're the type of camper who values fuss-free functionality and value for money over fancy features and frills.
These simple slip-ons are the second cheapest option in our review, after the Aleader Mesh. They're also, however, among the most comfortable, using TPU and polyester straps and cushy EVA-foam midsoles for arch support and underfoot protection.
While the Base Camp III are less suitable for walking than other camp shoes like the VivoBarefoot Ultra III they're more supportive and come at a fraction of the price.
PROs

Great grip
Affordable
Compact and light
Versatile

CONs

Not the most durable
Not suitable for walking longer distances
Bottom-Line: A simple, unfussy pair of slip-on sandals that offer oodles of comfort and great value for money.
Teva ReEmber Slippers
Best Slippers
Type: Slippers ⸱ Weight: 1.5 lbs. ⸱ Sole: Cushioned footbeds, EVA midsole, rubber outsole ⸱ Sizing: Run small (size up if in doubt); no half sizes
These ReEmber Slippers (click here for women's version) are the ideal pick for campers seeking the coziness and warmth of a slipper without compromising on convenience and practicality.
This sneaker-slipper hybrid has a cushy EVA midsole and a rubber outsole that offers similar traction to a hiking shoe. It also boasts an insulated upper and knitted collar for warmth and nearly unrivaled coziness.
With a host of other features including antimicrobial treatment to help them stay fresh, a footbed designed to assist recovery, and a collapsible heel for slipping on and off hands-free it's no wonder these shoes won our best camp slippers award.
Compared to the Feathered Friends Down Bootie, the ReEmber are heavier and offer less warmth but, thanks to that sneaker-like rubber sole, are a far more practical option.
PROs

Warm and comfortable
Rubber outsole
EVA midsole for cushioning and support
Antimicrobial treatment
Collapsible heel

CONs

Not versatile – unsuitable for hiking or damp conditions
Quite heavy
Bottom-Line: If you're looking for an option to provide you with warm and cozy paw protection around camp, these slippers are a "shoo-in" for your shortlist!
Vivobarefoot Ultra III
Best Ultralight
Type: Water shoe ⸱ Weight: 0.33 lbs. ⸱ Sole: Rubber ⸱ Sizing: True to size; no half sizes
These featherlight, barefoot-style water shoes are the lightest and most packable in our review. As such, they're also our top pick for multi-day backpacking or buyers averse to carrying extra weight.
The Ultra III tips the scale at just 0.33 lbs. and could easily squeeze into the water-bottle pocket on most backpacks. They also have an impressively grippy sole and dry quickly, making them ideal for wet conditions, whether for dewy mornings at camp or for stream crossings on slippery rocks.
While not the most supportive shoes out there, their sneaker-like design means they're more than capable of putting in a few miles on the trail.
All in all, our favorite camp shoes for backpacking trips and the best ultralight camp shoes we've ever come across.
PROs

Ultralight
Impressive environmental credentials
Quick-drying materials
Compact

CONs

Pricey
Ultra-thin sole offers little protection
Bottom-Line: On trips where every ounce counts, these ultralight but surprisingly comfortable and practical barefoot shoes come into their own.
Aleader Mesh Slip Ons
Best Budget Water Shoes
Type: Water shoe ⸱ Weight: 0.7 lbs. ⸱ Sole: EVA; Water Grip outsole ⸱ Sizing: True to size; half sizes available
The Aleader (click here for women's version) is one of the cheapest camp shoes in our review. Nevertheless, they are only a fraction behind the far-pricier VivoBarefoot Ultra III in the comfort stakes and run the Chaco Z2 a close race in terms of practicality. This is thanks to their wonderfully grippy outsole, cushy EVA midsole, light weight, and full-foot protection.
As with all water shoes, the full-foot coverage means your feet won't breathe as freely as they would in a sandal or open-toe slip-on. However, the Aleader's breathable mesh upper also means they provide a little extra warmth than either of these and far more ventilation than slippers like the Teva ReEmber.
PROs

Nicely priced
Don't absorb water – ideal for stream crossings
Grippy outsole provides good traction
Versatile

CONs

Bulky
Short on breathability
Bottom-Line: A versatile and practical pair of camping shoes available at a reasonable price point. Suitable for hiking, swimming, and lounging alike.
Feathered Friends Down Booties
Best For Cold-Weather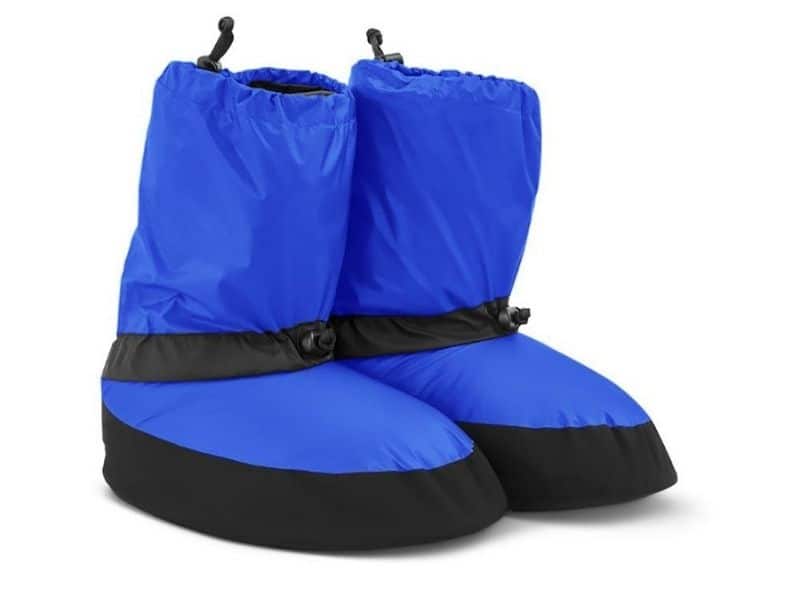 Type: Slippers ⸱ Weight: 0.58 lbs. ⸱ Sole: Waterproof fabric ⸱ Sizing: XXS-XXL
Made with ethically sourced, 800+ fill power goose down insulation, these are our hands-down winners for trips in cool conditions or for campers prone to suffering from cold feet.
Unlike several other competitors in the camp slipper/bootie niche, the FF Booties offer a lot more than coziness alone. Using a water-resistant shell fabric and a tough, waterproof sole, these bootie slippers allow you to make the odd foray outside your tent without worrying about soaking your feet or ripping them.
While the rubber sole on the Teva ReEmber makes them a better slipper for moving around camp, the Feathered Friends are streaks ahead if keeping your feet warm and comfortable is a priority.
PROs

Very warm – ideal for winter camping
Water-resistant nylon outer shell and waterproof sole
Down insulation
Removable insoles
Lightweight and compact

CONs

Fairly bulky
Lack breathability
Unsuitable for walking
Bottom-Line: On cold-weather camps, these toasty booties are like sleeping bags for your feet and a great choice if you don't plan on venturing too far from your campsite.
How To Choose The Right Camping Shoes For You
What Are Camp Shoes?
In short, these are a lightweight second pair of shoes taken to improve comfort around your campsite. They're ideal for providing your feet with a little bit of relief after a day on the trails in hiking footwear and protecting them while doing campsite tasks like pitching your tent and fetching water.
Camp shoes are also good for your feet, allowing them to breathe and relax post-hike. Most models require a lot less fuss to get on/off than shoes, making them ideal for hopping in and out of your tent. Some are also versatile enough to be used for river crossings or short day hikes from a basecamp.
Types Of Shoes For Camping
The main types available are sandals, slippers, water shoes, and slip-ons. Below, we've outlined the benefits of each type:
Sandals
Sturdier and more secure than slip-ons
Some models are suitable for hiking in warm weather (just watch those toes!)
Usually very lightweight
Ideal for fording rivers
Allow feet to breathe (but offer little to no warmth)
Examples: Chaco Z2, Xero Z-Trail EV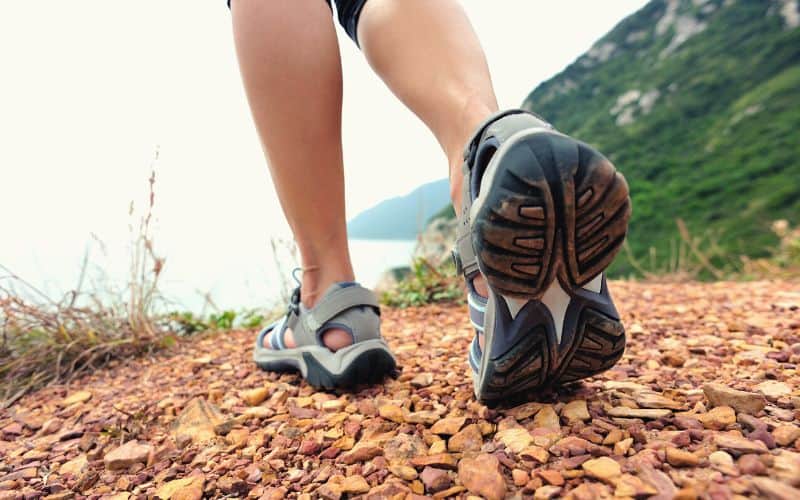 Slippers
Available in shoe and bootie styles
Provide the most warmth
Most use soft soles that are unsuitable for walking around camp
Examples: Teva ReEmber Slippers and Feathered Friends Booties
Water Shoes
Designed for use in wet environments and activities like coasteering, canyoneering, or wild swimming
Protect the whole foot
More breathable than sneakers (but not sandals or slip ons)
Quick-drying and high-wicking
Not as packable as (most) sandals or slippers
Examples: Aleader Mesh Slip-Ons, Croc Clogs, Vivobarefoot Ultra III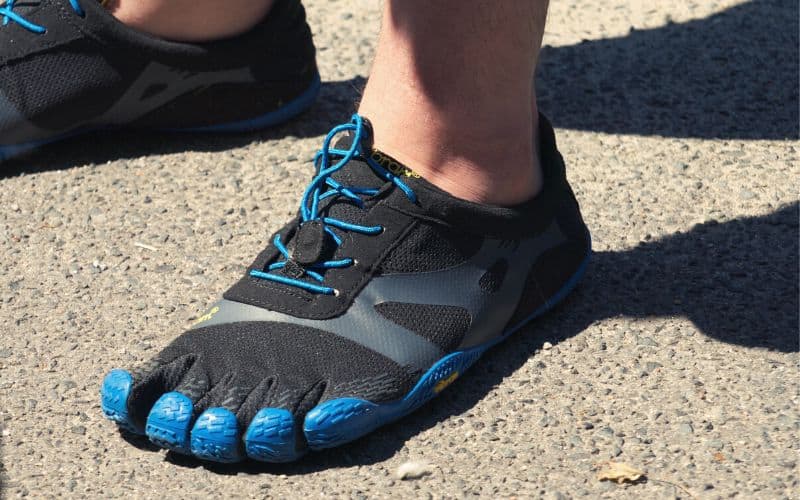 Flip Flops
Cheap
Lightweight
Reasonably compact
Let your feet breathe
Provide little to no warmth and very little protection
Easiest to slip on and off
Examples: Hoka One One Ora Recovery Slides and The North Face Base Camp Slide III
Benefits Of Wearing Camp Shoes
The main benefits of packing a pair of camp shoes are as follows:
Gives your hiking shoes/boots more time to dry out
Aids recovery by letting your feet breathe
Keeps your feet clean at and around camp
Easier to put on/take off when moving in and out of your tent
More comfortable than boots or hiking shoes
Saves you from getting wet hiking boots (and scuffed feet!) at water crossings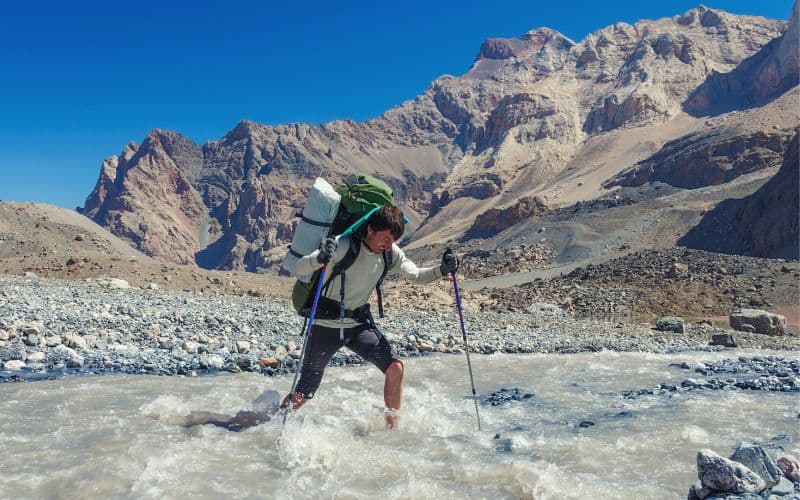 What To Look For In Good Camp Shoes
Comfort
The core purpose of a pair of camp shoes is to provide your feet with a little comfort and respite from stiff, sweaty hiking boots after a day's hiking. As such, this should be a non-negotiable attribute to look for when buying.
Comfort can be tricky to gauge when buying online. However, a few features, specs, and design characteristics can point you in the right direction.
With sandals, slip-ons, and some water shoes, for example, a plush EVA midsole will provide extra underfoot cushioning and absorb impact from the terrain. And if you're worried about straps being abrasive against the skin, a clog-style shoe like the Crocs Classic or water shoe like the Aleader Mesh may be the way to go.
While largely subjective, most users find that slip-ons and slipper-style options are the most comfortable of the bunch.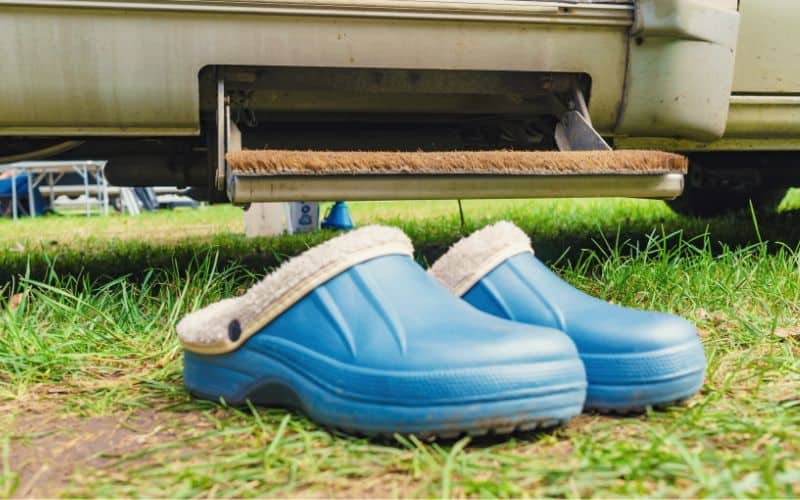 It's worth bearing in mind that comfort often involves a trade-off with practicality. The comfiest shoes in our review are slip-ons and slippers, but the former of these are unsuitable for walking and the latter, in most cases, only suitable for use inside your tent – the rubber-soled Teva ReEmber Slippers are a notable exception. Conversely, the most practical shoes are usually the heaviest and least comfortable.
Breathability
All types of camp shoes are designed to give your feet the ability to breathe, but some do so better than others.
As a general rule, slip-ons like the Hoka One One Ora Recovery Slides and The North Face Base Camp Slide III, and minimalist sandals like the Xero Z-Trail EV are the top performers. Insulated slippers like the Teva ReEmber and Feathered Friends Down Booties are generally the least breathable.
Lightweight Materials
The weight of your camping shoes isn't terribly important for car camping, but when backpacking, every ounce counts.
The lightest backpacking camp shoe in our review is the VivoBarefoot Ultra III, which weighs a measly 0.33 lbs. but offers little in the way of underfoot protection and isn't a good option for walking in rugged terrain.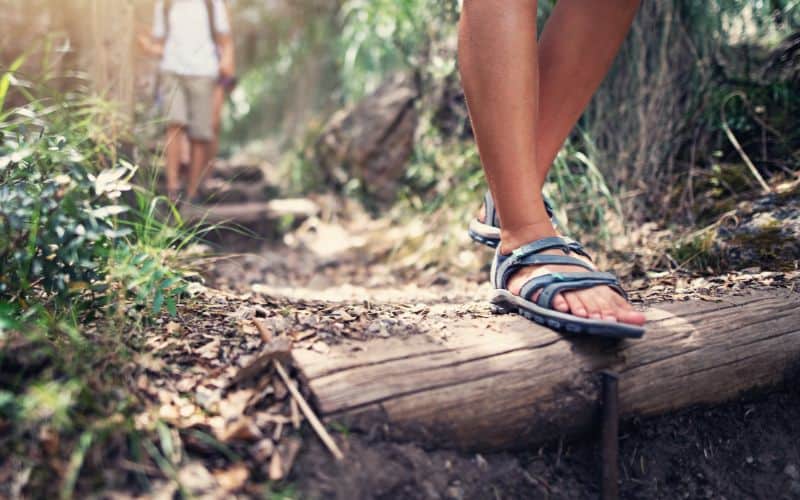 The heaviest model is the Teva ReEmber camp shoe, which weighs a hefty 1.5 lbs. but is rugged, grippy, and protective enough to use instead of hiking shoes.
Packability
When backpacking, every inch of space in your pack is a piece of prime real estate. As such, optional or "luxury" backpacking gear items like camp shoes should ideally take up as little of that space as possible.
The most packable options in our review are the VivoBarefoot Ultra III and the Xero Z-Trail EV, both are compact enough to squeeze in your pants pocket at a push! The bulkiest are the Teva ReEmber Slippers, Croc Clogs, and the Chaco Z2 Classics, all of which have more rigid soles and will take up not much less room than your average pair of sneakers.
Waterproofing & Quick-Drying
In damp or dewy conditions around your campsite, having a pair of backpacking camp shoes capable of keeping your feet dry will be a blessing.
Waterproof camp shoes will also allow you to keep your hiking shoes dry if you have to cross any shallow rivers or paddle into them to fill up water bottles. Failing that, finding a pair made with quick-drying fabric is the next best thing.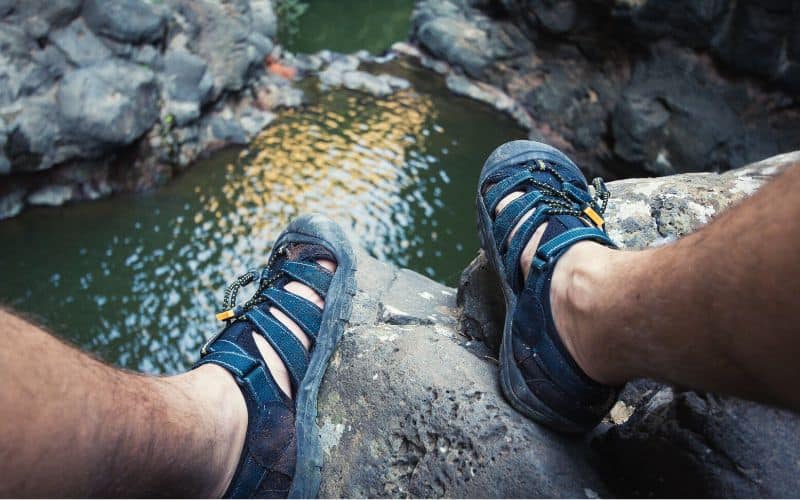 The best options for wet conditions are quick-drying sandals like the Xero Z-Trail EV, water shoes like the Vivobarefoot Ultra III or Aleader Slip-Ons, and wipe-dry options like Crocs Classic Clogs.
Those that are the least waterproof and take the longest to dry typically have the most fabric, like the Teva ReEmber Slippers and Feathered Friends Booties – if you get either of these damp, they're likely to remain that way for quite some time.
Easy-On Easy-Off
If comfort's the most important thing to look for in a camp shoe, convenience is a close second.
While all camp shoes are more convenient than hiking boots by virtue of having no lacing, the most convenient are those that can be slipped on and off with ease – or even hands-free – which usually means flip flops or slippers. Such models allow you to don and doff your footwear quickly and fuss-free when getting in and out of your tent.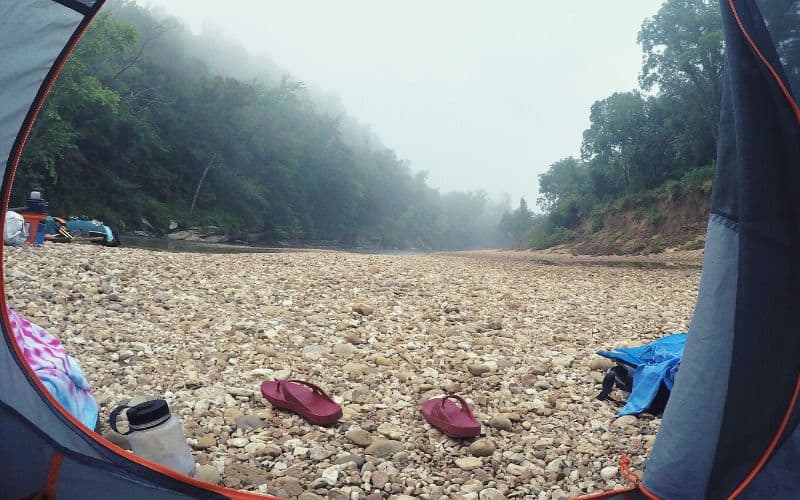 Conclusion: Our Verdict
Just in case you're still undecided, let's have a little recap to help you out.
The Chaco Z2 came out as our top pick for the best shoe for relaxing around camp. With its grippy robust sole and quick-drying webbing, these are a versatile pair of shoes useful for stream crossings as well as for protecting your feet around the campsite.
If you are looking for a little more coverage up front, the Aleader Mesh Slip-Ons and Vivobarefoot Ultra III do just that whilst again offering a little versatility in your camp shoe.
And for when the temperature drops either the Teva ReEmber Slippers or Feathered Friends Down Booties will keep your tootsies nice and toasty all night long.
So, how did you like our article? If we missed anything or you have any questions, let us know! And if you'd like to share this post with your friends, please do!