The 10 Best Hiking Sandals for Cool, Sweat-Free Feet on the Trails
Looking for Great Hiking Sandals for Men or Women?
You're in the right place! In this guide, we will be covering the following:
Our recommendation of the best hiking sandal this year
What to look for in a pair of hiking sandals
Reasons to wear hiking sandals (and why you'll love them!)
Reviews of the top 10 sandals for men and women on the market today
While nothing can match the protection of a good pair of hiking boots, sometimes conditions call for something with a little more airflow and a little less weight. Enter the hiking sandal.
Think sandals are too flimsy and short on protection for life on the trails? Think again! These days, the market is blessed with countless hiking sandals boasting dialed-in features, robust builds, and grippy soles that let you tackle any terrain in comfort and with confidence.
Our team has been busy putting some of the best hiking sandals out there to the test, racking up the miles in locations as diverse as Spain, Scotland, and the Pacific Northwest. What follows is the fruit of our labors – a list of the 10 best sandals for hiking on the market and all the "beta" you need to pick the perfect pair for your needs and adventure type.
Best Sandals by Category:
Lightest: KEEN Clearwater CNX and Xero Shoes Z Trail
Closed-toe: KEEN Newport H2, KEEN Clearwater CNX, and Chaco Odyssey
Most comfortable: Chaco Z/1 Classic, ECCO Yucatan, and Chaco Odyssey
Challenging terrain: Chaco Z/1 Classic, Bedrock Cairn 3D Pro, KEEN Newport H2, and Teva Terra Fi 5
Editor's Choice
Chaco Z/1 Classic
The Chaco Z/1 Classic (click here for women's version) wins our vote as the best hiking sandals currently on the market. They also won our award last year, and the year before, and… you get the picture.
So, what has made this hiking sandal such a standout over the years? In a nutshell, it does everything we could ask a sandal to do. It's as comfortable as they come, can be adjusted to accommodate various foot shapes, trumps most of its peers in the durability metric, and provides outstanding traction in all types of terrain.
The Z/1 Classic also has a podiatrist-certified, dual-density PU "Luvseat" midsole. This provides excellent support and all-day comfort, even when you're carrying a heavy backpack. We also found the webbing used under the burly straps felt smooth and didn't chafe against the skin, even in sweaty conditions.
Bottom line: With the Z/1 Classic you get nigh-on unrivaled comfort, excellent support, quick-drying vegan-friendly fabrics, and a sandal that's built to last.
Reviews of the Best Outdoor Sandals
Chaco Z/1 Classic
Editor's Choice
Want a hiking sandal that maximizes comfort and airflow whilst making the fewest compromises on the stability, support, and traction provided by regular hiking shoes? The Chaco Classic (click here for women's version) is just that kinda sandal.
These days, many hiking sandals have complex designs and use all kinds of newfangled features that all too often seem like a solution in search of a problem. On the other hand, the Chaco Z/1 Classic keeps things simple, and therein lies its strength.
The Z/1's outsole is made with ChacoGrip rubber and boasts 3.5mm lugs. It provides awesome traction in loose or muddy ground and grips well on rock and slippery surfaces such as exposed roots. The podiatrist-certified, dual-density PU "Luvseat" midsole offers solid arch support and delivers outstanding all-day comfort.
The Z/1's strap system is another admirable feature. The adjustable straps on the heel and forefoot allow you to achieve a dialed-in fit with ease. The toe loop, meanwhile, wraps around the big toe instead of pulling back on the toe webspace, one of our biggest grumbles with the Bedrock Cairn and other models with a between-the-toe loop.
The material of the straps (polyester jacquard) is also highly durable and far quicker drying than the suede or leather straps used on models like the Ecco Yucatan or Teva Katavi.
It would feel like nitpicking to mention any downsides to the Z/1. While their open-toe style does leave your tootsies exposed to stubs and bumps, this is the trade-off when choosing a sandal in this style…
PROs

Comfortable
Adjustable straps and heel risers
ChacoGrip outsole with 3.5mm lugs
Podiatrist-certified PU footbed
Multiple color options available

CONs
Bottom-Line: Winner of our best outdoor sandal award the Z/1 is a trail-ready, durable hiking sandal that leaves the competition trailing in its wake in the comfort stakes.
Bedrock Cairn 3D Pro II Adventure
Runner Up
Sometimes, the marketing peeps at the big brands are a little too arrogant in the naming of their products. In dubbing the Bedrock Cairn (click here for women's version) an "adventure shoe," however, Bedrock has hit the nail on the head.
True to its name, this is a sandal built for outdoor adventures, boasting a handful of features and design characteristics that translate into awesome performance on the trails.
Let's start with the Bedrock sandals' obvious USP, the MegaGrip Vibram sole. Thanks to the aggressive, pentagonal tread and deep lugs we found this sole gave us as much grip and control in loose or muddy terrain as traditional footwear for hiking.
MegaGrip also adheres well to rocky surfaces, on which lesser outsoles have left us sliding around, and is among the most durable on our list. And unlike most of its competitors, these sandals are also resoleable.
The G-hook-and-loop heel and front strap configuration is the next feature we love. This system, combined with "sole-hugger" wings, does a few things. First, it helps to provide a more secure fit by locking the foot in place. Secondly, it provides superior stability by improving posture and gait. Thirdly, it reduces the risk of the sandal being sucked off your feet in mud or fast-flowing water.
Finally, you get all of the above at a piddly weight of 17.6 oz., which is a 12 oz. saving on the Chaco Classic and roughly a pound and a half lighter than your average trail shoe.
The downsides to the Cairn? This is a zero-drop sandal, so it might be a little hard on the calves if you're used to wearing higher-drop shoes and are new to the barefoot style. The Cairns' Arch support is also best described as "minimalist" and the strap between the toes won't be to everyone's liking.
PROs

3 adjustment points accommodate varying foot shapes
Extra-grippy Vibram MegaGrip outsole
Ultralight
Extremely durable and resoleable
Made with 100% vegan materials

CONs

Minimal arch support
Zero drop (a "pro" for some, granted)
Pricey
Toe loop/toe strap won't be to everyone's liking
Bottom-Line: An aptly named "adventure" shoe that's ready to roll wherever you dare to take it!
Teva Katavi 2
Best Budget
Looking for a robust, reliable, comfortable sandal for hikes on less rugged, well-maintained trails? If so, the Teva Katavi 2 is well worth considering.
The K2 are made with burly leather straps, "Durabrasion" outsoles, and a chunky EVA footbed. This combo makes them highly durable, tough enough to deal with regular use on both paved and unpaved surfaces, and a little more pillow-like than most other options in their price range.
Compared to our review's other 3-point, velcro-closure sandal, the ECCO Yucatan, the K2 have far shallower, less aggressive lugs, which makes them a less suitable option for hiking on testier trails. They also lack some of the Yucatans' dialed-in features, like the neoprene lining and more supportive and durable PU midsole.
Given that the K2 cost half the price of the Yucatan and weigh 3 oz. less, however, they're a solid option if you're looking to maximize bang for your buck or don't envision needing top-end traction or the additional support of a more robust midsole.
PROs

Comfortable
No-chafe straps
Extremely durable rubber outsoles
Affordable
Ergonomic footbed
Nylon shank for added stability and support

CONs

Fairly heavy
Suede straps take a long time to dry
Less supportive midsole than other sandals
Less aggressive tread
Bottom-Line: A simple, hard-wearing, and comfortable shoe that's idealfor light hiking.
KEEN Newport H2
Best Closed-Toe Sandals
If you're looking for hiking footwear that provides the freedom and added airflow of a sandal whilst compromising only minimally on the support, stability, and traction of a regular hiking shoe, the Keen Newport H2 (click here for women's version) is well worth a place on your shortlist.
Of all the hiking sandals on our list, the Newport are the most versatile and most suitable for buyers sitting on the fence between wanting a lightweight hiking shoe and a minimalist sandal. In short, they bring the best of both worlds whilst also compromising least on the most endearing features of both types of footwear.
Weighing in at 28 oz., the Newport is the second heaviest sandal on our list after the Chaco Classic. While this might be a dealbreaker for some, the Newport has a few features that make it well worth the extra weight. A burly toe cap to prevent bumps and bangs, a plush EVA midsole, a bungee lacing system for easy on/off, and padded webbing are the most notable.
Other admirable features found on this sandal include a grippy razor-siped sole with deep lugs for excellent traction, an anti-odor treatment to keep them smelling fresh, and hydrophobic webbing that sheds water lickety-split.
PROs

Protective rubber toe cap
Excellent traction
Very comfortable
Durable uppers and outsoles
Versatile

CONs

Bulky
Relatively heavy
Less breathable than minimalist options
Bottom-Line: A versatile shoe/sandal hybrid in which you could hike the Appalachian Trail, spend a day on/in the water, or wear out on a night on the town (town dependent, of course…!)
Teva Hurricane XLT2
Best Value
The Hurricane have been a regular on our list of the best men's hiking sandals and best-hiking sandals for women for the best part of a decade. And with good reason. Not only do they retail at around half the price of the market's top-end sandals, but they also outperform many pricier competitors in several key metrics.
The Hurricane (click here for women's version), in short, encapsulates everything we love about hiking in sandals. They're lightweight (20.8 oz. per pair), rugged, dry quickly, and keep your feet cool thanks to their supportive but minimalist velcro strap configuration. They also offer great traction courtesy of their multidirectional tread and deep lugs and have a nylon shank for extra support.
Compared to the Teva Terra Fi, the Hurricane are a little less rugged and less supportive. However, they're a handful of $ cheaper and almost 6 oz. lighter. Like the Terra Fi, the Hurricane have an extra-cushy sole that provides all-day comfort and great underfoot protection, as well as quick-drying webbing that makes them equally at home in the wet stuff as they are on land.
PROs

Quick and easy to adjust
Sustainable
Quick-dry webbing
Affordable
Comfortable

CONs

Less supportive midsoles
No toe protection
Bottom-Line: A pair of classic, tried-and-tested, rugged sandals that perform just as well on the trails as many of its pricier competitors.
ECCO Yucatan
Most Supportive
The Ecco Yucatan (click here for women's version) are a great pick for buyers who want an extra-durable, sturdy, and supportive sandal for regular use on moderate trails.
Unlike other sandals on our list, the Yucatan aren't an out-and-out hiking sandal, as betrayed by their more casual aesthetics and far from aggressive tread.
So how do they earn their place on our list? Well, the Yucatan is a superbly comfortable sandal.
The molded EVA footbed and durable PU midsole provide outstanding, long-lasting cushioning and support. Whilst the sandals' RECEPTOR technology and tall stack height mean they deliver enhanced stability and absorb impact as well as any other models on our list.
The straps are soft against the skin and the contoured footbed feels nigh-on slipper-like.
The outsole is, sadly, nothing to write home about, and the lugs are a little too shallow to inspire confidence in loose or muddy terrain. As such, we'd only recommend the Yucatan for hiking in mellow or moderate terrain.
PROs

Great support
Burly materials
Extremely durable
Nicely contoured arch
Comfortable straps

CONs

Expensive
Heavy
Bulky
Not quick-drying
Bottom-Line: An outstandingly comfortable, supportive, and durable hiking sandal that's ideal for casual hiking on well-maintained trails.
Teva Terra Fi 5 Universal
Best Traction and Grip
The Teva Terra Fi 5 (click here for women's version) is one of the most popular womens and mens hiking sandals the world over. While not the lightest sandal on our list by a long shot, the reason for their popularity is simple – they are as comfortable as sandals come, highly supportive, tough as nails, and provide traction on a par with your average hiking boot.
Weighing 26 oz., the Terra Fi are among the heaviest sandals on our list. Those added few ounces, however, are used on features that most hikers would much rather have than do without, especially on more challenging trails.
These include wide comfortable straps, molded PU midsoles for durable cushioning and support, and "Spider Rubber" outsoles that provide awesome traction and grip wet, slippery surfaces better than any outsole we've ever worn.
PROs

Outstandingly grippy soles
Cushy midsoles
Comfortable velcro straps
Quick-dry webbing
Durable
Ideal for wider feet

CONs
Bottom-Line: Tough and superbly comfortable trekking sandals that have the cushiest sole and grippiest outsole of any we've ever worn.
KEEN Clearwater CNX
Best Lightweight
If you're looking for a closed-toe sandal without paying the weight penalty, the Keen Clearwater CNX (click here for women's version) is worth a shout.
The Clearwater weighs just over 17 oz., making it 10.7 oz. lighter than the Keen Newport and comparable to minimalist options like the Bedrock Cairn. But this is far from a minimalist shoe/sandal, boasting burly toe protectors, a beefy rubber outsole, and extensive polyester webbing that cradles the foot from heel to toe.
At first appearance, this looks like a doppelganger of the Newport H2, but there are a few key differences worth pointing out.
First of all, the Clearwaters' molded arches and PU midsoles are a little on the scrawny side, which makes them less supportive and stable on uneven ground. While the outsoles are made with the same materials, the Clearwaters' tread is far less aggressive and the lugs are noticeably shallower, meaning they provide poorer traction in wet terrain.
But it ain't all bad…
The lighter weight of the Clearwater makes them less likely to result in leg fatigue during long days on the trail and also gives them a more nimble feel than their heavyweight peers. They also boast a thermoplastic urethane shank that provides a little extra stiffness to the sole – an addition that gives you more purchase in steep terrain by preventing your heel from dropping excessively with each step.
You're probably wondering, however, why you would choose these over the Newport, given that they retail at a similar price and the Newport is a more rugged and suitable choice for hiking.
The answer is that the Clearwater are, as the name suggests, the more amphibian of the two, and transition seamlessly between water and land thanks to their sticky outsole and lighter, quicker-drying materials. If you plan on doing any canyoning, rafting, or hiking on wet trails, then, these waterproof hiking sandals are a great pick.
PROs

Lightweight (and less clunky than the Newport H2)
Quick-drying webbing
Closed-toe style and webbing keeps feet protected
Comfortable footbed
Sole adheres well to wet surfaces and slippery rocks

CONs

Less traction than Newport H2
Short on arch support compared to other hiking sandals
Bottom-Line: The best waterproof sandals out there for hikers seeking a lightweight alternative to the Newport H2s.
Xero Shoes Z Trail
Best Ultralight
If you're a fan of minimalist footwear and zero-drop designs, the Xero Shoes Z Trail (click here for women's version) travel sandals are well worth considering. These minimalist sandals are sure to split opinion, with some users sure to feel they are the epitome of the "less is more" ethos and others lamenting their lack of substance.
If you're a "cup half full" kinda person or a card-carrying convert to barefoot footwear, there's a lot to love about this sandal.
The outsole uses an aggressive, dual-chevron tread pattern that provides excellent traction and grip on inclines and wet ground. On top of that, the 3-layer, 10 mm FeelLite soles provide decent underfoot protection and enough flexibility to let your feet flex naturally, thus sparing you from aches, pains, and strains at the end of a day's hiking.
The Z Trails also have soft, tubular webbing that's wide enough that it doesn't pinch or chafe, multiple adjustment points, and zero-drop soles that keep your heels low to the ground, thereby encouraging better posture.
The Z Trail weigh a tiny 10.8 oz per pair. For reference, this is almost three times lighter than the Chaco Z/1 and roughly the same weight as regular flip-flops or a can of soda. Their extra-flexible materials also mean they can be rolled up into a tiny bundle and stowed in a pant pocket or backpack hood when not in use.
And the downsides?
To keep weight down, makers Xero have done away with a few features that many buyers might consider non-negotiable, such as a rubber toe box and cushy midsoles. This means they're short on protection and not as supportive as sandals like the Ecco Yucatan, Teva Terra Fi, and Keen Newport.
Xero also boast that this sandal will let you "feel the terrain beneath your feet." While this is true and all very well if you're strolling on a sandy beach or a manicured trail, it's far from ideal if you're hiking in uneven or rocky terrain.
If you're in the market for a lightweight hiking sandal similar in style to the Zs but would prefer an upgrade in protection and stability (even if it means a few more ounces), check out the Bedrock Cairn and Teva Hurricane, both of which fit the bill.
PROs

Ultralight – feels like walking barefoot
Minimalist webbing lets your feet breathe – ideal for summer hikes
Multi-point adjustment provides a snug fit
They float!
Good traction

CONs

Zero-drop soles can lead to calf strain in untrained legs
Scant underfoot protection
No toe protection
Lack stability (feel like a flip flop)
Bottom-Line: A sandal that is both beauty and beast – beautiful for devotees of barefoot footwear, but kinda beastly for anyone not used to low-drop soles, meager underfoot protection, and less substantial support.
Chaco Odyssey
Most Comfortable
Best described as a sneaker-sandal hybrid, the Odyssey (click here for women's version) uses a closed-toe style in combination with breathable mesh uppers and an open heel in a bid to strike the perfect balance between breathability, support, and protection.
While this design means they're a little less breathable than open-toe-style sandals on our list, it makes them ideal for anyone who wants footwear that combines the best bits of both a sneaker and a sandal.
The Odyssey's shallow, unidirectional tread (2.5mm) and skinny mesh uppers mean they aren't the best Chacos for hiking on testier trails (for this, check out our top pick, the Z/1 Classic).
However, their beefy, dual-density EVA midsole and super-soft webbing mean they offer sneaker-like, all-day comfort. A better option for peeps who are making the shoe-to-sandal transition but aren't quite ready to dive in at the deep end by choosing anything too minimalist.
PROs

Extremely comfortable
Great arch support
Can moonlight as a water shoe
Protective
Antimicrobial application for odor control
Vegan-friendly construction

CONs

Quite heavy
Less breathable than open-toe-style sandals
Grit and debris can get trapped in the toe box
Poor traction
Bottom-Line: Not the most suitable for hikes in rocky terrain, but definitely the most comfortable sandals for men and women on our list.
Critical Considerations When Choosing Hiking & Backpacking Sandals
Toe Style: Closed or Open-Toe Style?
Personal preference will dictate the ideal choice for you. If you're undecided, however, a few general observations about each type might help steer you in the right direction.
Open-toe models are lighter and provide more airflow, making them ideal for hot-weather hiking on well-maintained trails. On the downside, of course, they leave your tootsies exposed to bumps and bangs from roots, loose rocks, and other debris.
Closed-toe hiking sandals are generally more robust, protective, and provide a little extra stability, making them a better choice for hikes of greater length or in more rugged terrain. On the downside, they typically weigh and cost more.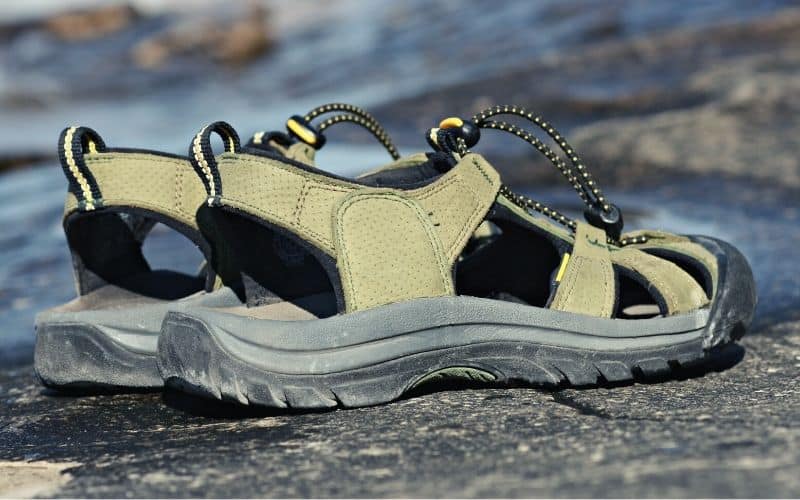 Both types of sandals are, of course, prone to letting in debris that can make life mightily uncomfortable. Of the two, however, we find open-toe models to be less guilty of the above, simply because they allow the debris to escape just as easily as it came in. With closed-toe models, anything that sneaks inside is likely to remain there until you remove it manually.
Our list has three closed-toe-style models – the Keen Newport H2, Keen Clearwater CNX, and the Chaco Odyssey. Although these sandals all look relatively similar on the face of things, the devil, as they say, is in the detail.
Of the three, the Newport provides the best traction by far, while the Odysseys' smooth unidirectional tread pattern makes them far from ideal for anything other than mellow hikes in easy terrain. If you prefer sneaker-like cushioning, however, the Odyssey's beefy midsole and tall stack height are sure to endear.
The Clearwater CNX is best described as a hiking sandal-water shoe hybrid. Its more robust build and superior traction make it a better option for rugged trails than the Odyssey. It's also a whole 10 oz. lighter than the Newport, but not quite as tough, a little less grippy, and feels a fraction less stable underfoot.
Comfort
Most hikers that decide it's time to ditch their hiking boots or hiking shoes and wear sandals instead do so for one reason above all others: comfort. There are, of course, situations in which a boot or shoe will be more comfortable – in rocky terrain or when hiking off-trail in dense foliage, for example. If you're hiking in high temps on regular, well-trodden trails, however, sandals come into their own.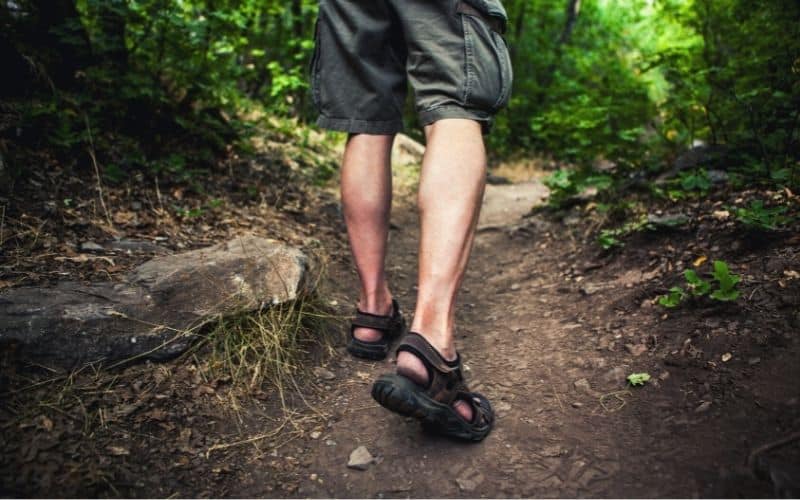 Some hiking sandals are of course more comfortable than others.
In our experience, the most comfortable sandals are those that most closely mimic the foot-hugging design of a shoe with a substantial midsole and contoured footbed for arch support. Good examples of this are the Chaco Odyssey, Keen Newport, and Keen Clearwater.
The problem? All of these sandals are fairly heavy and cover more of the foot, which largely negates the two main benefits of wearing hiking sandals in the first place – enhanced airflow and less weight on your paws.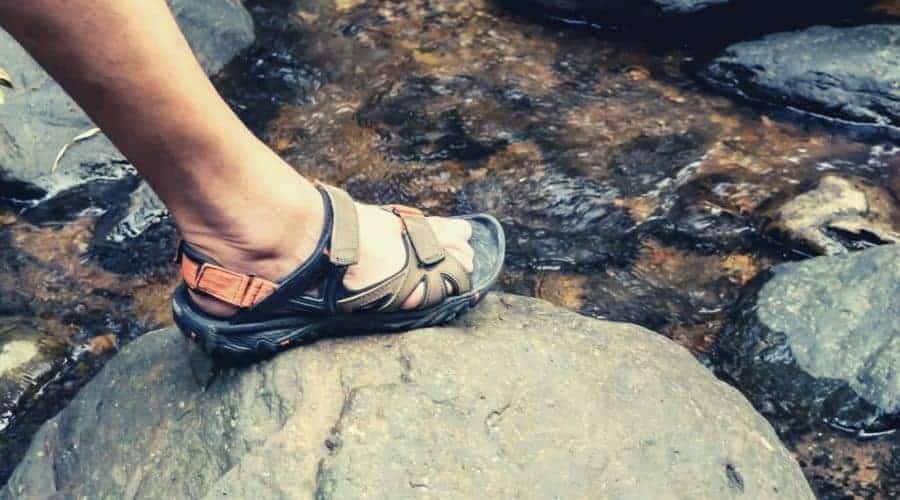 On the other hand, more minimalist options like the Chaco Z/1 Classic, Bedrock Cairn, Teva Hurricane, Teva Terra Fi, and Xero Shoes Z Trail are light and airy but have multiple straps that, for some, might chafe between the toes or on the ankles and heels.
The lightest of these (the XS Z Trail and Bedrock Cairn) also lack in the way of arch support. This can cause heel pain and/or plantar fascia on longer days on the trail since your foot arch supports your body's weight and absorbs shock when your foot hits the ground.
The most comfortable men's sandals and women's sandals on our list? It's a toss-up between the Teva Terra Fi and Chaco Odyssey, both of which, we wager, you'll be more than happy to swap in for your slippers at home after a few outings. 
Traction
On well-maintained trails, traction isn't so much of an issue. On muddy, loose, and steeper ground, however, you need an outsole that will keep you upright and in control. 
What does that kind of outsole look like? Well, for starters, the lugs should be at least 3mm deep and the tread pattern aggressive. "Aggressive"? This simply means that the tread isn't simply a linear or unvaried pattern as found on regular sandals, but multidirectional (this usually means a series of chevrons or rhombuses).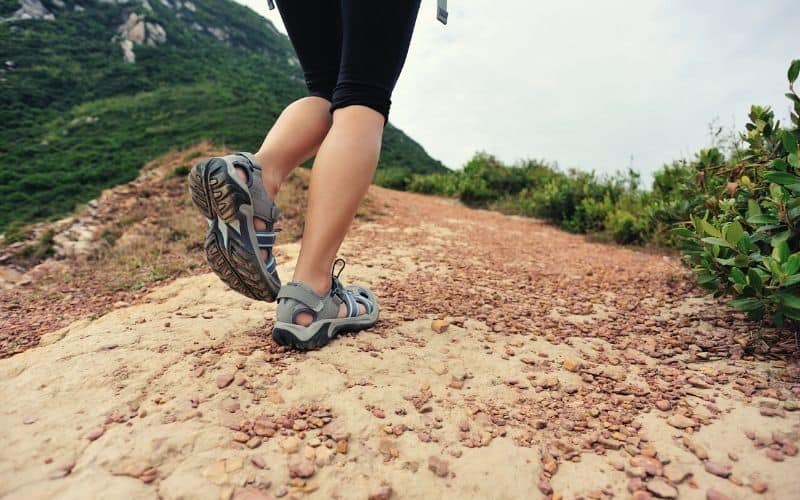 All of the sandals in our review provide good grip in loose terrain. However, the top performers are the Teva Terra Fi 5 and the Bedrock Cairn 3D, the latter of which uses a Vibram Megagrip outsole often found on hiking shoes.
Support
This metric depends almost entirely on the midsole, i.e. the layer of material wedged between the sandals' insole and outsole.
Midsoles are usually made of either EVA (ethylene vinyl acetate) or PU (polyurethane).
PU is typically stiffer, heavier, and more durable, and provides far better support for the foot. As such, it's the better option if you plan on carrying heavier loads or hiking in steeper terrain – a more rigid sole means your heel won't drop quite so much when hiking uphill.
EVA is the lighter of the two materials and provides a cushier feel, but tends to feel like a squashed pancake underfoot if you're carrying a heavy (20+ lbs) backpack.
Adjustability
One of the main advantages of hiking sandals is that they can be adjusted at multiple points (via a heel, forefoot, and toe strap), which allows you to get a more precise, dialed-in fit than with other footwear. But the level of adjustability can vary significantly from one model to the next.
The bottom line here is that the more adjustment points a sandal has in the straps and webbing, the better you'll be able to fine-tune your fitting.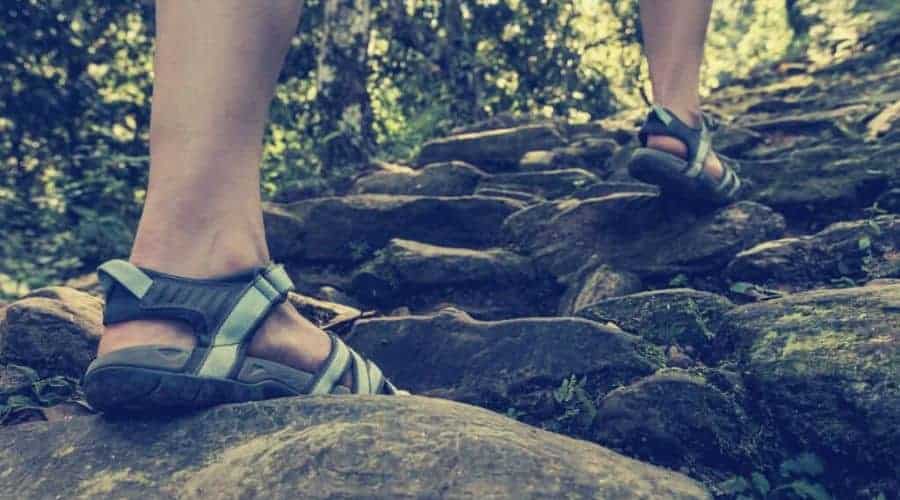 In our review, the models with both heel and forefoot adjustments are the top performers in this metric – the Xero Shoes Z-Trail, Teva Terra Fi 5, Teva Hurricane, Bedrock Cairn, and the Ecco Yucatan and Teva Katavi, both of which have additional velcro strap adjustments across the toe.
Versatility
What makes one sandal more versatile than the other? Two things: one, the ability to moonlight as standard streetwear or beachwear when not helping you rack up miles on the trail, and two, suitability for use in water.
Almost any pair of hiking sandals can double as around-town footwear if you're, eh, more concerned with function than fashion. If aesthetics are your thing, however, more classically styled models like the Ecco Yucatan and Teva Katavi are more likely to tick your boxes.
As regards suitability for use in water, there are three points worth making.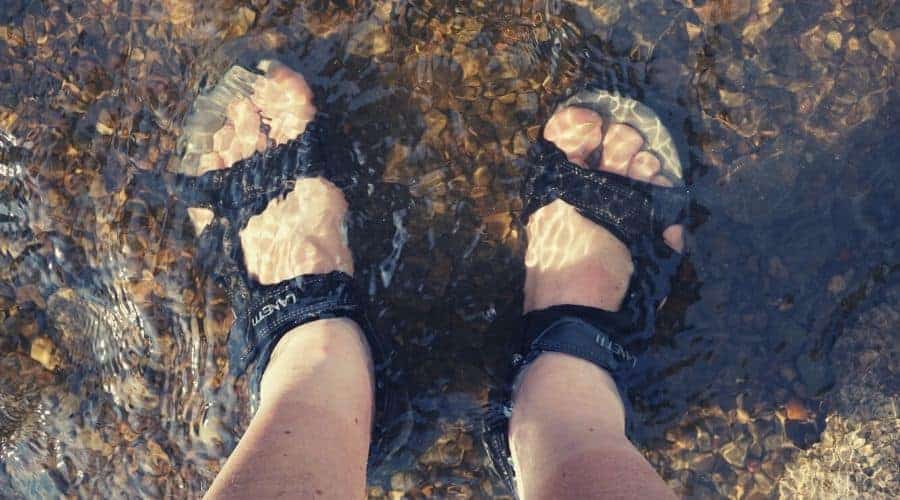 First of all, buying a pair of fast-drying sandals will make you less likely to reach for your shoes or boots if there's a chance of rain or soggy trails. Secondly, they'll save you from having to tackle river crossings in bare feet. Finally, they'll be capable of moonlighting as water shoes if you happen to do a bit of rafting, canyoneering, coasteering, or other water-based activities.
Best Sandals for Hiking: The Verdict
Choosing a pair of hiking sandals over more traditional hiking footwear is a great way to take some weight off of your feet and save yourself a sweaty time of things on summer hikes.
We hope the above list has helped narrow down the options for you and demonstrated that there's a sandal suited to every user and adventure type.
If you want a pair that ticks every box and can withstand heavy use the Chaco Z/1 are our top pick. Alternatively, if you're drawn to the idea of hiking sandals with the promise of more freedom for your feet, less sweat, and more airflow, without compromising on traction, then the Bedrock Cairn and Teva Terra Fi 5 are solid alternatives.
If you feel we missed any standout sandals, please holla in the comments box below. And if you think your friends might benefit from swapping their shoes for a pair of sandals, please feel free to share this article to spread the word.