Best Men's Hiking Sandals
Keen Arroyo II
The Keen Arroyo II is in our opinion the best sandal for hiking. While Keen's Arroyo II is branded as a hiking sandal, it looks and feels more like a sandal-shoe hybrid. Designed with adjustable webbed lacing and a protective toe cap, Keen's Arroyo II are a great option for hikers who prioritize stability, durability, and toe protection.
The Keen Arroyo II will be able to withstand moisture thanks to its waterproof outer mesh lining and nubuck leather construction. Wearers will also enjoy 4 mm deep multi-directional lugs for increased traction.
Besides durability and stability, the Keen Arroyo II offers wearers considerable comfort with inner padding and an EVA footbed. While the added protection adds a little weight, at 1.8 lbs the Arroyo II are still a pretty lightweight option for hikers looking to mesh the two together.
With the best-closed toe sandals, you will get a pair of protective and durable sandals that can handle mild to moderate hikes should look into the Keen Arroyo II, our pick for best hiking sandals.
Best Budget
Chaco Z/2 Classic
Headquartered in Michigan, Chaco is one of the world's most recognizable names when it comes to outdoor sandals. One of the company's most famous designs is called the Chaco Z/2 Classic. Made of only 8 components, this open toe sandal is one of the company's most affordable and lightweight products.
The Chaco Z/2 Classic sandals have soft Luvseat footbeds that are sure to keep your feet comfy as you're walking around. These footbeds also have pronounced arches for ergonomic support.
Although the major draws of these Chacos are comfort and breathability, there are many features that help with foot stabilization and traction. For instance, these Chacos have a patented ChacoGrip rubber technology on the soles with 3.5 mm deep lugs. There are also special toe loops for your big toes to keep your feet stable.
The Chaco Z/2 Classic is ideal for campers who want a high-quality pair of sandals for use around the campsite. While the Chaco Z/2 sandals don't offer the protection you need for a moderate hike, but they are stable enough for use in a campsite area thank in large part to the unique big toe loop.
Best Value
Ahnu Kovar Sport Sandal
In terms of durability, the Ahnu Kovar Sport also both a sturdy rubber toe cap and an ESS plate at the forefoot. For water protection, Ahnu used a quick-drying mesh webbing with tiny holes to increase breathability.
Besides foot and weather protection, the Kovar Sport have a comfortable EVA footbed to help soothe your feet. It's also easy to find the perfect fit with these sandals using the quick-release buckle straps and D-ring webbing design.
Hikers who want a durable hiking sandal that can handle tougher treks and harsher weather conditions should look into the Ahnu Kovar Sport. In our opinion, the best water sandals.
The 9 Best Sandals for Hiking Of 2021
Looking for Great Hiking Sandals for Men?
You're in the right place! In this guide, we will be covering the following:
Our recommendations for the best hiking sandal & best value sandal
Why you should consider purchasing backpacking sandals
What to look for in a pair of sandals
Reviews of the 9 top hiking sandals on the market
While nothing can match the protection of a good pair of hiking boots, hiking sandals are an excellent enhancement to add to your outdoor gear. Most often hikers only use a pair to give their toes a breather at their campsite, but many models are superb for milder treks.
Dozens of innovative hiking & trekking sandals combine the durability of a hiking shoe with the comfort you'd expect from a sandal are now flooding the market.
Below, we'll fill you in on everything you need to know about what to look for. We'll also share a few of the best outdoor sandals brands in the industry to check out.
Why Do You Need Hiking Sandals
The main reasons people get interested in hiking in sandals are convenience and comfort. Bulky boots just can't hold a candle to the lightweight portability and comfort of professionally designed hiking sandals.

Even if you don't plan on wearing them for the entirety of your trip, it's nice to have them in your backpack to air out your feet once you arrive at your destination, and their a bit more substantial than flip flops. Hikers who have foot or ankle issues will most appreciate having this option at their campsites.
Besides added comfort, hiker sandals can be useful for people who tend to go on shorter hikes and don't want to lug around heavy footwear. Sandals are also exceptional to be used in humid areas for enhanced breathability and to decrease your risk of getting fungal infections.
Could You Use Them All Hiking Trails?
Ask any serious hiker, and you'll be told not to use sandals hiking on long, arduous hikes. The reasons for this should be self-explanatory: hiking sandals don't offer the same degree of protection, durability, or support as traditional hiking boots or shoes.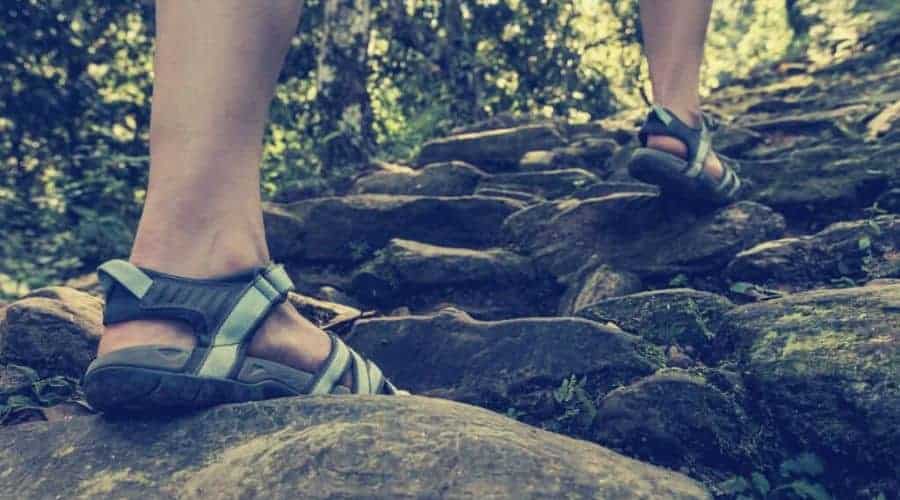 You can, however, get away with using hiking sandals on well-maintained, easy to moderate trails. Sandals are great to use on flat trails or when you're out with friends at campsites. Just don't expect to pack away your hiking shoes for boots to the back of the attic and forget about them, hiking sandals won't cover you for all your hiking adventures.
What To Look For In A Pair Of Walking Sandals
Go For Lightweight Options
As with all camping equipment, what you should prioritize in your pair of sandals depends on what you want to get out of them. One thing that should be on every campers' mind, however, is the sandals' weight.
While you certainly want your sandals to be durable, you must realize that a sandal's durability can only go so far. Hiking sandals are all designed primarily for comfort and convenience and many don't have the durability you'll need on challenging hikes in wet environments.
If you find yourself overly concerned with durability and protection, then look into shoes or boots instead. The design of sandals can only offer you so much protection.
Popularity Of Webbed Sandal Designs
A webbed pattern is the most common design you'll see used in hiking sandal construction. These sandals are made with thin, yet sturdy, strips of webbing that can be adjusted to your foot size. Some webbed sandal designs are so thorough that they almost look like a shoe.
Webbed sandals offer hikers the greatest degree of comfort and stability because they conform to the size of your feet. You can make these sandals as tight or loose as you desire usually with adjustable straps.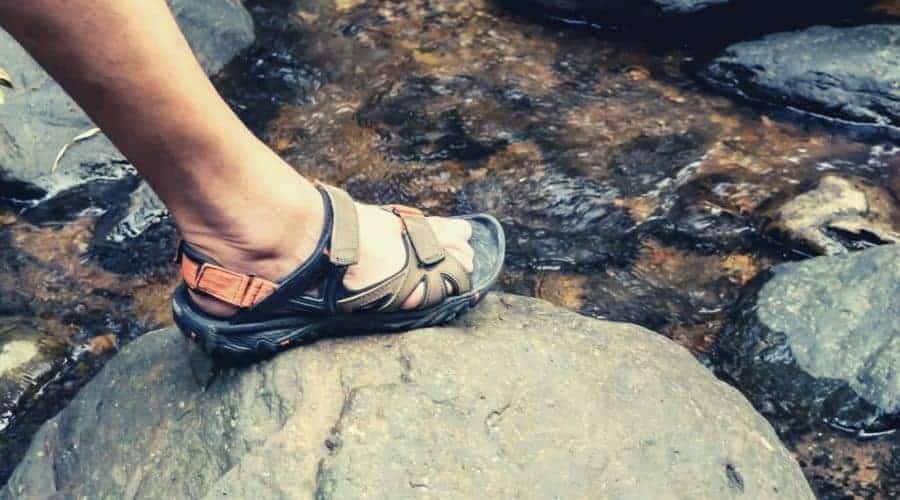 Protect Your Toes With A Sturdy Cap
One safety feature you lose with many hiking sandals is good toe protection. There are, however, a few models that have rubber toe caps able to protect you from bumps and bruises on the trail. How much importance you should place on a good toe cap will depend largely on where you're planning on hiking.
Campers who plan on hiking with their sandals on for their entire trek should seriously consider investing in a more ergonomic design with a closed toe cap. No matter how careful you are, you're bound to stub toes a few times on a hike. A sturdy toe cap will save you a lot of grief if you plan on using your hiking sandals as your primary piece of footwear.
Tread Carefully With Pronounced Lugs
Lugs refer to the tread marks found on the soles of hiking shoes around the outside of the foot. Larger lugs translate to greater traction while hiking through the wilderness, which is of critical importance for people traveling to damp areas.
Since you're already sacrificing a great deal of stability due to the sandal's design, you need to be sure the tread on the bottom of whatever sandals you're purchasing have decent lugs.
Outdoor Sandals: Part Of A Larger Trend
In recent years, there's been a huge shift in the hiking community's attitudes towards footwear. Campers are questioning their over-reliance on uncomfortable and difficult to pack boots, and shoe manufacturers are more than happy to comply.
Many modern day campers feel hiking shoes are just as good, if not better, than wearing ankle boots into the wild. The obvious draws of switching to hiking shoes include greater convenience, lighter weight, and, of course, greater comfort. The only major drawbacks to using shoes instead of boots are durability and longevity.
Camp sandals are less durable than shoes, but they represent a trend in the outdoor world that shows no signs of stopping. People are demanding greater comfort and convenience on their hikes, so the hiking sandals market is most likely to grow in the ensuing years.
Reviews Of The Best Hiking Sandals
Chaco Z/2 Classic
Chaco's Z/2 Classic is an open toe sandal made with a synthetic sole that's best reserved for the campsite. The key features associated with this sandal are its ease of use and simplicity of design. People who buy this product get Chaco's original 8-component design that made the company famous in 1989.
There are buckled straps to help you adjust to your optimal size. Although there's no toe cap to prevent injuries, there is a special loop to keep your big toe in place. This additional loop will keep your feet more stable while walking around.
For traction, Chaco decided to use a polyester webbing underneath. The footwear company used its patented ChacoGrip technology to provide wearers with respectable 3.5 mm deep lugs.
One positive feature of them is their high arch support. In addition to the arch support, Chaco added Luvseat polyurethane footbeds for comfort.
One pair of Chaco Z/2 Classic weighs approximately 2 pounds per pair. You can order them in sizes ranging from US men's 7 to 15 and there are 8 different color designs to choose from.
People who are looking for a simple and stable sandal design to be used at the campsite that offers good arch support should look into Chaco's Z/2 Classic.
PROs

Big toe loop and adjustable buckle straps.
Arch support and Luvseat footbeds.
Made of 8 easy to use components.
3.5 mm deep lugs.
Antimicrobial treatment.

CONs

No toe cap.
Footbed can feel a bit heavy.
Keen Arroyo II
Best Men's Hiking Sandals
The Keen Arroyo II is our top pick for the best hiking sandals, and is a closed toe sandal with a rubber toe cap and a webbed lace design. These webbed laces are made with leather and are machine washable.
As you put the Keen Arroyo II on, it will feel almost exactly like wearing a fine hiking shoe on your feet. There is good arch support with a heel that measures about 2 inches as well as a comfortable cloth-lined interior. The footbed is made of a special removable metatomical ethylene-vinyl acetate (EVA) foam. One drawback of this design is that the cloth-interior can absorb moisture and get a bit soggy in wet terrains.
The leather and mesh lining make these a certified waterproof hiking sandals. To help with breathability, Keen included small openings on the top.
Keen designers used a non-marking rubber outsole and 4 mm multi-directional lugs to help with traction. Sizes range from US men's 7 to 17. Average weight for a pair of Keen Arroyo II is only 1 lb 8 ounces per pair. Many owners report theKeen Arroyo II tend to run a half a size larger than the listed size.
Campers looking for a balance between the stability of the hiking shoe and the enhanced breathability of a sandal should look into the Keen Arroyo II – our overall top pick for the best mens hiking sandals.
PROs

Closed toe hiking sandals
4mm multi-directional lugs.
Waterproof mesh lining and small openings for breathability.
Comfy "shoe" feeling with cloth-lined interior.

CONs

Leather fabric requires maintenance.
Cloth lining inside can get wet easily.
Keen Newport H2
Keen designed their Newport H2 closed toe sandals specifically for watersports. Newport H2 polyester webbing are able to repel moisture thanks to a layer of hydrophobic foam. You can tighten or loosen them with an upper elastic cord as well as 3M pull loops.
To help you get traction on wet surfaces, the H2's soles have a series of knife-cut lugs. For even more durability, Keen used non-marking carbon-rubber on the outsoles. Even if you slip or bang your foot, however, your toe will be protected thanks to the H2's rubber toe cap.
While the main features of this sandal are related to its durability and waterproof technology, these also have comfortable midsoles. Manufacturers used an EVA cushioning for comfort and a patented Clarino Sedia antimicrobial coating to stop odors from clinging.
Sizes of the H2 run from US Men's 7 to 17 and are available in 23 colors. Average weight for a pair is 1 lb 12 ounces. Before you purchase Keen's Newport H2, just know that they tend to run half a size small.
The Keen Newport H2 are best for hikers who plan to use their sandals extensively on hiking treks, especially in damp areas. They were designed primarily for their durability and traction control.
PROs

Designed for watersports with hydrophobic foam.
Enhanced traction and carbon-rubber outsoles.
EVA footbed and Clarino Sedia coating.
Rubber toe cap.

CONs

Not as breathable as other products.
Chaco Z/1 Classic
Chaco Z/1 Classic is an open toe sandal with polyester webbing and a buckle. While Chaco designed these for multisport purposes, it's best to reserve them for the campground and flat surfaces.
The outsole of the Chaco Z/1 has a patented ChacoGrip for increased traction, but they don't offer a great deal of protection. The lugs on the bottoms are, however, a respectable 3mm in depth.
For superior comfort, Keen made sure to use podiatrist-certified Luvseat dual-density polyurethane on the PU midsole and top. They also have an antimicrobial coating for odor control.
You can choose Z/1 Classic from sizes US Men's 7 to 15 and over 20 color designs. The average weight of Chaco Z/1 Classic is 1 lb 13.8 ounces.
The Chaco Z/1 are stylish and simplistic sandals that are comfortable for use at a campground. Hikers who want a lightweight and convenient pair of sandals to air out their toes after a long day's hike should take a peek at the Chaco Z/1 Classic.
PROs

Lugs are 3mm deep.
Comfortable Luvseat midsole.
Lightweight.
Highly breathable.

CONs

Open toe design.
Not designed for use in wet weather.
Ecco Yucatan
The Ecco Yucatan is an open toe sandal made with a rubber sole and a leather exterior. Wearers can adjust the tightness using a 3-strap adjustment around the ankle. Ecco included neoprene inner linings on Yucatan's straps for softness.
These sandals have plenty of support as well as a unique footbed made with EVA foam and a top layer of microfibers. There's also an injection of polyurethane in the EVA midsole for additional support. Yucatan's footbed is so ergonomically advanced that it earned a Seal of Acceptance from the American Podiatric Medical Association.
One interesting feature is the use of a patented RECEPTOR traction technology on the sole of the shoe. The outsole is made of rubber and offers a good deal of traction. Ecco also included a special AgION™ antimicrobial treatment on its Yucatan sandals.
Customers can choose from 11 different color designs and sizes between US men's 6.5 and 16.5. As for weight, they weigh 1 lb 9 ounces.
Note, the Ecco Yucatan is not water friendly. Although there is a layer of spandex, they don't dry off as quickly as many other products. Ecco doesn't recommend using the Yucatan for watersports.
The Ecco Yucatan is ideal for campers who want an ergonomically designed, breathable sandal for casual wear in dry areas. It's not a good idea to use the Ecco Yucatan on long hikes and/or in wet areas.
PROs

3-way adjustable strap.
Ergonomically-designed microfiber footbed.
AgION odor-resistant treatment.
1 pound 9 ounces.

CONs

No toe cap.
Not water friendly.
Teva Terra Fi 5
Teva's Terra Fi 5 is an open toe sandal with a nylon strap that you can use to easily adjust to your feet. Manufacturers claim this nylon shank can help you stabilize your feet even on uneven terrains.
The most interesting feature of this product is that there are Shoc Pads on the heels. The outsole has a spider coating to improve the traction.
The midsole is made of a comfortable molded polyurethane. There's also a special Microban antimicrobial treatment that uses the power of zinc to repel unwanted odors.
You'll add 1 pound 13 ounces to your backpack with the Terra Fi 5. Sizes of the Terra Fi go from US Men's 7 to 16. There are only two color designs available.
The Terra Fi 5 is best for people who are looking for shock absorption and stability on the trail. While there's no additional toe protection, you can use these on short hikes along well-maintained trails.
PROs

Shoc Pads in the heel.
Strong nylon strap helps with stability.
Zinc antimicrobial treatment.
Only 1 pound 13 ounces.

CONs

No toe cap.
No waterproof technology.
Teva Omnium
The Omnium synthetic by Teva are made in a closed toe webbed design with a pull-cord lasing system. There's also a buckle in the front that can be used to easily pull them on and off.
Teva designed these for multisport use and included a unique encapsulated Shoc Pad system. These Shoc Pads help keep your feet in line while hiking on uneven surfaces, and the rubber cap protects your toes from stubbing. Besides shock-absorption, the Teva Omnium have a fine spider-designed rubber outsole for increased traction.
To protect against odors, Teva manufacturers treated the Omnium with a coating of zinc-based Microban. The footbed is made with soft EVA foam.
Teva offers the Omnium in sizes ranging from US Men's 7.5 to 13, but there's only one color option available: Turkish coffee. A pair of Teva Omnium will add 1.65 pounds to your backpack.
Campers who are looking for a stylish shoe-sandal design that's able to handle the strain of moderate hikes in dry areas might like the Teva Omnium.
PROs

Unique Shoc Pad technology.
Nylon shank helps with foot stabilization.
Spider-design rubber traction on bottom.
Microban odor protection.

CONs

Not waterproof.
Only available in one color.
Merrell Kahuna
Merrell's Kahuna II is an open toe sandal with a loop closure system. The outer suede loops on these have a patented Lycra Neoprene lining.
Although there's no toe cap, Merrell included an external thermoplastic polyurethane (TPU) construction for heel stability. This TPU technology also helps with shock absorption on rougher terrain.
While this product can absorb shock, Merrell Kahuna II aren't intended for use on major hiking expeditions. Manufacturers at Merrell say, however, you can use them without worrying about slippage by riversides or creeks.
The mid and top sole have a soft layer of air padding. For antimicrobial protection, Merrell treated the midsole with a special Aegis solution.
The Merrell Kahuna II is available in sizes ranging between US Men's 8 and 15 and they come in 3 color designs. At a mere 11 ounces, these are some of the lightest in the industry.
The Merrell Kahuna II is best suited for people who want a comfortable and convenient lightweight sandal for use in campsites, by riverbanks, or on beaches.
PROs

11 ounces.
Comfortable air padding and Aegis antimicrobial layer.
External TPU helps with shock absorption.
Can be safely worn by riverbanks.

CONs

No toe protection.
Not intended for arduous hikes
Ahnu Kovar Sport
Ahnu's Kovar Sport are made in a closed toe design with webbed mesh straps. When you see the Kovar, you'll instantly see Ahnu were keen to create a product with superb stability and toe protection.
In regards to Kovar's stability, Ahnu designers developed the unique Numentum Traverse toe strap system to keep feet in a stable position even on uneven terrain. There's also a bumper and ESS plate on the forefoot to protect your toes if you stub anything on the trail.
Although Ahnu's Kovar aren't officially waterproof, they are made with fast-drying mesh webbings and are highly breathable despite the shoe-like design. It will, however, take at least one night to fully dry out the Kovar if you get them wet.
You can use both a front buckle and a heel strap to find your ideal fit. All of the mesh linings are designed in D-ring patterns to help with adjustments.
Both the midsole and footbed are made with a comfortable EVA foam. There's also a padded collar on the inner side of the mesh linings for added comfort. The outsole, however, is made of rubber.
You can order Ahnu's Kovar in 2 color schemes and 2 sizes: US Men's 9 and 10. These weigh approximately 2.65 pounds.
If you plan to hike and toe protection is a big priority for you, then you need to test out Ahnu's Kovar.
PROs

Numentum Traverse system for feet stability.
Toe cap and ESS bumper.
Soft footbed and mesh lingings.
Buckle and heel straps for adjustment.

CONs

Only available in US Men's sizes 9 and 10.
Not waterproof.
Last update on 2021-09-17 / Affiliate links / Images from Amazon Product Advertising API