From the Ozark Mountains to the Mississippi River, Arkansas is a state with abundant natural beauty.
Epic mountain biking trails, spectacular swimming holes, and some of the best fishing in the country are a few of the endless opportunities for outdoor adventure available in the Bear State. Whether it's a relaxing waterfront tent site or an RV spot in the city, Arkansas has a campground for every type of camper.
This guide gives you all the info you need to pitch a tent or park an RV in the best spots in the state, including information about the amenities and facilities available in each area.
So grab your tent, load up your RV, and get ready to explore the best campgrounds in Arkansas!
1. Hot Springs National Park KOA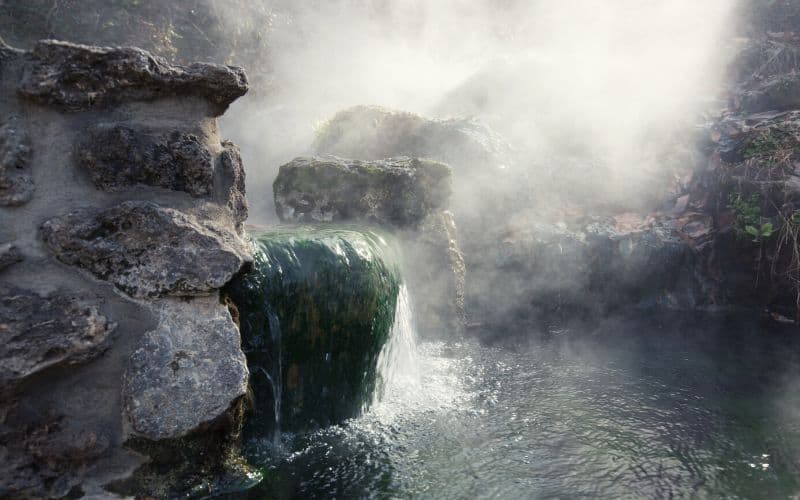 Hot Springs National Park is one of Arkansas's top attractions and the most visited national park in the state. Nestled in the foothills of the Ouachita Mountains, people have visited these hot springs known for their healing powers for hundreds of years.
The park features historic bathhouses, natural thermal springs, forest hiking paths, and flowing creeks, all just a stone's throw away from the city of Hot Springs, AR.
The Hot Springs National Park KOA is the ideal place to park your RV when visiting the hot springs. The RV park is located in the city of Hot Springs, about 2 miles from the national park, downtown, and the historic Bathhouse Row.
This KOA campground offers tent-only sites, full-service RV camping sites, and deluxe cabins with bathrooms for those without a tent. There are a few pull-through spots available and some of the sites fit rigs up to 70 feet long. RV sites feature full hookups (up to 50 amps), wi-fi, cable TV, and picnic tables, and some sites also have additional patio space.
There's an impressive list of amenities and activities at this campground, including daily planned activities, an arcade room, a seasonal swimming pool, restrooms, hot showers, laundry facilities, billiards, mini golf, a snack bar, a playground, a basketball court, a dog area, and a fishing pond.
If you need any basic supplies, they also have an onsite store with camping essentials, including ​​firewood and propane. They even offer shuttle rides to downtown and the nearby water park. There's so much to do here that you may never leave!
2. Gulpha Gorge Campground, Hot Springs National Park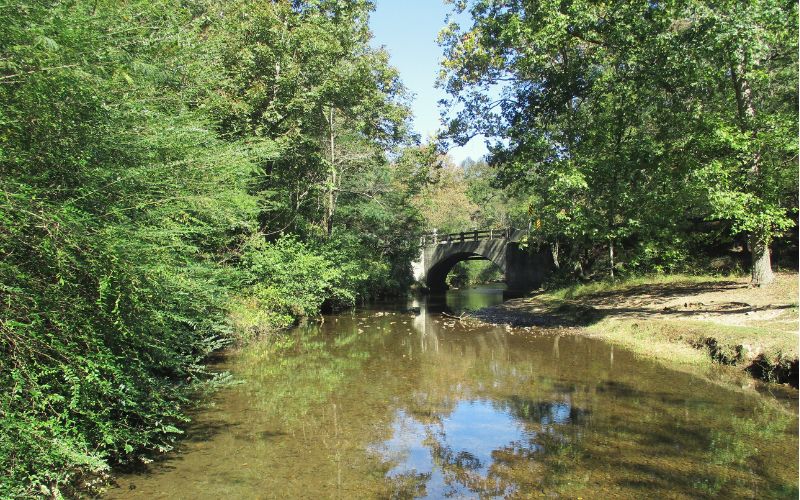 If you're visiting "America's Spa" and you prefer to pitch your tent in the beautiful natural landscape within the national park's boundaries, head to its only official camping area, Gulpha Gorge Campground. Lush greenery surrounds this NP campground along the bubbling Gulpha Creek.
Its location within the forest, quick access to hiking trails, and proximity to downtown and Bathhouse Row make it the ideal base camp for exploring the area.
There's something for everyone at this campground. Want to go for a hike? Take the onsite trailhead to Hot Springs Mountain. Feel like going out for lunch or buying souvenirs? Check out the nearby restaurants and stores in downtown Hot Springs. In the mood for a soak in the thermal waters? Walk over to one of the spas on Bathhouse Row!
Summers here are the best time to cool off in the creek next to the campground or enjoy a picnic in the grassy day-use area.
Gulpha Gorge Campground is open year-round and accommodates both tents and RVs. It has 44 campsites, all with paved parking and full hookups, including 30 and 50-amp electric, water, and sewage. Each site has a fire ring, grill, table, and drinking water. There are three bathroom facilities, but no showers.
This is one of the most popular campgrounds in the state and it fills up quickly, even in the fall and winter. Reservations are required and can be made up to 6 months in advance.
3. Ozark Campground, Buffalo National River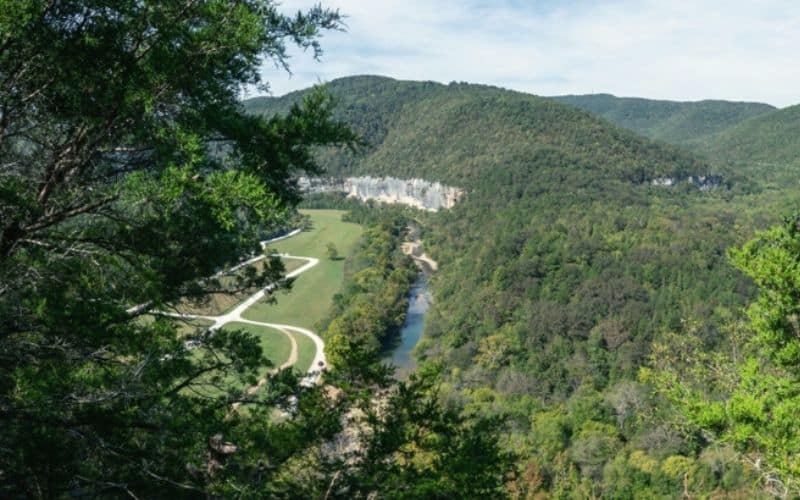 The Buffalo River in Northern Arkansas is 153 miles long and was the country's first designated National River. The Buffalo National River is made up of over 95,000 acres of untamed natural beauty surrounding the river.
Ozark Campground is situated north of Jasper at the end of County Road 129. It's surrounded by trees and sits on the shore of a bend in the Buffalo River.
The campground has 31 dry camping sites for tents and recreational vehicles. Each site features a lantern hook, picnic table, and fire ring. There are restrooms, trash cans, and water spigots, but no showers, RV hookups, or dump stations.
There's a beautiful swimming hole in the Buffalo River a short walk down a narrow trail next to the campsites. This picturesque swimming hole has a high chalk-colored bluff as a backdrop and stunning turquoise water. It's perfect for a refreshing dip after a long day of hiking in the summer.
Other popular things to do here are kayaking, canoeing, paddleboarding, horseback riding, hiking, and mountain biking.
There are multiple hiking and biking trails near the camping area. One of the state's premier backpacking trails, the 35.5-mile Buffalo River Trail (BRT), passes right by the campground.
The campground is open all year, but the flush toilet restroom is closed from November 15 to March 14 to prevent the water pipes from freezing. Instead, a vault toilet is provided during the winter. All the sites are available on a first-come, first-served basis.
4. Lake Ouachita State Park, Ouachita National Forest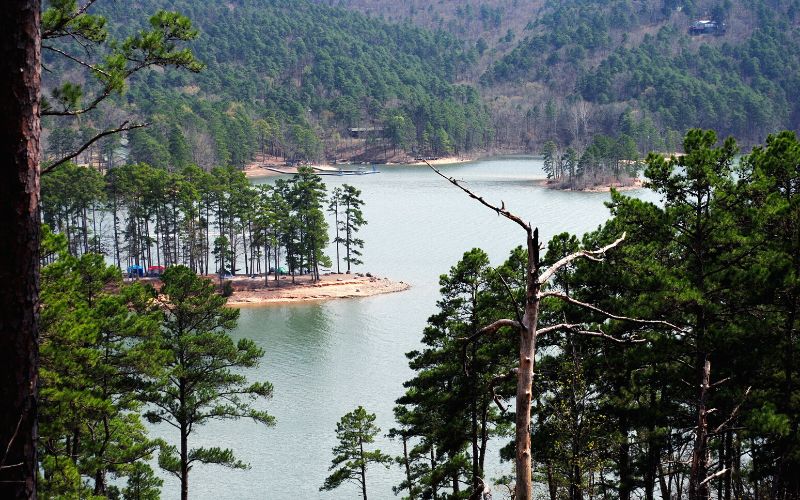 With 40,000 acres of crystal-clear water and 200 islands, Lake Ouachita is the largest lake in Arkansas. Lake Ouachita State Park's main attraction is its massive lake with over 600 miles of shoreline surrounded by the magnificent Ouachita National Forest. It's also conveniently located about a 20-minute drive from Hot Springs National Park, and the downtown restaurants and shops.
The opportunities for outdoor recreation and watersports in this state park are endless. Popular activities on the lake include boating, paddling, swimming, water skiing, scuba diving, and fishing for catfish and bass. Land lovers can enjoy backpacking, hiking (the Ouachita National Recreation Trail is nearby!), and picnicking in the park's miles of trails and multiple day-use areas.
Lake Ouachita State Park has 93 campsites comprising 58 RV sites with sewer, electric and water hookups, 23 dry camping sites, and 12 walk-in tent camping sites. Some of the sites are directly on the shore and just steps from the water. Each site features a charcoal grill, picnic table, lantern hanger, and access to water.
There are three main camping areas, each with a bathhouse with flush toilets and hot water showers within walking distance.
For those looking for more comfortable accommodations, the state park also offers eight full-service cabins overlooking the water. These deluxe cabin rentals are fully equipped with bathrooms, linens, full kitchens with cookware and dinnerware, heating and air conditioning, satellite television, and outdoor seating.
There are also four camper cabins for up to four people each. These budget-friendly one-room cabins feature heat and air and an outdoor cooking area with a picnic table, grill, and lantern hanger.
There are countless facilities and amenities here including trails, a swimming beach, a marina, boat and kayak rentals, fishing supplies and bait, a gift shop, a visitor center, and guided hikes and tours.
5. Lost Valley Lodging Campground, Buffalo National River Park, Ozark National Forest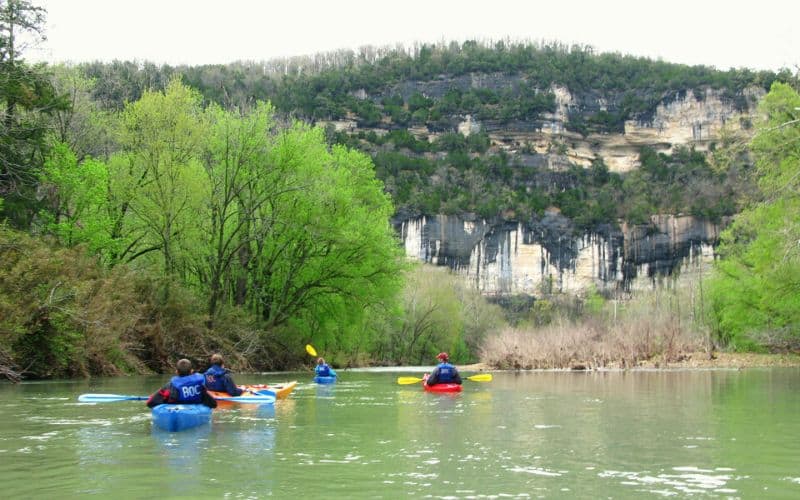 If you want to explore the spectacular Buffalo National River Park and Ozark National Forest without camping in a tent, make your way to Lost Valley Lodging in Ponca, AR.
Situated along Ponca Creek, Lost Valley Canoe & Lodging has been outfitting the Upper Buffalo River for over 35 years. They provide watercraft rentals and transportation to the river valley, accommodations, and a general store.
They offer a handful of unique accommodations: three deluxe cabins, a treehouse yurt, and a bunkhouse. All within a few minutes of the beautiful Buffalo River. The cabins are tiny homes with everything you need to relax after your outdoor excursions: fully-stocked kitchens, living rooms, bathrooms, and a hot tub to soak your sore muscles.
For a luxury camping experience, stay overnight in the Tree Top Yurt. With room for four, a wrap-around deck, a kitchenette with a fridge, and a fire pit, it's a step up from glamping.
The bunkhouse is similar to a large camping cabin for up to 16 people. You need to bring your bedding and cookware, but heating and air conditioning, grills, an outdoor fire ring, and picnic tables are included.
This area boasts one of the most scenic landscapes in the state. Enjoy a day out on the water canoeing, kayaking, or rafting on the Buffalo National River, or spend the morning hiking or bicycling one of the area's many trails. The lodge offers a convenient shuttle service for floaters, hikers, and bicyclists.
6. Downtown Riverside RV Park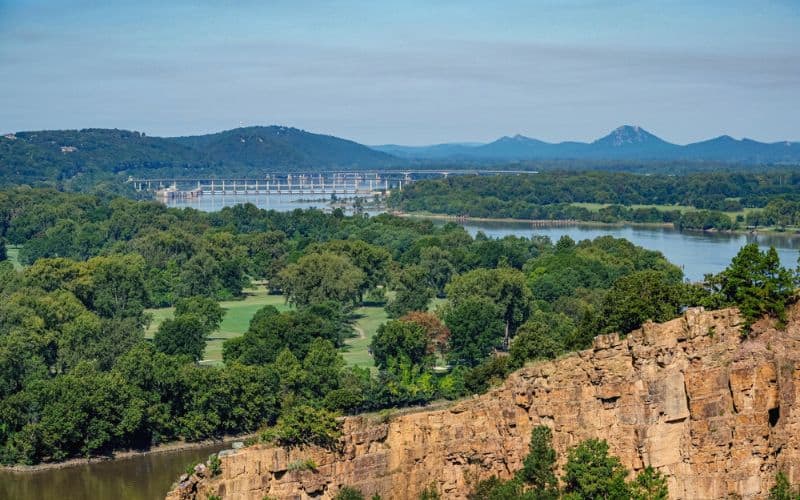 Located on the south bank of the Arkansas River in Central Arkansas, Little Rock is the state's capital city. It's home to parks, historical landmarks, museums, entertainment venues, hiking and cycling trails, and much more. No trip to Arkansas is complete without a visit to Little Rock!
Downtown Riverside RV Park is the best place to park your RV while enjoying everything the capital city has to offer. It's situated right on the riverbank in downtown North Little Rock across from the Clinton Presidential Center and Park. It's within walking distance from top attractions, dining, and shopping.
Hikers and cyclists can hop on the nearby Arkansas River Trail. A 16-mile-long recreational loop trail with stunning views of the Arkansas River and the Big Dam Bridge.
The park has 61 RV sites, including 28 waterfront sites with scenic views of the river and pull-through sites. There are full hookups available at some of the sites with 50-amp electricity, water, and sewer. Other amenities include an RV dump station, bathrooms, wi-fi, laundry facilities, a clubhouse, and a pickleball court. The entire area is gated for extra security.
Truck campers, pop-up campers, trailers, fifth wheels, Class A motorhomes, Class B motorhomes, and Class C motorhomes are all allowed to camp here. Tent camping and generators are not permitted here.
7. Kings River Falls Camping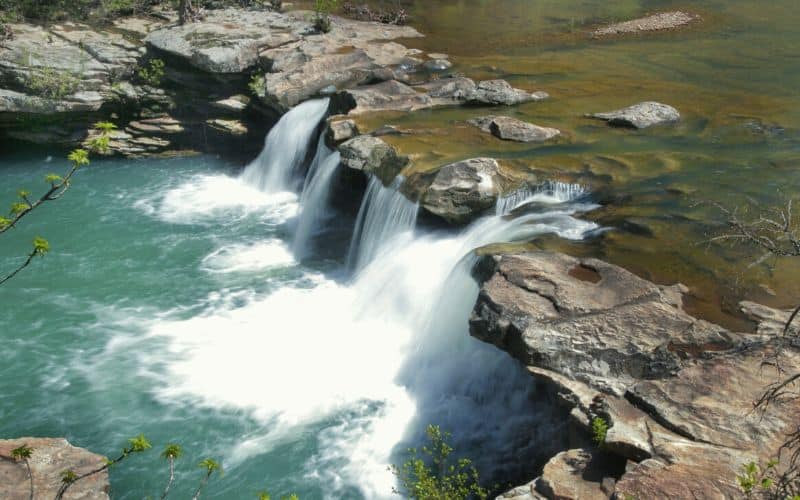 Visiting Kings River Falls Natural Area in Northwest Arkansas is an adventure the whole family can enjoy. This natural gem is an easy two-mile hike leading to a stunning shelf waterfall with a popular swimming hole beneath it. The trail follows the Kings River while passing by gorgeous cascades and interesting rock formations until it reaches the falls.
Pack a lunch and head to Kings River Falls for some fun in the sun, scenic hiking, and a relaxing picnic by the water!
After your hike, spend the night under the stars at nearby Pettigrew RV Park and Recreational Campground. This 200-acre property is located six miles south of the Kings River Falls Trailhead on Boston Mountain.
The campground can accommodate RVs and tents. It has 15 large and roomy RV sites, with five pull-through sites. Each with 30 and 50-amp electrical hookups and freshwater tanks. There are no sewage hookups but there is an onsite RV dump station. If you don't need hookups, you're allowed to dry camp on the property for a smaller fee.
Primitive tent camping areas are scattered throughout the property with the option to camp in the forest, by the creek, or near the pond. Amenities include seven miles of cross-country track or off-road vehicles, a fishing pond stocked with bass and catfish, and a private "beach".
8. Bull Shoals–White River State Park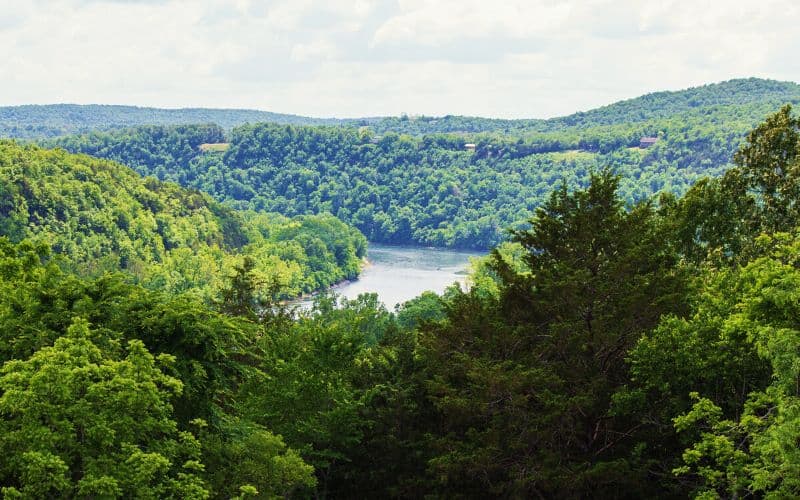 Bull Shoals-White River State Park in North Central Arkansas is known as one of the best trout-fishing streams in the state and possibly the entire country. The 732-acre state park is nestled between the shores of Bull Shoals Lake and the White River, near the Bull Shoals Dam.
The most popular recreational activity here is fishing for trout, specifically rainbow and brown trout, but boating rentals and hiking and biking trails are also available. The large visitor center sits above the dam and features exhibits about the area's history and fishing culture.
Bull Shoals–White River State Park has 113 campsites along the White River and most of them are riverfront. There are 63 full-hookup Class AAA sites for RVs, 30 Class B sites for dry camping, and 20 tent-only sites. The state park also has three Rent-An-RV sites for those without a recreational vehicle.
Facilities at this state park include picnic areas, pavilions, playgrounds, hiking trails, and a riverside marina with rental boats, fishing bait, and other supplies. There are a variety of interpretive programs offered like fishing workshops, campfire-cooking classes, and guided nature hikes.
9. Devil's Den State Park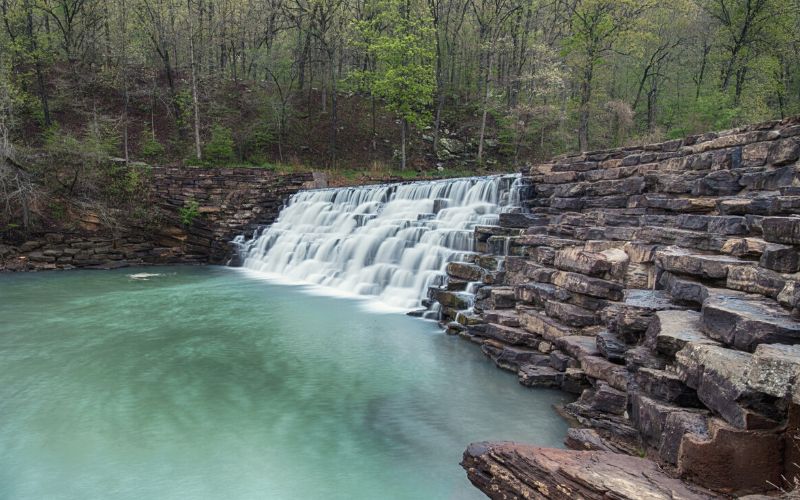 Situated in Lee Creek Valley near the Ozark Mountains, Devil's Den State Park is the premiere destination for mountain biking in Arkansas. It's also the location of the annual Ozark Mountain Bike Festival.
Mountain bikers, trail runners, and hikers can enjoy the eight Monument Trails in the state park, including the well-known Fossil Flats trail. This designation is given to multi-use trails with unique terrain, scenic vistas, and landmarks in Arkansas's state parks.
Besides world-class biking trails, this amazing state park is home to historic CCC-era structures from the 1930s, a dense oak-hickory forest, the eight-acre Lake Devil, unique rock formations, and countless caverns. Canoeing, fishing, biking, hiking, backpacking, and horseback riding are a few of the things to do here.
Devil's Den has 135 campsites, including 44 full-hookup RV sites, 24 dry camping sites, and eight hike-in tent sites. The other 42 sites with hookups are located in the horse camping area near the horse trails and a bathhouse.
In addition to a variety of campsites, the state park features 17 deluxe cabins with kitchens and a fireplace to cozy up next to on colder days. There are also six budget-friendly camper cabins.
Some of the amenities offered here are a seasonal swimming pool and cafe, a group camp area, a camp store, boat ramp, and canoe and paddle boat rentals.
10. Beech Point Campground, Mississippi River State Park
Mississippi River State Park is surrounded by the St. Francis National Forest in the area where the Mississippi River, Crowley's Ridge Parkway, and the Arkansas Delta converge. From hiking through hardwood forests to standing on the shore of the Mississippi, this impressive state park has something for everyone to explore.
The Bear Creek Lake Recreational Area is one of two recreational areas in this state park in eastern Arkansas. It's a quick 8-mile drive southeast from the town of Marianna to this wilderness escape. Popular activities here include hiking, fishing, paddling, and boating on the lake.
Located on a forested strip of land jutting into Bear Creek Lake, Beech Point Campground has large campsites with incredible lakefront views.
This camping area features 14 Class AAA sites with water, electric, and sewer hookups, and three walk-in tent camping sites. Each paved campsite comes with a picnic table, grill, fire ring, lantern hanger, tent pad, and extended patio area. There's a centrally-located bathhouse with flushing toilets and Bear Creek Swimming Area is within walking distance from the campsites.
Facilities in the area include hiking trails, swimming areas, boat launches, and a visitor center with free wifi and an interpretive exhibit about the Mississippi Delta.
11. Denton Ferry RV Park & Luxury Cabin Rental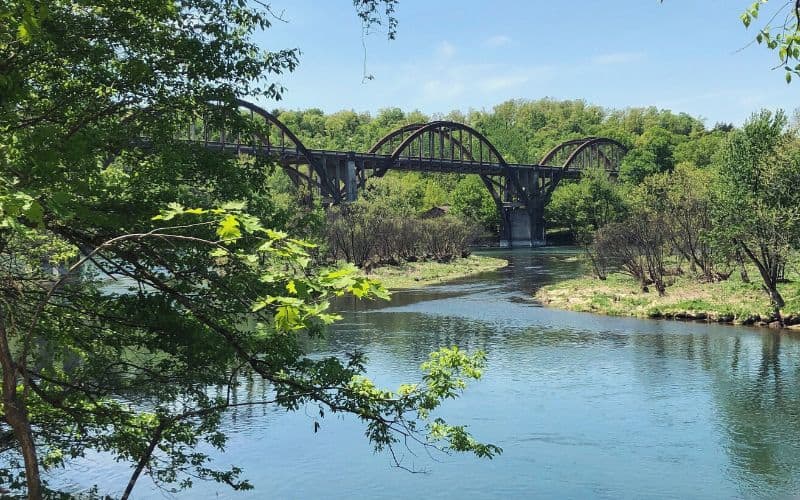 Set along the shore of the White River in the Ozark Mountains, Denton Ferry RV Park & Luxury Cabins is the perfect place to sit back and enjoy the gorgeous scenery.
Want to explore the area's natural beauty? Fish at the nearby holes, float down the river or hike or bike the trails. The nearby riverside walking park has two spring-fed ponds and a meadow.
Denton Ferry has 44 RV sites with full hookups (50 amp electric, water, and sewer), including 17 riverfront sites and 27 pull-through sites. Each site has a grassy patio area and parking space for vehicles up to 65 feet. Only 12 sites have access to fire pits, but there is a community fire pit open to all visitors.
Those looking for a more luxurious overnight stay can rent the vacation cabin steps from the shoreline. It's a two-bedroom, three-bathroom luxury cabin with modern amenities and jaw-dropping views.
Laundry facilities, free wifi, bathrooms, hot showers, a small library, dining areas, games, a community fire pit, a hospitality room with satellite TV, wade-in river access, and a nearby boat launch are some of the many amenities available at this RV park.
Other Recommended Arkansas Campgrounds
A few of our favorite Arkansas state parks and private campgrounds not listed above include:
Greer's Ferry Lake
Willow Beach Campground, Willow Beach Recreation Area
Shady Lake, Ouachita National Forest
Lake Catherine State Park
Hickory Creek Campground, Beaver Lake
Crater of Diamonds State Park
Horseshoe Bend Campground, Beaver Lake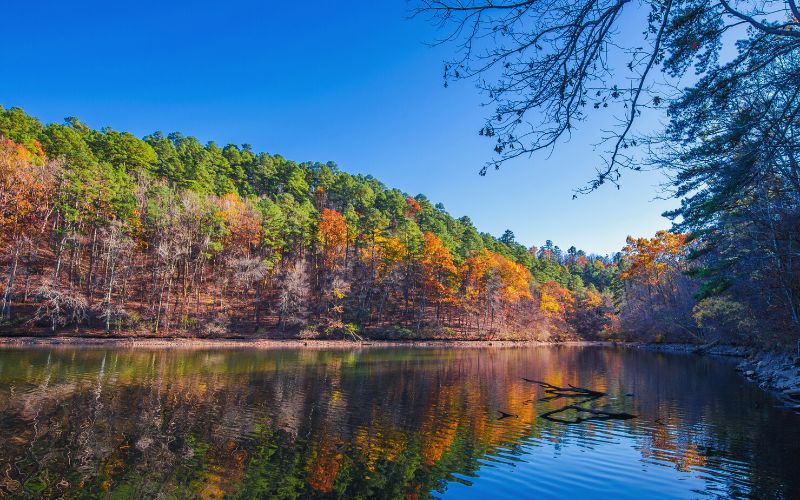 Best Camping in Arkansas!
Whether it's a relaxing soak at Hot Springs National Park or an exciting night on the town in Little Rock, Arkansas has something for every type of camper!
Did we cover all the best camping in Arkansas? Please share your top sites in the comments below! If you enjoyed this article, feel free to share it with your friends.