If you haven't camped in Idaho yet, you don't know what you're missing! Inside Idaho's wonky borders lie an impressive amount of beautiful and unique campgrounds, perfect for your next outdoorsy adventure.
Idaho's scenic mountain ranges provide epic skiing and snowboarding in the winter…. and enough right snowmelt for epic whitewater rafting trips in the spring! During the shoulder seasons, you can also feast on the endless amount of hiking and mountain biking trails peppered throughout the state.
Waterfalls, volcanic moonscapes, roaring rivers and more are waiting for you in gorgeous Idaho. Rushing off to plan your next trip? Before you do, check out our guide for 17 awesome spots for your outdoor adventures!
1. Sawtooth National Recreation Area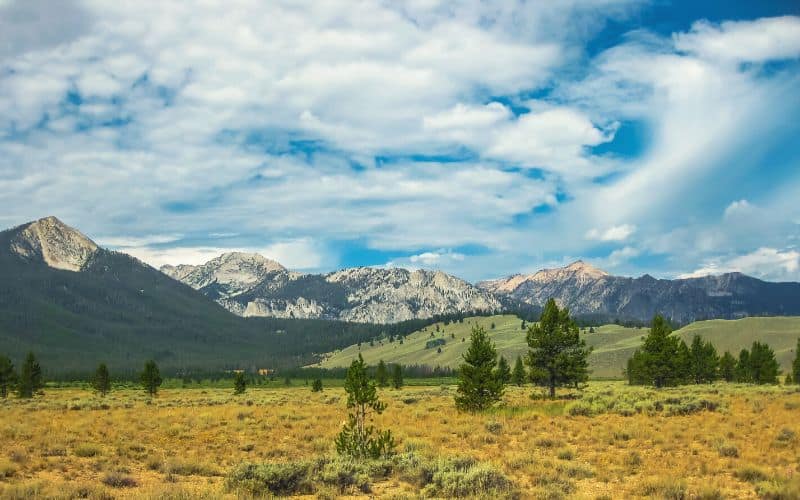 With over 2.1 million acres of mesmerizing woodlands, mountain ranges, and winding rivers to explore, it's safe to say that Sawtooth National Forest offers some of the best camping in the Pacific Northwest. On particularly dark nights in spring and early summer, you might even get lucky enough to see the Northern Lights!
There are hundreds of fantastic campsites in Sawtooth to choose from. However, we suggest heading to the Glacier View Campground along beautiful Redfish Lake. You'll have breathtaking views of the Sawtooth Mountains in the distance. You can also enjoy a spot of trout and salmon fishing by day and some lakeside camping amongst the lodgepole pines by night.
Book early, the 64 available campsites go fast!
RELATED READING: Looking for the Best Hikes in Idaho?
2. Lake Cascade State Park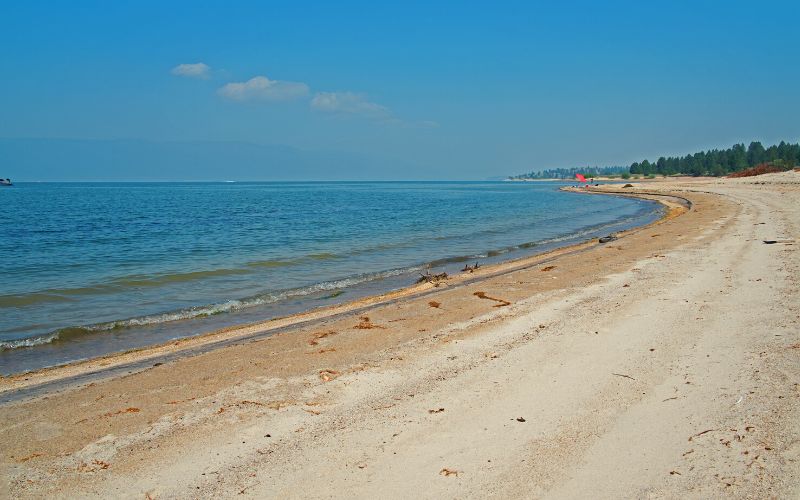 For those who like to indulge in water sports while camping, there's no better place to get your fill than Lake Cascade!
Take in the stunning views of the North Fork Mountain Range from anywhere along Lake Cascade's 98 miles of shoreline. And if for some crazy reason you want a break from your beachside campsite, head to the surrounding woods for some scenic hiking and biking trails.
You'll find dozens of different campgrounds around the lake. Lake Cascade campground is arguably the best. RV camping, tent sites and yurt rentals are available. You'll also enjoy the usual state park amenities and some fun, bonus perks like day areas, boat launches, and a nearby marina.
3. Stanley Lake Campground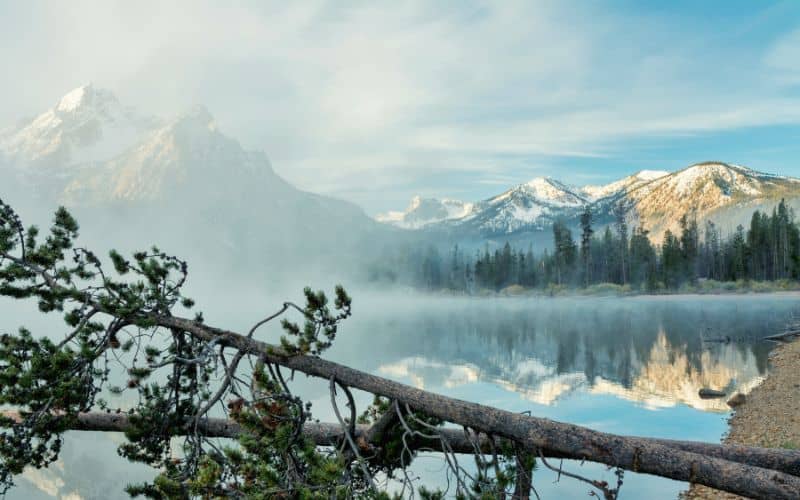 With only 17 campsites up for grabs, and a few more first-come, first-served sites, you'll want to book early to snag one of the coveted campsites near the shores of Stanley Lake. All the sites are located in a shady pine grove and feature stunning views of both the lake and McGowan Peak in the distance.
Stanley Lake Campground offers a truly rustic experience, with just the basic amenities like vault toilets, drinking water, and fire rings. A boat launch is located right next to the campground and it's the perfect spot to take off for some boating or water skiing on the lake.
4. Falls Campground, Caribou-Targhee National Forest
Falls Creek Falls is one of the most beautiful waterfalls in all of Idaho, and the most convenient place to visit it is from Falls Campground. After all, you'll find the 256ft waterfall located just ¼ mile away from the campground! Located along the winding Snake River, the camp is easily accessible thanks to its convenient location just off a major highway.
The best part? You'll be right next door to Grand Teton and Yellowstone National Park too!
Book any one of the 23 standard campsites with all the basic amenities from vault toilets and drinking water to picnic tables and fire rings.
5. Lava Flow Campground, Craters of the Moon National Monument and Preserve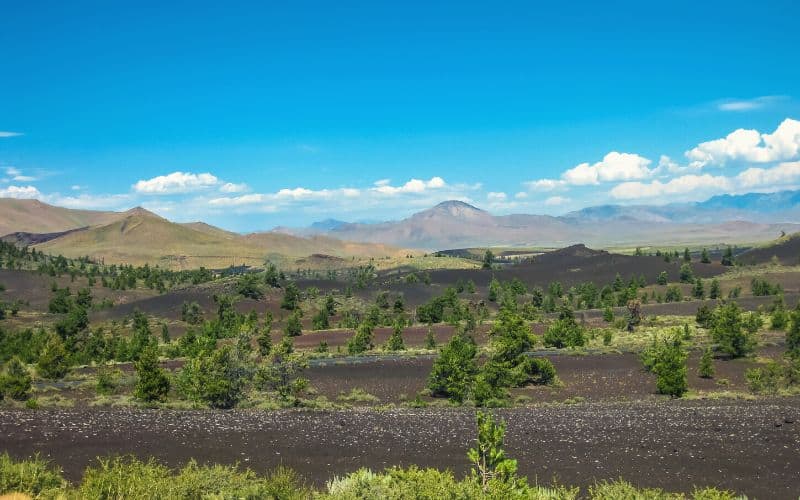 Lava Flow Campground offers an otherworldly camping experience. The campground is located in Craters of the Moon NM, a region of Idaho dotted with relics of its tumultuous and – quite literally – explosive past.
Eight volcanic eruptions created this fascinating landscape, which features thousand-year-old caves, giant fissures in the terrain, lava flows, and volcanic rocks galore.
There are 42 first-come, first-served sites available. RVs are accommodated but there are no electric hookups. On-site vault toilets and drinking water are available. Primitive sites are available too, but you must register and obtain a backcountry permit at the visitor center.
6. Balanced Rock State Park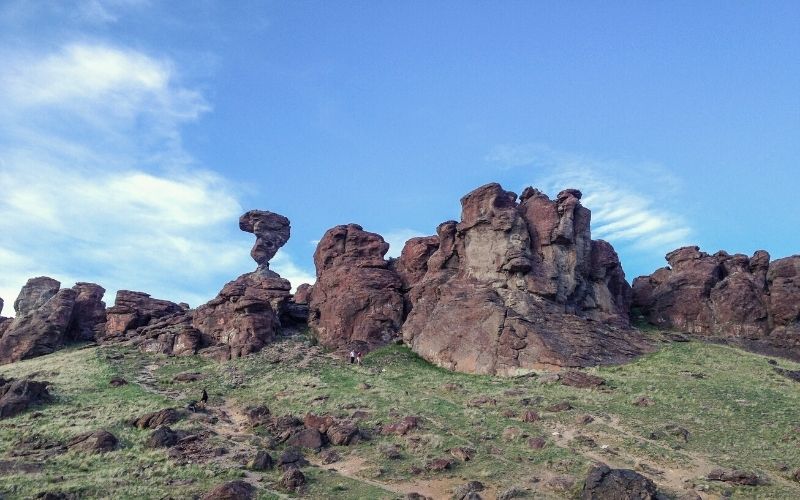 Just a quick drive from Twin Falls lies the world-famous Balanced Rock. Standing at over 128-feet tall and weighing a massive 40 tons, head to Balanced Rock to watch this hefty giant balance on a teeny-tiny pedestal of just 3 feet!
In Balanced Rock State Park you'll find several primitive, tent-only camping sites. Don't expect any fancy amenities here, this is real backcountry camping. These are also among the most popular campgrounds in the area during the summer season, however, so make sure to book early!
7. Bruneau Dunes State Park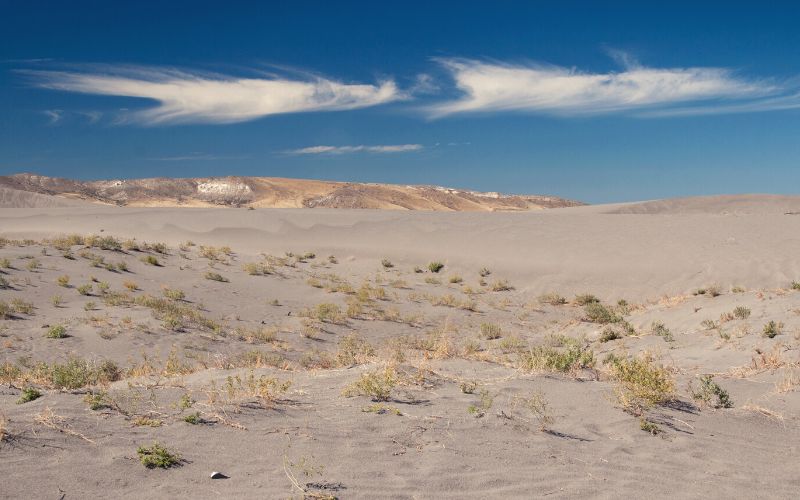 One of the best campgrounds in the Gem State is just 60 miles away from Boise at Bruneau Dunes SP. Located inside the park are some of the tallest freestanding dunes in all of North America. Have fun in this life-size sandbox hiking, climbing, or sledding down the dunes! 
Take advantage of the vast open spaces in the park for a little stargazing. The nearby Bruneau Dunes Observatory will allow you to take in the sky like never before.
There are two major campgrounds located in Bruneau Dunes State Park. The Broken Wheel Campground offers a good mix of electric and non-electric sites including some much-needed sun and wind shelters. The Eagle Cove Campground offers another 50 campsites and all the same amenities.
8. Kirkham Campground, Bonneville Campground & Pine Flats Campground, Boise National Forest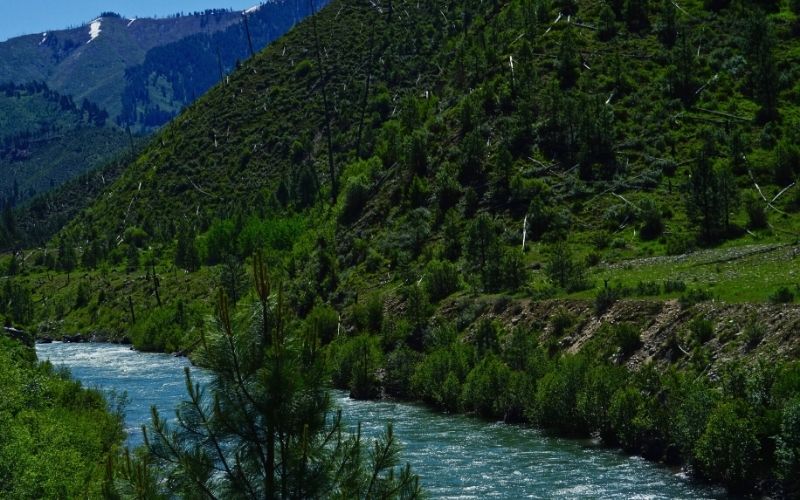 With over 2.5 million acres of diverse terrain, including a network of 500 trails and 250 lakes, it's safe to say that Boise National forest is an outdoor paradise for nature lovers! Be sure to check out natural wonders like the North Fork Payette River Canyon or challenge yourself to conquer the peak of Trinity Mountain.
Take your pick of any of the three campgrounds located in the forest. All of them offer RV camping and tent sites. These have usual state park amenities like restroom facilities and potable water, but each has its own unique flavor.
Kirkham Campground is a small hidden gem with just 16 wooded sites available and a gas station/cafe nearby for extra comfort.
Bonneville Campground is located adjacent to a peaceful creek and gives you easy access to the local Bonneville hot springs.
Pine Flats Campground is the perfect spot for some fishing, swimming, kayaking along the South Fork Payette River, and dips in the hot springs.
Just a short drive from Pine Flats Hot Springs, you'll also find Kirkham and Haven Hot Springs, which are well worth a visit!
9. Ponderosa State Park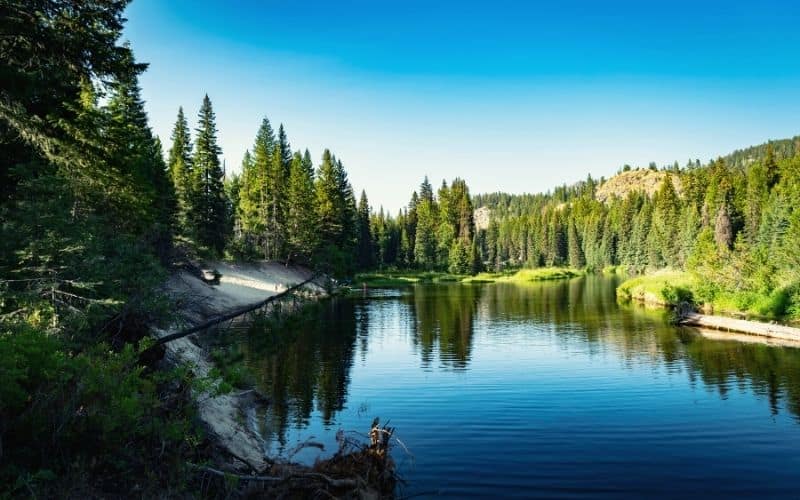 For the best wildlife viewing in central Idaho, head to Ponderosa State Park.
Featuring diverse ecosystems like a vast lake, wetlands, and unspoiled forests of ponderosa pines, the area is brimming with wildlife and fun outdoor activities to partake in. Anglers can spend the day fishing on the lake, while forest lovers can spend the day on the nearby hiking trails or take a dip in the local hot springs.
Ponderosa Campground is located on the shores of Payette Lake. Both tent and RV sites are available. Amenities include showers, restrooms, and picnic areas.
Primitive campsites are also available on a first-come, first-served basis at Northwest Passage Campground. The park itself also offers 5 luxury cabin rentals. This campground is located at the northern tip of Payette Lake, right next to sandy North Beach.
10. Priest Lake State Park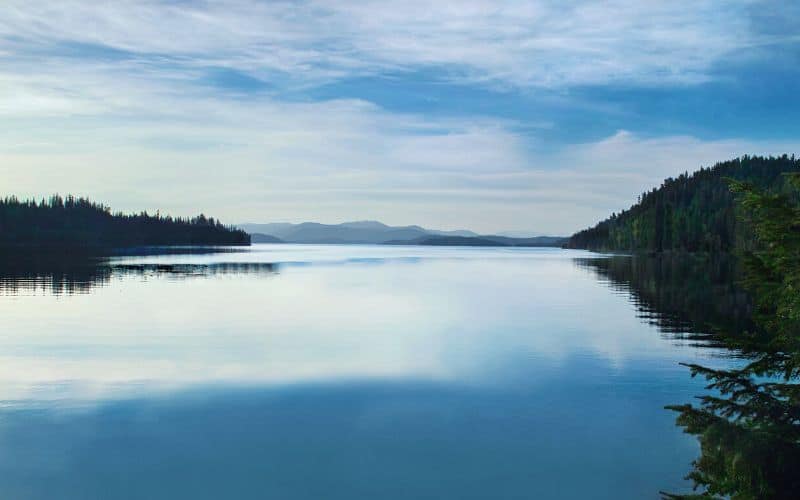 Smooth-as-glass and crystal-clear, Priest Lake has justly earned the nickname "the jewel of Idaho". Located just 30 miles from the Canadian border, the lake is named after the Jesuit priests that once upon a time chose to settle here.
It's easy to see why they picked the spot. Priest Lake features 19 miles of pristine shoreline surrounded by the rugged Selkirk Mountains that feed the lake.
If you plan to visit Idaho, you can't afford to miss out on Priest Lake, so start planning your next trip to the Outlet Campground. Just 27 standard campsites are available. If you want a bit of easy living, however, try out one of the six luxury lakeside cabins available for rent.
11. Heyburn State Park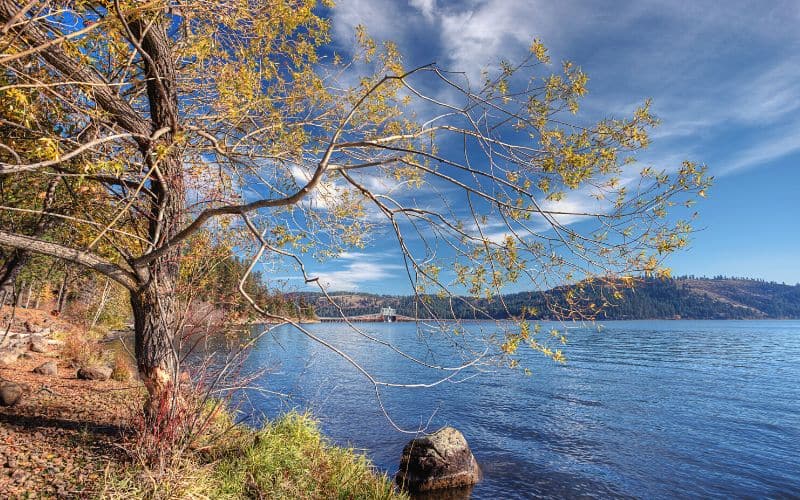 There's no better place to cool off in the heat of an Idaho summer than Heyburn State Park. The park features three bodies of water: Benewah, Chatcolet, and Hidden Lakes. Thrill-seekers can get their fill of a number of water sports such as motorboating, water skiing, and swimming. Kayak and canoe rentals are also available.
Nearby, you'll also find the historic Trail of the Coeur d'Alene. This 73-mile paved trail spans the Idaho Panhandle and is considered to be one of the top 25 trails in the nation. Keep an eye out for the 189 species of birds and wildlife spottable on the trail!
For nearby tent camping, try Sunset Bay Campground for a rustic experience with just the bare essentials. For RV campers, check out Sheppard Point Campground for some full-hookup RV sites.
12. City of Rocks National Reserve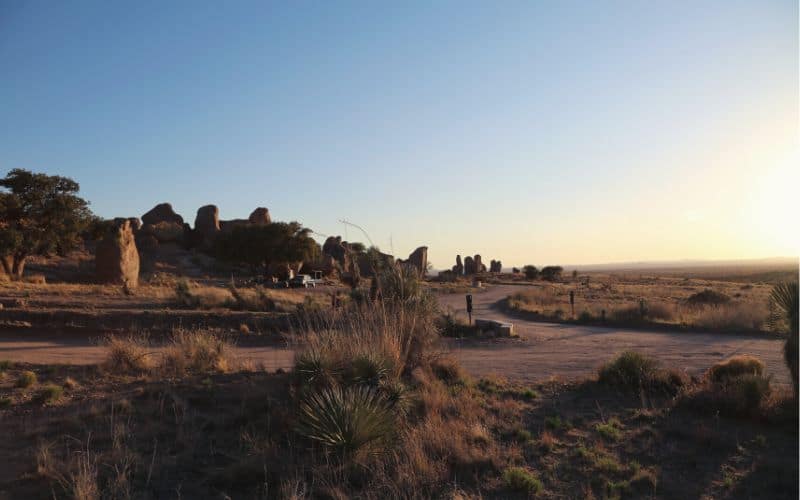 City of Rocks is a national reserve where the residents are all impressive granite rock formations. Travelers along the California Trail once used these massive boulders, monoliths, and pinnacles to orient themselves as they followed the gold rush west. You can now pitch or park in this strange and remarkable landscape and enjoy a night of unforgettable stargazing.
All of the 64 standard campsites at the City of Rocks Campground are primitive and offer just the bare essentials like fire rings and picnic tables. Vault toilets are also available in central locations throughout the campground.
13. Farragut State Park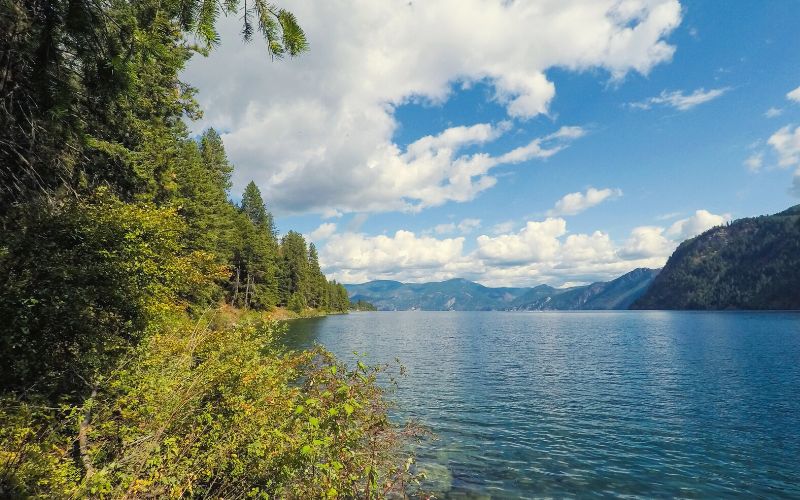 History buffs and nature lovers alike will enjoy a good time at Farragut State Park. Once a naval training center, the area is rich in WWII and American naval history. Don't miss the Museum of the Brig during your visit! Local Lake Pend Oreille is also perfect for anglers and boaters, while the nearby hiking trails are popular for hiking, biking, and horseback riding.
There are four campgrounds in total in the Farragut State Park. We suggest checking out Whitetail Campground at the southern tip of Lake Pend Oreille. With cool features like an amphitheater, a camp store, equestrian-friendly campsites, and Silverwood Theme Park just 8 miles away, this is the perfect family-friendly campground to bring the kids.
14. Wilderness Gateway Campground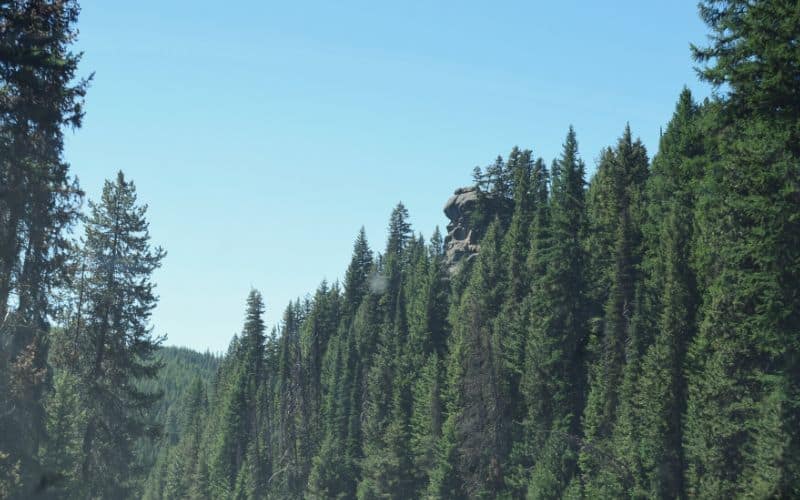 Attention bird watchers: this Idaho campground has a special treat in store for you! The name of this camp gives it all away, as it's a gateway to some of the best, unspoiled wilderness in Northern Idaho. The park has its own special trail created exclusively with bird watching in mind. The nearby forests harbor more mountain bike and hiking trails for further adventures.
Wilderness Gateway Campground is located in the Nez Perce-Clearwater National Forest. It has over 30 RV and tent sites where you'll find all the basic amenities you need to enjoy your visit, like vault toilets, drinking water, and picnic areas.
15. Rainbow Point, Lake Cascade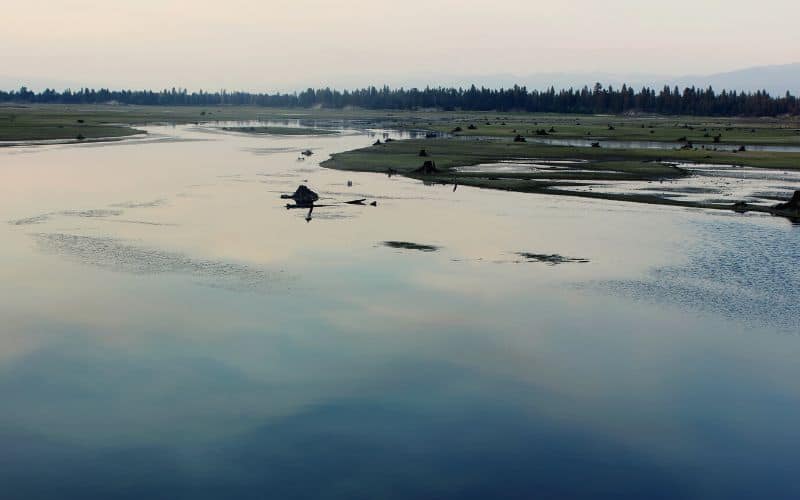 How does checking out one of the last hidden-gem campgrounds in Idaho sound? Located close to the shores of Lake Cascade, Rainbow Point Campground has just 12 standard sites up for grabs. For those that love their nature quiet and unspoiled, it's hard to beat this little campground located near the town of Donnelly.
Boating, fishing, and hiking are all available here, as is just kicking back and enjoying a little quiet time in the great outdoors!
16. Point Campground, Redfish Lake, Sawtooth National Forest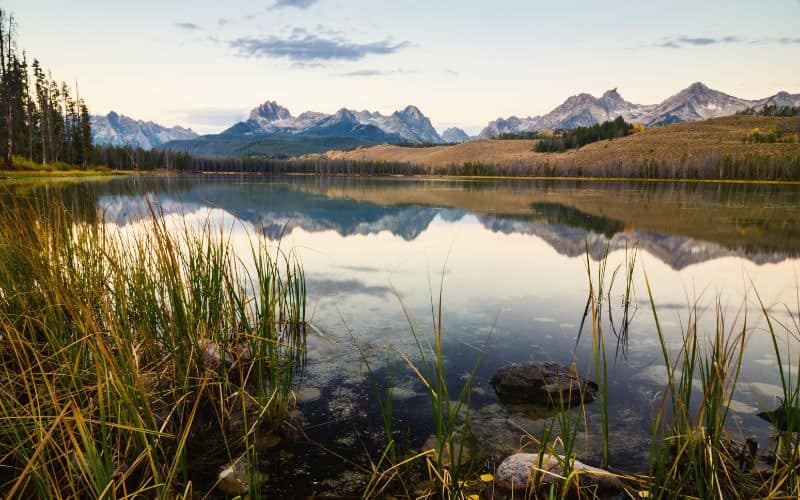 Redfish Lake is one of the most popular camping spots in the Sawtooths. And when you take in the view of the majestic Sawtooth Mountains guarding the lake in the distance, you'll see why! The lake itself is nestled amongst miles and miles of untouched Sawtooth wilderness and provides ample opportunities for hiking and wildlife watching.
Right in the foothills of the mountains is Point Campground. On top of offering spectacular views of Redfish Lake from above, you'll find 8 standard and 8 walk-to sites peeking through the pine forest. Both fresh drinking water and vault toilets are provided.
17. Idaho Panhandle National Forest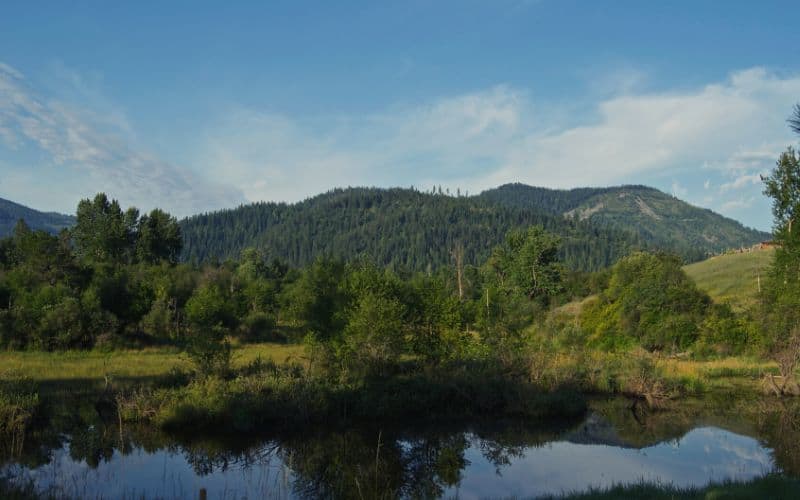 Get back to nature in the Idaho Panhandle NF, where there's a creek, lake, or waterfall around every corner. Home to all the big players in the Idaho wildlife scene like moose, deer, bears and elk, the Idaho Panhandle offers visitors the opportunity to enjoy Idaho's diverse landscapes, wild and unspoiled.
There are many campgrounds in the park to choose from. We suggest checking out Beaver Creek Campground. Located just 30 minutes away from both West Yellowstone and Yellowstone National Park, it's truly one of the best camping in Idaho for nature enthusiasts. 
With more than 60 sites available, there's plenty of room and you'll enjoy amenities like restrooms, potable water, food lockers, and picnic areas.
Camping in Idaho FAQs
Newcomer to camping in Idaho? If so, here are a few answers to some questions you might have:
Where can you camp on the Snake River?
Keen to visit Snake River Canyon? Along Snake River, you'll find RV camping at the Snake River RV Park, just a short drive from Idaho Falls. It's the perfect starting point to visit local attractions like Yellowstone National Park, the Museum of Idaho, and Craters of the Moon National Monument.
The park offers full hook-up RV and tent sites along with amenities like a Swimming pool, laundry facilities, and a kids' playground.
When can you reserve campsites in Idaho?
For campsites located inside Idaho state or national parks, reservations can be made online or by phone up to 9 months in advance. Most private Idaho campsites can be reserved 6 months ahead of time and up to a year for group sites.
Where can I camp for free in Idaho?
Idaho offers lots of primitive camping options, whether on BLM land or in one of the many camping areas in national forests. Roman Nose Lakes, Weir Creek, White Bird Gravel Pit, Seven Devils Mountain Range, and East Fork Weiser River are all free places to camp.
Idyllic Idaho!
It's a real pity that nearby neighbors Wyoming and Montana get all the outdoorsy cred when Idaho offers so much scenic wilderness to enjoy! Head to Idaho for your next camping trip and enjoy everything from waterfalls and natural hot springs to thousands of miles of unspoiled forests.
If you've still got some burning questions about campgrounds in the Gem State, feel free to ask them below. There's nothing that we love more than discussing camping, hiking, and mountain biking in the Gem State!