Amazing AZ: The Best Campgrounds In Arizona
Looking for the best camping in Arizona?
You're in the right place! In this guide, we will be covering the following:
Our picks of the 10 best campsites in Arizona
Info on camping in northern Arizona and camping in southern Arizona
Sites for the best RV and best tent camping in Arizona
Arizona campgrounds with showers & other amenities
Plenty of ideas for things to do when you go camping in Arizona
Many folks are apt to think that the state of Arizona is nothing but mile upon mile of saguaro-peppered desert with a very big hole in the middle. They are, however, mistaken. While AZ is home to plenty of stupendous desert terrain and the geological marvel that is the Grand Canyon, it's also blessed with some of the most majestic scenery the world over…
And situated near, around, or slap bang in the middle of that scenery there are campsites galore that cater to the needs and preferences of all kinds of camper. In this guide to the best camping in AZ, we'll introduce you to ten of our favorites.
Arizona Camping: Our Pick Of The Best Campsites in AZ
Whether you like to camp under canvas, in a trailer, or prefer the comfort of an all mod-cons RV, AZ campgrounds are largely well-maintained and are ideally situated for visitors who want to take in the very best of the state's natural landscapes.
Here are eleven of the best camping spots that Arizona has to offer.
The Grand Canyon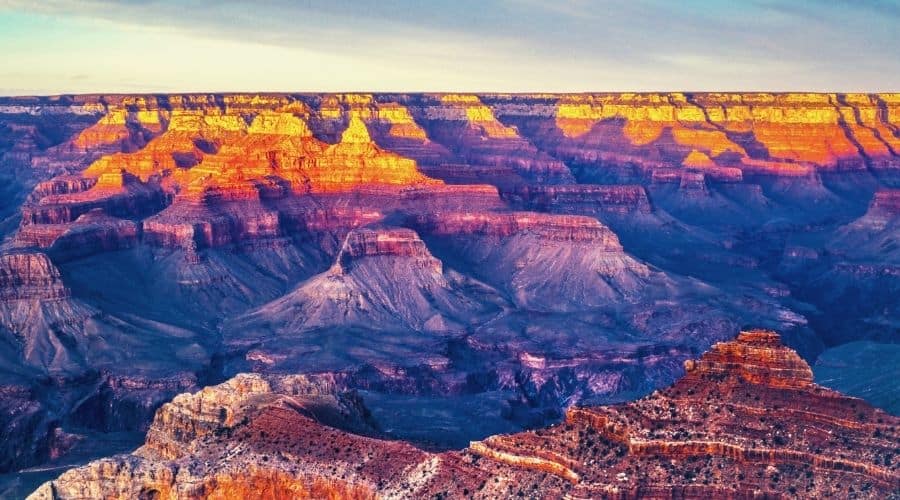 If you want to see the Grand Canyon up close and personal without having to contend with the crowds that flock here daily to enjoy this natural wonder, camping on or under the rim is undoubtedly the way to go.
The Grand Canyon has a number of campgrounds with varying levels of amenities.
A few developed campgrounds are found along the rim of the north and south sides of the canyon. The south rim is the more developed and has one campsite, Mather Campground, which is open year-round. The north side of the canyon is higher and, therefore, colder. Its North Rim Campground, therefore, is only open from May 15th through October 31st.
If you camp at Mather Campground, near Grand Canyon Village, you'll have excellent, convenient access to many of the most impressive sites in the park and some fabulous hiking trails. Sometimes, it can get hectic here, but there is dispersed camping available to the south of the entrance in the Kaibab National Forest, which is free of charge.
RELATED READING: The Best Hikes in Arizona for all experience levels
You can, of course, also camp inside the Canyon itself, but for this you'll need to make a reservation and book a permit.
Camping near one of the US' most popular tourist attractions does mean you'll rarely be without company, but there are plenty of hiking trails on which you can get a real-deal feel for desert solitude.
Lynx Campground, Prescott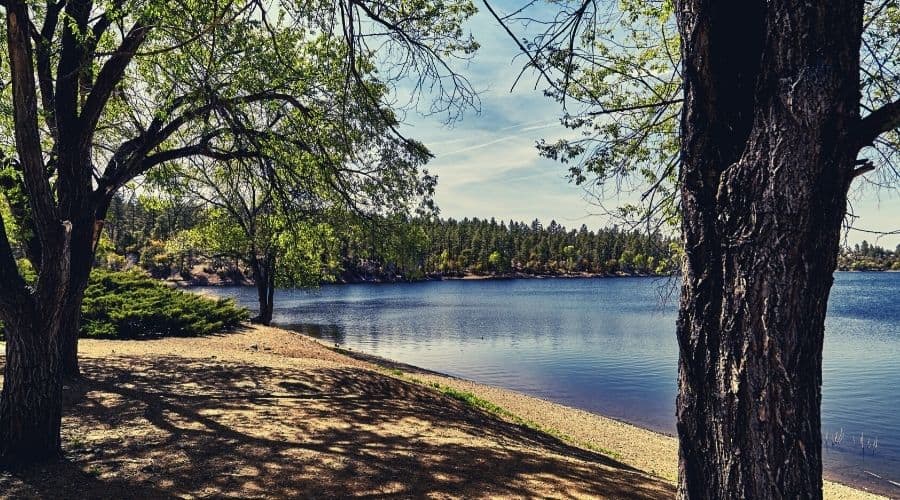 Lynx Lake Campground can be found just outside of the town of Prescott (here) on beautiful Lynx Lake.
The lake offers plenty of recreational opportunities for visitors, and Ponderosa pines shade the nicely laid out, immaculately maintained campground. All the camping sites are well-spaced and relatively quiet and private, and at just a ten-minute drive from Prescott, the site is super-convenient for supply runs too.
Here, you and your family can enjoy excellent fishing, fabulous bird-watching, and many hiking and mountain biking trails all within easy reach. The campground is located in a quiet area at an elevation of 5,600 feet, so the days are pleasantly warm and sunny without being overpoweringly hot, and the nights are refreshingly cool.
Just in case the thermometer does drop, however, every site is equipped with a fire ring to keep you cozy.
There are seven loops to the campground, housing 35 campsites. Not surprisingly, given its convenient and scenic location, the sites get booked up pretty quickly during the peak season, which typically runs from late spring to early fall.
Lake Powell, Glen Canyon National Recreation Area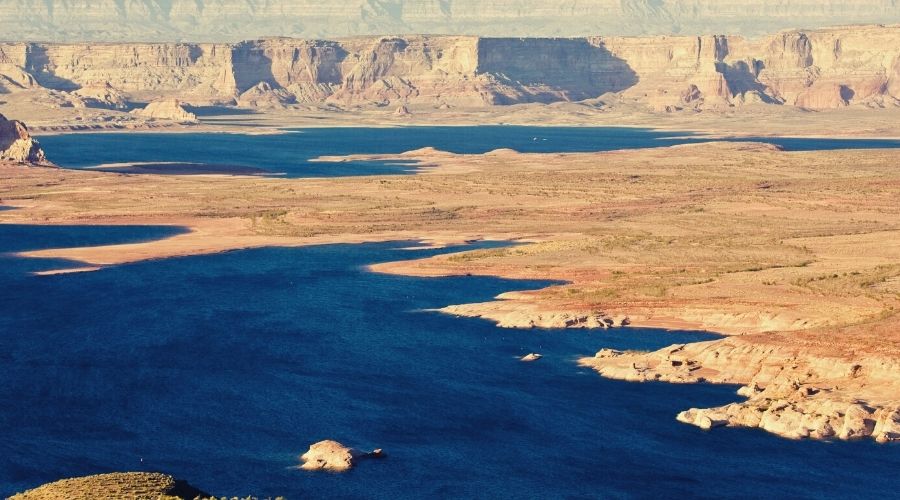 Lake Powell is located (here), just to the north of Page in the Glen Canyon National Recreation Area.
Dispersed camping here is delightful! You can park or pitch your tent right on the shoreline of glassy Lake Powell and enjoy stunning vistas across the water toward the sandstone towers framing the lake. If you own your own canoe, kayak, or boat, you can bring it right up to your campsite on the lake's edge.
A spacious and flat campground, so you can pick a perfect spot without feeling cramped or crowded. Although there's a fee to enter the National Recreation Area, camping here is free of charge.
Lost Dutchman State Park
Located just a short drive from Phoenix, Lost Dutchman State Park provides the perfect getaway for those in the city who don't have time to venture further afield.
The Lost Dutchman State Park campground has 134 campsites, half of which come with electric and water hookups. It is also open year round and welcomes pets.
RELATED READING: Check out our guide for more hikes near Phoenix
While this park is conveniently located in close proximity to the city, it's also a short drive from the Superstition Mountains, Tonto National Forest, and the trailheads for dozens of exciting hiking trails.
Lake Havasu State Park, Mohave County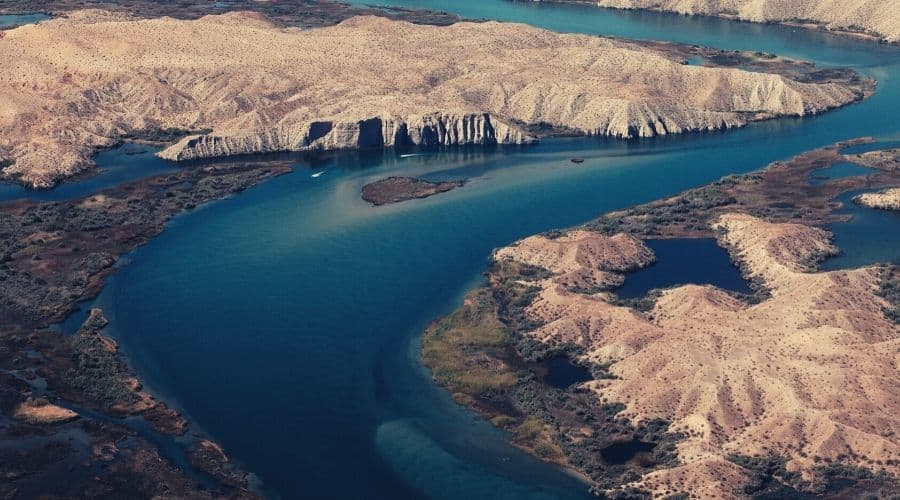 Arizona is not the first state that springs to mind when you mention white beaches! Yet that's what greets you when you come camping to Lake Havasu State Park (here).
The campground offers visitors the opportunity to camp right among small shade-giving trees directly in front of a gorgeous, white beach of soft sand. You can sit and contemplate the spectacular views out over the glittering waters of the lake to the distant hills beyond. Lake camping at its best!
The park does get very busy with boaters during high season, and this location is not for those who want somewhere quiet to chill-out and unwind. However, if you and your family want a lively, action-packed holiday, this site could be just what you're looking for.
All the park camping sites are equipped with water and 50-amp electricity, enabling you to run an air-con unit in your setup if you need to.
Looking for a quieter lake camping experience? Check out Patagonia Lake State Park campground near Nogales, which is a very chilled place to camp and ideal for lovers of kayaking, canoeing, and fishing.
Campgrounds A and B, Catalina State Park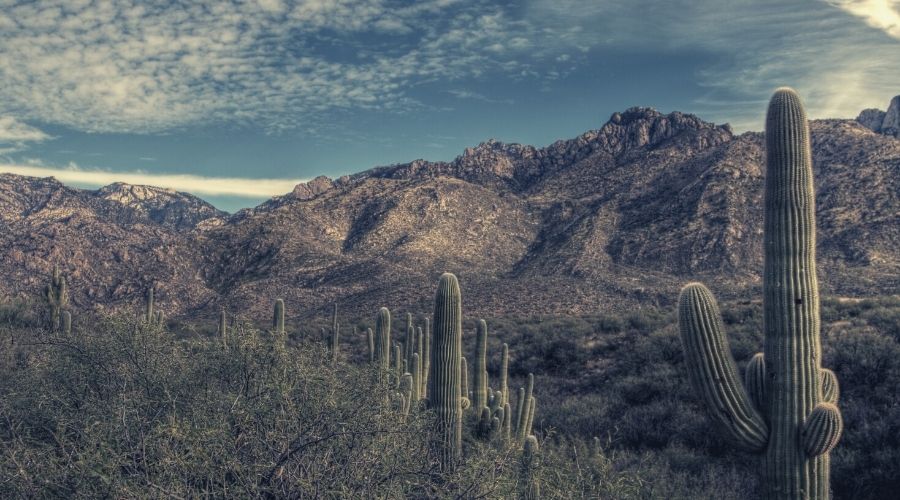 Not everyone wants to vacation in the middle of nowhere, and if you're going to camp in a well-equipped site conveniently located close to a city, the campgrounds at Catalina State Park near Tucson (here) might be just what you're looking for.
Both campgrounds (affectionately named 'A' and 'B') in Catalina State Park offer expansive sites with paved parking areas in a spacious, flat area. The tent and RV sites have modern conveniences, including showers and toilets.
Despite its semi-urban location, there are some incredible mountain views to be enjoyed and wildlife to see, including prairie dogs, white-tailed deer, and even bobcats. There are many different species of birds to look out for too, and at night the air is filled with the hooting of owls and the yipping of coyotes.
Organ Pipe Cactus National Monument, Sonoran Desert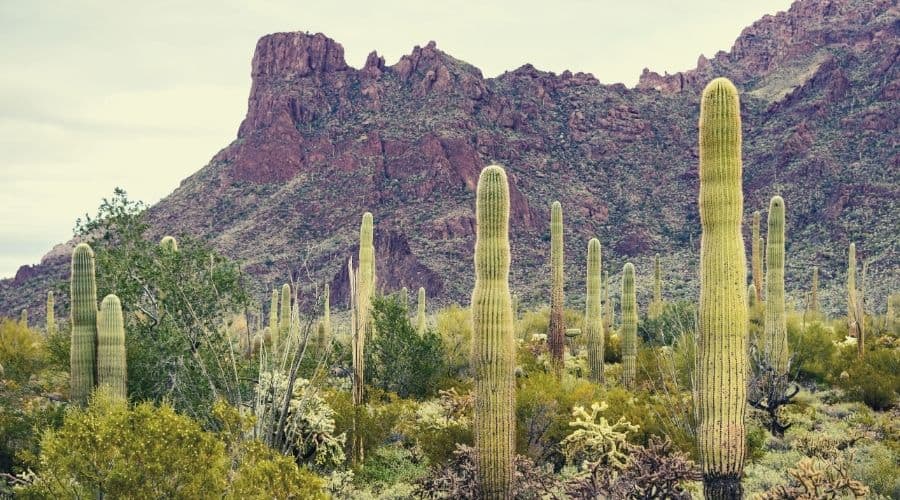 The Organ Pipe Cactus National Monument is located (here), in the far south of the state, close to the border with Mexico.
If you want to get right away from it all and camp out under the stars where no light pollution can spoil your view of the universe in all its glory, this is the place for you!
The organ pipe cactus for which the area is named is what attracts most people here, although the landscape makes this one of the most beautiful places to camp in Arizona. It's a green desert here, a land of saguaros, mountains, and, of course, the organ pipe cactus. The hiking, biking, and horseback riding around the area is pretty awesome too.
Campgrounds here are very natural, surrounded by the desert landscape and spectacular views of the distant mountains. There are 208 sites on the campsite, divided into peaceful, generator-free areas for tents and another for RVs. Thanks to the remoteness of the location, the campground very rarely fills to capacity.
In some parts of the campground, the only sound you'll hear is the crooning of the wind and birdsong. That said, a reasonable degree of comfort is provided in the form of flush toilets and showers. If you're likely to arrive too late to pitch your tent, check out the town of Ajo some 20 minutes away, where you'll find accommodation to suit most budgets.
Bonita Canyon Campground, Chiricahua National Monument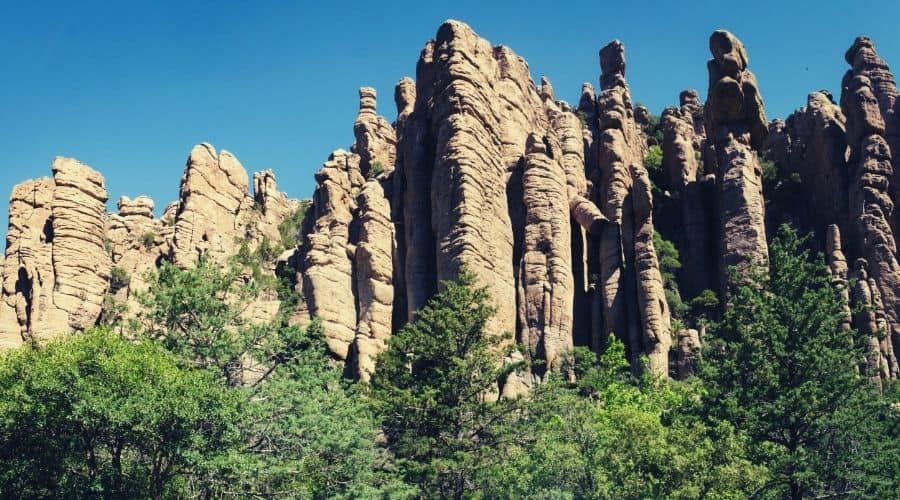 Bonita Canyon Campground is located (here) in the south of the state, close to the Mexican border.
The Chiricahua National Monument guards a small mountain range called a "sky island" that sits apart from the other mountains in the area. The Chiricahua is a dramatic, rugged collection of natural rock formations comprising massive pinnacles, hoodoos, rock steps, and balancing rocks, all of which make it one of Arizona's most unique camping locations.
Visitors come here to enjoy the many hiking trails that meander up and down the hillsides, winding in and out of the spectacular stone towers, which, to our mind, merit a place on any list of the state's most impressive natural wonders. Other fun things to do here include wildlife viewing, horseback riding, and stargazing.
Camping here is especially popular during the warmer months of the year, from late spring through fall. Here, you can escape the oppressive desert heat, as the campground is well over 5,000 feet, meaning that temperatures are generally lower, especially at night.
The wooded area where the campground sits in a shaded grove of pine trees, and the campsites are nicely spaced, providing campers with peace and privacy. You can reserve your site before you come if you want to. Otherwise, the campground operates on a first-come, first served basis.
Gilbert Ray Campground, Tucson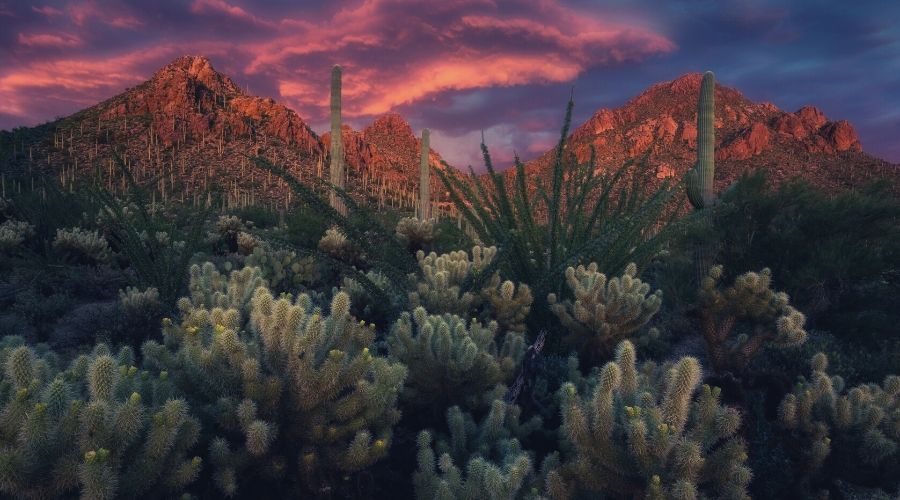 In the Tucson Mountain Park in Pima County, you'll find the Gilbert Ray Campground (here).
If you want to stay in a campground that gives you the feeling of being out in the wilderness, even though the main tourist town of Tucson is only 15 minutes down the road, this could be the perfect location for you. The campground has 130 sites that are well-spaced for privacy and are supplied with water and electricity.
This pretty campground is well away from noisy roads and has some beautiful views to the west across plains dotted with saguaros and prickly pear cactus, and to the Santa Catalina Mountains and Rincon Mountains in the east. Arizona desert camping at its best!
From the campground, you can also easily reach the Old Tucson Movie Studios, the Arizona-Sonora Desert Museum, and the Saguaro National Park. The hiking from here is terrific too, and the Valley View Overlook trail is just minutes away.
Oak Creek Canyon, Sedona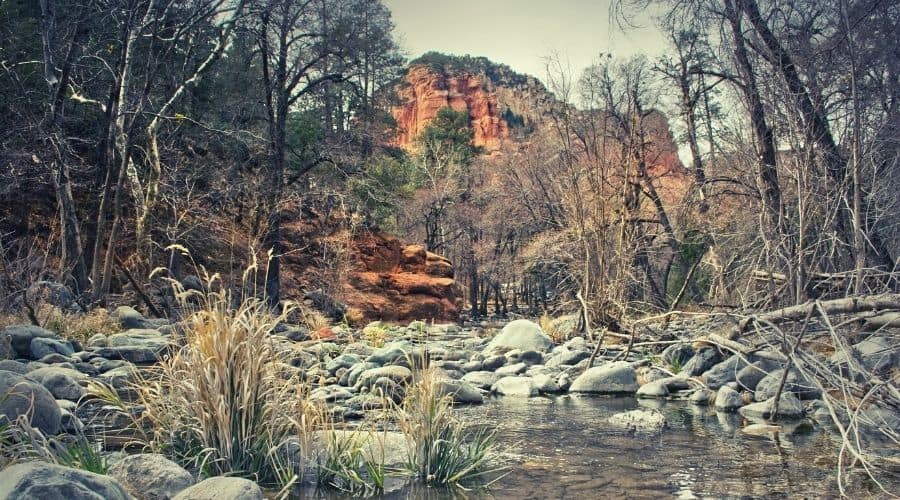 Possibly the best northern Arizona camping destination for campers of all ilks, Oak Creek Canyon (here) is a red-rock river gorge that's almost a miniature version of the Grand Canyon but without the crowds.
Here, you'll find places for picnicking, hiking, fishing, and there's even a swimming hole with a natural waterslide for those who want to cool off after a long day in the sun.
There are three delightful campgrounds in Oak Creek Canyon. Cave Springs and Manzanita Campground are the most convenient if you want to visit nearby Sedona. There are just 18 sites at Manzanita, and finding a pitch can be tricky.
The campground at Cave Springs is about 20 minutes to the north of Sedona and gives you easy access to the stunning beauty of Oak Creek Canyon without the hassle of Sedona's heavy traffic.
There are 89 sites on the campground, and it's located well away from Highway 89A, set within a peaceful, shaded valley filled with towering deciduous trees that provide visitors with plenty of welcome shade on hot days. This is one of the most popular campgrounds in northern Arizona, so be sure to book well in advance.
The sites are well-spaced and grassy, with some of the western plots providing glorious views of the canyon's vertical walls. The sites on the eastern side of the campground give onto the lively, rushing waters of Oak Creek. Close by is Slide Rock State Park, and there are also some of the very best hikes in Sedona and Coconino National Forest within easy reach.
Spillway Campground, Payson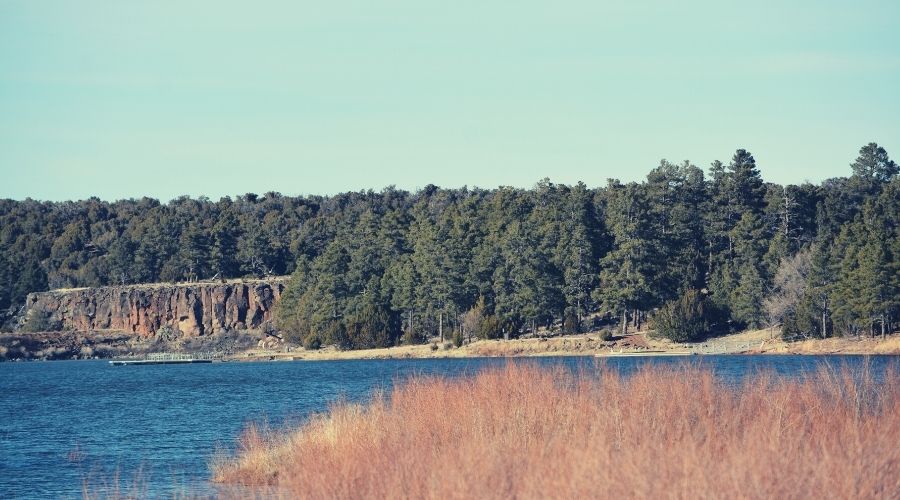 Spillway Campground is located (here) near Payson.
This enchanting, cozy campground located on Wood's Lake's shores, high up on the Mogollon Rim in the Apache-Sitgreaves National Forest at an elevation of 7,500 feet, is located just about hour's drive from Phoenix and is the ideal camping spot for those needing to get away from the heat and hubbub of the city.
Outdoorsy folks come to the Apache Sitgreaves National Park to enjoy a wide variety of activities, including fishing, swimming, boating, and canoeing, as well as for the beautiful hiking trails in the surrounding forests.
Most of the campsites are just a short walk from the trout-stocked lake, and there are a few located right on the lakefront. The sites are well-spaced and private, and shade is provided by the towering Ponderosa pines and other smaller trees.
There are only 25 sites here, and all get booked up pretty early. However, there are alternatives at the nearby Rim and Aspen campgrounds.
All the campgrounds in the area open in late spring, as the climate up there is cool. But if you want to come a little earlier, you could check out the campgrounds at lower elevations around Payson.
Off the Beaten Path in Arizona!
Arizona is so much more than a desert wilderness! There are spectacular mountain vistas, lakes teeming with trout, barren, rocky landscapes, and even a white, sandy beach in the middle of the desert!
We've picked out our favorite ten camping sites in Arizona, all of which are spread out right across this beautiful state of surprises. Why not rent an RV, take a summer road trip to the Grand Canyon State, checking out the best of our camping recommendations along the way?
How did you like our list of our favorite camping places in AZ? If you have any comments or questions about Arizona campsites, please feel free to leave them in the comments box below. And if you'd like to share this post with your friends, share away!