The Evergreen State is known for its lush forests and sprawling access to the ocean and Puget Sound. But there's much more to be found in the state's parks and forests and no shortage of activities for the whole family.
With over 80 public campgrounds alone coupled with countless private campsites, finding a place to pitch your tent or park your RV can be a hassle. To help you out, we've put together a list of 19 campgrounds that will let you experience Washington State at it's best.
We also provide info on fun nearby activities. From canoeing and freshwater swimming to beaches and hiking, these incredible campsites have something for everyone!
RELATED READING: For more outdoor adventure check out our guides to the best hikes in Washington State.
1. Hoh Rain Forest Campground, Olympic National Park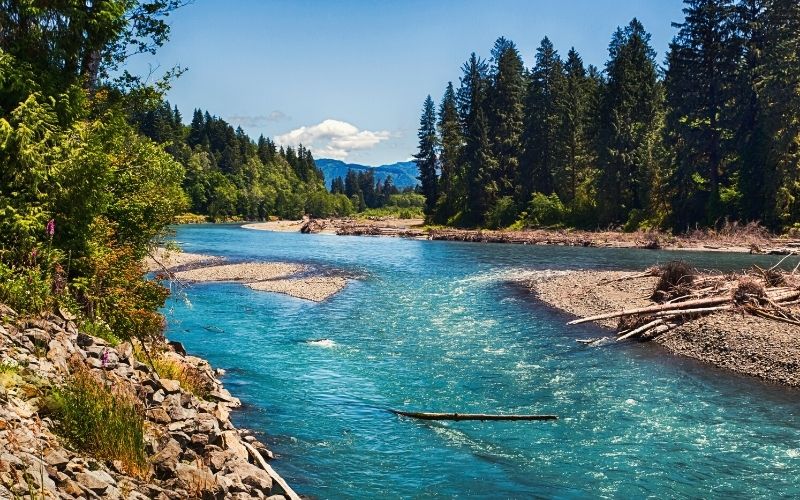 Type: RV, tent
Full RV Hookups: No
Nearest Town: Forks, 31.2 miles
You'll find few places like the Hoh Rain Forest in the whole world. Located on the Olympic Peninsula of the western part of the state, you'll find lush forests full of ferns and mosses and huge evergreens.
Here you'll find 72 campsites. You'll need to reserve campsites six months in advance during the peak season. There are no showers, but you'll find flushing toilets and nearby potable water. You'll also have easy access to the plethora of classic hiking trails nearby.
You can walk to the 0.8-mile Hall of Mosses or the 1.2-mile Spruce Nature Trail to wind your way through the forest, passing pretty streams and rivers along the way. Hardier hikers can also try to take on the 17.4-mile Hoh River Trail.
2. Cougar Rock Campground, Mount Rainier National Park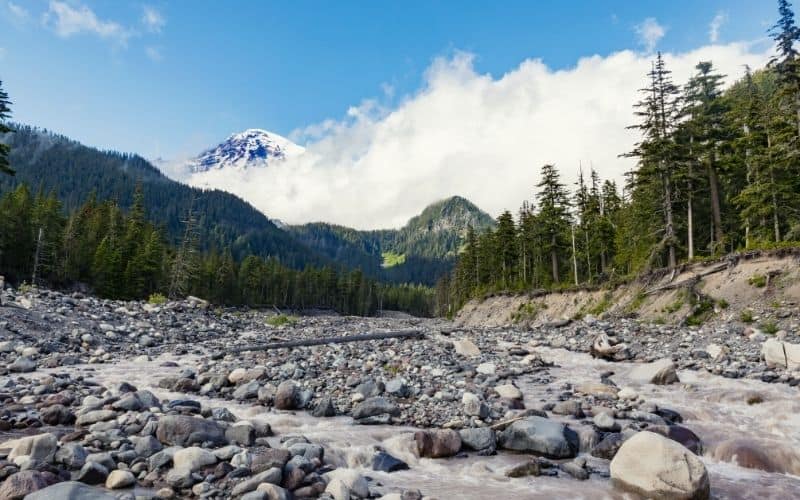 Type: RV, tent
Full RV hookups: No
Nearest town: Ashford, 14.4 miles
Located on the southwest side of Mount Rainier National Park, Cougar Rock Campground is a popular launching spot to the Paradise area. Paradise is the most-visited spot in the park, leading you to a visitor center and lodge and a handful of trailheads.
At Cougar Rock you'll find 170 campsites that you'll want to reserve early. While the campsites are grouped closely together, you'll find it doesn't seem that way due to the dense forest around you.
You can find flush toilets, picnic tables, and potable water throughout the campground.
3. Little Gee Lake, Skagit County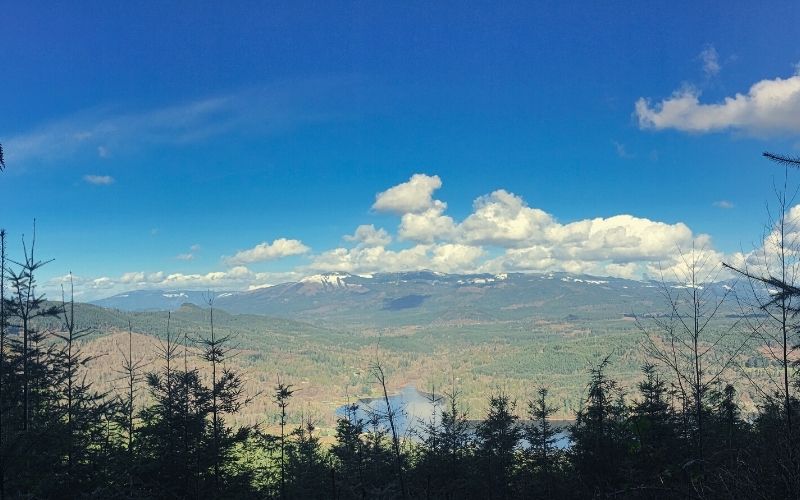 Type: Tent, RV
Full RV Hookups: No
Nearest town: Concrete, 28.3 miles
Little Gee Lake offers some of the best dispersed camping in the state as well as the most accessible fishing for the anglers out there. You can stay here for free for up to 14 days on a first-come, first-served basis. 
While you'll get incredible views, Little Gee Lake is about as rustic as it gets. There are no flush toilets or drinking water nearby.
To get to this free camping spot, you'll drive about 150 yards past the lake itself until you see an opening that gives you incredible views of the surrounding forest.
Give this primitive campground a go if you really want to connect with nature and don't mind skimping out on amenities.
4. Lone Fir Campground, Okanogan-Wenatchee National Forest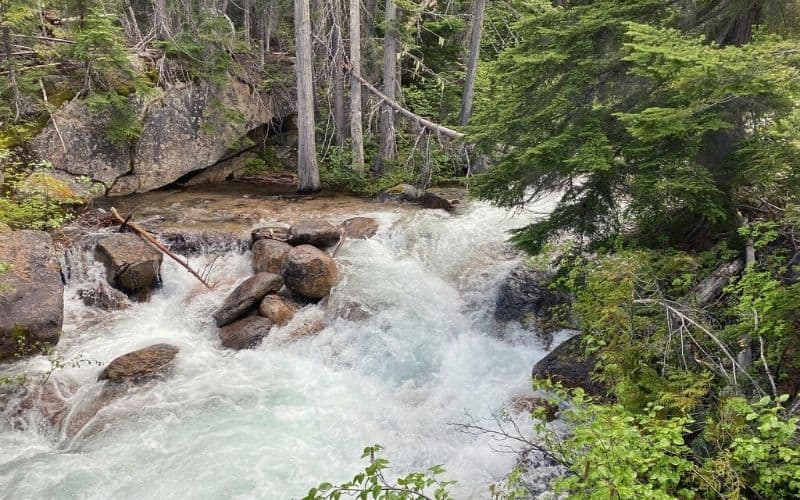 Type: Tent, RV
Full RV hookups: No
Nearest town: Winthrop, 24.3 miles
Lone Fir Campground, located just off of Highway 20 running through the North Cascades, is a perfect overnight spot for bicyclists
You'll get excellent mountain views of the North Cascade Mountains here as well as access to a few forest service roads that double as hiking trails.
Amenities include flushing toilets and drinking water.
Take note that the Lone Fir Campground is only open July to October as the winters are so long in this area.
5. Lake Wenatchee State Park Campground, Leavenworth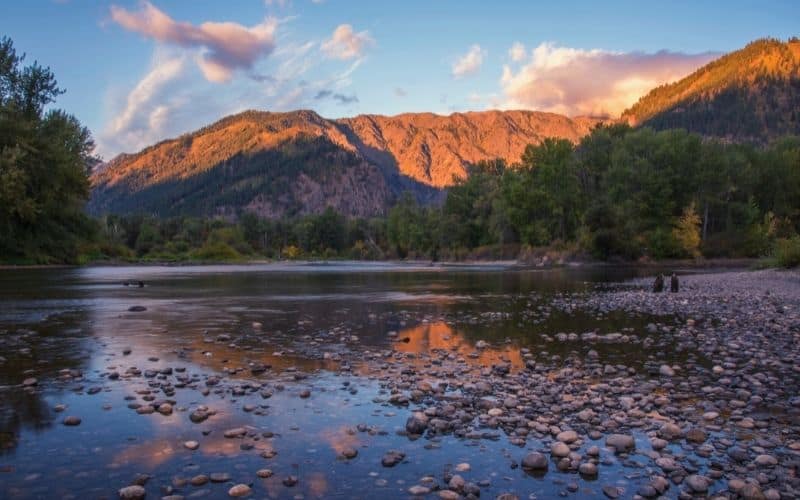 Type: Tent, RV
Full RV hookups: No
Closest town: Leavenworth, 20.6 miles
Lake Wenatchee State Park Campground is located just a short drive from the Bavarian-themed mountain town of Leavenworth.
There are two loops to the camping areas: the north and south loops together total over 150 sites. All of these are just a short distance to the beach of Lake Wenatchee, where you'll find a perfect shallow lake for new or tentative swimmers.
You can also fish from shore or a boat, as non-motorized boating is allowed on the lake.
If you're a hardier camper, head to Lake Wenatchee State Park in the wintertime for cross-country skiing and snowshoeing.
You'll find flushing toilets, showers, and drinking water at this camping area.
6. Colonial Creek Campground, North Cascades National Park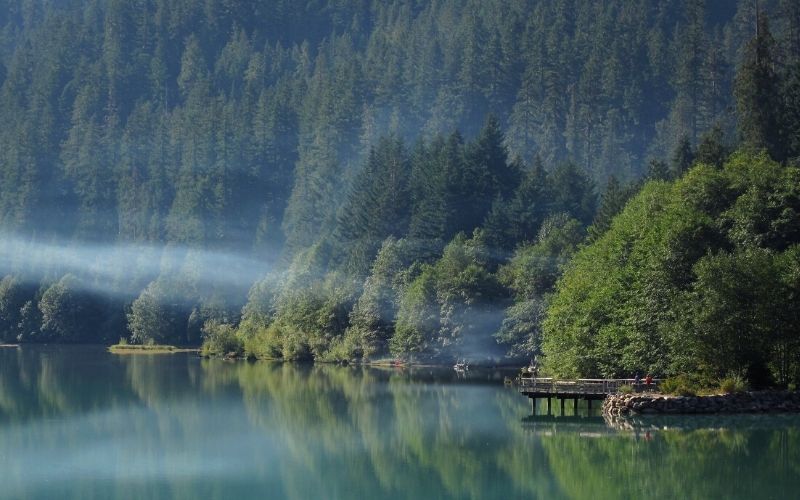 Type: Tent and RV
Full Rv Hookups: No
Nearest town: Newhalem, 9.8 miles
Colonial Creek Campground is a great basecamp for exploring North Cascades National Park. You'll see the aquamarine Diablo Lake just next to the camping area.
The campsites here, 130 of them, are more set up for tents or small RVs as they're not very spacious.
Recreation on Diablo Lake abounds here and is best accessed from Colonial Creek. The boat launch at the camping area is one of the few spots you can use to get on Diablo Lake. Once you're there, feel free to fish and cruise around.
Flush toilets and drinking water are available.
7. Cranberry Lake Campground, Deception Pass State Park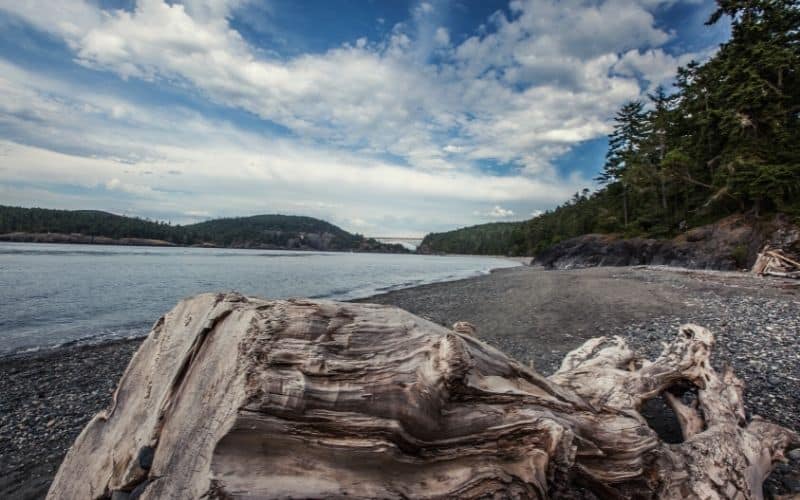 Type: Tent and RV
Full Rv Hookups: partial
Nearest town: Oak Harbor, 10.4 miles
Deception Pass State Park is the most popular in Washington for good reason. Visitors can wander miles of Puget Sound's beaches as well as swim and fish in Cranberry Lake itself. Birdwatchers will delight in the numerous species of fresh and saltwater birds to be found here.
Both car-camping tenters and RVers can enjoy the fun here. Cranberry Lake Campground offers partial hookups for RVs.
8. Bowl and Pitcher Campground, Riverside State Park, Spokane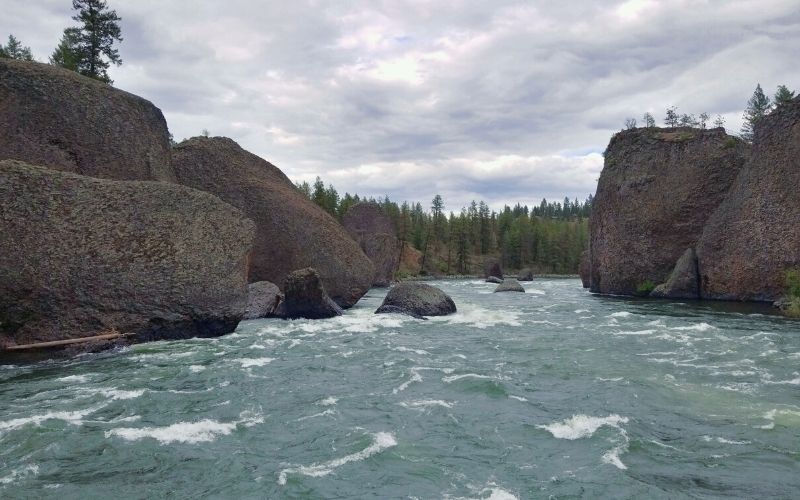 Type: Tent, RV
Full RV Hookups: Partial
Closest town: 6.0 miles
With recreational activities for everyone and just a few miles from eastern Washington's largest city of Spokane, Riverside State Park is not to be missed.
The campground offers 32 campsites, 16 of which give you partial RV hookups. The area also includes one dump station and two restrooms with showers.
The park takes up over 11,000 acres running by the Little Spokane and Spokane Rivers and is thus a popular attraction for visitors and locals alike.
For mountain bikers and hikers, there are 55 miles of single-track trails to keep you occupied at Riverside State Park. You can also access the 40-mile long Spokane River Centennial State Park Trail that goes all the way to the Idaho border.
Horse lovers can enjoy a horse-friendly campground, plenty of trails, and a 60-foot round pen that includes an obstacle course. There are 600 acres of special terrain for off-road vehicles as well.
For water sport enthusiasts, you have the Little Spokane River for paddleboarding, kayaking, fishing, and canoeing.
9. Ohanapecosh Campground, Mount Rainier National Park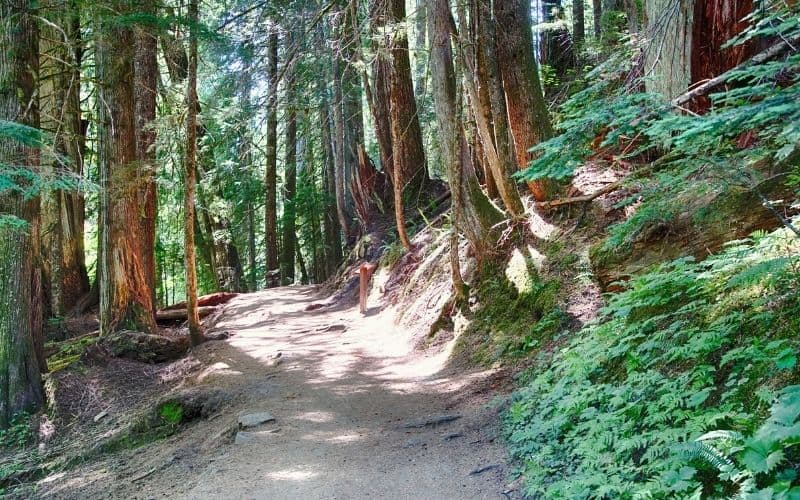 Type: Tent, RV
Full RV Hookups: No
Nearest town: Packwood, 11.8 miles
Offering a perfect basecamp for exploring all that Mount Rainier National Park has to offer, Ohanapecosh Campground is centrally located between the Paradise and Sunrise areas of the park.
There are 175 sites available here for tent and RV camping. They all contain access to flush toilets and drinking water.
You'll find a beautiful glacier-carved canyon just next to the campground. You can follow the river via a trail that will take you to Silver Falls. This jaunt is less than a three-mile round trip from the campground.
Nearby you'll also find the popular Grove of the Patriarchs Trail, where you'll follow a boardwalk through towering old-growth forests.
10. Hobuck Beach Resort, Neah Bay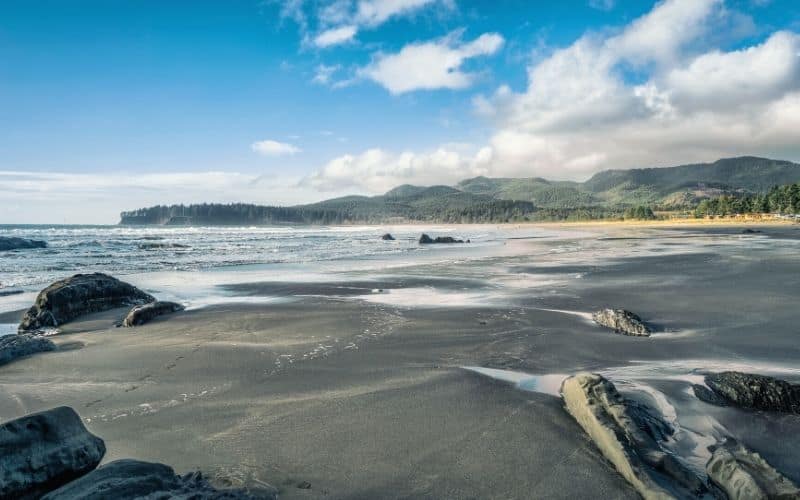 Type: Tent, RV, cabins
Full RV hookups: Yes
Nearest town: Neah Bay, 3.2 miles
Drive as far as you can north and west before hitting Canada to get to the beautiful Neah Bay. The resort is run by the Makah Tribe and the camping is located along the west end of the reservation right along the beach.
The amenities here are numerous. There are cabins, full RV hookups, and plenty of tent sites. The RV camping and tent camping sites are first-come, first-served.
The RV sites offer immediate access to the beach. You can explore the area, hike on the nearby trails, go surfing, birdwatching, and meet the locals.
You can also explore Shi Shi beach for a day hike, or even pack up your tent for a night and pitch on the beach there.
11. Kalaloch Campground, Olympic National Park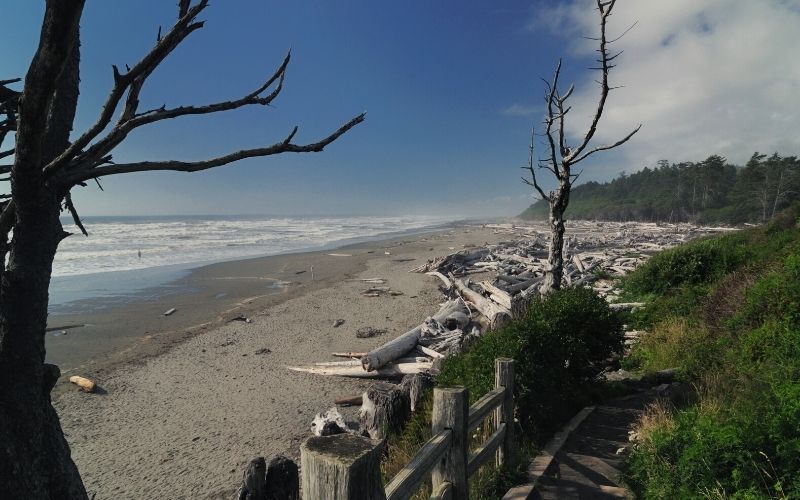 Type: Tent, RV
Full RV hookups: No
Nearest town: Queets, 6.3 miles
Set along the southwest coast of the Olympic Peninsula is Kalaloch Campground. You'll be perched on a high bluff overlooking the Pacific Ocean and have direct beach access.
The campground itself is spacious with 168 campsites for tent camping and RV camping. There are no full hookups here but there is a dump station for a $5 fee. Drinking water and toilets are available, but no showers.
Kalaloch means "a good place to land" in the Quinault language, and for good reason. You'll be in a quiet, coastal rainforest with plenty of exploring to be done from your basecamp. You can look for sea otters, shorebirds, and sift through tide pools for crabs and sea urchins.
Kalaloch is a popular birding destination; you can look for western gulls, bald eagles, maybe even a puffin.
Take care if you choose to swim along the beach here. The area is prone to large pieces of driftwood that are dangerous to swimmers as well as rip tides.
12. Sol Duc Campground, Olympic National Park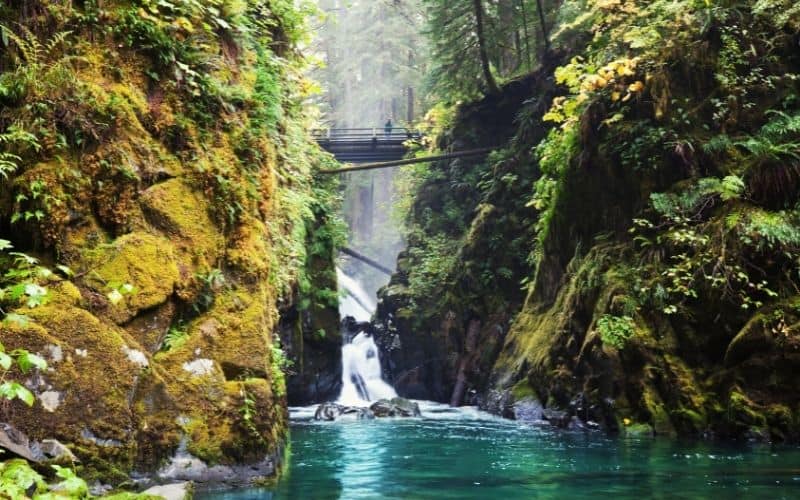 Type: Tent, RV, cabins
Full RV hookups: Yes
Nearest town: Maple Grove, 26.0 miles
Set in the northwest of Olympic National Park is the popular destination for waterfall lovers, Sol Duc.
There are about 80 tent sites and 17 RV sites here. Be sure to reserve a spot in advance during the busy summer season.
Recreational opportunities abound in this area. You can walk from the campground to the trailhead of the popular Sol Duc Falls, one of the best hikes in the state. To get to the falls is just 1.6 miles. More zealous hikers can continue on to the Seven Lakes Basin, a 19-mile loop trail.
Just next to the campground are delightful hot-water mineral pools at the Sol Duc Hot Springs Resort.
13. Wanapum Recreation Area, Ginkgo Petrified Forest State Park
Type: Tent, RV
Full RV hookups: Yes
Nearest town: Ellensburg, 28.7 miles
To explore the geologic wonder of Ginkgo Petrified Forest State Park in southern Washington, you can camp at the nearby Wanapum Recreational Area state park along the banks of the reservoir. The area has 50 full RV hookup sites as well as flush toilets and potable water.
The campground features a public boat launch for water lovers. If you're seeing a concert at the nearby Gorge Amphitheater, this will be an excellent campground for you as well.
You can pop over to the Ginkgo Petrified Forest Interpretive Center to learn more about the geological wonder of trees turning to stone and wander along the Trees of Stone Interpretive Trail.
14. Salt Creek Campground, Salt Creek Recreation Area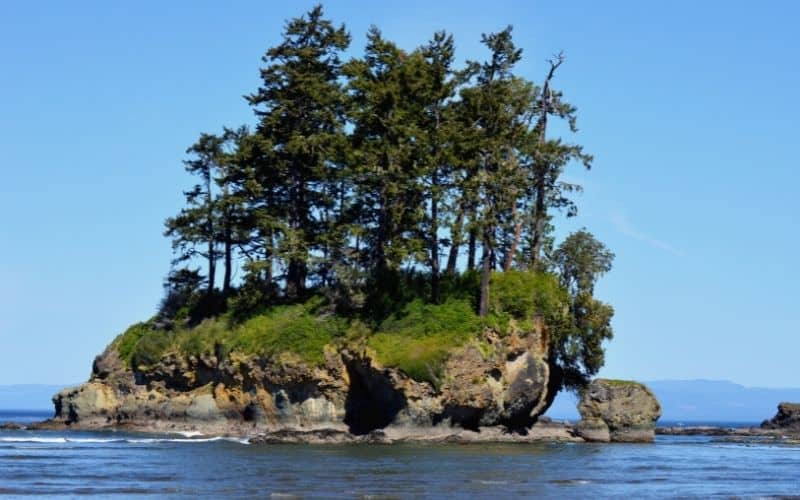 Type: Tent, RV
Full RV hookups: No
Nearest town: Port Angeles, 16.7 miles
Just a short jaunt from the tourist town of Port Angeles is Salt Creek Recreational Area, known for its tide pools and expansive beach.
A county park next to Olympic National Park, the campground has 90 sites available for tents and RVs. Potable water and flush toilets are available. The sites are available year-round.
While staying at Salt Creek, you can visit the sprawling, rugged Crescent Bay Beach just a short walk from the campground. Also nearby is the Tongue Point Marine Sanctuary, where you'll find teeming tide pools.
15. Curlew Lake State Park, Republic
Type: Tent, RV
Full RV hookups: Yes
Nearest town: Republic, 9.4 miles
In the often-overlooked northeastern corner of Washington, just a short jaunt from the Canadian border, is Curlew Lake State Park.
The campground has 80 sites for tent and RV campers. You'll have access to flush restrooms and showers. From here you can check out the Ferry County Rail Trail for scenic overlooks of the area.
Water sport enthusiasts will love Curlew Lake for kayaking, canoeing, and fishing. You can catch bass, yellow perch, trout, and tiger muskie. You can also see plenty of shore birds here, including an entire heron rookery with active nests.
Rock hounds will delight in the Stonerose Fossil Site just eight miles away. It is open for public digging.
16. Moran State Park, Orcas Island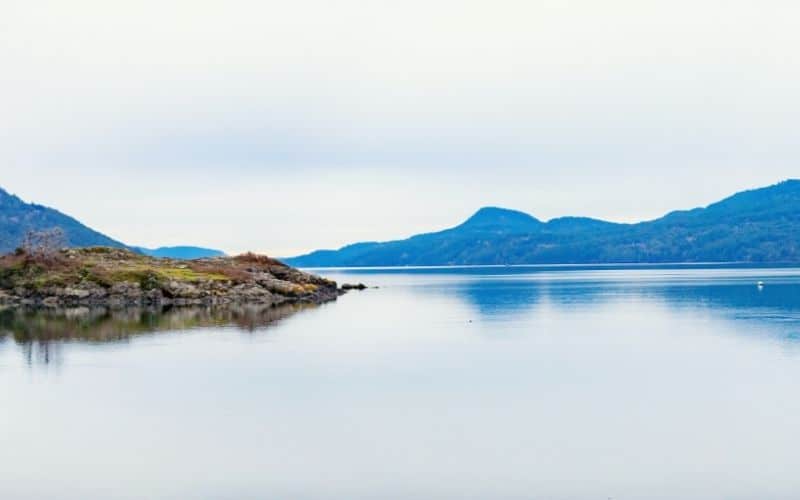 Type: Tent, RV, walk-in
Full RV hookups: No
Closest town: Olga, 1.8 miles
You can explore the popular yet remote San Juan Islands at Moran State Park, which is a great launching point for a number of recreational activities.
The campground has 124 sites, including six walk-in sites for backpackers and bikers. You'll find showers and flush toilets here.
The park features 38 miles of hiking trails and five freshwater lakes for swimming, fishing, and non-motorized boating.
Check out the iconic Mount Constitution, the highest point in the San Juan Islands. You can hike, bike, or drive to the top and get a 360-degree view by climbing a stone tower.
17. Steamboat Rock State Park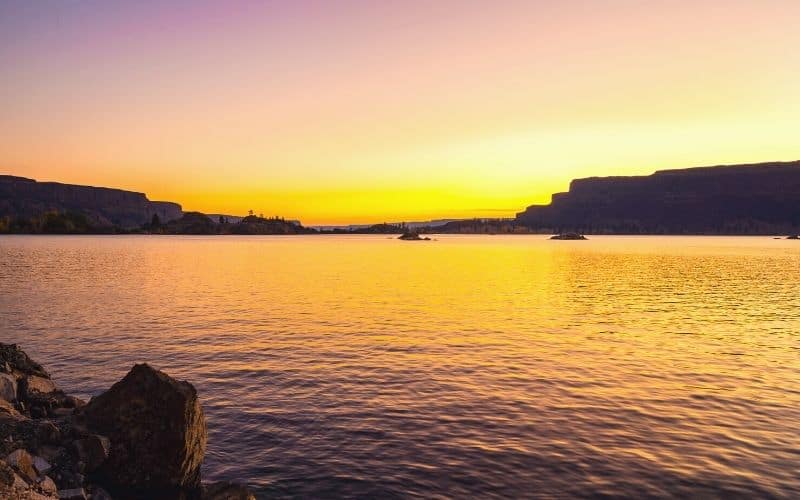 Type: Tent, RV
Full RV hookups: Yes
Nearest Town: Electric City, 11.1 miles
Steamboat Rock State Park in the Grand Coulee has 15km of shoreline teeming with wildlife and awesome views in every direction, most notably of the huge basalt butte from which the park takes its name. The area, which appears barren from the ground, was carved by glaciers over 13,000 years ago.
The campground is huge, boasting 25 regular tent sites and 164 full hookup sites. There are also three cabins, flush toilets, and showers.
You can hike up Steamboat Rock itself, a 650-foot butte where you'll get views of the Grand Coulee and the rugged peaks of the Okanogan-Wenatchee National Forest.
Below Steamboat Rock is Banks Lake, where you can find docks for fishing and seven watercraft launches.
18. Fort Flagler State Park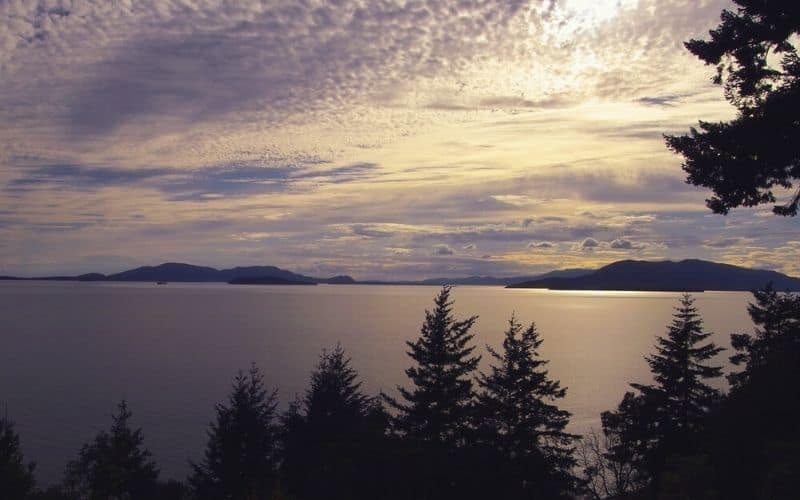 Type: Tent, RV, walk-in
Full RV hookups: Yes
Nearest town: Port Hadlock-Irondale, 9.7 miles
Fort Flagler State Historical Park is one of the best campgrounds in the state for history buffs. Here you can immerse yourself in U.S. military history and tour this coastal defense fort built more than a century ago to guard the access point to Puget Sound. 
The campground has over 100 sites for RVers and tent campers. You'll find full RV hookups with water and flush toilets. Group camps have vault toilets and potable water.
The park offers tours of the fort and other facilities during the busier summer months. You can also wander the park yourself to find the batteries and gun emplacements.
19. White River Campground, Mount Rainier National Park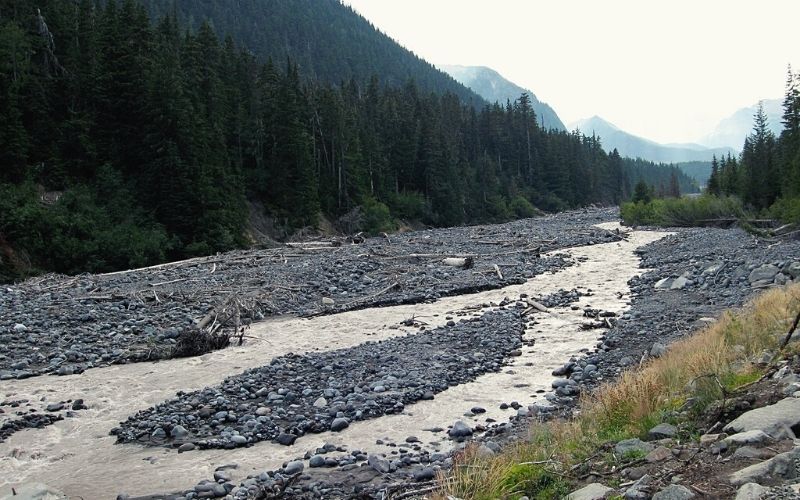 Type: Tent, RV
Full RV hookups: No
Nearest town: Ashford, 5.8 miles
White River Campground in the northeast corner of Mount Rainier National Park is a perfect gateway to the backcountry.
The visitor center of the popular Sunrise basecamp is located just up the road and gives you access to some of the area's best hikes.
There are both tent and RV sites here, but no showers or full electric hookups.
Access to hiking is easy here. Day hikers and climbers alike can use the Glacier Basin Trail that climbs gradually for 3.3 miles. It ends at Glacier Basin Camp at 6,000 feet. You can also take a short jaunt down to White River (a cascading creek) itself.
Best Camping in Washington!
From the rainforests of Olympic National Park to the sprawling sage-brush deserts of eastern Washington, the Evergreen State has something for everyone. You'll find no shortage of camping or recreational opportunities in this idyllic portion of the Pacific Northwest, so be sure to put Washington State at the top of your camping list!
What did you think of our suggestions for the best camping in Washington? Did we miss anything? Comment below if you have a favorite we failed to mention!