Seattle is a city for outdoor lovers. With temperate rainforests and the Cascade mountain range right in its backyard, who wouldn't love the outdoors if they lived near Seattle?
In our list of the 17 best hikes a short drive from Seattle, we show you a little of everything. From family-friendly hikes with stunning views to volcanic ridge lung busters, there's something for everybody here.
So what are you waiting for? Discover the natural wonders of the Pacific Northwest with our guide below.
RELATED READING: Happy to travel further afield? If so, check out our guide to the Best Hikes in Washington, in which you'll find a selection of awesome trails in Olympic National Park, Whidbey Island, Mount Baker, Okanogan-Wenatchee National Forest, and more!
Seattle Hiking Permit Info
If you're going hiking in one of the many national forests in the area, you'll need a Northwest Forest Pass from REI or the Washington Trails Association. The Northwest Forest Pass can be used by two family members.
Alternatively, you can grab an America the Beautiful National Parks and Federal Recreation Lands Pass. This allows you to enter all of the US national parks for the year, and you can use it everywhere that requires a National Forest Pass.
For WA state parks, you can pick up a Discover Pass from the Discover Pass website.
Best Seattle Trails: Our Top 17 Picks
1. Discovery Park Loop, Discovery Park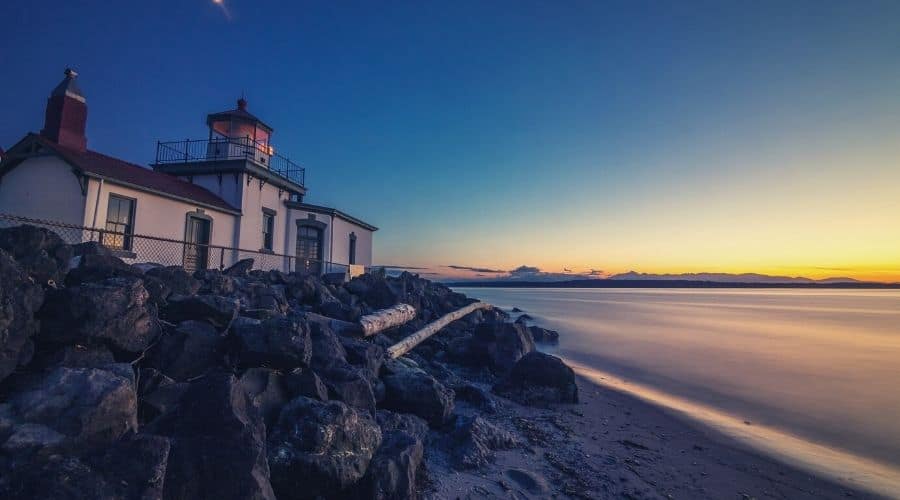 Length: 2.8 miles
Elevation Gain: 140 ft.
Type: Loop
Difficulty: Easy
Discovery Park is the biggest park within the Seattle city limits. It will be busy on weekends when the weather is nice, but the Discovery Park Loop trail is certainly one of the top trails in Seattle proper, so it's easy to understand why it's so popular. 
The main hiking trail is a 2.8-mile loop, but there are many other routes you can take that go through the 524 acres of woods in Discovery Park. So bring the whole family, or make a longer day of it. Whatever route you take, be sure to check out the West Point Lighthouse on the coast of the Pacific Ocean.
2. Cedar River Trail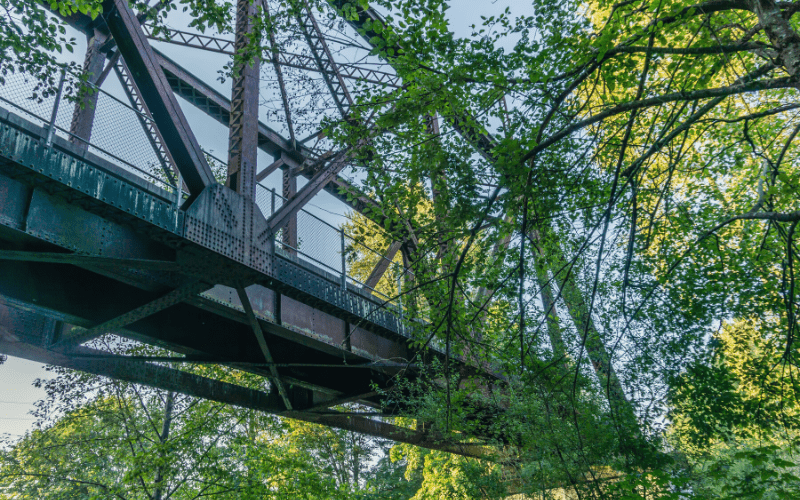 Length: 17.3 miles
Elevation: 813 feet
Type: Point to point
Difficulty: Moderate
The Cedar River Trail is a 17.3-mile rail trail close to Seattle. It's partially paved, so it's suitable for the whole family and all manner of recreation, including bikes.
The CRT follows an old railroad corridor, flanking the Cedar River in the Seattle metro areas before taking you out into the surrounding countryside.
In the fall, you can see thousands of sockeye salmon head up the river to spawn. These bright-red salmon are easy to spot along the river's edge. And if bird watching's your thing, be sure to make a stop at Cavanaugh Pond.
This well-maintained trail connects with multiple other trails, so you can tailor your adventure to suit. To extend your hike, take the Lake Wilderness Trail out to the Black Diamond Natural Area, where you'll find over 1,000 acres of wetlands, peat bogs, streams, and sections of the Wildlife Habitat Network's protected migratory corridor.
3. Mount Si, North Bend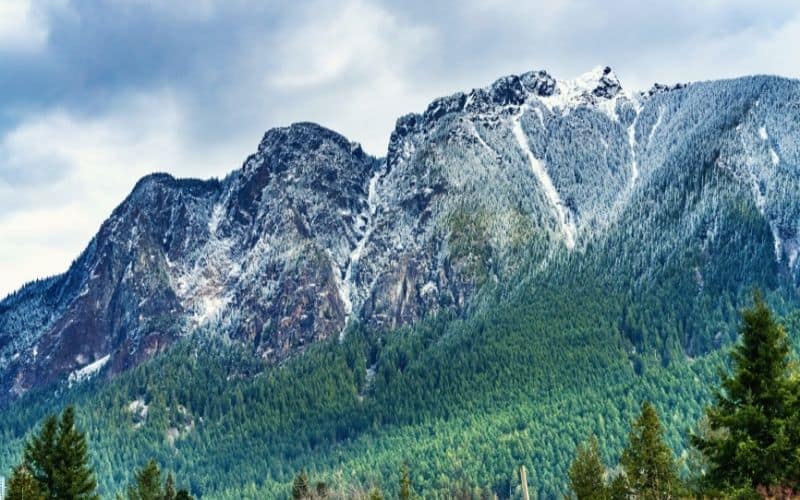 Length: 8 miles
Elevation: 3,150 feet
Type: Out and back
Difficulty: Challenging
This hike gains over 3,000 feet of elevation over the 4 miles it takes to get to the summit of Mount Si. Even though it's tough, this trail is very popular because it's so close to Seattle. Mount Si and its smaller companion, Little Si, are known as "Resolution Peaks" because of the massive influx of hikers who come here at the beginning of each year.
The first quarter mile is steep, but it flattens out a bit to give you a break before the final push to the peak. Expect to climb a steep, rocky path with loose rocks, especially as you get near the summit, where you'll enjoy amazing views of green-covered mountains in one direction and Seattle in the other.
4. Poo-Poo Point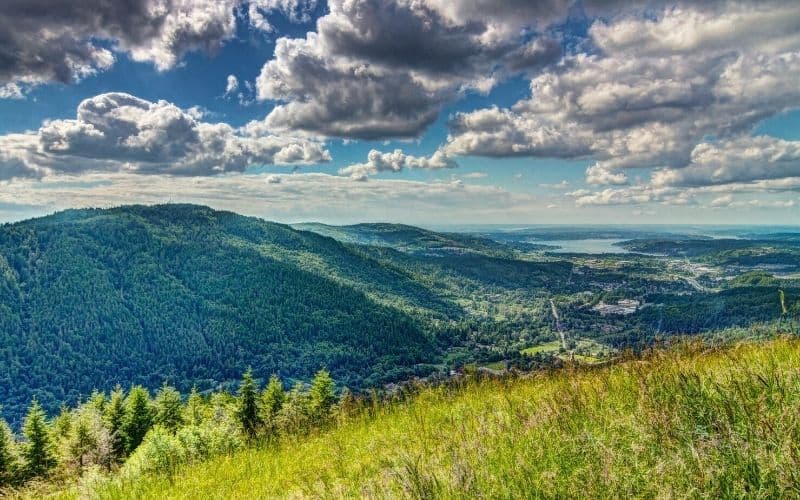 Length: 7.2 miles
Elevation: 1,858 ft.
Type: Out and back
Difficulty: Moderate
The hike up to Poo-Poo Point is a moderately difficult hike with awesome views of Lake Sammamish and the town of Issaquah. You'll go up through a forested trail on Tiger Mountain. This can be really muddy after it rains, which is often, so come prepared!
You'll be climbing most of the way up Tiger Mountain, and it gets pretty steep at times. This is classic Pacific Northwest scenery here – moss-covered trees both old and new, views of the snow-capped Cascade Mountains in the distance.
On your way down you can detour to the top of West Tiger Mountain, adding only an extra two miles each way.
5. Ira Spring Trail – Mason Lake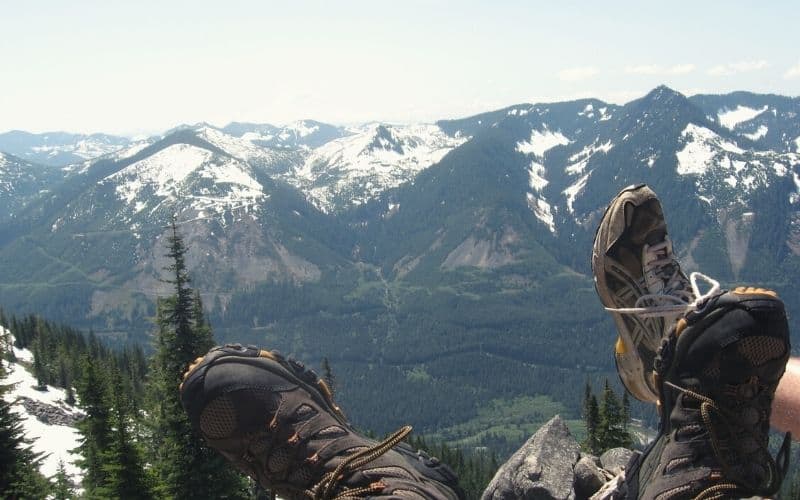 Length: 6.8 miles
Elevation: 2,309 feet
Type: Out and back
Difficulty: Challenging
Ira Springs Trail to Mason Lake is one of the closest hikes to Seattle on our list. While located just a 45-minute drive from the city, though, you'll forget you're so close to a big city as soon as you leave the trailhead.
This hike takes you through dense old-growth forest, past a waterfall, across scree fields, and over a mountain ridge. After that, you drop down to Mason Lake, one of the many beautiful alpine lakes in the area.
You probably won't be alone at this lake, but if you don't mind a little company, it's a great spot to stop for a break and a bite to eat. You'll get views of epic mountains, wildflowers, and beautiful alpine meadows.
6. Kendall Katwalk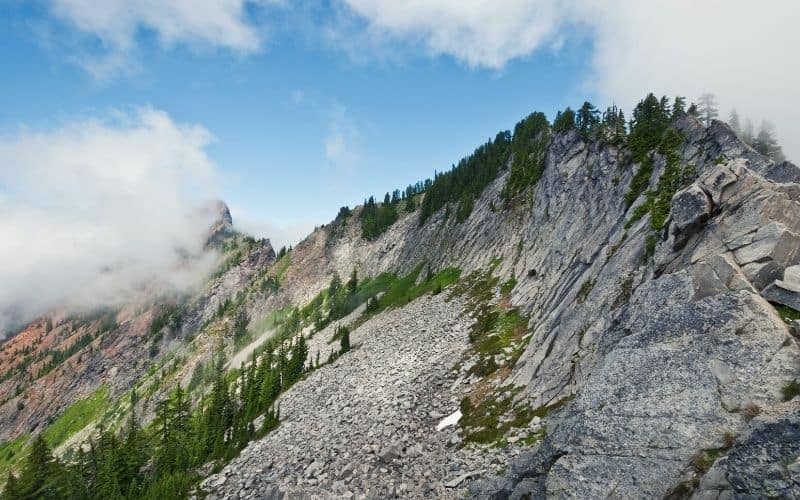 Length: 15 miles
Elevation: 3,205 feet
Type: Out and back
Difficulty: Challenging
This hike is on the Pacific Crest Trail and starts at Snoqualmie Pass along I-90.
You'll have a long, sustained climb from the trailhead. After a few miles of challenging ascent through dense forest, you will probably have seen more switchbacks than you'll want to count. But don't worry, you're almost at the top now. This is where the Kendall Katwalk begins.
This Katwalk is a rock path cut out of a cliff face. The trail is smooth and mostly clear of things you might trip on, but still requires caution and careful footing (it's a long way down!). The views from the Katwalk are expansive each step of the way, but we recommend stopping before trying to take it all in.
From here you'll be hiking along a ridge to Ridge Lake, which overlooks the stunning Alaska Lake and Gravel Lake.
Take a short side trail to either of these larger lakes and find a nice spot for lunch. Or just eat a snack before heading back to the awesome vegetarian-friendly food truck at Snoqualmie Pass, the Aardvark Express. We recommend the Hurry Curry.
7. Crystal Lakes Trail, Mount Rainier National Park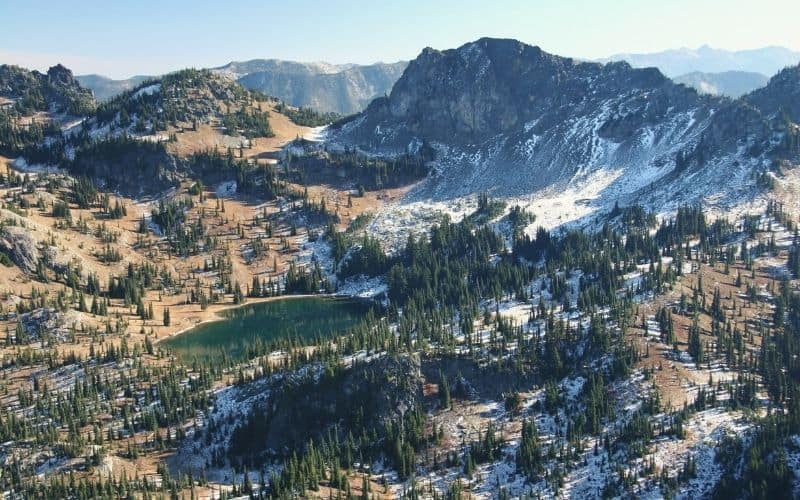 Length: 7.4 miles
Elevation: 2910 feet
Type: Out and back
Difficulty: Moderate
The Crystal Lakes Trail is located in Mount Rainier National Park, so you'll need a National Parks Pass to hike it. This is a popular out-and-back hike that follows the PCT to the beautiful Lower and Upper Crystal Lakes. As you hike up to this duo of gorgeous alpine lakes, you'll see backpackers, day hikers, and probably some PCT thru-hikers.
Be sure to take the side trail to Lower Crystal Lake because you can't see it from the PCT. The lower lake is surrounded by thick marsh and pine trees, and overlooked by towering rocky or snow-capped peaks. As you go beyond the lower lake, the trail opens up, and this is where the tremendous views begin.
Upper Crystal Lake is much bigger than the lower lake and sits in a basin surrounded by rugged peaks. From here, be sure to hike all the way to Sourdough Gap for the most epic views of the central Cascades.
There are campsites at both of the Lakes, and if you go past Sourdough Gap you can also camp near Sheep Lake, which should be a little less crowded.
8. Rattlesnake Ledge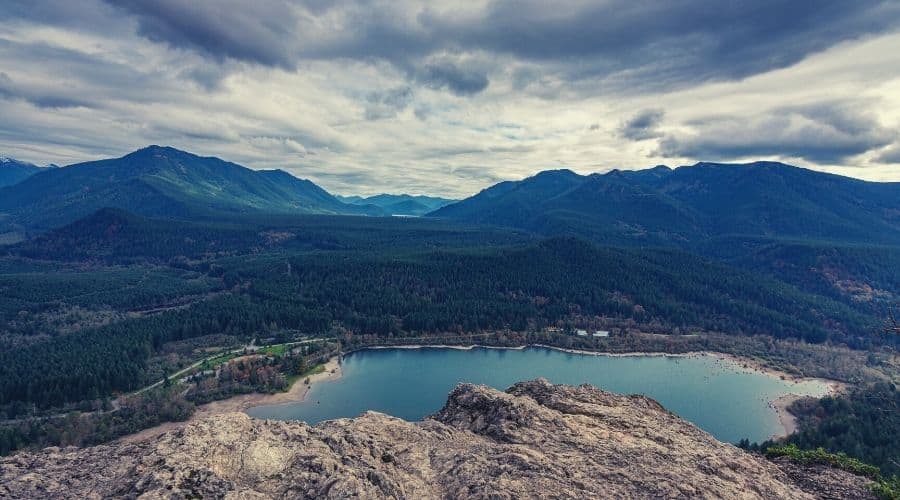 Length: 4 miles
Elevation: 1,160 feet
Type: Out and back
Difficulty: Moderate
The hike to Rattlesnake Ledge is one of the best in the area. It's a short and steep trip to a stunning view of Rattlesnake Lake and the surrounding valleys. 
While steep, the trail is well-maintained and not as challenging as some of the other 'moderate' hikes on this list. Nevertheless, wear sturdy boots or trail runners, and bring your trekking poles to help on the way down.
Because it's only a short drive from the city, this is a very popular hike, so get there early if you're going on the weekend. You'll hike through a thick canopy of trees on the way up. The only time you get a break from the trees is at the top, so be sure you go all the way up to catch the views.
Even though you probably won't be alone up here, it'll feel like you're deep in the wilderness. And if you can time it right, Rattlesnake Ledge is a great spot to catch the sunrise or sunset.
9. Wallace Falls, Wallace Falls State Park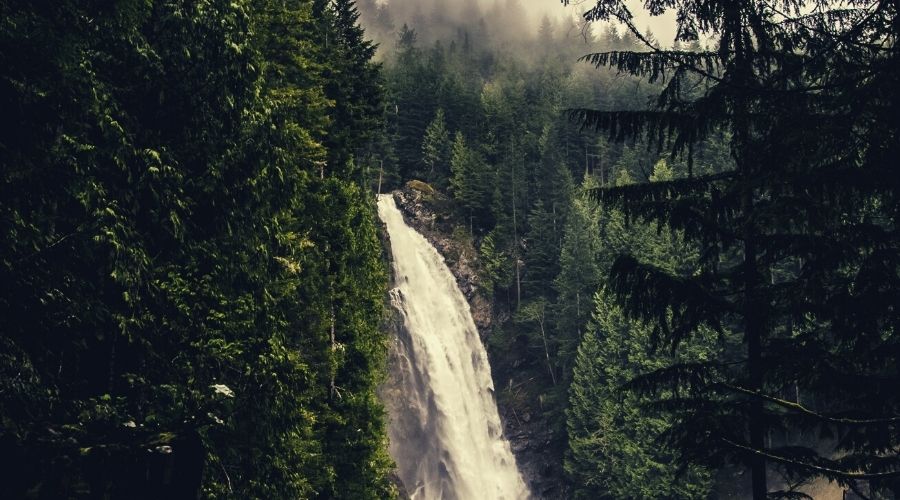 Length: 5 miles
Elevation: 1,482 feet
Type: Out and back
Difficulty: Moderate
The hike to Wallace Falls is one of the best family-friendly day hikes in the area. It's just an hour outside the city, so getting the whole family out here won't be terribly hard. 
Even though this hike is listed as moderately difficult and involves almost 1500 feet of elevation, most of this climbing is later in the hike and the route is very scenic from the get-go. So if you can't make it all the way to the end, no problem!
You'll follow the Wallace River through serene forest, with ferns and moss growing everywhere you look.
The trail will bring you to three large waterfalls. The Lower Falls (210 ft.) are only two miles in, and the Middle Falls (260 ft.) another half mile from there. Those looking to get the most from their day on the trail can push up the steep switchbacks to the Upper Falls (100 ft.), though these are the smallest of the three.
10. Mailbox Peak Trail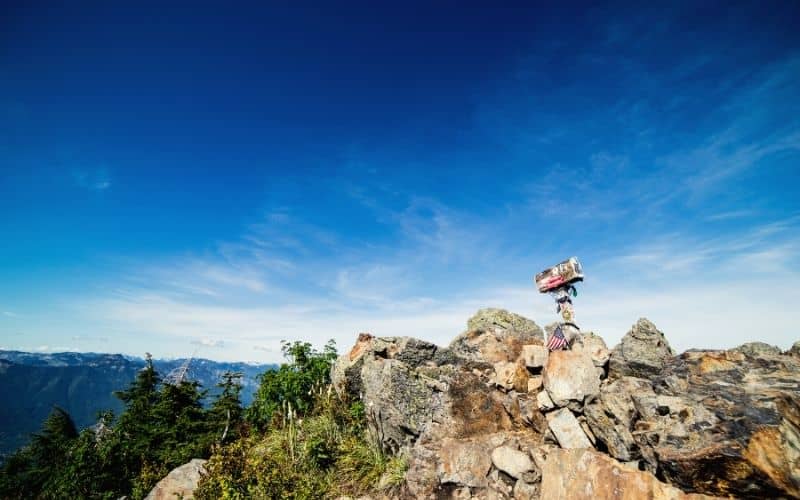 Length: 10.3 miles
Elevation: 3,999 feet
Type: Out and back
Difficulty: Strenuous
The hike to Mailbox Peak follows a newly-built trail to an iconic mailbox at the summit. The new trail to Mailbox Peak is longer but much less steep than its predecessor. Even though it is less difficult, however, this is still a very challenging hike. Imagine what that mail carrier thought whenever they had to carry a letter up there!
When you reach the top you'll be rewarded with 360-degree views of Mount Rainier, the North Cascades, and the Middle Fork Valley. Be sure to snap a picture of that old mailbox, too. This hike is also very popular, so go during the week to avoid inadvertent photobombs.
Mailbox Peak Trail begins just down the road from the Mount Si trailhead, so you could feasibly combine the two if you're feeling particularly energetic!
11. Bluff Trail, Ebey's Landing National Historical Reserve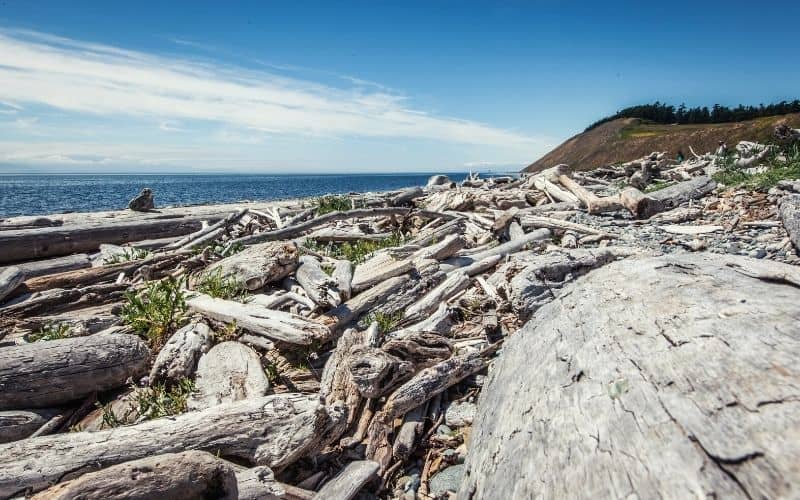 Length: 1.2 miles
Elevation: 59 feet
Type: Out and back
Difficulty: Easy
This is another great choice for those seeking easier hikes in the Seattle area, and ideal for a nature trip with the whole family. 
There are two ways to do this short hike, starting at either the Prairie Overlook trailhead or from the Seaside parking lot.
If you want a short beach walk, start at the Seaside parking lot. If you're looking for something a little more challenging, you should start from the Prairie Overlook trailhead. Either way, be mindful of property lines as some of this goes through private property.
Both trails take you through coastal forest to a scenic bluff looking out over the Puget Sound and are accessible year-round.
When you're done rambling for the day, go check out Coupeville, a small seaport town nearby.
12. Cascade Pass Trail, North Cascades National Park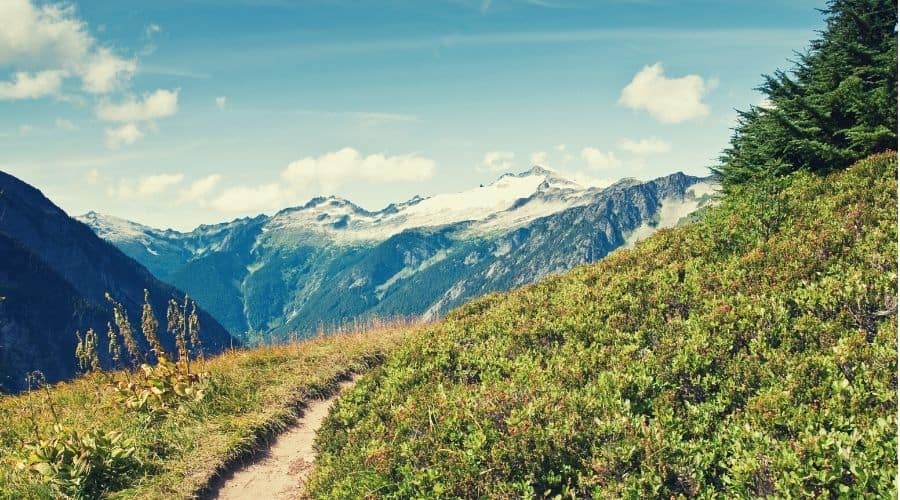 Length: 12 miles
Elevation: 4,000 ft.
Type: Out and back
Difficulty: Strenuous
To get to this trailhead you'll have to drive 23 miles down a loose gravel road, so be sure to bring your high-clearance vehicle!
From the trailhead, you'll climb steadily through trees for the first few miles. At the top, you'll find yourself in wide-open meadows with amazing views of the jagged peaks of the North Cascades. From here the trail gets less steep as you head towards Cascade Pass, which is about 4 miles in.
Things only get better from here on. You will start climbing again from the pass on steeper and rockier ground. As you go, keep an eye out for mountain goats, marmots, and bald eagles! At the top, 4,000 feet of elevation gain later, you'll be rewarded for your efforts with sumptuous views of the Sahale Glacier and the surrounding peaks.
13. Snow Lake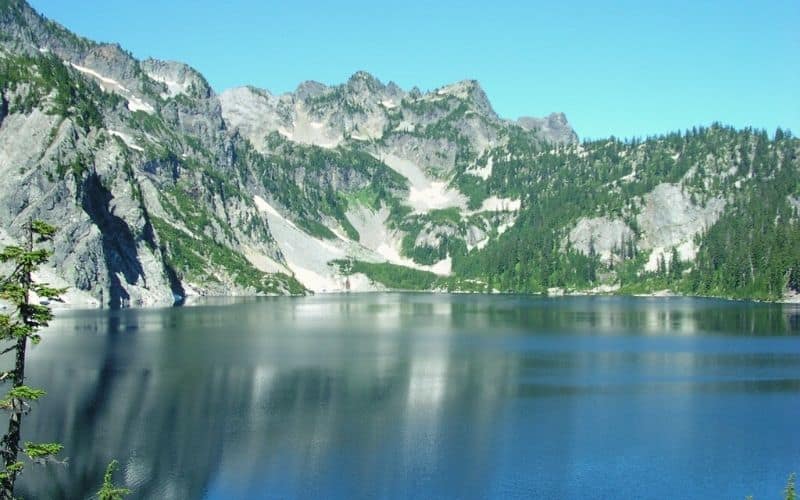 One of the best day hikes in the area.
Length: 7.2 miles
Elevation: 1,800 feet
Type: Out and Back
Difficulty: Moderate
Of all the trails near Seattle, the one to Snow Lake is perhaps the most talked about. That's because this is one of the best day hikes in the area, giving you a taste of all the Alpine Lakes Wilderness without having to go backpacking or put in too much elevation gain. (That being said, this is also a great area for backpacking!)
This is a relatively short trip but is still challenging, so be prepared. Wear good hiking boots or trail runners, and bring trekking poles and a rain jacket. When we hiked to Snow Lake the weather was clear at the start, but as we gained height we soon found ourselves in a cloud of freezing mist. And that was in July!
The path is steep from the outset. Initially you'll walk through a densely wooded area, then it will open up and get very rocky. This is where the switchbacks begin. When you crest over the hill you'll get your first glimpse of Snow Lake, but don't stop here. Walk around to the far side of this gorgeous alpine lake for the best views.
14. Cherry Creek Falls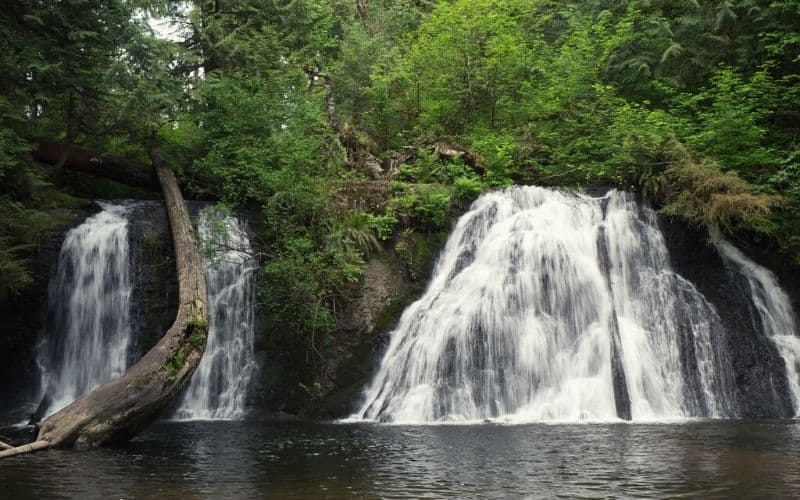 Length: 5.1 miles
Elevation: 636 feet
Type: Out and back
Difficulty: Easy
Take a stroll along an old logging road through pine forest to Cherry Creek Falls. The elevation gain is minimal and the road is easy to walk. You'll have to make some turns on unsigned roads to reach the waterfall, so we recommend bringing a GPS-capable device or good topo map.
Along the roads you'll see intensely green, moss-covered trees and ferns. An old road wouldn't be complete without the remnants of old car wrecks, and there are more than a few of those here. Most are almost completely covered in ferns, too, so seem less of a blight on the landscape than an integral – and strangely picturesque – part of it.
At the end of your trip, you'll find the impressive, 25-foot double waterfall that is Cherry Creek Falls. The falls empty into a large pool at the base, so bring your swimsuit to take a dip if visiting in summer.
15. Heather Lake
Length: 5.4 miles
Elevation: 1,210 feet
Type: Lollipop
Difficulty: Moderate
Even though you'll be near Seattle, getting to this trailhead is tough. You'll need a high-clearance vehicle to navigate the heavily-potholed dirt road to the trailhead after leaving the Mountain Loop Highway. Nevertheless, the hike to Heather Lake is well worth all the white-knuckling on the approach.
This high alpine lake sits in a lush valley and is surrounded by towering volcanic peaks. And thanks to the difficulty entailed in reaching the trailhead, you're more likely to have the trail all to yourself than on any other hikes so close to the city.
The route is pretty rocky and starts out steep, but it mellows out a little past the mile mark. The trail can be pretty wet, especially during the spring snowmelt, so be sure to wear waterproof hiking boots. And if you're going early in the season, make sure you pack your microspikes.
16. Bridal Veil Falls
Length: 5.1 miles
Elevation: 1,079 feet
Type: Out and back
Difficulty: Moderate
With a massive waterfall and a pristine alpine lake, this one is definitely worth the short trip. Bridal Veil Falls is a 1,328-foot waterfall cascading in four distinct pieces, and one of the most photogenic waterfalls in all of Washington State.
If you turn back once you reach the falls, the total distance of this hike is 5 miles (round trip). By hiking just one more mile, however, you'll come to the aptly named Lake Serene, a tranquil alpine lake that gets far less traffic than the falls. On the way to the lake, you'll also come to a bridge where you'll have an even better view of the falls.
17. Skyline Trail Loop, Mount Rainier National Park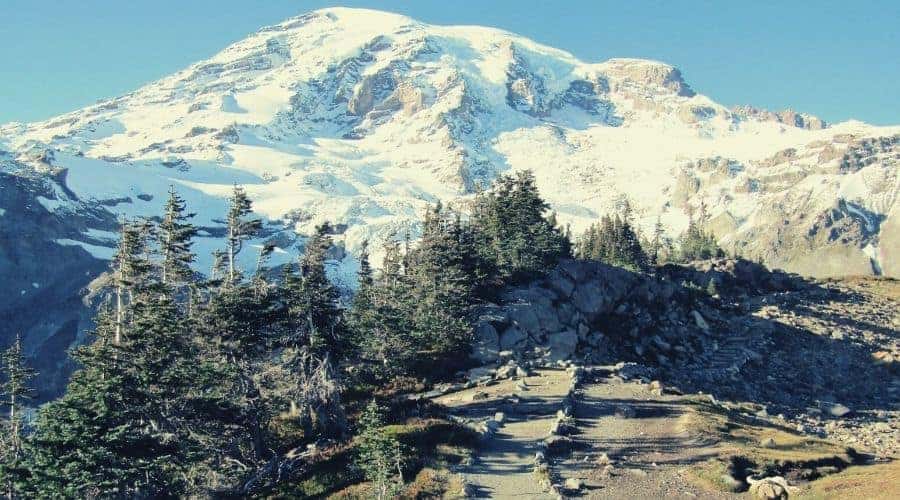 Length: 6.2 miles
Elevation: 1,788 feet
Type: Loop
Difficulty: Challenging
The Skyline Trail isn't just one of the best hikes near Seattle, but one of the best in the whole state of Washington. On this loop, you'll get one of the best views of Mount Rainier in the entire National Park. In the spring you'll also be treated to massive fields of wildflowers blooming, too.
When you're near the top of the climb, Mount Rainier will be right there, towering over you in all its glory. This is a busy trail, like most trails in national parks, but it's worth dealing with the crowds for those views.
Fun Times in the Pacific Northwest!
Alright, take that coffee to go – it's time to hit the trails near Seattle! 
The Pacific Northwest being the Pacific Northwest, be sure to pack the 10 hiking essentials and a good rain jacket when you go. Oh, and leave a little time to sample some of the offerings of the area's world-famous craft breweries, too – after ticking off all the hikes on this list you'll have earned it!
We hope you enjoyed our guide to the 17 best hiking trails in and around the aptly named Emerald City! If you have any questions, or we forgot your favorite trail, drop us a line in the comment box below. Feel free to share this with your friends as well!