Everyone needs a good night's sleep – and that includes our furry friends. "Let sleeping dogs lie" isn't only an old adage, it's good advice. While we can't do anything about the noisy campsite neighbors, we can lend a hand when it comes to comfortable campsite bedding.
In this guide, we'll suggest some of our top sleeping bag choices or your four-legged companion and share some information on how to choose the right one. When your furry friend is dog-tired after a day of hiking or other adventures, keep your pet warm and cozy with these comfy pet beds!
Top Choices by Category
Budget: Alcott Adventure, CHEERHUNTING Dog Sleeping Bag
Small Dogs: Chuckit! Travel Dog Bed, Whyld River DoggyBag, DOG HELIOS Trail-Barker, Hurtta Outback Dreamer, Vegapop Dog Sleeping Bag Bed
Large Dogs: Whyld River DoggyBag, CHEERHUNTING Dog Sleeping Bag, Hurtta Outback Dreamer, Vegapop Dog Sleeping Bag Bed
Editor's Choice
Hurtta Outback Dreamer Sleeping Bag
Our top pick is the sphere-shaped Hurtta Outback Dreamer. While it could rival your own bag, it's designed to fit with a dog's natural sleeping position so they can curl up and start snoozing with ease.
Some key features make it an awesome choice for a camping trip any time of the year. The heat-reflecting and water-repellent foil inside the lining reflects the animal's body heat, ensuring they stay toasty warm in cold weather. The breathable material, meanwhile, will keep your dog cool and ensure that they won't overheat during the warmer months.
It comes in a wide variety of sizes, so you'll be able to find the right fit for your furry friend. And it's a great lightweight choice for backpacking.
The cherry on top is that it's made from recyclable material and it's reversible.
Bottom Line: A comfortable bag that keeps your furry friend warm and snug.
At a Glance: Quick Recommendations
Our Top 9 Picks for Sleeping Bags for Your Pooch
Hurtta Outback Dreamer
Editor's Choice
Weight: (large) 24.3 oz.  ⸱ Fabric: Polyester with foil lining
The Hurtta Outback Dreamer gets it right in almost every category. Its round shape is ideal for a dog's natural sleep position, it uses durable and recyclable materials, it's lightweight, and it features a unique foil lining. The downside: all those features make it a little more expensive than most competitors.
This is a durable bed that should hold up against rough use from any pet. The exterior fabric is a strong 100D material, while the interior is a knitted material featuring a noteworthy foil lining. Between 80-100% of the materials are recycled, so it's an eco-friendly choice, too. The design is also reversible!
The heat-reflecting foil liner not only keeps your pooch warm in cold weather but also stimulates blood circulation, which promotes better sleep. Insulation between the outer layer and the lining also ensures your dog will stay cozy and warm.
The Outback Dreamer also features a weatherproof membrane and is treated with a fluorocarbon-free Rudolf ECO water-repellent finish, so Fido will also stay dry even in damp conditions. Because these materials are delicate, Hurtta recommends hand washing.
The weight of the bed depends on the size you need for your camping canine, but all are lightweight enough to carry with you on backpacking trips.
PROs

Foil lining
Weatherproof
Made of recycled materials
Warm

CONs

Expensive
Hand wash to clean
Bottom-Line: While it's a little pricey, the Outback is a soft, cozy sleeping bag and will keep your four-legged friend warm and dry.
RUFFWEAR Highlands Sleeping Bag
Runner Up
Weight: (large) 35 oz.  ⸱ Fabric: 75D polyester with DWR finish with 40D nylon lining
Coming in a close second place, the RUFFWEAR Highlands Sleeping Bag is an oval-shaped bed with loads of features. It's an awesome choice that's warm, compressible, and durable. The insulated neck baffle and sleeve insert for a pad are sure to keep your pet comfy and snug as a bug.
With two inches of insulation loft, this synthetic bag will rival your own sleep system for warmth. A padded neck baffle also helps to minimize drafts.
This dog's sleeping bag is ideal for campers trying to save space as it comes with a stuff sack and the half-length zipper also reduces bulk. However, both size options (it only comes in medium and large) are a bit heavy for backpacking adventures.
An integrated sleeve on the bottoms fits the Highlands Pad (sold separately) for additional insulation and cushion. All these features also mean it's one of the more expensive options.
The durable shell fabric is 75D polyester with a DWR (Durable Water Repellent) finish and the lining is 40D nylon with a water repellent finish, so it's plenty tough.
The material in this sleeping bag is also bluesign® approved, meaning harmful substances have been removed at each step of development. The company recommends cleaning it by washing it on a gentle cycle in cold water with mild detergent.
PROs

Compressible and comes with a stuff sack
Neck baffle
Sleeve for sleeping pads
2" of synthetic insulation

CONs

A bit heavy
Expensive
No small size
Bottom-Line: Cushioned, cozy, and packs down easily, but also a touch heavy and pricey.
Whyld River DoggyBag
Premium Pick
Weight: (large) 41 oz. ⸱ Fabric: 40D ripstop nylon
As the most expensive sleeping bag on our list, Whyld River offers a pricey opinion for your pet, but it's worth it for all the top-tier features it brings with it.
This 30-degree (F) synthetic option has the most size choices in our guide. From extra-small to extra-large dogs (up to 100 pounds), your pup is sure to fit in this flexible and versatile oval-shaped bed. It is worth noting that while the smaller sizes are fairly lightweight, the large and extra-large are heavy compared to others in that size range.
The DoggyBag's circular shape makes it easy for any hound to curl up inside. It can also easily convert from a sleeping bag to a quilt, depending on your dog's preferences and needs. It includes a matching stuff sack so you can easily store it away.
For added comfort, it includes a padded sleeve that can fit any sleeping pad up to 20″ wide and 1″ thick. A draft sleeve lines the interior to keep out the cold temperatures and keep your dog warm.
Not all dogs will feel comfortable being enclosed with a zipper, but Whyld River uses plastic snaps with grommet and bar locking mechanisms to close it up while ensuring they don't feel trapped.
This is another durable and water-resistant sleeping bag, featuring 40D ripstop nylon and a DWR treatment. It's also machine washable, so cleanup is a breeze. Whyld River even has a page on its website with instructions on how to properly care for their products. The company recommends using a machine without an agitator, as these can rip nylon fabric when wet.
A few features that set this apart from other dog sleeping bags are the reflective logos, which will come in handy when it's dark out. The company also donates one bed to the Portland Animal Welfare Team in Portland, Oregon, for every 10 sold.
PROs

Wide range of sizes
Durable and water-resistant
Reflective logos

CONs

Expensive
Bigger sizes are heavy
Bottom-Line: An expensive option that comes in a wide range of sizes, is durable, and has enough insulation to keep your dog warm on three-season adventures.
DOG HELIOS Trail-Barker
Best Ultralight
Weight: 8 oz.  ⸱ Fabric: PU Coated Polyester-Cotton and Nylon
The Trail-Barker is the lightest dog's sleeping bag on our list, weighing in at just 8 ounces. It also includes a carrying case, which makes it easy to pack. Combined, these features make it an ideal option for backpacking adventures with your dog.
Although it comes in multiple colors, only one size is available in a rectangular-with-rounded-top shape. It measures 39.4" by 25.7" so small and medium dogs will fit fine, but large dogs are out of luck.
This rectangular bag, however, has a zipper around the perimeter that could be opened to double the space and be used as a pad for bigger breeds. The zippers are also connectable, so multiple beds could be attached for an even bigger surface.
The materials are PU-coated polyester-cotton and nylon, making it water-resistant and windproof. The PU coating has repelling properties similar to a Lotus leaf, so your canine buddy will stay dry during the night. The inner lining features the exclusively-developed Blackshark technology that is waterproof, windproof, impermeable, breathable, and tear-resistant.
PROs

Lightweight
Weatherproof
Connectable zippers that open up

CONs
Bottom-Line: If weight is your primary concern, this is the lightest option for Fido – as long as he or she fits inside the only size offered.
Alcott Adventure Sleeping Bag
Best Value
Weight: (large) 24.3 oz. ⸱ Fabric: Polyester and Nylon
Alcott Adventure designed an overall good dog sleeping bag for an affordable price, which helped it land in our greatest value category. The three size options, all shaped like long ovals, are all among the cheapest high-quality options out there.
A soft and warm flannel lining helps the Alcott Adventure earn a temperature rating of 40 degrees, so your four-legged friend will stay cozy in three-season conditions. However, there is little to no additional padding or insulation, so they might be a little chilly in the shoulder season or winter. The waterproof base ensures Fido won't get wet if placed on moist ground.
This dog sleeping bag packs down reasonably well and all three size options are moderately light compared to others on the market, so it's a decent option for backpacking. It also comes with its own carrying case, although there are no compression straps so it's still a bit bulky.
It's machine washable for easy cleaning.
PROs

Warm
Waterproof base
Affordable

CONs

Lack of padding and insulation
Bottom-Line: Moderately light, affordable, and cozy, although it has very little to no padding or insulation. 
CHEERHUNTING Dog Sleeping Bag
Best Budget
Weight: 31.7 oz. ⸱ Fabric: Polyester and Fleece
If you're shopping on a budget for your canine camping buddy, the CHEERHUNTING design is a solid choice.
Similar to a human sleeping bag, this dog bed features a zipper down the side and a velcro tab to keep it in place. The thick polyfill insulation is comfortable but heavy and bulky, so this isn't a great backpacking option. It also comes with a carrying case, which makes it easy to store.
The materials used are a waterproof polyester shell fabric and fleece inner liner, so your pet will stay dry and warm even on wet ground.
While the rectangular, round-topped 43.3″ by 27.5″ bag can accommodate large breeds up to 90 pounds, it only comes in one size, so smaller pooches will be overwhelmed with material.
PROs

Affordable
Comfortable
Waterproof shell

CONs
Bottom-Line: An affordable option that's ideal for medium-sized dogs.
Chuckit! Travel Dog Bed
Best for Small Dogs
Weight: 35.2 oz. ⸱ Fabric: Polyester microfiber and ripstop nylon
Chuckit!, known for some of the best canine toys on the market, clearly had a certain breed(s) in mind when the company designed this pet bed. There's only one size offered and it only fits animals up to 25 pounds. However, it measures 39" by 30" so even some medium-sized dogs can rest well when they curl up on this oval-shaped bed.
For the dog's comfort, it has a soft poly-suede fabric covering over the top, while ripstop nylon covers the bottom. A benefit for the human counterpart is that the durable materials are machine washable and breathable for quick dry-out. A double-offset quilting design reduces shifting during the laundering process and prevents the material from clumping.
The Chuckit! functions as a portable travel bed, not a small dog sleeping bag, so it's a good option for pooches wary of getting under the covers.
This is one of the heavier options on our list, weighing in at more than 2 pounds, so it's not the ideal choice for backpacking adventures.
PROs

Soft and comfortable
Machine washable
Quick-drying
Comes with a 9" by 15" nylon stuff sack

CONs

One size only
Heavy
Bed-only use
Bottom-Line: A heavy, but comfy bed that comes only in one size.
Vegapop Dog Sleeping Bag Bed
Honorable Mention
Weight: 25 oz. ⸱ Fabric: Polyester
An affordable and fairly lightweight (depending on the size) option from Vegapop is a good choice for people looking to save money and ounces. It's packable, portable, and comes with its own carrying case.
Pet owners will be happy to hear it comes in three sizes and will fit pups up to 45" long. It's rectangular-shaped with a rounded top, so your pet can stretch out. A double-zipper design ensures it's not a struggle to get your pooch into bed. Similar to a human sleeping bag, it features a velcro strap so the zipper stays closed.
An outer shell of 100% waterproof polyester fiber will keep Fido dry, while the fleece-lined inner layer is soft and comfy. A drawstring at the top will help keep the animal's body warmth inside and the cold air out. There is little to no insulation fill, however, so this shouldn't be a cold-weather option.
The material is machine washable for easy cleanup after any messy camping adventure.
PROs

Affordable
Double zipper
Machine washable

CONs
Bottom-Line: An affordable bed that's easy to use and clean, although the lack of insulation makes it suitable for warm weather only.
Noblecamper 2-in-1 Dog Bed and Sleeping Bag
Best Bed-Bag Combo
Weight: 33 oz. ⸱ Fabric: Nylon and Cotton
Noblecamper created a bed that doubles as a sleeping bag and offers the best of both worlds for any canine camper. Its flexible and versatile use make it a great option for traveling, camping, or daily use at home. The zippers at the bottom of the bag/bed make the transition easy for any human.
The only size offered (a circular 30" x 30") will fit most pooches, but extra-large breeds might have trouble fitting inside the enclosed sleeping bag configuration. At 1.7 pounds, it's not the lightest on our list, but it compresses down into a not-too-bulky stuff sack, making it a doable option for backpacking.
It has some synthetic insulation, but not enough for cold-weather camping. However, it's warm enough to keep most pups cozy and comfy in summer and the shoulder seasons.
PROs

Dual bed/bag usage
Packable into a stuff sack
Relatively lightweight

CONs
Bottom-Line: If you're looking for a sleep system that will work at home and on the go, this is an option that offers a solution for both.
Why Your Dog Needs a Sleeping Bag
Sleep deprivation caused by a night of poor-quality rest can lead to aggression, illness, and lethargy. There's a variety of unwanted behavior that can stem from over-tired pups, so aim to make sure they get an average of 12 to 14 hours every day. Puppies and senior canines usually tire out easily and need even more time to rest and recover their energy.
While on a camping trip, whether it's a quick cat nap or an all-night snooze-fest, a good sleeping bag can keep your canine buddy comfortable and off the cold ground. Their comfort while catching Zs outdoors is key to ensuring they keep their trail legs in good shape and continue joining you on adventures.
You'll also likely sleep better knowing your faithful friend is resting comfortably next to you.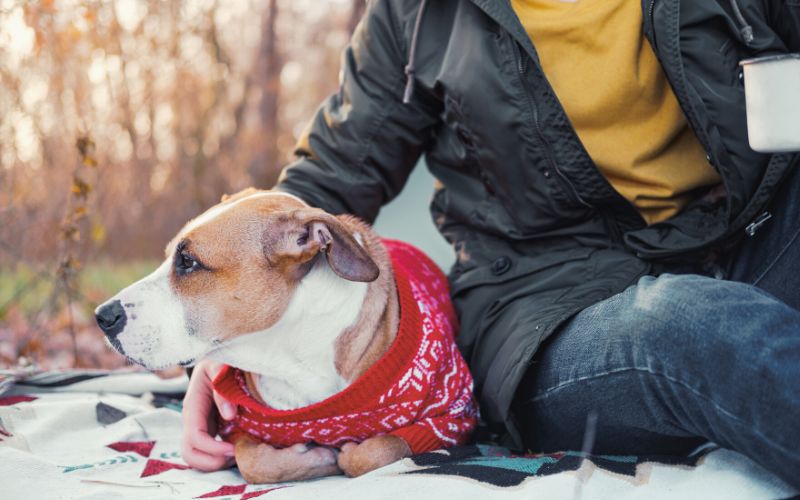 How to Choose a Sleeping Bag for Dogs
Size
Take your dog's measurements, from nose to tail, before buying. Our furry friends tend to curl up while they sleep, so also measure the diameter across your furball to ensure they will fit in the circular-shaped beds.
You should also consider if your pooch likes to toss and turn at night. If so, you might want to buy the next size up so they have plenty of "room to roam" while dreaming.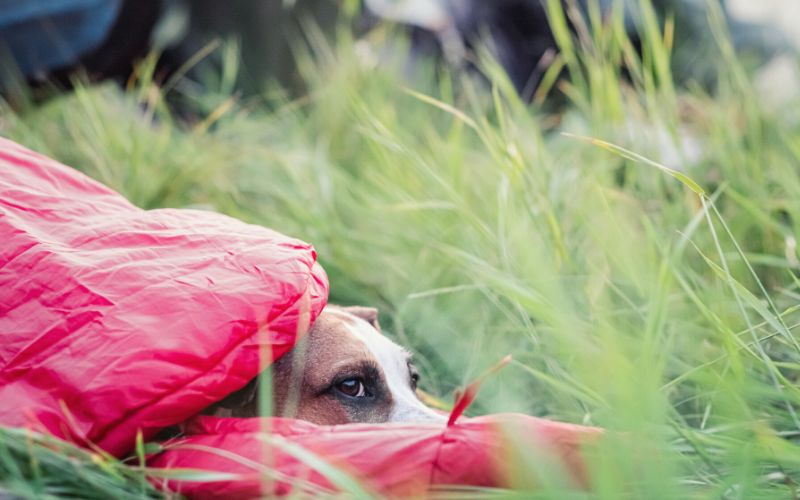 Warmth and Comfort
Just like their human counterparts, canines can get cold at night. You should consider when and where you typically camp (summer months, rainy season, alpine elevations, etc.) so you know how much insulation to look for when shopping. Extra padding will also help keep your pet comfortable on the hard ground below.
Some bags include a temperature rating but think of that as a lower survival level, not a comfort rating.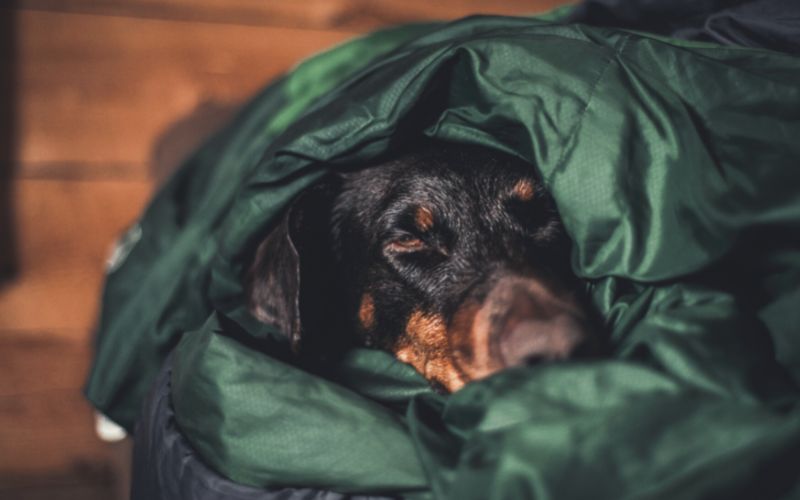 Materials
Depending on your priorities when shopping (durability, lightweight, waterproof, etc.), there are a variety of materials to look for.
Outer shells are often made of polyester or nylon, and have a denier rating (D) which tells you how thick the fabric is, i.e. "50D". In short, the higher the number, the tougher the fabric. You should also look for a water-resistant finish to ensure your pet stays dry. At the very least, the base of the bed should repel water to ensure no moisture seeps in from the ground below.
The interior lining is often fleece or flannel, both of which are soft and will help warm your pet's skin. Most beds have synthetic insulation, although Whyld River also has a down-filled option (which is lighter, more compressible, and warmer).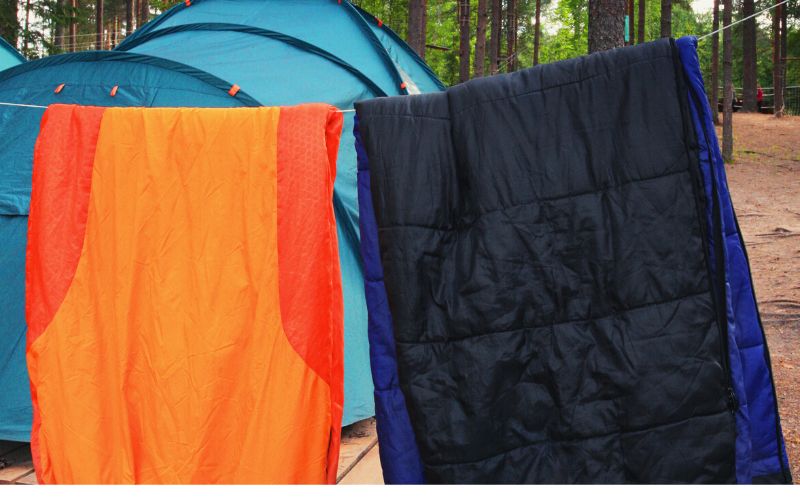 Weight and Portability
Again, this depends on what kind of outdoor adventure you're planning. If you're backpacking, every ounce counts and you'll want to compare the lightweight options. If you're car camping, weight isn't a big deal and you can focus on other features.
For any kind of camping or traveling, a nice feature to look for is a convenient storage bag. For backpacking, check for an included stuff sack with compression straps. A nylon carrying strap makes it easy to transport the bed, too.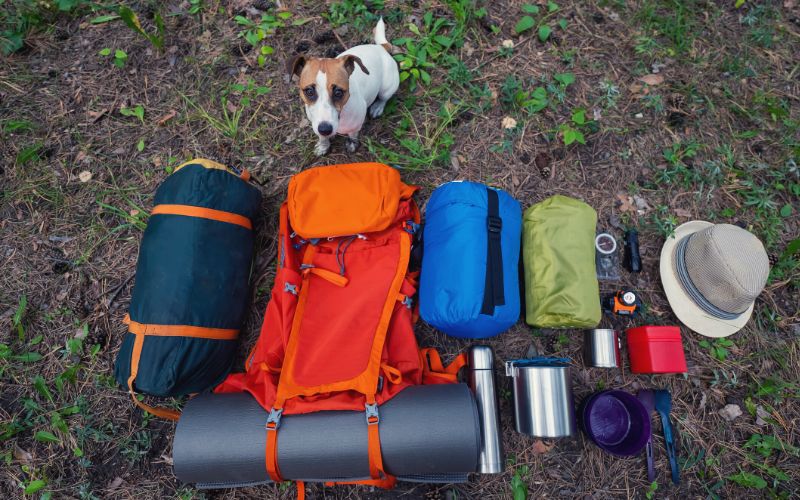 Maintenance
Most of the options on our list are machine washable, which makes cleaning up after a messy camping trip with your dog easy. But be sure to check with each manufacturer as some materials are fragile and can be damaged in a washing machine.
Dog Sleeping Bag FAQ
Newcomer to camping with your canine? If so, here are a few answers to some questions you might have:
Does my dog need a sleeping bag on camping trips?
It depends on your pup and your trip. Most dogs start shivering around 45 degrees (F). If the temperatures dip any lower than 45 degrees (F) a sleeping bag is highly recommended. Even before they start shivering, your pooch may be feeling cold, so check their ears to see if they feel chilly.
If your canine camping buddy is single coated or has short fur, they are more likely to get cold quicker. If they have long, thick fur or are double-coated, they will likely stay warmer longer.
Some dog breeds are better suited for the cold and this is usually reflected in the type of fur they're sporting (think of an Alaskan malamute with their soft undercoat and thick, water-repellent outer coat).
Smaller breeds also tend to get colder easier, while bigger breeds retain their body warmth better. Even their coat color impacts their body temperature: Dark fur absorbs the sun's heat better than light colors. Age matters as well: Puppies and senior dogs usually get cold faster than young pooches.
Can't my dog just sleep in my sleeping bag with me?
It's always an option for you to snuggle up with your pup in your own sleeping bag (provided your pet is comfortable with it, don't force it). But, while it might sound fun, in reality, it could be a bit cramped and uncomfortable for both of you.
Together, the two of you may produce too much body heat and end up being too warm, which can also lead to a long and restless night for both human and dog.
Your canine's nails may also cause some unexpected issues, either tearing your bag or scratching you during the night, so consider a trim before trying this out.
Can all dogs use a sleeping bag?
Unless he or she is allergic to any of the materials used, yes, any and all dogs can use a sleeping bag. Depending on your furry friend's preferences and needs, as well as your budget, there's a compatible option out there for every canine.
Best Dog Sleeping Bag: The Verdict
A quality puppy sleeping bag will not only make your dog comfortable but will improve his or her health and well-being while joining you on any outdoor adventure.
In our dog bed round-up, Hurtta Outback Dreamer came out on top thanks to its foil liner, spherical shape, and lightweight materials. The amenity-packed and compressible RUFFWEAR Highlands was a close second. Both are durable, comfortable, and warm – everything your dog needs while resting on camping trips!
If neither of those fits the bill for what you're looking for, there are several more great options on this list!
Hopefully, this guide to the best dog sleeping bags has helped you while searching for camping gear for your furry friend's next outdoor adventure. If you have any questions or comments, feel free to drop them down below!