A compression bag or sack is a vital piece of gear for any outdoors enthusiast. By compacting your kit, they allow for efficient packing and help you reduce the overall bulk of your backpack. This is of particular importance when on backpacking trips where every cubic inch in your pack counts. These sacks also help to protect your gear from the elements and prevent damage.
There are a wide variety of compressible sacks on the market, so choosing the right one for your needs can be a challenge. To help you make an informed decision, we've put together a list of nine of the best options available. Whether you're looking for compact storage or maximum protection, there's sure to be a sack on our list that's perfect for you.
Top Choices by Category
Budget: REI Lightweight and Outdoor Products 3-Pack All Purpose Dry Sacks
Waterproof: Sea to Summit Ultra-Sil Compression Drysack and Outdoor Research Ultralight
Bucket lid: REI Lightweight and Sea to Summit Ultra-Sil Compression Drysack
Roll-top: Earth Pak Torrent Dry and Sea to Summit Ultra-Sil Drysack
Editor's Choice
Sea to Summit Ultra-Sil Compression Dry Sack
The Sea to Summit Ultra-Sil CDS is the perfect choice for hikers and campers extra keen to provide their kit with the maximum protection whilst saving every possible cubic inch of space in their pack.
Made from waterproof, 30d Cordura nylon, this sack is good to go on any adventure, no matter how wild. It also compresses well, making it perfect for storing a sleeping bag or other bulky items.
The base is lined with an air-permeable fabric to allow moisture to escape, preventing mold and mildew from forming. This also saves more space as compared to using standard sleeping bag compression sacks by making it easier to expel air when squeezing your bag inside.
Bottom Line: A tough, waterproof compression sack that compresses better than any other.
At a Glance: Quick Recommendations
Best Compression Sack for Outdoor Gear Storage: Our Top 9 Picks
Sea to Summit Ultra-Sil Compression Drysack
Editor's Choice
If you want the best protection for your pricey kit and need to keep bulk to an absolute minimum, then the S2S Ultra-Sil Compression is a shoo-in.
This bag is made with tough, waterproof Cordura nylon fabric. Up top, there's a roll-top closure that makes it completely waterproof and it also has straps and a lid that help to reduce its contents to around a third of their volume. The seams are also double-stitched and taped to reduce the risk of leaks at stress points.
The unique selling point of this bag is its air-permeable base, a game-changing feature that expels air without sacrificing its waterproofing capacity. This both aids with compressibility and also helps to stave off mold and mildew.
PROs

Waterproof
Space-saving design makes it easy to pack inside your pack
Dual roll-top and lid closure
Double stitched and taped seams
Awesome compression leaves you more room in your pack

CONs
Bottom-Line: A well-made, intelligently designed bag that offers next-level protection for your kit.
REI Lightweight Compression Sack
Best Budget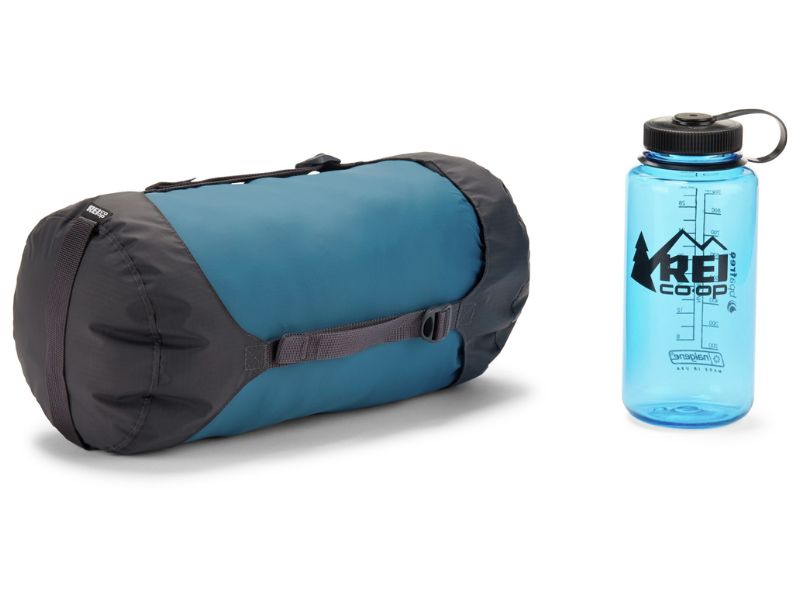 While not as tough, waterproof, compressible, or lightweight as the top performers on our list, the REI Lightweight Sack is a great option for unfussy campers looking for a good bang for their buck.
This sack is made with tough ripstop nylon and has a DWR finish. While not waterproof, this water-repellent finish will fend off any light moisture that makes it through the fabric of your backpack. Three webbing straps provide decent compression, though won't pack your gear as small as competitors like the S2S Ultra-Sil Compression.
PROs

Affordable
Ripstop nylon fabric
Water-resistant coating (DWR)
Compresses well
Available in multiple sizes and colors
bluesign-approved fabric

CONs

DWR coating will wear off with time
Not waterproof
Bottom-Line: A basic but effective, low-cost option for occasional campers.
ALPS Mountaineering Compression Stuff Sack
Best Value
In a nutshell, this offering from ALPS Mountaineering does just about everything top-end sacks do, just at a far friendlier price.
It's made with durable rip-stop nylon and has reinforced stress points to ensure longevity. Despite its burliness, it weighs just 2.9 ounces in the 20L model and 3.5 ounces in the 30L model.
While not waterproof, the fabric is water-repellent, and if you plan on venturing into wetter climes you can simply line it with a trash bag to save yourself a handful of $ on a pricier alternative.
A few cool features score this sack further brownie points, most notably the grab handle at the bottom, the D-rings that allow you to lash or clip it to the outside of your pack, and the small stash pocket in the base.
PROs

Affordable
Zippered pocket
Available in three sizes (10L, 20L, 30L)
Handy carry handle
Compression straps help save crucial space
Relatively lightweight

CONs

Not waterproof (only water-resistant)
A little too heavy for backpacking
Bottom-Line: A well-made, affordable compression bag with a design that's a little more user-friendly than others on our list.
Six Moon Designs Packing Pods
Best for Backpacking
If you're anything like the author of this post, and organization isn't your forte, these super convenient packing pods could be a game-changer.
Each pack contains three pods, measuring 7L, 2L, and ½ liter. The largest pod is just large enough for a small, two-season sleeping bag and the smaller pods are ideal for extra clothing, toiletries, or a first aid kit. While none of the pods compress, they're worth a place on our list for their ability to help you organize your gear.
Each pod is made with Sil/PU Coated 40D Nylon Ripstop and has taped seams for added water resistance. While not fully waterproof, they'll keep your gear dry unless exposed to full submersion. These pods also weigh significantly less than standard stuff sacks, so are a great way to reduce weight on a backpacking trip.
PROs

Ultra-lightweight
Great for organization
Ripstop fabric
Water-resistant
Two-way, top-opening zippers

CONs

No compression
Not fully waterproof
Bottom-Line: Ideal for organizing the gear in your backpack.
Zpacks Big Stuff Sack
Best Ultralight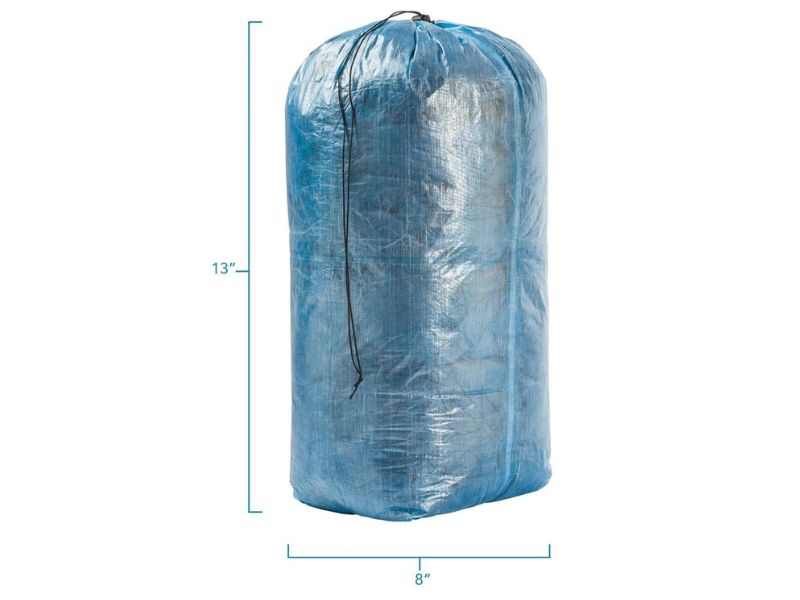 Zpacks ultralight backpacking compression sacks have long been considered the gold standard in featherweight packing solutions by ounce counters across the country. The Big Stuff Sack offers a prime example of why this is the case.
This sack weighs a piddly 0.35 ounces, making it the lightest option on our list by a longshot. Despite this, its Dyneema Composite Fabric construction makes it highly durable and waterproof, and its 10.7-liter capacity provides enough space for a two- or three-season down sleeping bag.
The only real downside is that there are no straps to speak of, just a drawstring closure, so you won't be able to condense your gear nearly as well as with models like the S2S Ultra-Sil Compression or Outdoor Research Ultralight.
PROs

Tough Dyneema materials
Inherently waterproof fabric
Available in 3, semi-see-through colors
Ultralight

CONs

No straps for compressing
Bottom-Line: Has a few flaws but still the best compression sack in the backpacking business.
Earth Pak Torrent Dry Bag Backpack
Honorable Mention
If waterproofing is more of a priority than packability, the Earth Pak Dry Bag is well worth considering.
This bag is made with extra-durable, 500D PVC and has a water-tight roll-top closure, so is a great option if your adventures tend to take you to particularly wet locations.
The 20L version of the pack has a handy shoulder strap for transportation, and the 30L model has a duo of backpack straps. These features make the Earth Pak the heaviest option on our list, and the stiffer fabric makes it one of the least compressible, but if you are particularly worried about keeping your gear dry, this lack of portability may be a price worth paying.
PROs

Waterproof
Floats – ideal for water sports!
Handy shoulder strap
Waterproof phone case included

CONs

Heavy
Not the most compressible
Bottom-Line: A little heavy and not the most compressible, but tough as nails and one of the most waterproof options on our list.
Outdoor Research Ultralight
Premium Pick
If you have money to burn and are happy to splurge on a sack that oozes quality from every stitch and seam, the OR Ultralight is well worth a place on your shortlist.
Like the S2S Ultra-Sil Compression Sack, this one has an air-permeable/waterproof panel that works in the same way as a waterproof-breathable rain jacket, allowing air to escape from inside while keeping water out. This makes it easier to compress and helps to prevent dampness and/or the build-up of mold or mildew.
The OR Ultralight is also fully waterproof thanks to its tough, hydroseal-coated nylon construction and taped seams. While a little on the heavy side, its use of both a roll-top closure and lidded compression straps means it condenses its contents better than most competitors of its size (10L).
PROs

Air-permeable panel expels excess air
Durable
Waterproof
Internal storage pouch
Roll-top closure and four straps ensure maximum compressibility

CONs
Bottom-Line: One of the priciest sacks out there but a standout in every metric except weight.
Outdoor Products 3-Pack All-Purpose Dry Sacks
Bargain Buy
If you're looking for a set of low-cost stuff sacks to organize your gear, you really can't go wrong with the OP All-Purpose Dry Sacks.
This pack gives you not one but three sacks in different sizes – 2L, 4L, and 8L. The largest of these is big enough for a lightweight summer sleeping bag and the smaller sacks are ideal for anything from first aid kits, toiletries, or snacks to puffer jackets.
Despite their bargain-basement price, these sacks are very well-made. They are polyurethane-coated with watertight, double-stitched, tape-sealed seams for waterproofing and have a burly closure that can deal with regular rough treatment.
PROs

Lifetime guarantee
Great price
Waterproof
3 sizes included
Double-stitched seams for added durability

CONs

Pu coating will wear off in time
Bottom-Line: Waterproof, well-made, and an absolute steal at the price.
Sea to Summit Ultra-Sil Drysack
Best Roll-Top
This sack is available in multiple colors and sizes, and scores top marks in every metric except for compressibility.
Unlike the winner of our review, the S2S Ultra-Sil Compression Sack, this one doesn't have any straps to compress your load. Nevertheless, we've included it to provide an alternative for folks happy to sacrifice compressibility for affordability.
The Drysack roll-top stuff sack is made with PU-coated, siliconized 30-denier Cordura nylon, which makes it tough and fully waterproof. Available in a wide range of sizes and multiple colors, they're ideal if you want multiple bags to help keep things inside your backpack not only dry but well organized too.
PROs

Very lightweight for the size
Waterproof
Durable fabric
Available in several sizes
Affordable

CONs
Bottom-Line: Tough, waterproof dry bags that are built to last a lifetime.
Things to Consider
Type: Roll-top Dry Bags, Compression Sacks, or Purgeable Stuff Sacks
When it comes to choosing the right type of sack, there are a few things to consider.
First, think about what you'll be using it for. If you're planning on spending a lot of time in wet environments, then you'll want something that offers excellent water protection. In most cases, this means a roll-top dry bag like the Sea to Summit Ultra-Sil Drysack which have a tight seal designed to keep the sack's contents dry, even in a downpour.
On the other hand, if you're mostly concerned with saving space, then a compression sack or purgeable stuff sack with straps like the S2S Ultra-Sil Compression is a better option. Both types are designed to minimize volume, but purgeable sacks pack even smaller because they expel air from inside the bag, allowing you to easily compress its contents.
Finally, there are packing cubes or compression cubes, a relative newcomer to the field that are great for organizing your camping gear but not as good for condensing contents to save space.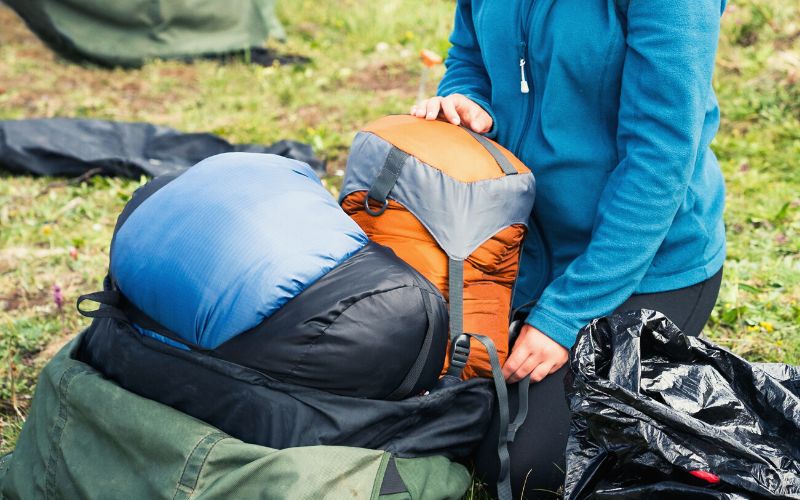 Capacity
The bags on our list all measure ten to thirty liters, but most come in several sizes, ranging from one liter up to forty.
What size do you need?
If you have a three-season sleeping bag, then a 15-liter sack will be big enough. For lightweight summer sleeping bags, 10L will do the trick, and if you have a four-season sleeping bag you'll need a 30-liter sack.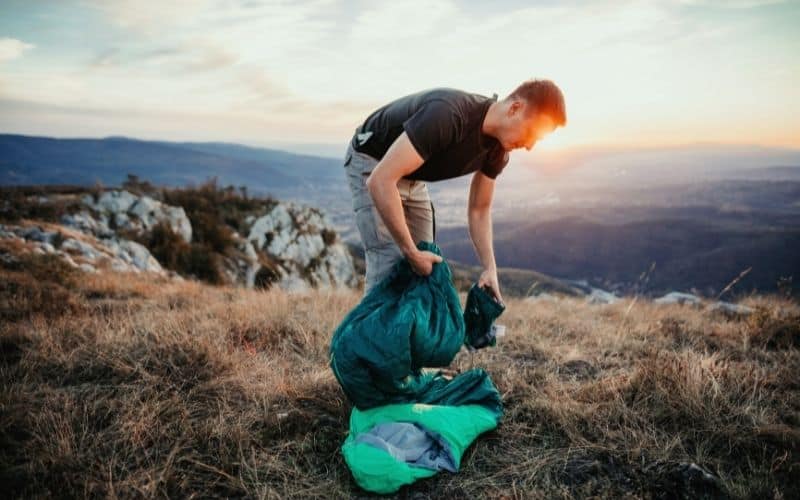 Waterproofness
The degree of waterproofing you need depends on how you plan on using your sack. If you'll be using it to store your sleeping bag inside your backpack, then a non-waterproof or water-resistant bag will do the trick as your backpack should provide the required weather protection.
If, however, you'll be using the bag as a standalone to carry gear, or lashing it to the outside of your pack, then waterproofing is essential.
Generally speaking, roll-top dry bags like the Sea to Summit Ultra-Sil Drysack and Earth Pak Torrent Dry are the most waterproof, though certain compression sacks give them a good run for their money – the Outdoor Research Ultralight is a good example. It's worth bearing in mind, however, that the stiff material in these sacks makes them less compressible.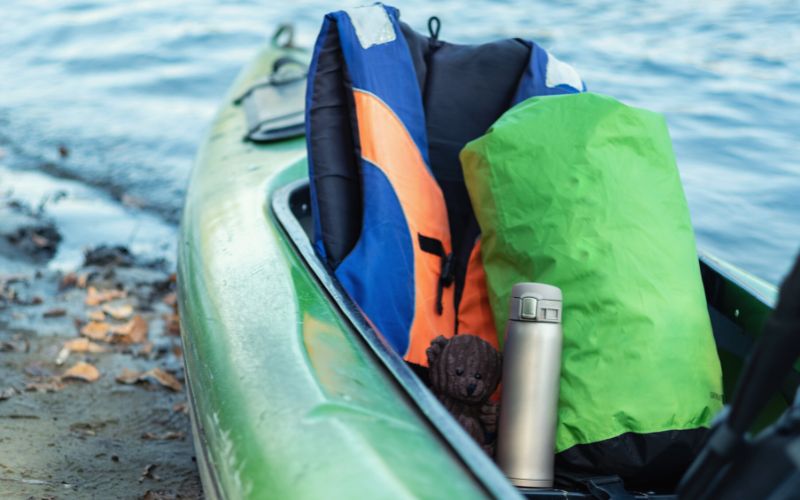 Color
This might seem like a trifling concern when choosing your sleeping bag compression sack, but it's something worth considering if you're buying sacks for packing clothes, isolating dirty clothes, or organizing backpacking gear. In this case, having sacks of varying colors will help you keep things organized and locate the gear you need easier.
Weight
For car camping, this isn't so much of an issue, but if you're backpacking, every ounce counts…
The lightest sacks on our list are the ZPacks Big Stuff Sack and Six Moons Packing Pods, which weigh 0.35 ounces and 1 ounce respectively. If you're looking for a backpacking compression sack, either of these two will serve you well. The Sea to Summit Ultra-Sil Drysack 35L (2.3 oz.) is also a solid option given its high capacity.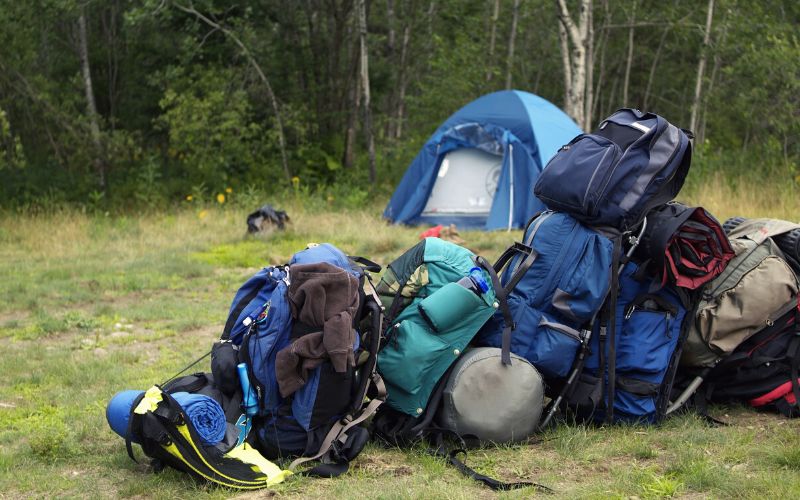 Durability
How do you determine how durable any sack will be?
The main determinant of durability is the fabric's thickness. This is measured in denier, which is usually represented by a 'D' in product specifications, i.e '30D', '70D', etc. The higher the number, the thicker the fabric. And the thicker the fabric, the more resistant it will be to punctures and wear and tear.
The standout in this metric is the Earth Pak Torrent Dry, which is made with 500D PVC. It's worth noting, however, that bags that are this tough inevitably sacrifice packability owing to the rigidness of the material.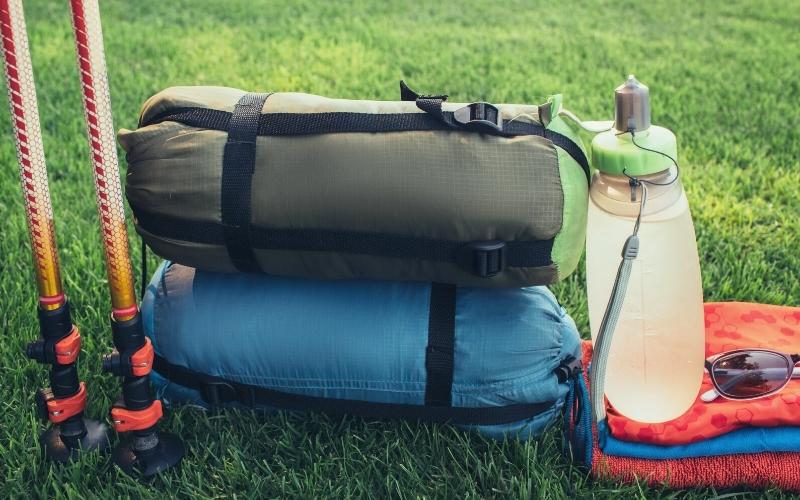 Best Compression Bag: The Verdict
Just in case you're still undecided, let's have a quick recap of our top picks.
For sleeping bags, there's no better option out there than the Sea to Summit Ultra-Sil Compression Sack. The S2S Ultra-Sil Compression is waterproof, tough, and uses air-permeable fabric that lets it compress your bag better than any of its competitors.
If you need a collection of sacks to organize your kit, we recommend the Six Moon Designs Packing Pods and S2S Ultra-Sil Drysacks, both of which are ideal for backpacking trips or campers who just like to keep things neat and tidy.
If you liked this article or have any questions, let us know in the comments box below. And if you'd like to share it with your friends, please do!