When camping, your tent is your first, last, and pretty much only line of defense against the elements. Given this, solid weather resistance is a must-have feature, whether you're an all-weather warrior or more of a fair-weather-only kinda camper.
After all, weather forecasts can be wrong. Blue skies turn gray, light showers become downpours, and sunny weather turns into the stormy kind a lot more than we'd like.
There are, of course, other factors (capacity, weight, livability, value) to be considered. However, there's little point in owning a spacious, portable, and affordable tent if it's not going to deliver on its core functionality, i.e. keeping you sheltered from whatever the weather gods are throwing at you.
In this post, we introduce you to nine of the top tents out there for wet conditions to help ensure your future camping adventures don't turn into misadventures on account of your equipment. Below our reviews, you'll also find detailed advice to help you decide upon the best option for your needs.
Our Top Pick by Category
Best for couples and solo campers: Teton Sports MU, Black Diamond Eldorado, REI Half Dome 2+, MSR Hubba Hubba NX
Best for families and large groups: Eureka Copper Canyon, NTK Cherokee, Coleman WeatherMaster
Best for buyers on a budget: Coleman WeatherMaster, Teton Sports MU, Geertop Portable 4
Best for biblically bad weather: Black Diamond Eldorado, MSR Hubba Hubba NX, Geertop Portable 4, NTK Cherokee
Best Overall
REI Co-op Half Dome 2+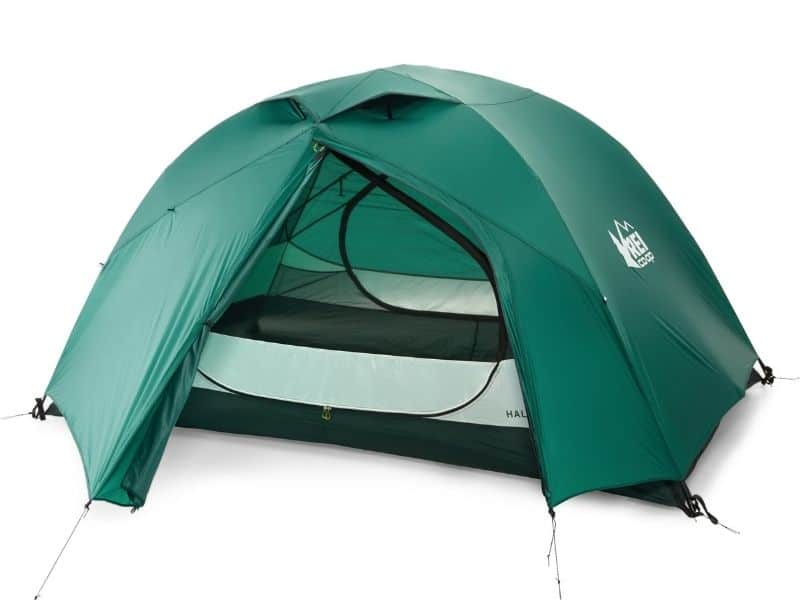 The REI Co-op Half Dome 2+ wins our vote as the best waterproof camping tent out there for several reasons. It boasts the ideal mix of sturdiness, durability, portability, comfort, and, of course, outstanding performance in wet weather.
Using a 2,000mm PU rainfly, heavy-duty bathtub-style floor, effective ventilation, and heat-sealed seams, this well-designed waterproof tent goes the extra mile to ensure your tent's interior stays dry in even the most biblical downpours.
With a pack weight of 5 lbs. 5 oz. and packed size of 7" X 20.5", the Half Dome 2+ is a great tent for backpacking, though its large vestibule, roomy interior, and decent peak height mean it won't feel too pokey when car camping.
The HD 2+ also boasts impressive durability and resilience thanks to its use of T6 aluminum poles, 66D ripstop rainfly fabric, and burly 150D flooring. While REI doesn't provide hydrostatic head ratings, our testers found the HD2+ a standout performer when putting it through its paces on a thru-hike in the Scottish Highlands in quintessential (i.e. abysmal) Scottish weather.
Features-wise, the HD2+ is impressive for a tent geared towards backpacking. There's no gear loft, but you do get plenty of vestibule space, two enormous doors, 4 ceiling vents to boost airflow and stave off condensation, a fly that can be rolled up to enjoy the views, and plenty of pockets and hang loops.
Bottom line: The Half Dome 2+'s combo of robust waterproofing, lightweight design, and roomy interior make it the ideal pick for bad-weather backcountry adventures and campsite camping alike.
At a Glance: Quick Recommendations
Best Waterproof Tent: Our Top 9 Picks
REI Co-op Half Dome 2+
Best Overall
Weight: 5 lbs. 5 oz. ⸱ Floor Space: 35.8 square feet ⸱ Peak Height: 44 inches ⸱ HH: 2,000 mm rainfly
REI Co-op's Half Dome 2+ is one of the brand's most popular tents – and with good reason.
The Half Dome 2+ packs an awful lot to love into a very small package. It offers solid weather resistance, is light enough for thru-hiking, easy to pitch, and is made with bluesign-approved fabrics.
This dome tent weighs 5 lbs. 5 oz, making it the lightest on our list after the Teton Sports Ultra, BD Eldorado, and MSR Hubba Hubba. Although its 35.8 square feet of interior space also make it one of the smallest, its 22.5-square-foot vestibule area means there's plenty of room for gear storage and that no inside space needs to be taken up by gear.
What we particularly like about the Half Dome 2+ is that it doesn't cut any corners to achieve its light weight. Its waterproofing is solid enough to withstand heavy rainfall, its pre-bent pole structure boosts headroom, and its wealth of pockets and gear loops ensure you can keep things tidy and the tent floor free of clutter.
The only real downsides to the Half Dome 2+ are that its fabrics are a touch flimsier than those used in the car-camping shelters on our list and the peak height is a little low, though this, of course, is the price you pay when choosing a tent designed for backpacking.
PROs

Lightweight ideal for backpacking trips
Roomy for a two-person tent
Two doors
Large vestibule for wet gear and shoes
Fairly priced

CONs
Bottom-Line: A great waterproof tent for couples or solo campers keen to stray far from the beaten track.
TETON Sports Mountain Ultra Tent
Best Value
Weight: 4 lbs. 7 oz. ⸱ Floor Space: 18.5 square feet ⸱ Peak Height: 41 inches ⸱ HH: 2,000 mm rainfly
Combining a light pack weight with a roomy interior, solid waterproofing, easy pitching, and ripstop fabrics, the Mountain Ultra is a standout 3-season tent for solo adventurers.
In terms of waterproofing, this tent doesn't quite fall into the "bombproof" category. However, its 66-denier, ripstop, PU-coated rainfly boasts a HH rating of 2,000mm, which makes it more than capable of fending off even heavy downpours for hours, even days, on end.
It also features a highly waterproof, 150-denier, bathtub-style floor, and heat-sealed seams, both of which help to ensure you won't be springing any leaks while catching your Zs.
On the inside, things are pretty impressive, too. While the Mountain Ultra only offers around 18.5 square feet of floor space, its 41-inch peak height, micro-mesh canopy, gear loft, and sizable vestibule make it very livable for solo campers.
We also found the tent to be very portable and easy to carry thanks to its 4 lbs. 7 oz. pack weight and manageable pack size (21″ x 5″). And when you do get to your campsite, setup is a piece of cake. The burly, T6 aluminum poles are color-coded and the tent uses a simple cross-and-ridge system that lets you convert it from packed to pitched in around 3 minutes (4 for slackers!).
There are only two not-so-positive things worth mentioning with the Mountain Ultra. Firstly, it doesn't boast the same lifelong durability as some of the pricier tents in our review. Secondly, attaching the footprint can be a little tricky. Given that it costs a fraction of the price of its competitors and is otherwise easy to pitch, however, these flaws are far from dealbreakers.
The Teton SMU is also available in 2-person, 3-person, and 4-person models.
PROs

Relatively light
Easy to assemble
Impressive ventilation
Sturdy and robust
Lifetime warranty

CONs

Footprint is tricky to attach
Bottom-Line: A reasonably light, roomy, affordable, relatively durable, and fully waterproof tent, the Mountain Ultra is a winner for wet-weather backcountry wanders. 
MSR Hubba Hubba NX 2
Best Backpacking Tent
Weight: 3.5 lbs  ⸱ Floor Space: 29 square feet ⸱ Peak Height: 39 inches ⸱ HH: 1,200 mm rainfly
If you're looking for a reliable, lightweight backpacking tent with just enough features, comfort, and space for long-term livability, then the MSR Hubba Hubba NX is a great choice.
The Hubba Hubba NX 2 is a true all-rounder. It's durable, highly waterproof, lightweight, and offers a decent amount of space for two people.
The inner tent fabric is a combination of DWR-treated, high-tenacity nylon and copious 15-denier mesh for enhanced ventilation. The rainfly has a HH rating of 1,200 mm, meaning it's ideal for three-season adventuring and features color-coded corners to simplify pitching.
To top it all off, there's a 30-denier, raised bathtub floor that boasts precision-stitched seams and a HH of 3,000 mm. This means you can even pitch up in boggy ground without having to worry about groundwater finding its way inside your tent.
Other loveable features include its new Easton Syclone Poles (which feel like a big upgrade on their predecessors in terms of sturdiness in windy conditions), its adjustable rainfly, and two large, side-entry vestibules.
With 29 square feet of floor space and a peak height of 39 inches, the Hubba Hubba NX 2 is smaller than the REI Half Dome 2+ but still fairly spacious for a 2-person backpacking tent. That interior is also nicely ventilated thanks to all that mesh in the tent body and its use of a cross-ventilating rainfly with a kickstand vent.
Finally, this trail-worthy little tent weighs in at just 3.5 pounds and packs down to 18" x 6". This makes it one of the most portable 2-person options on the market.
The Hubba Hubba does have a few downsides. The most notable is the tendency of its fly to flap around in high winds. Secondly, its lack of sealed seams means you'll have to spend some time proofing the seams before hitting the trails in wet conditions, more of an inconvenience than a dealbreaker.
PROs

Lightweight
Reliable and comfortable
Durable materials with Xtreme Shield Waterproof Coating
Good ventilation
Two-door design makes it easy to get in and get out
Easy setup

CONs

Rainfly a bit "flappy" in high winds
Unsealed seams
Bottom-Line: A lightweight, portable, waterproof tent that's ideal for trips where you'll be putting in some miles on the trail before setting up camp.
Black Diamond Eldorado
Most "Bombproof" Tent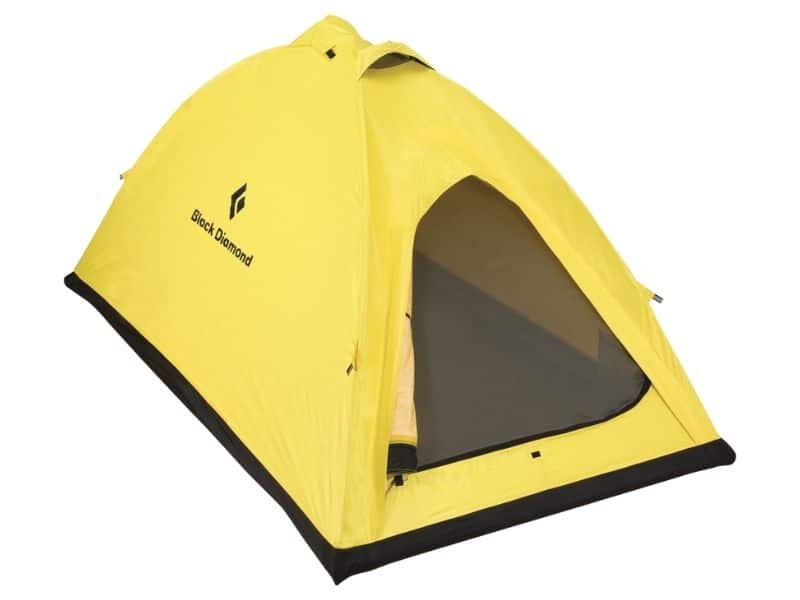 Weight: 5 lbs. 1 oz. ⸱ Floor Space: 30.8 square feet ⸱ Peak Height: 43 inches ⸱ HH: 7,000 mm rainfly
This incredibly well-made tent strikes a great balance between comfort, durability, compactness, and take-anywhere kinda ruggedness and waterproofing.
The Black Diamond Eldorado is a single-wall waterproof tent designed for use in particularly harsh environments. Like most single-wall tents, it offers outstanding weather resistance, using a 7,000mm HH rainfly and 10,000mm floor made with robust, tear-resistant, triple-layered ToddTex fabric.
In terms of ruggedness and rain resistance, they don't get much better than that!
Unlike many other single-wallers out there, however, the Eldorado also scores highly on livability. While only offering slightly under 31 square feet of living space and no vestibule, it has a decent 43-inch center height and combines breathable fabric with a duo of ceiling vents to regulate the interior temperature and ward off condensation.
Using a two-pole design, the Eldorado is also very easy to pitch, and, surprisingly, more robust than many of its 3- or 4-pole competitors. Designed for use in the Greater Ranges, this is a tent you can count on to stand firm in the strongest winds and can even handle heavy snow loading.
The only downsides to the Eldorado are its lack of sealed seams and relatively hefty weight. At 5 lbs. 1 oz., there are plenty of lighter 2-person tents out there. That said, few of those alternatives will offer quite the same strength or nigh-on impregnable protection against the elements…
PROs

Compact packed size
Durable and rugged
Excellent stability in high winds
Three-layer, tear-resistant construction
Superior performance in heavy rain

CONs

Less ventilation than double-wall tents
Pricey
Bottom-Line: A pricey but incredibly high-performing single-wall waterproof tent for campers who like to do their adventuring in the wettest and wildest of environments.
Coleman WeatherMaster 6
Best Budget
Weight: 32 lbs. ⸱ Floor Space: 99 square feet ⸱ Peak Height: 80 inches ⸱ HH: N/A
The Coleman WeatherMaster is an incredibly roomy family camping tent that packs in plenty of decent features at an affordable price.
This 6-person, tunnel-style tent uses a combo of steel poles and smaller, fiberglass supporting poles to provide coverage for a whopping 153 square feet of total space. Divided into a 99-square feet main compartment and a 54-square foot screen room, this configuration makes it ideal for families or campers keen to store their gear outside the sleeping area.
The WeatherMaster's 80-inch ceiling height, large windows, and mesh build help to keep the interior ventilated, well-lit, and among the most livable spaces you're likely to find outside your actual home!
For weather protection, the WeatherMaster uses Coleman's patented WeatherTec system, which includes 1,000-denier patented welded floors and inverted seams, and a 75-denier polyester taffeta fly.
The fly's coverage, however, is mostly limited to the roof, meaning this isn't the best bet in wet and windy weather. Weighing in at 32 pounds and with a packed size of 41 x 10 inches, this is also not a tent you'd like to be lugging around over long distances.
While the Weathermaster is our best "budget" waterproof tent, an even cheaper alternative is available in the Coleman Sundome Tent (featured in our guide to the Best Family Tents), which is a little less waterproof but equally well-made.
PROs

Roomy, comfortable, and well-ventilated
Mesh ceiling makes it great for stargazing
Welded floors protect against groundwater
Huge screen room
Hinged door

CONs

Rainfly lacks coverage
Not the most robust
Difficult to pitch
Bottom-Line: The WeatherMaster is the perfect waterproof tent for family car-camping outings where any rainfall is expected to more likely be light and short-lived rather than heavy and sustained.
Eureka Copper Canyon Tent
Best Tent for Big Families
Weight: 33 lbs. 8 oz. ⸱ Floor Space: 130 square feet ⸱ Peak Height: 84 inches ⸱ HH: 1,200 mm rainfly
The Eureka Copper Canyon 8-Person is one of the most livable tents we've ever had the pleasure of catching our Zs inside and the ideal pick for large groups or families who plan on camping at frontcountry campgrounds.
The Copper Canyon doesn't have a vestibule but makes up for this shortcoming with 130 square feet of floor space, an 84-inch peak height, and near-vertical walls. All that floor space makes it suitable for up to 8 sleepers, while the lofty peak height and steep walls mean even the tallest campers will be able to walk around inside without having to duck or hunch.
Concerning waterproofing, the Copper Canyon doesn't do quite enough to earn a place in the "bombproof" category of virtually impregnable tents, but its weather resistance is good enough for three-season camping nonetheless.
While it uses a partial-coverage rainfly, the inner tent walls are rated to 1,200 mm, the floor to 2,000 mm, and the fly itself provides a robust first line of defense against all but the heaviest rainfall.
As for features, the Copper Canyon doesn't disappoint, offering an extended awning above the front door, several interior pockets, adjustable vents, and a pair of mesh gear shelves.
PROs

Extra-spacious
Tall peak height
Multiple storage options
Two doors
Removable room divider
Door converts into an extendable awning

CONs

Partial-coverage rainfly
No vestibule
Bottom-Line: An extra-large waterproof tent for camping families who like their personal space. 
Kodiak Canvas Flex-Bow 6
Best Luxury Tent
Weight: 68 lbs. (includes 6.5 lbs. in stakes) ⸱ Floor Space: 100 square feet ⸱ Peak Height: 78 inches ⸱ HH: N/A
If you plan on camping for a longer period of time, then we highly recommend the Kodiak Canvas Flex Bow. It's exceptionally durable, rugged, and waterproof thanks to its reinforced canvas materials, and borders on palatial in its dimensions.
The Flex Bow is made with Kodiak's proprietary Hydra-Shield waterproof fabric. The walls are made from breathable, silicone-treated, 8.5-ounce Hydra-Shield canvas, and the floor from polyester-reinforced 16-ounce vinyl. This makes the Flex-Bow not only a winner in terms of style (if vintage is your thing), but also just about as rugged, durable, and rain-resistant as they come.
The Flex-Bow also boasts a generous 10 x 10 feet of floor area, a 6.6-foot ceiling height, and a large awning that provides ample coverage for outdoor cooking and kicking back at the end of the day.
The only shortcomings we found with this tent were its hefty weight and size. Weighing in at a little over 70 pounds and packing down to 30 x 15 inches, this is a car-camping-only kinda tent, unless you happen to have a team of yaks, horses, or Sherpas to do the carrying for you.
Additionally, due to its sheer size and the weight of its canvas walls, some might find setting this one up a long and tedious process.
PROs

Solid build
Spacious
Plenty of headroom
Large awning for cooking/kicking back outside

CONs

Very heavy and cumbersome
Tricky to set up
Bottom-Line: A semi-palatial beast of a tent, the Kodiak Canvas Flex-Bow is a superbly livable, highly waterproof shelter that's perfect for long-stay camping trips with family and/or friends.
NTK CHEROKEE GT 6
Best 6-Person Tent
Weight: 15.2 lbs ⸱ Floor Space: 96 square feet ⸱ Peak Height: 69 inches ⸱ HH: 2,500 mm rainfly
The NTK Cherokee GT is a great choice for families or groups of friends looking to strike the ideal balance between weight, living space, and waterproofing.
Weighing in at just 15.21 pounds, this tent is one of the lightest 6-person models on the market. Once pitched, it also stands at a very livable 5 foot 9 inches high and boasts just under 100 square feet of floor space, making it ideal for families on multi-day trips.
In terms of waterproofing, the Cherokee GT is no slouch either. It uses a 2,500mm HH, full-coverage rainfly, heat-sealed seams, and a durable thermoplastic coating that together can ward off even the most torrential rain showers.
Other endearing features found in the Cherokee are the highly breathable, no-see-um micro-mesh fabric used on the inner, a bathtub-style floor, and extra thick, color-coded nano-flex fiberglass tent poles that interconnect with chrome-plated ferrule hardware to make setup a cinch.
The only notable downside to this tent is that it doesn't have a vestibule, meaning you'll have to sacrifice some of your sleeping space for gear storage. Also, there's a slight lack of interior storage pockets considering the tent's size and the fact that it's marketed as family-friendly.
PROs

Easier to set up than other tents of its size
Good ventilation from vents and mesh roof
Spacious and comfortable
Robust waterproofing

CONs

No vestibule to store camping gear
Not enough wall pockets
Bottom-Line: The NTK Cherokee GT might be heavy, but its robust waterproofing and abundant floor space make it an ideal tent for car-camping families. 
Geertop Portable 4
Wildcard Entry
Weight: 9.1 lbs ⸱ Floor Space: 53 square feet ⸱ Peak Height: 54 inches ⸱ HH: 3,000 mm rainfly
The Geertop Portable 4-Person 4-Season Backpacking Tent wins our vote as one of the best waterproof shelters out there on account of its impressive weather resistance, spacious interior, durability, and all-around livability.
The Geertop's inner tent material is a combo of 210T polyester and nylon mesh panels that help regulate the interior temperature. The floor is made from 210-denier PU-coated nylon with an impressive HH rating of 5,000 mm, while the fly is constructed with 3,000 mm, tear-resistant polyester. To top it all off, the seams in the floor and fly are doubled-sealed for added leak resistance.
Measuring 53 square feet, the interior makes for a super-spacious tent for three people or a decently roomy one for four. No matter how many of you there are, however, the Geertop Portable's sure to feel plenty livable thanks to its 54-inch peak height, double-doored design, and duo of large vestibules for cooking and gear storage.
This tent weighs just a little over 9 pounds, which makes it a little heavier than other 4-person options. That said, a little extra poundage seems a small trade-off given the Geertop's durability and robust waterproofing.
And the downsides? Other than the slightly garish yellow-colored option and slightly heavy pack weight, there's little else of note.
PROs

Manageable weight
Easy to set up
2 large vestibules
Solid waterproofing

CONs

Poor-quality zipper
Poor ventilation with the rainfly on
Not the roomiest four-person tent
Bottom-Line: A slightly heavy four-person waterproof tent that makes up for its bulk, heft, and slight lack of breathability with outstanding weatherproofing, robust materials, friendly price tag, and genuine 4-season functionality. 
Features to Look for in a Waterproof Tent
Waterproofing
The quality that defines the best tents for bad-weather camping is their ability to keep that bad weather out and keep you dry. Several factors contribute to this which are:
Hydrostatic Head Rating
The degree to which tent fabric can withstand rain is measured with the Hydrostatic Head (HH) rating, which is given in millimeters (i.e. 1,500mm HH). In short, the higher the number, the more water pressure the fabric can resist before it starts to leak.
The floor will commonly have a higher HH rating than the walls or rainfly of a tent. This is because it has to withstand more pressure from the weight of the shelter's occupants and their gear.
If you're expecting moderate or short-lived rain showers, we recommend opting for a tent with a 1,200 mm HH rainfly rating and a 2,000 mm floor rating. For harsher environments, a minimum rating of 1,500 mm in the fly and 3,000 mm in the floor is a much safer bet.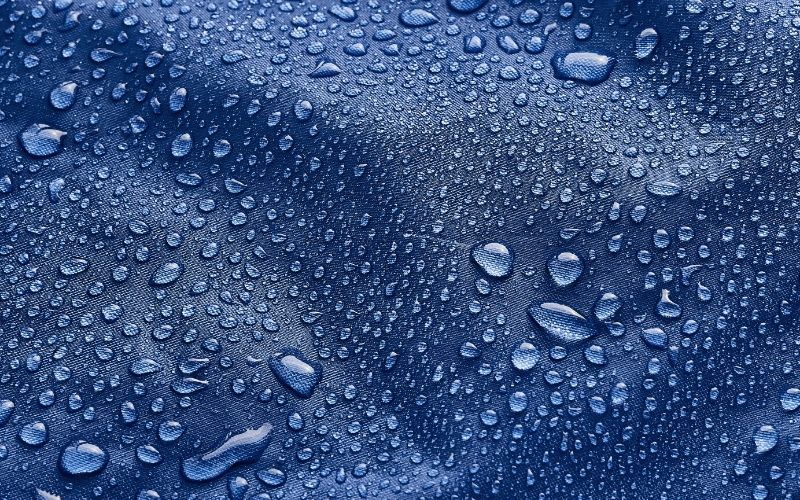 Sealed Seams
Sealed seams ensure your tent doesn't spring any leaks in this common point of vulnerability.
When a tent is sewn together, the stitching process creates holes in the fabric. When these seams are left unsealed, rainwater can then pass through these tiny holes.
Sealing tent seams is, in essence, like putting a plug in the holes. Some manufacturers take it upon themselves to seal the seams at the factory by using tape or special adhesives. However, other manufacturers leave this task to the user, meaning you'll have to buy and apply a sealant to make your tent waterproof.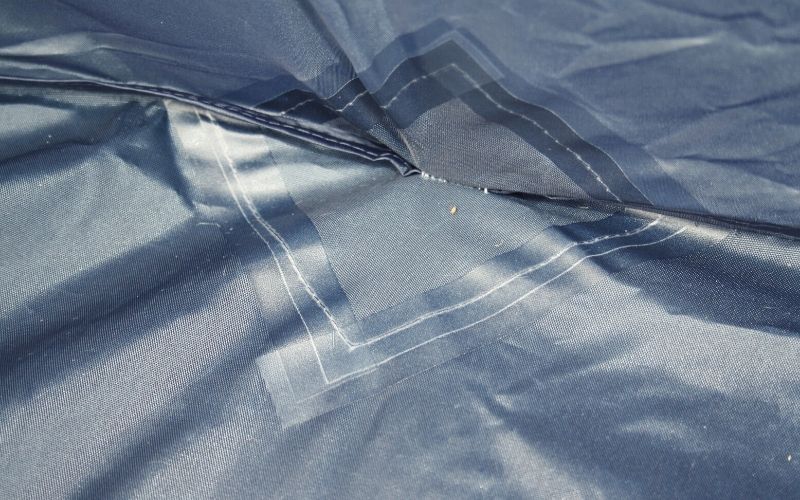 Rainfly Coverage
The rainfly is the fabric that covers the outside of the tent and is treated with a waterproof coating to help keep you and your camping companions dry.
A tent with a full-coverage rainfly (those that cover the entire tent body) is intended for use in more inhospitable conditions, i.e. high winds and heavy downpours. By creating another, full layer between the tent body and the elements, a full-coverage fly significantly reduces the risk of any rain making its way inside your shelter.
Partial coverage rain flys only cover the essential parts of the tent, and often only the mesh netting in the canopy. This works well in light rain showers but, even if the tent body is waterproof or water-resistant, is unlikely to keep you dry in a heavy downpour or if strong winds are blowing the rain sideways.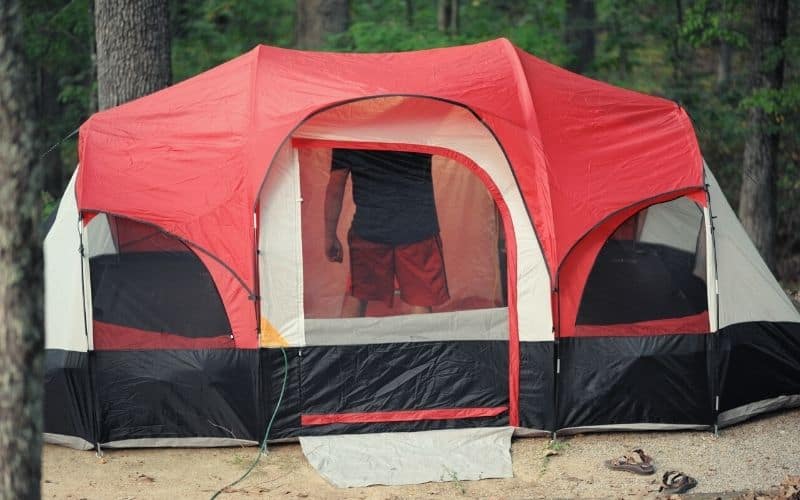 All the tents on our list have full-coverage flys except for the Eureka Copper Canyon, Coleman WeatherMaster 6, and NTK Cherokee.
Guy Lines
There are two main reasons why guy lines are necessary:
First, they make sure that your tent stays put no matter how hard the wind is blowing. Second, they help to ensure your rainfly doesn't sag or get blown against the inner canopy. The former of these issues increases the risk of rain seeping through and the latter reduces the airflow between the two layers that is needed to stave off condensation.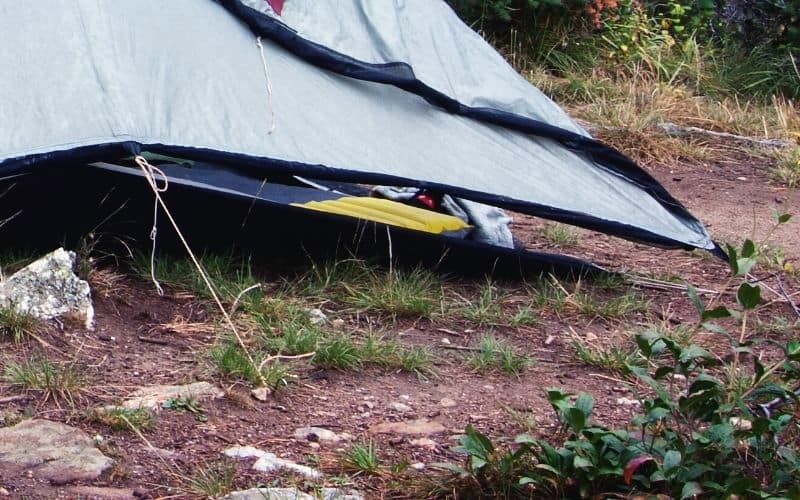 Construction & Shape
The best shape and style of tent for your needs will depend on a few variables, most notably the conditions you're camping in, whether you're car-camping or wild camping, the number of people in your group, and your trip's duration.
Below, we've added an at-a-glance list of tent types along with a brief description of their best use:
Dome Tent
Dome tents use two or three crisscrossing poles that create a rounded profile. This shape provides stability in moderate winds and sheds rainwater quickly. In contrast, shelters with flatter walls and roofs tend to buckle in the wind and pool rainwater on top, making them more liable to leakage.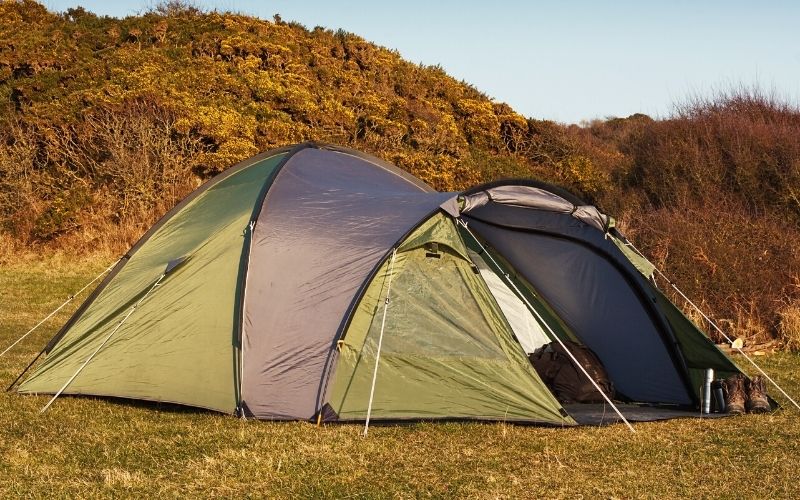 Cabin-Style Tent
This style is popular for base camping or long-stay camping trips because they typically offer far roomier interiors and more headroom.
On the downside, most options in this category are both heavy and bulky. However, because they're designed for car camping only their lack of portability and size shouldn't be an issue. Just make sure you have a buddy to help with the carrying and pitching!
Backpacking Tent
Small, lightweight, and easy to pitch, this style is the best option if you plan on putting in some miles on the trails before making camp. While not as roomy as car-camping shelters, most backpacking tents make up for this with portability and highly functional designs that aim to provide a good balance between weather resistance, weight, and livability.
Bivy Bags
Intended for use by gram-counting minimalists, bivies (aka "bivy bags") are miniature, lightweight variations of ridge tents. They use just enough material to provide shelter for a single person, so aren't the roomiest option by a longshot. On the plus side, they usually offer superior water resistance and can weigh as little as 1.5 pounds.
We haven't included any bivy bags on our list, but if you're a solo camper and keen to get your hands on an ultralight, waterproof, one-person shelter, check out the Snugpak Stratosphere. This bivy weighs next to nothing and is so waterproof it could feasibly be used for seafaring.
Geodesic Tent
If you plan on camping in particularly harsh weather, geodesic is the way to go. A geodesic shelter is very similar to a dome tent but uses additional crisscrossing poles to give maximum support to the fabric and added stability in high winds.
Family Tent
The key features to look for in a waterproof family tent are comfort, livability, and capacity.
The most common tent styles in this category are tunnel and multi-room shelters, though a few domes fit the bill too.
Tunnel tents like the Coleman WeatherMaster use a series of arched poles to give them their tunnel-like shape, which helps to maximize headroom and cubic footage.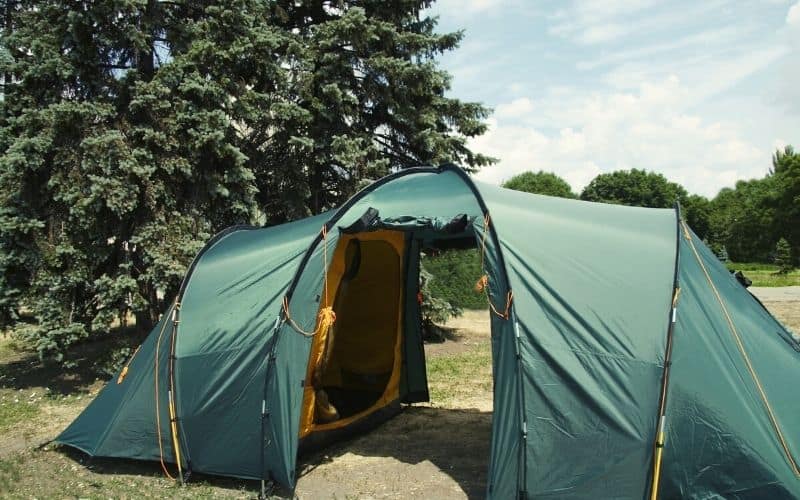 Multi-room models are, as the name suggests, the ideal tents for campers who like to have a little bit of privacy. Most multi-room models create separate sleeping spaces by using room dividers, as in the Coleman WeatherMaster and Eureka Copper Canyon.
Both of these tent types tend to be heavy and bulky and, as such, are suitable for car camping only.
Size, Capacity & Comfort
Before choosing your backcountry bolthole, think carefully about the size of your group and if you're going to need extra space for friends, gear, or pets. Also bear in mind, however, that the bigger the tent, the heavier it's likely to be. That's why you need to consider your goals and purposes before deciding on the ideal size.
As a general rule, we recommend looking for a tent that offers a minimum of 14 square feet of floor space per adult sleeper. Naturally, this number will increase or decrease depending on the size of the sleeper(!) but bear in mind that sleeping mat sizing is fairly uniform.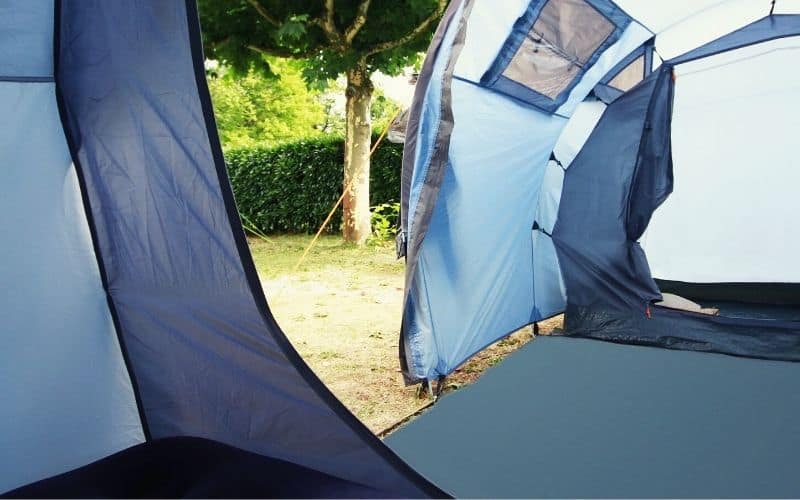 As regards headroom, backpacking models tend to offer significantly less of it than car-camping varieties. Regardless, a backpacking tent with a center height under 32 inches is going to feel coffin-like, even for shorter campers. If car-camping, weight is less of an issue, so you should aim to find a tent that will let the tallest member of your group move around without ducking.
Finally, if you anticipate bringing along lots of gear, be sure to plump for a tent that has a decent-sized vestibule or two. As a rule of thumb, 4-5 square feet of vestibule space (per person) should be more than enough room for the average camper.
If your tent doesn't have a vestibule, it's worth making sure it has the same amount of extra storage space inside.
Pro-Tip: Tent manufacturers don't adhere to uniform sizing when attributing a person rating to a tent. As such, a 6-person tent from one brand might be much bigger/smaller than a 6-person model from another.
To reduce the risk of cabin fever, be sure to gauge capacity by the shelter's square footage, not by its person rating.
Weight & Packed Size
Packed weight and size are specs that give you an idea of how easy or difficult a tent will be to carry.
When backpacking or hiking longer distances before you set up camp, you should prioritize weight and packability when choosing. Ideally, your tent should weigh roughly 2-4 pounds per person, though some more robust models with enhanced waterproofing may weigh as much as 5 pounds per person.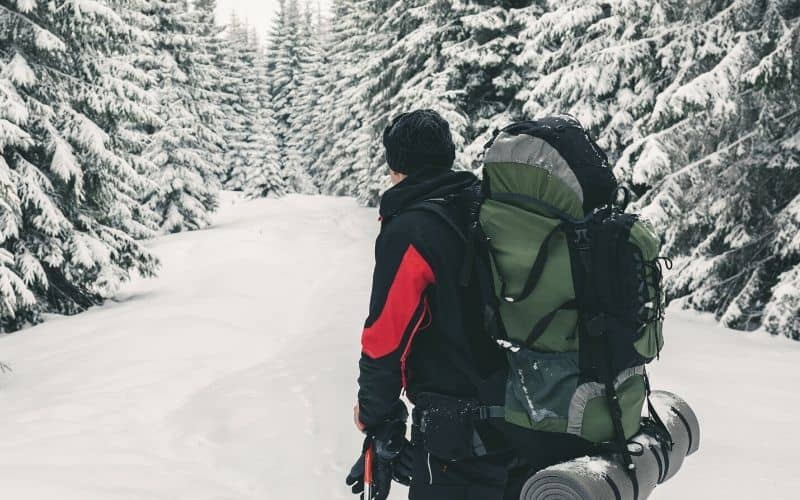 The best backpacking tents on our list are the MSR Hubba Hubba NX 2 (3.5 lbs.), the REI Half Dome 2+ (5 lbs. 5 oz.), the Teton Sports Ultra (4 lbs. 7 oz.), and Black Diamond Eldorado (5 lbs. 1.5 oz.).
Concerning packed size, solo hikers should look for a tent that measures around 16-20 inches by 6-8 inches to save on pack space. If camping in a group, look for models with components that can be shared out among carriers. This will allow one person to carry the inner, one the outer, and another the poles and pegs, for example.
If you plan on car camping, then weight and packability aren't so much of an issue. In this case, even heftier options like the Kodiak Canvas Flex-Bow (68 lbs.) should easily fit in your trunk and won't be too tricky to schlep from your vehicle to your pitching location.
Ventilation & Breathability
These two attributes help to ensure there's enough air circulating inside your tent to regulate the temperature and prevent condensation.
Most double-wall tents use mesh in the upper part of the inner canopy to help air circulate. Others use an entirely mesh inner both to maximize airflow and provide panoramic views when used without the rainfly.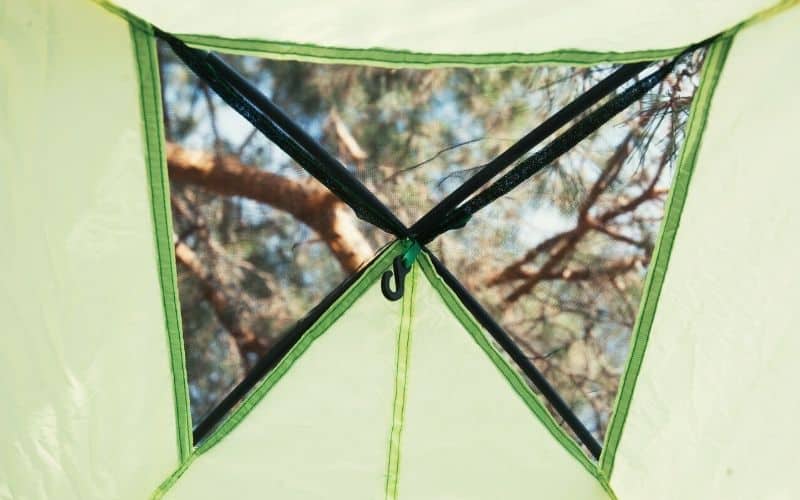 Also, a two-door system will help keep things fresh and condensation-free, letting fresh air enter one door while letting stale, warm air escape out the other. A windows-and-doors combo, of course, will work even better!
There is almost always a trade-off between breathability and weatherproofing. If you plan on camping in cool conditions, then we'd recommend prioritizing weather resistance. If you plan on camping year-round, on the other hand, then the best policy is to find a tent that offers a good balance between the two.
Tent Features
A few features can significantly enhance any tent's practicality and convenience. The most important of these are a large vestibule for gear storage, a hinged door, room dividers for privacy, continuous pole sleeves to simplify pitching, and internal storage features like a gear loft or built-in pockets in the tent walls.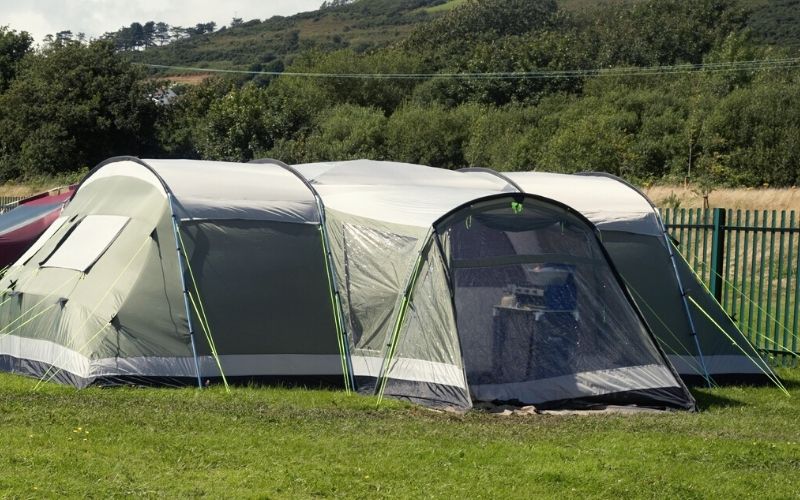 Bad Forecast? No Problem!
When the rain comes to town, many campers are apt to kick back with a weekend of Netflix, DIY, and dreaming of where they might have been with a more favorable forecast. Arm yourself with any of the above bad-weather shelters, however, and you'll be good to go no matter what the weather's doing.
Each of the above waterproof camping tents offers something a little different. All things considered, though, the REI Half Dome 2+ was a standout winner. It's tough, lightweight, roomy, and an absolute champ when it comes to keeping the wet stuff where we like it – outside our tent!
So, how did you like our review? If you have any comments or questions, please feel free to leave them in the box below! And if you'd like to share this article with your friends.