On a full moon night with a cozy fire roaring, it might be possible to get around camp without any additional light. At least to find a stick to roast marshmallows and take care of business when nature calls, that is.
But when you are ready to pack up for the night, want to review a trail map for the next day's hike, or can't find your water bottle, it helps to have a good outdoor-worthy flashlight.
Below, we review a selection of the 9 top camping models out there this year and you'll also find detailed buying advice to help you determine which is the best for you.
Editor's Choice
Nitecore MH23 USB Rechargeable Flashlight
This is one of the best flashlights for camping if you need maximum output and versatility. It features an impressive output range of one lumen and goes all the way up to 1800 lumens, and is fully waterproof and shockproof despite being one of the smallest and lightest flashlight models out there.
Weighing just 3.4 oz and measuring just 4.4 inches long, the MH23 is also one of the lightest and most compact models on our list, making it a great pick for backpacking or minimalist campers. It also boasts an impressive range of 300 meters and its rechargeable batteries can run for up to 300 hours on a single charge.
Bottom Line: It may be pricey, but the Nitecore MH23 ticks every box and is built to last a lifetime.
At a Glance: Quick Recommendations
Best Camping Flashlight Reviews: Our Top 9 Picks
Nitecore MH23
Editor's Choice
Specs
Battery type: Rechargeable
Battery life: up to 300 hours
Lumens: 1800
Beam distance: 300 m
The Nitecore MH23 is a true ticker of boxes. It's fully waterproof and shockproof, rated up to 1800 lumens, and has a range of 300 meters. It can also run for up to 300 hours on a low-light setting.
The MH23 is even more impressive when you consider its size. At only 3.4 ounces and 4.4 inches long, it's compact and lightweight enough to easily fit in your pocket while night hiking.
The only drawbacks to this flashlight are a lack of adjustable beam and higher price. Still, with multiple light settings, rugged durability, more than one battery and charging option, and compact size, the MH23 is an excellent investment and especially ideal for backcountry camping and hiking.
PROs

Powerful
Awesome battery life
Lightweight
Compact
Multiple light modes

CONs
Bottom-Line: A highly portable, compact, and reliable flashlight that packs a serious punch!
Fenix UC35
Runner Up
Specs
Battery type: rechargeable
Battery life: up to 800 hours
Lumens: 1000
Beam distance: 266 m
Fenix flashlights have a massive fan following, and with good reason. The brand's flashlights are known for being virtually indestructible. This durability comes at a higher price point but gives you great value.
It features six light settings, including a strobe. With a tough aluminum exterior and a lifetime guarantee, the Fenix is an excellent choice for those who are hard on their gear and willing to invest in rugged equipment that is made to last.
On the lowest brightness setting of just one lumen, the UC35 also lasts up to a whopping 800 hours.
PROs

Long battery life
Wide range of light output
Virtually indestructible

CONs
Bottom-Line: A powerful flashlight with an incredibly long-lasting battery and versatile settings.
Maglite Mini Pro 2
Best Mini
Specs
Battery type: 2 AA batteries
Battery life: at least 2.5 hours
Lumens: 226
Beam distance: 140 m
The Maglite Mini is small and ultra-reliable, which makes it especially well-suited as a secondary light source.
The light is bright and cannot be dimmed to a low setting. Combined with short battery life, this means it's not ideal as a primary light source. It is, however, durable and affordable, making it a great choice as a backup.
Both water-resistant and shock resistant, the lens can also be adjusted to either a flood or beam light. This is the perfect flashlight to stow away in your first aid kit or camping tote for those moments when you unexpectedly need an extra light.
PROs

Lightweight
Compact
Water and shock-resistant

CONs

Short battery life
Battery-powered (a 'pro' for some, maybe)
Bottom-Line: An affordable, durable option that's optimally used as a secondary light source.
Coast G55
Best Value
Specs
Battery type: 4 AAA
Battery life: up to 17 hours
Lumens: 650
Beam distance: 198 m
The Coast G55 is one step up from the Maglite Mini. Thanks to three settings options of different light modes, the G55 can be adjusted to a lower light that lasts longer. As a bonus, a simple twist adjusts from floodlight to focused beam – impressive versatility for such a small flashlight.
This all-around versatility at a low price point makes it a solid option for camping and hiking, though still a bit of a hassle to remember (and carry) extra batteries. Like the Maglite Mini, therefore, the G55 is better for basic camping needs or as a backup flashlight.
PROs

Various light modes
Affordable
Compact
Virtually unbreakable

CONs

Only powerful enough for personal use
Bottom-Line: A versatile, budget-friendly option that's ideal as a car camping backup.
Anker Bolder LC90 LED
Best Budget
Specs
Battery type: Rechargeable
Battery life: up to 13 hours
Lumens: 900
Beam distance: 200 m
The Anker Bolder LC90 offers a lot of bang for its buck. With a zoomable beam and five different settings, including a low light option and a flashing light for emergencies, the Bolder LC90 is useful for anything from a pre-dawn hike to reading in your tent. It shines up to 200 meters away on its brightest setting, meaning it offers great power for its price point.
The Bolder is also built to withstand all of your adventures and camping trips. It may be a little bit bulky, but it's also extremely durable, and both water and drop resistant. Compared to most flashlights, this is an amazingly versatile low-budget option.
PROs

Water and shock-resistant
Versatile
Affordable
Bright LED lights

CONs
Bottom-Line: A rechargeable, durable, and affordable option with a wide range of light settings.
ALPS Mountaineering Spark 240
Most Waterproof
Specs
Battery type: 2 AA
Battery life: up to 15 hours
Lumens: 240
Beam distance: 120 m
Looking for an incredibly durable, waterproof, and shockproof option at a low price point? If so, the ALPS Mountaineering Spark 240 is well worth a place on your shortlist.
The Spark is fully waterproof and shockproof and has a compact aluminum body measuring 6.5 inches long.
The battery life is fairly short, and it operates on 2 standard AA batteries. While the beam is adjustable, this flashlight reaches a maximum distance of 120 meters – not terrible, but not remarkable. It does offer four light modes, including two standard high and low settings and a strobe setting.
PROs

Waterproof (IPX7 water-resistant rating)
Shockproof
Affordable

CONs
Bottom-Line: A great option if price, durability, and water resistance are among your main priorities.
Coleman OneSource 1000
Best Multitasker
Specs
Battery type: rechargeable
Battery hours: up to 100
Lumens: 1000
Beam distance: 275 m
This flashlight is part of the whole Coleman OneSource system, which is worth considering if you are an avid car camper. The lithium-ion battery can be used in a range of Coleman products, including heated camping furniture, a fan, and a OneSource lantern.
The battery can also be recharged from other OneSource batteries, wall outlets, or OneSource charging stations, and can even charge other devices, like smartphones, even while the flashlight is on.
Heftier than a pocket flashlight, the Coleman OneSource 1000 is still a reasonable 8.5 inches long and weighs just over 10 ounces. With only two settings (high and low mode) the brightness of the beam is not the most versatile but lasts an incredibly long time.
PROs

Durable
Powerful light
Versatile and long-lasting battery

CONs

A bit bulky
Limited light settings
Bottom-Line: A great camping flashlight if you use other Coleman OneSource devices.
Surefire E2T Tactician
Best Compact
Specs
Battery type: Two 123A
Battery hours: up to 95 hours
Lumens: 800 lumens
Beam distance: 115 m
The Surefire E2T weighs less than four ounces and is one of the most compact options on our list. At five inches long, it will fit in just about any pocket. Despite this, it still packs a powerful punch and is both durable and waterproof.
This tactical flashlight features a wide beam of light with easily adjustable brightness. Simply hand tighten the front bezel for maximum output, then loosen to dim, with a range of light modes from long distance to low-light illumination.
Although pricey, the Surefire brand offers a confidence-inspiring lifetime warranty for defective materials or workmanship.
PROs

Compact
Powerful
Versatile

CONs
Bottom-Line: An awesome choice if you are ready to invest in a top-of-the-line, versatile flashlight.
Fenix PD36R
Best Output
Specs
Battery type: rechargeable
Battery life: up to 115 hours
Lumens: 1600
Beam distance: 283 m
We can't help but review a second model from this reputable brand. The PD36R is dustproof and waterproof up to one meter, features an impressive 115 hours of light at 30 lumens, and a dual-beam setting that can be set to a flood or spotlight. At 5.5 inches and just over five ounces, the Fenix PD36R is a compact powerhouse.
As a bonus, Fenix flashlights come with a lifetime warranty against product defects and free repairs for five years. The PD36R is more of an investment, but still costs less than some other high-end models.
PROs

Incredibly bright
Compact
Durable
Brand guarantee

CONs
Bottom-Line: Powerful, bright, rechargeable, and fits easily in your pocket.
How to Choose a Flashlight for Camping
There are many features to consider when choosing a camping flashlight that is right for you. Primarily, you want to take into account brightness, beam distance, battery type, and life, and versatility. Other characteristics that may be important are size and weight, durability, beam type, and price.
Let's take a look at these features individually, so you can feel confident in purchasing the best camping flashlight (or best hiking flashlight) for your needs.
Brightness
Light output is measured in lumens, usually between 10-3,500 lumens. The more lumens, the stronger the beam and the brighter the light.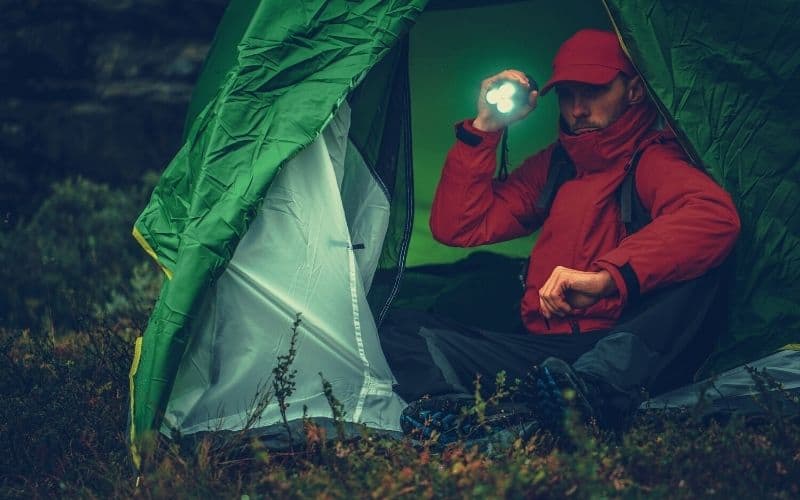 Low light settings are ideal for keeping your eyes adjusted to the dark, and can be used inside the tent without disturbing your camping partner. Bright light settings are used to see at a distance and are essential for emergency situations.
Beam Distance and Type
The range of the beam on any flashlight is measured in meters and reflects the distance that you can effectively see in the dark. As a primary light source for camping in a wilderness setting, look for a light that shines at least 100 meters away. As a backup light or for use in the front and side country, a shorter beam will suffice.
Some flashlights have an adjustable beam, allowing for a flood or spotlight. A flood beam lights a wider area, useful for lighting up an area at camp. A spot beam focuses the light and reaches a greater distance, which is necessary for hiking at night.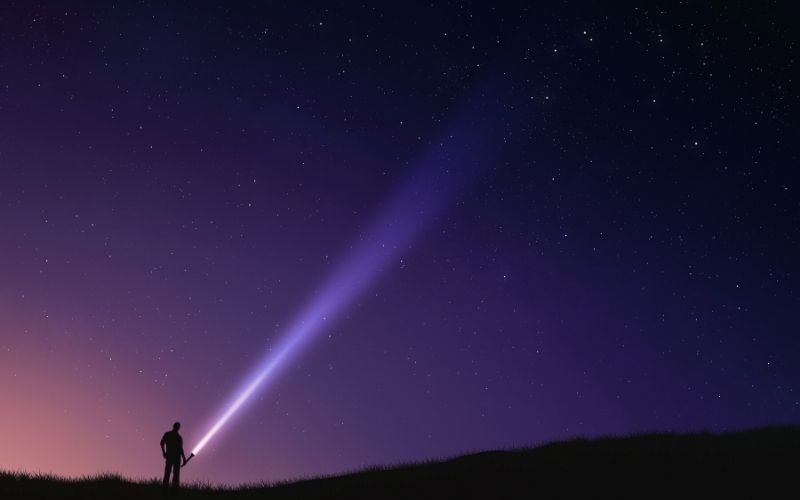 Battery Life and Type
How many hours your flashlight will run without needing a recharge or new battery will vary greatly based on the brightness setting you use. On a low-lumen setting, the battery will last much longer. When using a flashlight at full brightness capacity on a high setting, or in cold weather, the battery will die much more quickly.
We tend to favor rechargeable flashlights because they are more convenient and don't require packing spare batteries – essential if you are trying to pack light! As an added bonus, rechargeable batteries are less wasteful.
Light Modes
The best flashlight for camping will be the most versatile, which usually means it has a wide range of lighting settings. A red light mode is particularly useful for reading and is the least disruptive to others, but isn't essential if there is a very low white-light setting.
Extra settings, such as strobe mode and SOS (red emergency light), are not essential for regular use (and can be disorienting to others) but can be vital in emergencies. If you are lost or injured, these settings increase your chance of being spotted by others.
Size & Weight
A lightweight, compact flashlight will be easier to carry when hiking in the dark. If you are car camping exclusively, size and weight may not matter too much. But if you are backpacking or trying to be as lightweight as possible, pay attention to the bulk and weight of the flashlight you purchase.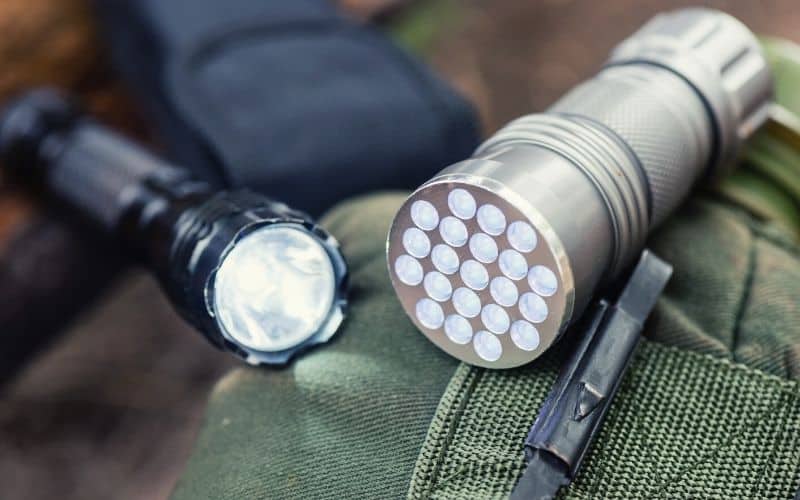 Materials & Durability
If you tend to be hard on gear, adventure in all types of weather conditions, spend a lot of time in the backcountry, or are generally a "dropper," consider a model with a shockproof body made from durable material such as aluminum. Look for corrosion and abrasion-resistant materials, good grip, and water-resistant seals.
Many brands rate their flashlights using the Ingress Protection (IP) Code, with a common rating of IP68 to indicate it is both dust and water-resistant up to three feet of submersion. Some brands also back their flashlights with a limited warranty (such as Nitecore) or lifetime guarantee (such as Fenix).
Primary Use
If you are car camping, you have plenty of room for extra batteries, and weight is not much of an issue. In this case, bulkier and heavier models like the Coleman OneSource are a good option.
Looking for the best backpacking flashlight? If so, a little more consideration is required. Waterproof flashlights with multiple lighting modes, solar flashlights, or one you can charge on a power bank are your best bet for the backcountry. For hiking in the dark, the most important feature may be that it can fit in your pocket, like the Nitecore MH23 or Surefire E2T.
Camping Lantern, Headlamp, or Flashlights?
The moon and campfire will only get you so far. Having a portable (and reliable!) light is essential for a camping trip, both for utility and safety. Depending on the length of your camping trip, however, you may want to bring multiple lights.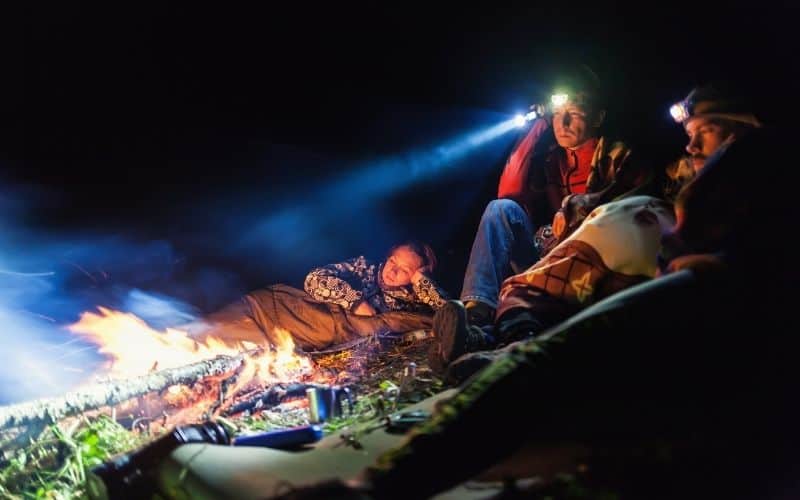 A camping lantern is great for lighting up the picnic table or a tent and generally casts a wide glow. Headlamps are indispensable for their hands-free capability. But camping flashlights offer a more reliable, durable, and brighter source of light. Often shock-resistant and water-resistant, the best flashlights will hold up on any rugged outdoor adventure.
Not limited by size and weight like a wearable headlamp, and with a more focused beam than a lantern offers, a good flashlight is an essential piece of camping gear for practicality and safety. The best outdoor flashlights offer more than just high and low modes – they should offer a range of brightness settings, including an eco mode or a red light to improve night vision in your tent.
Best Flashlights for Camping: The Verdict
The Fenix UC 35 is our favorite outdoor flashlight overall. It's reasonably priced and is backed by the Fenix guarantee. We love its small size, durability, powerful capability when you need it, and that its moonlight setting is so low you won't miss the red light mode.
For backpacking, we recommend the Nitecore MH23. The MH23 is fully waterproof and shockproof, fits in a pant pocket, but can deliver up to 1800 lumens. And if you're on a budget, it's hard to go wrong with the Anker Bolder LC90, which offers unbelievable value compared to other flashlights in its price range.
We hope you enjoyed our article on flashlights for camping. If we missed anything or you have any questions, let us know by dropping a comment in the box below!