The 7 Best Freeze-Dried Foods For Backpacking [2022 Update]
Looking for the Best Freeze Dried Food?
You're in the right place! In this guide, we will be covering the following:
Our #1 recommended Best Freeze Dried Backpacking Food
Great alternative recommendations to suit any needs
What you should look for in the best freeze-dried foods
When you're going on a long camping expedition, trail mix won't cut it. You need something more filling and nutrient-dense to replenish all the energy you've lost while hiking and setting up camp. The quickest way to satiate your starving stomach is to pop open a freeze-dried meal pack and add boiling water.
Luckily for hikers, freeze-dried camping foods have come a long way in the taste department in recent years. No matter what flavors you're into, you should be able to find one brand that meets your culinary standards. In this article, we'll go over the basics and reveal our picks for the best freeze dry food brands.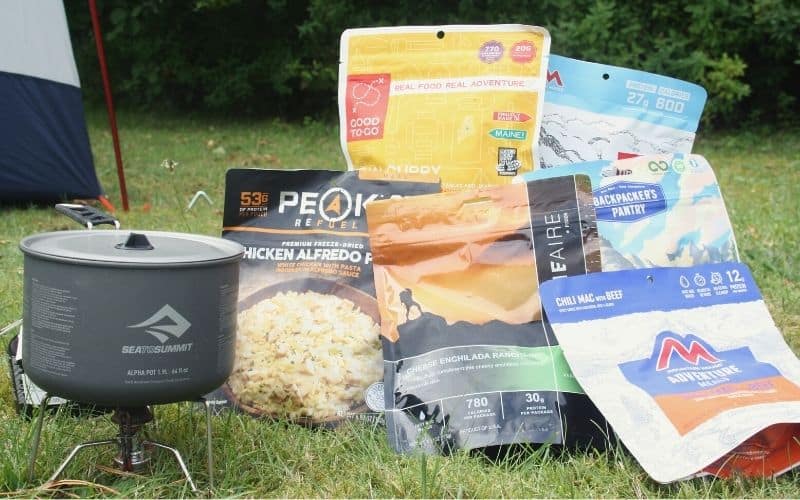 Best Freeze-Dried Meal
Backpacker's Pantry
One of the main reasons campers love Backpacker's Pantry is because it has one of the most extensive catalogs of freeze-dry food for backpacking. Whether you're into Italian, Chinese, Indian, Thai, Southern, or Tex-Mex, you're sure to find something in Backpacker's Pantry to suit your taste buds.
Another nice thing about Backpacker's Pantry is that it offers a wide array of specialty foods for people with dietary restrictions. People who suffer from gluten sensitivity, peanut allergies, lactose intolerance, or are following a vegetarian diet will find great food packets in Backpacker's Pantry's catalog.
Not only does Backpacker's Pantry have one of the largest catalogs, it also has a wide assortment of desserts, breakfasts, small dishes, and sides you could add to your order. While most of the normal packets are for two people, you can customize your order for larger groups of four or even 18.
Backpacker's Pantry's wide variety of foods makes it a perfect company for people with dietary restrictions or exotic tastes. It's easy to find an affordable food packet that suits your travel needs in the Backpacker's Pantry product line. Overall, it was an easy decision to award our top prize of best freeze-dried food.
Runner-Up
Mountain House
The major reason Mountain House has one of the most famous names in the freeze dry food world has to do with its 30-year shelf life. Mountain House's long shelf life makes it ideal for survival scenarios. You can stock up on a ton of Mountain House products and never worry about the food spoiling.
Most of Mountain House's meals are hearty dishes that will satisfy your hunger. Carnivores won't have any issues finding something good in Mountain House's product line like beef stroganoff and lasagna.
Anyone looking for emergency food for survival scenarios will find what they're looking for in Mountain House.
Best Value
Omeals
Omeals is one of the most conveniently packaged products we've come across. All Omeals come with a heating element that you tear up and place inside your food packet with water. There is a tiny opening in the top on the top of the package to let out excess steam as your food heats up. The convenience of this heating element is excellent for backpackers who don't have the equipment or skills to boil water in the wild.
In addition to the heating element, Omeals provides you with all the utensils you need to enjoy their meals in the wild. These conveniences make Omeals one of the easiest products to use for new campers.
Considering all the conveniences you're getting with Omeals's packaging, it's hard to find a better deal.
Benefits & Features of Freeze-Dried Backpacking Food
Major Benefits Of Freeze-Dried Food for Camping
All of the advantages of using freeze-dry meals in the wild have to do with convenience. With a few freeze dry food packs in your backpack you won't have to worry about hunting for food and cooking your food once you've arrived at your campsite. Plus, most food packs today are lightweight and won't take up too much space in your backpack.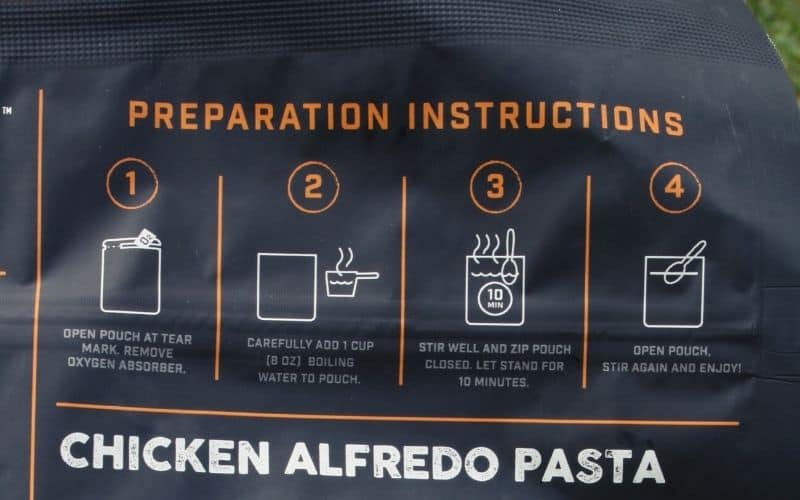 Another great feature is their long shelf life. You can order a whole packet of your favorite freeze dry food products years in advance of your hiking treks and they will still be good.
By the way, it's a great idea to include a few backpacking freeze-dried food packets in your first-aid kit. In a survival scenario, freeze-dried food packs offer a reliable way to keep your energy up. While a clean source of water should be your top priority, freeze-dry foods can significantly boost your energy levels and stave off hunger.
What Is Freeze-Dried Food?
To freeze dry fresh and/or cooked foods, manufacturers first place the food in a drying chamber and lower the temperature to at least -40°F. Scientists then slowly increase the chamber's temperature, which helps form a vacuum around the food. The whole point of this process is to get the ice on the food to change directly into a gas and evaporate. Once this process is complete, the food has been "suspended" in a dry state that can only be activated once you add water to it.
Did you Know?
Modern historians believe the Ancient Incas were the first culture on earth to practice freeze-drying. Archeological evidence suggests this Andean tribe would regularly freeze potatoes, remove moisture with cloths, and provide them to their warriors for a filling and lightweight snack.
The modern history of freeze-dried foods dates back to World War II. Scientists were looking for a cheap way to provide millions of troops with a filling and lightweight food source that didn't spoil. During the war, researchers also used the same principles of freeze-drying to preserve blood and essential medicines. Most people today probably associate freeze-drying foods with NASA astronauts.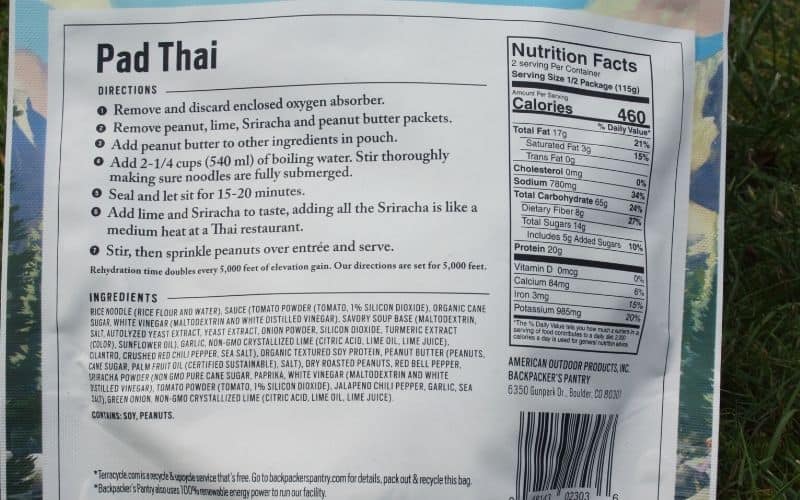 Freeze Dry Food Versus Dehydrated Food
While the techniques of freeze-drying food have only been perfected in modern times, the process of dehydrating food has been around for thousands of years. We have records of many ancient societies drying out fruits and veggies to preserve their freshness.
In olden times, people used insulated areas and a fire to dry out their foods. Today, there are dehydrating machines designed to get rid of water by heating up the food and continuously circulating hot and dry air.
Advantages Of Freeze Dried Meals For Campers
While freeze-dried and dehydrated foods have many similarities, there are a few reasons campers prefer freeze-dried products. First, freeze-dried foods were designed to remove as close to 100 percent moisture as humanly possible. Dehydrated foods, however, could retain as much as 10 percent moisture content when you buy them. The lower moisture content in freeze-dried foods is the major reason they have a longer shelf life than dehydrated foods.
Further reading: Checking out our guide to planning your backpacking meal requirements.
Another advantage freeze-dry foods have over dehydrated foods is that they weigh less. You'll only add a few ounces to your travel kit with freeze-dried food boxes. By comparison, many dehydrated food packets are measured in pounds.
The downside to freeze-dried meals though is the need to carry a backpacking stove and fuel with you to prepare these dishes.
Nutritional Value Of Freeze-Dried Meals
Since all the vitamins and minerals are preserved in the freeze-drying process, there's not much difference between freeze-dried foods and a fresh meal. In particular, researchers haven't found any major differences between the fiber and antioxidant levels.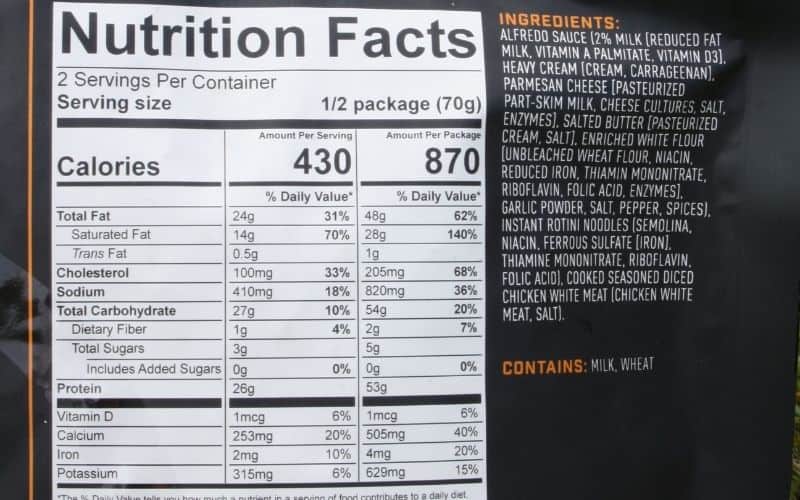 The major difference between freeze-dried and raw foods is in the number of calories. Nutritionists have discovered that calories (per gram) are higher due to the lack of water content.
Interestingly, even the best-dehydrated foods are less nutrient-dense than freeze-dry foods on average. Researchers say the dehydration process breaks down more vitamins. A few vitamins you may be lacking in dehydrated foods include vitamin A, vitamin C, and B-complex vitamins.
Stay Hydrated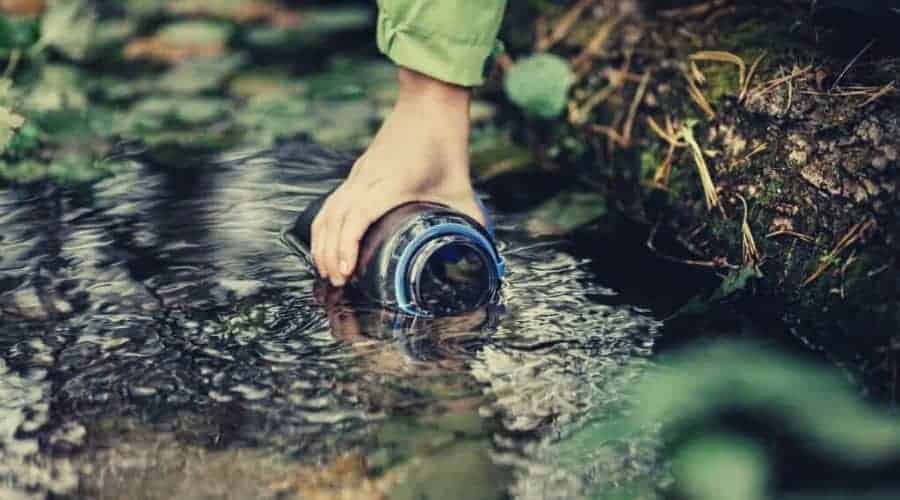 One thing you need to keep in mind when eating freeze-dried foods is to drink more water than usual. Remember, most of the moisture has been removed from these meals to keep them from spoiling. This means your body will have to hydrate the food for you as you're eating and digesting it. Also, the higher sodium content can adversely affect your hydration.
Should You Buy Your Own Freeze Drying Machine?
If you go on a lot of camping adventures, you might be tempted to buy your own freeze dry device. While it's more convenient to cook your own food to suit your dietary preferences at home and then freeze dry them, it'll take a few years of hiking before you get your money back.
Anyone who's dead set on making their foods at home might want to consider investing in the more affordable dehydration devices. For casual backpackers, however, it's far more cost-effective and convenient to order freeze-dried meals from reputable companies rather than buying a machine.
Best Freeze-Dried Backpacking Food Reviewed
Good To-Go
Best Dehydrated Food
The Maine-based company Good To-Go has a good variety of dehydrated food boxes that range from Italian to Thai cuisines. Most Good To-Go packages weigh 6.6 ounces and feed two people per package. The average shelf life of Good To-Go meals is four years.
A feature in Good To-Go's favor is that all of their products are certified gluten-free and pescatarian-friendly. So, if you only eat seafood or have celiac disease, you shouldn't have a problem with Good To-Go's range of products. Note, however, that all Good To-Go foods are made in a facility that also handles peanuts, dairy, eggs, and wheat.
Each packet requires 7 ounces of boiling water to prepare. You can dump the boiling water directly into the bag and zip it up immediately. Manufacturers say it takes about 20 minutes before your meal is ready to eat.
Another pro for Good To-Go foods is that they don't rely on chemical additives or preservatives. When you see Good To-Go's ingredients, you'll be able to recognize and pronounce most of the names on the list. Good To-Go executives are also proud their products have less sodium than most of the competition. Good To-Go's most popular product, Thai curry, has 500mg of sodium per serving.
For those who like Asian cuisine, try Good To-Go's popular Thai curry, pad Thai, or Korean bibimbap. Campers more in the mood for Italian fare can pick up Good To-Go's marinara with penne or herbed mushroom risotto. Good To-Go also offers diverse meals like smoked three-bean chili, Indian vegetable korma, and Mexican quinoa bowl.
In addition to buying the Good To-Go meals on their own, you can purchase Good To-Go "weekender packs." The weekender packs include two of the meals listed above as well as an easy to make breakfast option like oatmeal or granola.
PROs

About six ounces per packet.
Eight exotic options to choose from.
Gluten-free, pescatarian-friendly, and non-GMO.
Only requires seven ounces of boiling water

CONs

Veggie only
Four-year shelf life is not as long as other brands.
Foods are manufactured in a facility with eggs, nuts, and wheat.
Bottom-Line: Health-conscious hikers who place a high priority on the quality of ingredients used in their meals will most enjoy Good To-Go's diverse range of products.
Mountain House
The Oregon-based Mountain House specializes in meaty freeze-dried dishes designed to fill two campers per packet. Each Mountain House food pouch requires two cups of boiling water and about 15 minutes to cook through.
Some of Mountain House's most popular flavors include beef stroganoff, lasagna with meat sauce, and chicken breast with mashed potatoes. Mountain House also offers a decent variety of breakfast dishes like granola with milk and blueberries, biscuits with gravy, and a breakfast skillet.
For those out there who can't make up their mind which Mountain House packet to taste first, the company offers special emergency packets with a good sampling of their products. Don't worry about adding too much weight to your backpack with these packets. Each Mountain House pouch only weighs an average of three ounces.
One nice feature of the Mountain House freeze-dried packets is that they have one of the longest shelf lives in the industry: 30 years. This makes Mountain House's foods a superb option for people who want to stock up on freeze-dried options for years of hiking or emergency food for when the SHTF.
A slight negative for Mountain House is that they use more preservatives than other brands. People who have allergic issues or problems with tons of food additives might want to look for another product. On the positive side, many of these packets have low sodium counts and are high in protein.
PROs

Two servings per container.
High protein content.
30 year shelf life.
Average weight of three ounces per packet.

CONs

Mountain House uses a few food additives in its products.
Two cups of boiling water required to make one meal.
Not many vegetarian options.
Bottom-Line: Mountain House packets are ideal for people who want to prepare for a survival scenario and enjoy dishes with plenty of meat.
Backpacker's Pantry
No matter how unique you think your dietary restrictions are, you'll find one packet in Colorado-based Backpacker's Pantry's catalog to fit your needs. Not only does Backpacker's Pantry make products that are gluten-free, it also has non-dairy, no-peanut, and no-soy dishes. You can even order low sodium foods from Backpacker's Pantry's line if you have issues with high salt content.
All Backpacker's Pantry basic entrée packets serve two people and come in mylar pouches with Ziploc tops. These two-person meals require 2 ¼ cups of hot water and between 15 to 20 minutes to cook through. For those traveling in larger groups, Backpacker's Pantry has many larger packets and canisters that can feed anywhere between four to 18 people.
As for flavors, Backpacker's Pantry has one of the most extensive catalogs. Just to give you a sense of Backpacker's Pantry's diversity, here are a few popular items: Cajun rice with chicken, coconut curry with beef, Jamaican jerk rice with chicken, Backpacker´s Pantry pad thai, and pesto salmon with pasta.
In addition to entrées, Backpacker's Pantry has plenty of small snacks, desserts, breakfasts, and side dishes available for purchase. Some of the top items in these categories include dark chocolate cheesecake, garlic mashed potatoes, Indian rice pudding, and organic olive oil.
Most two-person packets only weigh around six ounces, so you shouldn't have any problems taking these meals on long trips. Also, Backpacker's Pantry items have a respectable seven-year shelf life.
PROs

Wide array of food choices for people with dietary restrictions.
Diverse catalog of foods that includes Italian, Asian, Tex-Mex, and Caribbean.
Easily customizable for small or large groups.
Seven-year shelf life.

CONs

You need 2 ¼ cups of boiling water to make one regular meal.
Utensils not included.
Bottom-Line: Anyone looking for a diverse array of freeze-dried meal options that can fit anyone's dietary restrictions has to check out Backpacker's Pantry list.
Alpine Aire
Alpine Aire has a good variety in its catalog, but most foods fall into these three categories: Asian, Tex-Mex, and Italian. Here are some of the signature meals you can expect from this company: turkey with mashed potatoes & gravy, mountain chili, spaghetti marinara with mushrooms, and pineapple orange chicken. Most Alpine Aire packets have an average shelf life of five years.
Besides entrées, Alpine Aire offers a few desserts and breakfasts like strawberry granola with milk and chocolate mudslide. There aren't, however, many sides offered in Alpine Aire's catalog.
Alpine Aire's entrée packets hover around the nine-ounce mark for weight and make enough for two people. One nice thing about each packet's design is that there are clear measurement lines on the side of the bag. On the back of the bag you'll see how much boiling water your particular packet requires. Once you have your boiling water all set, simply pour it up to the line on the side.
Anyone going on a longer trip can order Alpine Aire's seven-day packets. There are both meat and vegetarian-friendly seven-day packets to choose from. We should note, however, that Alpine Aire doesn't offer a huge selection of vegetarian-friendly entrées.
PROs

Three different cuisine styles to choose from.
Clear measurements are on the side of the packet.
Nine ounces or less per packet.

CONs

Not many side dishes or vegetarian options.
Shelf life of five years not as long as other products.
Bottom-Line: Campers looking for hearty & spicy meals who don't want to do any guesswork when measuring out their boiling water should take a peek at Alpine Aire's catalog.
MaryJanesFarm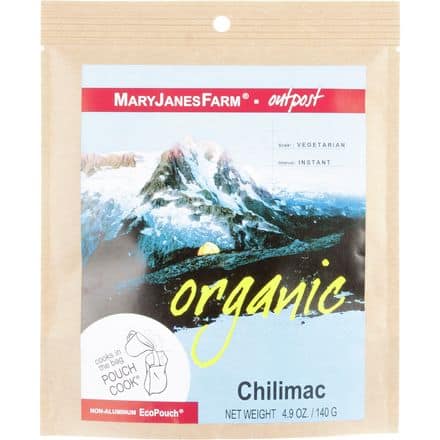 The main feature that makes Idaho's MaryJanesFarm stand out is that all of its products are USDA certified organic. As you look at the ingredients lists of MaryJanesFarm's products, you'll be hard-pressed to find any additives or chemicals you can't pronounce.
Not only does MaryJanesFarm cater to the organic crowd, it's one of the few companies that has exclusively vegetarian and vegan options. Some of the company's popular meals include kettle chili, creamy potato soup, and Santa Fe pasta. You can also order from MaryJanesFarm's breakfast list, which includes favorites like breakfast fritattas and "bacon-less bacon" egg scramblers.
The average weight of each MaryJanesFarm's packet is just three ounces, which is one of the lightest on our list. You'll need about 1 1/3 cups of boiling water to make these one-person entrées. The average time you need to let these entrées sit is about seven minutes.
Note, MaryJanesFarm's packets don't have ziptops like most other products. You'll have to rip open the top of your entrée completely, which makes it difficult to preserve any leftovers.
Obviously, people who are looking for meaty meals won't find much on MaryJanesFarm's catalog. This company was designed for campers with dietary restrictions who place a high priority on the organic status of their products.
PROs

Plenty of vegetarian and vegan options.
USDA certified organic.
Only three ounces per entrée bag.

CONs

Bags don't have Ziploc tops.
No meat options.
Bottom-Line: If you're a finicky eater looking for high-quality organic & vegetarian-friendly food, look no further than MaryJanesFarm.
PackIt Gourmet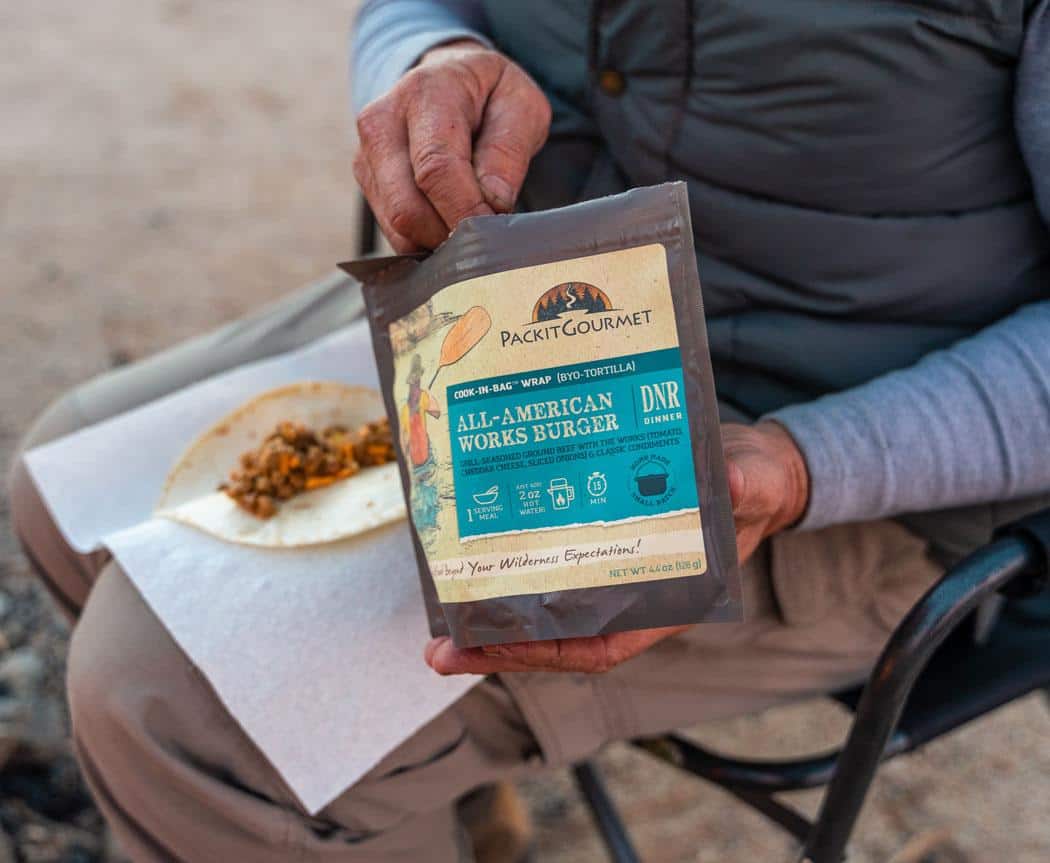 Campers in the market for hearty Tex-Mex fare must take a look at the Austin-based company ​PackIt Gourmet's product line.
The top-rated meals in PackIt Gourmet's catalog include a deli roast beef wrap, a pizza wrap, and an all-American burger. Most of these meals weigh five ounces or less and require only a few ounces of boiling water to cook through. The average cooking time for these freeze dry packets is 15 minutes.
In addition to meals, PackIt Gourmet has a variety of desserts, breakfast items, sides, dips, and soups to choose from. A few of these options you could indulge in include banana pudding, gumbo, scrambled eggs, and chicken & dumpling soup.
One negative for the PackIt Gourmet packets is that they have a high sodium count. For example, the all-American burger has 1,380mg of sodium for just one serving. The "Austintacious" tortilla soup has a whopping 1,890mg of sodium per serving.
While many of the meals offered by PackIt Gourmet are listed as "gluten-conscious," they are not certified gluten-free. All PackIt products are manufactured in a plant that also uses wheat, milk, egg, peanut, and fish.
Despite their focus on meaty dishes, PackIt Gourmet does offer a couple of veggie-only options. If you're a vegetarian, consider looking into PackIt's bean salad or its healthy smoothies like mango-kale and peach-passionfruit.
PROs

Filling Tex-Mex meals that come with condiments and tortillas.
Average weight of five ounces per packet.
Only a few ounces of boiling water and 15 minutes to prepare.
Wide assortment of sides, desserts, sides, and breakfast dishes.

CONs

High sodium content.
Not designed for vegetarians.
Not certified gluten-free
Bottom-Line: Hikers looking for protein-packed meals filled with meat, sauces, and Tex-Mex spices can't go wrong with a PackIt Gourmet packet.
Omeals
Omeals is a Florida-based company that specializes in spicy dishes mostly inspired by Italian or Southwestern cuisines. Most of Omeals's packets weigh about ten ounces and are designed to feed one person per container.
The nicest feature about Omeals is the packaging. Every Omeals packet has a steam vent on the top as well as a heating element inside the container. That's right, you won't have to use boiling water to have a hot meal with an Omeals packet. Just open the main bag, tear the heating element, place the heating element along with three to five ounces of water into the package, and let it sit for five minutes.
A few of Omeals' top sellers include pasta fagiloli, southwest chicken, and vegetable stew with beef. There are also some breakfast options in Omeals' catalog including oatmeal and hashbrown potatoes.
For vegetarians, Omeals does offer a vegetarian chili and cheese tortellini in tomato sauce, but this company doesn't exclusively cater to vegetarians. Omeals also doesn't have many options for people with special food allergies like celiac disease.
As of today, Omeals doesn't offer sides or desserts. For snacks, Omeals only has a line of three different cheese bites to choose from.
Omeals's shelf life isn't as long as other freeze-dried meals at only three years. Be sure to have a few hikes in mind for the near future if you're purchasing Omeals packets.
PROs

Heating element, utensils, and napkin included in the packaging.
No need to boil water.
Only takes five minutes to heat up.
Good selection of dishes from Southwestern and Italian cuisines.

CONs

Relatively low three-year shelf life.
No sides or desserts available.
Not many options for vegetarians or vegans.
Bottom-Line: Anyone traveling to extremely cold or rainy areas or new campers not experienced building fires in the wild will appreciate Omeals' convenient packaging.
Last update on 2022-01-22 / Affiliate links / Images from Amazon Product Advertising API