We've all been there: You arrive at your campsite, get ready to pitch your hammock, only to spend the next 30 minutes struggling to set up your home for the night.
What if we told you there was an easier way to hang your hammock?
Sounds too good to be true, right? Enter: adjustable hammock straps.
With the right straps, you can pitch your sleeping area in a matter of seconds. These simple suspension systems make campsite set-up a breeze, so there's no reason not to have one in your pack.
Since there are dozens of different models on the market, finding the best one for you isn't always as simple as it seems. To help you out, we've created this ultimate guide to the premier models on the market today.
Editor's Choice
Kammok Python 10
If you need a quality strap set for your hammocking adventures, you'd be hard-pressed to find something better than the Kammok Python 10.
Lightweight, yet durable, the Python 10 is an all-around performer that's perfect for the backcountry. It's also made with Nanoweave technology to cut bulk without affecting its 500 lb weight capacity.
Although set-up with the Python 10 can be a bit tricky when working with two trees that are close apart, this issue isn't relevant in most situations. As a result, this kit from Kammok is a fan-favorite among hammockers everywhere.
Bottom line: Combining weight savings and functionality in one package, the Kammok Python 10 is one of the top hammock straps on the market.
The Top Hammock Straps: What To Look For
A hammocking strap might seem like a simple piece of gear. But, there's a whole lot that goes into creating the perfect strap for pitching your home for the night. Here are some of the most important things to keep in mind when shopping around. 
Strap Type
First and foremost, it's worth noting that there are many different types of hammock straps on the market. Each strap type offers its own advantages and disadvantages, so it's critical that you know what you're getting before you buy.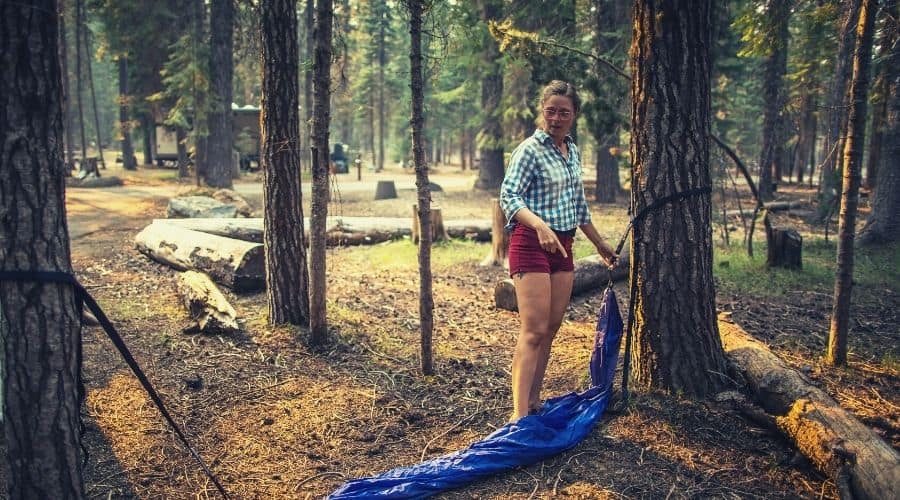 Some of the main strap types that you might encounter include:
Daisy Chains: Daisy chains are long pieces of webbing with multiple loops bar-tacked along their length. They are super strong and highly versatile pieces of gear that provide you with multiple anchor points for quickly setting up camp. Nevertheless, they tend to be heavier and bulkier than the other options.
Whoopie Slings: Whoopie slings, like the Eagles Nest Outfitters Helios, are a type of adjustable rope system. With these slings, you get a single attachment point that can slide back and forth depending on the needs of your campsite. While these take slightly longer to set up than daisy chains, whoopie slings are often exceptionally lightweight.
Rope & Webbing: It's worth mentioning that you can use rope and webbing while hammocking. However, doing so requires a working knowledge of a whole host of different hammock knots. Also, rope and webbing can do a lot of damage to trees if not padded underneath. So, it's generally best to use a purpose-built strap whenever possible.
Maximum Weight Capacity
Once you figure out what kind of strap is best for you, your next step is to make sure that your chosen model is strong enough for your needs. For most solo campers, a set with a 400 lbs maximum weight limit is more than sufficient.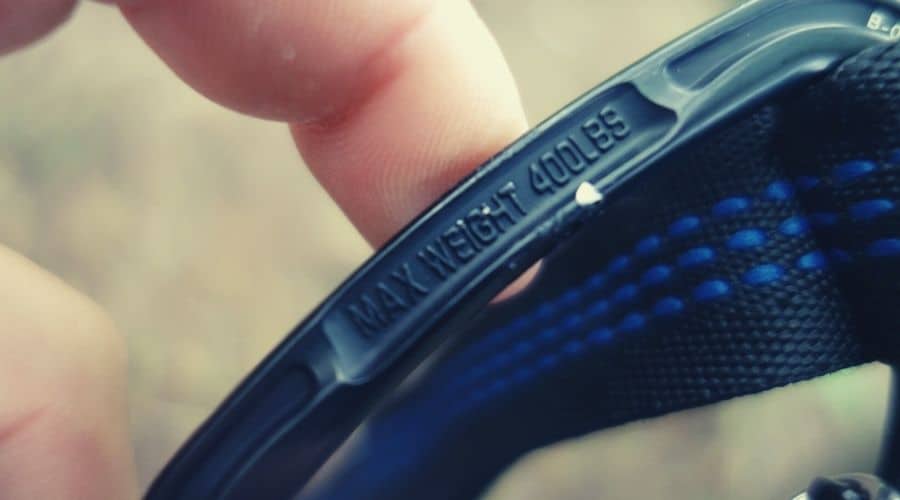 But, anyone hammocking with a partner (or pooch) needs to make sure that their suspension kit can support their weight. In these situations, you may want to look for a model with a weight capacity of over 500lbs, just to play it safe.
Length & Ease of Set-Up
For the most part, hammock straps are easy to use by design. However, the ease of use of a given strap set is partially determined by the orientation of the trees at your campsite.
If you're at a campsite where the trees are very far apart, you'll need a suspension kit with a long length to be able to pitch your camp at night. Of course, this longer length means more weight and bulk in your pack. But, it's ideal if you suspect that pitching your sleeping area might be a challenge in your chosen camping environment.
RELATED: If you need more info then check out our guide on how to use hammock straps
As a result, models with a longer length (think 10 feet or more) are generally preferred. Nevertheless, with a bit of creativity, you can make do with a smaller strap. The downside of opting for a shorter model is that you'll likely spend more time pitching camp each night.
Weight & Packed Size
Hammocking is often a lightweight pursuit, especially if you're heading into the backcountry. Therefore, the weight and packed size of your suspension kit are of the utmost importance.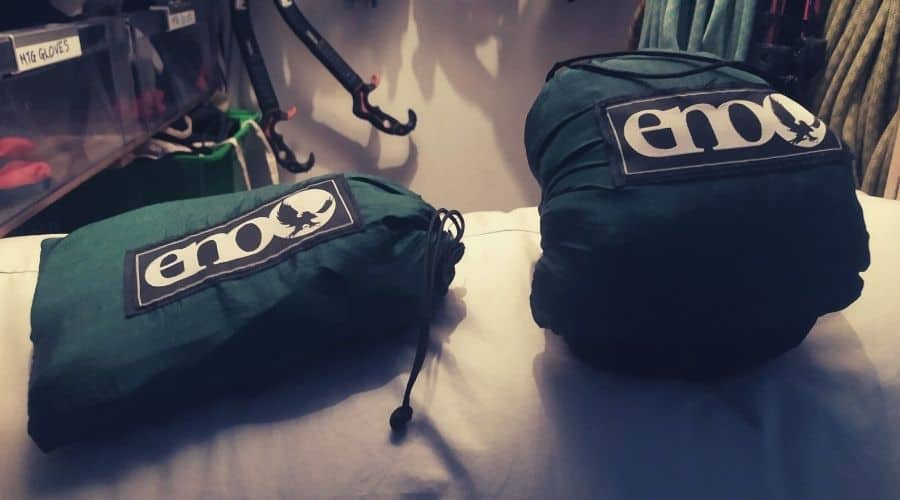 You'll generally find strap sets that weigh between 8 oz and 20 oz, which makes them versatile enough for use in nearly all environments. That said, some whoopie sling models can be as light as 4oz while some burlier daisy chains can weigh as much as 3 or 4 lbs.
While there's no one-size-fits-all model out there, it's essential that you find a kit with a weight and packed size that works for your needs.
Eco-Friendliness
Last but not least, the environmental impact of your hammock straps is always a concern.
While most purpose-built models are designed with tree-friendliness in mind, some strap sets perform better in this regard than others. In particular, you'll want to keep an eye out for suspension kits with webbing that's at least 2 inches thick. That's because thicker webbing is less likely to rip bark off a tree while under pressure.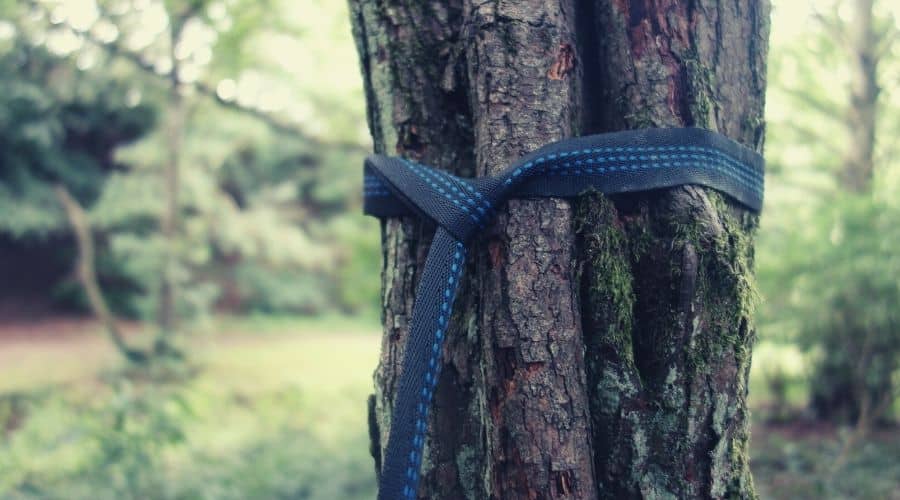 Although you can certainly find straps that are thinner, you'll want to use thinner models with padding to protect the trees. Placing padding around a tree before you use a thinner strap will help prevent unintentional damage to the tree's bark over time.
It's also worth pointing out that some camping destinations, especially in national parks, do have strap thickness requirements. In these situations, you may be required to use a strap set that's at least 2 inches thick. Alternatively, you might be required to use padding with thinner straps to prevent tree damage.
The Top 7 Best Hammock Tree Straps
Kammok Python 10
Editor's Choice
Taking home the gold as the number one choice on our list, the Kammok Python 10 is a superb all-around option for hammockers everywhere.
These 10-feet-long straps are made from high-quality polyester webbing, which is durable enough for regular use. They weigh in at just 8.2oz, yet can support an impressive 500lbs. As a result, they're a solid choice for single or double hammocks.
At the same time, the Python 10 uses Kammock's patented Nanoweave technology. This technology helps to reduce the overall bulk of the straps so they're easier to pack on your trips.
Furthermore, this suspension system is engineered with a variable width design. By doing so, Kammok helped ensure that these straps better distribute load on trees to prevent damage to the environment.
Although it's pretty difficult to find faults with the Python 10, it's worth noting that the attachment points on this pair of straps are pretty far apart. So, they're not ideal for use with shorter hammocks.
PROs

500lb weight maximum
Variable width to prevent tree damage
Lightweight and easy to carry
Long strap length
Nanoweave technology for reduced bulk

CONs

Not great for use with shorter hammocks
Bottom-Line: Lightweight, durable, and easy to use, the Kammok Python 10 is your go-to for any hammocking adventure.
ENO Helios Hammock Suspension System
Best for Ultralight Hammocking
If ultralight hammocking trips are your jam, you'll struggle to find something better than the ENO Helios Suspension System.
Tipping the scales at just 4.3oz, the 1-inch wide Helios is one of the best options for thru-hiking and lightweight trekking. Since they're made from an extra-burly Dyneema/polyester blend, they can support up to 300lbs without adding excess weight to your pack.
Meanwhile, the Helios straps come with a quick-adjustment system, so they're easy to set up in nearly any location. For added convenience, this model also comes with its own silnylon carry case for easier transport to and from your campsite.
That being said, one potential issue with the Helios is its shorter length. At just 96" long, they're not long enough for use in situations where you have two trees that are very far apart. Their 1-inch thickness also means that you might want to couple them with padding to protect the trees at your campsite.
PROs

Just 4.3oz in weight
Highly compact and portable
Includes a silnylon stuff sack
Multiple adjustment points for quick pitching
Good weight capacity for a solo camper

CONs

Not long enough for use in certain situations
Should be used with padding for tree protection
Bottom-Line: When weight savings are your top priority, the ENO Helios Suspension System is an amazing choice.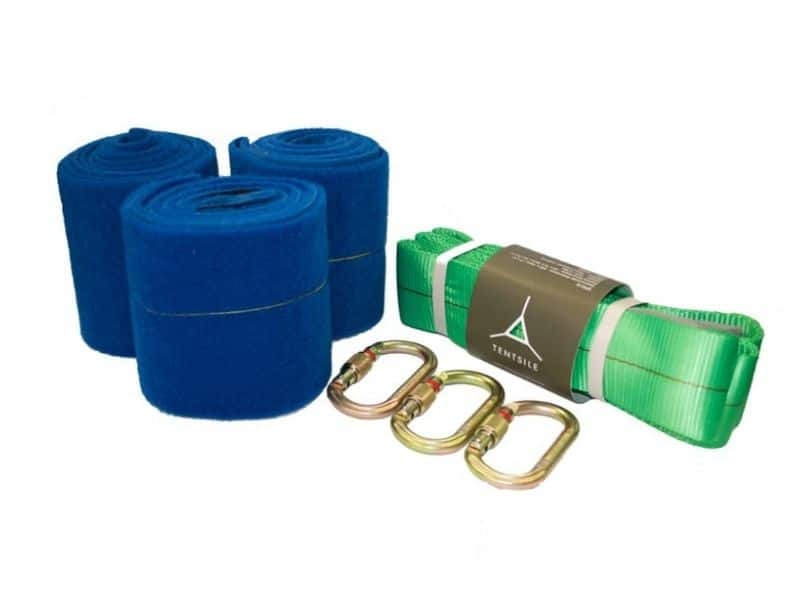 TENTSILE No Trace Tree Kit
Best for Eco-Friendliness
Perfect for the eco-conscious campers among us, the TENTSILE No Trace Tree Kit is a fantastic suspension system that's designed to protect trees while you snooze.
This kit comes complete with webbing, tree padding, and carabiners, so it provides all the gear you need for hammocking. In particular, this kit offers a set of soft, fuzzy fabric wraps with a large surface area to help prevent tree damage while you're outside.
Meanwhile, the tree straps have large loops at each end to serve as quick anchor points. The No Trace Tree Kit also comes with 3 steel carabiners with a 10,000lb breaking strength for added peace of mind.
Nevertheless, one of the main drawbacks to the No Trace Tree Kit is its weight and bulk. At 4lbs 3oz, it's not exactly the most lightweight hammock suspension system available. But, for car camping or backyard use, this kit is a sure bet.
PROs

Includes tree-friendly padding
Steel carabiners are incredibly strong
Simple to use anchor points for easy setup
Comes with everything you need to get started

CONs

Very heavy and bulky
Quite pricey
Bottom-Line: A fan-favorite among eco-conscious hammockers, the TENTSILE No Trace Tree Kit is an all-in-one solution that's ideal for car camping.
Eagles Nest Outfitters Atlas Hammock Suspension System
Best For Backpacking
Offering a great mix of packability and durability, the Eagles Nest Outfitters Atlas Suspension System is an amazing choice for backpackers.
Weighing in at a total of 9oz, this set of tree straps is the perfect size and weight for backcountry adventures. They're made from heavy-duty triple-stitched polyfilament webbing for added durability and can support a total capacity of 400 lbs.
With the ENO Atlas hammock straps, you get 30 different adjustment points. As a result, it's easy to pitch your camping hammock in just a few minutes with the Atlas straps.
While the Atlas straps are a solid choice for backpacking, it's worth mentioning that they're a bit short at just 108" in length. This shorter length, as well as their 400 pounds weight limit means that they're not ideal for double hammocks. But, for solo backpacking adventures, they're a great option.
PROs

Relatively lightweight and packable
Heavy-duty webbing construction
Total of 30 daisy chain attachment points
Quick setup design

CONs

Not strong for double hammocks
Strap length is a bit short for some locales
Bottom-Line: If simplicity and ease of use are your priority, it's hard to go wrong with the ENO Atlas straps.
Foxelli XL Hammock Straps
Best for Double Hammocks
Boasting an impressive 2000lb weight capacity, the Foxelli XL Hammock Straps are some of the best hammock straps for double hammocks.
This heavy-duty pair of straps is just over 10 feet long, which makes them one of the longer straps on the market. They're made from rugged polyester webbing and feature multiple adjustment points for a simplified pitching process.
In fact, this daisy chain-style model has a total of 42 loops for maximum versatility as you hang your hammock. Furthermore, this kit from Foxelli comes with its own lightweight carry case for easier packing at the end of your trip.
With that in mind, we do need to mention that this set of hammock straps weighs 19.2oz. This makes them one of the heavier hammock suspension systems available. Of course, if you divide this between 2 campers, it's not too bad. However, the weight and bulk of this kit from Foxelli make it best for roadside hammock camping.
PROs

High enough weight capacity for use with double hammocks
Multiple anchor points for clipping around the tree at the campground
Comes with a nifty carrying case
Crafted from extra burly materials

CONs
Bottom-Line: For users who plan on pitching a double hammock, this extra-burly set from Foxelli deserves a place toward the top of your shortlist.
Wise Owl Outfitters Talon XL
Best Budget
Crafted specifically for campers, the Wise Owl Outfitters Talon XL is a budget-friendly option that's suitable for any hammocking adventure.
Each Wise Owl hammock strap is built out of thick polyfilament webbing that's triple stitched for added durability. They also boast a daisy chain construction with multiple attachment points that's easy to use at any campsite.
With a maximum weight limit of 500lbs, this set is ideal for either single or double hammocks. It even comes with a set of carabiners and a sturdy carry bag so your gear is easy to pack on the trail.
Like many of the other affordable options out there, the Talon XL is a bit heavier and bulkier than some folks might want at 15oz. Furthermore, since they're just 1" wide, they're not the most tree-friendly option on the market. So, it's best to couple the Talon XL with some padding to protect the trees while you snooze.
PROs

Strong enough for use with a single or double camping hammock
Each strap has multiple attachment points for convenience
Includes a sturdy carry bag
Comes with carabiners

CONs

Needs to be used with padding around the tree to prevent damage
Somewhat heavy and bulky
Bottom-Line: Budget-friendly to the core, the Wise Owl Outfitters Talon XL are among the best straps out there if affordability is a concern.
Grand Trunk Hammock Suspension System
Best for Fast Pitching
If setting up camp at night isn't exactly how you like to spend your time, the Grand Trunk Suspension System could be what you need.
A daisy-chain-style system with a total of 36 different attachment points, this kit allows you to pitch camp in a matter of seconds. Furthermore, each strap is crafted out of high tenacity polyfilament webbing. As a result, it can support up to 400lbs of weight on any adventure.
This strap set also comes with a handy carry case for simplified transport. Plus, Grand Trunk offers a lifetime guarantee on all their gear, so you can have the peace of mind you need while out getting your hang on.
However, although this set weighs just 12oz, each strap is just 1 inch thick. Therefore, we highly recommend using it with tree padding so as not to damage any trees while you camp.
PROs

Comes with a lifetime warranty
Has a 400 lbs weight maximum
Each strap has 18 anchoring points (36 total)
Includes a carry case
Designed to be pitched in just a few seconds

CONs

Too thin to be used without padding
Bottom-Line: Simple, convenient, and oh-so-easy to use, this strap set from Grand Trunk is a great choice for all types of hammocking adventures.