Let's be real: Cold temperatures and hammocks don't go hand in hand.
When the temperatures drop, trying to stay warm while hammocking can be a challenge, to say the least. The good news is that there's a way to avoid a cold bottom while snoozing between two trees: a hammock sleeping pad.
With the perfect mattress for your hammocking adventures, you can catch some Zzzs without worrying about getting cold at night. But finding the right hammock pad can be a challenge, so we've put together this guide to help you out.
In this article, we'll introduce you to the 7 best on the market and offer tips for selecting the right one for you. That way, you can enjoy snug, sound, and comfortable sleep throughout the night on all your hammocking adventures in the great outdoors.
Editor's Choice
Klymit Hammock V Sleeping Pad
A hammocking-specific sleeping pad that puts performance at the forefront of its design, the Klymit Hammock V is a must-have for campers that won't settle for anything but the best.
Featuring durable materials and a thoughtful design, this hammock pad is a solid bet for the most remote of hammocking adventures. At the same time, it prioritizes your personal comfort with its great insulating qualities and its non-slip wing design.
While this air mattress might be a touch pricey, it's well worth the sticker price when it comes to performance outside. Overall, it's one of the best sleeping pads out there for hammocking expeditions.
Bottom Line: Combine durability, comfort, and versatility into one sleeping pad and you get the award-winning Klymit Hammock V.
RELATED: Best Hammock for Camping
Best Sleeping Pad for Hammock Campers: What To Look For
Choosing the right sleeping pad for hammocking isn't always as easy as it might seem. With so many awesome models to choose from, it's essential that you know what you're looking for as you shop.
To get you started, here are some of the most important factors to consider when shopping for your next hammocking sleeping pad.
Type of Sleeping Pad
These days, there are many different types of sleeping pads on the market, each with its own advantages and disadvantages.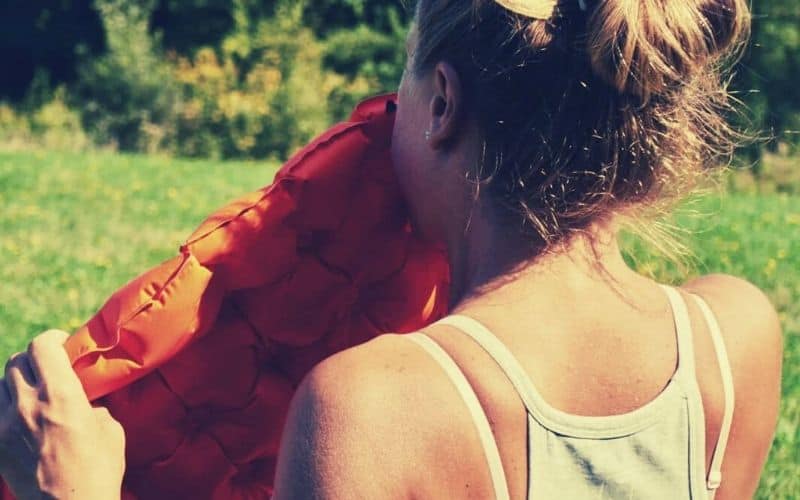 Here's what you need to know:
Air Mattress: Decidedly comfortable, air mattresses are a solid choice if weight savings is your priority. These sleeping pads are pricey and need to be inflated each night, but they provide unparalleled portability, insulation, and cushioning on the trail.
Self-Inflating: A more affordable alternative to air mattresses, self-inflating models mix open-cell foam with air to provide ample insulation at night. As the name suggests, self-inflating mats will inflate on their own, saving you time at night in camp. Nevertheless, self-inflating models tend to be heavier and bulkier than their air-filled cousins.
Closed-Cell Foam: The most budget-friendly option available, closed-cell foam pads are best when keeping costs down is your main concern. They tend to be fairly lightweight, though these weight savings come at the expense of packability.
Furthermore, closed-cell foam mats tend not to be as cozy or well-insulated, meaning they are ideally suited for summer trips.
RELATED: The best underquilt for hammocks
R-value
A sleeping pad's R-value is a numerical description of its insulating abilities. That might all sound very complicated, but the idea is that the higher the number, the warmer the pad.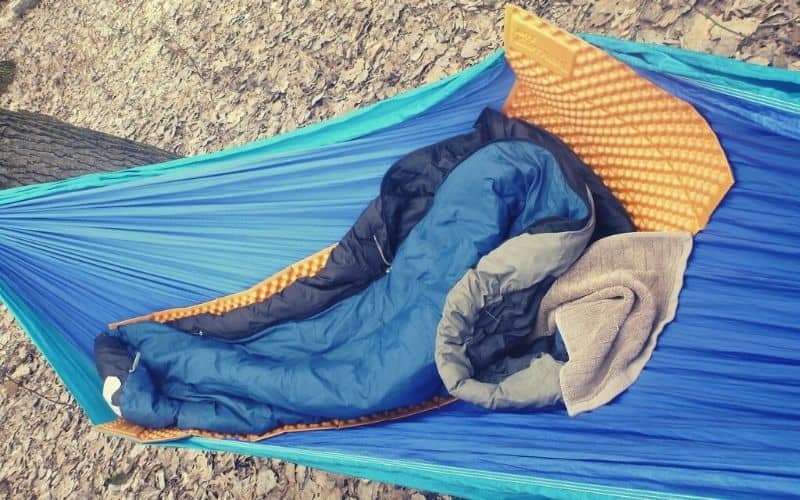 Any pad worth considering will have an advertised R-value, which can range from R-value 1 to about R-value 10. As a general rule, pads with a value of up to 2 are suitable only for summer camping.
Meanwhile, a pad with up to an R-value 4 is great for 3-season use. Finally, pads with higher values are excellent for winter conditions and anything above R-value 6 is perfect for extreme cold.
That being said, it's important to remember that these values are guidelines, rather than hard-and-fast rules, and you must pair it with the correct hammock sleeping bag or quilt. While an R-value 4 might be suitable for cold conditions for some folks, others might not be warm enough. So, use these numbers as a guide, but they shouldn't be the sole factor in your decision-making process.
Packed Size & Weight
Unless you only plan to camp in roadside locales, the packed size and weight of your hammock mat are of the utmost importance. Since most hammockers like to keep the weight of their pack to a minimum, you'll likely want to look for a mattress that's no more than about 2 lbs. 8 oz.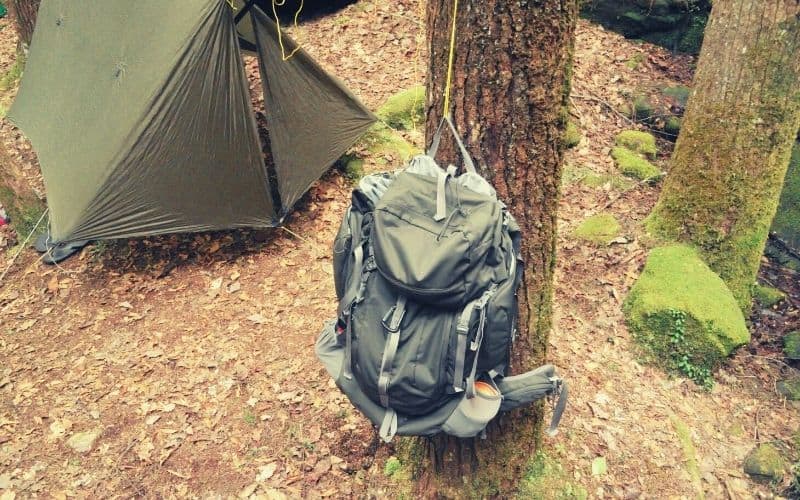 As far as packed size goes, you can normally expect air mattresses to be the most packable option. While self-inflating mats are a close second, fully inflatable options are your go-to if packing light is your M.O.
Hammock Sleeping Pad Wings
The last feature that hammockers should consider when searching for a sleeping mat is a set of foam or inflating wings. These wings, which extend over the side of your mat, are designed to stop the mat from sliding around at night in your hammock.
Although there's nothing wrong with getting a mattress that doesn't have wings (and we have quite a few of these on our list), models with wings can really enhance your sleep experience. Of course, these wings often come with extra weight and bulk in your pack, so this is something worth considering as you shop.
RELATED: The Best Camping Hammock with Mosquito Net
The Top 7 Hammock Sleeping Pads
Klymit Hammock V
Editor's Choice
Crafted specifically with hammocking in mind, the Klymit Hammock V Sleeping Pad is our go-to choice for any outdoor adventure.
This inflatable sleeping pad is made with burly 20D polyester and Klymalite synthetic insulation to help you retain body heat at night. It boasts an R-value of 4, which makes it the perfect selection for 3-season camping.
This model is engineered with multiple air chambers to help you stay comfortable while you snooze. Furthermore, it's designed to fit in all hammocks and comes with wings to stop it from sliding around at night.
If that wasn't enough, this inflatable pad comes with a set of repair patches for quick fixes, just in case. It's also protected by Klymit's lifetime warranty so you can have peace of mind on all your hammock camping adventures.
While this mat isn't exactly the most affordable, nor is it particularly lightweight, it is relatively compact and easy to use. As a result, it works well on the vast majority of hammocking adventures, making it a superb addition to any gear list.
PROs

Built with Klymalite synthetic insulation
R-value of 4 is great for 3 season use
Wings wrap around your hips and shoulders for a better night's sleep
Includes repair patches
Protected under a lifetime warranty

CONs

Fairly pricey
Not particularly lightweight
Bottom-Line: For awesome all-around performance at the campground and on the trail, you'll want to make sure that you have the Klymit Hammock V in your pack.
Therm-a-Rest NeoAir XTherm MAX
Best for Winter Camping
Cold weather doesn't have to put a damper on your hammocking expeditions. In fact, with the Therm-a-Rest NeoAir XTherm MAX, you get a fully insulated hammock pad that's perfect for the coldest months of the year.
As one of the best sleeping pads for winter hammocking, the NeoAir XTherm MAX offers an amazing warmth-to-weight ratio. With this model, you get a 2.4-inch thick mat that boasts an incredible R-value of 6.9. Therefore, the NeoAir XTherm MAX is a solid choice for winter use.
If that wasn't enough, the company designed this super lightweight sleeping pad to be easy to inflate with its proprietary WingLock Valve and included pump. At the same time, it is one of the most compact models available, thanks to its impressively small packed size.
Of course, the NeoAir XTherm MAX doesn't have non-slip wings, nor is it particularly affordable, so it's not perfect for every camper. Nevertheless, if winter adventures are more your style, you'll struggle to find a model better than this.
PROs

High R-value of 6.9 is great for winter
Thick padding is very comfortable
Lightweight and highly compact
Quick inflation valve with included air pump for convenience

CONs

Very expensive
Doesn't have non-slip wings
Bottom-Line: The Therm-a-Rest NeoAir XTherm MAX is one of the highest-rated inflatable pads on the market and, thus, ideal for cold-weather backpacking trips.
Big Agnes Q-Core SLX Wide
Best for Lightweight Camping
For folks who fuss over each gram in their pack, the Big Agnes Q-Core SLX Wide is a no-brainer.
This super lightweight air mattress tips the scales at just 1 pound, yet it offers nearly 5 inches of padding to keep you comfortable and let you get a good night's sleep. Meanwhile, it boasts an R-value of 3.5 making it a nice choice for 3-season camping.
As far as features go, the Q-Core SLX Wide doesn't disappoint. In addition to being extra wide for increased comfort, it also uses burly, TPU-laminated nylon for added durability.
Furthermore, Big Agnes engineered this ultralight sleeping pad with PrimaLoft Silver insulation and heat-reflective technology to help you stay as warm as possible. As an added benefit, this hammock pad also packs down to an impressively small size on the trail, making transportation a cinch.
That said, quality air mattresses like this don't come cheap, so expect a larger price tag with the Q-Core SLX. This model also doesn't have built-in wings, but its larger width makes it cozy enough for regular and extended use in your hammock.
PROs

Exceptional weight and packed size
Extra-wide construction is very comfortable
Integrated PrimaLoft Silver and reflective technology for warmth
Durable TPU laminated nylon materials

CONs

Fairly pricey
Doesn't have built-in wings
Bottom-Line: When shedding weight in your pack is your number one priority, the Big Agnes Q-Core SLX Wide is the best sleeping pad to pack.
Klymit Static V Luxe Extra Wide
Best for Summer Camping
If you prefer to stick to warm-weather camping, then the uber-comfortable Klymit Static V Luxe Extra Wide might be what you need.
This easy-to-inflate sleeping pad is made from rugged 75D polyester for added durability on the trail. It also features Klymit's proprietary Body Mapping Technology, which helps provide extra cushioning in sensitive areas.
At the same time, the Static V Luxe pad comes with Deep Weld Patterning. This patterning system allows your sleeping bag to fully inflate as you snooze for improved warmth at night.
Since the Static V Luxe has an R-value of only 1.5, it's not ideal for shoulder-season or winter use. Nevertheless, it's one of the most compact models on the market and relatively lightweight, so it's a great choice for summertime adventures.
PROs

Deep Weld Patterning for improved warmth
Body Mapping Technology provides added cushioning
Relatively lightweight and packable
Easy inflation system for added convenience

CONs

Low R-value isn't suitable for spring, fall, or winter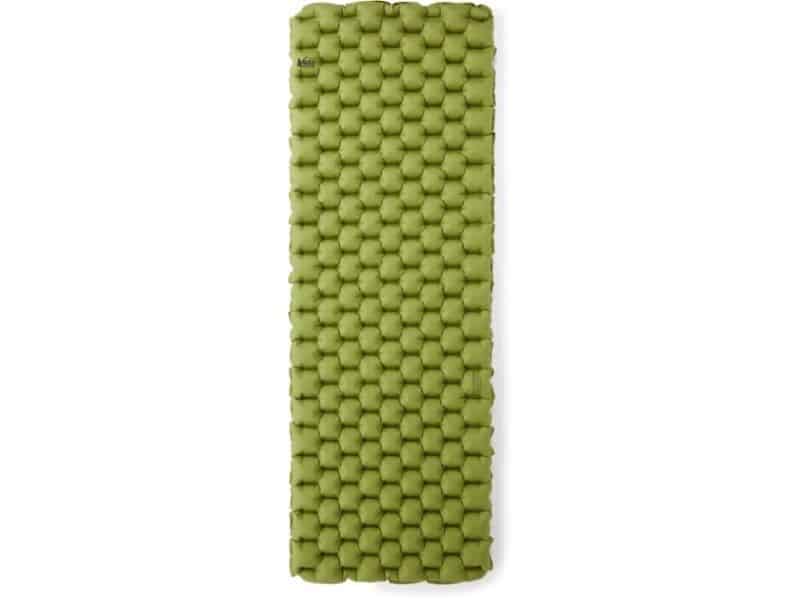 REI Co-op Flash Thermal
Best for Comfort
A fan-favorite for campers that prioritize comfort above all else, the REI Co-op Flash Thermal is a solid all-around performer during hammocking trips.
Tipping the scales at a minuscule 1lb 4oz in weight, the Flash Thermal is a solid option for most adventures. What's more, it also is surprisingly durable, thanks to its weld-through construction and thick 30D nylon shell fabric.
As far as inflation goes, the Flash Thermal has two flat valves, one for inflation and the other for deflation. That way, setting up your campsite for the night is as easy as can be. Furthermore, it boasts a fantastic R-value of 4.7, which is ideal for use in most camping locales.
If we had to choose something that didn't quite impress us about the REI Co-op Flash Thermal, it'd be that this sleeping pad is a bit bulky, despite its low weight and lack of wings. Nevertheless, it's a great choice for camping trips where comfort is your main concern.
PROs

Lightweight design
Crafted from rugged 30D ripstop nylon
Welded-through construction for added durability
R-value of 4.7 for extra warmth
Comfortable design

CONs

A bit bulky, despite being lightweight
Doesn't have wings, so it's prone to slipping around at night
Bottom-Line: A cozy sleeping pad that's well-suited to all kinds of hammocking adventures, it's hard to go wrong with the REI Co-op Flash Thermal.
Eagles Nest Outfitters AirLoft
Best for Car Camping
The ideal choice for car-camping adventures, the Eagles Nest Outfitters AirLoft is a fantastic comfort-focused hammock sleeping pad.
Built out of open-cell foam, this self-inflating model provides 1 inch of insulation to keep you warm at night. Moreover, since you simply need to remove the AirLoft from its included stuff sack to set up camp for the night, it's an easy to inflate option for any hammocking trip.
What's more, the AirLoft also includes a set of non-slip foam pad wings. These side rails provide added comfort while you snooze by stopping your mattress from sliding around under you at night.
And the downsides? Well, while the Eagles Nest Outfitters AirLoft is a relatively affordable choice, it's not super lightweight. At 2lb 2oz, it's a bit heavy compared to other inflatable sleeping pads in its price and performance range. Nevertheless, for car camping trips, it's an economic option that's exceptionally comfortable.
PROs

Self-inflating design for ease of use
Built-in foam pads to keep you warm and comfortable
Relatively affordable
1 inch of insulation to help retain body heat

CONs

Heavy and bulky for an air pad
Bottom-Line: When car camping is more your style, you'll be hard-pressed to a better model than the Eagles Nest Outfitters AirLoft.
Hennessy Hammock Radiant Double Bubble Pad
Best Budget
One of the best options for the budget-conscious hammocks among us, the Hennessy Hammock Radiant Double Bubble Pad is a lightweight and functional mattress that performs just as well as some of its pricier competitors in 3-season conditions.
The only closed-cell foam model on our list, the Double Bubble is an easy-to-use choice on any adventure. It's covered in a layer of reflective material that can retain up to 97% of your body's natural heat.
As a result, the Double Bubble works with your sleeping bag while hammock camping to help you stay as warm as possible. Additionally, the pad is tapered at the bottom to cut weight, making it a solid choice for ultralight adventures in cold weather.
Like all foam pads, this model is a bit bulkier than its inflatable counterparts, even though it doesn't have built-in wings. However, the Double Bubble is still one of the top budget-friendly hammock sleeping pads on the market today.
PROs

Reflective material to keep you warm
Highly affordable
Lightweight for backcountry adventures
Doesn't require inflation each night

CONs

Doesn't have wings
Somewhat bulky
Bottom-Line: The Hennessy Hammock Radiant Double Bubble Pad is an excellent ultralight sleeping pad when affordability is a top concern.