Think that Malibu is all sun, beach, and surf? Think again!
Thanks to the Santa Monica Mountains nearby, Malibu offers a surprising variety of hiking trails to enjoy. What could be better than working up a sweat and then hitting the beach? Along these beautiful hiking trails you'll enjoy everything from gorgeous ocean views to California's unique coastal wildlife.
Malibu enjoys a moderate climate making these hiking trails accessible all year long. Remember that this is still California we're talking about so make sure to hike early to beat the heat and to bring lots of water.
If you're ready to discover another exciting side of Southern California, then check out our guide to the 13 best hiking trails in Malibu. We've featured everything from family-friendly strolls to quad-busting, all-day adventures.
13 Too-Good-To-Miss Malibu Hikes
1. Mugu Peak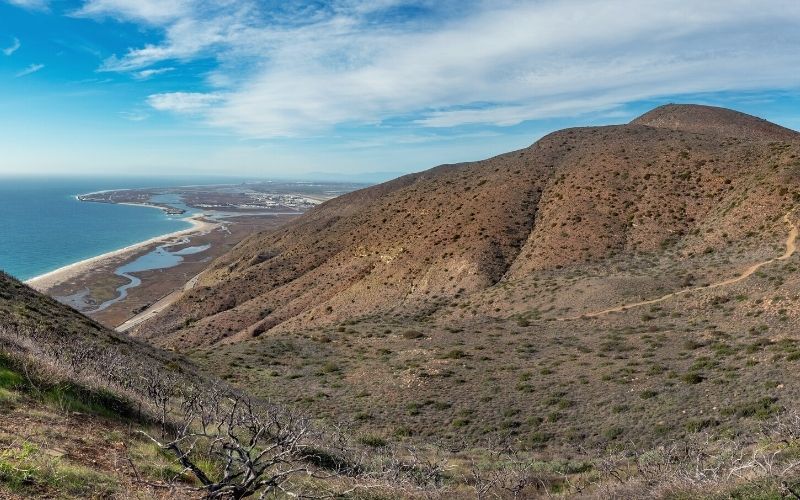 Type: Loop
Distance: 2.7 miles (1,246ft ascent)
Rating: Strenuous
If you're interested in one of those quad-busting workouts we were just talking about, then the Mugu Peak Trail is for you. Don't underestimate this hike due to its short length. You'll be reaching the summit of Point Mugu in less than a mile but putting in almost 1,250 feet of ascent on the way!
Located in Point Mugu State Park, your journey to the top starts at the parking lot where you'll need to prepare yourself for a rapid and dramatic ascent. The path won't be easy either – the trail features loose terrain and gravel so proper hiking boots are a must (walking poles wouldn't hurt either).
During the short climb, you'll reach a junction. Turn left to continue the challenging ascent to the summit while enjoying panoramic ocean views. If you want an easier but slightly longer route, head right.
Whichever path you choose, at the summit you'll enjoy breathtaking, panoramic views of the Pacific Ocean and Malibu coastline.
2. Point Dume Cove Trail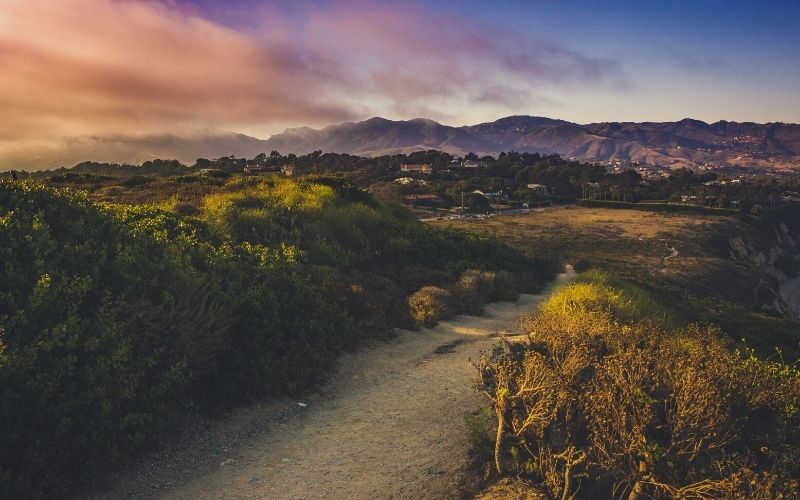 Type: Out-and-back
Distance: 1.4 miles (347ft ascent)
Rating: Easy
This fantastic ocean-view trail is one of Malibu's most popular hikes. You'll be hiking along rugged coastline all while enjoying California's unique coastal landscapes below. The parking lot is notoriously small and crowded, so start early to beat the crowds.
As you hike along the coast, the trails are well-marked and easy to follow. The bluffs themselves are fragile so stick to the trails to help protect this important ecosystem. Keep an eye out on the bluffs below and you might catch a sea lion sunbathing!
The path eventually becomes a wooden boardwalk that will guide you towards a hidden overlook. Here you can enjoy spectacular views of the Santa Monica Bay and the Santa Monica Mountains. Don't miss the memorial plaque that explains a bit of the history of the cove.
3. Tuna Canyon Trail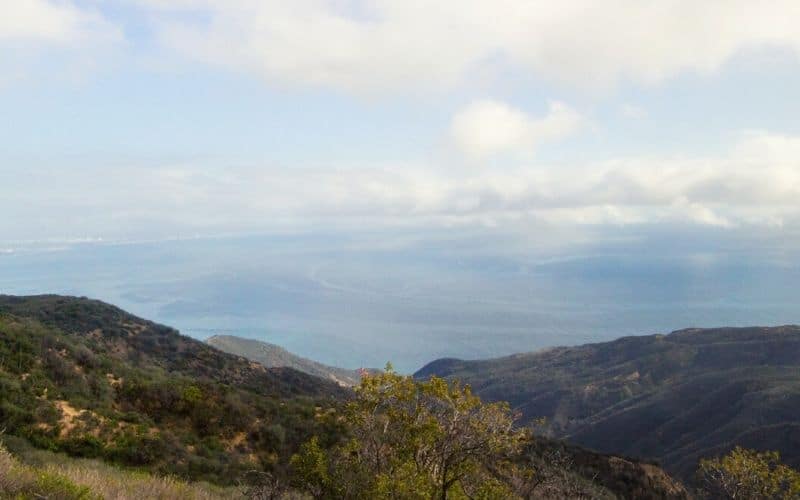 Type: Out-and-back
Distance: 3.8 miles (1,200ft ascent)
Rating: Moderate
Tuna Canyon Park is the hidden gem on our list. Leave the hustle of downtown Los Angeles behind as you explore a pair of canyons located in the Santa Monica Mountains.
The route starts on the south side of Tuna Canyon Road and is very easy to miss. As you head down the Big Rock Motorway, keep in mind that there is no parking lot. Your best bet is to look out for the Santa Monica Mountains Conservancy Sign marking the beginning of Tuna Canyon Park.
Like most of our Malibu hiking trails, you'll have a choice between the easy or the hard way. At the first junction, turn left for a gentle, out-and-back trail festooned with local wildflowers. If a challenge doesn't scare you, head right to embark on a rapid ascent towards the summit.
At the top, you'll enjoy gorgeous views of Santa Monica Bay. You'll also encounter an interesting stone labyrinth where people leave special mementos for their loved ones that have passed.
4. Ocean Overlook Loop Trail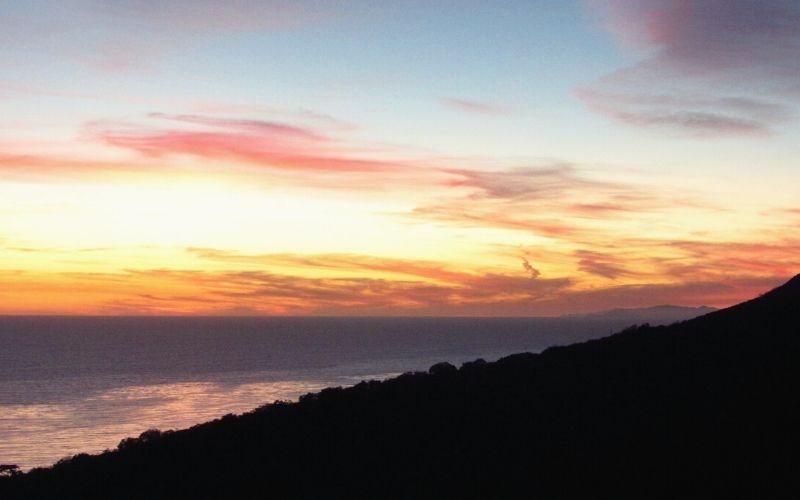 Type: Loop
Distance: 2.6 miles (462ft ascent)
Rating: Easy
Ocean Overlook certainly lives up to its name. Located in Charmlee Wilderness Park, this hike offers some of the best, unspoiled views of the Pacific Ocean. The trail is well-kept and the terrain flat, making this a popular hike for people of all skill levels. Dogs are welcome too!
Make sure you grab a map at the trailhead before setting off. There are 4 trails total in the park and the beautiful scenery might just make you want to extend your stay.
You'll be completing a loop on the outside of the park along the coastline. You'll reach an impressive ocean overlook about halfway. Keep in mind that the majority of this path is out in the open, so consider starting early on hot days.
Just before summer, Charmlee Wilderness Park becomes blanketed in beautiful wildflowers, so do this hike during the spring if you get the chance!
5. Escondido Falls via Escondido Canyon Trail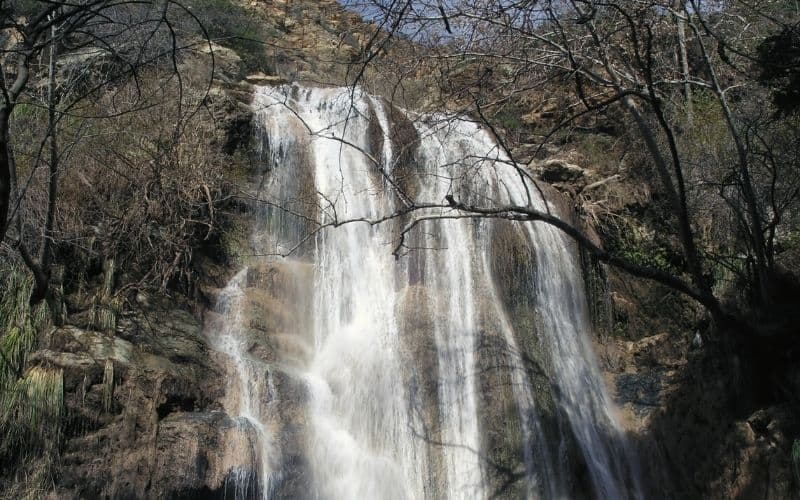 Type: Out-and-back
Distance: 3.7 miles (626ft ascent)
Rating: Easy
This out-and-back hike is one of the most popular trails in Malibu. During the roughly 3-hour trip you'll get to experience not one, but two, waterfalls. One is even the biggest in Southern California!
After a quick stroll through a lovely, shaded forest, you'll reach a small creek and the first of the two waterfalls. Drought has devastated the area, so during the dry season things might look a little underwhelming. The going gets more challenging up ahead, so consider stopping now to keep this an easy hike.
The next path leads towards the Upper Escondido Falls. It's a rocky trail and a steep incline, so make sure you're wearing proper hiking boots/shoes. At the top, you'll reach the highlight of the trek: a majestic, two-tiered waterfall that pours over the limestone rocks below. Relax and enjoy the view before heading back the way you came.
6. Paseo Miramar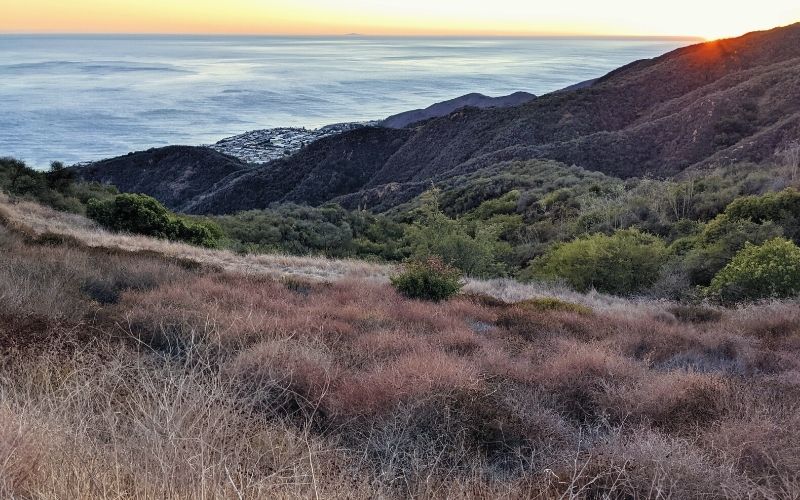 Type: Out-and-back
Distance: 3.3 miles (940ft ascent)
Rating: Moderate
Sun, ocean views, and the majestic Santa Monica Mountains… the Paseo Miramar hiking trail is the perfect place for exploring all the best scenery that California offers. This hike can be easily reached from the Pacific Coast Highway and Sunset Blvd.
Despite following along a wide, well-maintained fire road, this hike is a serious challenge with almost 950ft ascent. Conquer it, though, and you'll enjoy some of the most stunning seaside views from the Parker Mesa Overlook.
For the adventurous hiker, there are many options to extend your trek. Above the Overlook, you'll find an entire network of trails perfect for exploring Topanga Canyon.
7. Zuma Canyon Loop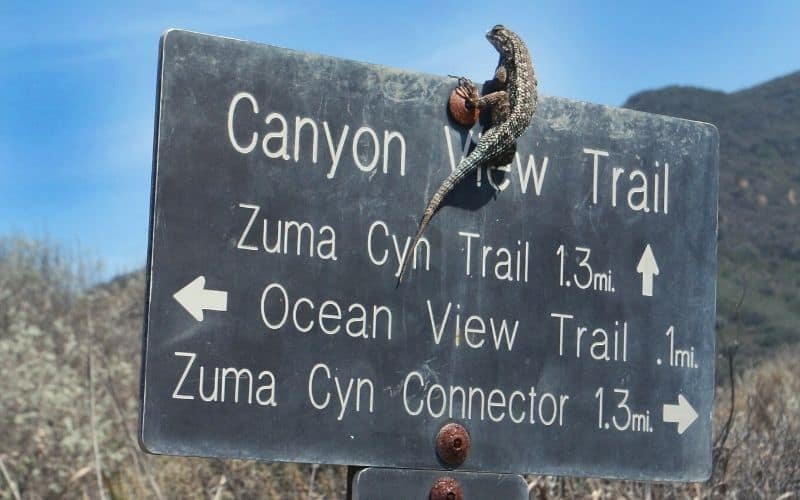 Type: Loop
Distance: 10.7ft (750ft ascent)
Rating: Moderate
The Zuma Canyon Loop is a moderately difficult hike that features fantastic views of both the California coast and Zuma Canyon. You'll be climbing up one side of Zuma Canyon and back down again through California's typical brushy open space.
While you can complete the loop in either direction, we suggest going counterclockwise. That way, you can at least focus on the lovely mountains unfolding in front of you as you struggle with the ascent!
If the almost 750ft of ascent weren't enough of a challenge, this hiking trail also doubles as a popular horseback riding route. Horses tend to break up the earth and leave behind loose, sandy terrain, adding an extra layer of difficulty to an already tricky hike. The take-home: wear good hiking shoes and watch your footing!
There are lots of opportunities to extend your hike and explore more of Zuma Canyon too. Check out the Ocean View, Canyon View, and/or Zuma Ridge Trail if you have enough gas in the tank. Signage at each junction will guide your way.
8. Temescal Canyon Trail, Topanga State Park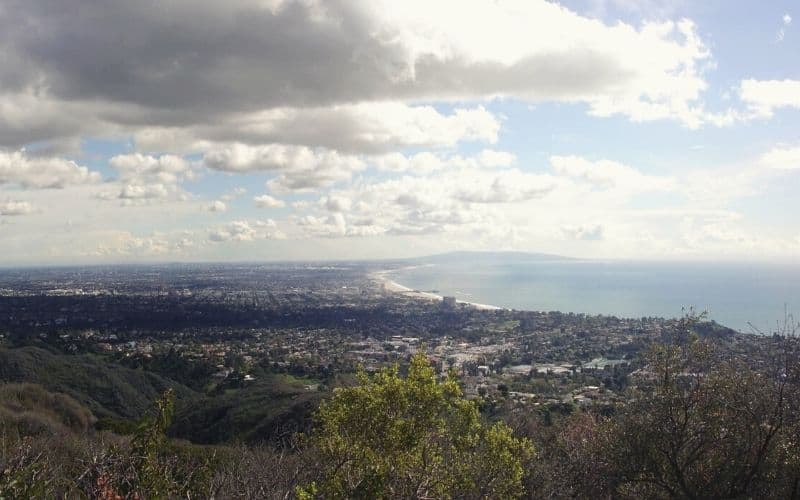 Type: Loop
Distance: 3.1 miles (920 ft ascent)
Rating: Moderate
If you can't pick between canyon or seaside views, enjoy them both on the scenic Temescal Canyon hike. Located in the serene Temescal Canyon Park, the trailhead is easy to find from both the Pacific Coast Highway and Sunset Blvd.
Since this route is well-marked and short (roughly 1.5 – 2 hours) it's the perfect trek for beginners looking to experience one of the more moderately challenging Malibu hikes.
During your hike, you'll be walking through a forested canyon filled with typical California vegetation such as oaks, sycamores, and native wildflowers. Watch out for rattlesnakes that love to sunbathe on this trail and make sure you're well informed on rattlesnake safety.
On the way back you'll cross a ridge that offers an amazing view of the Pacific Ocean below. On a clear day, you may even see Catalina Island!
9. Backbone Trail to Sandstone Peak Trail and Mishe Mokwa Trail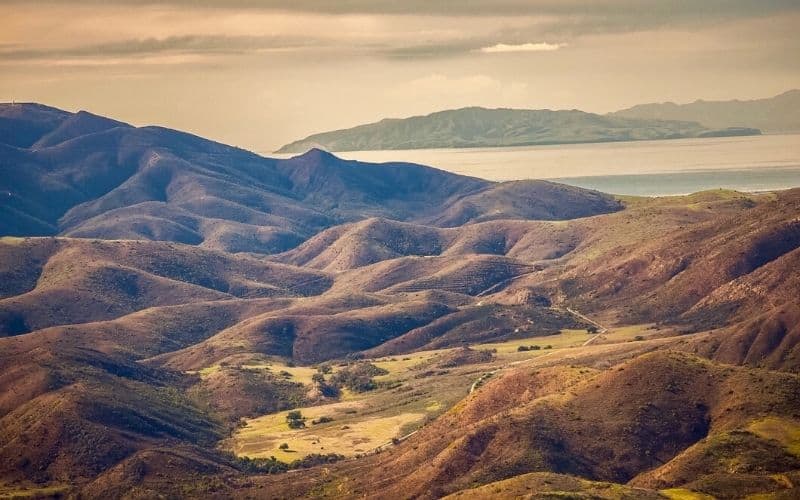 Type: Loop
Distance: 5.7 miles (1312ft ascent)
Rating: Moderate
The Backbone Trail is an epic, 67-mile trek across the beautiful Santa Monica Mountains. This enthralling and wild hike is only a small portion of the Backbone popular with both hikers and trail runners.
This part of the Backbone Trail leads you to the top of Sandstone Peak, the highest summit in the Santa Monica Mountains. There are 2 ways of getting there. At the first junction, head to the left on the Mishe Mokwa Trail for the longer, more scenic route. If you prefer a grueling, quick ascent to the summit, turn right.
We suggest taking the Mishe Mokwa Trail. Not only will you enjoy a stunning view of the canyon below but you can also check out the 'Balancing Rock'. This is one of the most interesting rock formations in Malibu and features a gigantic boulder teetering on a cliff edge.
10. Corral Canyon Loop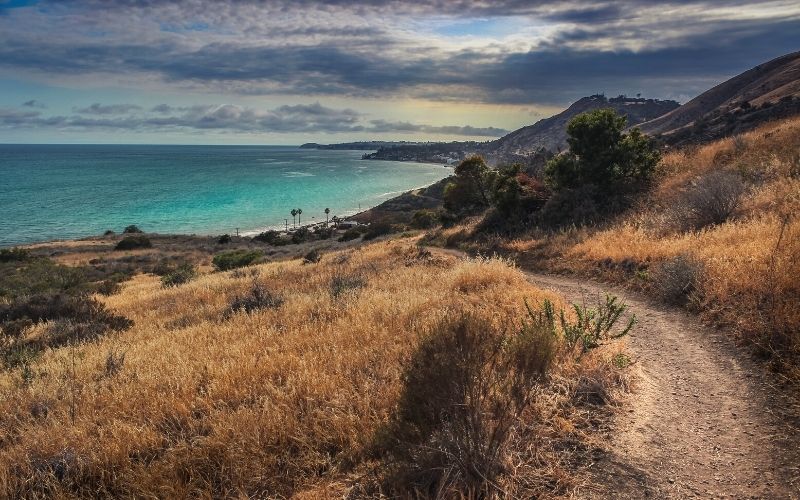 Type: Loop
Distance: 2.5 miles (531ft ascent)
Rating: Easy
Imagine going for a quick hike and then spending the rest of the day cooling off at the beach. That's what the Corral Canyon loop offers with this family and dog-friendly trail that only takes about an hour to complete. This scenic trail starts directly across from Corral Beach making this the perfect hike to combine with a beach day.
While the loop can be undertaken either way, we suggest going to the left so that you can enjoy the ocean views as you ascend the canyon. The trail is narrow and at times overgrown with vegetation, so wear pants to avoid scrapes and scratches.
11. Los Liones Trail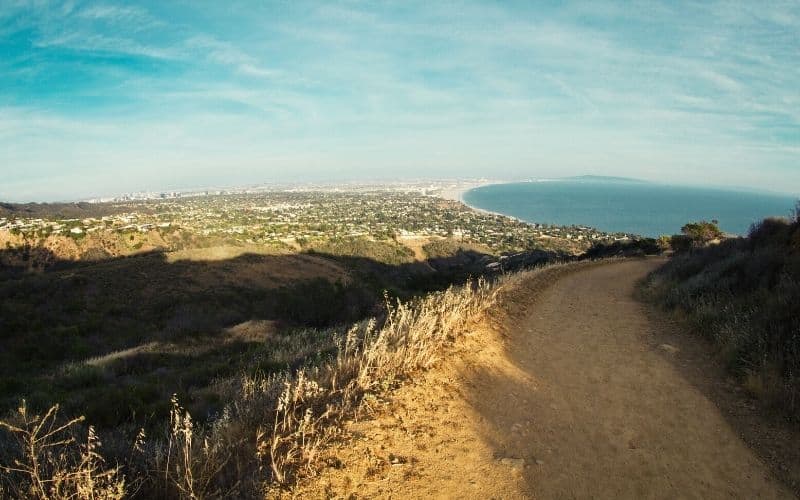 Type: Out-and-back
Distance: 1.3 miles (550ft ascent)
Rating: Moderate
Located near the Pacific Palisades, the Los Liones Trail is one of the best hikes in Malibu for enjoying ocean panoramas. Don't let the short length of this trail fool you, a rapid 550ft ascent makes this little hike quite the challenge!
At the end of this out-and-back trail, you'll reach a lovely bench where you can take in the views of the Pacific Coast. If you want to extend your hike, from here you can carry on and add 2 miles to reach the Parker Mesa Overlook. This special Overlook is famous for its ocean views of the Santa Monica coastline.
12. Solstice Canyon Loop Trail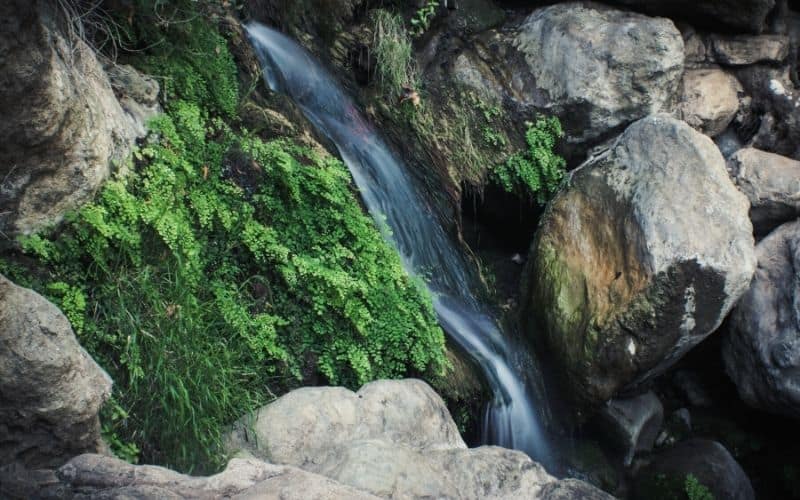 Type: Loop
Distance: 3.2 miles (797ft ascent)
Rating: Moderate
This round-trip hike follows a wide, dirt service road called the Solstice Canyon Trail. It's one of the most popular hikes in Malibu thanks to the two interesting ruins you can explore along the way. This hike is also perfect for a sunny day since it's one of the few, shaded canyon treks on our list.
During your hike, you'll first pass by the ruins of the Keeler House and then the Tropical Terrace Ruins. Both were victims of the notorious California wildfires.
Press on past the ruins and you'll find a small creek and waterfall, although they might be underwhelming during the dry season. You can still check out the Virgin Mary statue hidden, which you'll find hidden amongst the foliage.
This is the perfect place to rest and relax before completing the final part of the loop, the Rising Sun Trail. From here on out the elevation gets tough but you'll be rewarded with gorgeous ocean vistas at the top!
13. Rock Pool and Century Lake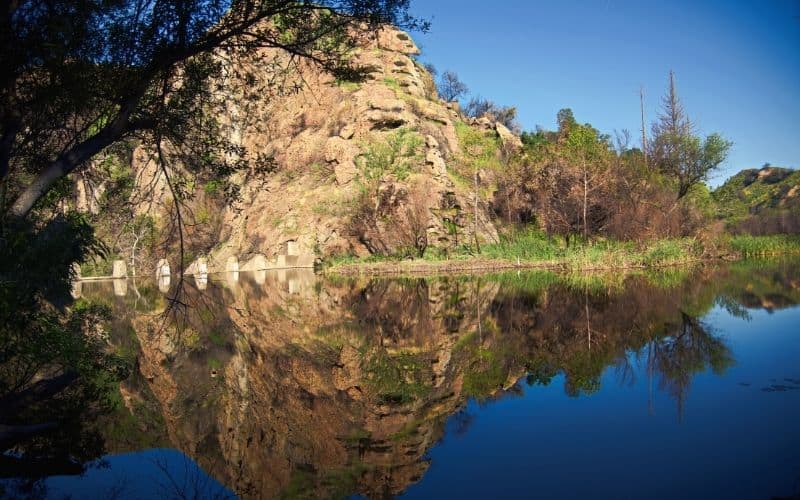 Type: Loop
Distance: 4.4 (331ft ascent)
Rating: Easy
It wouldn't be Southern California if you didn't get to experience a bit of Hollywood charm, even while hiking. This easy and low-elevation trek is the most popular in Malibu Creek State Park and offers lots of fun, extra-credit activities.
The trailhead can be found at the Malibu Creek State Park parking lot. As you head down an enchanting path bordered by oak trees, you'll run into a former set from the hit TV show M*A*S*H at around the 2.5-mile mark.
Keep going until you arrive at the famous rock pool. The volcanic rock surrounding the pool is popular for rock climbing and was even featured in the first Planet of the Apes movie.
If all that excitement wasn't enough, if you press on you'll eventually reach Century Lake, a picturesque lake perfect for a picnic or going for a swim. Relax and enjoy the view before completing the loop back to the trailhead.
Marvelous Malibu!
We hope this list has convinced you that Malibu is so much more than just the beach. If you're looking to enjoy the wild side of Southern California, any of these top 13 Malibu hikes won't disappoint.
Just remember to always practice sun safety, bring lots of water and stay out of the native shrubbery unless you want to meet Malibu's wilder residents, the ticks and rattlesnakes.
How did our list do? Did we miss any of your favorites? If you've got any questions about these Malibu hikes, feel free to drop us a line in the comment box below!