Sacramento is known as River City and the City of Trees for a reason. There are a lot of great hiking options in California's capital city worth checking out.
You can explore nearby foothills, dense forests, and bustling wildlife habitats. A short drive from the city, you can learn more about historic quarries, covered bridges, and opportunities for gold panning. Go a little further and visit the Sierra Nevada mountains or the Bay Area.
There are a variety of hikes for all experience levels, and most of the routes are family-friendly.
Read on to find out more!
RELATED READING: Check out our other guides to the best hiking spots in California.
1. Jedediah Smith Memorial Trail, American River Parkway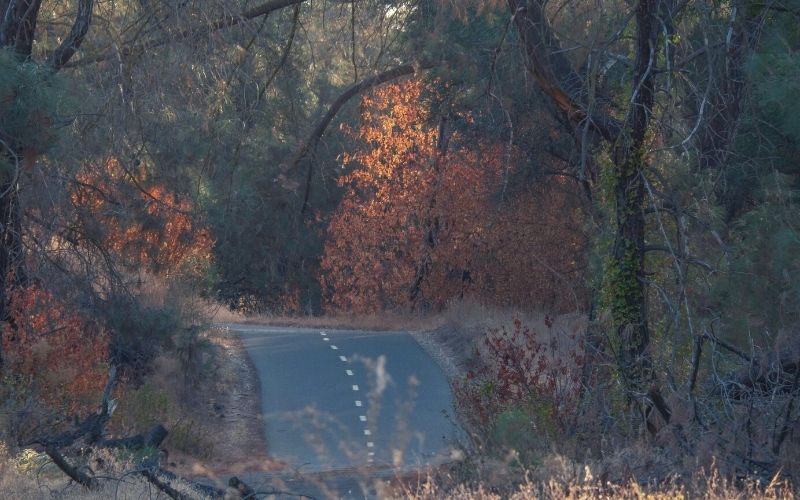 Type: Point-to-point
Trail Length: 32 miles
Difficulty: Easy
American River Parkway is an "urban gem" spanning the shoreline of the American River between Discovery Park and Beal's Point. The Jedediah Smith Memorial Trail is a multi-use path that's mostly flat with some rolling hills. It's wide and paved, making it a stroller and wheelchair-friendly option and popular with cyclists.
There are dozens of access points for hikers of all skill levels to join the trail, and numerous benches and picnic tables available for rest stops or a spot of lunch. Visitors can also enjoy fishing or nearby shopping.
It's always a good idea to check the parkway's website.
2. River Walk Trail, Cosumnes River Preserve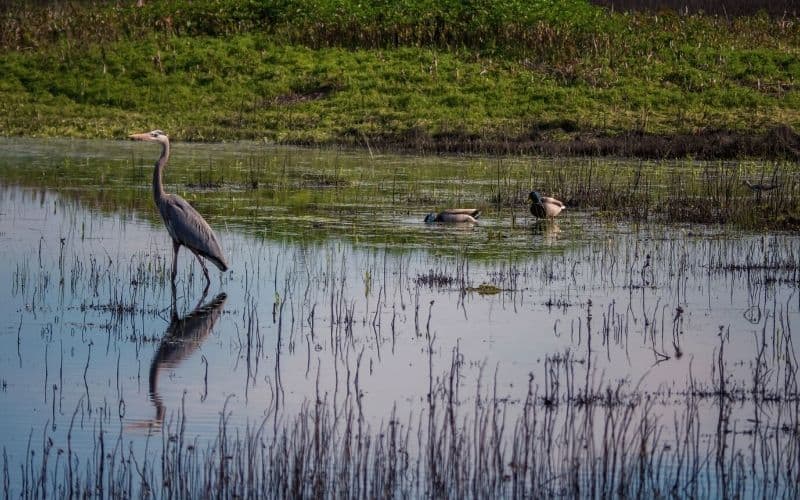 Type: Loop
Length: 3.5 miles
Difficulty: Easy
About 30 miles south of Sacramento you can find Cosumnes River Preserve. This 50,000-acre, designated wildlife preserve boasts more than 10 miles of trails. Our pick of the bunch? The Riverwalk.
The easy hike will lead you through wetlands down to the Consumnes River. You'll see wildflowers, native vegetation, and an impressive oak tree between 150 and 200 years old.
You might also spot some of the more than 250 species of birds that call the preserve home, like pelicans, vultures, or owls. Look around some more and you'll notice a diverse variety of fish and plant life. Local wildlife includes foxes, mountain lions, bobcats, and river otters.
Be aware that this trail can become flooded in winter, so be sure to check the preserve's website ahead of time.
3. Darrington Trail, Folsom Lake State Recreation Area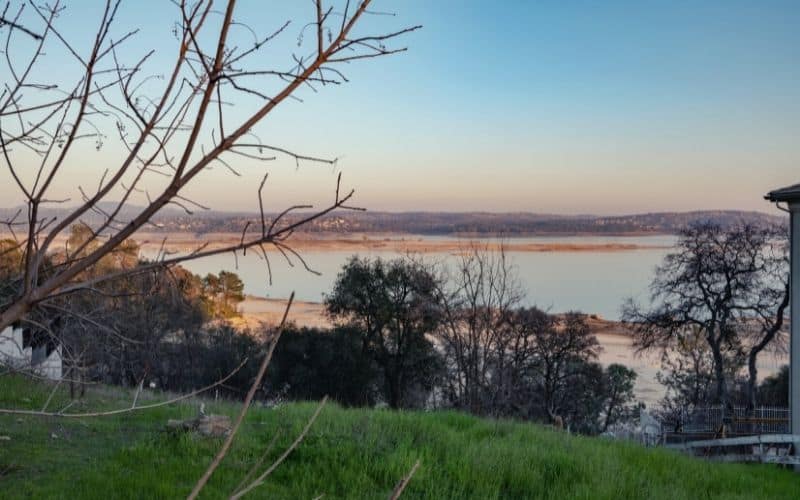 Type: Out and back
Length: 17 miles
Difficulty: Moderate
If you're looking for some rugged lakefront terrain, head 30 miles northeast to Folsom Lake State Recreation Area. A fun hiking option at FLSRA is Darrington Trail. It runs alongside an arm of Folsom Lake, called the South Fork of the American River. It's also popular with mountain bikers.
Start your hike at the trailhead near Salmon Falls Bridge. Over the next 8 miles, you will cover about 800 feet in elevation gain with a few rugged sections. Depending on the water level, you might see a historic bridge that's usually submerged under the lake.
The route ends at the somewhat secluded Peninsula Campground. The trail and campground can be subject to closure due to winter weather conditions.
4. Down and Up Trail, Cronan Ranch Regional Trails Park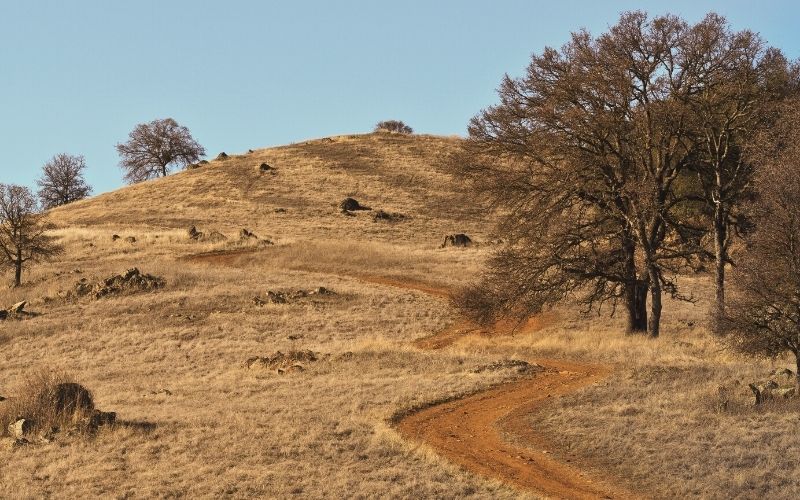 Type: Loop
Length: 4.4 miles
Difficulty: Moderate
If you're feeling adventurous, head about 45 miles northeast of Sacramento to Cronan Ranch Regional Trails Park to explore more than 12 miles of trails. The terrain includes woodlands, gentle riverfront, and challenging hills. Be on the lookout for poison oak.
A popular loop is the Down and Up Trail, connecting to Cronan Ranch Road Trail. Your hike will encompass about 640 feet in elevation gain. As you're out enjoying nature, you'll also get a glimpse of Hollywood as the trail passes by movie set remnants of the 2003 Hallmark film, "Love Comes Softly."
For detailed directions and park information, check out the trailhead website.
5. Quarry Trail, Auburn State Recreation Area
Type: Out and back
Length: 10.8 miles
Difficulty: Moderate
Auburn State Recreation Area, located about 35 miles northeast of Sacramento, boasts a network of more than 100 miles of trails.
The Quarry Trail is a great choice for hikers wanting history, geology, and stunning views. The wide path features a fairly level to moderate grade. It follows an old Gold Rush-era flume. Along the route, you'll see views of the American River, remnants of an old quarry, and a limestone cave. Quarry Trail trailhead can be found on Highway 49 near the Auburn Confluence.
Auburn SRA allows the "hands and pans" method of gold panning. Check the park's website for rockhounding regulations and more information.
6. Independence Trail, South Yuba River State Park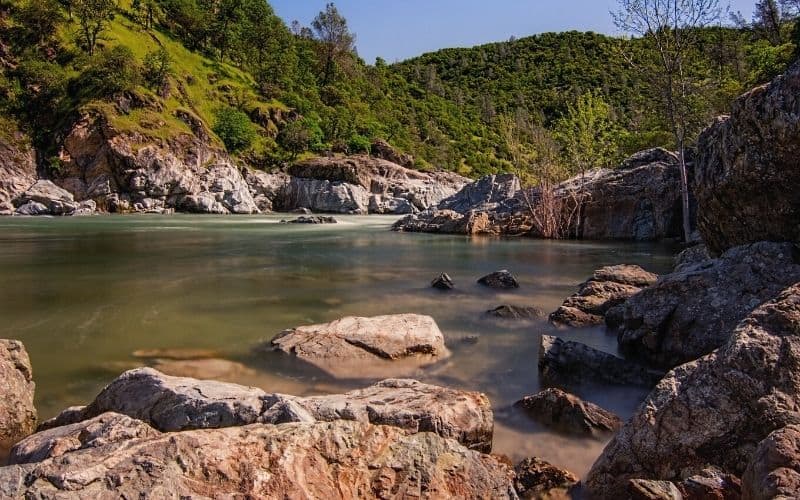 Type: Out and back
Length: 1 mile (east route) or 2.3 miles (west route)
Difficulty: Easy
More historical hiking can be found at South Yuba River State Park, about 70 miles north of Sacramento. Independence Trail is one of America's first recognized wheelchair-accessible trails.
The route follows an old mining ditch and uses gold rush wooden flumes as the walkway. You will enjoy beautiful views of the river, foothills, and a variety of birds and wildlife.
You can hike about 1.5 miles either east or west from the trailhead. Both offer breathtaking views of the river. From the western side, adventurous hikers can also visit Rush Creek waterfall. Other trails in the area include the Buttermilk Bend and Point Defiance Loop.
This out-and-back trail has previously closed due to fire damage, so check its current status on the park's website before heading out.
7. Lake Clementine Trail, Auburn State Recreation Area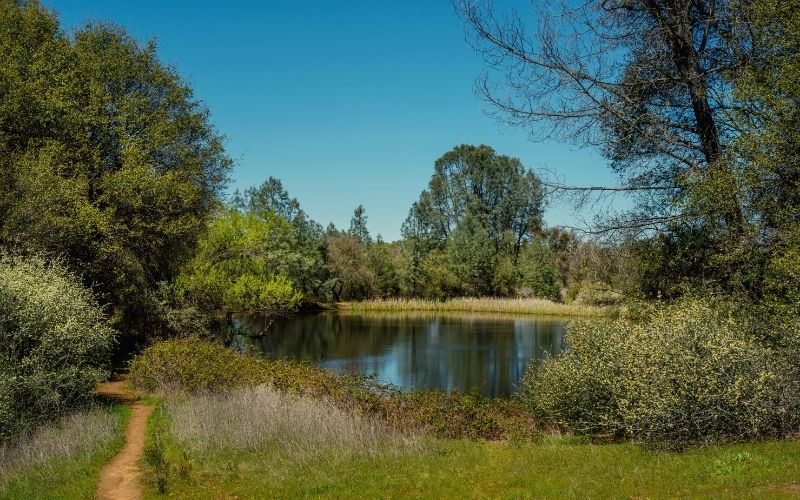 Type: Out and back
Length: 3.6 miles
Difficulty: Easy
Lake Clementine Trail is another easy hike with amazing panoramic views. You'll hike alongside the North Fork American River up a gradual incline. Expect less than 500 feet in total elevation gain.
This hike will also take you under one of the tallest bridges in the state, Foresthill Bridge.
The route ends at Lake Clementine Road. For an extra half mile, you can head down the hill via the paved road for an awe-inspiring view of North Fork Dam.
8. Western States Trail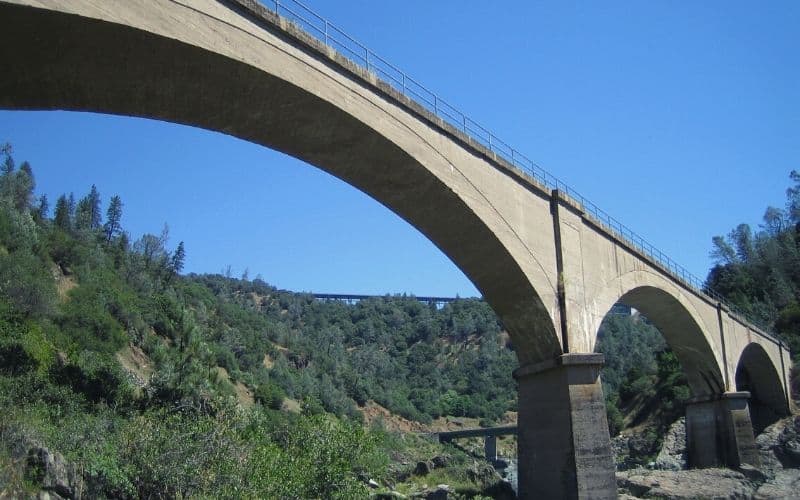 Type: Point to point
Length: 100 miles
Difficulty: Hard
The Western States Trail originally spanned from Sacramento all the way to Salt Lake City, Utah. Now, a 100-mile portion of the route makes up the Western States Endurance Run. On this hike, you will climb more than 18,000 feet and descend almost 23,000 feet.
But there's no need to be an ultra-runner to explore the WST. There are many shorter sections you can hike comfortably in a day. While some wilderness areas are difficult to reach, the easiest access is via No-Hands Bridge – just be careful of the steep cliff edges.
Visit the website for details on the endurance run.
9. Blue Heron Trail, Stone Lakes National Wildlife Refuge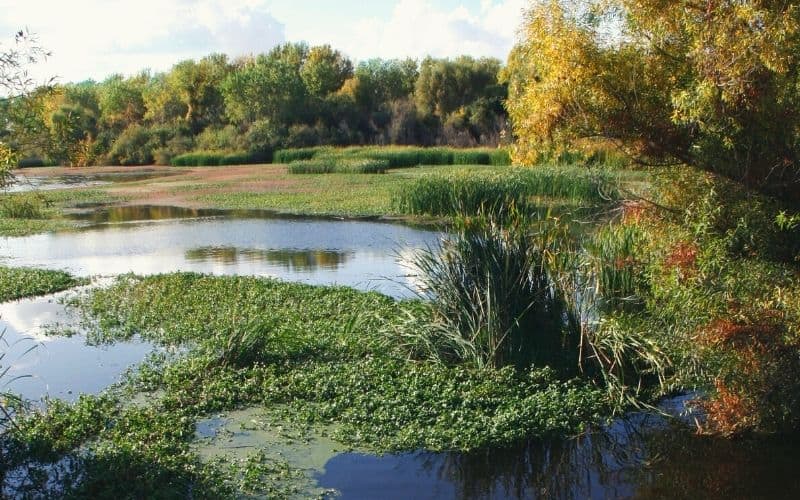 Type: Loop
Length: 1 mile
Difficulty: Easy
Bird watchers take note! About 20 miles south of Sacramento, just outside of Elk Grove, is Stone Lakes National Wildlife Refuge. The park surrounds Stone Lake and offers grasslands and restored wetlands. It is a year-round riparian habitat for our feathered friends.
SLNWR is located along the "Pacific Flyway," a major north-south landscape corridor for migratory birds. It's home to more than 200 species of birds, including hawks, shorebirds, and sandhill cranes.
On the ground, you might see coyotes, opossums, raccoons, skunks, and deer.
Learn about your wild neighbors through informational signage at kiosks along the walk. It's a family-friendly adventure and a great outdoor educational opportunity for kids.
Learn more before you go on the refuge's website.
10. Mount Diablo Summit, Mount Diablo State Park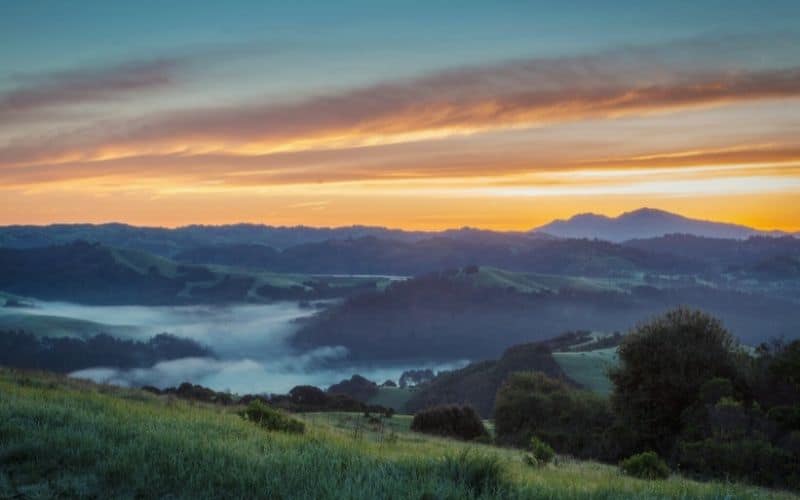 Type: Out and back
Length: 8 miles
Difficulty: Hard
If you're craving a coastal day hike, head westward to Mount Diablo State Park. This San Francisco park is just two hours from Sacramento. It covers more than 20,000 acres and has a vast network of trails to discover. The highlight is the park's namesake, Mount Diablo.
There are several routes to the summit of the devilish mountain. The shortest route is to drive to the Summit Visitor Center. However, the longest way to the top also offers incredible scenic views along the way. Starting at Mitchell Canyon Staging Area, this route is almost 8 miles long and involves more than 3,000 feet in elevation gain.
For all the pertinent details before you head out, check out the park's website.
11. Gold Discovery Loop, Marshall Gold Discovery State Historic Park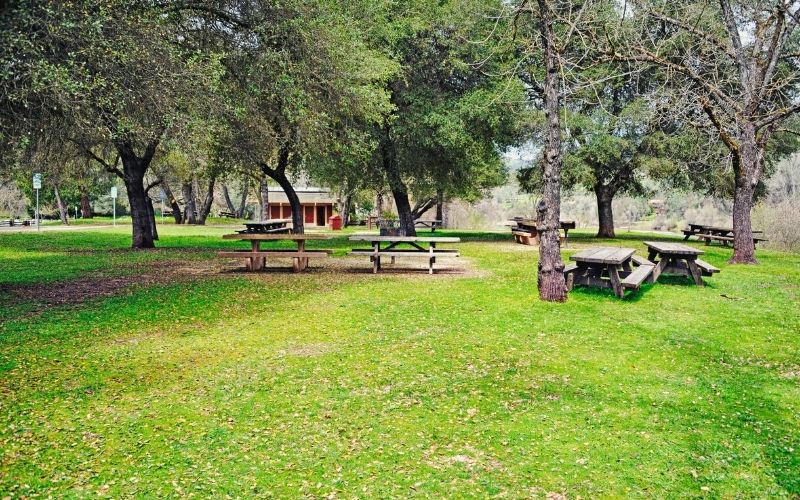 Type: Loop
Length: 0.75 mile
Difficulty: Easy
The area's golden past is most evident at Marshall Gold Discovery State Historic Park, about 45 miles northeast of Sacramento.
James Marshall discovered California's first fleck of gold here in 1848. What he found sparked the massive gold rush and prompted the incredible growth in the west in the following years.
You can step back in time with this easy loop trail, which features preserved artifacts, Sutter's Mill replica and monument, and interpretive tours/signage.
12. Rubicon Trail, South Lake Tahoe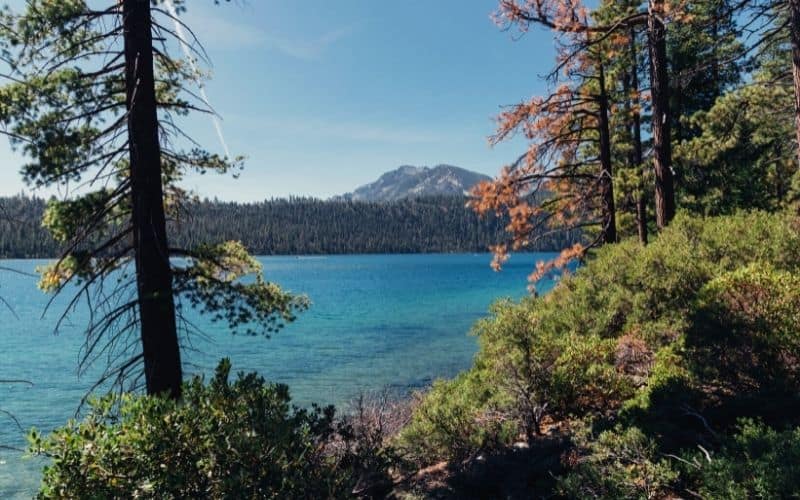 Type: Out and back
Length: 12 miles
Difficulty: Moderate
Lake Tahoe, the "gem of Northern California," is only two hours east of Sacramento, nestled in the Sierra Nevada mountains. It's a trek, sure, but well worth the added mileage.
Rubicon Trail follows 6 miles along the waterfront, starting at Calawee Cove in D.L. Bliss State Park and ending at Upper Eagle Point Campground in Emerald Bay SP. The entire hike involves 1,400 of elevation gain.
You will see some of Tahoe's most iconic sights: Vikingsholm, Emerald Bay, historic lighthouse, Fannette Island, and the lower cascades of Eagle Creek and Eagle Falls.
Check D.L. Bliss SP's website for nearby parking or options for connecting trails.
13. Capitol Park Loop Trail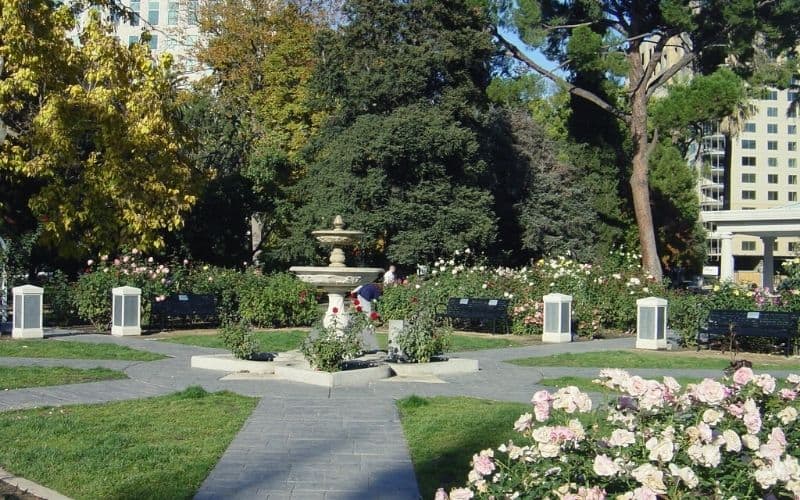 Type: Loop
Length: 1.1 miles
Difficulty: Easy
No list of Sacramento trails is complete without mentioning Capitol Park. Truly in the heart of the city, this easy paved path is accessible for all skill levels. The main route frames the outside edges of Capitol Park. Several short trails connect to go further in the park or to the capitol building.
The park features a Civil War Memorial Grove planted in 1897 with saplings from famous Civil War battlefields. The CA Vietnam Veterans Memorial showcases bronze statues of servicemen and women. You can also wander through a cacti garden, a peace rose garden, and a variety of trees.
A historic sites visitor's guide and more details are on the park's website.
Best Hiking Near Sacramento: See You There!
There are many trails in the Sacramento area for you to explore and with so many options, you're bound to find the perfect spot to hike!
We hope you enjoyed this guide to the best hiking near Sacramento. If you have any questions just ask in the comments below. Feel free to share this article with any other Sacramento-bound adventurers!