As the jewel of the Sierra Nevada mountains, Lake Tahoe is one of the best places for adventurers to explore. Hiking in the area includes spectacular waterfalls, vast backcountry wilderness, challenging-yet-satisfying peaks, and beautiful alpine lakes.
Lower-elevation hikes are best in May or June, the perfect time to chase waterfalls and see blooming wildflowers. Summer is a popular time to visit, but can get sweltering hot on some days. Crowds thin out in autumn, but you might get an occasional rain shower. In winter, hiking trails often turn into snowshoe routes.
For many Tahoe top trails, the biggest problem is limited parking availability, even at sunrise in some locations, so plan ahead. The area is also in bear country, so stay alert and learn beforehand about what to do in case of an encounter.
RELATED READING: Check out our other guides for more awesome places to hike in California.
1. Rubicon Trail, D.L. Bliss State Park and Emerald Bay State Park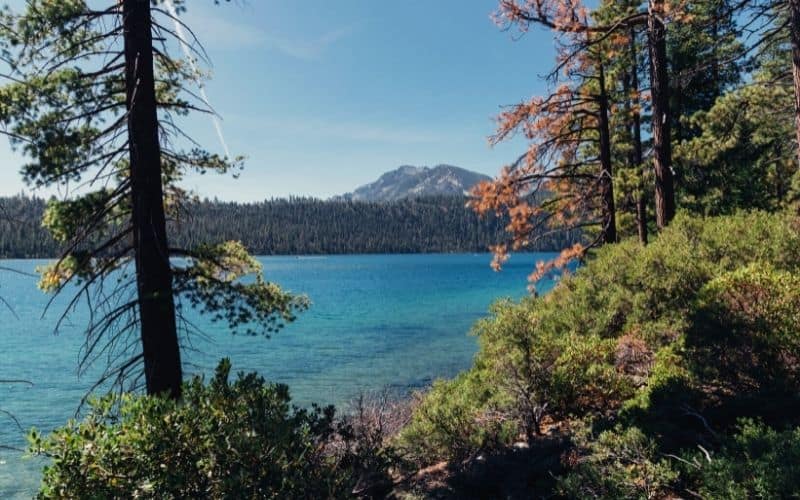 Type: Out and back
Length: 12 miles
Difficulty: Moderate
This route follows 6 miles along the waterfront, starting at Calawee Cove in D.L. Bliss State Park and ending at Upper Eagle Point Campground in Emerald Bay S.P. The entire hike covers about 1,400 in elevation gain.
Along this fairly long, but mostly easy hike, you will see some of South LT's most iconic sights. These include Vikingsholm, a Scandinavian stone castle built in 1928-1929; the iconic Emerald Bay; a historic century-old lighthouse; and Tahoe's only island, Fannette Island, a granite upthrust that rises 150 feet above the water and is home to the historic "Tea House."
Check D.L. Bliss SP's website and Emerald Bay SP's website for nearby parking or connecting options.
2. Mount Rose, Mt. Rose Wilderness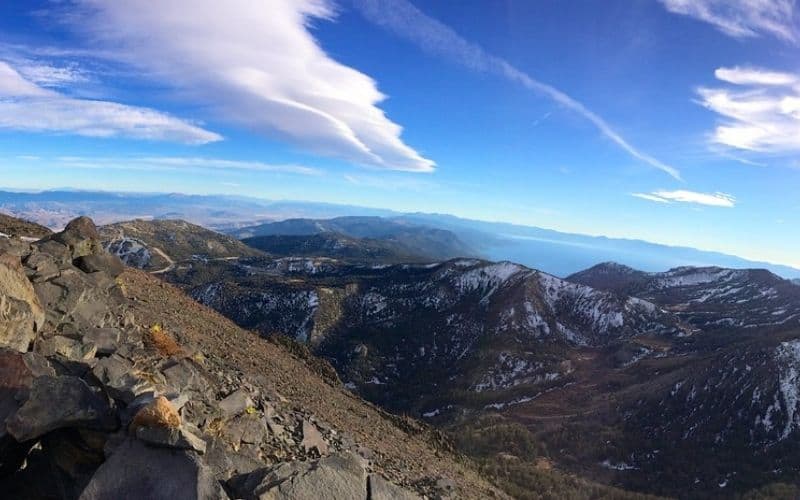 Type: Lollipop
Length: 10 miles
Difficulty: Hard
Standing at 10,778 feet, Mt. Rose is one of the highest peaks near Tahoe.
The hike to the top is challenging, but experienced hikers who finish the trek will be rewarded with incredible views of LT, the cities of Reno, Sparks, and Carson City, Tahoe Basin, Boca and Stampede reservoirs, and even Mount Lassen in Northern California.
If you're up for the adventure, the trailhead is located at a large parking lot just north of LT, off of Highway 431.
For more information, visit the wilderness' website.
3. Fallen Leaf Lake Trail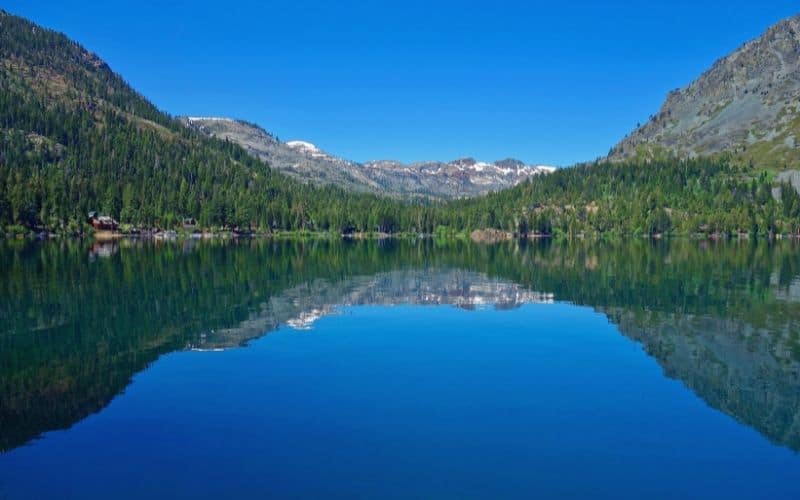 Type: Out and back
Length: 4 miles
Difficulty: Easy
This relatively flat path is a good choice for the whole family. As the second largest of the lakes in the Tahoe Basin, Fallen Leaf is a picturesque setting for a picnic lunch or a fun day in the water.
Take Fallen Leaf Road just past the campground and find a spot on the shoulder to park. The road is very tight and parking can be challenging with traffic headed in the opposite direction.
From there you can head down to a network of short lakeside trails. Our favorite follows along the east side of the water under towering trees and serves up awesome views of the mountains across the water.
Read more about the area on the LTBMU website.
4. Mount Tallac Trail, Desolation Wilderness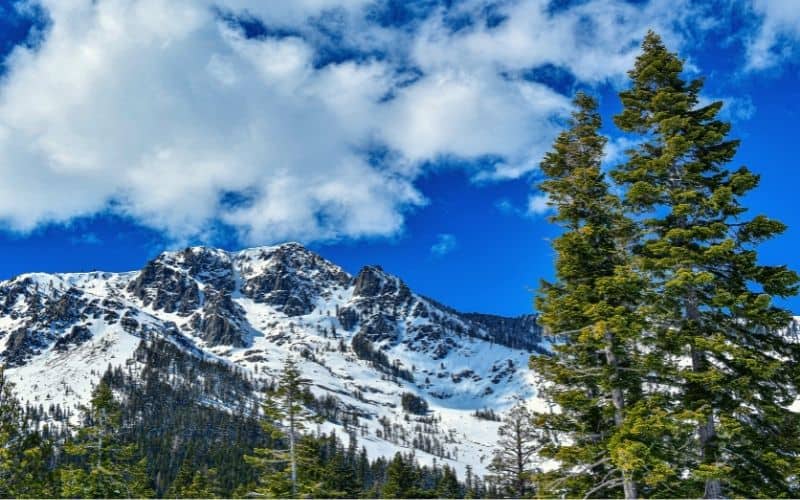 Type: Out and back
Length: 10 miles
Difficulty: Hard
You should be ready for an adventure to reach one of the tallest peaks in the Tahoe basin, Mount Tallac. With about 3,500 feet of elevation gain, it's a difficult hike, but also a rewarding one.
This scenic trail crosses streams, passes by three alpine lakes, and offers some dramatic panoramic views of the Desolation Wilderness and the south shore of LT.
Alternatively, for a more moderate hike from the same trailhead, you can reach Floating Island Lake in 1.7 miles or Cathedral Lake in about 2.5 miles.
Find out more details on the trailhead website.
5. Eagle Falls to Eagle Lake Trail, South LT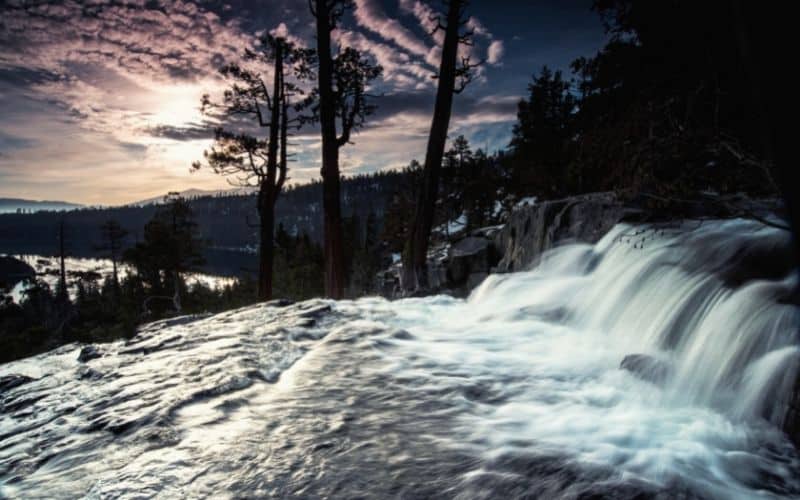 Type: Out and back
Length: 2 miles
Difficulty: Moderate
This is one of the most popular hikes in the area for a reason. It starts out at the iconic Eagle Falls and climbs less than 500 feet to reach the crystal clear waters of the gorgeous Eagle Lake.
It's a short stroll to the edge of the falls on the eastern side of the highway. A steady climb up the route to the west will lead you to Eagle Lake.
From the falls, you could head down and connect to the Rubicon Trail. Alternatively, continue up past Eagle Lake into the backcountry to connect to the famous Pacific Crest Trail and reach Middle Velma Lake or Fontanillis Lake.
See some options on the trailhead website.
6. Granite Lake and Maggie's Peak, Desolation Wilderness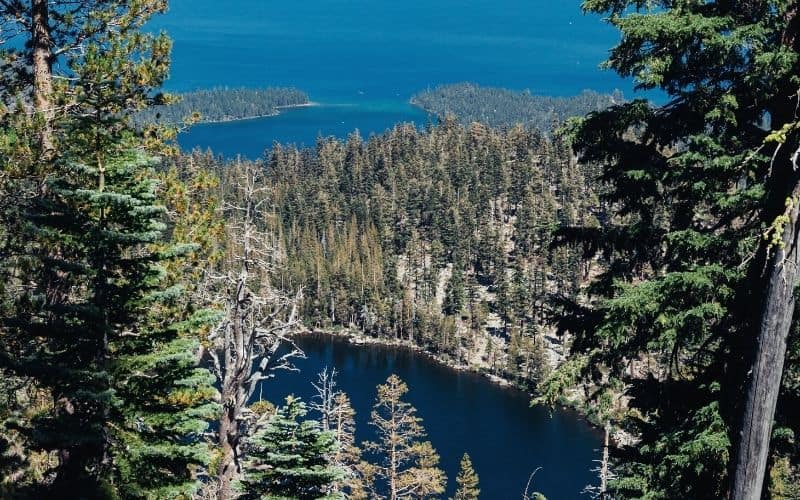 Type: Out and back
Length: 4 miles
Difficulty: Hard
Start your trek at the Bayview Trailhead and climb more than 1,700 feet to the top of Maggie's Peaks for breathtaking panoramic views.
You'll pass Granite Lake on your way up and from the summit, you'll look down on Emerald Bay, Tahoe, and the surrounding Desolation Wilderness. It's a steep trek for more experienced hikers, but worth the effort for the magnificent views.
Find more details on the website.
7. Cascade Falls Trail, Lake Tahoe Basin Management Unit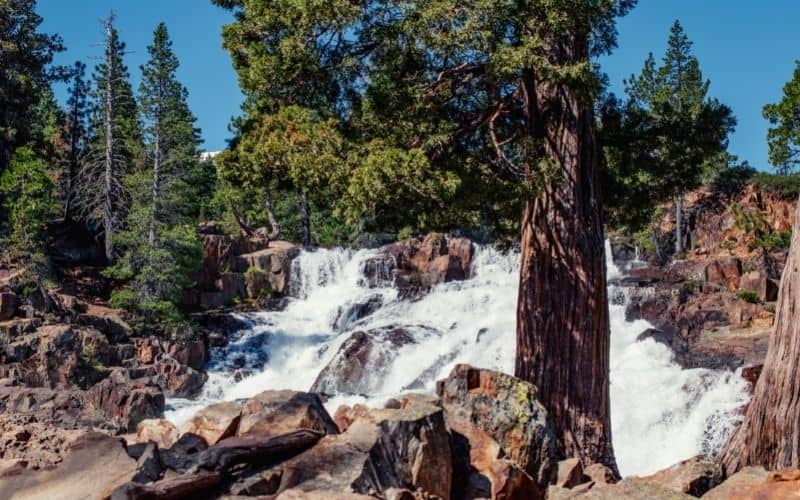 Type: Out and back
Length: 2 miles
Difficulty: Easy
Being one of the shorter and easier hikes in the Emerald Bay area, this is a good option for families. With a total of about 250 feet of elevation gain over the course of the entire hike, it's well worth the effort to see the spectacular views of the 200-foot high falls.
You'll also enjoy a scenic mountainside path and a great view of Cascade Lake from the falls. The route is mostly flat, but a bit rocky, so sturdy shoes are recommended.
Find out more on the LTBMU website for the waterfalls.
8. Skyline Trail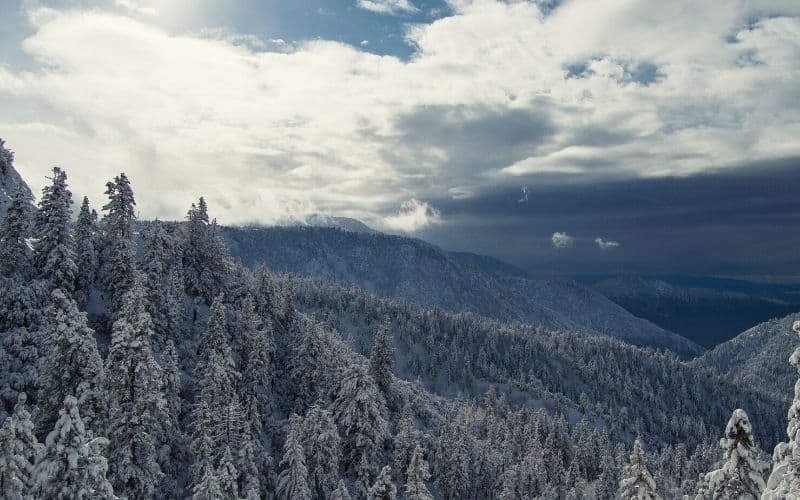 Type: Lollipop
Length: 2 miles
Difficulty: Easy
You might not think to visit a ski resort near Tahoe in the warmer months, but this popular summer hike offers fantastic views of the area without having to climb any significant elevation.
You'll enjoy the high alpine terrain without the hard hike, which makes this a great option for hikers of all experience levels.
Start your stroll at the gondola base at Heavenly Ski Resort, right on the state border. The enclosed ski lift will take you up the mountainside. From there, walk down the path to the Skyline Trail and an observation deck for a wide and wonderful view of the surrounding area.
Tickets have to be purchased to ride the gondola. Check Heavenly's website for current prices and hours.
9. Tahoe Meadows Interpretive Loop, Humboldt Toiyabe National Forest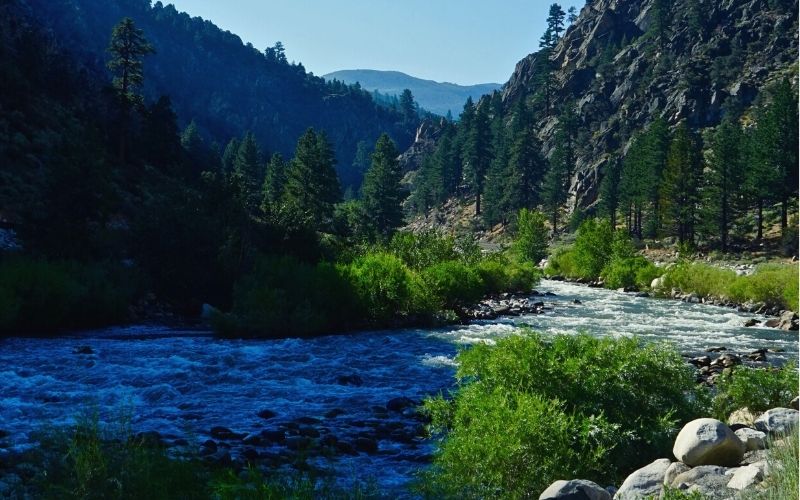 Type: Loop
Length: 1.3 miles
Difficulty: Easy
This easy walk starts at a lush meadow, heads over a footbridge, and through the woods and circles back. It's a great route for families with children and people of all ages and abilities.
From the trailhead on Highway 431, you will join Rim Trail on the north side of the meadow and walk through pine forests, between boulders, and across mountain streams.
Informative signage along the well-marked pathway helps make it a learning experience as well.
Check out the LTBMU website for more information.
10. Emerald Point Trail, Emerald Bay State Park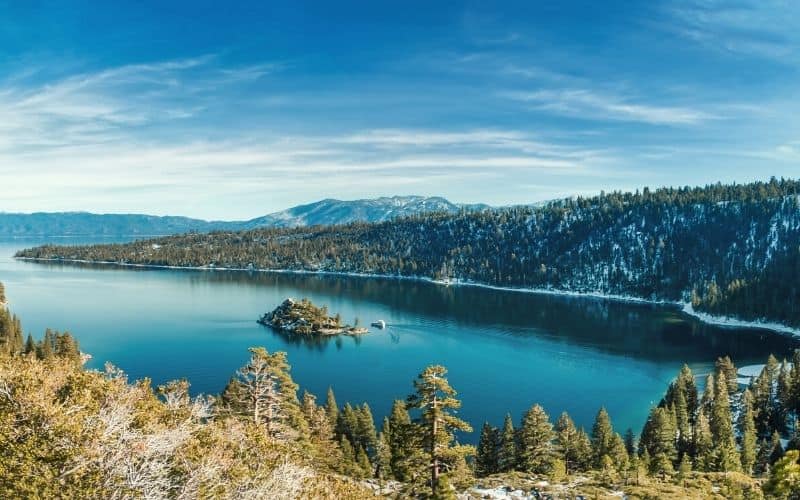 Type: Out and back
Length: 5 miles
Difficulty: Easy
This short hike on the northern side of Emerald Bay is mostly flat, though the odd moderate incline gives a total elevation gain of about 500 feet. 
Start at the Vikingsholm parking lot, which requires a fee, and head down Vikingsholm Trail. You will join a short section of the Rubicon Trail as you head out to Emerald Point, at the mouth of the bay.
You'll see the Scandinavian castle, Vikingsholm, a historic lighthouse, LT's only island, Fannette Island, as well as incredible views of the bay along this easy route.
11. Five Lakes Trail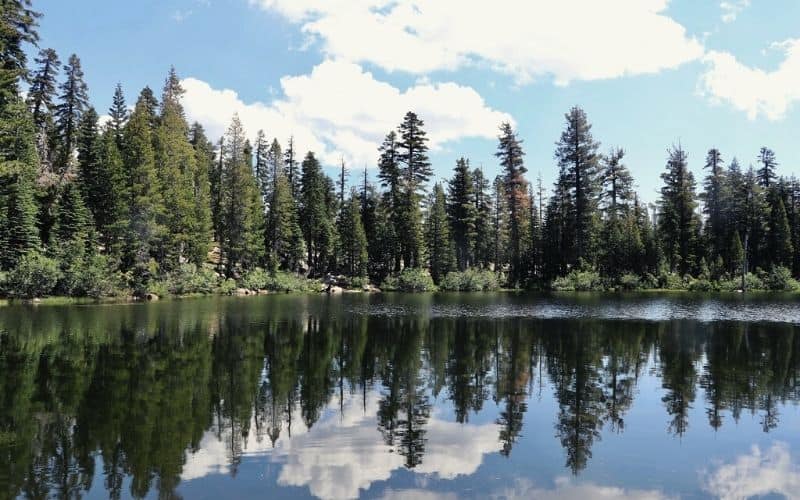 Type: Lollipop
Length: 4.5 miles
Difficulty: Moderate
You can see a handful of mountain lakes on this route and easily extend it for a backcountry adventure. This moderate trail has an elevation gain of about 1,100.
The trailhead is on Alpine Meadows Road, across from Deer Point Drive, on the west side of LT.
When you reach the lakes, wander around and enjoy the remarkable scenery, and maybe take a dive into the cold waters of one of the alpine lakes. From there, you can choose from several options to continue your adventure into the backcountry of Granite Chief Wilderness.
Check conditions on the website before heading out.
12. Spooner Lake Trail
Type: Loop
Length: 2 miles
Difficulty: Easy
For something off the beaten path on the east side of Tahoe, consider the easy loop around Spooner. It's a nice place for a picnic away from the crowds and has plenty of open space to explore.
It can easily extend to nearby peaks for fantastic views of LT. The most popular backcountry route is a 5-mile route to Marlette Lake, a fishing hatchery, via North Canyon Road with about 1,200 feet in elevation gain.
Other options include Red House, Flume, and Rim trails. Camping and cabins are also available. Find out more at the park website.
13. Echo Lakes Trail, Desolation Wilderness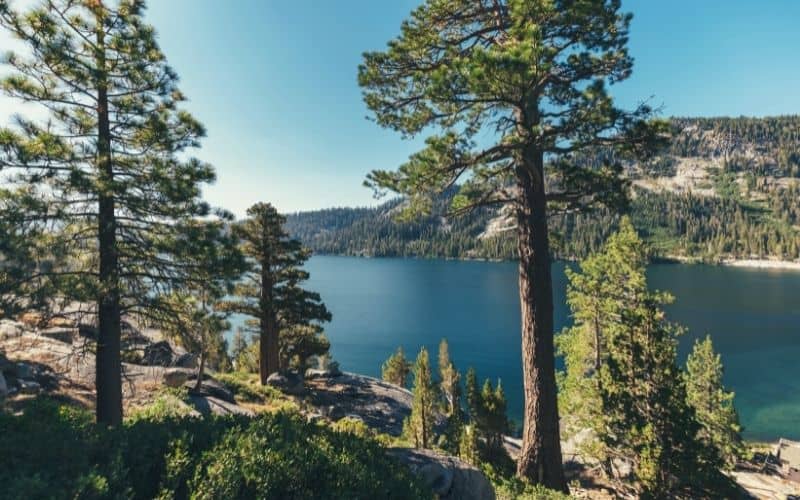 Type: Out and back
Length: 5 miles
Difficulty: Moderate
Just south of Tahoe, there are several moderate to easy hiking trails around the Echo Lakes. A great choice is this 5-mile option that joins the Pacific Crest Trail as it hugs the northern edges of the lakes.
The trailhead is located just off Highway 50. At Echo Summit, turn onto Johnson Pass Road and this will lead you to the parking area of Lower Echo to start your adventure.
You may also want to take a ride (for a fee) on the water taxi operated by the nearby resort in the summer.
You can also wander past the lakes for an extended backcountry adventure.
Find out more details on the trailhead website.
14. Tahoe Rim Trail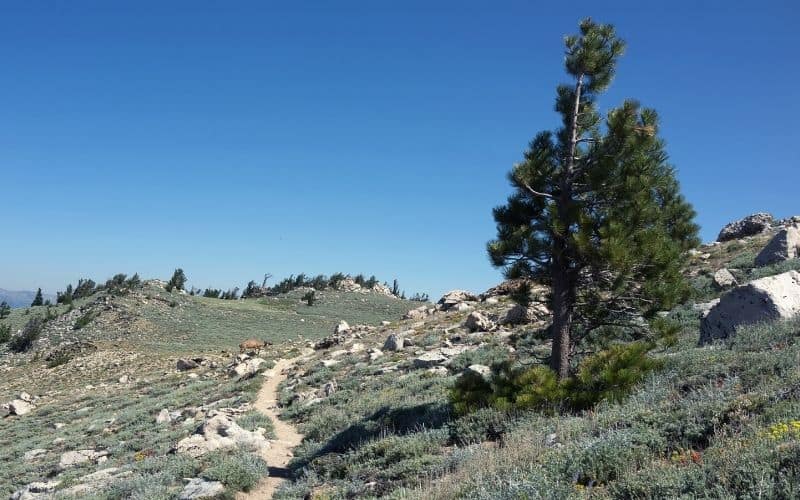 Type: Loop
Length: 170 miles
Difficulty: Hard
If you can't decide and have time for a longer adventure, the Rim Trail has it all. It's a great option for both beginners and hardcore hikers and offers unbeatable views.
It's also a great warm-up for longer thru-hikes, including the iconic Pacific Crest Trail, which it connects to for about 50 miles.
You can jump on the route in numerous spots, but there are 10 official trailheads, many clustered around South LT. The easiest options are in Tahoe City (a popular choice) or South LT.
Check out fire restrictions, permit requirements, water sources, and conditions before heading out. The Tahoe Rim Trail Association website will help plan your TRT adventure.
Nearby Hiking
For more outdoor fun in Northen California, check out our guides to:
Best Hikes in Lake Tahoe!
Whatever adventure you're looking for, one of these trails is sure to fit the bill!
We hope you enjoyed this guide to the best hikes in Lake Tahoe. If you have any questions, just ask in the comments box below. Feel free to bookmark or share this article with any other Tahoe-bound adventurers!