The Gateway Arch isn't the only attraction in the Show-Me state. Missouri is also known for its stunning landscape, including the Ozark Mountains, the Missouri River, and many strange and incredible rock formations.
The best way to experience the natural beauty of this state is on one of its many hiking trails, along which you might find yourself in a rock tunnel, under a natural bridge, at the top of a towering waterfall, or wandering through fascinating historic sites. Discover it all in this guide to the best hiking the Show-Me State has to offer!
1. Cedar Creek Trail, Mark Twain National Forest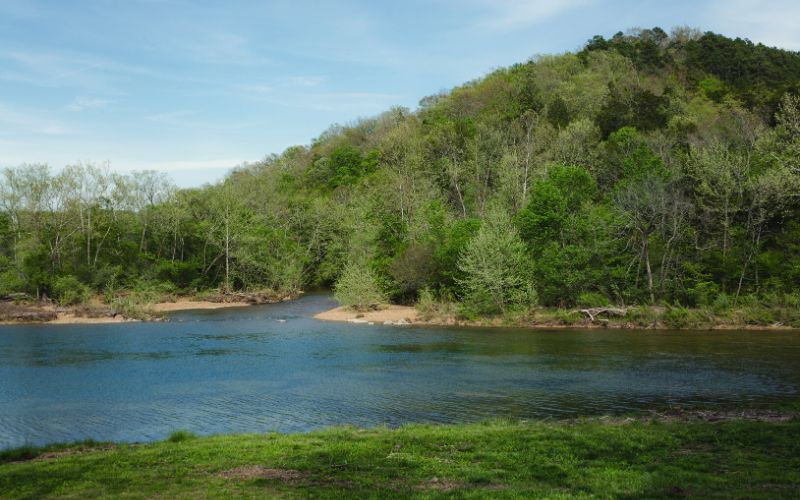 Type: Point to point
Length: 36 miles
Difficulty: Moderate
Cedar Creek Trail winds its way through the best parts of Mark Twain National Forest. Although 36 miles long, the whole trail is consistently flat, making it perfect for beginner backpackers. Depending on where you start, it can also be a beautiful day hike.
The trail is broken into four main sections with entry points at each. The Southern Loop is the longest at 22 miles, and the Pine Ridge Section is only 2.8 miles long. At 6.2 miles, the Moon Loop is the most appealing as it passes through pastures, fields of wildflowers, and intriguing moonscape scenery.
The Dry Fork and Pine Ridge Trailheads have water. Otherwise, plan accordingly and bring more water than you think you'll need.
2. Lewis and Clark Trails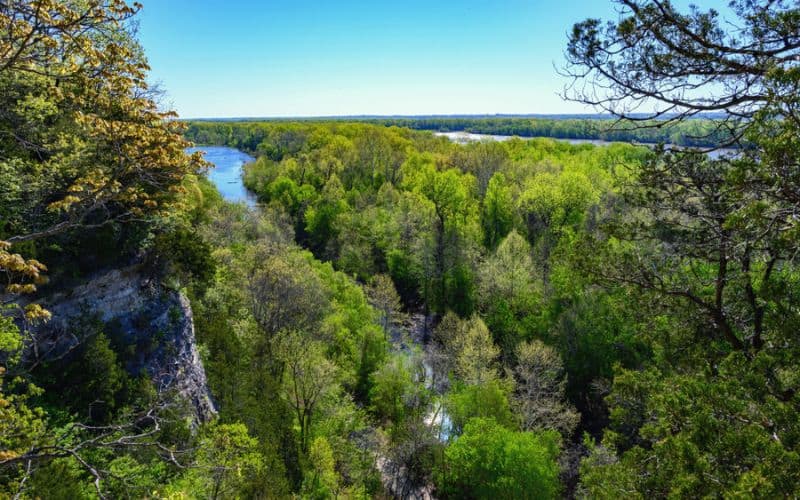 Type: Loop
Length: 8.3 miles
Difficulty: Moderate
The Lewis and Clark Trail gives hikers a little bit of everything, including breathtaking views of the powerful Missouri River and its towering bluffs. Only 40 minutes from downtown St. Louis, this is the ideal weekend hiking area if you live in the city.
Find the trailhead in the Weldon Spring Conservation Area, the starting point for both trails. 2.5 miles into the hike, the paths split. For a shorter, 5.2-mile hike, stay on the Clark Trail, heading north. To hike 8.3 miles, stay on the Lewis Trail by heading east.
Both loops feature spur trails that lead to dramatic bluff overlooks of the Missouri River. However, the longer loop follows the river and limestone cliffs for a mile more than the Clark Loop.
This one is popular, so arrive early to beat the crowds!
3. Deer Run Trail, Rock Bridge State Park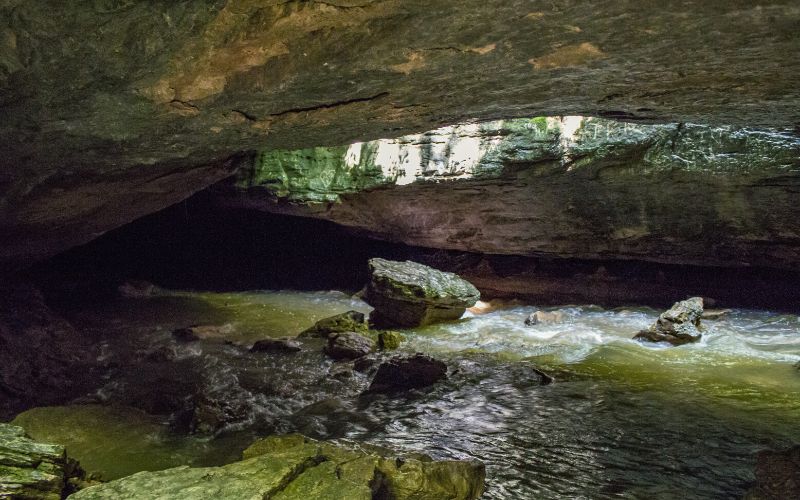 Type: Loop
Length: 4.4 miles
Difficulty: Moderate
Rock Bridge State Park, located midway between St. Louis and Kansas City, is home to fascinating geology and some of the best hiking trails in Missouri. A 27-mile trail network traverses a cave system, sinkholes, underground streams, and surrounding prairies and dense woods.
Deer Run Trail is one of the park's more accessible trails and offers hikers a chance to see wildlife. As you hike along Little Bonne Femme Creek, look for beavers, muskrats, and deer. This is also a bike trail, so keep an eye out for fast-moving folks on two wheels!
Don't forget to check out the park's other trails. The Devil's Icebox Trail, a maintained boardwalk, leads to the famed rock bridge, a 63-foot-high natural tunnel. The best part is that entrance into this, and all Missouri state parks, is free.
4. Natural Tunnel Trail, Bennett Spring State Park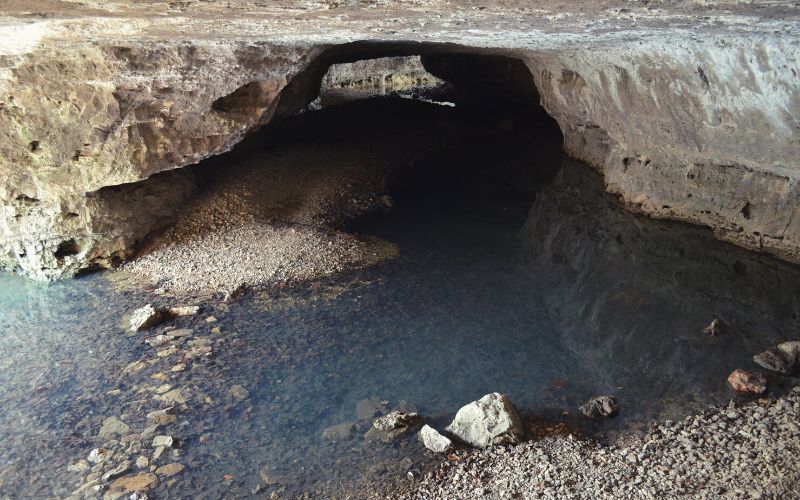 Type: Loop
Length: 8.6 miles
Difficulty: Moderate
Natural Tunnel Trail is one of a kind. Nowhere else in the state can you hike through a 300-foot rock tunnel. The natural tunnel is the highlight of this 9-mile loop. However, the rest of the hike is also stunning.
From the trailhead, follow the blue blazes to the left. After four miles next to a rippling creek and past walnut, sycamore, basswood, and hackberry trees, you will arrive at the tunnel. It's worth spending a few extra minutes exploring the 30-foot-tall rock formation.
On the way back, take the left fork at the first intersection. This fork leads to the Savanna Ridge Trail and jaw-dropping views of Bennett Spring State Park. As always, state park entrance is free.
5. Mina Sauk Falls Trail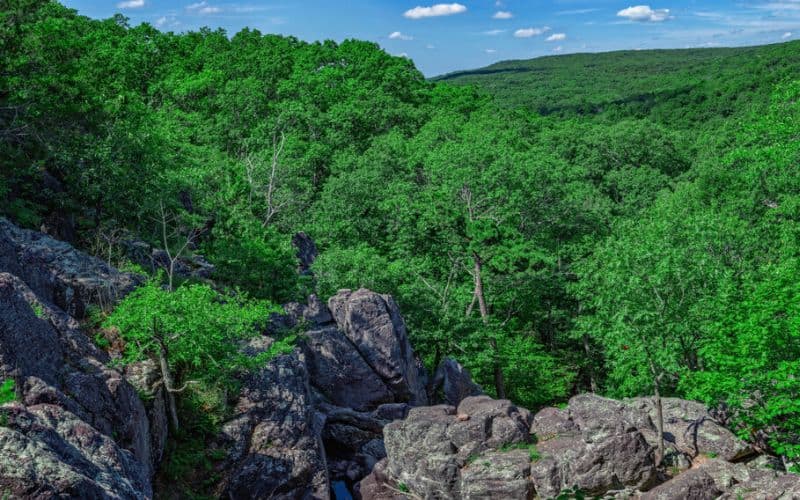 Type: Loop
Length: 2.9 miles
Difficulty: Moderate
This hike provides access to an amazing waterfall, and it also leads to Taum Sauk Mountain, the highest point in Missouri. Although the trail has a few steep, rocky, and slippery sections, it's one of the best waterfall hikes in the state, so well worth taking on.
The hike starts on an ADA-accessible paved trail up to the top of Taum Sauk Mountain, with an elevation of 1,772 feet. From here, the going becomes slightly more treacherous as you descend through oak-hickory woodlands and open meadows that provide sweeping views of the St. Francois Mountains.
After a mile and a half, you will arrive at the 132-foot waterfall. This is a good spot to stop for a snack and take in the beauty of the tallest waterfall in Missouri. The return route climbs steeply up the mountain. You'll be happily exhausted when you reach the trailhead.
6. Ozark Trail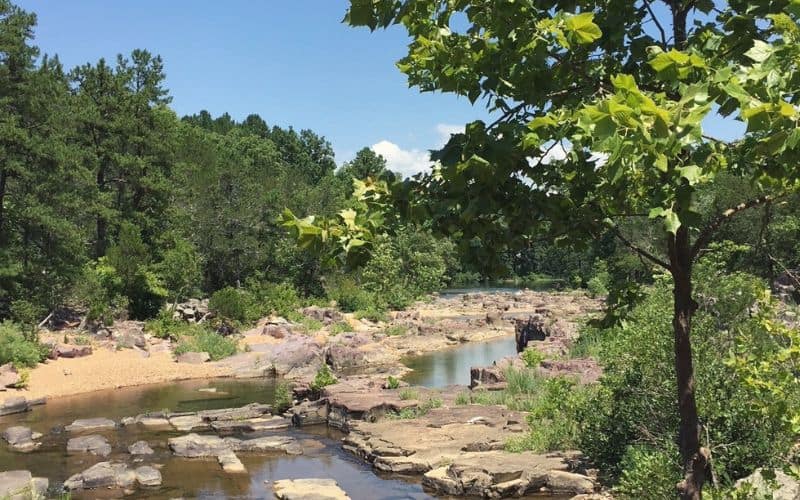 Type: Point to point
Length: 390 miles
Difficulty: Challenging
The Ozark Trail consists of 390 miles of completed trail and close to 400 miles currently under construction. The completed trail is divided into 13 sections, most of which connect.
Every section is filled with beauty as the trail cuts across the more than a billion-year-old Ozark Mountains. Along the way, you'll encounter a plethora of stunning water features, including crystal-clear natural springs, cascading waterfalls, and musical streams.
Few people have time to thru-hike the Ozark Trail. Luckily, you can day hike or backpack small sections of it. We recommend trying the 9-mile Marble Creek Section from Marble Creek Campground to Crane Lake Trailhead for starters (dispersed camping is permitted and you'll enjoy a wonderland of unusual rock formations while hiking along the creek).
The Ozark Trail Association is working to connect the existing sections. Check for updates before heading out.
7. Katy Trail State Park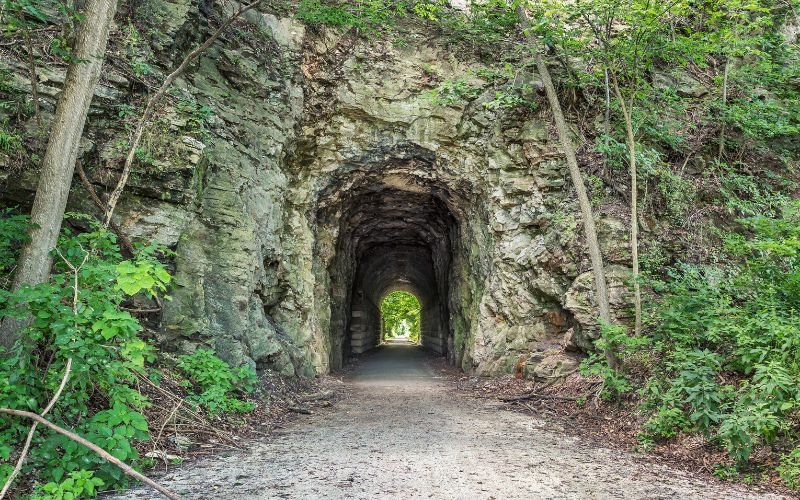 Type: Point to point
Length: 237 miles
Difficulty: Easy
The Katy Trail is a testament to what is possible when old railroads are turned into hiking trails. The 237-mile route is level the whole way, making it excellent for hiking, running, and cycling. The Katy Trail has 46 trailheads and four restored railroad depots.
Hikers on the Cooper County to St. Charles County section follow the historic Lewis and Clark route up the Missouri River. Multi-day backpackers and thru-hikers have the luxury of many camping facilities and bed and breakfasts.
The Confluence Section is one of the most popular parts of the trail. On this, you'll enjoy impressive views of the Mississippi and Missouri River's confluence, rolling meadows, and get the chance to see eagles, bats, and coyotes.
8. Clifty Creek Nature Trail
Type: Loop
Length: 2.7 miles
Difficulty: Moderate
Stunning natural bridges are waiting for you in the Clifty Creek Natural Area. This 486-acre conservation area is a must-see if you're in the Dixon, Missouri area. No matter the season, the hiking trails remain open, giving visitors a chance to get some fresh air and take in the sumptuous sights.
The nature trail covers rocky and rugged terrain with a few steep climbs on its way to the natural bridge. Carved from a Gasconade dolomite, the bridge spans 40 feet over an old creek bed. At only 13 feet high, you can almost reach the bottom of the bridge.
The stone bridge isn't the only attraction. The hike also features woodland glades, prominent limestone cliffs, and birds-eye views of the rocky creek. Clifty Creek Natural Area is open from 4:00 am to 10:00 pm, giving hikers plenty of time to enjoy the beauty.
9. Lost Valley Trail
Type: Loop
Length: 10.5 miles
Difficulty: Moderate
Lose yourself in the Missouri cedar groves and meadows along the Lost Valley Trail. This trail offers scenic lake views, wet-weather waterfalls, and natural springs. That's not all; you can also hike to a cemetery, an old farmhouse, and a spooky haunted hollow.
The trail is a mix of single and double-track and starts with a few steep switchbacks interrupted by rock ledges, outcroppings, and roots. Watch your step in these sections. We also recommend bringing a map or GPS to navigate the loop without getting lost on one of the area's many connector trails.
The Lost Valley Trail is popular with mountain bikers. Keep your pets on a leash and give cyclists the right of way.
10. Pickle Springs Natural Area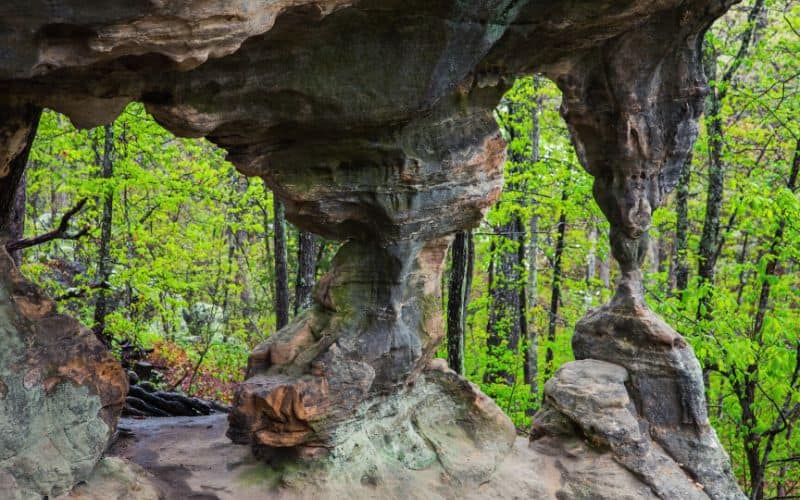 Type: Loop
Length: 2.0 miles
Difficulty: Moderate
Pickle Springs Natural Area is a wonder to behold. A moderate 2-mile loop will take you to all the most fascinating rock formations in the area, including a double arch, slot canyons, and sandstone hoodoos.
The natural area is also home to unique glacial relics, or species that primarily existed millions of years ago when the area was covered in glaciers. For example, the four-toed salamander is a glacial relic, like the large whorled pogonia and the hay-scented fern.
After rain, the area is alive with waterfalls, springs, and water crossings. In other words, bring your waterproof hiking boots and your camera!
11. Turkey Pen Hollow Trail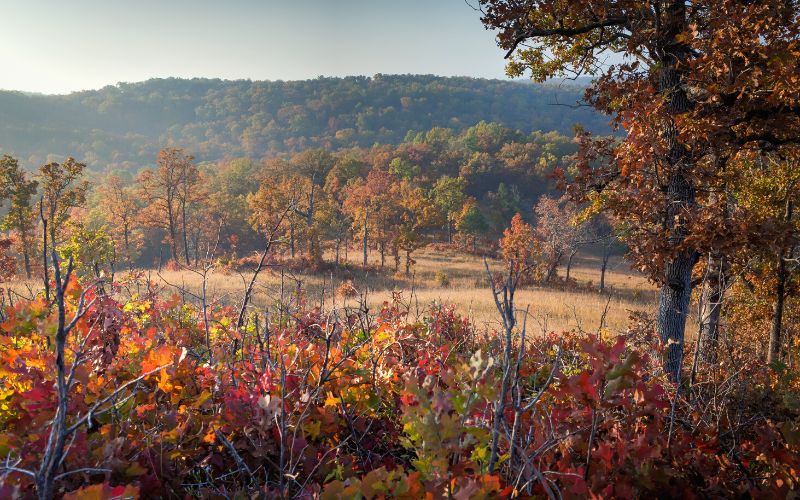 Type: Loop
Length: 6.7 miles
Difficulty: Moderate
Ha Ha Tonka State Park is a must for your hiking bucket list. Specifically Turkey Pen Hollow Trail, a 6.7-mile rollercoaster of a trail that goes through gorgeous dolomite glades spotted with wildflowers and woodland plants.
The red-blazed trail leads to a sinkhole, a hollow, a gorgeous pond, and striking bluff overlooks. Keep your eyes peeled for wildlife as you hike. Turkey (obviously) and deer inhabit the area. Stop at the pond to see hopping frogs, toads, and salamanders.
Turn your day hike into a backpacking trip on the park's many other trails, most of which start from the same trailhead. Camping and entrance to the park is free, but overnighters must register at the park office and make campsite reservations.
Be aware of prescribed burns used to manage vegetation. Fire management information is available at the park office and the trailhead.
12. Natural Wonders Trail, Meramec State Park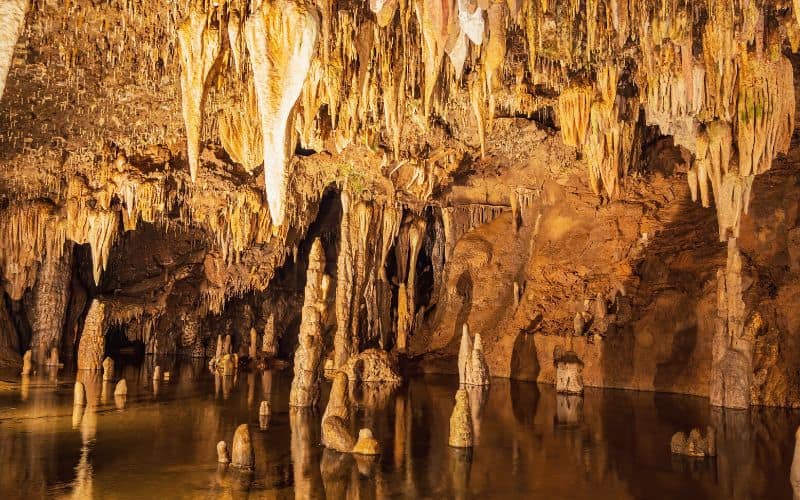 Type: Loop
Length: 1.3 miles
Difficulty: Easy
Hikers of all ages and ability levels will appreciate the incredible scenery of the Natural Wonders Trail. Located in Meramec State Park, this hike is short but overflowing with things to see. There are three natural caves, a mature woodland, picturesque glades, and a refreshing spring along the route.
We recommend you hike counterclockwise and be on the lookout for wildlife. If you don't see beavers or deer, you will see signs of them. Children will delight in looking for deer rubs and chewed-up tree trunks, and spotting wood thrush or oven birds during the spring months.
You can hike one of the park's other trails, and don't forget to visit the park's visitor center to learn more about the park's natural features and history.
Other Missouri Hiking Trails We Recommend
Dogwood Canyon, Dogwood Canyon Nature Park
River Scene Trail Loop, Castlewood State Park
Buford Mountain
Big Piney Trail, Paddy Creek Wilderness
White Tail Trail, Parkville Nature Sanctuary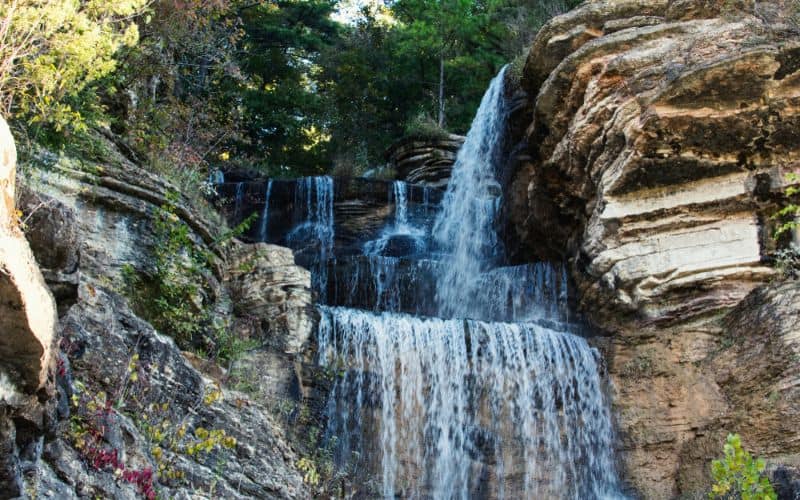 Best Hikes in Missouri: Happy Hiking!
The Show-Me State has a lot to show you along many miles of magical hiking trails. From the Ozark Mountains to the famed Mark Twain National Forest, there is something to satisfy every hiker.
We hope this guide to the best hikes in Missouri inspires you to hit the trails. Which is your favorite hike? Let us know in the comments, and share this with your hiking partner.