If you plan to hike near Tucson, your challenge will be trying to narrow down the list of trails for your trip! Surrounded by four mountain ranges and bordering a national park, Tucson provides ample opportunity to explore the captivating beauty of the Sonoran Desert. To help you we've created a list of our 13 favorite Tucson hiking trails.
If you're looking for a challenging experience, visit Catalina State Park and embark on a scenic hike through some of the most rugged terrain in the state. Alternatively, for a family hike, consider the popular and beginner-friendly Seven Falls Trail. Whatever your skill level, the area offers unparalleled opportunities for hiking the desert and mountains surrounding Tucson.
Where Are The Best Hikes Near Tucson?
Enjoy the best hiking trails with any of our favorite Tucson hikes below.
Bear Canyon Trail to Seven Falls
Blackett's Ridge Trail
Loma Verde Loop, Saguaro National Park
King Canyon Trail
Honey Bee Canyon North Trail
Mica View Loop, Saguaro National Park
Romero Canyon Trail to Romero Pools, Catalina State Park
Tumamoc Hill Trail
Linda Vista Trail
Valley View Overlook Trail, Saguaro National Park
Sutherland Trail
Yetman Trail, Tucson Mountain Park
Tanque Verde Falls Trail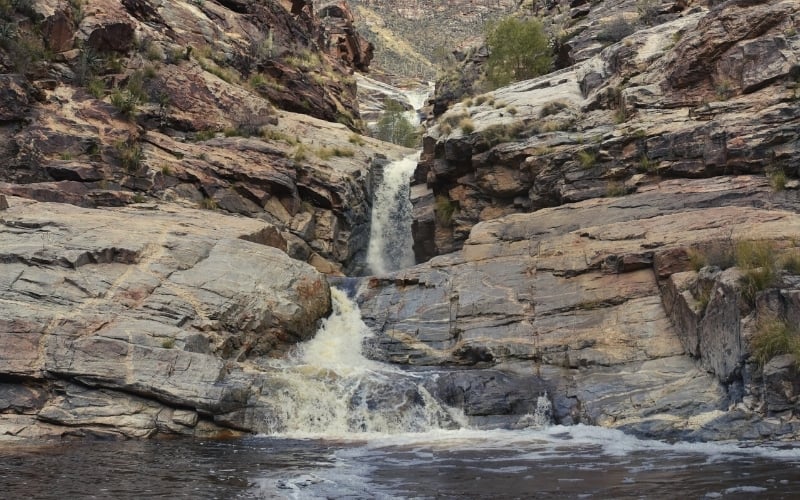 1. Bear Canyon Trail to Seven Falls
One of the best hikes near Tucson is the trek from Bear Canyon along the Seven Falls Trail. Be sure to pack a bathing suit as the trail leads to a refreshing swimming pool at the base of a waterfall. This is a highly trafficked trail, so head out early and avoid weekends to beat the crowds.
Seven Falls is a peaceful desert landscape trail that crisscrosses a wash several times, although it is dry for most of the year. The path is relatively easy to follow aside from a series of switchbacks up to Seven Falls.
The entire trail is 8 miles long unless you catch a ride on the Sabino Canyon Tram, which cuts the trip in half. From the Sabino Canyon Recreation Center, you'll find the trailhead for the Bear Canyon Trail. You can choose to hike these extra four miles through the bushy trails and washes or wait for the 10-minute tram ride.
Both the Bear Canyon Trail and the Seven Falls Train offer very little shade, so head out early if you're hiking in the hot season.
Type: Out and back
Length: 8.2 miles
Difficulty: Moderate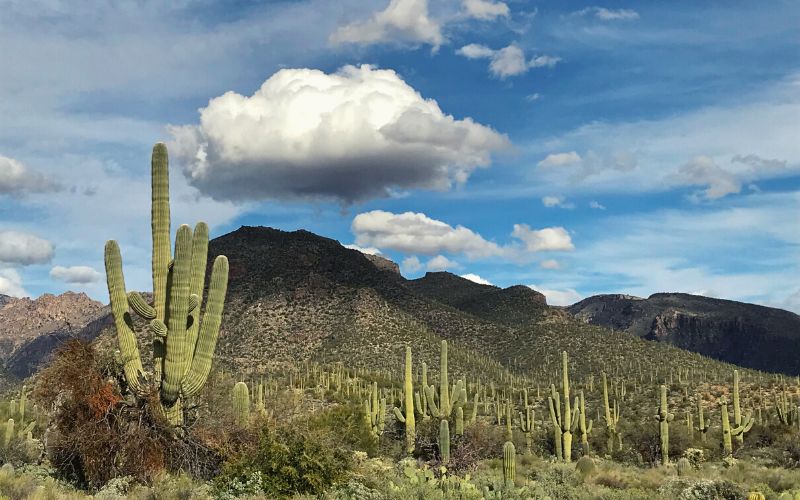 2. Blackett's Ridge Trail
Of all the top Tucson hiking trails on our list, few offer the same stunning panoramic views as on Blackett's Ridge Trail. You'll have to grunt through some steep elevation gain over a short distance, but the views over the Santa Catalina Mountains, Mount Lemmon, and Sabino Canyon more than make up for it.
The entire trek takes 2.5 to 3 hours to complete. Some steep and rocky bits require some scrambling, so proper hiking boots and sure footing are a must. There is also little shelter from the blistering Arizona sun in this part of the Coronado National Forest, so always practice sun safety or take it on in cooler weather.
Type: Out and back
Length: 6 miles
Difficulty: Difficult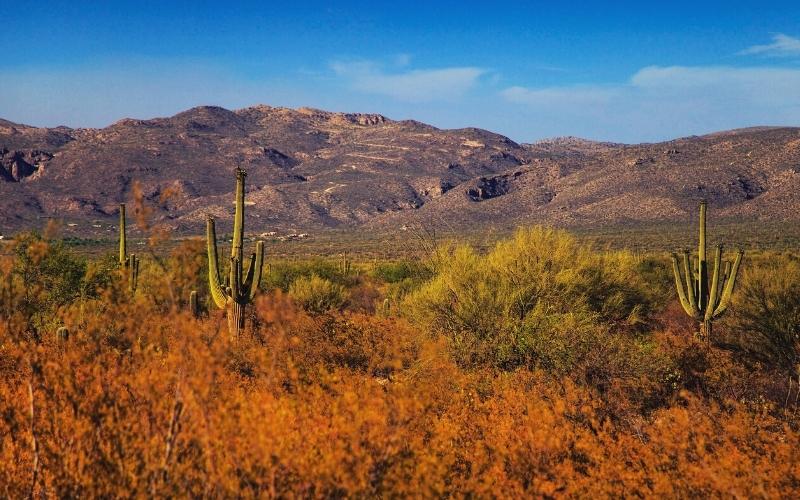 3. Loma Verde Loop, Saguaro National Park
The Loma Verde Loop trail in Saguaro National Park offers a stunning introduction to the lowland scenery of Tucson. This beginner-friendly trail offers a peaceful and quiet hike with plenty to see and do along the way, including visiting an abandoned mine site and the 360-degree panoramic views from the top of Tanque Verde Ridge.
Loma Verde provides the perfect opportunity to immerse yourself in typical Tucson flora and fauna. The trail is surrounded by fascinating mesquite woodland including aged barrel cacti and large saguaros. Keep an eye out for Arizona critters like horned lizards, roadrunners, and collared peccaries.
The Loma Verde Loop is relatively unused, so you can expect to encounter few other visitors during your trek. There are many junctions along the way leading to other areas of Saguaro National Park, but they are all well signposted.
Type: Loop
Length: 3 miles
Difficulty: Easy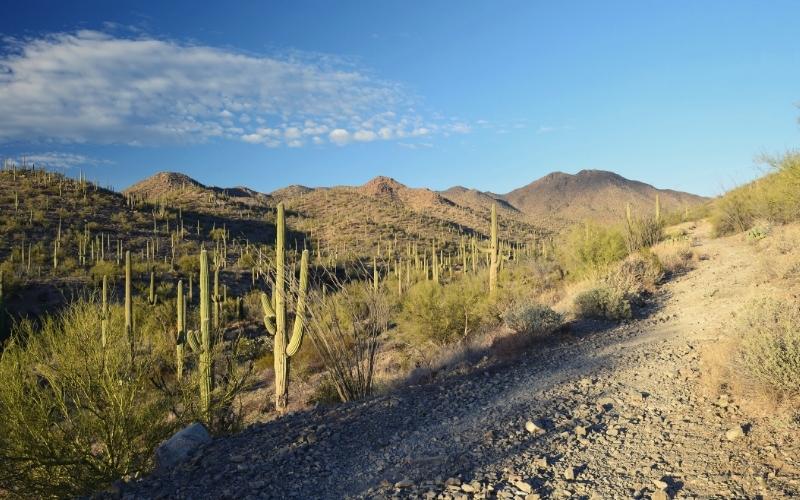 4. Kings Canyon Trail
The King Canyon trail is a quiet and peaceful trail that often gets overshadowed by all the other alluring hikes in the Sabino Canyon Recreation Area. That's a real pity because Kings Canyon offers something the popular Sabino Canyon trails cannot – solitude!
This 7.8-mile loop (also called the Wasson Peak Trail) in Saguaro National Park West features the same fascinating Sonoran desert flora and fauna as the more popular Sweetwater Trail. It also allows you to reach the highest summit in the Tucson Mountain District, Wasson Peak (4,687 ft.), without weaving through the crowds.
This is generally considered to be a moderately challenging route that takes on average 4 hours to complete. The trailhead is found near the Arizona Sonora Desert Museum, and will have you zig-zagging your way up some gorgeous slopes. If you're looking for a real challenge then consider tacking on the Hugh Norris trail for an epic point-to-point hike.
Type: Loop
Length: 7.8 miles
Difficulty: Moderate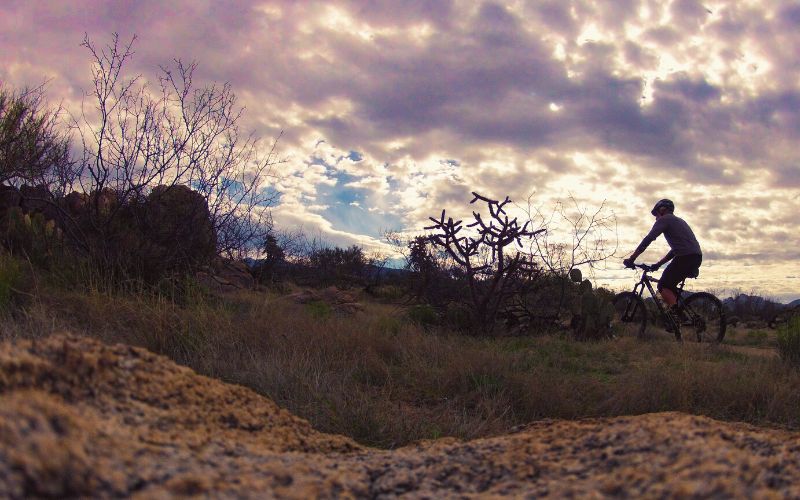 5. Honey Bee Canyon North Trail
Honey Bee Canyon Park is just a 30-minute drive from downtown Tucson, making it one of the best Tucson hikes for a quick day trip in nature.
The Honey Bee Canyon Trail is a largely flat and smooth trail featuring only gradual elevation changes. The park is dog-friendly and open year-round, you'll just have to plan your hike around the blistering Arizona heat since the trail offers little shade.
This is a beginner- and family-friendly trek with only a few slightly rocky and technical sections, but nothing that can't be handled with proper hiking boots on. Step back thousands of years and check out the ancient petroglyphs and other historic landmarks and keep your eyes peeled for an occasional glimpse of the Pusch Ridge Mountains along the way.
Honey Bee Canyon is a popular hiking destination due to its convenient location just outside of Tucson, so expect to share the trail with plenty of other visitors.
Type: Out and back
Length: 2.3 miles
Difficulty: Easy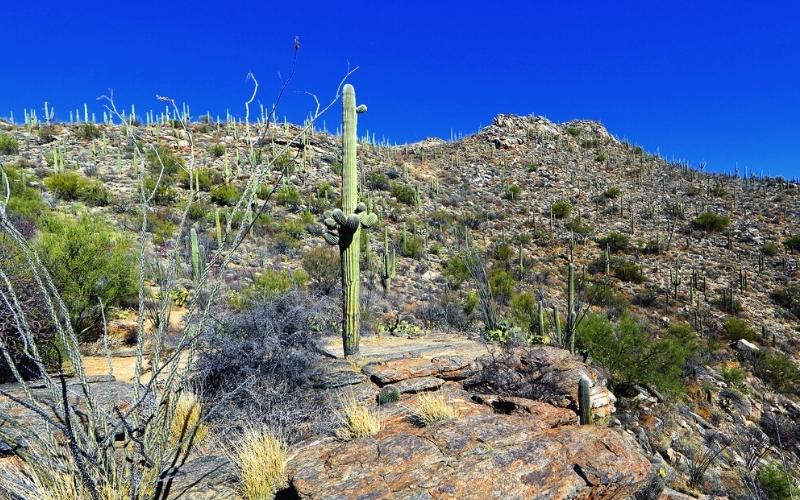 6. Mica View Loop, Saguaro National Park
The Mica View Loop is another family-friendly hike in Saguaro National Park through a beautiful "cactus forest". Along the entire trail, look up and you'll catch glimpses of the Santa Catalina and Rincon Mountains towering in the distance.
This relatively flat loop is 3.7 miles long or you can cut your journey in half at the midway point by following the junction for the Cactus Forest Trail. As you follow the Cholla Trail, just keep a lookout for the signpost marking the beginning of the Cactus Forest Trail
NB. Entrance into Saguaro National Park is $25 or with an annual park pass.
Type: Loop
Length: 3.7 miles
Difficulty: Easy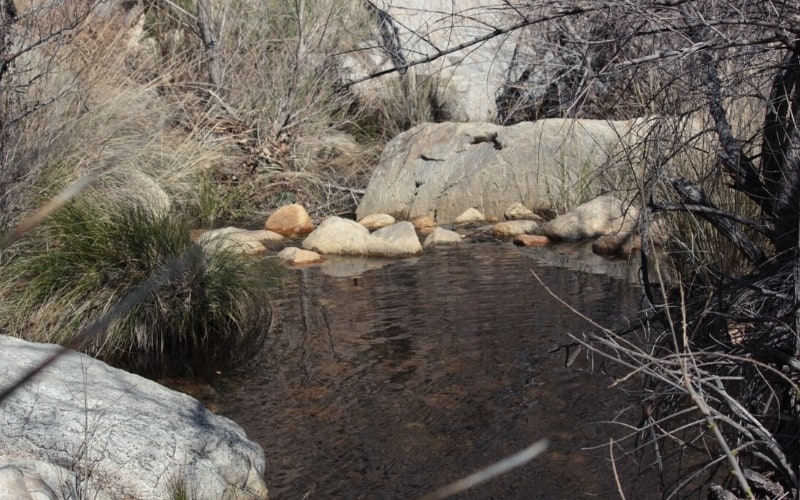 7. Romero Canyon Trail to Romero Pools, Catalina State Park
The Romero Canyon Trail is a challenging out-and-back trail that leads to a beautiful set of falls and swimming pools. Despite its short distance, you'll have to deal with a fairly grueling elevation gain of over 1,000ft.
From the trailhead, you'll be winding your way through the Catalina Mountains for about 3 miles until you reach the Romero Pools. The biodiversity in this part of the park is fascinating so keep an eye out for an abundance of desert wildlife including over 150 species of birds that call Catalina State Park home.
Don't forget your bathing suit either so you can take a refreshing dip in the Romero Pools. Although, depending on the time of year you might find only a small pool of water.
Type: Out and back
Length: 5.5 miles
Difficulty: Moderate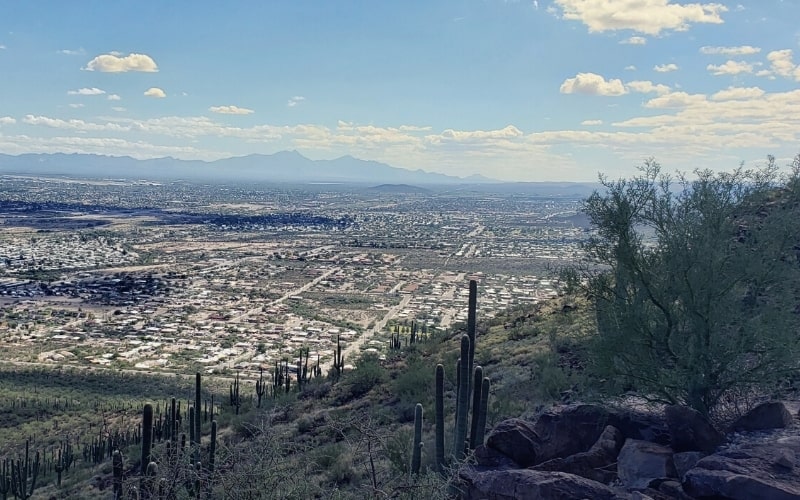 8. Tumamoc Hill Trail
The Tumamoc Hill hiking trail offers a short rewarding hike within Tucson city limits. This vibrant nature reserve overseen by the University of Arizona is a protected area of the Sonoran desert. Students from the university have been conducting scientific research in this part of the Tucson Mountains for over 100 years.
Signposts are found all over the trail detailing the abundant wildlife found here. As you ascend, you'll enjoy panoramic views over the city every step of the way. The path is wide and paved for the entirety of the trail, making it accessible for wheelchairs and strollers.
Don't, however, let the trail's short distance fool you. You'll still be putting in a quad-busting 700ft of ascent in a little under 1.5 miles!
Type: Out and back
Length: 2.9 miles
Difficulty: Moderate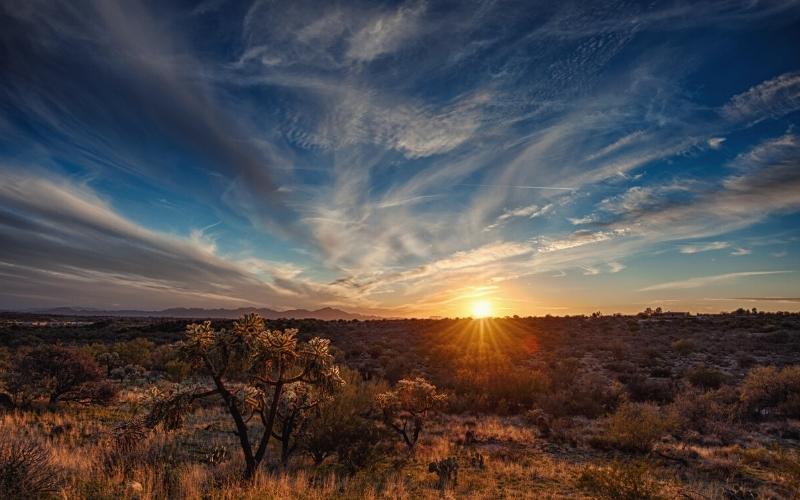 9. Linda Vista Trail
The Linda Vista Loop in the Oro Valley is a family-friendly trail just far enough outside of the city to enjoy some peace and tranquility. The area is rich in desert flora and pretty scenery and a nice leisurely trip for all ages.
The trail is wide and well signposted, making it a good choice for beginners and solo hikers. The shortest hike is a simple, out-and-back, 1.5-mile stroll. If you're looking to extend your trip, there are plenty of smaller trails that you can combine to form a loop back to the trailhead.
Type: Loop
Length: 2.2 miles
Difficulty: Easy
10. Valley View Overlook Trail, Saguaro National Park
The Valley View Overlook Trail offers beautiful desert landscapes on an easy, short trail that is less than a mile long. Tall saguaros line the trail and the surrounding hillside, and in the early summer months, you might get lucky enough to catch the prickly pears and ocotillos in full bloom.
Type: Out and back
Length: 0.8 miles
Difficulty: Easy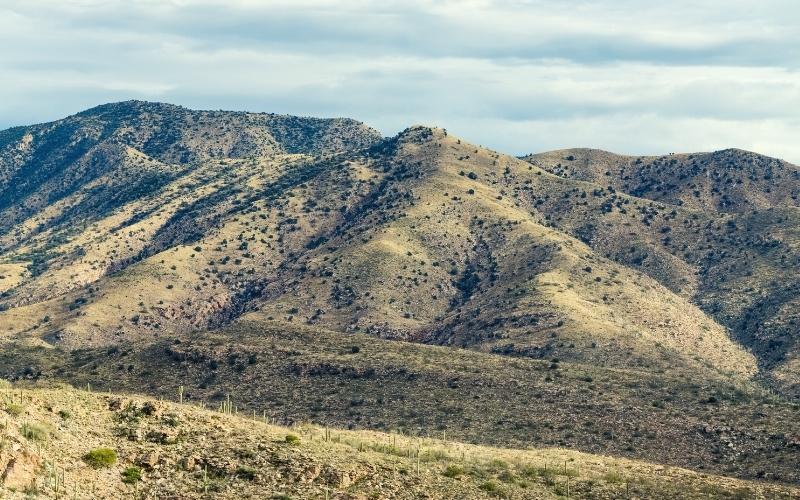 11. Sutherland Trail
The Sutherland Trail is a scenic and long hike through the desert landscape that will eventually lead you to the top of the Santa Catalina Mountains.
If you're just looking for a pleasant hike through the desert, consider taking on only the first couple of miles. In fact, the first section of the trail sees plenty of foot traffic that tapers off the further down the trail you go. If you're looking for a challenge, you can tackle the entire Sutherland Trail with its 5,900ft of elevation gain.
The scenery changes drastically a few miles in. As you ascend the stunning Santa Catalina Mountains, the trail becomes immersed with tall pine trees and incredible views over the peaks.
Type: Point to point
Length: 10.8 miles
Difficulty: Challenging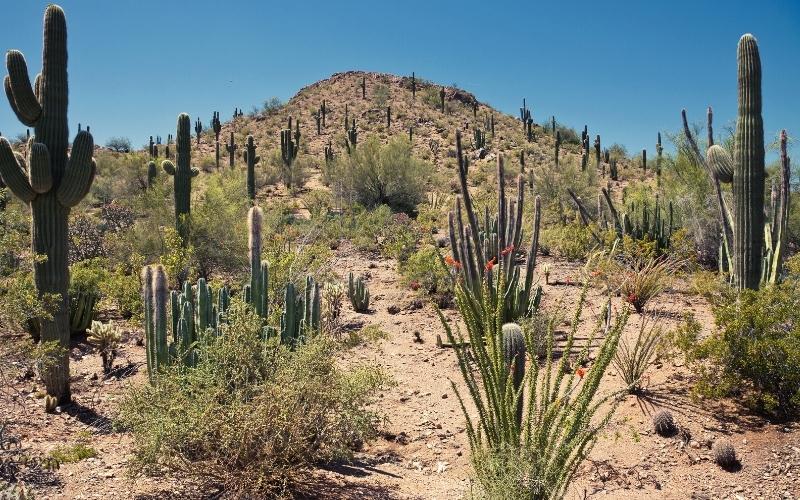 12. Yetman Trail, Tucson Mountain Park
The Yetman Trail is a moderate hike that passes through a variety of Sonoran desert terrain in Tucson Mountain Park. The hike is popular with the locals thanks to the interesting remains of a stone house known as Bowen Ranch. If you turn back after reaching the ranch, the trail is only 5 miles out and back.
Despite its length, the Yetman Trail only features about 500 to 700 feet of elevation gain overall. If you're looking for a longer hike without the grueling elevation of the Sutherland Trail, this is a good option.
Type: Out and back
Length: 12 miles
Difficulty: Moderate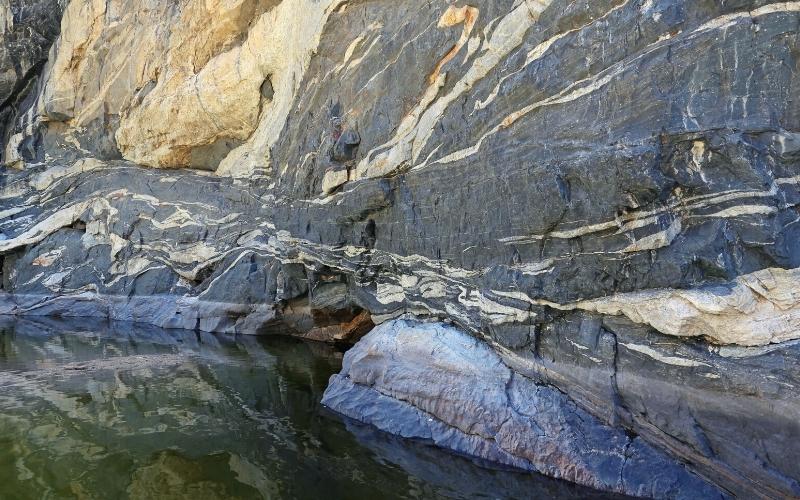 13. Tanque Verde Falls Trail
Tanque Falls is a short and utterly beautiful hike east of Tucson. Its primary feature is a billowing, 80ft waterfall with a refreshing swimming hole at its base. Although the hike is short, it's rated moderate due to its tough elevation gain and some slick rocks you'll have to scramble over.
At the trailhead, just behind the parking lot, you'll immediately encounter a wash. If the wash is filled with water, it's a good sign that both the upper and lower Tanque Verde Falls will be running as well.
Just be prepared: the Reddington Pass area of the Rincon Mountains is a haven for nudists, so it's not uncommon to see people hanging out in nothing but hiking boots and a hat! Whether you keep your clothes on is up to you, but either way, don't miss out on the refreshing pools under the Tanque Verde Falls.
Type: Out and back
Length: 2 miles
Difficulty: Moderate
Ready To Hit Those Tucson Hiking Trails?
With Tumamoc Hill just next door, five mountain ranges hugging the city, and mile upon mile of stunning surrounding desert, there are few better places to lace up your hiking boots than Tucson, Arizona.
We hope our guide to the best hikes in Tucson has helped you plan your next outdoor adventure!
If you've been lucky enough to visit any of these Tucson hiking trails, let us know in the comments below. And if you want to share this article with your family and friends, go right ahead!