On cold-weather hikes, what you wear on your hands can make the difference between an enjoyable day out and a miserable one.
But how do you choose the most suitable winter gloves for your particular hiking needs?
In this article, we offer detailed buying advice that will help you decide which type of glove will work best for you. We've also put together a list of 9 awesome pairs of gloves and mitts that are the best on the market for cold-weather adventures.
Whether you're a hiker or a mountaineer, a novice or a veteran, or somewhere in between, there is a glove on our list sure to be the perfect fit for your activity type and personal requirements.
Editor's Choice
Black Diamond Mercury Mitts
In choosing the winner of our best hiking gloves for this year, we sought a glove that ticked all of the most important boxes – durability, weather protection, and above all, warmth. The Black Diamond Mercury Mitt (click here for womens version) is that kinda glove.
The Mercury Mitts are designed for extra-cold environments. Made with a waterproof nylon/leather shell and beefy PrimaLoft Gold insulation they keep your hands warm in even the most frigid conditions. The Kevlar-reinforced leather palm and backing on this mitt also make it among one of the most durable gloves on our list.
Because this is a mitt, it isn't the most dexterous of options out there. However, it has a removable, split-finger inner liner glove that allows you to whip the outer mitt off when you need to take care of more intricate tasks.
Bottom Line: If you need a winter glove that's guaranteed to keep your hands warm in all but Arctic conditions, this one gets the thumbs up.
At a Glance: Our Top Winter Hiking Gloves Recommendations
Best Hand Protection for Outdoor Adventures in Colder Months
Black Diamond Mercury Mitts
Editor's Choice
Plan on hiking in exceedingly cold conditions? If so, the Black Diamond Mercury Mitt (click here for womens version) is precisely the kind of protection you need for your paws.
These mitts are designed with alpinists in mind, using 340 grams of PrimaLoft Gold insulation in combination with a waterproof nylon/leather shell to provide awesome all-weather protection.
This may make them overkill for three-season hiking or outings on warmer winter days, granted. But if you're the kind of hiker who'd rather risk being a little too warm instead of a little (or a lot) too cold, the Mercury are a great choice.
Like all mitts, the Mercury aren't going to win any prizes for dexterity. Makers Black Diamond, however, threw in a detachable liner that goes a long way towards mitigating that problem. Whenever you need to undo zippers, tie knots, or upload that all-important Instagram story, you can simply whip off the outer gloves and do so wearing the liner.
The Mercurys' Kevlar-reinforced leather palm, fingers, and backing also make them tough as nails. So, you won't have to worry about wear and tear caused by trekking poles, ski poles, or your ice ax.
Specs
Type: Mitt
Insulation: PrimaLoft Gold
Shell: Nylon/Leather
Waterproof: Yes
PROs

Waterproof
Extremely durable
Split-finger detachable liner
Toasty warm
Finger-tip carabiner loop

CONs

Too warm for three-season hiking
Lack dexterity
Bottom-Line: An extremely well-made and toasty warm glove that you can rely on when conditions are wild and temps are exceptionally low.
Black Diamond Soloist
Best Lobster/Runner Up
Looking for a glove that provides the warmth of a mitt but with a little more dexterity? If so, the Black Diamond Soloist Finger Glove is well worth a place on your shortlist.
The Soloist is, in short, a slightly more agile version of the winner of our review, the Mercury Mitt. It's made with the same Primaloft Gold Insulation, has the same toasty-warm fleece liner, and a similar nylon/leather shell. The only significant difference is that the Soloist uses a split-finger design that provides a little more dexterity by isolating the index finger.
So how to decide between the two? The answer lies in the anticipated end-use.
Both the Mercury and Soloist are rated at -20 to 10˚F, however, we found that keeping our fingers together kept our digits just a fraction warmer in the Mercury Mitts. This makes them our top pick for activities where warmth is more of a priority than precision.
The Soloist's added dexterity, on the other hand, makes them a better option for any pursuit in which having a freely-moving finger is useful, such as outdoor photography or mountaineering.
Need more dexterity still? A full-finger version of the Soloist is also available.
Specs
Type: Split-finger/Lobster
Insulation: PrimaLoft Gold
Shell: Nylon/Leather
Waterproof: Yes
PROs

Waterproof
Warm
Relatively dexterous thanks to isolated index finger
Durable
Great value for money

CONs

Overkill for some
Not as dexterous as a full-finger glove
Bottom-Line: Tough, superbly warm, and waterproof hiking gloves that excel in frigid conditions but have added dexterity due to their spilt-fingered design.
Outdoor Research Alti Mitts
Best Mitt
Built for high-altitude and Arctic expeditions in freezing conditions, the Outdoor Research Alti Mitts (click here for womens version) are a no-nonsense kinda mitt that truly means business.
Made with a combo of PrimaLoft insulation, high-loft fleece, a Gore-Tex Membrane, and a burly nylon-leather shell, the Alti are essentially winterized, weatherproof, abuse-resistant sleeping bags for your hands.
What we love most about the Alti, however, is that despite their stellar defense against inclement weather, they remain super-breathable. This reduces the risk of getting cold hands if your sweat soaks into the insulation, which is often the case with such well-insulated gloves.
The downsides?
Well, the elephant in the room with these mitts is that they cost around the same price as a mid-range down jacket, and aren't as rugged as models like the BD Guide, which offer better value for money. They also aren't the most minimalist gloves you'll ever come across, so you'll have to consider how much dexterity you need before making them your go-to winter hand warmers.
Nevertheless, they're still among the best gloves out there for extremely cold weather.
Specs
Type: Mitts
Insulation: PrimaLoft Gold
Shell: Nylon/Leather
Waterproof: Yes
PROs

Waterproof mitten shell
Excellent in extreme cold weather
Removable liner gloves
Durable leather palms
Nose wipe thumb
Polyester fleece lining

CONs
Bottom-Line: The ideal winter gloves for hikers prone to cold digits or those headed to locations where a little extra warmth will be greatly appreciated.
REI Co-op Merino Glove
Best Wool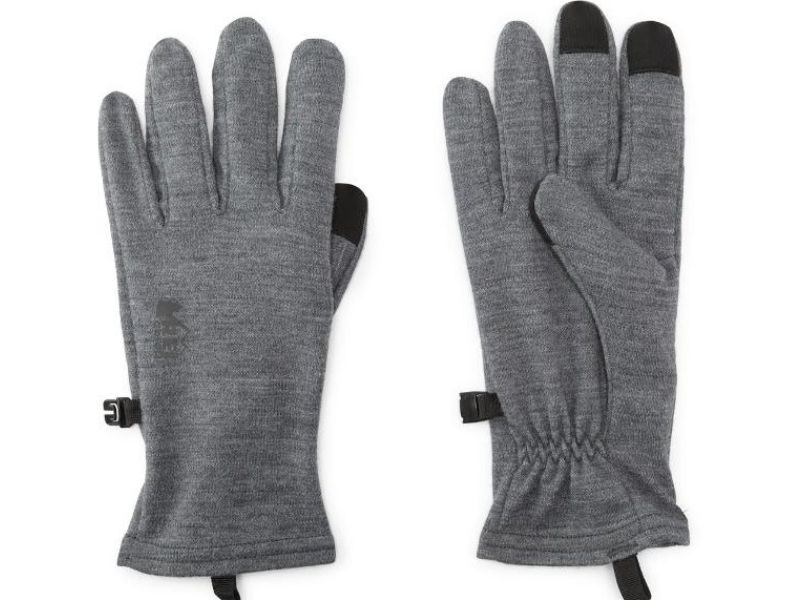 Need an upgrade on your regular polyester liner? Look no further than the REI Co-Op Merino Glove.
These gloves offer all the regular benefits of merino; lightweight, high-wicking, breathable, odor-resistant, and feels great against the skin too. It's also more durable than your average synthetic liner and is a thermoregulating fabric, which means it adjusts to the temperature of your body.
These liners are fairly pricey but have a few add-ons that are well worth having. These include an elasticated wrist, a carabiner hand loop, chafe-free seams, and touchscreen compatibility.
Specs
Type: Liner
Insulation: N/A
Shell: Merino/polyester
Waterproof: No
PROs

Breathable and moisture-wicking
Naturally odor resistant
Stay warm even when wet
Relatively durable
Elasticated wrist for a snug fit
Touchscreen compatible

CONs

Short on warmth for the price
Bottom-Line: These are high-wicking, super-soft, and breathable gloves that pack a few more add-ons than your average liner.
Black Diamond Guide
Best Five-Finger Gloves
It's rare for one of our 'best-of' lists to feature three products from the same brand, but in this case, we had to make an exception to squeeze in another outstanding offering from Black Diamond (click here for womens version).
The Guide have been around for a few years now and in that time have earned legions of fans in the worlds of skiing, mountaineering, and hiking. While not quite as warm as the Mercury or Soloist, they're every bit as tough and plenty warm for the needs of most winter hikers.
The Guide excel in wet conditions thanks to their use of a Gore-Tex insert. They also offer a lot more dexterity than the Mercury and Soloist and have a leather-reinforced rear for added resistance to wear and tear.
What we love most about the Guide is their versatility. Their stellar weather protection, warmth, ruggedness, agility, and stylish appearance makes them suitable for hiking, ice-climbing, skiing, mountaineering, and even cold days around town.
The only real downside to the Guide is that the leather can be a little stiff and takes time to wear in. After that, you'll have a pair of toasty-warm, extra-tough, and incredibly comfortable hiking gloves that are built to last a lifetime, maybe even two.
PROs

Waterproof
Warm
More dexterous than mitts
Durable
Gauntlet cuffs

CONs

Less dexterity than other five-finger models
Bottom-Line: An extra-warm, waterproof, hard-wearing glove that provides all the insulation of a beefy mitt but with a lot more dexterity.
Columbia Wind Bloc
Best Budget
Looking for the best bang for your buck? If so, the versatile and surprisingly warm Columbia Wind Bloc fleece gloves (click here for womens version) are well worth considering.
The Wind Bloc are made with super-soft, cozy, polyester fleece backed with an Omni-Heat reflective lining. This lining is specially designed to block wind and retain body heat whilst also allowing your sweat to escape, which makes them ideal for high-output winter activities or three-season hiking and one of the best gloves for backpacking out there.
The suede palm grip on the Wind Bloc also makes them more durable than most gloves in their price range, while the touch-screen-compatible fingertips let you operate your GPS or smartphone without having to remove the glove.
The Wind Bloc aren't waterproof and, of course, don't provide nearly as much warmth as insulated gloves like the BD Guide or Soloist. However, this is only to be expected of a glove in this price range.
Specs
Type: Windproof Glove
Insulation: OmniHeat reflective lining
Shell: Fleece/Suede
Waterproof: No
PROs

Affordable
Warm for such a lightweight glove
Wind-resistant
Anti-slip palm print provides good grip

CONs

Not waterproof or water-resistant
Not warm enough for extremely cold conditions
Bottom-Line: One of the best lightweight winter gloves and best backpacking gloves out there.
Rab Power Stretch Contact Grip
Best Softshell
For high-intensity winter activities or hikers who plan on using their smartphone while on the move, there are few options out there as suitable as the Rab Power Stretch Contact Grip.
The elaborate name of these gloves is equaled by its elaborate design, packing a handful of non-standard add-ons that make it a standout compared to other peers in its price range.
The Contact Grip is made with a polyester, nylon, and elastane blend that hits the sweet spot in the durability, comfort, breathability, and dexterity stakes. And while not suitable for hikes in freezing temps, their warmth-to-weight ratio is impressive.
Other gloves in our review, such as the Columbia Wind Bloc and TNH Gordon Etip, also have touch screen compatibility. However, the CG's low-bulk design, grippy silicon palm, four-way stretch, and smartphone-friendly index fingers make them a better option for buyers seeking something more performance-oriented than your average lightweight glove.
Specs
Type: Liner/Lightweight Outer
Insulation: N/A
Shell: Polartec Power Stretch Pro (53% polyester, 38% nylon, 9% elastane)
Waterproof: No
PROs

Four-way stretch
Touch screen compatible
Grippy palm
Highly breathable
Thick enough to provide sun protection

CONs

Not warm enough for sub-zero conditions
Bottom-Line: Sleek, well-designed, lightweight hiking gloves that are just a little more performance-oriented than others in their price range.
Rab Flux Liner Gloves
Best Liner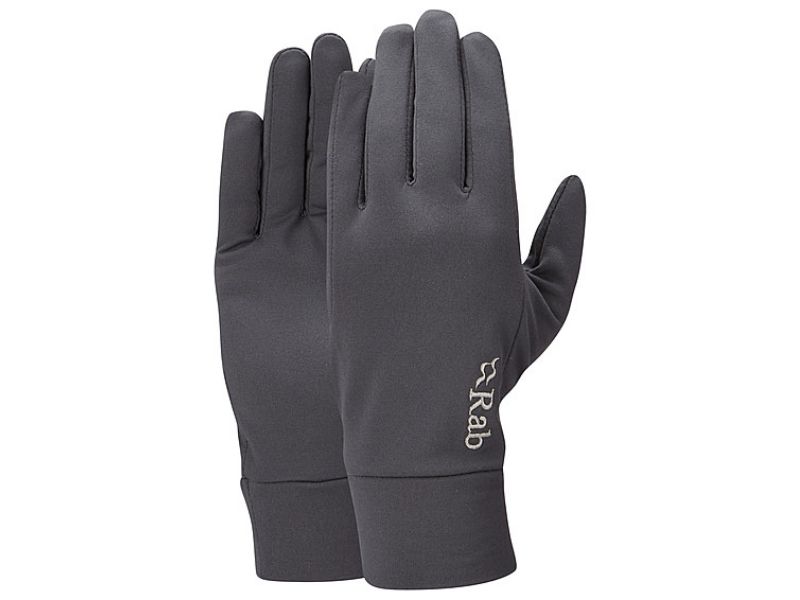 Glove liners can be hit or miss. Some fall apart after a few outings on the trails. Some have fingers long enough to stash candles in. Others add about as much insulation as your average spider web. I've been using the Rab Flux Liner Gloves for a few years now, and can gladly report that none of the above apply.
The Flux Liner is a lightweight, stretchy fleece glove that's ideal for use as both a liner under an insulated, waterproof shell or for standalone use in warmer weather. It also has enough "give" to allow the hand to move freely and uses a polygiene treatment for odor control.
Specs
Type: Liner
Insulation: N/A
Shell: Polyester
Waterproof: No
PROs

Ultralight
Versatile
Stretchy fabric
Snug fit

CONs
Bottom-Line: Simple, frill-free glove liners that are a little more durable and comfortable than the best of the rest.
The North Face Gordon Etip
Best Value
Looking for an affordable pair of gloves that are warm enough for standalone use in all but the most frigid winter conditions? If so, The North Face Gordon Etip are worth penciling in on your shortlist.
The Etip boast all the attributes you'd expect of fleece gloves. They're cozy, moisture-wicking, and highly dexterous. But they also have a few endearing add-ons that are sure to be appreciated by certain users, namely reinforced knuckles and leather palms for added durability, touchscreen-compatible thumbs and forefingers, and Z-stitched cuffs for a better fit.
Compared to other touch-screen-compatible models like the Columbia Wind Bloc or Rab Power Stretch, the Etip is a much warmer glove. This makes it a better bet for buyers seeking a hiking glove that's suitable for standalone use on outings in 20˚F-35˚F.
Specs
Type: Full finger
Insulation: N/A
Shell: Recycled polyester fleece/Leather
Waterproof: No
PROs

Warm
Durable
Touchscreen capable
Affordable

CONs

Not waterproof
Too chunky to wear as a liner
Bottom-Line: A cozy, robust, affordable fleece glove that's great for 3-season and warmer winter hikes.
What to Look for When Buying Gloves for Hiking
Type: Glove vs Mitten vs. "Lobster" Gloves
Full-finger (standard) gloves are the most dexterous of the bunch, allowing you to perform more intricate tasks without having to remove the glove. On the downside, because the fingers are isolated, they don't warm each other up, as is the case with mittens.
The next most dexterous are lobster (split-finger) hiking gloves, which typically enclose the middle finger, ring finger, and pinkie in one pocket while giving the thumb and forefinger a pocket all of their own. This hybrid design makes split-finger models almost as warm as mitts but provides you with the ability to perform more intricate tasks using your thumb and forefinger.
Mitts are generally preferred by outdoors enthusiasts who require as much warmth as possible. Enclosing 4 of your 5 fingers within one place the fingers are essentially able to heat each other up, which isn't the case with a standard full-finger glove. This design, however, does mean you forfeit dexterity.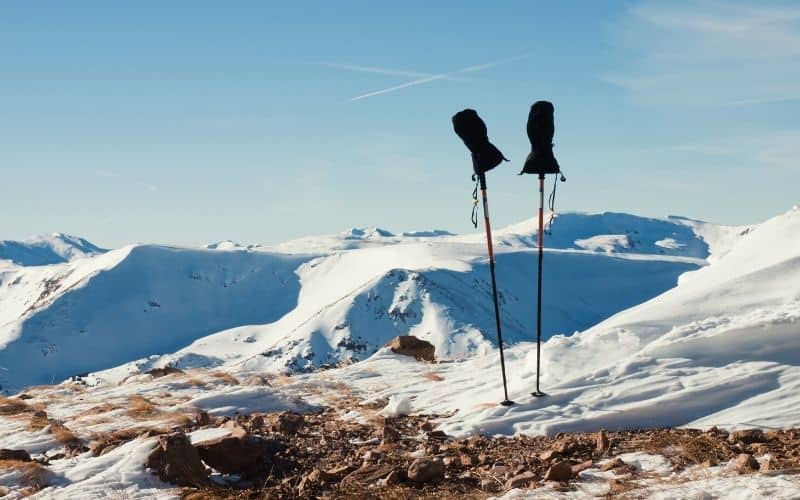 Fabric & Materials
No factor has a greater bearing on a glove's durability and warmth than the materials it is made with. Given that you'll have a choice of merino wool, cotton, polyester, fleece, nylon, down, leather, and suede, knowing what each material type brings to the table is key to finding the ideal glove for your needs.
For the shell material, we're big fans of leather-reinforced patches on top of nylon, which is far harder-wearing than fabrics such as regular polyester, fleece, or wool. If the shell happens to have a Gore-Tex membrane underneath, all the better.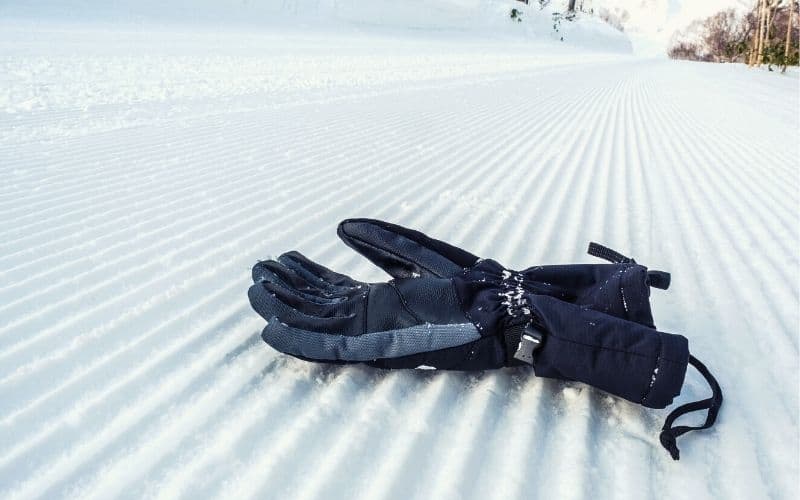 Concerning insulation, the most popular materials are fleece, down, and synthetic microfibers like Primaloft.
Down is commonly found in mitts designed for use at high altitudes, so is likely to be overkill for the average hiker. It's also bulky and the most expensive insulation type available.
Fleece is used as insulation in many gloves and mitts at the cheaper end of the market, though some top-end models also have a fleece liner inside a waterproof Primaloft-insulated outer shell. While fleece is cozy and breathable, its lack of water resistance makes it a poor choice for wet-weather hiking unless worn under a waterproof shell.
The benefits of synthetic materials like PrimaLoft are that they're durable and have good waterproof performance, insulating even when wet.
Warmth
Ready to hear something kinda radical and counterintuitive?
Here goes: the warmest glove isn't always the best glove, even when it comes to winter gloves.
Let us explain…
When hiking in winter, the main objective is to keep your body comfortable, not just hot. As is the case with your layering system, wearing warmer gloves than you need will lead to overheating, and sweaty hands will lead to damp gloves. Damp gloves, in turn, lead to cold fingers, because moisture will seriously impede the insulation's ability to insulate.
The takehomes from this are twofold. First, choose a pair of gloves that provide an appropriate amount of warmth for the conditions in which you'll be hiking. Second, it's always wise to carry both a thin pair of lightweight gloves as well as a thicker pair. This way, you can alternate between the two as conditions and exertion levels dictate.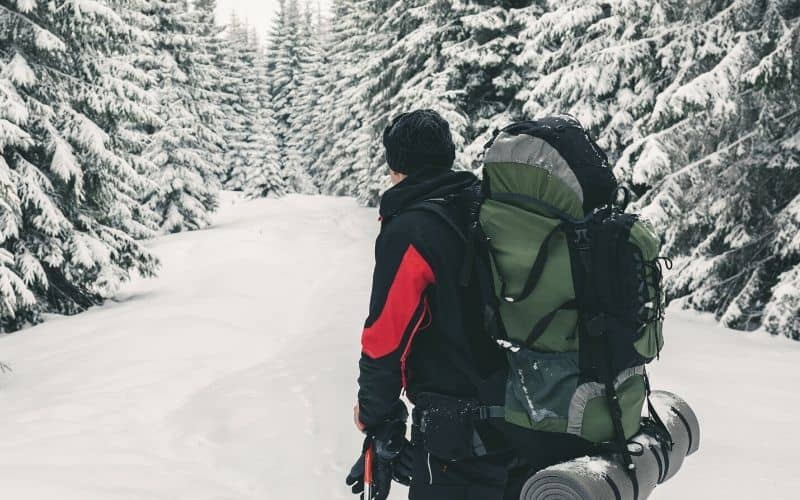 The warmest models on our list are mitts like the BD Mercury and Outdoor Research Alti, both best suited to sub-zero conditions or hikers who either anticipate moving slowly or have poor circulation.
For general winter hiking in temps ranging from 20˚F to 35˚F, we recommend a midweight glove like the North Face Gordon Etip or the Rab Power Stretch if you plan on moving fast.
Weather Protection
Waterproof or not?
Believe it or not, there are a ton of winter gloves out there that aren't fully waterproof. The logic behind this is that precipitation in winter months, in many places, is more likely to fall as snow than as rain. And because snow doesn't saturate fabrics nearly as quickly as rain, waterproofing is seen as a luxury as opposed to a necessity.
The benefits of waterproof gloves like the BD Mercury Mitt and Guide are obvious. They keep your hands dry and warm when encountering rain and also if your hands are in frequent contact with snow. The downsides are they're normally pricey and less breathable than non-waterproof gloves, meaning they're not ideal for high-output activities.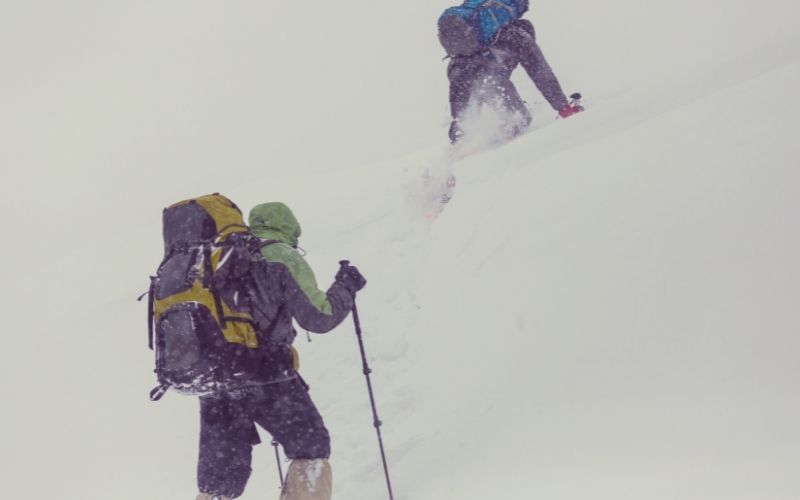 Durability
With any outdoor gear, durability is key to getting good value for money, and hiking gloves are no exception.
The most durable hiking gloves out there are usually those made with tough nylon shells, like the Outdoor Research Alti, BD Mercury, BD Soloist, and BD Guide, all of which use Kevlar stitching and leather-reinforced palms. The North Face Gordon Etip also uses nylon patches on areas prone to wear and tear.
The least durable gloves are those made with wool or fleece. These are prone to develop holes and wear through easily, so aren't the best option for anyone who prioritizes longevity.
Features
There are a few things that can greatly enhance the convenience and practicality of any pair of hiking gloves.
The most notable additional features to look out for are:
Carabiner loops for attaching gloves to your backpack or harness when not in use
Touchscreen compatibility
Wrist cinches to keep drafts out
Removable liners so you can take the outer glove off to perform more delicate tasks without exposing your skin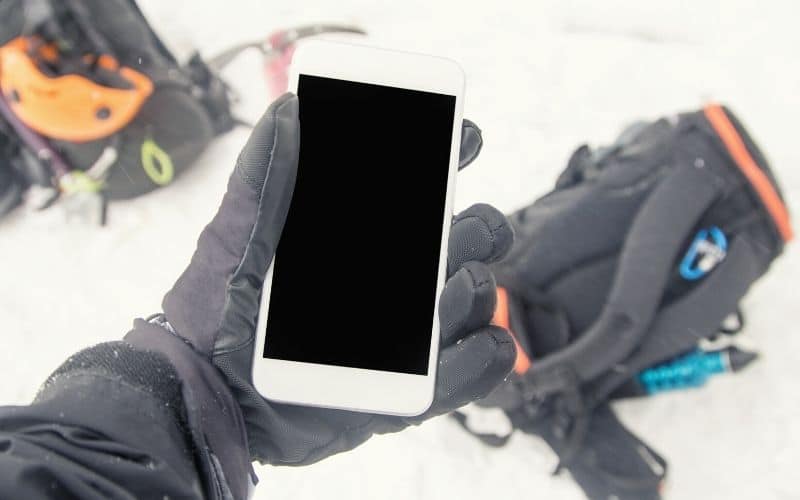 Best Hiking Gloves and Mittens: The Verdict
When temps are low, a good pair of hiking gloves are the only thing standing between you and a pair of frozen – and probably all but useless – hands. On the above list, we're sure you'll find a pair capable of keeping your hands warm and comfortable no matter where you plan on doing your hiking.
For extra-frigid conditions, we recommend heavily insulated models like the BD Mercury or Soloist, or the BD Guide if you need a little more dexterity. For warmer winter conditions or fast-paced hiking, a glove like the TNF Gordon Etip or Rab Power Stretch will likely suffice, but don't forget to pack a spare pair just in case conditions take a turn for the worse!
How did you like our article? If we missed any of your favorites or you have any questions, let us know in the comments box below!
For more hiking clothing info then click here!