Despite being the fourth-smallest state, New Jersey is jam-packed with some fantastic trails for hiking!
Although many New Jersey trails don't have the same jaw-dropping vistas you'd find further out west, the Garden State still offers plenty of diverse landscapes and abundant wildlife to explore. Where else can you get lost in the mysterious Pine Barrens, summit forested mountains, and swim in the Atlantic ocean… all on the same day?!
We've rounded up 10 of the best trails to help you plan an epic adventure. Read on to learn more about NJ's best family-friendly strolls, all-day mountain treks, and everything in between.
1. Red Dot and Blue Blaze Trails, Mount Tammany (Worthington State Forest)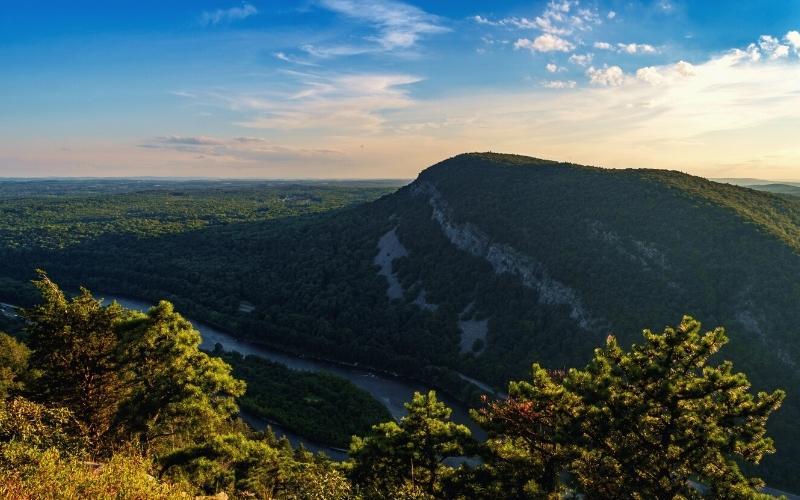 Type: Out-and-back
Length: 3 miles
Difficulty: Challenging
Ready to conquer Mt. Tammany, the highest peak of the Kittatinny Mountains in New Jersey?
Our first trek is a long and grueling climb up to the summit of Mt. Tammany in Warren County. The dramatic view from the top is arguably one of the best in the state, especially when fall colors liven up the landscape.
You can reach the summit in two ways: The Red Dot Trail or the Blue Blaze Trail. The former is a quad-busting climb that covers 1,200ft in a little over a mile and requires some scrambling, while the Blue Trail covers the same elevation change at a slower pace.
To get the best of both worlds, we suggest hiking up the Red Dot Trail and then down the Blue Blaze which is considered to be the easier to descend.
Both trails are found in the Worthington State Forest which includes 22 miles of hiking trails and all sorts of natural wonders, including the lovely Sunfish Pond.
2. Buttermilk Falls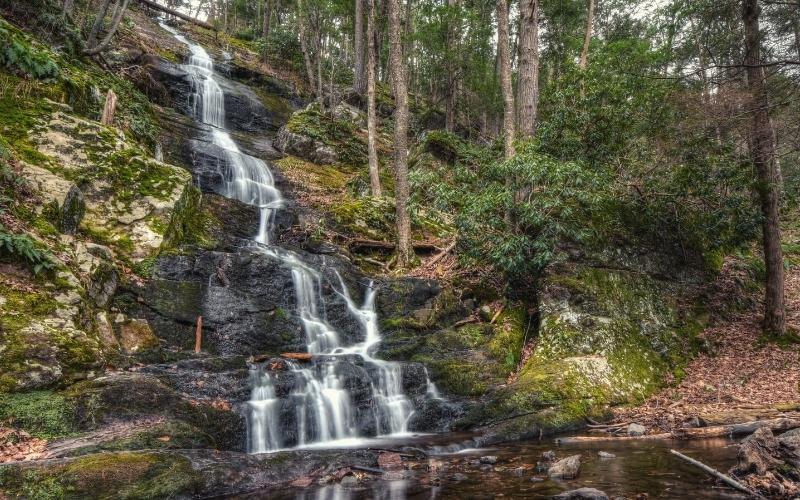 Type: Out-and-back
Length: 2.8 miles
Difficulty: Moderate
If you want to check out one of the tallest waterfalls in the state of New Jersey, meander down the Buttermilk Falls Trail. It's part of the trail system in the Delaware Water Gap National Recreation Area.
From the trailhead, you'll face a steep climb to the top of the falls but you'll soon be rewarded with stunning views of the Delaware River Valley below. From there, the climbing continues until you reach a junction with the famous Appalachian Trail.
Here you'll have the choice to turn around and head back or extend your hike by heading south on the AT towards Crater Lake and Hemlock Pond.
Crater Lake is all that's left of the Wisconsin Glacier that retreated from the area over 22,000 years ago. It's worth a visit if your legs aren't too rubbery from all that climbing!
3. The Giant Stairs, Palisades Interstate Park (Bergen County)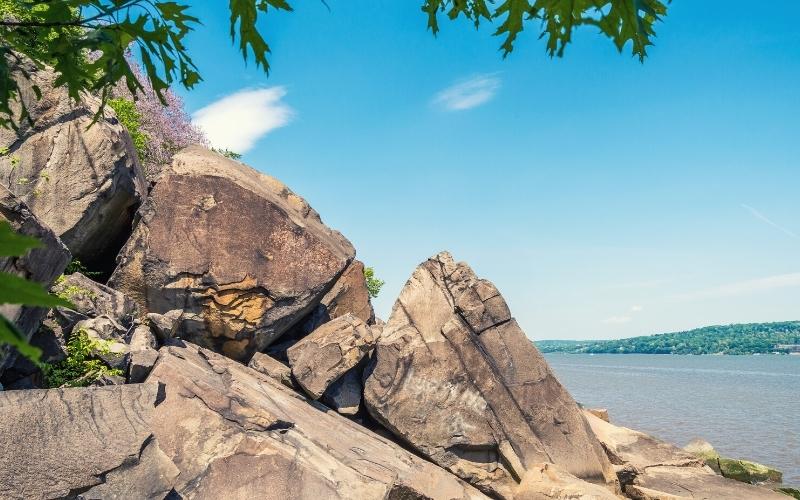 Type: Loop
Length: 4.3 miles
Difficulty: Moderate
If you're looking for an intense workout, The Giant Stairs will certainly put you through your paces!
The Giant Steps were formed when a large section of rocks tumbled down from the Hudson River Palisades. The Giant Stairs Trail is a moderately challenging hike through the area and it offers fantastic views of the Hudson River as you ascend.
The best way to start the trail is from the State Line Lookout off the Palisades Highway. Here you'll find a popular parking lot that overlooks the Hudson River. You'll be making a loop back to this lookout, so it's a good place to park your car (and catch lunch at the nearby cafe after your hike!).
Along the way, you'll pass a cascade, scramble over some boulders, and eventually climb a steep stone staircase. You'll even pass the Women's Federation Monument – a watchtower-like structure that honors the women's clubs that worked tirelessly to preserve Palisades Park.
4. Stairway to Heaven, Wawayanda State Park (Pochuck Valley to Pinwheel Vista)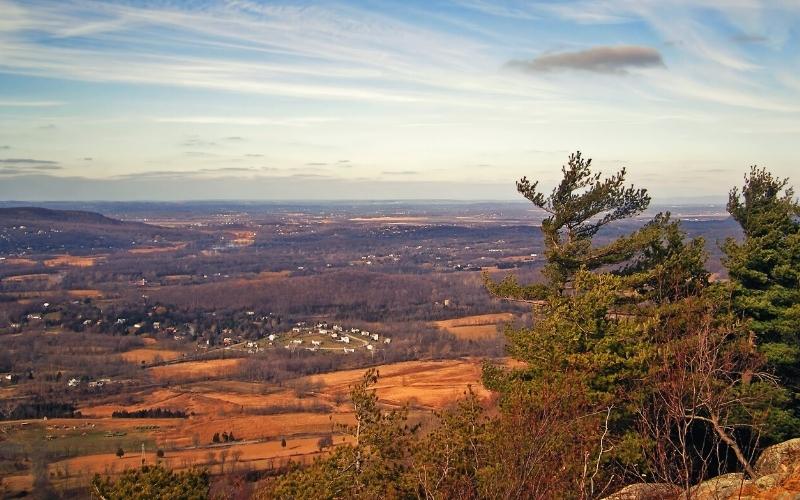 Type: Out-and-back
Length: 7.3 miles
Difficulty: Challenging
Few other NJ hikes allow you to experience such a wide variety of colorful landscapes. You'll be traipsing over and across a suspension bridge, boardwalks, hardwood forests, fields of wildflowers, and pastures, all before reaching a steep climb up the "Stairway of Heaven" to one of the best outlooks in NJ, the Pinwheel Vista.
The Stairway to Heaven in Wawayanda State Park is a challenging trek that throws a lot at you – elevation gain, uneven and varied terrain, and some seriously rocky sections. Be sure to come prepared! While the hike starts on a flat surface boardwalk, by the end of the trail you'll have covered over 7 miles and a series of steep switchbacks before the outlook.
5. Hemlock Falls, South Mountain Reservation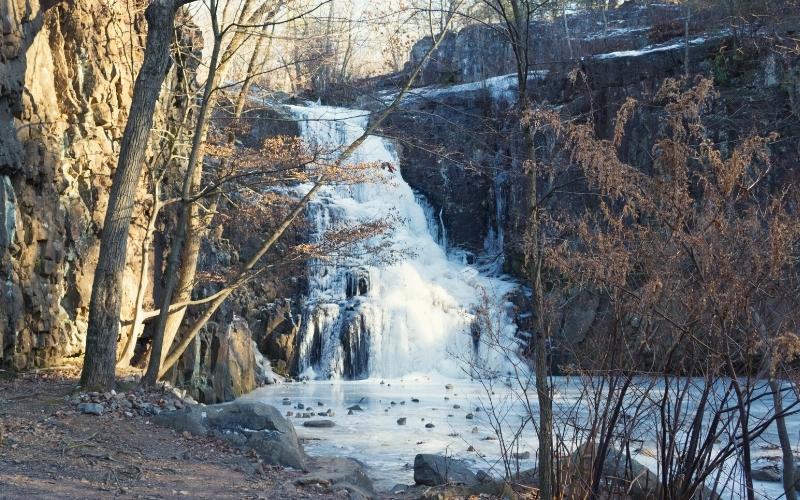 Type: Loop
Length: 1.8 miles
Difficulty: Easy
The South Mountain Reservation in Essex County covers over 2,000 square miles of pristine wilderness. It's a wonderful place to immerse yourself in nature amongst the hardwood forest and the tall hemlocks towering above small streams and rivers.
There's plenty to do and see for the whole family at South Mountain. The park contains five marked trails and a mix of bridle trails and carriage roads. The park is also home to waterfalls, millponds, a popular dog park, and in the winter, two ice skating rinks.
You can also check out the tiny, all-natural "Fairy Houses" local artist Therese Ojibway has been leaving around South Mountain for the past 10 years.
If you've got time for only one of the reservation's trails, make it the Hemlock Falls Loop. You can make the short, out-and-back trip to the falls or do a loop by combining your trip with other trails.
6. Hacklebarney State Park, Morris County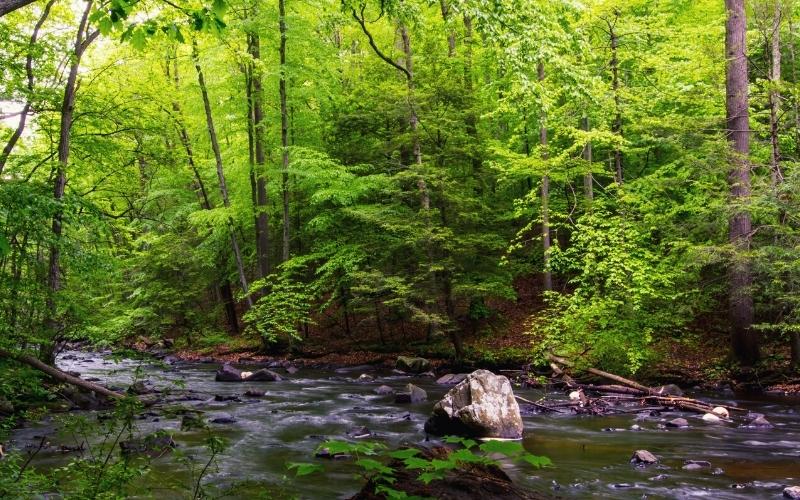 Type: Loop
Length: 2.5 miles
Difficulty: Easy
Hacklebarney State Park in Morris County is a great place to bring the whole crew, including kids and four-legged hikers. There are nine overlapping trails within the park and most of them are paved or gravel.
Our suggested route combines the Main and Riverside Trails to form a 2.5-mile loop. The hike runs adjacent to the Black River, so you won't face much elevation gain. The hiking trail is mostly gravel, making it suitable for hikers of all experience levels.
7. Sourland Mountain, Sourland Mountain Preserve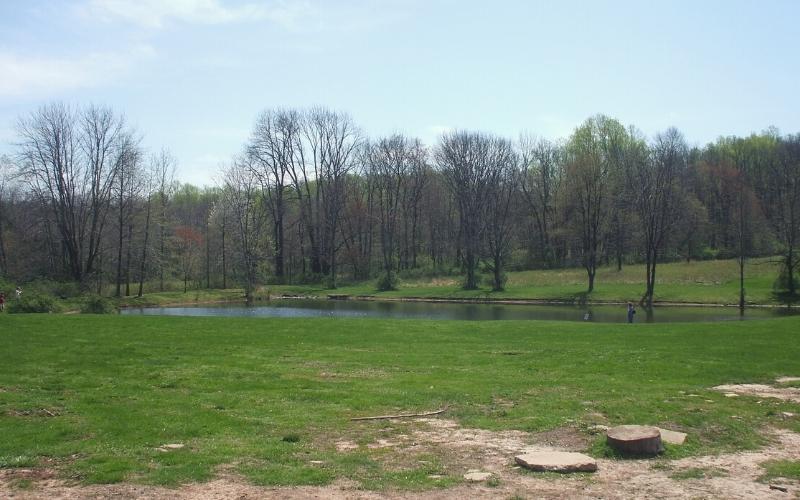 Type: Loop
Length: 6 miles
Difficulty: Moderate
Sourland Mountain is a 17-mile ridge that extends from the Delaware River to the western end of Hillsborough in northern New Jersey. There's plenty to do and see across Sourland's 6,000 acres, including hiking, mountain biking, bird watching, bouldering, and horseback riding.
The preserve contains a variety of intertwining, easy-to-moderate hiking paths stretched through a mature hardwood forest. For instance, the Pondside Trail is an easy 0.5-mile loop that crosses several gently rolling hills. Another easy hike, the Maple Flats Trail, is a 1.5-mile loop that takes you deeper into the Sourland's forest.
If you're keen to ascend Sourland Mountain's ridge, try the Ridge Trail (also called the Devil's Half Acre). You'll enjoy beautiful views of the woodlands and cross two boulder fields on this moderately challenging loop trail. The going is rocky, so bring proper hiking boots!
8. Stone Lake Loop, Stokes State Forest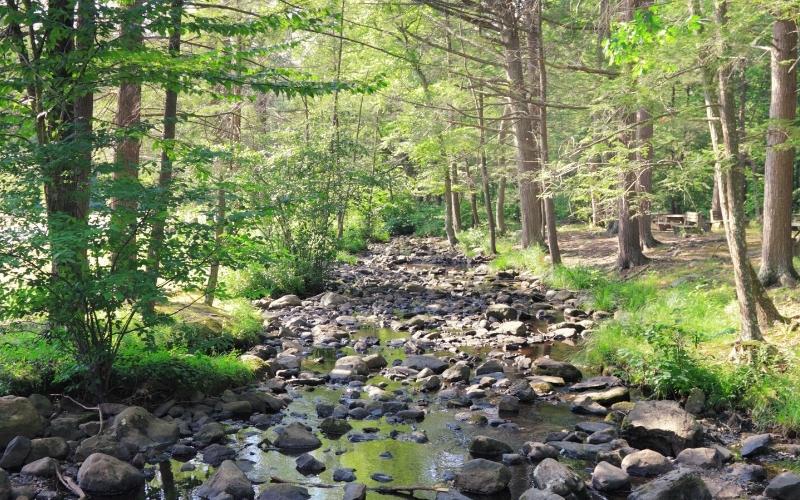 Type: Loop
Length: 1.1 miles
Difficulty: Easy
Stokes State Forest is what hiking dreams are made of! This popular state forest in Sussex County features forested mountains, freshwater streams, scenic waterfalls, and panoramic views from the top of Sunrise Mountain.
There are over 63 miles of trails in Stokes State Forest and they all lead to fascinating places like the Appalachian Trail, Tillman's Ravine, and Stepping Stones Falls.
If you've got the family or the kids in tow (or you just really like waterfalls!), we suggest checking out the Stone Lake Loop. It's an easy, 1.1-mile hike over relatively flat terrain that takes you to the base of Stony Brook Falls.
Those looking for a challenge can try the 12.5-mile-long section of the Appalachian Trail that runs along the Kittatinny Mountain Ridge and through Stokes State Forest.
9. High Point Monument Loop, High Point State Park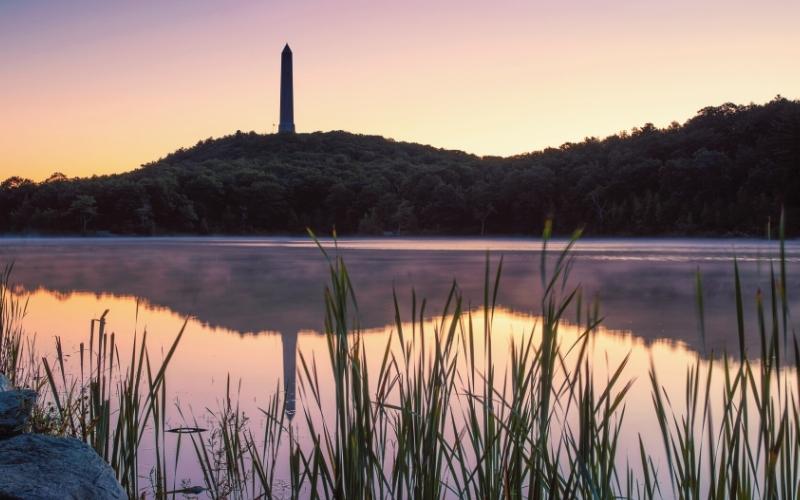 Type: Loop
Length: 3.5 miles
Difficulty: Moderate
The High Point Monument Loop is a scenic trek through the beautiful forests of High Point State Park. It's a moderately difficult hike with plenty of viewpoints and even a long boardwalk over a cedar swamp.
You'll find the trailhead at The High Point State Park Monument – a memorial to New Jersey veterans. It also marks the highest elevation in the state at 1,803'. It's worth climbing the monument for the views of the Delaware Water Gap and Lake Marcia, but there are plenty of grueling steps to get there!
From the trailhead, you'll head along the green-and-red-blazed trail. You'll encounter some nice ascents and descents, plenty of views, and lush vegetation. The trail is rocky in some spots, so bring along your hiking boots and poles. To extend your hike, head west on the yellow-blazed trail and return on the yellow and brown trail, adding roughly 1.5 miles.
10. Batsto Lake Trail, Wharton State Forest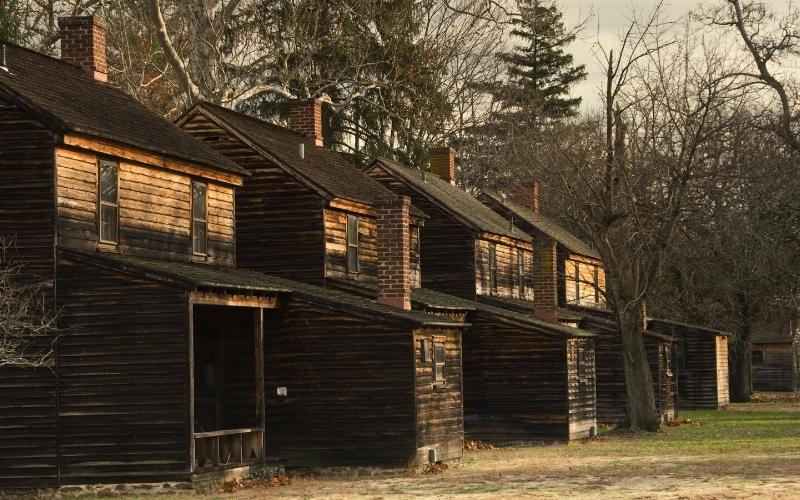 Type: Loop
Length: 4 miles
Difficulty: Easy
Wharton State Forest is the largest state forest in New Jersey. It features several trails, including a section of the Batona Trail, which connects the forest to nearby Brendan T. Byrne State Forest and Bass River State Forest.
The Batsto Lake Trail is a lovely stroll through a pine forest. As you get closer to Batsto Lake, you'll find benches with views of the lake. Fishing and canoeing are permitted on the lake and the nature center nearby has eight canoes available for guided nature trips.
Wharton State Forest is also the site of the historic Batsto Village, a fascinating former bog iron and glass manufacturing site from the 18th and 19th centuries.
Best Hiking Trails in New Jersey!
We hope you've enjoyed our guide to the best hiking trails New Jersey has to offer!
From the famous Appalachian Trail to the iconic Jersey shore, there's no better place than NJ to immerse yourself in nature.
If you've been on any of these hikes in NJ, be sure to tell us all about it in the comments below! Don't forget to share this article with your family and friends so they can plan their next getaway, too!