Best Women's Packable Down Jacket
Arc´teryx Cerium LT Hoody
The Arc´teryx Cerium Hoody either tops or sits near the top of our list in almost every major category. For one, this model skirts the line between weight and warmth better than most with a list-leading 850 fill power down.
However, even with that excellent down fill, the Arc'teryx Cerium Hoody only comes in at 9 ½ oz, tied for second-best on our list. Even better, this hoody also offers one of the best lids with a down-insulated storm hood that cinches in the back.
The Cerium Hoody also scores high in water resistance, where it pairs a solid DWR with strategically placed synthetic insulation to reduce water absorption. While not the strongest we found, this model is made of 10D Arato nylon that works well, especially given its weight.
Beyond these baseline qualities, the Cerium also comes with three pockets, including a chest pocket and a drawcord hem, making it great as a top-layer jacket for milder weather.
Bottom Line: While there are some other options in the running, the Arc'teryx Cerium Hoody tops our list with no significant flaws and excellent all-around performance. Our top pick for the best packable down jacket for women.
The Top Packable Down Jacket for Women [2021 Edition]
Looking for the Best Women's Down Jacket?
You're in the right place! In this guide, we will be covering the following:
Identify which features are important to consider
Reviews of 9 of the best down jackets for women
Our unbiased #1 pick for the best down jacket for women
When planning for the weather on your adventures, choosing a great mid-layer is one of the most important. If you're looking for something to keep you warm, then the choice usually boils down to either a fleece or a lightweight down jacket.
While both can offer excellent warmth to weight ratios, keeping you snug in cold weather – thanks to their water-resistant coating, a great down jacket is the better option when light rain (or snow) is on the cards.
We put together our list of the nine best packable down jackets for women in 2020, highlighting what jacket is best for which situation. We also provide a thorough buyer's guide to understanding the nuances between the different features that make a down jacket better for one purpose or another.
Key Features to Look for When Choosing Puffy Jackets for Women
Warmth (fill type & power)
For down jackets, there are a couple of qualities surrounding its fill to consider, most notably the fill's type and power. For the type, you can classify the fill as actual down or synthetic, but the down can further be separated into standard and hydrophobic down.
Down type can also be differentiated by its sourcing with ethical and sustainable down becoming more popular. A down fill of equal amounts is always warmer than synthetic fill, but it is often significantly more expensive.
A down's power refers to how much air sits between an ounce of feathers with more air, represented by a higher fill number, offering better insulation.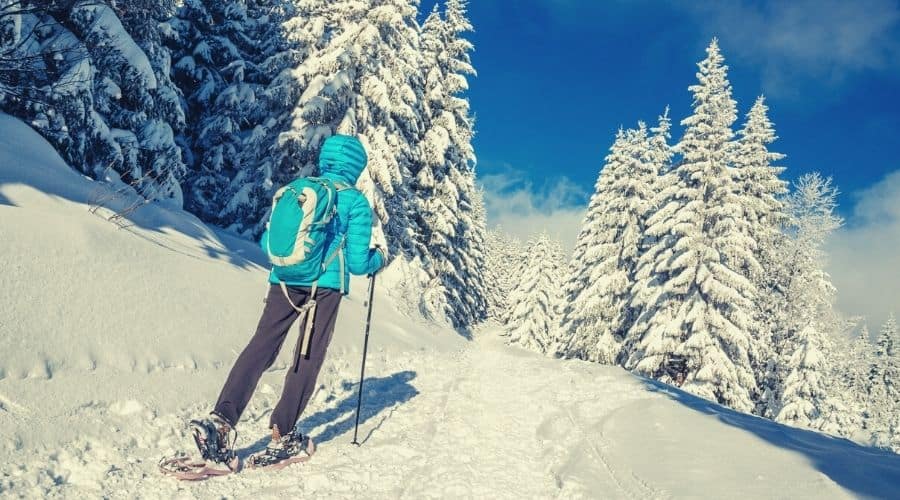 Weight
As with all outdooring gear, weight weighs heavily when choosing a packable down jacket with down jackets often coming in close to hardshell weights. Your down jacket's weight is more or less critical, depending on the outdooring situations you expect to use it for.
If you want one for more casual situations or to wear in milder weather, the weight is likely not as big of a deal– especially since down jackets rarely push one pound. On the other hand, if you intend to use it as a mid-layer, especially for extended or challenging situations, your jacket's weight becomes increasingly important.
Fit
Depending on the situation, the fit of a women's down jacket might be as crucial as its warmth and compressibility. Because they are not usually the most waterproof, they are often used as a middle layer.
In cases of heavy rain, an outer rain shell can be thrown on top. This obviously necessitates a fairly snug fit to ensure you can easily slip your waterproof jacket on over the top.
On top of that, down jackets generally see a lot of use while climbing, which means they need superior mobility. As such, qualities like raglan sleeves for extra shoulder room and an athletic fit increase the jacket's mobility and make it easier to layer.
Compressibility & Packed Size
Despite their puffy appearance due to the air in between the feathers of a down jacket, these jackets often compress impressively. The more it can compress, generally, the smaller its packed size, though this depends on what it packs into.
Down jackets usually pack either into one of their own pockets or a separate stuff sack, the volume of which ultimately determines the packed size.
It is worth noting that given down jackets are often used as an outer or mid-layer, it is less likely that you need to pack it. Unless the weather turns unseasonably warm and you use a light jacket or none at all, you will usually wear the down jacket rather than not.
Durability
Down jackets are not traditionally known for being one of the more durable types of outdooring jackets, though some manufacturers make it a point to buck this trend. That said, the preference to favor packability and a lightweight design limit how durable a down jacket can be.
Whereas other types of outdooring jackets use high-end ripstop materials, down jackets, tend to employ low-grade versions of those materials. For example, a 20D (denier) nylon material used for the outer shell is relatively durable for a down jacket when hardshell jackets often use 50D or higher.
Though an extra feature, a stuff sack helps with packing and also protects it from scraping against anything while clipped to your pack.
Water Resistance
Unlike many types of outdooring jackets, most down jackets will not use high-end shells to repel significant amounts of water. You should still look for a model that comes with a Durable Water Repellent (DWR) coating for light rain.
While all outdooring jackets should protect against the weather at multiple levels, this is arguably more important for down jackets. This is because if your down in the jacket gets wet, it can take significantly longer to dry than other types of outdooring jackets.
It is important to remember that unlike many other types of outdooring jackets, down jackets are not meant to provide top-tier waterproofing. Instead, they should resist a moderate amount of water, relying on a suitable hardshell when the weather gets bad.
Other Jacket Features
Any additional features are heavily dependent on where you wear the down jacket. For example, if you plan to use one as your top layer, a hood might be more important both for keeping your head warmer and protecting against any light rain you encounter.
For colder climates, cinches at the cuffs and hem become more important to keep out cold air. After that, pockets are always handy for storing your phone, map, or hands-on freezing days.
Best Packable Down Jackets For Women Reviewed: The Results
Mountain Hardwear Ghost Whisperer
Best Warmth To Weight Ratio
The Mountain Hardwear Ghost Whisperer jumps off the page for us as a mid-layer model thanks to its incredibly low weight of only 6 ½ oz, which is almost 50-percent lighter than the next closest competitor. On top of that, it also has a great fit, which works well under a hardshell without restricting your mobility.
Even better, it is also one of the most compressible jackets that we came across and packs smaller than any other product on our list. The Mountain Hardwear Ghost Whisperer provides excellent waterproofing with its DWR finish and NIKWAX hydrophobic down.
The 800 fill down combined with an internal hem cinch and raglan sleeves will keep you warm in cold weather. The only real issue with this product is the thin, lightweight material is not as durable as some of the other options making its high price all the more costly.
PROs

High-quality lightweight jacket
Has great waterproofing
Is highly compressible
Has a good fit

CONs

Is a more expensive jacket
Not the most durable
Bottom-Line: When cutting weight is a top priority, the Mountain Hardwear Ghost Whisperer does not give up much in the process, especially when used as a mid-layer.
Arc'teryx Cerium LT Hoody
Editors Choice
The Arc'teryx Cerium Hoody ran away with as our top choice, thanks largely to its impressive warming ability. This product tops our list with a list tieing 850 fill down, but then complements that superior insulation with a hem drawcord and raglan sleeves to prevent wind from seeping in.
To continue offering superior protection, the Arc'teryx Cerium Hoody provides some of the best waterproofing we found with a good DWR. In addition, Coreloft synthetic insulation at the shoulders and pits helps prevent this model from getting wet inside and out.
Despite the exceptional fill and warmth provided, the Arc'teryx Cerium Hoody still works well as a mid-layer thanks largely to the second-lowest weight we reviewed at only 9 ½ oz. Even better, it is also more durable than many of its competitors, with 10D Arato nylon layered to prevent abrasions.
PROs

Is highly compressible
Awesome warmth
Has great waterproofing
High-quality lightweight jacket

CONs

Is a more expensive jacket
Leaks more feathers
The North Face Summit L3 Hoodie
While all the listed jackets are expected to provide exceptional warmth in the coldest climates, some do better than others. The Summit L3 Hoodie tops our list in this regard with an 800 fill power down rating.
This model further enhances its warming ability by including more down weight than most competitors. As if that were not enough, the North Face Summit L3 Hoodie also employs larger baffles than the other options we reviewed, which reduces the number of seams and, subsequently, the number of cold spots.
Though the North Face Summit L3 Hoodie might be pricey, you get substantial value thanks to the 10D x 10D nylon fabric whose weave helps reduce abrasions. One thing that surprises is the size and weight of this jacket are a bit on the larger size, but you can still compress it down to a small packable size.
That said, the North Face Summit L3 Hoodie is one of the less water-resistant models for its price range.
PROs

Amazing warmth
Is a more durable jacket
Is highly compressible
Has numerous features

CONs

Is a more expensive jacket
Not the most water-resistant
Bottom-Line: If you are going to spend more money on a higher-end, the North Face Summit L3 Hoodie gives you more value than most in the long term.
Rab Microlight Alpine Jacket
The Rab Microlight Alpine does plenty of things well, but its outstanding feature is its long term lifespan thanks to the use of Pertex Quantum fabric. Pertex Quantum protects the Rab Microlight Alpine from abrasions, but it also helps resist snagging.
Of course, the Alpine is not just durable as it also sports a respectable 750 fill power rating to help keep you warm. This model also does a great job of keeping you dry thanks to its solid DWR coating and it hydrophobic down.
Beyond some base qualities, the Alpine also employs raglan sleeves and a hem drawcord to reduce drafts from getting in. On top of that, this product uses an interesting seam pattern at the forearm to offer better mobility than most, especially for climbing.
The only real problem with the Alpine is its relatively hefty weight of 13 oz and its merely adequate packability for longer excursions.
PROs

Is a more durable jacket
Great warmth
Has solid mobility
Has numerous features

CONs

Is a more expensive jacket
Is a heavier jacket
Bottom-Line: The Rab Microlight Alpine Jacket offers plenty of features and an excellent build to provide what might be one of the top single-layer products we found.
Outdoor Research Illuminate Down Hoody
Best Value
Typically, Outdoor Research is at or near the top of the list for outdooring jackets, with the Outdoor Research Illuminate does a great job of balancing high-quality performance at a more reasonable cost. The Outdoor Research Illuminate might be the best value for money thanks to its durable 10D nylon shell and 20D nylon lining.
Beyond general value, the Outdoor Research Illuminate also impresses with an 800 fill power down rating, though it does not offer quite as much loft as more expensive options. Still, this is an excellent layering product with enough articulation and mobility to serve as a mid-layer.
Just be aware that the Outdoor Research Illuminate is one of the heavier models on our list at 11 oz. This is also not the best single-layer product for higher elevations due to poor waterproofing.
Thankfully, the Outdoor Research Illuminate comes with more pockets than any other jacket we found, including hand pockets, and an interior media pocket, perfect for smart devices.
PROs

Is a less expensive jacket
Has numerous features
Is easy to layer
Is a more durable jacket

CONs

Not the most waterproof
Is a heavier jacket
Bottom-Line: When you do not want to spend quite as much as top-tier jackets demand but still want a solid product, the Outdoor Research Illuminate is a great option.
Columbia Voodoo Falls 590 TurboDown
Best Fitting
As mentioned in the intro, not all models are meant for the same purpose, and Columbia's Voodoo Falls 590 is a prime example. This is a great option if you need your jacket to fit well and sit comfortably for casual wear around town or in mild weather.
In fairness, this is also one of the least expensive models that we saw and is close to the best budget option. For that low price, you still get a product that provides a surprising amount of water-resistance thanks to its solid DWR shell and grid baffling.
The inclusion of a scuba hood that keeps its shape in windy conditions combined with a drawcord hem and elastic cuffs also protects you from the wind. On the other hand, even the Omni-Heat reflective shell and Turbodown mix of insulation types do not make up for the lower 550 fill power down rating for warmth.
PROs

Is a less expensive jacket
Has solid waterproofing
Has solid wind-breaking
Has a good fit

CONs

With 550 -fill weight not the warmest jacket
Not the most durable
Bottom-Line: The Columbia Voodoo Falls 590 TurboDown works exceptionally well as a casual option that is exceptionally comfortable to wear for nearly any body type.
Marmot Aruna Down Puffer Jacket
Best Casual Option
The Marmot Aruna may not provide the best performance in extreme conditions, but it is a better option for a casual day around town or in milder climates. A big part of this comes from the fact that this product fits well as a single layer and offers enough room to layer if need be.
Even better, the Marmot Aruna provides surprisingly good waterproofing with a DWR shell further enhanced with a Down Defender hydrophobic down. Elastic cuffs and an elastic hem also help break the wind and prevent it from seeping into the Marmot Aruna.
On the other hand, this model has the second-lowest down fill power rating of only 600 and does not augment it with additional features. This is also the heaviest and one of the least packable models on our list at 13 ½ oz.
Still, the ripstop nylon is more durable than some of the other models that we reviewed in this price range.
PROs

Is a less expensive jacket
Has solid wind-breaking
Is easy to layer
Has solid waterproofing

CONs

Not the warmest jacket
Is a heavier jacket
Bottom-Line: While not ideal as a top-layer under challenging environments, the Marmot Aruna works well for a casual situation and can also provide good value as a mid-layer jacket.
Patagonia Down Sweater Hoodie
Most Ethical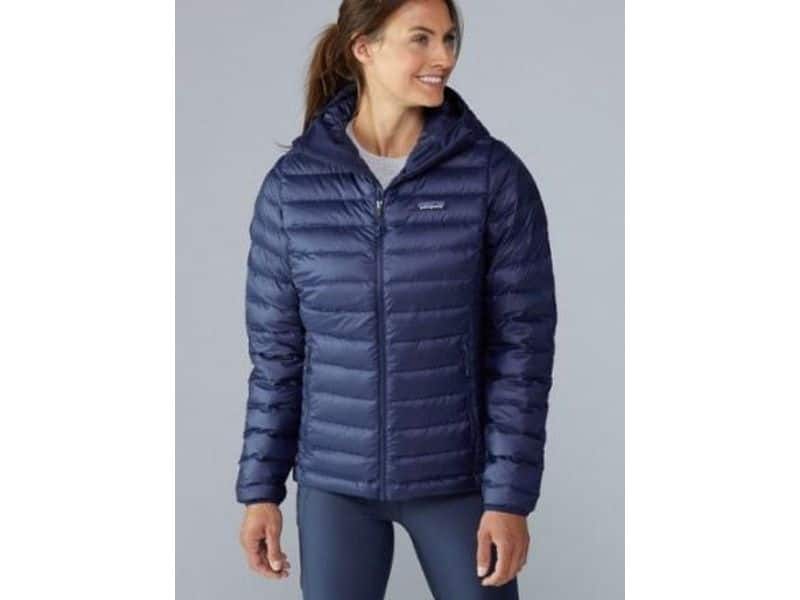 Patagonia made it a point to provide a jacket that offers excellent performance both on the surface and underneath. While many manufacturers scramble to source their down ethically, few have gone as far as the Patagonia Down Sweater, which uses Global Traceable down using the highest standards.
Even better, this product also provides plenty of warmth with a fill power down rating of 800, which ranks near the top of our list. This solid down rating combines with larger baffles and a higher loft that most of the competitors for a toastier feel further increased with a roomier fit.
All of this warmth does not come at the expense of convenience; however, as the Patagonia Down Sweater is also the second-lightest option, we reviewed at only 9 ½ oz. Even more surprising is that this model is one of the more durable we encountered 20 x 30D ripstop nylon fabric.
PROs

Is made ethically/sustainably
Is a more durable jacket
Is a warmer jacket
Is a lightweight jacket

CONs

Is a more expensive jacket
Shows every stain
Bottom-Line: For feeling good both inside and out, Patagonia's additional steps and high standards make their Down Sweater ethically will leave you feeling warm all over.
REI Co-op 650 2.0
Best Budget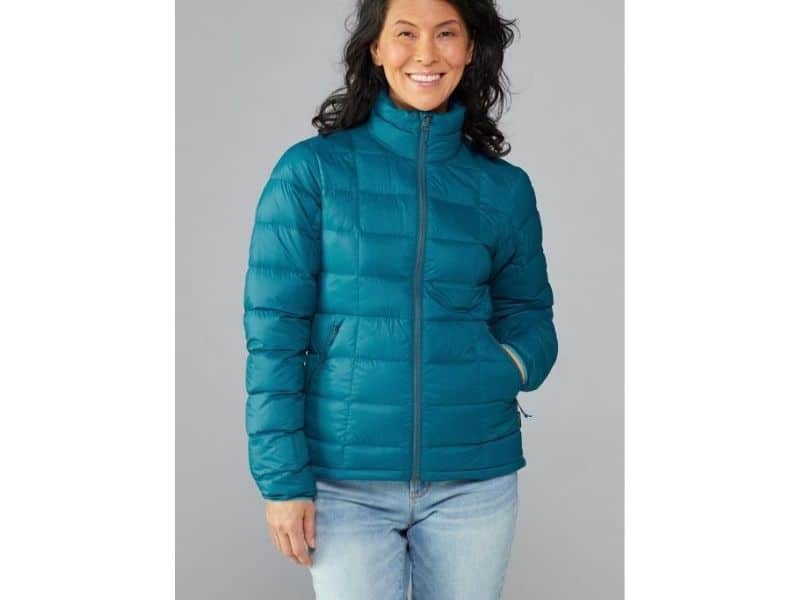 Considering how inexpensive the Co-op 650 Fill Power 2.0 is, we are all the more surprised by its specs. While not one of the lightest on our list, this model still comes in at only 10.8 oz.
On top of that, the 650 2.0 also sports a great fit that, combined with the lightweight design, makes it great for layering or being a layer. While not quite reaching the highest standards we found, this product is still one of the more ethically sourced on our list.
That said, this is a fair-weather jacket as the 650 fill power down rating is merely adequate for mild weather. Unfortunately, this modest warmth rating pairs with so-so water-resistance that features a decent DWR but more porous sewn baffles than we would like.
PROs

Is a less expensive jacket
Has a solid fit
Is made ethically/sustainably
Is a lightweight jacket

CONs

Not the warmest jacket
Not that waterproof
Bottom-Line: The REI Co-op 650 2.0 surprises by providing a decent jacket for a wide range of different situations at such a low price.
Last update on 2021-09-17 / Affiliate links / Images from Amazon Product Advertising API