Feather-filled down jackets are adored for their unparalleled coziness and outstanding warmth-to-weight ratios by hikers, campers, climbers, and mountaineers alike.
However, given that there are a myriad of options available and that we all have different needs and activity types, separating the proverbial wheat from the chaff can be a tricky business.
So how to find the perfect packable, lighweight down jacket for you?
To help get you started, we've put together a list of the seven best options out there for women, with detailed reviews that highlight each jacket's USP and suitability for a variety of different scenarios, activities, and users.
Below the reviews, you'll also find expert advice to help you understand the design features that make one down jacket a better pick for your particular needs over another.
Editor's Choice
Mountain Hardwear Ghost Whisperer 2
When weighing up the options for the award of best women's packable down jacket, our criteria were clear. We sought a down jacket that was tough, weather-resistant, cozy enough to add ten to fifteen degrees of heat but lightweight and mobile enough for more active outdoor pursuits. We also, of course, wanted great value for money and a manageable packed size.
The outstanding MH Ghost Whisperer 2 down coat ticks all those boxes – and then some!
At 7.8 oz, this is the lightest option in our review. It also packs into its own pocket, has a handy carabiner loop for storage, uses recycled and bluesign-approved fabrics, and has a lightweight but tough ripstop nylon shell that's DWR-treated.
This isn't the warmest option out there, of course, but in terms of packability and performance, it's a winner!
Bottom Line: An ultralight but cozy down jacket that packs small enough to let you stow it in your pant pocket, never mind your daypack! Making our top pick as the best down jacket that packs small.
At a Glance: Best Packable Down Jacket – Women's Recommendations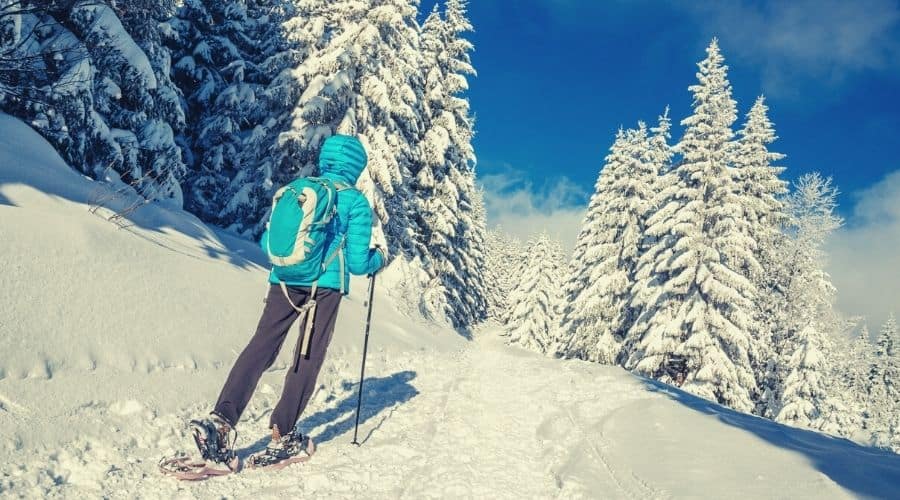 Further Reading: If you're not sure a down jacket is what you're after then check out our guide to the best hiking jackets.
Best Packable Down Jacket – Women's Top Options
Mountain Hardwear Ghost Whisperer 2
Editor's Choice
Looking for a down jacket that provides plenty of warmth without adding too much heft or taking up too much room in your pack? If so, the MH Ghost Whisperer 2 is hard to beat.
This ultralight down coat weighs just 7.8 oz and scrunches up into a bundle not much bigger than a 24-ounce beer can. Despite this, it provides ample extra warmth for three-season and winter adventures in most parts of the globe.
The GW2 also makes very few compromises as compared to its heavier, midweight competitors. It boasts robust water resistance, a tough, ripstop outer shell, zippered handwarmer pockets, and an elasticated, down-filled hood.
This isn't the warmest jacket in our review, so if insulation's your primary concern you'd be better off with a beefier insulator like the FF Eos or REI Stormhenge, both of which are bona fide winter jackets that prioritize warmth above all else. But if you're in the market for a packable jacket that's good for summer nights at camp or hiking in cool temps, the GW2's a great choice!
Specs
Type: Ultralight
Weight: 7.8 oz
Fill: 2.5 oz of 800-fill-power down
PROs

Ultralight
Water-resistant
Ripstop nylon fabric
Tiny packed size

CONs

Not as warm as heavier models
Hood isn't adjustable
Bottom-Line: If you're looking for the lightest and most compact insulating down layer out there, the Ghost Whisperer's the choice for you!
Arc'teryx Cerium LT Hoody
Best Hybrid
The Cerium LT is the most expensive down coat on our list, but before you go scrolling down to the more affordable ones, take a minute to hear us out on why this hybrid-insulated jacket might be well worth the added expense.
The Cerium uses 3.35 oz of 850-fill-power down and 100g of Coreloft insulation to combine the coziness of high-fill-power down with the enhanced wet-weather performance of synthetic insulation. While this hybrid construction is a selling point in itself, it's how the insulation is used that sets it apart…
Arc'teryx constructed the Cerium LT with something they call "Composite Mapping", which is a fancy way of saying they distribute different types of insulation in such a way as to make the best use of their strengths.
This means that all the cozy plumage is used in areas that require the most heat (your core, chest, back, and head), and the Coreloft in areas most likely to get wet (the shoulders, collar, underarm, and cuffs). Pretty genius, right?
And there's a lot more to love besides…
The Cerium is also the third lightest model on our list after the MH Ghost Whisperer and FF Eos, uses an articulated construction for uninhibited movement, has a DWR coating, and boasts among the most impressive feature sets of all the packable down jackets we've reviewed.
Specs
Type: Lightweight
Weight: 9.9 oz
Fill: 3.35 oz of 850-fill down & 80/100g Coreloft
PROs

Lightweight
Articulated construction
High down fill-power
Intelligent "Composite Mapping"
DWR coating

CONs

Pricey
Not the most durable
Bottom-Line: A super-pricey but exquisitely cozy, lightweight down jacket that offers robust weather protection and all full complement of comfort- and convenience-enhancing features.
Rab Microlight Alpine Down Jacket
Best Value
The latest iteration of Rab's Microlight Alpine Down series is sure to be every bit as popular as its predecessor, which earned legions of adoring fans everywhere.
Made with 700-fill down insulation and a burly 30D nylon shell, the Microlight Alpine isn't the most packable down jacket in our review. At 15 oz, it's also far from the lightest.
Nevertheless, we found it to offer almost the best warmth for your buck and we were especially impressed by its hydrophobic Nikwax finish and Pertex Quantum jacket shell. Together, these provide the Microlight with enough water and wind resistance for it to serve as a standalone jacket in light rain and heavier snowfall.
Specs
Type: Midweight
Weight: 14.6 oz
Fill: 5.1 oz of 700-fill-power down
PROs

Slim, anatomical fit
R.D.S-certified
Very warm for the price
2 x handwarmer + 1 chest pocket
Adjustable hood with wired peak

CONs

Larger packed size than other jackets in midweight class
Bottom-Line: A slightly bulky down jacket that offers a little more weather protection than the best of its competitors. 
Outdoor Research Illuminate Hoody
Best for High-Output Activities
The OR Illuminate is a great jacket if you're in the market for a lightweight, standalone outer for cold-weather outdoor pursuits, whether it be hiking, snowshoeing, ski mountaineering, or other winter sports.
This is the only down jacket on our list that doesn't have a DWR finish. This omission, however, combined with the thin face fabric, makes the Illuminate just a little more breathable than its peers. This "pro" may have been inadvertently gained, granted, but we found that it makes the Illuminate a far better performer, and less stuffy when we're hiking hard.
Inadvertent perks aside, this lightweight jacket is a good option in its own right. It's made with 800-fill RDS feathers, weighs just 10.6 oz, packs into a tiny bundle, has a plethora of pockets, and is very fairly priced.
Specs
Type: Lightweight
Weight: 10.6 oz
Fill: 800-fill down
PROs

Affordable
Lightweight
More breathable
Warm for the weight
2 x handwarmer + 2 x interior pocket

CONs

Elastic cuffs
No DWR finish
Bottom-Line: What the Illuminate Hoody lacks in water resistance it makes up for with its well-thought-out design, uber-handy features, and less daunting price point.
Columbia Voodoo Falls 590 TurboDown
Best Budget
If you need a little more warmth for shoulder season or wintertime adventures and don't mind carrying a little extra weight for the privilege, the Voodoo Falls 590 is well worth a place on your shortlist.
This option provides as much in the way of coziness as many down jackets on this list that cost twice as much (or even more). The trade-off for this favorable warmth-to-$ ratio is the jacket's 20.8 oz weight and bulkier packed size, though neither of these drawbacks is likely to prove a deal-breaker if trying to stay warm in colder temperatures is your chief concern.
Compared to the other heavyweight in our review, the REI Stormhenge, the Voodoo Falls is a lot less packable and offers less weather resistance. It's also, however, a fraction lighter and costs around a third less.
Specs
Type: Heavyweight
Weight: 20.8 oz
Fill: 590 TurboDown™ Insulation (40 g Omni-Heat synthetic insulation and 550-fill goose down)
PROs

Affordable
Warm
Water-resistant
Omni-Heat thermal layer reflects body heat for added warmth
Interior pockets and zippered hand pockets

CONs

Heavy
Not the most packable down jacket out there
Bottom-Line: A cheap jacket that's a touch on the heavy and bulky side but a great option for winter adventures nonetheless.
Feathered Friends Eos – Women's
Most Compressible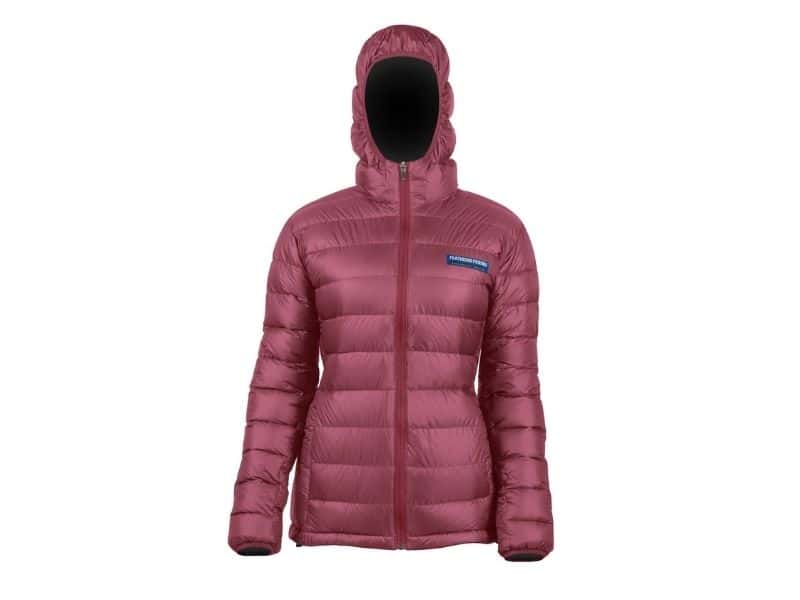 The Eos is an exceptionally warm down jacket that's geared toward technical pursuits in the high alpine. It is still, however, every bit as comfortable, cozy, and stylish as models designed for less high-octane pursuits.
What we love most about the Eos is that it takes up very little space in a backpack when not in use, and yet delivers all the warmth of a winter jacket when deployed. While the price tag may be a little off-putting for some, compared to other down jackets in its performance class, the Eos is a bit of a bargain.
Compared to the winner of our review, the MH Ghost Whisperer, the Eos is a little heavier and pricier, but has a similar packed size and is also a much warmer jacket.
Specs
Type: Ultralight
Weight: 9 oz
Fill: 2.8 oz of 900-fill down
PROs

Ultralight
High-quality insulation
Pertex Quantum nylon shell
Tapered fit

CONs
Bottom-Line: The Eos uses the highest-quality materials of any on our list and consequently offers the best ratio of warmth to weight.
REI Co-op Stormhenge 850
Best for Wet Conditions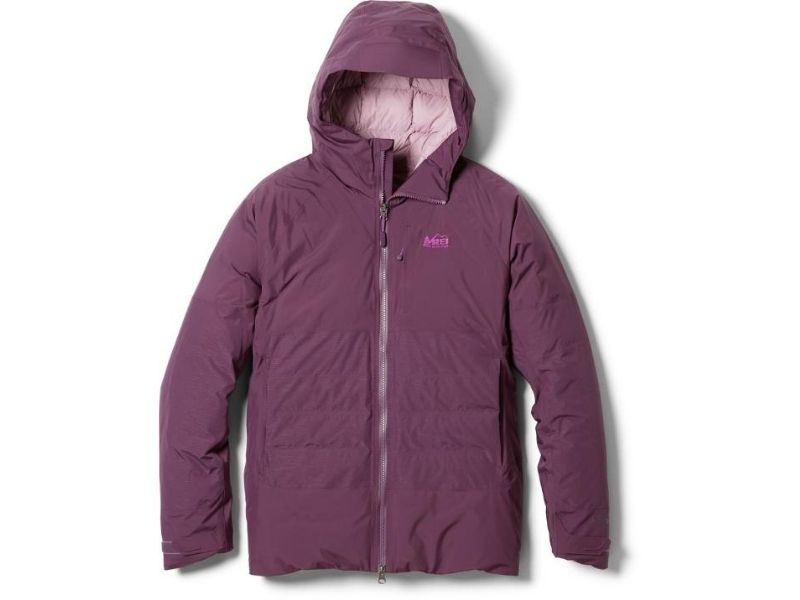 Down jackets occasionally get a bad press owing to their inability to keep you dry in wet weather. In the REI Stormhenge, however, we find a puffer jacket that offers all the warmth of a high-end insulating layer with the waterproofing capabilities of a raincoat.
But how the heck, we hear you ask, does it do that?
Well, for starters, the weirdly but also appropriately named Stormhenge uses 850-fill insulation that's DWR-treated to provide added water resistance. On top of that, it boasts a 2-layer, waterproof-breathable shell with fully sealed seams that provide robust weather protection.
As far as non-standard features go, they don't get much better than that!
Despite being a really warm jacket, the Stormhenge keeps bulk to a minimum by mapping insulation to the body, using more of it in areas prone to cold spots and less of it elsewhere.
It's also one of the most feature-rich jackets on our list, boasting pit-zips for added ventilation, seam-free shoulders to prevent chafing under backpack straps, adjustable cuffs, and zippered hand and chest pockets.
There's no getting around the fact that the Stormhenge is heavy – it weighs almost three times as much as the winner of our review, the MH Ghost Whisperer, and over an ounce more than the next heaviest, the Columbia Voodoo Falls. As the only waterproof jacket on our list, however, it's a great choice for anyone who likes to carry just a single outer layer.
Specs
Type: Heavyweight
Weight: 22 oz
Fill: 850-fill
PROs

Waterproof!
Very warm
Pit zippers
Adjustable cuffs
Water-repellent insulation

CONs
Bottom-Line: Although the heaviest down jacket on our list, the Stormhenge is highly compressible, waterproof, and one of the few options on our list that's warm enough for winter.
What to Look for When Choosing a Lightweight Down Jacket
Below, we've put together a short overview of the most important things to consider when shopping for a packable down jacket: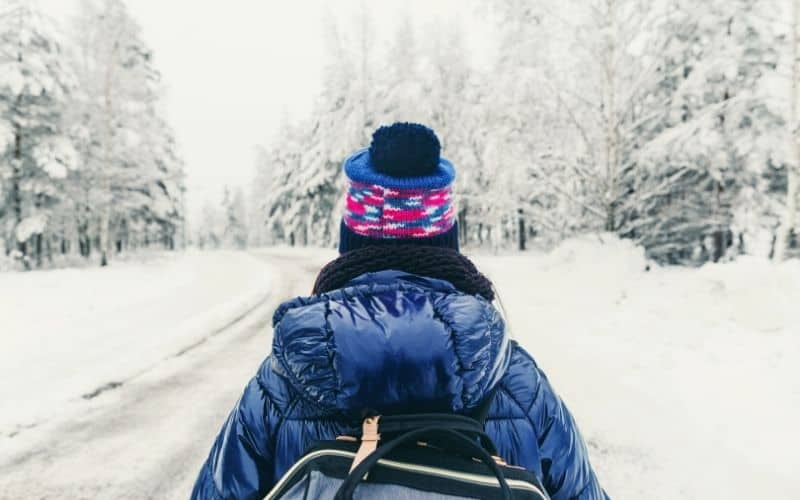 Warmth (Fill Power & Fill Weight)
The amount of warmth a down jacket provides depends on the quality of the fill itself. We can gauge the quality of down using two useful metrics:
Fill Power – This refers to the volume of 1 oz of fill. How this is measured is quite complicated, but the bottom line is that higher fill numbers equal higher quality down. So, 850-fill down will have better-insulating qualities than 750-fill. As with sleeping bags, however, higher fill-power down is more expensive.
Fill Weight – This refers to how much down is used in the jacket. A higher fill weight, therefore, means that more insulation is used in that garment. This means that a down jacket with 5 oz of fill will generally be warmer than one with only 3 oz of fill.
Weight
Whether you're a day hiker, backpacker, ski tourer, or rock climber looking for a reliable heat booster on cold belays at the crag, weight is a key consideration.
When choosing between mid-layer jackets, though, the name of the game is finding the best warmth-to-weight ratio. This means finding a down jacket that provides ample insulation without burdening you with excessive pack weight when you're not wearing it.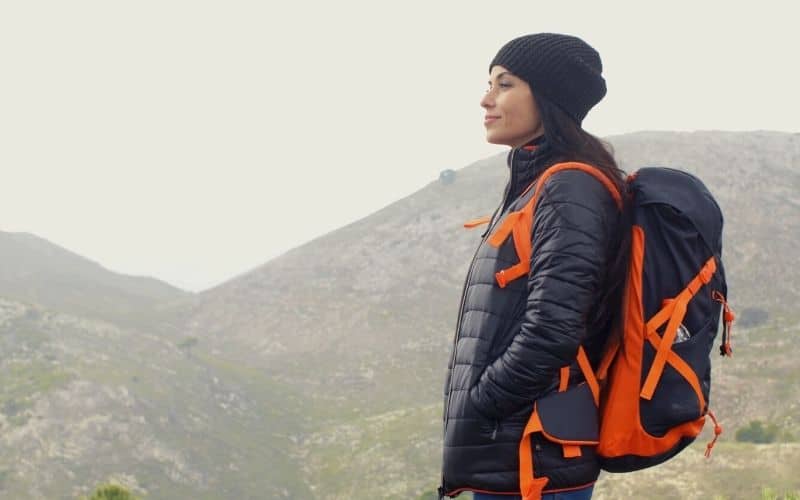 As always with outdoor gear, in most cases, trade-offs are to be expected – the warmest jackets out there are typically also the heaviest, while the lightest options are often less durable and provide less insulation.
Finding the ideal down jacket for you will require assessing your priorities as regards both pack weight and warmth required. Bear in mind, however, that a down jacket's warmth doesn't depend solely on the weight alone, but also on the quality of the down.
The down jackets in our review range from featherweights like the MH Ghost Whisperer 2 (7.8 oz) and Feathered Friends Eos (9 oz) to heavyweights like the Columbia Voodoo Falls (20.8 oz) and REI Co-op Stormhenge 850 (22 oz).
Comfort & Fit
The most comfortable down jackets are usually those that have an "articulated" or anatomical fit that conforms to the natural contours of your body whilst allowing for unrestricted movement.
The ability to move freely, of course, isn't terribly important for general hiking or lazing around camp in the evening. However, if you plan on wearing your down jacket whilst hiking on more technical trails, scrambling, or ski-touring, then mobility should be a top priority.
The most "mobile" jackets are usually those with a shorter cut around the hips and lower-profile insulation, though this decrease in coverage also results in a drop in warmth.
Compressibility & Packed Size
This refers to how compact any jacket is when scrunched up and stowed inside its stuff sack.
In most cases, the higher the fill power, the more compact a down jacket will be when compressed. This is because higher fill power down requires less in the way of raw materials (i.e. down feathers) to provide the same insulation as lower fill power down.
Having said that, the thickness of the outer shell also influences packability, with low-denier shells, as you'd expect, compacting more easily.
The most packable down jacket in our review? Take a bow, the Feathered Friends Eos, the MH Ghost Whisperer, and Arc'teryx Cerium LT, all of which can be scrunched up to roughly the size of a 24 oz water bottle.
Shell Fabric & Durability
Brands list the thickness of the outer or "shell" fabric in denier (D), which is the measurement used to denote the density of the fabric fibers.
As a general rule, the higher the denier rating, the more tear-resistant and durable the fabric is. However, some shell fabrics use a "ripstop" weave that makes them tougher, pound for pound, than ordinary weaves. This means that a 10D ripstop shell is likely to be as tough as a 15 or 20D shell made with a regular weave.
Most down jackets use shells made from nylon, which is lightweight, quick-drying, durable, and gentle on the skin. Polyester shells are usually more breathable, but they're also less durable and don't feel quite so soft to the touch.
Water Resistance
The oft-quoted downside to using feather-filled garments of any kind is that they – unlike fleece or merino wool – don't insulate when wet.
Gear manufacturers have attempted to work around this shortcoming in various ways, first by applying DWR (durable water repellent) coatings to the shell of their jackets, and latterly by using hydrophobic down.
Hydrophobic down is treated with polymer agents that make them more water-resistant. This, however, still doesn't make these garments as weather-resistant as synthetic down jackets. They also cost significantly more than non-hydrophobic equivalents.
DWR coatings are treatments applied to the shell fabric that causes water to bead up on the surface rather than saturate the fabric. While these won't keep you dry in a downpour, most are effective enough to see you through shorter and lighter rain showers. In our review, the only down jacket that doesn't have a DWR coating is the Outdoor Research Illuminate Hoody.
Other Features
A jacket's feature set can make a big difference to its overall functionality and user-friendliness. Here are the main features to look for when buying:
Hood: The best hoods have wired peaks ("peaked hoods") that keep rain out of your eyes and cinch cords that let you tighten the fabric over your head to prevent the hood from being blown back by the wind. These cinches also improve peripheral vision by ensuring the hood moves with your head when you turn.
Drop Tail: Jackets with a drop tail are a little longer in the rear than they are at the front. This stops it from riding up your back when you're hiking, prevents drafts from sneaking in at your midriff, and also provides a little bit of insulation for your butt.
Zippers: Look for zippers with toggles that are easy to tug on even when you're wearing gloves. Two-way zippers are also useful because they allow you to ventilate more easily when need be and provide easier access to a) your harness if you're wearing one, b) the fly in your pants when it's time to answer nature's calls.
Cuffs: Velcro or elasticated? In our experience, Velcro cuff closures are a better choice because of their adjustability – they allow you to trap in body heat when cold and ventilate when working up a sweat.
Drawcords: These allow you to tighten the hem at the waist to trap heat and prevent drafts.
Sustainability
If buying sustainable, ethically produced gear is a priority, look for jackets made with bluesign-approved fabrics, RDS (Responsible Down Standard) certification, and recycled materials.
All of the jackets in this review are made with responsibly sourced down. The Mountain Hardwear Ghost Whisperer 2 and REI Co-op 650 2.0 are also made with recycled fabrics.