Best Trail Runners for Hiking by Category
Ultralight: Hoka One One Torrent 2, Topo Athletic MTN Racer 2, Arc'teryx Norvan VT 2
Zero-Drop: Altra Olympus 4.0, Altra Lone Peak 6
High-Drop: Hoka One One Speedgoat 4, Salomon Speedcross, Nike Pegasus 3, La Sportiva Jackal
Budget: Salomon Sense Ride 4, Brooks Divide 2, Nike Pegasus 3
Best Trail Running Shoes for Hiking: Our Top 11 Picks
How to Choose Trail Running Shoes for Hiking
Weight
The best thing about trail runners is that they weigh less than hiking boots. Generally speaking, any trail runner will be lighter than most hiking boots. Weight on your feet is very important when you're hiking all day because you'll be picking up your feet 1000s of times. Why would you want to lift more weight than you have to?
That being said, some trail runners are lighter than others. There is usually a trade-off between weight, cushion, and protection.
Trail running shoes that are designed for more technical terrain tend to be heavier than those that are more suited for smoother trails. Toe protection, rock plates, and other foot protection all add to the weight, though will be well worth having for some.
The lightest models we tested were the Hoka Torrent (1 lb 2.6 ounces) and Topo Athletic MTN Racer 2 (1 lb 4 ounces), with the Arc'teryx Norvan VT 2 (1 lb 4.2 ounces) weighing just a few ounces more.
The heaviest models we tested were the Salomon Speedcross 5 (1 lb 7.2 ounces), though the aggressive lugs, massive 35-millimeter stack height, and burly toe protection certainly contribute to their weight.
Traction & Grip
Most trail running shoes prioritize grip, but some do this more than others.
Models with deep lugs will give you a better grip on soft terrain. However, those lugs will wear down quickly if you're hiking on a lot of rocky, rugged terrain (a common issue with the Salomon Speedcross). If you're traveling over a lot of rocky trails with dry earth underfoot, excessively long lugs aren't going to do you much good.
The Salomon Speedcross and Hoka Speedgoat both have 5-millimeter lugs, these are the longest of any we tested.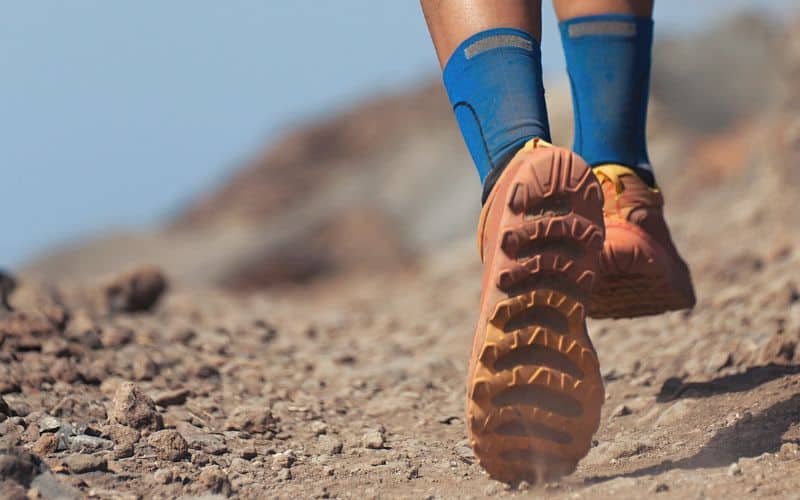 The type of rubber used in a shoe's outsole will also contribute to its grip. If you're going to be hiking on a lot of slick rock or rock scrambling, getting a shoe that uses a stickier rubber will help you maintain traction.
The Topo Athletic MTN Racer 2, La Sportiva Jackal, Arc'teryx Norvan VT 2, and Hoka Speedgoats all feel particularly sticky when traveling over smooth rock.
Drop
Drop, or "heel-to-toe drop]", refers to how high your heel sits in a shoe relative to your forefoot. If a shoe has "zero-drop" then your heel won't sit any higher than your forefoot. If a shoe has 10 millimeters of drop, that means the heel will sit 10 millimeters higher than the forefoot. 
If a shoe has zero-drop, your foot will sit naturally in a piece of footwear, just as it would if you were barefoot. This is commonly considered to be the most stable position for your foot.
However, most people strike the ground with their heels first when they walk. As such, wearing minimalist shoes or zero-drop trail runners with minimal cushioning can cause foot problems stemming from "heel striking," or the heel repeatedly hitting the ground first while walking.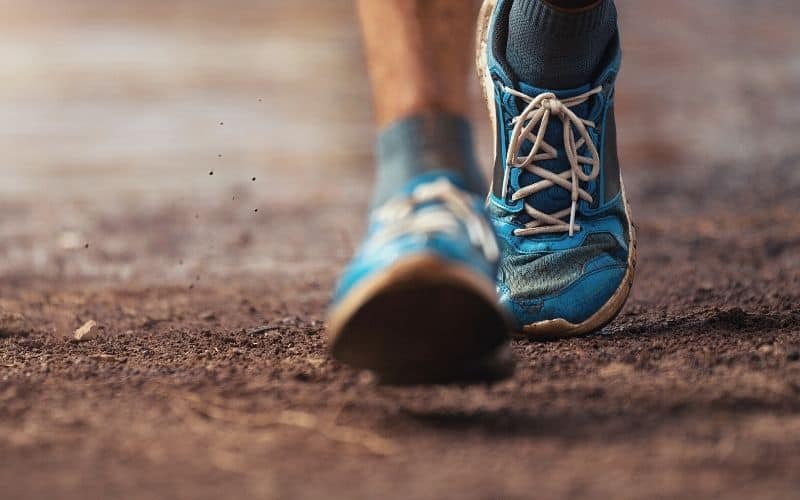 Most trail running shoes have some amount of heel-to-toe drop. The more drop a shoe has the more you'll feel like you're leaning forward when you're standing. This position helps you run fast, but too much drop tends to make going downhill feel less stable for some hikers.
We tested two models with zero-drop, the Altra Lone Peak 6 and Altra Olympus 4.0.
Some people love zero-drop shoes, but they aren't for everyone. We prefer a shoe with some drop but not too much, such as the Hoka One One Torrent 2 (5mm drop), Topo Athletic MTN Racer 2 (5mm drop), or the Hoka One One Speedgoat 4 (4mm drop).
Waterproofing
Waterproof shoes are great for hiking in snow, but in the summertime, a waterproof shoe will likely cause your feet to get too hot. And, excess heat building up in your shoes is a recipe for blisters! Every shoe we tested for this review is constructed with a breathable mesh upper. 
That being said, most of the shoes in this review do come in a waterproof version. And, trail runners with a waterproof upper make for a great shoe for hiking once the snow starts to fall. Unless you're looking for a shoe for running or hiking in the winter, we don't recommend waterproof trail running shoes.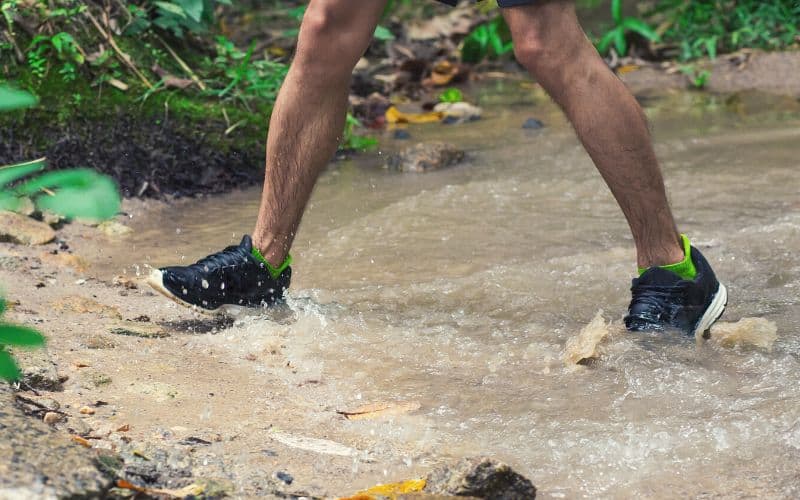 Breathability
One of the main benefits of using trail running shoes for hiking is the breathability they provide. For summer hiking, even in wet conditions, we find the breathable mesh uppers make for comfortable trail shoes that dry quickly when they get wet. And, a highly breathable trail running shoe makes a great hiking shoe because they allow your feet to breathe.
Hiking all day causes your feet to sweat, so having a breathable trail shoe is important for keeping your feet comfortable and blister-free.
Toe Protection
Most trail shoes have some sort of toe protection in the front of the shoe. This keeps the brunt of an impact away from your toes when you accidentally kick a rock or root (quite a common occurrence for most!). If you commonly hike on rocky trails and want to protect your toes we recommend getting a shoe with some toe protection.
We thought the Salomon Speedcross, La Sportiva Jackal, and Arc'teryx Norvan VT 2 stood out as having the most toe protection of all the models we tested.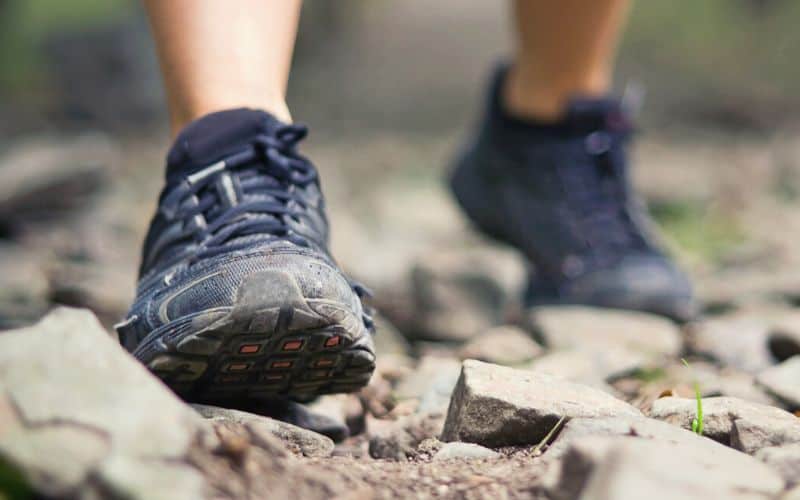 Sole Protection
If you're out on trails, the ground is going to be rough in some areas. You'll be stepping on rocks, roots, and who knows what else.
One of the main differences between a standard running shoe and trail running shoes is that the latter has a stiffer, more protective sole. This way, you don't feel every rock that you step on. More importantly, sole protection can help prevent injuries to your feet.
Some trail running shoes have a rock plate to protect the sole of your foot. A rock plate is a stiff plate that shields the foot from rocks as you step. Usually, a rock plate is molded into the midsole of a shoe. However, some shoes come with a removable rock plate that looks and feels like a very stiff hard plastic insole that sits under the insole of a shoe. 
Altra used to include a rock plate like this with their Lone Peaks. But they've since moved the rock protection into their insoles.
We found that the La Sportiva Jackal, Arc'teryx Norvan VT 2, Altra Lone Peak 6, and Brooks Divide 2 had the most substantial sole protection in the form of rock plates or rock guards built into the midsole.
Another factor that will contribute to sole protection is the stack height of a shoe. If there is more material between you and the ground then all that extra material will protect your foot.
With higher stack height shoes like the Hoka Speedgoat 4, Salomon Speedcross 5, Salomon Sense Ride 4, Altra Olympus 4.0, and Nike Pegasus, we couldn't feel rocks as we walked down the trails unless they were particularly sharp and large.
Best Trail Running Shoe: The Verdict
We thought the Hoka One One Speedgoats are the best trail running shoes for hiking overall. It was a tough decision though, and the Topo Athletic MTN Racer 2 was a close contender. We also think the La Sportiva Jackal is a great option for hiking, running, and scrambling, and a solid choice if you plan on using your trail runners to bag big or more technical peaks. 
Did we miss your favorite? Have something else to add? Leave us a comment below!