Looking to pimp your truck with one of the top tents available?
You're in luck! In this post, we aim to play matchmaker by introducing you to a selection of awesome truck-bed and roof-top tents. We've waded through, tried, and tested dozens of models to separate the wheat from the chaff, the meh from the marvelous, and the cream of the crop from the runts of the litter.
Our list includes everything from premium picks to more basic models for budget-oriented truck-tent campers. And if you're not sure which type of shelter is best for you, scroll down to the bottom and you'll find plenty of buying advice to help you choose.
Editor's Choice
Napier Sportz Truck-Bed Tent
Scooping our 'Top of the Class' award for this year is the Napier Sportz Truck-Bed Tent.
The NS TBT does everything we could ask a truck tent to do. It's roomy, waterproof, robust, durable, and boasts a handful of dialed-in features that enhance its overall convenience and livability.
This truck tent has a double-walled design, meaning you can forego the 1,200mm rain fly in warm weather to boost airflow or throw it on when the forecast promises rain. There's also a duo of large windows for stargazing and side vents to stave off stuffiness and condensation.
Concerning features, this truck tent is a standout, boasting everything you'd expect from a tent in this price range as well as a few non-standard extras that set it apart from its competitors. These include a gear loft, side pockets, a lantern holder, extendable awning, and a large window providing access to the truck's cab. Setup is also a breeze thanks to the use of color-coded poles and sleeves.
Bottom Line: A sturdy, waterproof, and feature-rich shelter that fits beds up to 5' 2" long.
At a Glance: Quick Recommendations
Best Truck Tents (Bed & Rooftop): Our Top 7 Picks
Napier Sportz Truck-Bed Tent
Editor's Choice
Type: Truck Bed Tent ⸱ Capacity: 2 Person ⸱ Hydrostatic Head Rating: 1,200mm
It's rare that we should come across a good truck bed tent that ticks every box that needs ticking, but the Napier Sportz Truck Tent does just that.
This is one of the most livable models we reviewed. In addition to a 5′ 8" peak height and a spacious interior, it comes with multiple pockets, a huge gear shelf, vents to boost airflow, and an extendable awning under which you can stash your camping gear to free up interior space.
The NS TBT is also good to go in just about any weather. While its 1,200mm rainfly doesn't offer the same level of weatherproofing as the Rightline Gear or Vevor, it's more than waterproof enough to withstand all but the heaviest downpours.
In terms of features, the NS is head and shoulders above its closest competitors. While the most lovable non-standard "extra" is that extendable awning, its oversized canopy gear shelf, cab access window, the bounty of interior pockets, and duo of air vents seal the deal.
PROs

Waterproof
Easy setup
Large windows
Side vents
Extendable awning for gear storage
Fits pickup truck beds up to 5' 2" long

CONs

Takes a few minutes longer to set up than competitors
Pricey
Bottom-Line: A waterproof, easy-to-set-up shelter with oodles of headroom and plentiful value-adding features.
Vevor Standard Truck Tent
Best Budget
Type: Truck Bed Tent ⸱ Capacity: 2 Person ⸱ Hydrostatic Head Rating: 2,000mm
The Vevor Standard is a great option for occasional, unfussy campers who simply want a reliable waterproof shelter for nights in the sticks.
Considering how cheap the Vevor is, it has plenty to offer. It's made with tough polyester fabric, has a fully waterproof rainfly, taped seams, and is quick and easy to assemble. It also provides plenty of headroom and has large viewing windows for stargazing and added ventilation.
While the Vevor lacks interior pockets, a gear loft, and a rear-access panel, this is fairly standard for tents in this price range.
PROs

Cheap!
Waterproof
Good ventilation
Easy to assemble

CONs

Short on features
No rear access panel
Bottom-Line: The best truck tent camper out there for buyers on a tighter budget.
Rightline Gear Truck-Bed Tent
Runner Up
Type: Truck Bed Tent ⸱ Capacity: 2 Person ⸱ Hydrostatic Head Rating: 2,000mm
The Rightline Gear truck tent is our top pick if you're an all-weather kinda truck-tent camper.
The RG has a double-walled design so you can use the inner tent on its lonesome in dry, hot weather and then throw on the 2,000mm HH rain fly when the forecast calls for rain.
The RG is also one of the easiest tents to set up on our list. This is because it uses a floorless design so no need to remove anything from your pickup truck bed before setting up. It also has color-coded tent poles and pole pockets, which eliminates the guesswork in placing the poles.
Features-wise, the RG isn't a standout, but it has enough add-ons to help make life inside a little more comfortable and convenient. These include a few interior pockets, a gear hook for your lantern or torch, and a huge sky-view vent that boosts ventilation and allows for more natural light and better views.
PROs

Easy to set up
Waterproof
Color-coded poles
Sky-view vent/window

CONs

No gear loft
Kinda pricey
Bottom-Line: A well-made, waterproof shelter that's a little short on features but otherwise a keeper.
Napier Backroadz Truck Tent
Honorable Mention
Type: Truck Bed Tent ⸱ Capacity: 2 Person ⸱ Hydrostatic Head Rating: 800mm
Napier Backroadz is one of the most expensive pickup-bed tents on our list, but it does a lot to merit inclusion nonetheless.
The Backroadz is made with extra-burly materials that are more durable than those used in lower-priced models. It also had an impressive peak height of 5' 2", a full floor sewn-in, storm flaps, and a full-coverage rainfly. Features-wise, it's one of the top tents out there. It has two large windows, a gear loft, multiple pockets, and a handy lantern holder.
There are, however, a few downsides…
Given its price, we would have liked far superior waterproofing than the Backroadz' 800mm rainfly offers. A rear-panel access window would've been nice, too.
PROs

Durable
Roomy
Good features
Sewn-in flooring

CONs

Expensive
Low waterproof rating
Bottom-Line: A well-made, feature-rich shelter that lets itself down a little with a lack of waterproofing and its hefty price tag.
Guide Gear Full-Size Truck Tent
Best Value
Type: Truck Bed Tent ⸱ Capacity: 2 Person ⸱ Hydrostatic Head Rating: 1,500mm
The Guide Gear Full-Size truck tent is, in a few words, a low-cost shelter that offers just as much and performs just as well as many truck tents with a far greater price tag.
The GG's a little short on features, lacking a few desirable conveniences like a gear shelf, awning, and air vents. However, it scores highly in every other important metric.
The GG is made with durable materials and uses a double-walled design, the second part of which is a full-coverage rainfly with an impressive 1,500mm hydrostatic head rating. That means you can use the inner tent alone to boost ventilation on warm nights and throw on the fly to stay dry in even heavy rain.
The GG also has a sewn-in floor, two mesh windows, and a large rear window for easy access to the cab.
PROs

Affordable
Waterproof
Built-in floor
Aluminum poles

CONs

Short on features
Less headroom than some competitors
Bottom-Line: A fairly basic but affordable shelter with great waterproofing.
Overland Vehicle Systems Nomadic 3
Best Rooftop
Type: Top of Truck ⸱ Capacity: 3 Person ⸱ Hydrostatic Head Rating: 3,000mm
If you've got money to burn and will only settle for the best of the best, the Overland Nomadic 3 is the shelter for you.
The Nomadic 3 isn't going to win any prizes for affordability, granted. However, in return for your outlay, you'll be getting an utterly "bombproof" rooftop shelter that truly elevates your car-camping game.
The Nomadic can comfortably accommodate three adult sleepers and has a peak height of 51", which is above average for a rooftop tent. When not in use, it collapses down into a heavy-duty, waterproof transportation cover.
The tent itself is made with materials that will last a lifetime and weather any storm, specifically a marine-grade, 600D ripstop polyester and cotton canvas body and a 420D, 3,000 mm rainfly. In layman's terms, this means it's tough as nails and as waterproof as they come.
The Nomadic can also be fitted to any vehicle with a roof rack that can support its weight and can be set up in just a few minutes once installed. It comes with a 3-inch foam mattress, a heavy-duty base plate, tubular ladder, a duo of shoe pouches, and LED strip lights for cozy interior lighting.
PROs

Incredibly durable
Fully waterproof
Roomy interior
Comes with a foam mattress, base plate, ladder, and strip lights
Great interior storage features
4-year limited warranty

CONs
Bottom-Line: More of a portable backcountry palace than a tent. 
Smittybilt Overlander
Runner Up Rooftop
Type: Top of Truck ⸱ Capacity: 3 Person ⸱ Hydrostatic Head Rating: —
The Smittybilt Overlander has been one of the top-selling roof-top tents on the market for the best part of a decade. And with good reason.
The Overlander is made with burly poly-canvas fabric that's made to last at least a lifetime. It's also fully waterproof and has extendable awnings over the mesh windows so you can enjoy the views and let in a little fresh air even when it's raining.
Inside the Overlander, things are a little bit special. There's a 12V power adapter, LED strip lighting, a shoe storage sack, an integrated travel bag, and a dense foam mattress for added comfort. Not that you'll ever want to leave, but when you do there's an extra-wide telescopic ladder to simplify your return to terra firma.
There are, in truth, no real downsides to the Overlander barring its price tag, and very little separates it from our other rooftop model, the Overland Nomadic 3. When push came to shove, however, we chose to hand the Nomadic 3 our top award on account of its cushier mattress and ripstop fabric. Given the Overlander's lower price point, however, it's well worth considering.
PROs

Ample interior space for 3 sleepers
Multiple interior storage pockets
Easy setup
Large mesh windows with awning
Extra-wide ladder

CONs

Expensive
Mattress isn't the most comfortable
Bottom-Line: A high-quality tent made with waterproof, heavy-duty materials.
How to Choose a Truck Tent
Type
There are two main types of truck tents – truck-bed tents and roof-top tents. Bed tents, as the name suggests, are secured over the truck's bed to create a sheltered sleeping space. These are by far the most affordable of the two. They're also lighter, much easier to transport, and don't need a compatible roof rack.
Roof-top tents can be fitted on trucks and several other types of large vehicles. These tents are usually pricey and fitting them to your rack can be tricky and time-consuming. On the plus side, they take up no space inside your vehicle because they're fixed to the roof and typically offer better weather resistance than truck-bed varieties.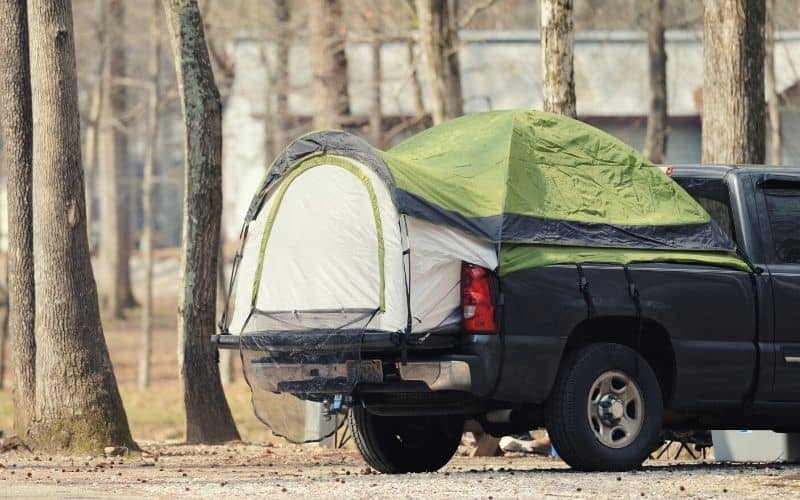 If you are thinking about getting a hatchback tent for your vehicle then we have just the guide on SUV tents here.
Compatibility
Before you buy, the most important thing to check is that it will fit your rig. With roof-top tents, this means checking the load capacity of your roof rack. With bed tents for pickup trucks, it means ensuring you get a model that's the appropriate length for your truck bed. Most manufacturers sell tents for 5' 2", 6'.6", and 8'. models, so make sure you check before clicking 'buy'.
Materials
Truck tents, like standard camping tents, are usually made of polyester or canvas. Polyester models are by far the cheaper and lighter of the two but are also less durable and less waterproof.
All of the bed tents on our list are made with polyester. The two roof-top tents, the Smittybilt Overlander and Overland Nomadic 3 are made with heavy-duty, ripstop polyester-cotton canvas.
Our list doesn't include a canvas truck-bed tent, simply because the cost of the available options outweighed their benefits. If you're keen on canvas, however, it might be worth taking a look at the Kodiak Canvas Truck Bed Tent.
Weatherproofing
The degree of waterproofing offered by tents varies widely from model to model. Budget models often only use a water-resistant coating, meaning they'll keep you dry in lighter or shorter-lived showers, but not in a sustained downpour. Pricier models like the Rightline Gear TT, on the other hand, are waterproof and designed to keep your entire tent dry in all but a deluge.
Both of our list's roof-top tents, the Nomadic 3 and Smittybilt Overlander are fully waterproof and suitable for four-season use.
Ease of Setup
Truck tents are notoriously tricky to set up, at least compared to their ground tent cousins.
Between bed tents and roof-top tents, the former are by far the simplest to 'pitch'. This is because pickup tents simply attach to the walls of your truck bed and are assembled the same way as standard tents, except using poles and tie-down points instead of stakes. The process typically takes around 5-10 minutes.
Setting up rooftop models, on the other hand, requires tools and considerable brawn to shift the thing from the floor to the roof of your vehicle. Once it's attached to your rack, however, you won't need to repeat the process for the rest of your trip. Every time you park up in your camping location, simply unfold the poles and you're good to go.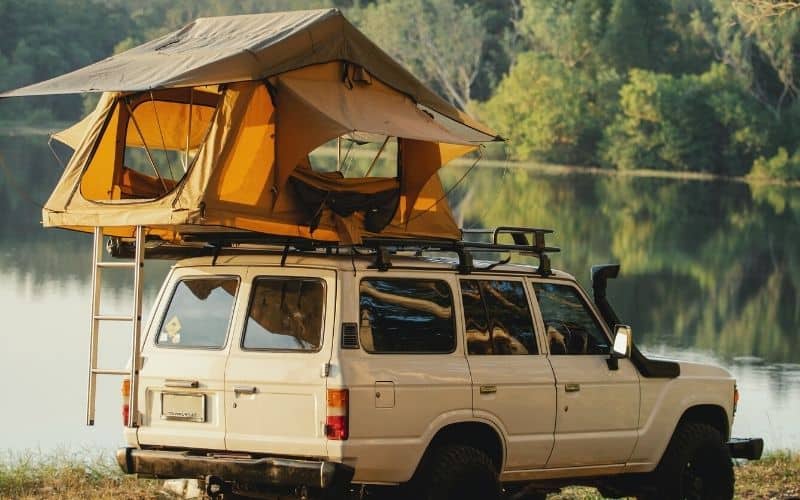 On this list, all of the truck bed tents for camping have a simplified setup using a color-coded pole system with pole pockets. Both of our list's roof-top tents, the Smittybit Overlander and Overland Nomadic 3 will take in the region of an hour to install and dismount every time you take to the road and return home. On the plus side, once at camp they can be assembled and stored away in around 3 minutes.
Ventilation
As with all types of tents, ventilation is an important factor in determining a truck tent's performance and livability. The reason for this is simple: without adequate ventilation, the interior will soon become stuffy and prone to condensation.
Features that can boost ventilation include vents in the walls, extensive mesh canopies, and (several) mesh windows. Look for these if you're keen to boost airflow and keep stuffiness and condensation to a minimum.
Features
The difference between a feature-rich tent and a featureless tent is akin to the difference between a home with all the mod cons and a bare-bones shack. That's a bold statement, sure, but the peeps here at My Open Country are all big fans of every little add-on that boosts convenience and practicality.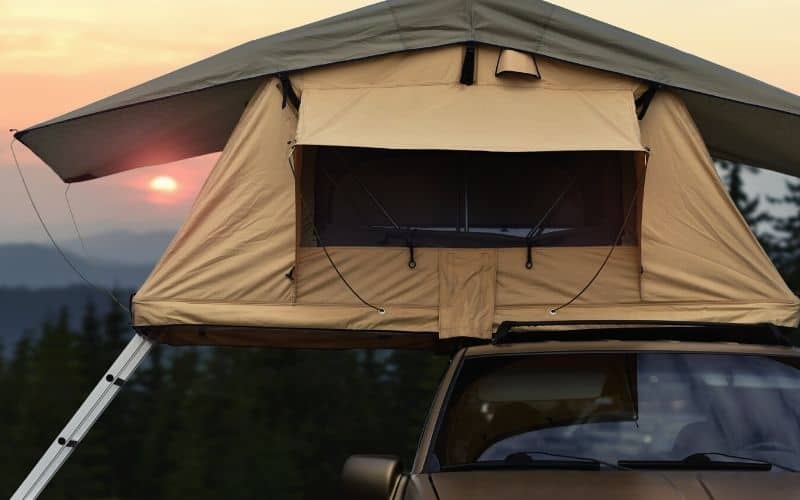 These add-ons take the form of gear lofts, wall pockets, shoe pouches, e-ports, a lantern hook, a cab access window, an extended awning, glow-in-the-dark zippers, and sky-view windows. The inclusion of these features won't seal the deal if you're a rugged and unfussy camper, granted. If you like a little more convenience, however, they're well worth paying a few extra bucks for.
The Verdict
Still undecided? If so, here's a quick recap.
Our overall favorite for truck beds is the Napier Sportz TBT, which combines tough, waterproof materials with a wealth of dialed-in features to beat off the best of the rest.
Our favorite roof-top model is the OVS Nomadic 3. The Nomadic is fully waterproof, as tough as the best tents are made, spacious, and comes with a few non-standard add-ons that make it well worth its lofty price tag.
How did you like our article? If we missed anything, let us know in the comments box below, and feel free to share it with your friends!