A camp stove is an essential item on many people's camping gear checklist. In addition to cooking over an open fire and grilling, it's one of the most popular methods for preparing meals in the great outdoors.
Using camping stoves requires a little extra effort as compared to a home cooktop, especially when it comes to its fuel source. The majority of camp burners use propane for fuel, so learning how to use a gas container is vital for being able to cook your camping meals.
In this article, we'll walk you through everything you need to know to cook with a gas camping stove, including the steps to connect, use, and refill a propane tank.
Key Takeaways
Get a Compatible Hose – Find a suitable hose for your propane stove to connect to a larger container.
Fuel the Camp Cooktop – Hook up the adapter hose and regulator to the gas and cooktop to begin cooking.
Refill the Tank – Refill your empty propane canister at a participating retailer or swap it out at an exchange center.
Using a Camp Stove Propane Tank: All You Need to Know
A gas container or cylinder provides the fuel source for a camp stovetop. Here's everything you need to know about a camping stove propane tank, including how to properly dispose of it.
How to Connect a Tank to Your Camping Stove
Most camping burners are designed to work with the disposable 1 lb cylinders commonly used for camping. While these are incredibly practical for camping due to being lightweight, compact, and small, most people prefer to switch them out for larger containers.
Using a grill-sized, 20-pound propane cylinder is beneficial because they are easy to refill and lasts a lot longer. With a larger container, you don't have to worry so much about the gas running out (only the weight!).
To use a big container you need to find a compatible hose with an adapter to connect the camp stove to the larger container. Depending on the type of range and the container size, you might need a hose with a gas pressure regulator. Check with the stove manufacturer because many manufacturers sell specific hoses, adapters, and regulators for each type of range.
Of course, you want to double-check that your camp stove uses propane before searching for adapters and hoses. Some cookers use other fuels like white gas as a fuel source.
Once you have all of the necessary equipment, be sure to test your setup at home before heading out on your camping trip.
Here's how to connect a camping stove to a larger propane tank:
Start with the burners off and the container valve closed.
Attach the regulator and/or adapter hose to the container.
Make sure it's on tightly to prevent leaks.
Find the gas attachment point on your range. It's typically located on the back or side of it.
Attach the other end of the hose to the attachment point on the range.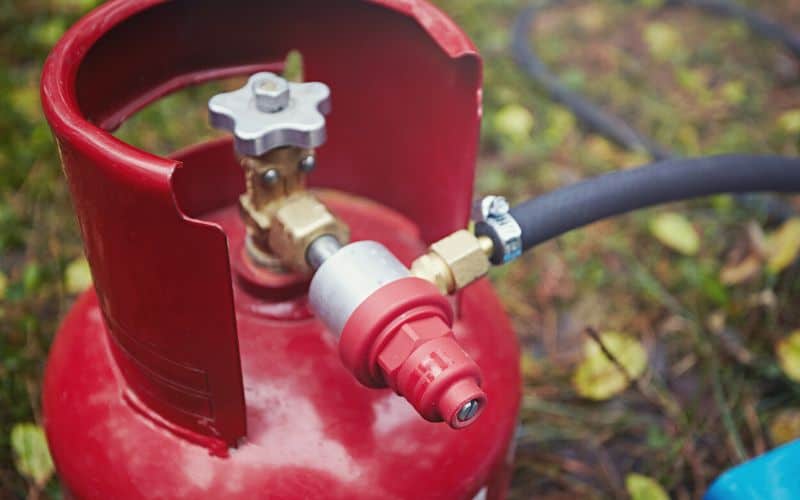 How to Use a Propane Tank with Your Camping Stove
Now that you have the propane tank hooked up, you can begin using your camp stove!
These are the steps to follow to start cooking:
Double-check the burner knobs are set to the off position.
Slowly turn the container valve to the open position. It's important to do this slowly for proper gas flow through the regulator and into the burners.
Stay alert to any hissing sounds that may indicate a leak somewhere in the system.
Have a lighter or matches ready to go. If your cooktop has a self-igniting feature, you can skip this step. Check the owner's manual if you're unsure.
Turn the burner knobs and use the self-ignition switch or a match to light the burners.
Use the knobs to adjust the flame and control the heat while you begin cooking.
When the food is minutes from being done, close the valve on the container. Shutting the gas off before turning off the burners allows the gas in the hose and range to burn off. This reduces the pressure in the system and limits your exposure to fumes when you disconnect the hose.
Once the burner flames have fizzled out, turn the knobs to the off position.
Leave everything as is for your next meal or carefully disconnect the hose and regulator to pack it up.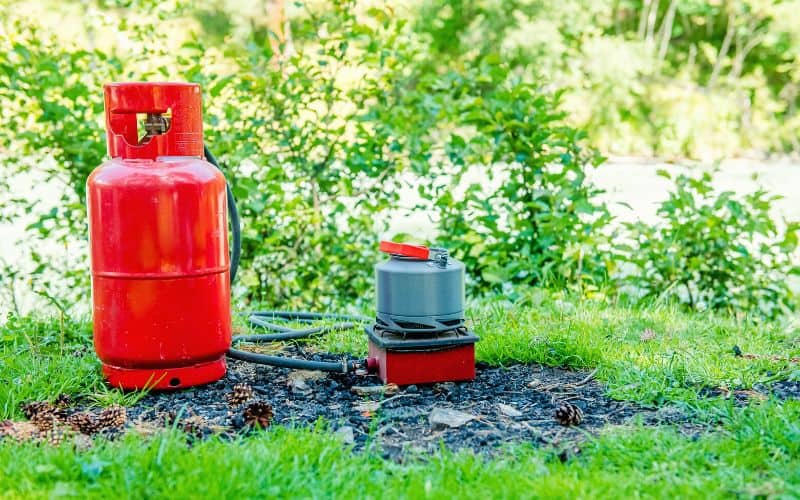 How to Refill a Propane Tank
Once your container runs out of gas, it's time to refill it. Search for a nearby propane retailer that refills portable containers. Take the empty container to the distributor to get it refilled.
Depending on the area, retailers for this type of gas can be hard to come by. You may find yourself driving quite a long way to get your container refilled.
If you don't have a retailer nearby, the easiest way to "refill" a 20 lb container is to purchase one from an exchange center. Most gas stations and home improvement stores have large cages outside where they store full containers. Using this method, you can simply swap out your empty container for a full one at these stations.
Blue Rhino is one of the most popular tank exchange companies and they do home delivery in some areas.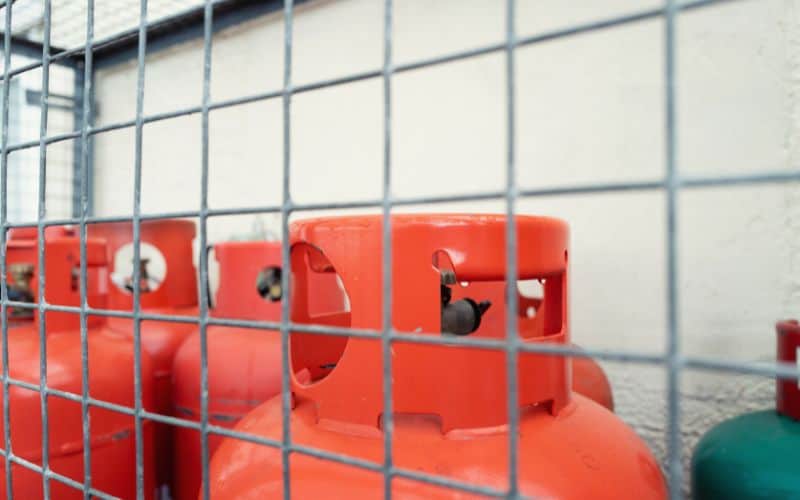 How to Dispose of a Propane Bottle or Tank
It's important to properly dispose of gas bottles and containers. Proper disposal prevents environmental damage and prevents health risks.
1 lb bottles can sometimes be recycled once they're out of gas. Some national parks, like Joshua Tree, have gas canister recycling bins for small bottles. You can simply throw your 1 lb cylinder in the assigned bin when they run out.
Larger portable containers can be refilled multiple times and last for years. But if your big tank is expired or damaged, it's time to dispose of it.
There are two main options for disposing of these. You can contact your local retailer and see if they have a gas container disposal program. Or you can contact your city's waste management department to inquire about proper disposal in your area.
Regulations vary depending on the area so it's important to check with your local trash department. Some municipalities allow for the disposal of gas tanks, cylinders, and bottles in the household trash. While others strictly prohibit throwing these away in the trash and require you to take them to a hazardous waste collection site.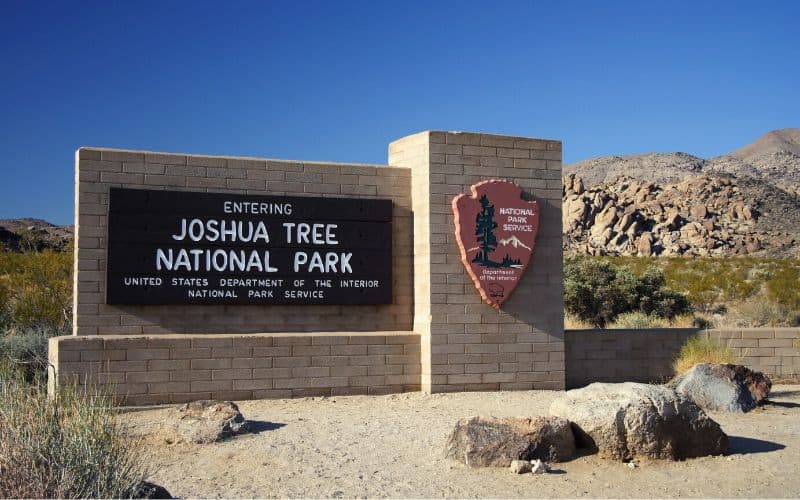 Final Thoughts
Learning to use a camping stove propane tank takes a little practice but it's a simple process that anyone can learn. This fuel type works better than butane and other types in cold weather, so it's well worth the effort for winter campers! They also provide far more precise temperature control than your average campfire!
For a successful camp cooking experience, follow the steps above to connect, use, refill, and responsibly dispose of your cylinder or bottle. Just remember to watch out for gas leaks!
What are your best tips for using propane stoves? Feel free to share them in the comments below. If you enjoyed this article, please send it to your camping buddies!