The best way to enjoy the great outdoors while still having some creature comforts around to make your outdoor experience as comfortable as possible is to drive there.
Whether you're planning a quick weekend getaway or a week-long adventure, having the right gear on hand can make all the difference between a disastrous or spectacular trip. The great thing about taking your vehicle to camp is that, unlike backpacking, you don't have to worry much about gear weight or storage space.
In this guide, we're covering everything you need to know to plan your next trip, including trip-planning tips, a list of the fundamental kit to take, and our top gear recommendations.
Key Takeaways
Find a Campsite –Whether it's a dispersed campsite or an RV park, search for a campground that meets your needs. If necessary, make reservations as soon as possible.
Choose the Right Gear –Make sure your tent is big enough and your sleeping bag is warm enough, and always pack emergency meals and a first aid kit.
Use a Packing List – Using a checklist while packing for your trip ensures you won't leave behind any essentials like your tent or fire starter.
Finding and Booking Your Campsite
The first step to planning a trip to the great outdoors is finding your ideal campsite. National parks or state parks? Private Campgrounds? Free camping? No matter what type of car camping you plan on doing, a little bit of prep and planning is required.
With the increasing popularity of camping, it's become especially important to plan if you want to visit well-known locations. Campgrounds at national parks in the summer are usually fully booked and require you to make reservations six months in advance. Dispersed campsites, therefore, are your best bet for spontaneous trips.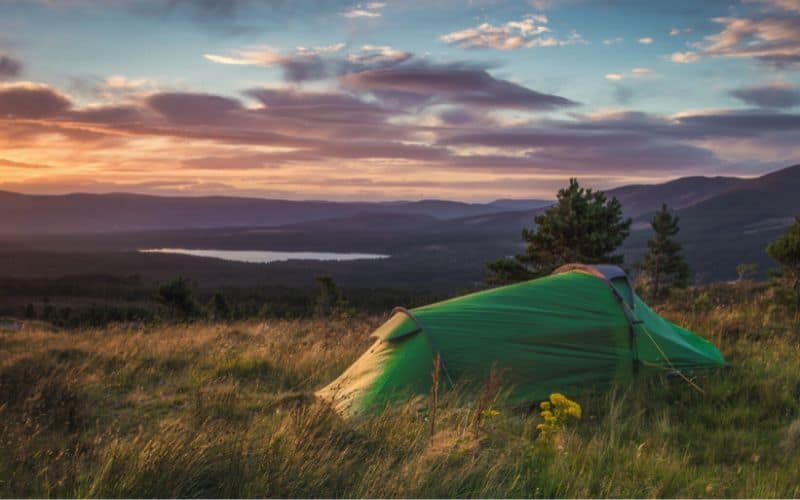 There are a variety of options for finding and booking campsites in the U.S. These are some of the most common locations for pitching a tent in the great outdoors:
National Parks
Some of the best campgrounds in the country are found within national parks. Every year, millions of people flock to see America's treasured national parks. So it's no surprise that the top five most visited national parks (Great Smoky Mountains, Zion, Yellowstone, Grand Canyon, and Rocky Mountain) are home to the nation's most coveted campgrounds.
Due to their extreme popularity, scoring a campsite at some national parks can be a highly competitive affair. Many of them require you to book your spot six months ahead of time.
Recreation.gov is the best place to search for and reserve a site at campgrounds across federal lands. For the best chance at booking the site of your choice, be ready to reserve your site exactly six months before your trip date and visit the website first thing in the morning on that day to book your reservation.
If you are unable to get a reservation for the campground you want, you can ask if there is a waitlist or if there are any first-come, first-served sites or alternative campgrounds nearby.
Getting a campsite at a less-visited national forest can be a lot easier than finding one at a busy national park. National forests usually have a handful of campground options with both reservable and walk-in options.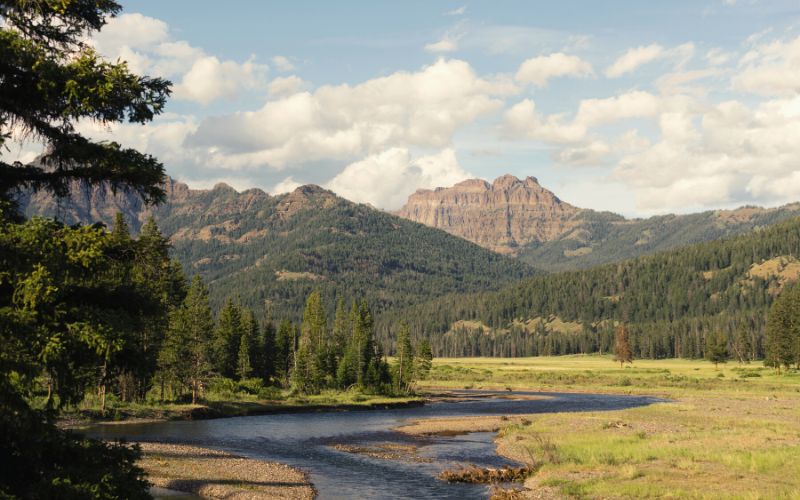 State and County Parks
Campgrounds at state and country parks are usually less busy and cheaper than national parks. Some state parks even offer discounts for residents.
Each state and county across the country has its own reservation system for its parks. Some of them have online-only reservation systems, while others may require a phone call during business hours to make reservations.
The best way to find campgrounds at these parks is to search online for your state or county's official park website. They usually provide a list of campgrounds along with information about amenities and fees.
Campsites at state parks can vary from primitive walk-in tent sites without toilets to full hookup RV parking spots with hot showers. Be sure to inquire about the options and services at each before booking so you're not surprised upon arrival.
Some of the best state park campgrounds in the U.S. include Emerald Bay Boat Camp in California, Colorado Bend Campground in Texas, and Atlatl Rock Campground in Nevada.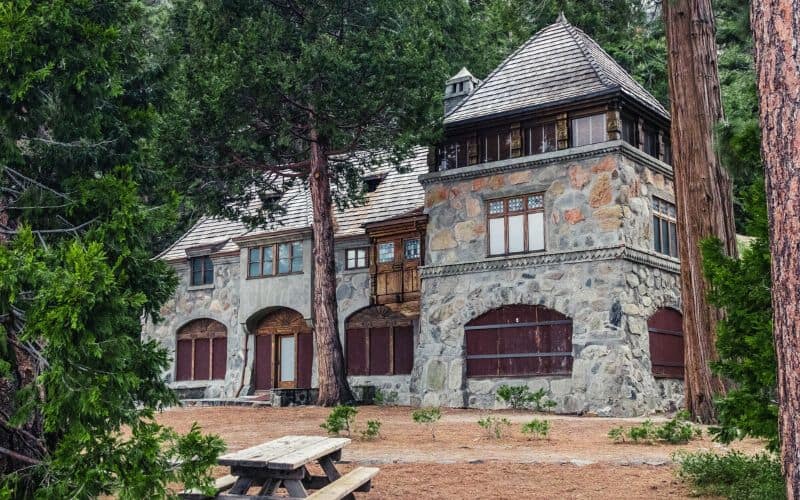 Private Campgrounds
Private campgrounds are usually some of the top options for pitching your tent inside cities, near popular landmarks, and just outside of the national park boundaries.
They can provide access to unique amenities that are otherwise closed off to the general public since they are on private land. Some examples include private hot springs for soaking in, underground caves for spelunking, and hiking trails to secret waterfalls.
It's easy to search for privately-owned campgrounds in the area you're visiting on Google Maps. From there, you can visit their website to get more information and make reservations online or over the phone.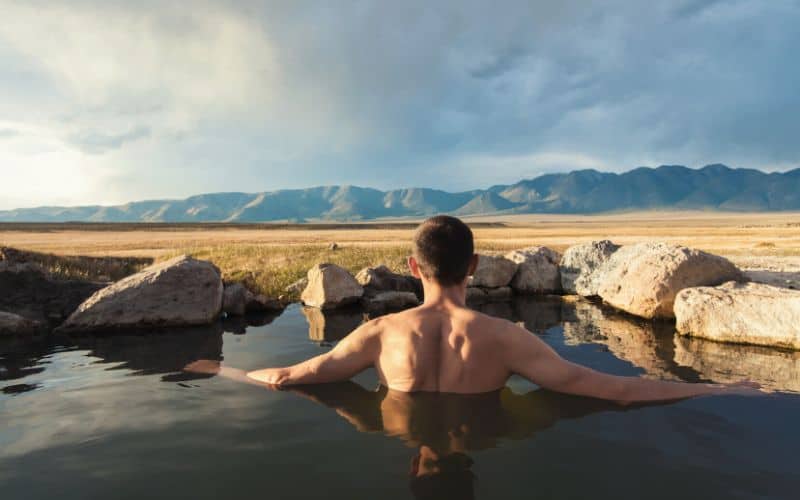 Keep in mind that some of the amenities, like seasonal pools or hot tubs, may be closed during your visit. It's best to check the reviews or call ahead before booking to get up-to-date information on the campground.
Depending on the campground or RV park, you may find you need to make reservations several months in advance. This is especially true for campgrounds near the top national parks and popular tourist cities with only a few places to stay for campers.
Free Camping
If you're on a tight budget, there are plenty of options for free camping across the nation, especially in the western states.
One of the best ways to pitch a tent for free is dispersed camping on U.S. Forest Service (USFS) and BLM-managed land.
The Bureau of Land Management, commonly known as BLM, offers a range of options for spending the night under the stars. You can park your car at a developed campground with toilets and picnic tables or drive off deep into the backcountry to get away from it all.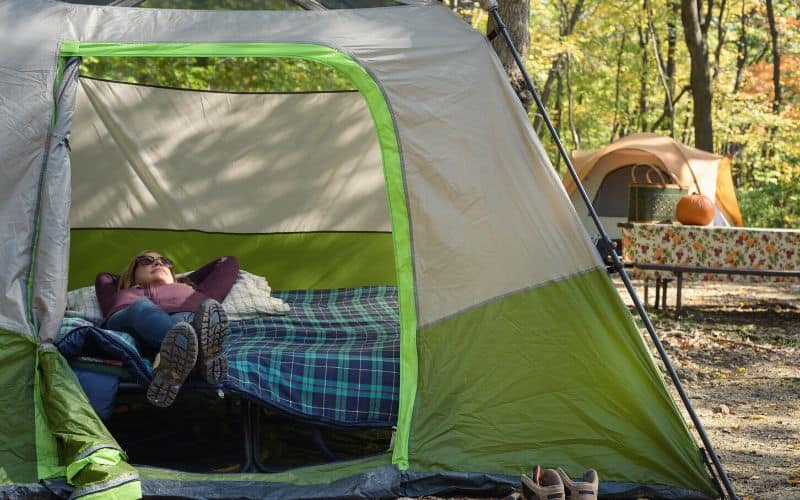 The vast majority of the open areas for dispersed tent camping are free, but BLM also has developed campgrounds that usually cost less than 10 dollars per night.
To find camping areas on BLM land, you need to search online for BLM maps of the area or contact the regional office for advice.
Many of the dispersed car camp areas don't offer any assigned sites, amenities, or facilities. So, it's important to follow the regional rules, like not staying over the time limit, and Leave No Trace.
For the most part, campers staying on BLM land aren't just looking to save a little money. They are primarily searching for isolated places to enjoy some peace and quiet while unwinding in nature. When looking for a spot to stay the night, give other campers plenty of space and try not to park too close to their area.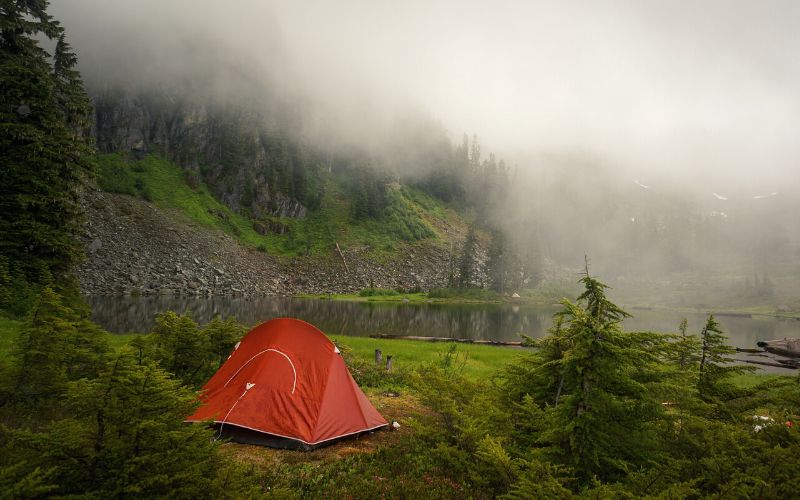 Resources for Finding Sites
If you can't manage to find a car camp area on your own there are plenty of free and paid online resources to help you out. Stop struggling and check out the top campsite-finding apps and websites below.
Recreation.gov
To search for developed campgrounds on federal lands, visit Recreation.gov or download the app. This official government website calls itself the "one-stop shop" for all the services and information you need to plan your next adventure. It features around 4,200 facilities and activities with over 113,000 reservable campsites across the United States.
The campgrounds and activities listed here are located on or near Federal land, waterways, and monuments managed by 13 Federal Participating Partners, including the National Park Service, US Forest Service, and Bureau of Land Management.
Not only can you reserve a campsite on this app, but you can also get hiking permits and timed entry tickets, and book park ranger tours.
BLM Directory
The BLM directory helps you find campsites across a variety of landscapes on over 245 million acres of BLM-managed land. You can search by location, activity, and keyword to find your ideal dispersed or developed campsite.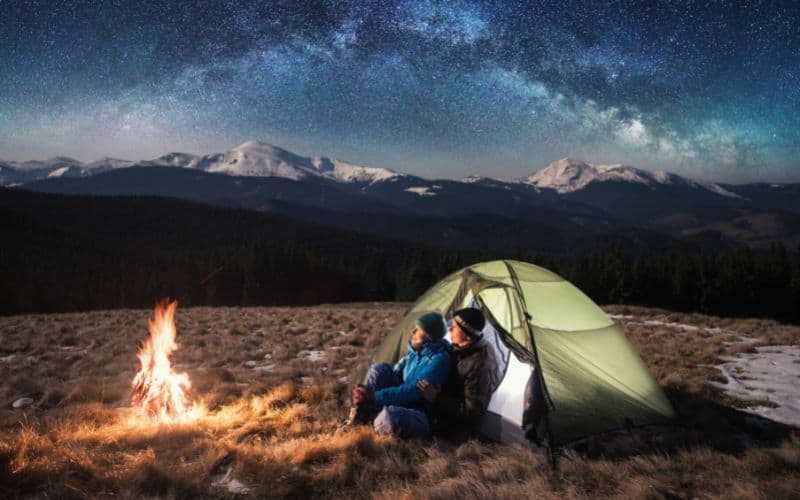 The Dyrt
The Dyrt is a popular website and app for finding private and public campgrounds. They offer a paid subscription-based membership with plenty of perks including a camping road trip planner, additional map layers and offline access on their app, and gear discounts. They can also help you score a reservation at sold-out campgrounds.
iOverlander
iOverlander is widely known as one of the top apps and websites for finding free places to pitch a tent or boondock. Paid campgrounds are also listed, but this app is especially helpful for finding free spots. The locations, photos, and reviews on iOverlander are uploaded by fellow campers and it's maintained by volunteers.
The best thing about this app is that it's completely free, has no ads, and works offline. You can easily use it to locate your camping spot even when you're driving off the grid and don't have a phone signal. 
This app also features markers for helpful things like showers, gas stations, and water fill-up locations.
FreeCampsites
FreeCampsites is a great place to find free camping spots. Similar to iOverlander, it's a crowd-sourced directory of campsites.
This website focuses on free campgrounds and offers a free trip planner for road trips. They also provide helpful community reviews and ratings to help you choose the right spot.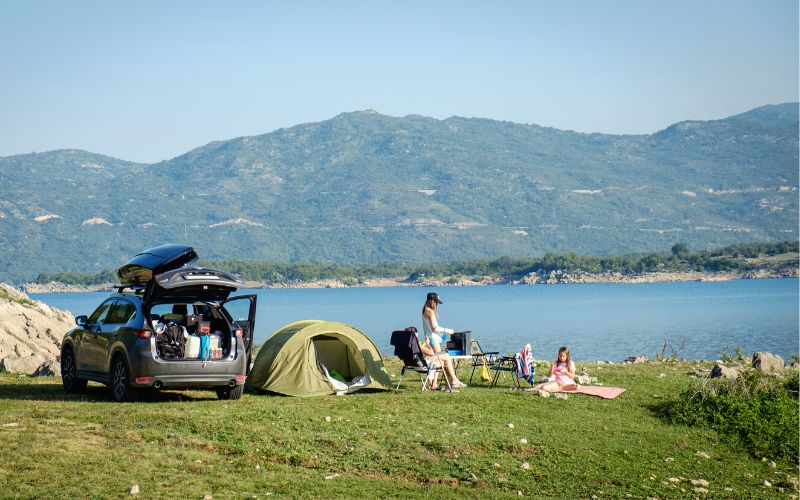 Campendium
Campendium is another great app and website for finding both paid and free campsites on both private and public land. They provide helpful details on campground amenities, cell phone coverage, and up-to-date prices.
Car Camping Essentials: what to bring
Packing the gear below will help ensure a successful and safe outdoor adventure. And with a little planning and preparation, you'll be ready to hit the road in no time.
From sleeping bags to sunscreen, the following lists cover all the must-have camping gear to pack when you take your car.
Sleep System and Shelter
One of the most important parts of planning a camping trip is figuring out how you are going to sleep. You can go the traditional route and pitch a tent. 
Or you can try alternative sleep options like a rooftop tent, hammock, or just lay a sleeping bag on the ground. If none of these options appeal to you, you can also sleep inside your vehicle.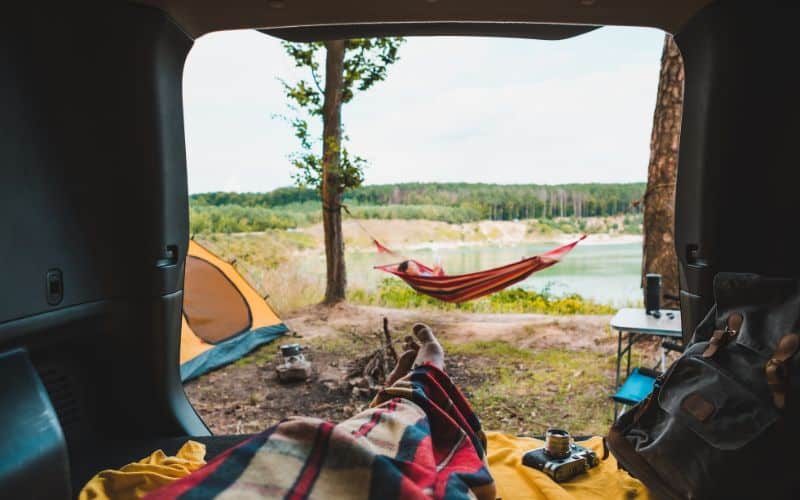 Whatever you choose for your sleeping shelter, here are the sleep system and shelter fundamentals:
Tent
For the classic campground experience, pitch a tent. Good tents provide shelter while sleeping, privacy for changing, and protection from the elements, like sun and rain. A comfortable tent is key to a good night's sleep in the wilderness so you have plenty of energy for outdoor activities the next day.
It's important to get a tent that holds up to the type of climate you're visiting. A tent with a removable fly works well for hot summer nights while having water-resistant fabric is necessary for rainy weather. Also, make sure to pick a tent big enough to fit everyone sleeping in it and their gear.
Newbie campers looking for a good entry-level tent on a budget should take a look at the Coleman Sundome 4. The REI Base Camp 6 features plenty of space for the whole family and waterproof fabric, making it our top choice for the best tent.
Hammock
Sleeping in a camping hammock is the ideal way to sleep under the stars for the more adventurous camper. Compared to a traditional tent, hammocks are easy to set up, lightweight, and take up less room in your trunk. Many hammockers also consider them more comfortable than spending the night on a sleeping pad.
Our editor's choice for the best all-around camping hammock is the Warbonnet Blackbird. It's a durable and extremely comfortable tent that will last for years to come. But if you want to get started with hammock camping without spending too much money, the Grand Truck Ultralight is a good choice that offers a load capacity of 300 pounds and weighs 12 ounces.
Sleeping Bag
A tent is important, but if there's one thing you should never forget on an overnight outdoor adventure, it's a sleeping bag. A sleeping bag is crucial for keeping you warm when the temperatures start to drop quickly after sunset. To be extra safe, look for a bag that's rated about 10 to 20 degrees less than the lowest temperature you're expecting on your trip.
Our top choice for a quality bag with premium features at a reasonable price is the REI Co-op Magma 30. If you're looking for a less expensive bag that'll still keep you nice and toasty, check out the Marmot Trestles 15.
Sleeping Pad
A sleeping pad can save you from a sleepless night of tossing and turning. A pad creates a protective surface between you and the ground underneath the tent. It saves your back from sharp rocks and adds an insulating layer to reduce your exposure to cold dirt.
Our pick for the best budget air pad is the lightweight, durable, and spacious Klymit Static V2. While the best sleeping pad across the board is the Therm-A-Rest NeoAir XLite. If you already have an air mattress, you can use that too.
Pillow
For most people, it's hard to get a good night's sleep without a pillow. While you can always use your regular pillows, it's better to have a less bulky option that'll pack down nicely.
If you're searching for a basic yet surprisingly comfortable pillow on a budget, check out the REI Co-op Trailbreak. For a luxurious, ultralight pillow with a down topper that you can also use on backpacking trips, take a look at the Sea to Summit Aeros Down.
Tools and Miscellaneous Gear
Having the right tools is crucial for surviving a few days off the grid. You can't just drive over to Home Depot to pick up extra duct tape if your tent rips, so make sure you bring all the necessary tools.
Headlamp – This hands-free light source is vital for navigating in the dark. Our top choice for hiking, car camping, and backpacking is the Black Diamond Spot 350.
Lantern – Headlamps are great when you're on the move, but a lantern is a better option for lighting up your whole camp. Our favorite is the Black Diamond Apollo.
Camp Chair – Having a comfortable chair to sit back and relax around the campfire makes all the difference. The ALPS Mountaineering King Kong Camping Chair is a heavy-duty chair with an 800-pound capacity.
Fire Starter, Lighter, or Matches – Even if local fire restrictions prevent you from starting a campfire, you still need a lighter or matches to light your camp stove for cooking.
Trowel or Shovel – From digging a cathole to leveling out the tent pad, a shovel is a must-have piece of gear. The Sahara Sailor Survival is a multi-functional tool that can be used as a saw, hatchet, hoe, hunting spear, cleaver, and hook.
First Aid Kit – An absolute must for medical emergencies and accidents. The Adventure Medical Kits Ultralight Watertight 7 comes with high-quality supplies in a lightweight, waterproof package. 
Multi-tool or Knife – From cutting wood to slicing apples, a good knife or multi-tool can do a range of practical functions at the campsite. Our favorite is the Gerber Strongarm.
Duct Tape – Heavy-duty duct tape on hand can help repair everything from a ripped jacket to broken tent poles.
Water Filter – A good water filter is important even if you're staying at a campground with potable water.
Repair Kit – Put together a repair kit with rubbing alcohol, scissors, repair tape, and fabric patches for on-the-go repairs of your camping tent, sleeping bag, hiking boots, sleeping pads, or anything else.
Bear Spray – If you're staying in bear country, you need to bring along a can of bear spray to protect yourself if they get too close to camp.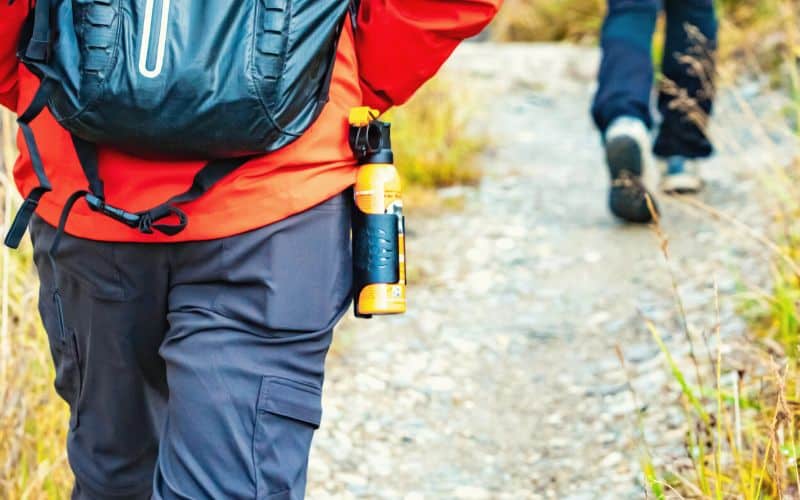 Camp Kitchen
A well-stocked camp kitchen makes cooking outdoors much more enjoyable. These are the basic car camping kitchen basics:
Stove – A reliable camp stove provides heat to boil water and cook food off the grid.
Fuel – Most camp stoves use either propane or butane canisters as fuel.
Water Bottles – Brining enough water is essential and reusable bottles make it easy to stay hydrated without creating more waste.
Pots and Pans – You can use regular pots and pans on a camp stove but cast iron pots and pans are best for cooking over the campfire.
Utensils – Bring a set of eating utensils for each camper and a few cooking utensils for preparing meals.
Plates and Bowls – Pack durable plates and bowls for serving food at the campsite.
Cooler – A quality insulated cooler will keep food and drinks cold for days outdoors.
Mugs or Cups – Assign each family member their own mug or cup before you leave to prevent fighting later! 
Knife – A sharp knife is key for quick food prep while cooking.
Wash Basin – Collapsible sinks make it easier to wash dishes at the campsite.
Thermos – Keep coffee hot and iced tea cold with a thermos.
Trash Bags – Unless you have access to a trash can, garbage bags are an absolute necessity for packing out your waste.
Dish Soap – Biodegradable dish soap is best for minimizing your impact on the environment.
Coffee Maker – Coffee drinkers will enjoy starting the day with a fresh cup of brew. Models like the Cera+ Mini can run straight off your car battery!
Personal Hygiene
Here's a list of must-have camping toiletries and personal hygiene items to bring:
Toilet Paper
FUD (Female Urinary Device)
Bug Repellent
Sunscreen
After Sun Lotion
Lip Balm
Baby Wipes
Hand Sanitizer
Camp Shower
Biodegradable Soap & Shampoo
Towels
Toothbrush & Toothpaste
Ear Plugs
Eye Mask
Medications
Contact Lenses
Happy Camping!
Planning ahead by choosing a campsite in advance and packing all of the right gear will help ensure you have memorable and enjoyable outdoor adventures.
Did we miss any car camping essentials? Let us know in the comments below. If you enjoyed this article, please share it with your friends and family!