The Devils Bridge Trail is a gem of Sedona, Arizona hiking. Along the way, you can spot yucca, cacti, and views of red rock buttes and walls. At the end of the trail, you find an imposing, picture-perfect sandstone arch that you can – if you can muster the nerve! – walk across.
This is an easy hike, granted, but presents enough of a challenge that you'll still feel like you earned all those awesome photos you'll snap along the way!
Continue below for information on when to go, how to get there, and other helpful tips.
At a Glance: Key Takeaways
Where to begin? – Depending on space and your vehicle, there are four different places to start the Devils Bridge Hike
Start early –This is a popular hike, so start early to avoid the crowds and be patient and courteous to other trail-goers
Spring for the win – April and May are the best times to go
Haul adequate H2O – Bring plenty of water as there are no refill points en route
Don't' wreck your ride – Don't try to drive to the trailhead without a 4X4, high-clearance vehicle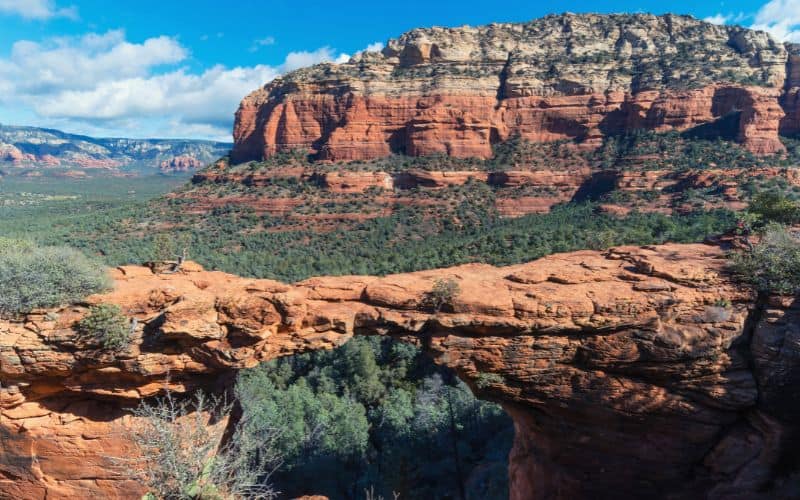 Devils Bridge: All You Need to Know
Trail Overview
Type: Out and back
Length: Between 2 and 4.2 miles depending on your vehicle and parking availability
Time: 1-3 hours
Difficulty: Easy to moderate with one short scrambly section
When to Go
People hike Devil's Bridge all year round in all sorts of conditions and weather. Here are a few of the best times to visit.
Time of Year
Sedona is best in April and May when highs are in the 70s and 80s. October offers similar temperatures to the spring and is also a great time to go.
Winter weather in the Sedona area is suitable for hiking, with highs around 60°F. However, the trail can become icy and slippery after a snowstorm. Avoid the trail the day after a snowfall, or bring microspikes or Yaktrax.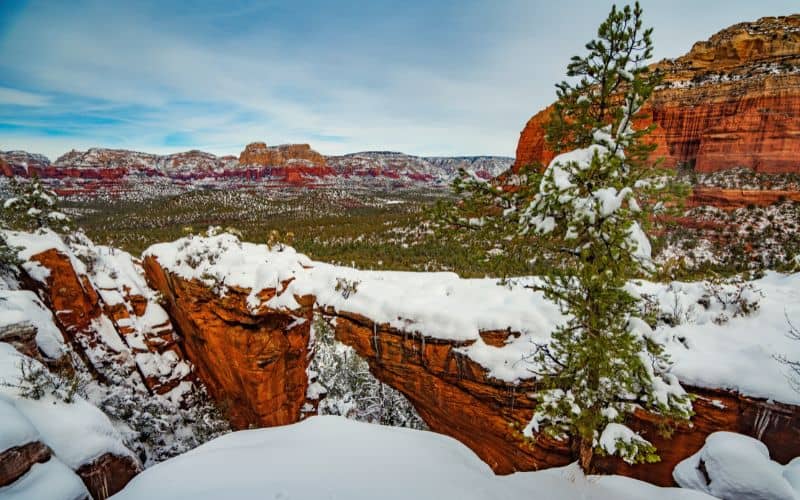 Summer hiking in the desert can be challenging due to the extreme heat. This doesn't stop people from venturing out. The heat is manageable at the right time of day.
Time of Day
With the Devil's Bridge hike, the earlier, the better. It is one of the most popular trails in the area, and the limited parking area fills up fast. Try and be at the trailhead by 7 am to get a parking spot. If you can catch the sunrise from the arch, you're in for a fantastic start to your day.
The other option is to wait until late afternoon. By 4 pm, the parking lots and trail will be slightly less busy. The afternoon light is also great for photos at the arch.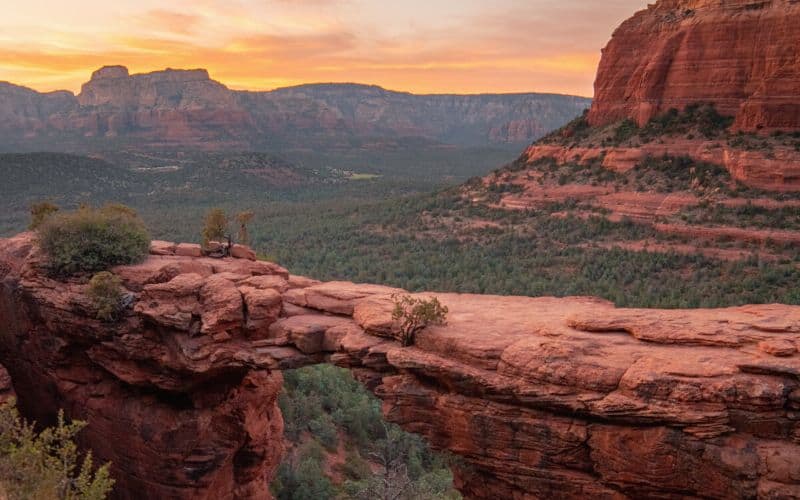 Getting There
The crux of the Devils bridge hike is getting to the trailhead. There are four different places to start this hike and many ways to get there.
With a 4X4 Vehicle
You can drive to the official Devils Bridge Trailhead with a reliable 4X4 vehicle with high clearance. From here, the hike is 2 miles round trip.
Drive down Dry Creek Road and past the paved parking lot for Dry Creek Vista Trail. At this point, the pavement ends, and you begin down Forest Road 52. Here the road becomes more of an off-roading trail.
Only attempt this drive with a suitable vehicle. It is a very rocky dirt road. There are several sections with large boulders and big drops. You will bottom out in a standard or low-clearance vehicle and risk damage to your car.
If you are determined to hike as little as possible but lack the vehicle, there are many places to rent 4X4, high-clearance vehicles in Sedona. You can rent a jeep, an ATV, or a side-by-side UTV.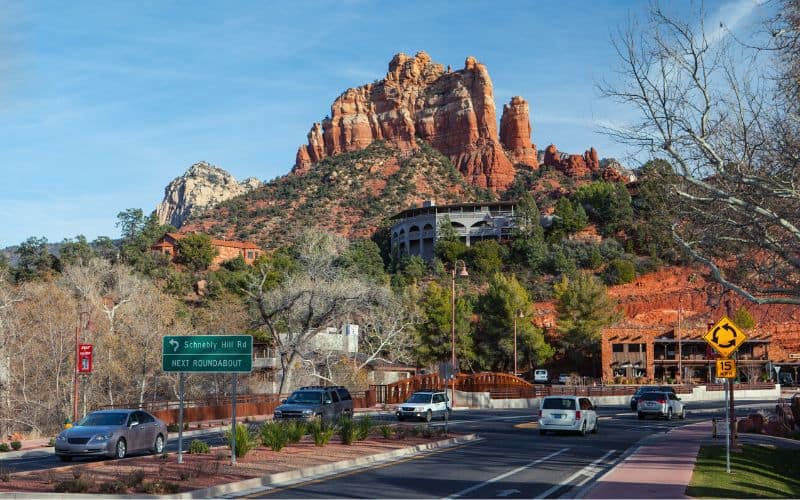 Without a 4×4 Vehicle
For those without a 4X4 vehicle, there are still ways to get to the Devils Bridge trailhead. The first option is to park in the paved lot for the Dry Creek Vista Trail and walk along the road to the trailhead. To get there, drive down Dry Creek Road for a short distance.
The hike is 4.6 miles round trip from the paved lot, most of which is spent on the dirt road.
We do not recommend this option. The walk along the road to the trailhead is unpleasant, to say the least. It is dusty and hot, with very little shade. Look out for 4X4 vehicles and Jeep tours. They don't like slowing down or stopping for pedestrians.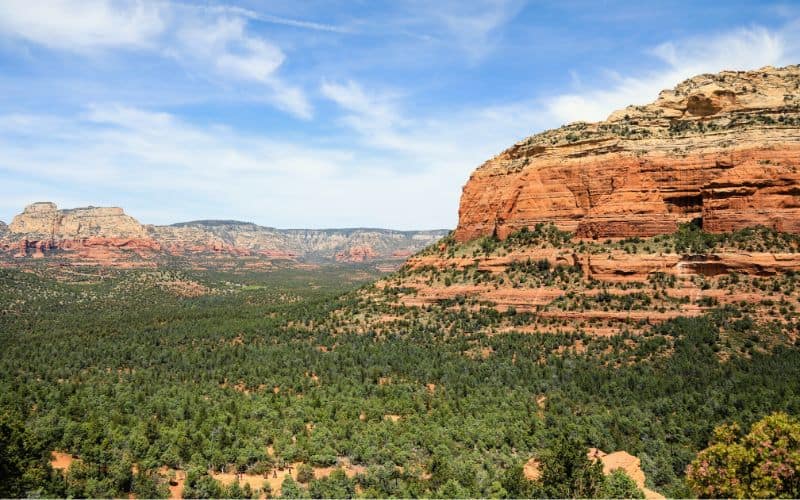 Overflow Parking
In the likely event the parking lot at Dry Creek Vista is full, you might have to opt for overflow parking. Although not ideal, overflow parking is a popular option. Starting around 7:15 am, when the lot fills, cars begin parking along Boynton Pass Road.
Depending on how far cars are backed up, you might have to hike five or more miles along the road. There is plenty of room for parking on either side of Boynton Pass Road, but we don't recommend this either. Instead, use one of the below options.
If you park at the Dry Creek parking lot/Chuckwagon parking lot, you will need a Red Rock Pass, which costs $5. If you drive directly to the Devil's Bridge trailhead or use the Mescal Trail, then you don't need a Red Rock Pass.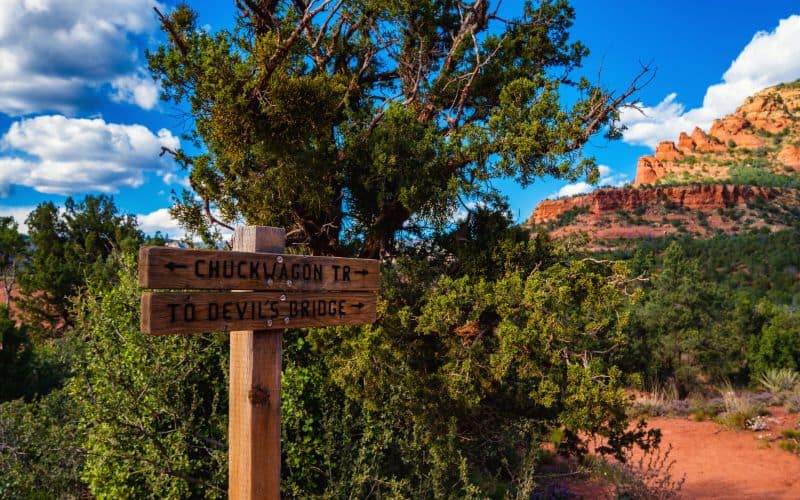 Sedona Shuttle
In March 2022, the city of Sedona started a trail shuttle service. The free shuttle runs Thursday through Sunday, 7:00 am to 5:30 pm, and operates seven days a week during peak season.
For service to the Dry Creek Vista and Devils Bridge area, catch the blue Number 11 or brown Number 12 shuttle in West Sedona at the Posse Grounds Park and Ride. Leaving your vehicle at the park and ride is also free.
The Number 12 only goes as far as the Dry Creek Vista Trailhead and takes around 15 minutes.
From the bus stop, you can catch the number 11 up to Mescal Trailhead or walk the dirt Forest Road 152 to get to Dry Creek Road and the Devils Bridge Trailhead.
The number 11 shuttle takes about 25 minutes and stops at Dry Creek Vista and Mescal trailhead. To avoid walking on the road, take this shuttle to the end at the Mescal Trailhead.
Good to Know: The free shuttle also runs to the trailheads for Cathedral Rock, Bell Rock, Soldier Pass, and Little Horse.
Mescal Trailhead
This is our recommended option if the parking lots are full, you don't have a 4X4 vehicle, or you took the Sedona Shuttle. Mescal Trailhead is off Long Canyon Road and adds a few miles to the hike. Mescal Trailhead to Devils Bridge and back is 4.2 miles in total.
In this case, the added mileage is along a singletrack trail through gorgeous desert scenery on the Mescal and Chuckwagon Trail. We've got more information on this hike below.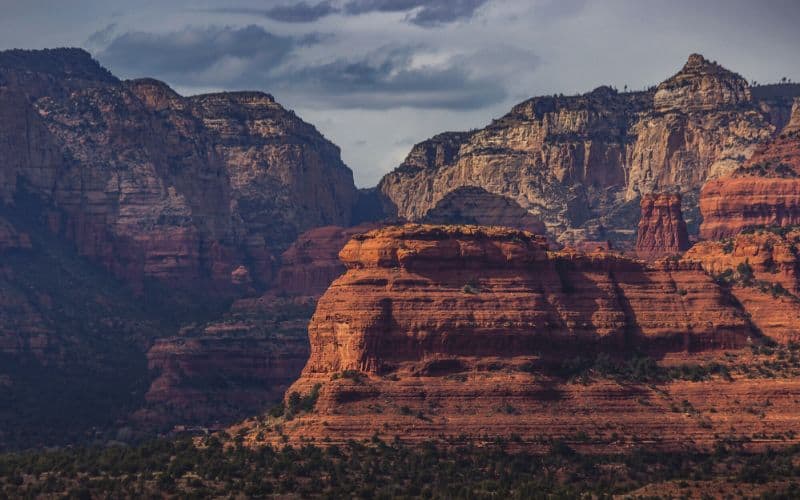 Mescal and Chuckwagon Trail
Mescal Trail is well-marked and easy to follow but ends shortly past the Mescal Trailhead. Here you meet the Chuckwagon Trail. This trail will take you to Dry Canyon Road and you will eventually reach Devils Bridge Trailhead.
The Chuckwagon Trail is a memorable lesson in desert beauty. The trail is lined with yucca and cacti. From the path, you get views of the surrounding red-rock mountains of Sedona.
After a couple of miles of scenic up-and-down trail, look for a fork in the path. Here the Devil's Bridge Trail splits away from Chuckwagon. There is a sign marking the spot; you can't miss it. From here, cross Dry Creek Road to the parking lot for Devils Bridge. Whew, you made it!
Pro-Tip: Chuckwagon Trail is popular with mountain bikers. Please keep your eyes peeled and give them the right of way.
Good to Know
Whether you drive to the top, take the shuttle, or use the Mescal and Chuckwagon trails, you should know a few more things. Before heading out on Devils Bridge Trail, consider the following.
It Will be Crowded
Devil's Bridge is one of the most popular hikes in the Sedona area. The unique sandstone arch attracts thousands of people every year. Even if you start at the crack of dawn, in the dead of winter, you will have to share the trail.
Most hikers want their photo taken on top of the arch. It makes a great profile picture. Don't be surprised if there are people doing photoshoots on the arch. You will probably have to wait to walk across the bridge.
Everyone is there to enjoy a scenic hike and stand in awe of Sedona's largest sandstone arch. Be patient and courteous to other hikers.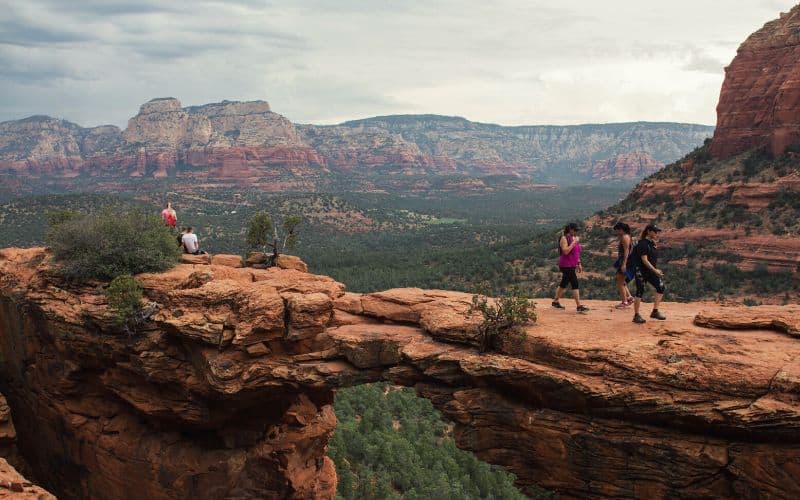 Dangers of Hiking in Summer Heat
If venturing out in the middle of summer, be prepared for extreme temperatures. In July and August, the Sedona area quickly reaches triple digits. When it's that hot, even on an "easy hike," you risk heat exhaustion and dehydration.
Start early to avoid the hottest part of the day. You should also protect yourself from the sun with sunscreen, a long-sleeved shirt, and a hat.
Most importantly, carry plenty of water. On hot days, have more than you think you'll need. Don't forget to pack salty snacks and electrolytes, too.
Fall Potential
The natural arch is a wonder to behold. People come from far and wide to walk across the bridge. However, it is over 50 feet high and only 5 feet wide. Use caution when stepping out on the arch. Falls are uncommon but not unheard of and don't end well.
Keep dogs and children away from the edge. Take your time and watch your step on the bridge and the trail.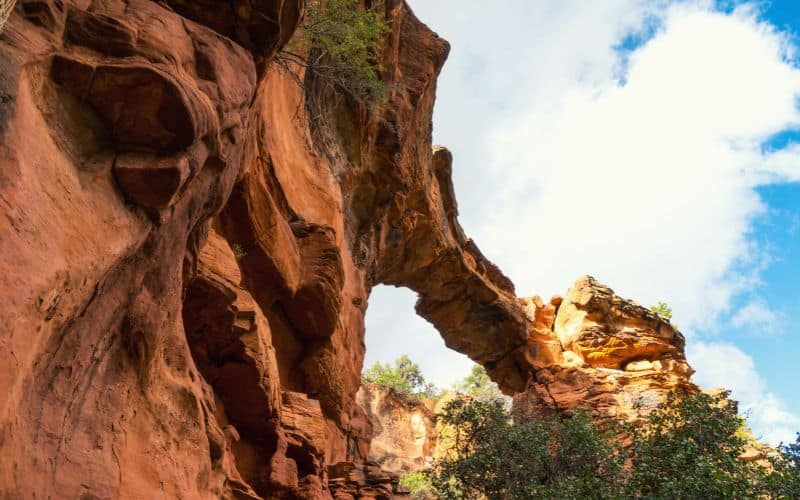 Trail Route
Once you've made it to the Devil's Bridge Trailhead, it is only a one-mile hike to the largest natural sandstone arch in the Sedona area.
The hike starts on an old access road. Shortly, the access road turns into a well-maintained and gradual trail for much of the hike. During these 3/4s of a mile, there are a few rock ledges to be aware of. You should also keep your eyes peeled for a balancing rock up in the surrounding mountains.
The trail narrows and steepens dramatically in the last quarter of a mile. At this point, you will have to ascend two steep, uneven sets of rocky steps. It's a good idea to use three points of contact on the rock staircases and steady yourself with your hands.
The rock steps are intimidating, but you are almost there! At the end of the second set of steps, you arrive at the bridge!
At the top, there is a large, flat viewing area at the top where you can catch your breath and marvel at the 50-foot sandstone arch. This is also a good spot to wait your turn to walk over the bridge and take your photo.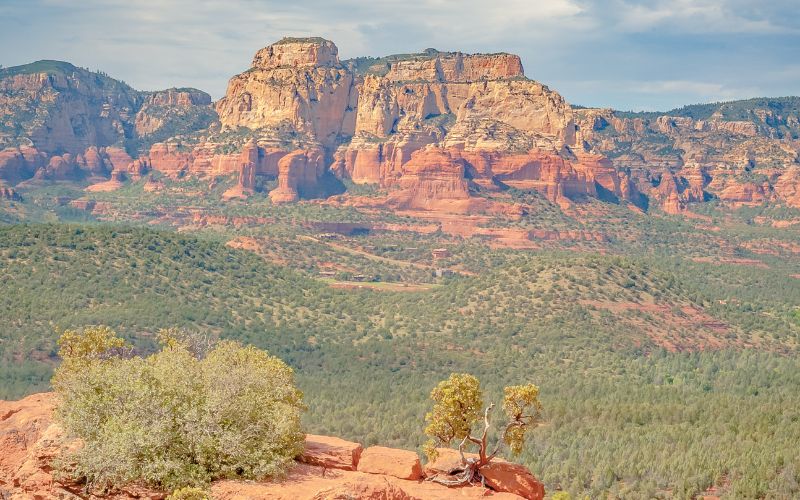 Once you've had your fill at the arch, return on the same trail. When it comes to descending the rock stairs, there is no rush. Use your hands and take your time.
Devils Bridge Hike, Sedona: Extensions, Side Trips, and Nearby Attractions
Sedona, Arizona is an outdoor enthusiast paradise. The options for outdoor adventuring are seemingly endless. Here are just a few other hikes and attractions to try when you visit Sedona.
Chuckwagon, Devils Bridge Out and Back
If you want to make more of a day out of the Devil's Bridge hike, try combining it with the Chuckwagon Trail. Instead of walking along the road from the Dry Creek Vista Trailhead, you can hike the Chuckwagon Trail to the Devils Bridge Trailhead.
This option adds 2.1 miles to the hike for a total of 5.8 miles round trip. The trail is moderately challenging, with some stepping stones and ravine hiking. From the Chuckwagon Trail, you get stunning views of Sedona's red rocks and imposing cliff bands.
You can also turn the whole hike into a loop by walking back on Forest Road 152.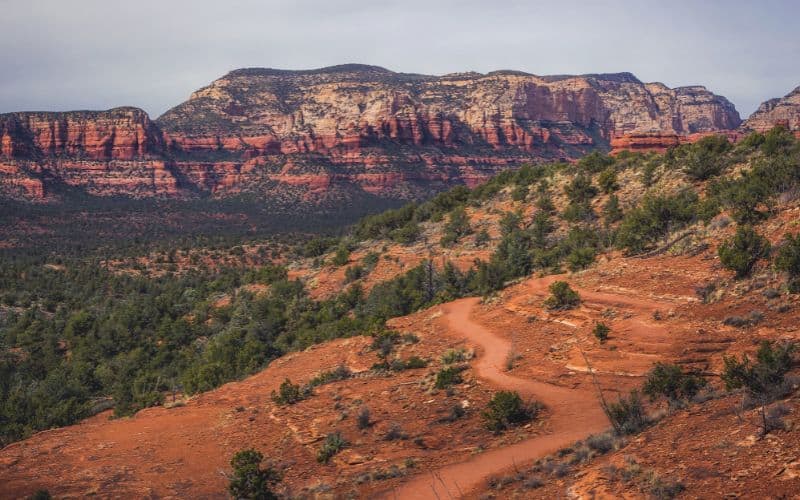 Mescal Mountain Trail
For another scenic hike in the area, try the Mescal Trail. This is a 6-mile out-and-back hike across open slick rock. Start at the Mescal Trail parking area on Long Canyon Road. Stay on Mescal Trail for an easy but beautiful hike.
The trail winds along open ridges with spectacular views of the surrounding mesas and Secret Mountain Wilderness of Sedona.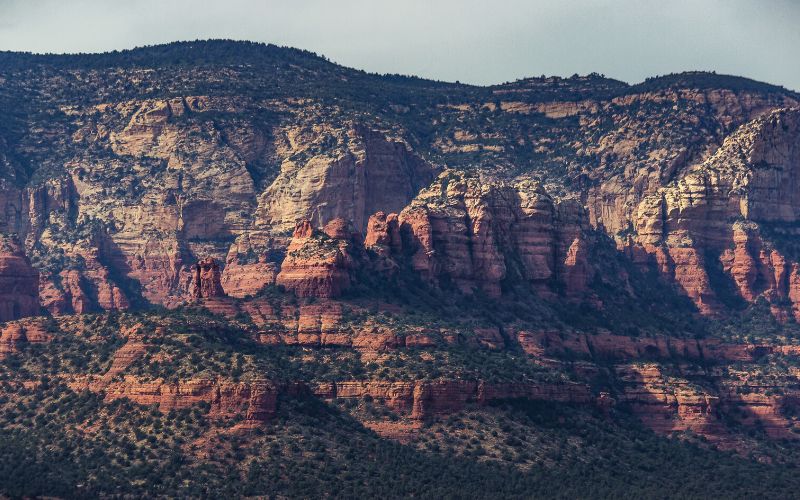 Red Rock State Park
Red Rock State Park offers otherworldly views of rock formations in the heart of Coconino National Forest. The visitors center is a starting point for guided tours, including geology and archeology walks and bird watching.
The park is home to a 5-mile trail network. While out hiking, look for wildlife. There are bobcats, mountain lions, coyotes, javelina, and river otters, to name a few. Red Rock Park has something for the whole family and is a must-visit for anyone in the area.
Now It's Your Turn
The Devil's Bridge has become an Instagram sensation, and for a good reason. This hike offers awe-inspiring vistas of the Seona desert and a unique opportunity to walk across a natural arch. Although the trail will likely be busy with other hikers, it is well worth the journey. Now that you have all the beta for tackling the Devils Bridge Sedona hike, it's time to get out there!
If you found this guide helpful, let us know in the comments, and don't forget to share with your hiking partners.