As the warmer weather hits, many of us get excited for camping season, whether to go camping or have a bit of a hang outside.
Yet, for those of us who plan on doing the latter, treating our hammock to some TLC is necessary to ensure it's odor-free and healthy enough to do our hanging in. 
Keep reading to find out what the best practices are when you want to wash your hammock.
What You Will Need to Follow This Tutorial:
A washing machine (without an agitator) or a garden hose
Mild detergent
Water
Hammock
Storage bag
The sun and a breeze!
How to Wash Your Hammock in a Washing Machine
Our first "pro tip" is necessary at the very beginning since it defines the difference between doing it by hand or by using a washing machine. If you don't have a front-loading washer or a top-loader without an agitator, then do not use a machine to wash your hammock.
Pro Tip: Only use washing machines without an agitator. You can use all front-loaders or top-loaders without an agitator.
Step 1: Take Off the Carabiners
Once you've taken the hammock out of its bag or storage bin, you need to remove the carabiners. Metal carabiners may cause damage to the inside of your washing machine if left attached.
RELATED: Are hammocks bad for your back?
If your hammock has any rope(s) that you can remove, take these off as well. Rope can wrap around the fabrics and tangle, causing game-over kinda damage if you leave them on.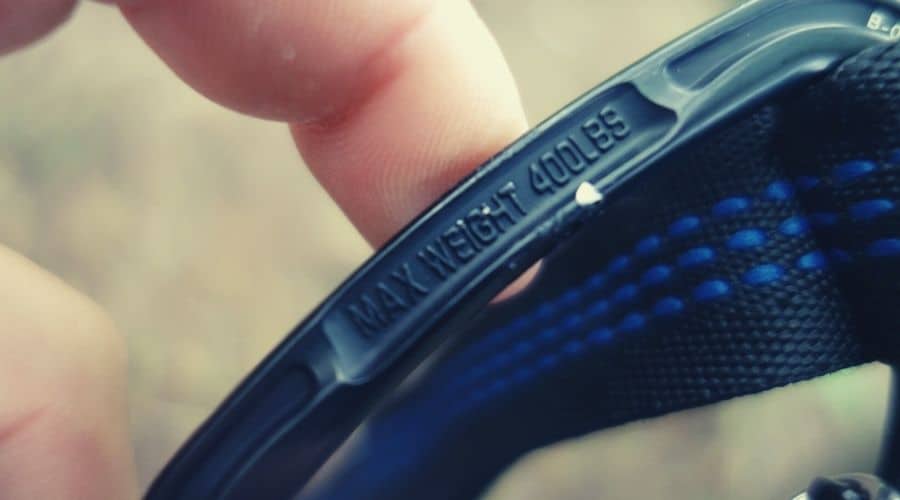 Step 2: Set the Machine on a Gentle Cycle
To maintain the quality and structural integrity of the material, set the washer to a gentle or delicate cycle. Cleaning it too hard can compromise the fabric, which is not a discovery you want to make on your next camping trip.
While you mess with the settings, pay attention to the temperature of the water. Cool water is the best for getting it clean. Cool water doesn't cause shrinkage and is much gentler.
Step 3: Wash with a Very Mild Detergent
Finally, before you start the cycle, make sure you put in a gentle detergent. The soapy water will help it to get clean faster, but harder chemicals can compromise the longevity of the fabric. That's also why you shouldn't use any fabric softeners during the wash.
Pro Tip: If the hammock's really dirty, rinse it down, tie it inside a pillowcase, and then use a more aggressive cycle in the wash.
How to Wash a Hammock By Hand
Learning how to wash a hammock without a machine is a bit more time-consuming. However, it's a great method to make sure your hammock is clean and ready to use for your next hammock camping trip. You get to keep an eye out for smaller spots of dirt while gently getting the job done.
Cleaning using a hand wash will typically take you more time, but fewer minutes for your hammock to get clean and dry.
Step 1: Wet the Hammock Thoroughly
Hang it over some kind of rod or drying pole. You can do your cleaning outside since you will need to bring it out to air dry later. It also makes less of a mess (trust us!).
RELATED: How to safely hammock camp with your dog
Wet the hammock thoroughly with buckets of water or a garden hose. Make sure it's dripping wet.
Step 2: Clean Your Hammock Gently with a Mild Detergent
Once it's wet, use a mixture of soapy water to remove the dirt. If there are stubborn stains, use a soft brush to gently scrub them with more focus. Do not rub too hard or you'll do more than remove the dirt and stain!
Step 3: Rinse the Hammock
Using the hose again, rinse it off to get the hammock clean. Keep spraying until you're sure that all of the soap has rinsed away.
How to Dry Your Hammock
Now that you know how to clean a hammock, learning how to dry your hammock will seem like a walk in the park. It only has one stage.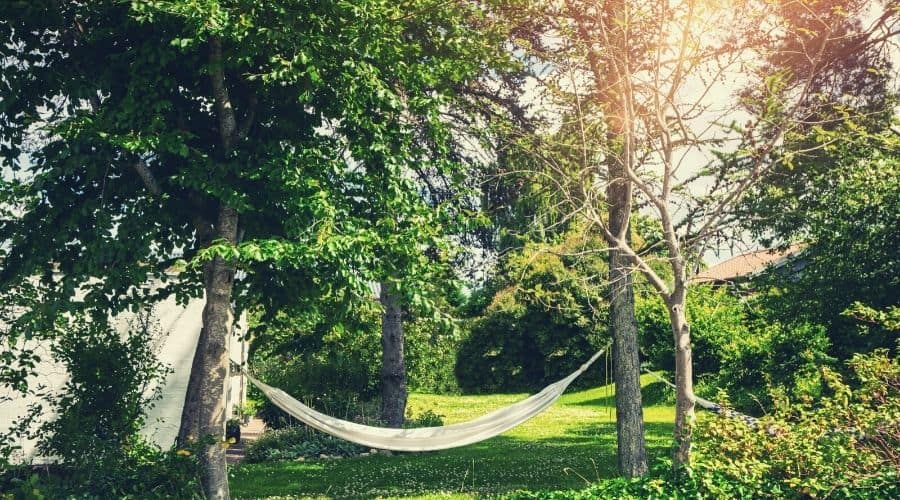 Stage 1: Let It Hang
It is quick to air dry your hammock since they're typically made with quick-drying material.
Leave the hammock outside, keeping the fabric out of direct sunlight, and preferably on a sunny, breezy day. Allow it to hang outside for as long as it takes for the hammock to completely dry.
Pro Tip: Do NOT put a hammock in the dryer. The beating they receive will damage the material, probably irreparably. In this case, airing is caring!
Beyond keeping it out of direct, strong sunlight, hang it up without pinching it or placing it on something that could rip the material. Choose a smooth surface and carefully straighten it out. If it is breezy, use clothes pegs to keep it in place.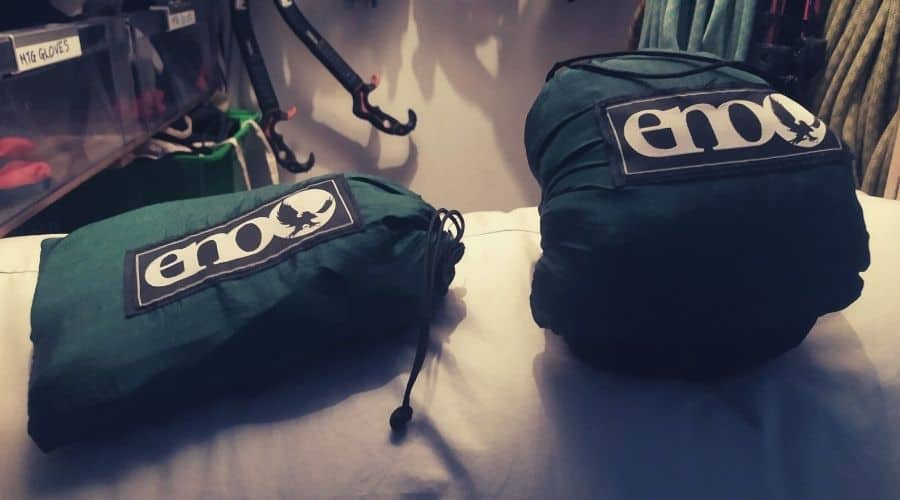 How to Store a Clean Hammock
Before storing the whole kit away, check it is completely dry. If it isn't, mildew could grow during storage. That's also why you should let it dry after a rainfall since mildew is quite opportunistic.
Store your hammock in the bag that most suppliers send with their hammocks. Fold it with care to make sure that it doesn't get tangled inside and to avoid rips.
Once folded, store it in a dry area and out of direct sunlight, as with the rest of your camping gear.
Pro tip: Store and clean your hammock straps separately. Both can soak up tree sap, which is a well-known eater of fabrics of all kinds!
You don't need to worry about washing it after only one trip unless it's a very dirty one. Hammocks are not made to be washed that frequently, and doing so can damage them more than help.
Instead, wash your hammocks only when they are really dirty or at the beginning or end of the season. Then, when you're ready for your next trip, your hammocks will be too.
Keeping It Clean Both Inside and Out
Keeping your hammock in good condition is a great way to thank it for all the fun times you have together and, importantly, to help ensure there will be plenty more of those fun times to follow!
If you liked the article, let us know in the comments below! We would love to find out if you learned anything. If we missed a special trick, don't forget to mention that too!