Camping trips with your friends and family are unforgettable experiences. For many, it's an opportunity to spend time together, bond, and stay close to nature. And what's better than camping outdoors? The answer is simple: camping outdoors with a large group of people. And for that, you'll need either an extra-roomy tent or a great deal of patience!
If patience is not something you have an endless supply of, never fear! In this guide, we'll introduce you to a handful of awesome oversize tents so your future family camping trips will be comfortable, safe, and as fun as can be. Below our reviews, you'll also find detailed buying advice to help you choose the perfect model for your trip type and budget.
Editor's Choice
NTK Arizona GT 10-Person Tent
The NKT Arizona faced stiff competition to scoop this year's award but, after careful consideration, it was the hands-down winner.
This is a family camping tent with a difference. Like other tents on our list, it offers plenty of floor space and a tall enough peak height to allow even generously sized humans to roam around its spacious interior without having to hunch. But in addition to these winning attributes, it throws in robust waterproofing and an unrivaled feature set.
The NTK is one of only two 10-person tents on our list with a full-coverage rain fly. And with a 2,500 mm hydrostatic head rating, moreover, this fly can withstand heavy and sustained downpours – something that in most cases can only be said of far pricier competitors.
Throw in a gear loft, huge vestibules, two oversized doors, utility pockets galore, an e-port for hookup cables, floor vents, and color-coded poles, and you've got yourself the best 10-person tent out there by a country mile.
Bottom Line: A roomy, 10-person waterproof tent with an awesome feature set.
At a Glance: Quick Recommendations
Best Tents for Ten People: Our Top 8 Picks
NTK Arizona GT 10-Person Tent
Editor's Choice
Interior Space: 140 sq. ft. ⸱ Peak Height: 6' 2" ⸱ Weight: 26.5 lbs
Let's get straight to the bottom line: we frickin' love this tent.
While there have been many worthy contenders to its throne, the NKT Arizona has earned our best 10-person tentaward for three years running. The reason? It ticks every box that needs ticking…and then some!
This 10-person extended dome tent offers 140 square feet of interior space. While this doesn't make it the roomiest on our list, there's more than enough space there for ten adults, never mind a mix of adults and kids. It also has a generous peak height of 6' 2", meaning only the very tallest of campers will be inconvenienced by having to stoop when standing.
While named after one of the US's most notoriously sultry states, the NKT is fit for use in a variety of climates. Heading on a camping trip to rain-prone areas like the Pacific Northwest or Scotland? If so, the full-coverage, 2,500 mm rain fly has your back. Camping in hot weather? Simply shed the fly and the ample mesh ceiling will ensure you have plenty of airflow.
Features-wise, the NKT Arizona is up there with the best extended dome tents out there. In addition to its two large vestibules, it boasts an e-port for hook-up cables, multiple interior pockets, a gear loft, vents, and large D-shaped doors for easy entry and exit.
PROs

Spacious (can fit three double air mattresses and two singles)
Full-coverage rainfly
Waterproof (2,500 mm HH)
Room divider to create separate rooms
Large vestibules, gear loft, and utility pockets

CONs

Quite pricey
Fiberglass poles
Bottom-Line: Roomy, feature-rich, and ideal for both cold-weather and summer camping.
CORE Family Cabin Tent with Screen Room
Best for Livability
Interior Space: 204 sq. ft. ⸱ Peak Height: 86" ⸱ Weight: 36.24 lbs.
This cabin-style tent takes convenience and livability to the next level. It uses poles that are pre-attached to the body to allow for easy-breezy, instant pitching, and boasts a huge screen room that's ideal for rainy-day lounging, bug-free nighttime card games, or squeezing in additional sleepers
This instant setup tent has a whopping 204 square feet of interior space. In the main sleeping area, there's enough room for three queen air mattresses and a single, while the large screen room can accommodate a further three or four sleepers comfortably.
Although this is the largest tent on our list, it has a lot more going for it than size alone.
For starters, there are plenty of storage pockets in the walls and a large gear loft, which means that all of the Core's 204 square feet of interior space is usable. There are also huge mesh doors and windows, and adjustable ground vents that draw in cool air from the ground while allowing hot air to escape. This makes it an excellent performer in warm weather.
Like most instant cabin tents, the Core Cabin uses a partial-coverage rain fly. This, coupled with the fly's low waterproof rating, means it's not a good bet for camping in wet weather. For that, we recommend the NKT Arizona or Coleman WeatherMaster.
PROs

Enormous!
Multiple storage pockets
Takes two minutes to set up
Electrical cord access port
Screen room provides extra sleeping or storage space
Two rooms and two doors

CONs
Bottom-Line: One of the best tents out there for buyers keen to enjoy some hassle-free camping.
Ozark Trail Dark Rest 10-Person Instant Cabin Tent
Best Instant
Interior Space: 140 sq. ft. ⸱ Peak Height: 78" ⸱ Weight: 20 lbs.
The Ozark Trail Dark Rest has many admirable features, but none more so than its "dark room" technology, which effectively blocks out 90% of sunlight to keep the tent cool inside on hot days and let you carry on getting your beauty sleep long after the sun rises.
But the Dark Rest has more going for it than fancy technologies alone.
The Dark Rest can be pitched in roughly 2 minutes thanks to its use of pre-attached poles and a central pole hub that opens like an umbrella.
Inside, you have 140 square feet of sleeping space. Although there are no vestibules, there are plenty of wall pockets for gear storage. Other nice features include an e-port, lantern hook, double doors, and huge mesh windows for ventilation.
The Dark Rest's only major downside is its lack of weather resistance. While the flooring is fully waterproof, its partial-coverage rain fly will only keep you dry in very light showers, not in heavy rain.
PROs

Blocks out sunlight
2 ground vents
2 large doors
Roomy
Room divider
Affordable

CONs

Not suitable for cold and rainy weather
No vestibules
Bottom-Line: Easy to pitch, roomy, well-ventilated, and perfect if you like to continue getting some shut-eye after the sun rises.
Browning Camping Big Horn Tent
Best Value
Interior Space: 150 sq.  ⸱ Peak Height: 87" ⸱ Weight: 34 lbs. 11 oz.
If you're looking for a sturdy family cabin tent that doesn't break the bank, the Browning Camping Big Horn is worth a place on your shortlist.
The Big Horn is the second cheapest tent on our list, after the UNP 10-Person, but outperforms many pricier tents in several important metrics. It's roomy, feature-rich for its price, durable, and an absolute breeze to pitch.
The Big Horn gives you a generous 150 square feet of interior space and has a peak height of 87 inches, making it one of the more spacious tents on our list. The straight walls also help to maximize headroom from end to end. While there are no vestibules or gear lofts, it has plenty of mesh pockets for gear storage.
The Big Horn Series uses a combination of fiberglass tent poles and steel uprights for added stability in strong winds. It also comes with a groundsheet, a partial-coverage polyester fly that can fend off light rain, guy ropes, and steel stakes.
In terms of features, the Big Horn isn't a standout. It does however have six large windows and double doors for ventilation and a room divider for privacy.
PROs

Spacious
Great peak height
Easy to set up
Plenty of pockets
Good ventilation

CONs

No vestibules
Partial-coverage rainfly
Bottom-Line: An affordable, well-made, and durable tent that scores highly in the livability metric.
White Duck Avalon Bell Canvas Tent
Best Canvas
Interior Space: ~150 sq. ft. ⸱ Peak Height: 11' 2" ⸱ Weight: 95 lbs.
Looking for a 10-person camping tent that will provide a home away from home for a lifetime, maybe even two? If so, the White Duck Avalon Bell is the one for you!
This glamping tent is the most luxurious on our list. It's made with extra-burly, waterproof, 10.10 oz. army duck cotton canvas. It also has double-stitched seams with reinforced corners for added durability and uses galvanized steel poles in combination with a proprietary shock-absorbing grounding system which makes it a standout performer in bad weather.
The Avalon Bell is the only tent on our list, excluding the NTK Arizona, that is suitable for year-round use. In summer, the breathable cotton canvas and built-in roof vents help prevent overheating. In winter, the pre-installed, heat-resistant, silicone-coated stove jack can be used to keep everyone inside extra-cozy, no matter how low the temperature gets.
The only downsides to the Avalon Bell are its weight (which makes setup quite labor-intensive!) and price.
PROs

Waterproof
Incredibly spacious
Robust
As durable as they come

CONs
Bottom-Line: A luxury glamping, high-quality tent that takes comfort and durability to a whole new level.
Mountain Hardwear Stronghold Dome Tent
Best 4-Season
Interior Space: 171 sq. ft. ⸱ Peak Height: 77" ⸱ Weight: 48 lbs. 12 oz.
If winter camping or alpine expeditions are on the cards then look no further than the Mountain Hardwear Stronghold.
This beast of a tent is of the "bombproof" variety, i.e. those that can withstand pretty much anything the weather can throw at them. Sure, the Stronghold costs about the same price as a decent second-hand car, but in return for your outlay, you'll be getting something truly exceptional.
The Stronghold provides 171 square feet of living space and has a peak height of 77 inches. While its dome-style design means headroom decreases away from the center, it's plenty roomy for 10-12 sleepers.
This tent is designed for the world's harshest environments, using a geodesic design that makes it pretty much impervious to all but hurricane-force winds. Even better, its floor has a 10,000mm hydrostatic head, and fly 1,500mm, meaning you should stay dry even in a deluge!
While overkill for 2- or 3-season camping, the Stronghold has plenty of vents and mesh panels as well as boasting 2 doors to boost airflow, so even if you do decide to camp in warmer winter conditions you won't be overheating.
PROs

Waterproof
As sturdy as they come
Durable
Roomy

CONs

(Very) expensive!
No vestibules
Overkill for most campers
Bottom-Line: A serious tent for adventures in serious conditions.
UNP Camping Tent 10-Person
Best Budget
Interior Space: 162 sq. ft. ⸱ Peak Height: 78" ⸱ Weight: 23.1 lbs
The UNP 10-Person Tent is perfect for camping trips with all the family, along with as much camping gear you could wish to bring along for your adventure.
Measuring 18ft x 9ft x 78in, the UNP would be better termed a 10-12 person tent. It can easily fit in 10 sleeping bags or 3 queen-size airbeds and yet is light enough for easy setup.
Made with high-quality Polyester 185T PU1000mm fabric it's sufficiently waterproof to deal with light rain showers, something that can't be said of all tents in its price range. The UNP also features double doors and large mesh windows for optimal access and ventilation.
This tent also comes with a room divider for increased privacy, lightweight fiberglass poles, and is extremely easy to set up, going from packed to pitched in under 10 minutes with two people lending a hand.
PROs

Huge!
Cheap!
Good peak height
Lightweight
Waterproof

CONs
Bottom-Line: A lightweight, spacious, well-designed, and relatively cheap 10-person tent that can hold its own in inclement weather.
Coleman WeatherMaster 10-Person Tent
Honorable Mention
Interior Space: 153 sq. ft. ⸱ Peak Height: 6' 8" ⸱ Weight: 31 lbs.
This Coleman tent is an incredibly roomy, water-resistant ten-man tent that's the perfect pick for groups who prioritize personal space above all else.
This tent gives a truly home-like feel with its 17 x 19-foot floor area (enough room for 3 queen-sized mattresses) and 6′ 8″ peak height. It is also equipped with a hinged front door and a zippered back door for easy entry and uses Coleman's WeatherTec system to help keep you and your camping companions dry in wet weather.
The included room dividers in this 10-person tent provide you with privacy, while the adjustable ventilation system allows you to more easily control the temperature inside the tent. Additionally, everything for the WeatherMaster 10-man tent is color-coded and therefore easy to set up. Partner up with someone to do the pitching and you'll have it done in less than 20 minutes.
PROs

Massive!
Comes with room dividers
Sets up in under 20 minutes
80-inch peak height

CONs
Bottom-Line: A 10 people tent that can actually accommodate 10 adult sleepers! One of the best 10-person tents out there for groups who need an extra-large shelter without compromising on ease of setup and weatherproofing.
How to Choose a Ten-Person Tent
Type: Cabin or Dome Tent?
Both types have advantages and disadvantages.
As a general rule, dome tents like the Mountain Hardwear Stronghold are the best performers in inclement weather.
There are three reasons for this.
First, the curvature of the roof and walls ensures that rainwater doesn't pool in the rainfly and cause leaks.
Secondly, they mostly have a geodesic design that provides added structural stability in high winds.
Finally, their sloping, aerodynamic walls provide less resistance to crosswinds. In this case, less resistance is a good thing because it means the wind glides over the structure as opposed to buffeting it and potentially collapsing the walls.
On the downside, a dome-style tent is less livable than a cabin tent because there's less headroom the further you move away from the center.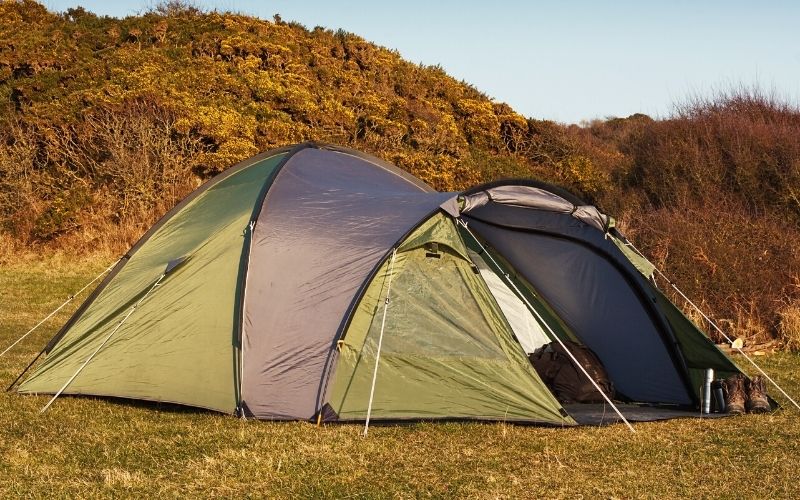 Cabin tents are, as the name suggests, cabin-shaped shelters made with polyester and/or canvas instead of wood. Their straight walls ensure that headroom remains nearly uniform from end to end and side to side, and most models have a center height of over 6 feet. This allows tall campers to move around inside without hunching – a considerable boon for livability.
On the downside, those straight walls do mean that a cabin-style tent isn't the most stable in high winds.
Livability
Livability is determined by several factors, most importantly floor space, center height, vestibule space, and storage features.
Your tent should provide each adult sleeper with roughly 14 square feet of floor space, though 10-12 sq. ft. will be enough for kids. Peak height should ideally be high enough to allow everyone to move around inside the tent without hunching, though this is rarely the case with a dome-shaped tent.
The MH Stronghold has the lowest peak height on our list (77"), while the White Duck Avalon Bell (11' 2") has the highest.
Storage features also contribute to livability since storing your gear outside or above the sleeping area frees up floor space for humans. These features can include vestibules, screen rooms, gear lofts, and wall pockets.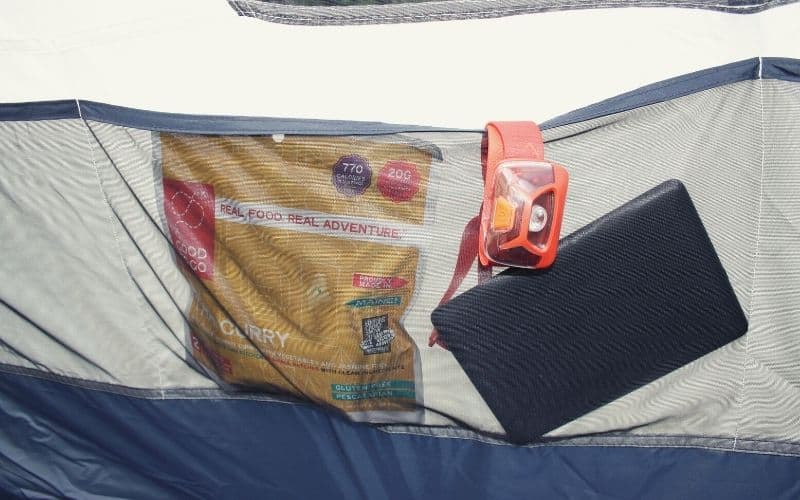 While all of the tents on our list have wall pockets, the only two with a gear loft and external storage (a vestibule or screen room) are the NKT Arizona and CORE Family Cabin Tent.
Ease of Setup
There's no getting around it – ten-person tents are far trickier to pitch than their lower-capacity cousins. As such, buying a tent that simplifies setup as much as possible should be high on your list of pre-purchase priorities.
Luckily there are several features that can help take the stress out of setting up.
First of all, look for a tent with a color-coded pole system. This helps you to make sure all the poles are in the right place and prevents a lot of time-consuming trial and error. If the poles are pre-attached, all the better!
Secondly, look for a freestanding design, i.e. one that stands without having to first support it with guy lines and tent stakes.
Thirdly, if one-piece pitching is an option, it's well worth having. One-piece pitching means that the rainfly and the inner body can be pitched in unison, which saves the hassle of pitching both separately.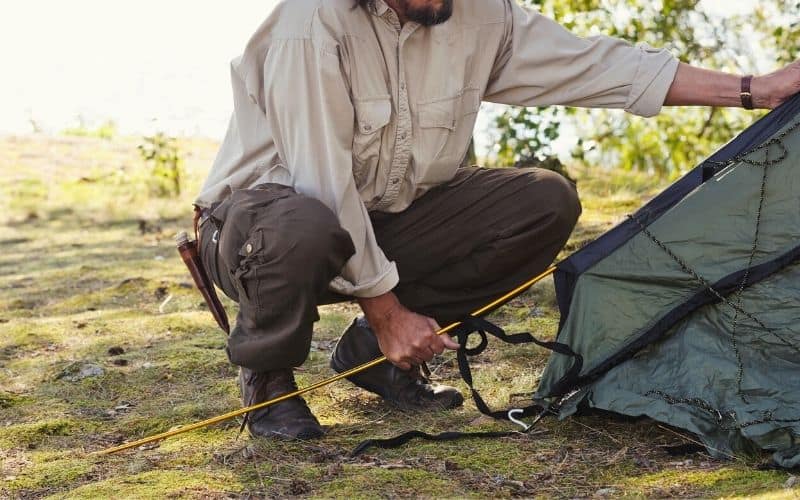 Finally, make sure the weight of your tent is low enough that you and your camping companions will be able to pitch it. Most ten-person tents are designed to be set up by 2-4 people, but if there are only 2 adults in the group capable of doing the pitching, it's wise to choose a tent at the lower end of the scale weight-wise.
The easiest to pitch on our list is the Ozark Trail Dark Rest Instant Tent, which can be set up in 2-3 minutes thanks to its use of pre-attached poles and a central pole hub. The toughest to pitch is the White Duck Canvas Bell. This weighs a mighty 95 lbs. And, like most canvas tents, will need 2 or 3 extra pairs of hands to set up.
Weather Protection
This is determined principally by two things: the extent of coverage provided by the rainfly and the hydrostatic head of the rainfly fabric.
Rainfly Coverage
For camping in suboptimal weather tents with a full-coverage rainfly are the best option since the fly covers the entire tent, thereby providing complete protection from the elements.
A partial-coverage rainfly, on the other hand, will leave part of the inner tent exposed to the elements. While this improves ventilation, it also means it is unlikely to withstand heavy rainfall.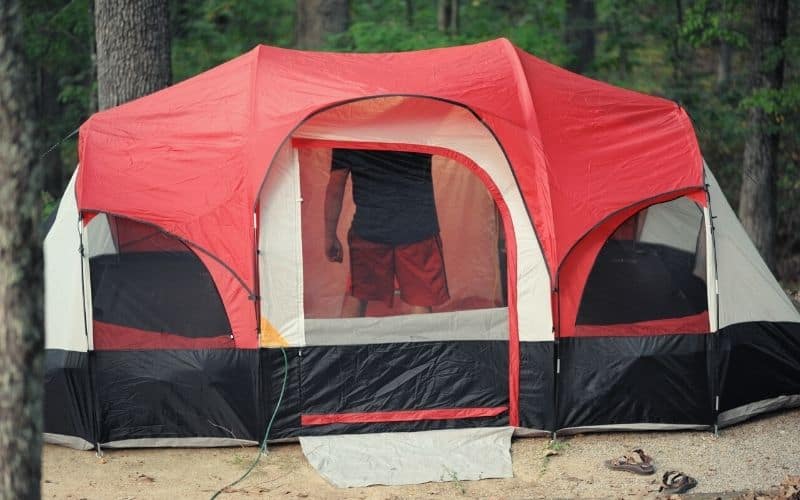 In our review, only the Mountain Hardware Stronghold has a full-coverage rainfly, though the Whiteduck Avalon Bell is made with waterproof fabric. As such, these are the only fully waterproof tents on our list.
Hydrostatic Head
Hydrostatic head (HH) is the rating system used to determine the degree of water resistance in a fabric. Measured in millimeters, it normally appears in product specs as a number followed by 'mm' – for example, 2,000 mm, 1,200 mm, and so on – and the higher the hydrostatic head (HH) rating, the more waterproof the fabric will be.
For example, a rain fly with a HH rating of 2,500 mm, like the NKT Arizona, will offer superior protection than one with a HH of 1,000 mm, such as the UNP 10-Person.
Ventilation
If your rainfly is the main line of defense against precipitation, your shelter's ventilation features are the main foil for stuffiness, overheating, and condensation. While stuffiness and overheating are merely uncomfortable, at its worst condensation can become a serious scourge by soaking you, your sleeping bag, and other gear.
To avoid these, look for a tent with ventilation features like side or floor vents, roof vents, mesh windows, a mesh ceiling, and double doors.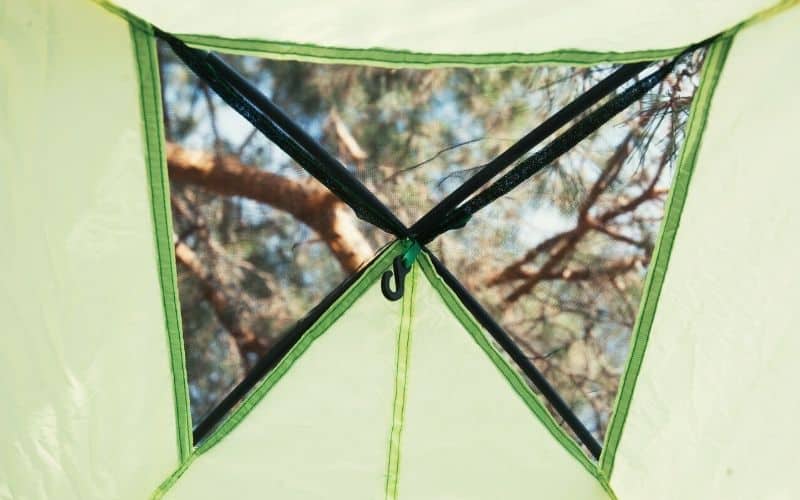 Weight and Portability
The tents on our list are all designed for car camping, simply because they're too heavy and bulky to be carried any great distance. Nevertheless, lighter models are often easier to pitch, and carrying heavier models from your vehicle to your campsite can be a serious undertaking if you bench or deadlift less than 400 lbs!
The heaviest tent on our list is the White Duck Avalon Bell, which weighs 95 lbs. While it comes with a functional carry bag, you'll need 2 or 3 strong friends at a minimum to pitch this one. The lightest model on our list is the Ozark Trail Dark Rest, which tips the scales at a far more manageable 20 lbs.
Features
Features are non-universal extras that play an important part in boosting any tent's convenience, livability, and practicality. The ones that add the most value are biggies like double doors, vestibules for gear storage, and room dividers for added privacy. However, smaller add-ons like awnings, an electric access port, gear loft, and wall pockets are also great to have.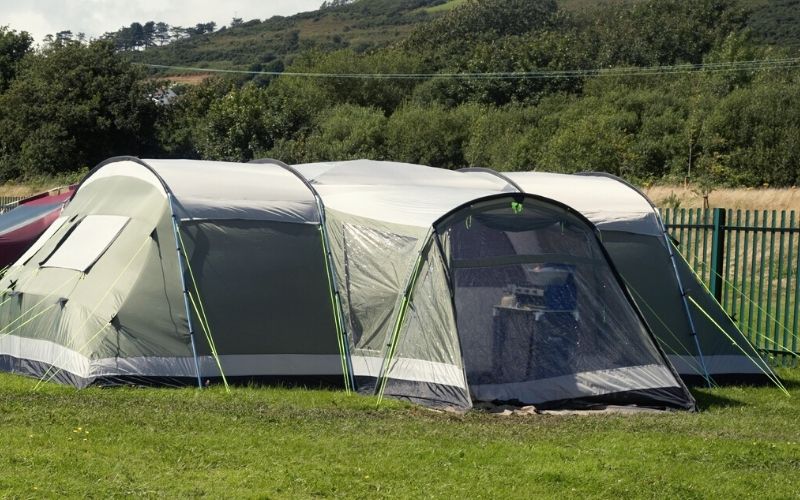 Best 10-Person Tent: The Verdict
Still undecided? If so, here's a quick recap of our top picks…
Our favorite 10-person tent out there is the NKT Arizona. The NKT ticks every box. It's waterproof, roomy, easy to pitch, and full of features that enhance convenience and comfort.
If the price tag of the NKT is a little too high for your budget, we recommend the UNP 10-Person or Browning Big Horn, both of which offer great bang for your buck and are ideal for summer camping.
If you're looking for a luxury "home away from home", the White Duck Canvas Bell is a perfect choice. This glamping tent is more of a palace than a bolthole, and it oozes quality from every stitch and seam.
Finally, if winter camping or long-term expeditions are in your future plans, be sure to check out the Mountain Hardwear Stronghold. If Chuck Norris was a tent…!
We hope you enjoyed this article. If you have any questions, drop us a line in the comments box below. And feel free to share it with your friends!