The Top Ten-Person Shelters for Trips With All the Family
Looking for the best ten-person tents out there in 2021?
You're in the right place! In this guide, we will be covering the following:
How to choose the best ten-person tent
A selection of cheap 10 person tents and top-end tents
Our choice of the top 10 person tent in 2021
Camping trips with your friends and family are unforgettable experiences. For many people, it's a great opportunity to spend time together, bond, and stay close to nature. And what's better than camping outdoors? The answer is simple: camping outdoors with a large group of people. And for that, you'll need either an extra-roomy shelter or a great deal of patience!
If patience is not something you have an endless supply of, never fear! In this guide, we'll introduce you to ten awesome tents that will help ensure your family camping trips are comfortable, safe, and as fun as can be.
Now, picking the right tent is a challenging task on its own. With so many brands, models, and types available on the market, choosing the one tent to rule them all is no easy feat. However, our guide should help you understand the most important criteria in deciding upon the best model for your needs.
If you have some experience already, that's great! However, don't worry if you're new to the whole camping idea. You have the opportunity to learn everything the right way and who knows, maybe you'll establish a new family tradition.

What To Consider When Choosing A 10-Person Family Tent
Before you decide on the best 10-person tent for you and your family, there are some factors you should take into consideration. These include: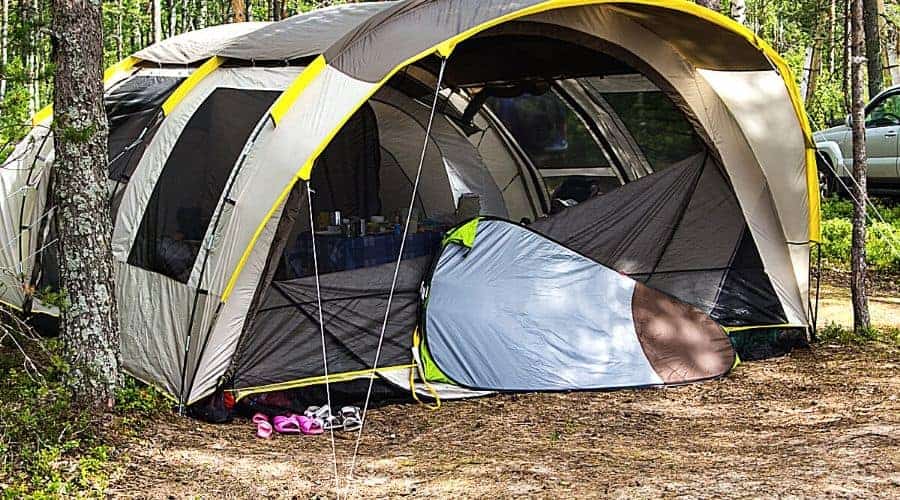 Shape
The most common styles of ten-person tents are dome tents, cabin tents, tunnel tents, and multi-room tents. Each style has a few benefits and drawbacks that we'll summarise below.
Dome – These tents use a rounded shape that lets them shed rainwater quickly and provides more stability in strong winds. For the most part, they're also easy to set up and lighter than cabin-style equivalents.
On the downside, the rounded profile means the peak height isn't uniform, meaning you lose headroom the further you are from the center.
Cabin – These tents have a square or rectangular shape that gives them a more uniform peak height throughout. While spacious, however, their nearly vertical walls make them less resistant to high winds and they're generally far trickier to pitch and heavier than other styles.
Tunnel – This popular style of family tent has an inverted halfpipe-style design that performs relatively well in strong winds and sheds H20 quickly. These tents tend to have plenty of headroom and represent a sort of half-way house (excuse the pun!) between dome and cabin tents.
Multi-Room – As the name suggests, these tents divide their overall square footage up into multiple sleeping compartments. The most common configuration is a central living area (aka "hub") with 2 to 4 sleeping areas separated by fabric walls or connected to the hub by tunnels.
Center Height
Center height (aka "peak height") refers to the height of the shelter at the tallest point between the floor and the ceiling.
The ideal center height depends on a few variables. The most important of these include the height of the campers, the conditions in which you're camping, and whether or not you're prone to cabin fever when confined in small spaces!
Ideally, backpacking tents should allow enough room for a sleeper to sit up without their head hitting the roof. In most cases, peak heights of 36 inches and over will work for most campers.
With ten-person tents, however, livability is often more of an issue. As such, you ideally want a shelter you can move around in without having to duck. This, of course, will depend on how tall you and/or your camping companions are.
Finally, if you plan on pitching up in more exposed terrain, then a lofty peak height may not be the way to go as this will make your shelter more vulnerable in strong winds.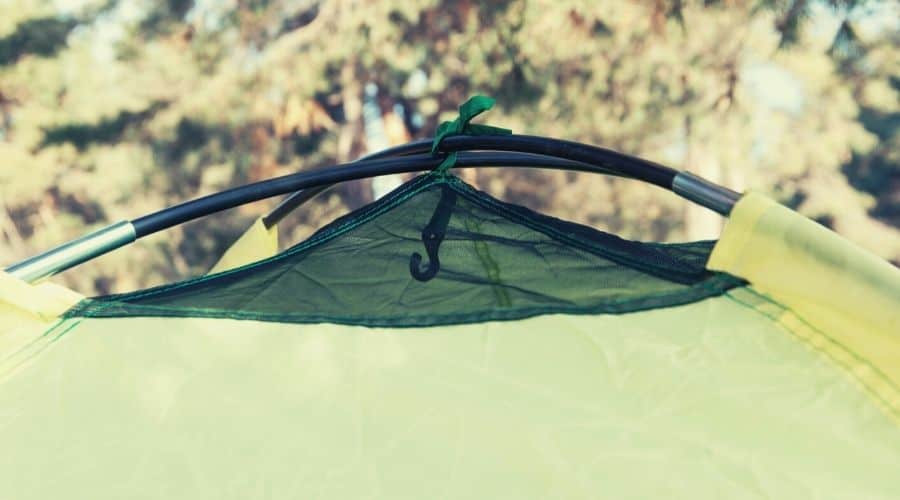 Seasonality
As every camper knows only too well, the weather doesn't always play ball when we head out on our adventures. To ensure your trips aren't curtailed or otherwise derailed by the elements, opt for a model that's equipped to deal with the expected weather conditions in the seasons in which you'll be doing your camping.
Let's unpack that a little…
Almost all tents come with a "season rating" that describes their suitability for different weather conditions. While the ratings given by manufacturers are not governed by any industry standard, these usually give you a good idea of how the tent will perform in bad varying weather.
Below, we've included a short overview of the weather protection you can expect from different season ratings.
2-season – These are typically low-cost options that offer minimal water-resistance and, as such, are suitable for good-weather trips only.
3-season – The most popular choice of tent for campers of all ilks, these tents combine solid waterproofing with breathability and ventilation to optimize livability. Ideal for trips from early spring through late fall in most parts of the globe.
4-season – These tents combine superior waterproofing with more durable fabrics and robust designs that are capable of dealing with high winds and snow loading. While ideal for winter camping, these tents are typically far heavier than 3-season models and lack the ventilation required to keep things cool inside in summer.
Waterproofing
As you've seen above, season ratings in tents can be kinda vague. Given this – and the tendency of some manufacturers to talk up their tents' weather-resistance – the best way to gauge how your shelter will perform in bad weather is to do a little detective work and hunt down the tent's specifications.
The most important spec to consider when it comes to waterproofing is the fabric's hydrostatic head rating.
We don't want to bore you with too much science-speak, so let's cut straight to the chase with a simple explainer. In short, a fabric's hydrostatic head (HH) rating refers to the amount of water pressure it can withstand before it begins to leak. As you might expect, the higher the HH rating, the more waterproof the tent will be.
For example, a shelter with a 2,000mm HH rating will be more likely to keep you dry in heavy rain than one with a 1,200mm HH rating.
As a rule of thumb, you should look for a model with a minimum HH rating of 1,200mm in the rainfly and 2,000mm HH in the flooring. If you and your camping companions are all-weather warriors who head out no matter what the forecasts are promising, shoot for a model with a higher HH rating in both the fly and the flooring.
Another important feature to look for when buying is sealed seams. If a tent's gonna leak, the most likely spot where rainwater will breach its defenses is at the seams, where the sheets of the fabric are stitched together. Seams that are sealed use tape or glue-like coating to cover the holes created during stitching, thereby reducing the risk of leakage.
Ease Of Setup
There's no getting around it – ten-person tents are far trickier to pitch than their low-capacity cousins. As such, buying a model that simplifies setup as much as possible should be high on your list of pre-purchase priorities.
Several features can help to take the stress out of setting up.
First of all, look for a model with a color-coded pole system. This helps you make sure all the poles are in the right place and prevents a lot of time-consuming trial and error.
Secondly, look for a freestanding design, i.e. one that stands without having to first support it with guylines and stakes.
Thirdly, if one-piece pitching's an option, it's well worth having. One-piece pitching means that the rainfly and the inner body can be pitched in unison, which saves the hassle of pitching both separately.
Finally, make sure the weight of your shelter is low enough that you and your camping companions will be able to pitch it. Most ten-person tents are designed to be set up by 2-4 people, but if there are only 2 adults in the group capable of doing the pitching, it's wise to choose a model at the low end of the scale weight-wise.
Packed Size
Ten-person tents are not designed to be carried over great distances. As such, you won't have to worry about squeezing the tent inside your backpack to schlep it to camp. That said, it's always a good policy to check packed size dimensions before buying, particularly if your vehicle's a little short on trunk space.
Price And Durability
Ten-person tents are not cheap, and in this case, you usually get what you pay for. Obviously, some brands are more well-known than others. However, you shouldn't let the name of the brand influence your decision.
Sometimes the costs may result from a wide range of additional features or high-quality fabrics and materials used in the production, many of which might be unnecessary for your needs.
Whatever the case, you're buying an item that's supposed to shelter you and your family and last you for more than one season. Pick a product you're going to take on many outdoor trips in years to come, but stay reasonable, carefully examine technical details and features of your top picks, and stick to your budget.
10 Person Tents: Are They Really For 10 People?
The answer to this question is: it depends.
Obviously, we can't talk about false advertising, because manufacturers put a great deal of effort into making sure that 10 people can all lay down and sleep in one area. However, you need to remember that any camping trip, especially the ones that involve so many people, simply won't happen without additional gear and equipment.
As such, if you take into consideration those who will participate in the trip and the equipment you'll need, it may turn out that 10 people won't fit in. For this reason, we advise downgrading the tents on our list, even those with the highest capacity.
Best 10 Person Tent Reviews: Our Top Picks for 2021
Core 10 Person Straight-Wall Cabin
The Core 10 Person Straight Wall Cabin is a great choice for families of 6 to 8 people who anticipate doing most of their camping in reasonably fair weather.
This cabin-style tent offers a spacious and comfortable interior and features a straight-wall design with a generous 7′ center ceiling height. There's a room divider included, allowing you to create two separate sleeping and living areas, and also front and back door access.
This model features a panoramic mesh ceiling which can be exposed by removing a fully-taped rainfly. A gear loft with lantern hook and organizer storage pockets helps you manage your equipment and free up floor space, while a large hinged door provides easy access and additional ventilation.
The Core H20 Block Technology used in the rain fly will help to keep you dry in short-lived rain showers. However, because the fly doesn't provide full coverage, this isn't the best option for wet-weather adventuring.
Poles, stakes, and an expandable carry bag are included, as well as a 1-year limited warranty.
PROs

140 square feet of floor space
Can be divided into two rooms
7' peak height
Easy to pitch – as close to an instant tent as 10 person tents come

CONs

Weighs 28.5 lbs
No vestibules
Bottom-Line: A large family tent that places practicality and convenience to the fore but is a little lacking as regards weather resistance.
Coleman WeatherMaster 10-Person Tent
The Coleman WeatherMaster 10-Person Family Cabin Tent is an incredibly roomy, water-resistant ten-man tent that's the perfect pick for groups who prioritize personal space above all else.
This tent gives a truly home-like feel with its 17 x 19-foot floor area (enough room for 3 queen-sized mattresses) and 6′ 8″ peak height. It is also equipped with a hinged front door and a zippered back door for easy entry and uses Coleman's WeatherTec system to help keep you and your camping companions dry in wet weather.
The included room dividers in this 10-person tent provide you with privacy, while the adjustable ventilation system allows you to take control over the temperature inside the tent. Additionally, the WeatherMaster 10 man tent is easy to set up – partner up with someone to do the pitching and you'll have it done in less than 30 minutes, as everything is color-coded.
PROs

Massive – 153 square feet of floor space
Tent comes with room dividers
Sets up in under 20 minutes
80-inch peak height

CONs

Heavy – weighs just under 31 lbs.
No vestibules
Bottom-Line: A 10-person tent that can actually accommodate 10 adult sleepers! One of the best 10-person tents out there for groups who need an extra-large tent without compromising on ease of setup and weatherproofing.
TETON Sports Sierra Canvas Tent
The Sierra Canvas Tent by TETON Sports is an incredibly well-made, high-quality tent that's perfect for extended stays or pitching for year-round use in the yard.
This 10-person waterproof tent provides ample space for eight to ten campers thanks to its 12 x 12-foot floor area and 8′ 4″ peak height. It's made with waterproof canvas to keep you dry in any type of weather, all year round. It's also highly breathable and well-ventilated, so performs just as well in high temps as it does in downpours.
This tent also features one extra-wide door with pulls and zippers, allowing you to move your camping gear in and out with ease. Due to its removable floor, you can even use the Sierra Canvas Tent as a stylish canopy, while the built-in e-ports let you run electricity to power your electronic devices and lights when camping at a hookup.
PROs

144 square feet of floor space
8'4" peak height
Outstanding weather resistance

CONs

Very heavy (55.5 lbs)
Expensive
Bottom-Line: One of the best camping tents out there for buyers who won't settle for second best and are happy to pay top $. 
UNP Camping Tent 10-Person-Family Tents
The UNP 10-Person Tent is perfect for camping trips with all the family and as much gear as you could possibly wish to bring along for your adventure.
Measuring 18ft x 9ft x 78in, the UNP would be better termed a 10-12 person tent. It can easily fit in 10 sleeping bags or 3 queen-size airbeds and yet is light enough (23.1 lbs) for easy setup.
Made with high-quality Polyester 185T PU1000mm fabric, it's waterproof enough to deal with light rain showers and is also equipped with a rainfly that guarantees better water resistance. The UNP also features double doors and large mesh windows for optimal access and ventilation.
This tent also comes with a room divider for increased privacy, lightweight fiberglass poles, and is extremely easy to set up, going from packed to pitch in under 10 minutes with two people lending a hand.
PROs

162 square feet of floor space
78-inch peak height
Lightweight
Waterproof

CONs

No vestibule
Peak height slightly lower than others on our list
Bottom-Line: A lightweight, spacious, well-designed and relatively cheap 10 person tent that can hold its own in inclement weather.
Columbia Mammoth Creek 10-Person Cabin Tent
The Mammoth Creek is a true beast of a tent that is a little on the heavy side but made with slightly more rugged, durable materials than many of the other tents on our list.
With 2 doors, 7 windows, 14′ x 10′ of floor space, and a 78″ center height, this 10-person cabin tent is a great choice for family camping during summer and in warmer weather. This 2-room tent also has a sewn-in room divider for privacy, a straight-wall design for added headroom, and large pull-out windows that help to maximize internal space.
The crunch-free, waterproof polyester floor is suitable for 2 queen-sized air beds and uses a tub-style design and sealed seams to ensure no groundwater sneaks into the sleeping area in wet weather.
This tent is one of the heaviest on our list, weighing in at 40 lbs (18.1 kg), but is well worth considering for buyers who want a tent that's truly built to last a lifetime.
PROs

Sewn-in room divider
140 square feet of interior space
Large doors and mesh windows
Large storage pockets in tent walls

CONs
Bottom-Line: An expensive but very well-made tent that combines decent waterproofing with a spacious interior and impressive breathability. 
Outdoor Products 10 Person Instant Cabin Tent
The 10-Person Instant Cabin Tent by Outdoor Products is the only tent in our review that provides near-instant setup.
The Instant Pole Design uses pre-attached poles and a central pole hub that lets you pop this one from the carry bag, set it down, and have it standing in no more than two minutes.
But it's got a lot more going for it than speedy setup alone…
The OP measures 14′ x 10′ x 78″ in height and sleeps up to 10 campers. It also features tub-style floors, sealed seams, and a rooftop-coverage rain fly for increased water resistance.
Airy and breathable, it comes with automated extended eaves and dual ground vents that ensure air circulation. It also has large, No-see-um mesh windows that help keep the bugs at bay and comes with a handy, removable room divider for added privacy.
PROs

140 square feet of floor space
78" peak height
Sets up in 2 minutes

CONs
Bottom-Line: A great choice for families or groups who want to take the stress out of setup without compromising on spaciousness or performance.
NTK Arizona GT 9 To 10-Person
The NTK Arizona GT 9 to 10-Person is a relatively lightweight, high-capacity shelter that's geared towards the three-season camper.
The NTK Arizona measures 14.4' by 8' and has 2 rooms, 2 doors, and 3 windows. While a little smaller than other options in our review, it makes up for this shortcoming by providing superior weather protection and a very well-thought-out design.
This hybrid model combines tunnel and extended-dome styling, but is not free-standing, meaning you have to peg it out before pitching. That said, setup is simplified thanks to its color-coded poles and the aluminum pin-and-ring system.
The Arizona comes with a full-coverage rainfly for water-resistance and no-see-um mesh for optimal ventilation and breathability. The floor material is a heavy-duty, anti-fungus seamless polyethylene with an additional silver-coated inner layer to keep you dry and protected.
Unlike other tents in our review, this model uses a double-wall design, making it a 3-season tent that's ideal for just about any weather conditions.
PROs

Waterproof – 2500mm hydrostatic head rain fly
Easy to pitch
Room divider included

CONs

Only 115 square feet of floor space
Bottom-Line: While slightly smaller than other models in our review, the NKT Arizona is ideal for groups who plan on heading out no matter what the weather's doing. 
HIKERGARDEN 10-Person Tent
If you're looking for a family cabin tent that's just about as roomy as they come, the 10-Person Camping Tent by Hikergarden might be the shelter for you.
The Hikergarden measures 168″ x 132″ x 74″, providing enough room for 10 campers or 3 queen air mattresses. It is also waterproof and sturdy, and is made with rugged 185T polyester fabric.
While it uses a double-wall design, its large mesh door, 4 mesh windows, and removable rainfly also make it very breathable and well-ventilated. The Hikergarden also features a curtain that allows you to divide the interior space into 2 separate rooms for more privacy and has an e-port for your electronic devices.
PROs

Weighs only 20.5 lbs
Waterproof
Double-wall design optimizes ventilation

CONs

Slightly lower peak height (74")
While listed as a 10-person tent, it's better described as a very roomy 8 or even 6-person tent
Bottom-Line: A slightly lower-capacity tent that's ideally suited to groups of 6 or 8 people looking for a lighter shelter that's capable of keeping the elements at bay.
Ninasill 8-10 Person Tent
If you're short on patience and not a fan of faffing around when pitching, the Ninasill 8/10- Person Camping Tent might be your best bet.
This 15.74ft x 10.17ft x 6.88ft tunnel tent can be set up in under 2 minutes thanks to its pop-up-style design.
Made with waterproof polyester and featuring welded corners, this shelter is built to ensure you stay dry at all times. Large mesh windows also provide you with optimal ventilation and protect you from insects.
Finally, this model is not only easy to set up, it's also lightweight, portable, and easy to fold and carry.
PROs

Lightweight
Very easy to set up
Room divider included
Large screen room

CONs
Bottom-Line: The best 10 man tent out there for buyers who prefer a tunnel-style design and almost effortless pitching.
NTK Philly GT Outdoor Dome
The NTK Philly GT Outdoor Dome Family Camping Tent is all about maximizing comfort.
This large, single-door tent measures 10ft x 12ft and has a 6.6-foot center height, providing you and all the family with plenty of space. It's equipped with breathable, micro-mesh fabric that keeps the interior nicely ventilated while warding off insects and mosquitoes.
The Philly also uses heavy-duty anti-fungus floor material to prevent leaks, while a full-coverage rainfly means it will keep you and your camping cohorts dry in even heavier downpours.
PROs

Stable in strong winds
Waterproof: 2500mm hydrostatic head rain fly
Taped seams
78" peak height

CONs

Less roomy interior (120 sq. ft.)
Bottom-Line: A nigh-on bombproof shelter that lacks a little in the way of interior space but makes up for it with a bounty of convenience-enhancing features and outstanding performance in wet conditions.
Conclusion
Few things can compare to a fun-filled camping trip with your friends and family. Outings like this are a great bonding experience and often result in the creation of many unforgettable memories.
Of course, there's no camping trip without a tent, and the more people, the merrier. As demonstrated above, there are many factors that you should consider before making your final choice, and plenty of great products to choose from.
Nevertheless, we hope that our article managed to shed some light on this issue and you're now ready to start planning your next big outdoor adventure.
Last update on 2021-12-02 / Affiliate links / Images from Amazon Product Advertising API