What model is the Best 10 Man Tent on the market?
We tested a number of products to find the best 10-person tent on the market, and shortlisted the following.
NTK Arizona GT 10-Person Tent
CORE Family Cabin Tent with Screen Room
Ozark Trail Dark Rest 10-Person Instant Cabin Tent
Browning Camping Big Horn Tent
White Duck Avalon Bell Canvas Tent
Mountain Hardwear Stronghold Dome Tent
UNP Camping Tent 10-Person
Coleman WeatherMaster 10-Person Tent
How to Choose a 10-person camping tent?
When it comes to choosing a family camping tent the following features are important to focus on.
Tent Shape
Livability
Ease of Setup
Weather Protection
Ventilation
Weight & Portability
Extra Features
Tent Shape
The primary tent shapes to choose from are domes and cabins. Dome tents offer excellent weather resistance, while cabin tents prioritize enhanced livability.
Dome tents like the Mountain Hardwear Stronghold are the best performers in inclement weather. 
First, the curvature of the roof and walls ensures that rainwater doesn't pool in the rainfly and cause leaks.
Secondly, they mostly have a geodesic design that provides added structural stability in high winds.
Finally, their sloping, aerodynamic walls provide less resistance to crosswinds. In this case, less resistance is a good thing because it means the wind glides over the structure as opposed to buffeting it and potentially collapsing the walls.
On the downside, a dome-style tent is less livable than a cabin tent because there's less headroom the further you move away from the center.
Cabin tents are, as the name suggests, cabin-shaped shelters made with polyester and/or canvas instead of wood. Their straight walls ensure that headroom remains nearly uniform from end to end and side to side, and most models have a center height of over 6 feet. This allows tall campers to move around inside without hunching – a considerable boon for livability.
On the downside, those straight walls do mean that a cabin-style tent isn't the most stable in high winds.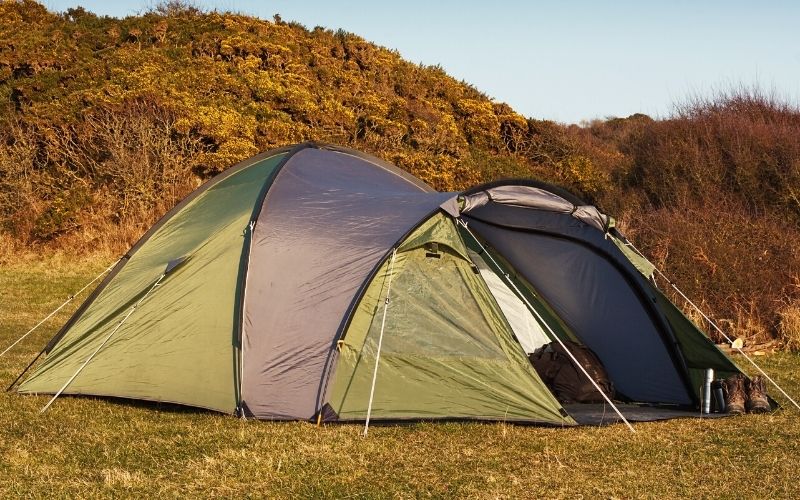 Livability
Tent livability hinges on key factors such as floor space, center height, vestibule space, and storage features.
Your tent should provide each adult sleeper with roughly 14 square feet of floor space, though 10-12 sq. ft. will be enough for kids. Peak height should ideally be high enough to allow everyone to move around inside the tent without hunching, though this is rarely the case with a dome-shaped tent.
The MH Stronghold has the lowest peak height on our list (77"), while the White Duck Avalon Bell (11' 2") has the highest.
Storage features also contribute to livability since storing your gear outside or above the sleeping area frees up floor space for humans. These features can include vestibules, screen rooms, gear lofts, and wall pockets.
While all of the tents on our list have wall pockets, the only two with a gear loft and external storage (a vestibule or screen room) are the NKT Arizona and CORE Family Cabin Tent.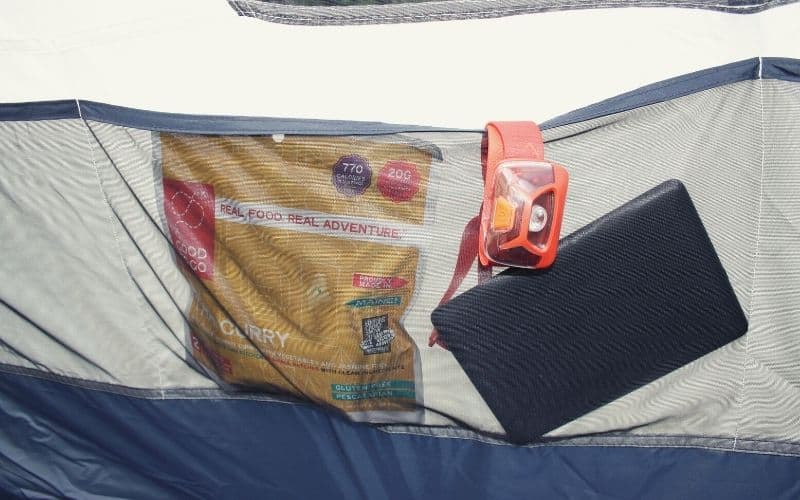 Ease Of Setup
The sheer size of ten-person tents makes them more challenging to pitch than their smaller counterparts, highlighting the importance of prioritizing ease of setup in your pre-purchase priorities.
First of all, look for a tent with a color-coded pole system. This helps you to make sure all the poles are in the right place and prevents a lot of time-consuming trial and error. If the poles are pre-attached, all the better!
Secondly, look for a freestanding design, i.e. one that stands without having to first support it with guy lines and tent stakes.
Thirdly, if one-piece pitching is an option, it's well worth having. One-piece pitching means that the rainfly and the inner body can be pitched in unison, which saves the hassle of pitching both separately.
Finally, make sure the weight of your tent is low enough that you and your camping companions will be able to pitch it. Most ten-person tents are designed to be set up by 2-4 people, but if there are only 2 adults in the group capable of doing the pitching, it's wise to choose a tent at the lower end of the scale weight-wise.
The easiest to pitch on our list is the Ozark Trail Dark Rest Instant Tent, which can be set up in 2-3 minutes thanks to its use of pre-attached poles and a central pole hub. The toughest to pitch is the White Duck Canvas Bell. This weighs a mighty 95 lbs. And, like most canvas tents, will need 2 or 3 extra pairs of hands to set up.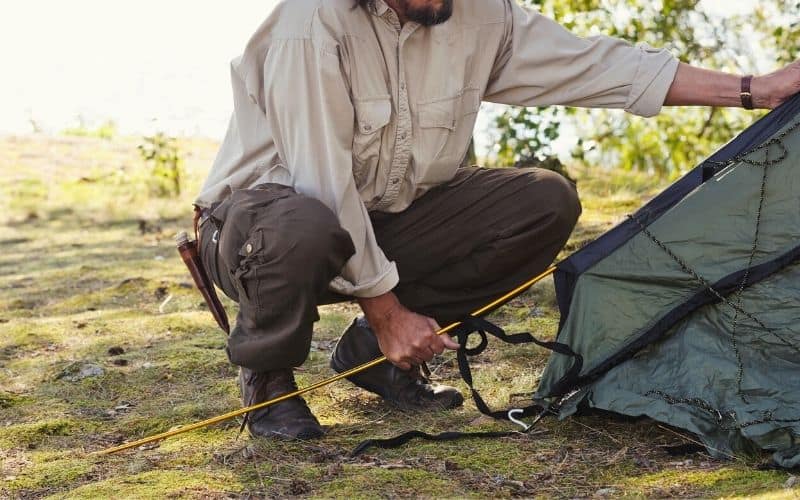 Weather Protection
A tent's weather protection primarily depends on two factors: the coverage offered by the rainfly and the hydrostatic head of its fabric.
Rainfly Coverage
Choose tents with a full-coverage rainfly for camping in challenging weather conditions. As the name suggests it offers comprehensive protection by shielding the entire tent from the elements.
A partial-coverage rainfly, on the other hand, will leave part of the inner tent exposed to the elements. While this improves ventilation, it also means it is unlikely to withstand heavy rainfall.
In our review, only the Mountain Hardware Stronghold has a full-coverage rainfly, though the Whiteduck Avalon Bell is made with waterproof fabric. As such, these are the only fully waterproof tents on our list.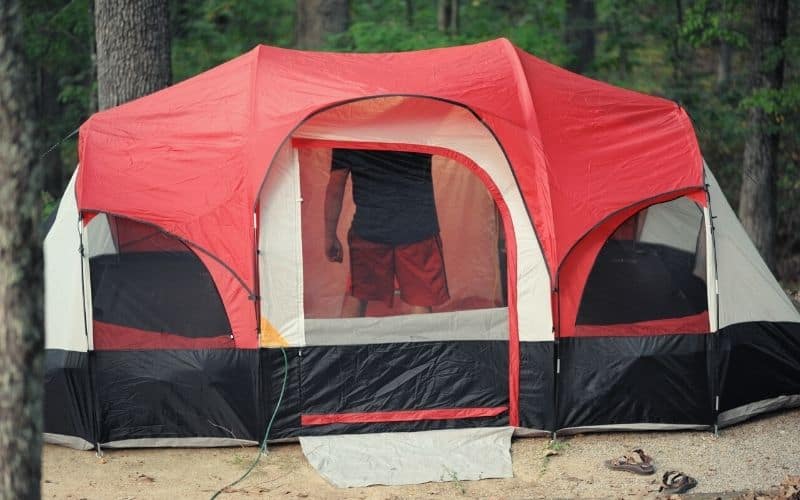 Hydrostatic Head
Hydrostatic head (HH) is the rating system used to measure the degree of water resistance in a fabric. Measured in millimeters, it normally appears in product specs as a number followed by 'mm' – for example, 2,000 mm, 1,200 mm. A higher hydrostatic head (HH) rating indicates a more waterproof fabric.
For example, a rain fly with a HH rating of 2,500 mm, like the NKT Arizona, will offer superior protection than one with a HH of 1,000 mm, such as the UNP 10-Person.
Ventilation
Tents may incorporate various ventilation features, such as side or floor vents, roof vents, mesh windows, a mesh ceiling, and/or double doors.
Your shelter's ventilation features are the main foil for stuffiness, overheating, and condensation. While stuffiness and overheating are uncomfortable, condensation can become a serious scourge by soaking you, your sleeping bag, and other gear.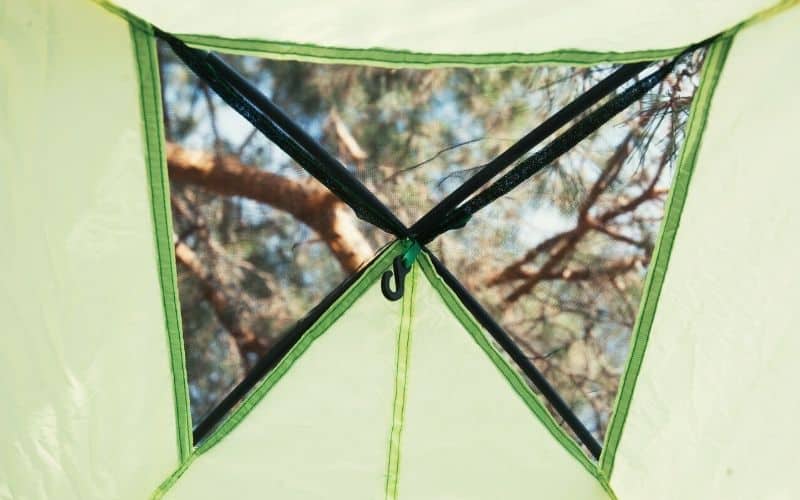 Weight & Portability
The tents on our list are designed for car camping and may be too heavy and bulky to carry over long distances. However, you still need to transport your tent from your vehicle to your campsite, which can be challenging if you bench or deadlift less than 400 lbs! Relatively lighter tents are also generally easier to pitch.
The heaviest tent on our list is the White Duck Avalon Bell, which weighs 95 lbs. While it comes with a functional carry bag, you'll need 2 or 3 strong friends at a minimum to pitch this one. The lightest model on our list is the Ozark Trail Dark Rest, which tips the scales at a far more manageable 20 lbs.
Features
Features are non-universal extras that significantly enhance a tent's convenience, livability, and practicality. Key additions include double doors, vestibules for gear storage, and room dividers for increased privacy. Smaller extras like awnings, electric access ports, gear lofts, and wall pockets also contribute to the tent's overall functionality.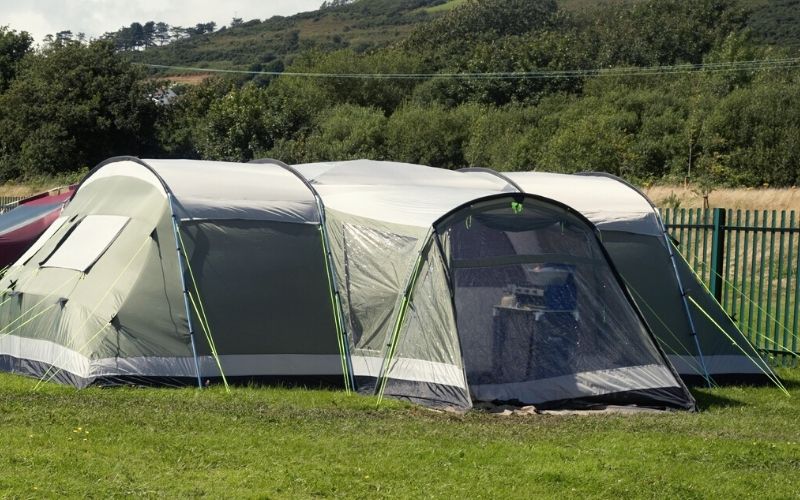 Best 10-Person Tent: The Verdict
Our favorite 10 person family tent is the NKT Arizona, ticking all our boxes. It's waterproof, roomy, easy to pitch, and loaded with features to enhance convenience and comfort.
If the price tag of the NKT is a little too high for your budget, then there are other tents we would recommend such as the UNP 10-Person or Browning Big Horn, both of which offer great bang for your buck and are ideal for summer camping.
If you're looking for a luxury "home away from home", the White Duck Canvas Bell is a perfect choice. This glamping tent is more of a palace than a bolthole, and it oozes quality from every stitch and seam.
Finally, if winter camping or long-term expeditions are in your future plans, be sure to check out the Mountain Hardwear Stronghold. If Chuck Norris was a tent…!
We hope you enjoyed this article on the top-rated 10 person tents available. If you have any questions, drop us a line in the comments box below. And feel free to share it with your friends!