Group camping trips are a great way to spend some quality, wholesome time with your family and friends. But if you don't have the right gear along for the trip, things could go south in a hurry.
The most important piece of gear for such adventures is your tent. Choose a good one, and you'll be on your way to creating many happy memories. Choose a bad one, and your great adventure could soon turn into a misadventure.
To help you find the best oversized shelter for your needs, we've put together a list of our favorite 12-person models on the market. Our list caters to every budget and includes everything from palatial cabin tents to "bombproof" dome tents for bad-weather camping. Unsure what to look for when buying? Scroll down and you'll find expert buying advice to help you narrow down the options.
Editor's Choice
NTK Super Arizona GT Sport
If you're looking for a 12-person tent that can be used year-round and provides the perfect balance of robustness, durability, weatherproofing, and livability, the NTK Super Arizona is the shelter for you.
Unlike many tents for 12 people, the Super Arizona takes a no-nonsense approach to weather protection, using a 2,500mm HH rainfly and flooring that can stand up to the worst of three-season conditions. It's also made with burly, extra-durable materials and has multiple vents and mesh windows that stave off stuffiness and condensation in humid weather.
The SA's 210 square feet of space also make it among one of the roomier tents on our list, while its large vestibules and interior storage pockets also ensure all of that internal space can be used by the tent's occupants, as opposed to their gear.
Other nice touches in the NTK include a mesh screen room for lounging, dining, or drying out damp sleeping bags, a detachable room divider, and two large D-shaped doors for easy entry and exit.
Bottom Line: A sturdy, waterproof, and spacious tent that has all the features needed for a cozy, comfortable family camping trip.
At A Glance: Quick Recommendations
12-Person Tents for Camping: Our Top 7 Picks
NTK Super Arizona GT Sport
Editor's Choice
Looking for a 12-person family camping tent that provides the perfect combo of weather protection, spaciousness, storage, and durability? If so, then the NKT Super Arizona is the tent for you!
The Super Arizona is one of the roomiest tents on our list, boasting a whopping 210 square feet of floor space and a peak height of 82.8". While a little smaller and more expensive than the Ozark Trail tent (below), it's a far better performer in wet weather thanks to its 2,500 mm HH, full-coverage rainfly, and fully waterproof flooring.
The SA also offers great storage. There are two large vestibules and multiple stash pockets in the walls, features that help free up floor space for sleepers. Other good news for sleepers is that the SA comes with two room dividers, allowing you to create three separate rooms and get a little privacy from your camping companions.
Specs
Weight: 42 lbs.
Center Height: 82.8"
Floor Area: 210 sq. ft.
PROs

Spacious interior
Robust waterproofing
Tall peak height
Two doors
Easy setup

CONs
Bottom-Line: A roomy, well-made tent that offers outstanding wet-weather performance.
Ozark Trail 3-Room Instant Cabin Tent
Runner Up
With no assembly required, the Ozark Trail 12-Person Instant Cabin Tent is our top pick for campers who like to maximize downtime and minimize hassle.
The Ozark can be pitched in roughly two minutes thanks to its use of pre-attached poles with a central pole hub that opens like an oversized umbrella. All you need to do is unfold the poles, extend them, and your home for the night is good to go.
This tent is also the roomiest model on our list, boasting a whopping 256 square feet of floor space. That's enough room for 3 queen-size mattresses, all your gear, and a dog or three as well. With a center height of 82", there's also plenty of headroom, even if you have a few giants in the family. And if your family members like their personal space, the two room dividers have you covered!
This cabin-style tent also boasts several winning, non-standard features. The best of these are a large front awning so you can relax in the shade, an oversized ground vent to boost airflow, a power outlet, and a total of seven large windows.
Specs
Weight: 61 lbs.
Center Height: 82"
Floor Area: 256 sq. ft.
PROs

Huge!
Affordable
Easy to set up
Two doors
7 windows

CONs

Partial-coverage rainfly
Low hydrostatic head
Heavy
Bottom-Line: A beast of a tent that can accommodate your family, friends, and probably a few neighbors too!
KTT Extra-Large Tent 12 Person
Best Budget
The KTT is the smallest tent on our list, but ticks every other box that needs ticking. As such, this is a great pick if you have lots of kids in your group or simply need a smaller shelter that's suitable for camping in all but the gnarliest of conditions.
The KTT performs well across the board. It's 1,500mm HH rainfly and 2,000mm HH floor make it one of the most waterproof tents on our list. It's also made with tough, 210D polyester fabric, has three large doors, and a curtain that can be extended to create a canopy.
Other endearing touches include a room divider, huge mesh windows, and the use of both iron and shock-cord fiberglass poles for enhanced sturdiness and stability in strong winds.
This isn't the easiest tent to pitch and its partial-coverage rain fly means the NTK Super Arizona is a much better bet for wild weather, but its affordable price tag and solid all-around performance make it the best 12-person tent out there for buyers on a budget.
Specs
Weight: 32 lbs.
Center Height: 79"
Floor Area: 141 sq.ft.
PROs

Lightweight
Solid waterproofing
3 doors
Room divider
Extended awning

CONs

Small for a 12-person tent
10-15 minutes to setup
Bottom-Line: The KTT may be the smallest shelter on our list, but it's one of only two with an extended awning and is the best performer in bad weather.
Coleman Skylodge 12-Person
Best for Tall People
If you have any camping crew members who pip the 6' mark, the Coleman Skylodge is a shoo-in.
The Skylodge's peak height of 88.8 inches makes it the tallest model on our list. Combined with over 170 square feet of interior space, that means this one's an great pick if livability is high on your priority list or you're the type of camper prone to cabin fever in tents with stingier dimensions.
Size aside, the Skylodge has plenty more going for it. This freestanding tent can be pitched in roughly a minute thanks to its use of telescoping, pre-attached poles. It's also made with burly materials, has floor-to-ceiling windows, a ground vent to improve airflow when warm-weather camping, a convertible screen room, and a huge front door.
And the downsides? Well, the Skylodge's lack of waterproofing and partial-coverage fly makes it suitable only for summer camping, or the occasional camping trip in spring or fall when dry weather is forecast. It also only has one door and no vestibule or awning for storage of your camping gear.
Specs
Weight: 52.7 lbs.
Center Height: 88.8"
Floor Area: 170.5 sq. ft.
PROs

Spacious
Very easy to pitch
Tall peak height
Robust poles and fabric
Convertible screened room

CONs

Heavy
Pricey
Not the best performer in wet weather
Bottom-Line: If extra headroom is needed, this is the tent for you!
CORE 12-Person Instant Cabin Tent
Best Value
Looking for a shelter that's high on convenience, low on hassle? If so, the CORE Instant Cabin Tent is well worth considering.
The Instant Cabin is one of the heaviest tents on our list, weighing in at just under 50 pounds. Despite this, it's one of the easiest to pitch thanks to its use of pre-attached telescoping poles. It also has a bounty of features that make it feel like a true "home away from home."
The Instant Cabin has 180 square feet of floor space, enough to accommodate three queen air beds and two singles along the side. While there's no vestibule or screen room, you'll still have plenty of square footage left over for gear storage. And for privacy, there are two divider curtains allowing you to create three rooms.
So, how to choose between this and our list's other instant-pitch tents? Well, if livability is your main concern, this tent or the Coleman Skylodge or Ozark Trail are your best bet. If weather resistance is more of a priority, and you don't mind sacrificing on interior space – then the KTT Extra Large is a better option.
Specs
Weight: 47.8 lbs.
Center Height: 80"
Floor Area: 180 sq. ft.
PROs

Durable materials
Roomy
3 rooms
Instant setup
Affordable

CONs

Small awning
Partial-coverage rainfly
Bottom-Line: A roomy, well-made shelter that can be set up in next to no time.
CAMPROS Tent 12 Person
Best Lightweight
Unenthused by the idea of schlepping 50+ pounds to your campsite then having to assemble it? If so, you're not alone, and the ideal solution to your problem exists in the CAMPROS 12-Person Tent.
The CAMPROS weighs a (relatively) tiny 24.2 lbs. This makes it not only the lightest option on our list but equally suitable for car camping and backcountry camping – if, that is, you share the weight between multiple carriers. And despite its light weight, this is a large camping tent, offering 180 square feet of interior space and a respectable peak height of 72".
This is also one of the more waterproof tents on our list, using a rain fly with a 1,000mm hydrostatic head rating. Sure, the fly may only offer partial coverage, but unlike other partial-coverage flys on our list, it leaves only a small area around the doorway exposed.
Specs
Weight: 24.3 lbs.
Center Height: 72"
Floor Area: 180 sq. ft.
PROs

Lightweight
Good weather resistance
6 windows and 2 large doors
3 rooms
Cheap!

CONs

Tricky to set up
No vestibule or awning
Fiberglass poles
Bottom-Line: Not as easy to pitch as the others, but a far easier tent to carry to your campsite!
Eureka Copper Canyon
Honorable Mention
The Copper Canyon has appeared near the top of our best 12-person tent lists every year for around half a decade. And the reason for this is simple. While pricey, this tent ticks all necessary boxes whilst throwing in a few non-standard add-ons that make it all the more lovable and livable.
The CC has an impressive center height of 84", and while its 168 sq. ft. living space is nothing to write home about, the steep walls make it feel a lot roomier by extending standing room throughout the tent. There's also a removable room divider that creates two sleeping areas, each big enough for a queen-size mattress or two, depending on how much gear you bring.
The CC's inner tent has an abundance of mesh windows and a full mesh roof, which together allow cool air to circulate on balmy nights and make it great for stargazing. Although not as waterproof as tents with a full-coverage rainfly, the CC rainfly's 1,000mm HH fly is more than capable of fending off the odd shower.
Specs
Weight: 37.8 lbs.
Center Height: 84"
Floor Area: 168 sq. ft.
PROs

Good weather resistance
Tall peak height
Robust materials (68D fabric, fiberglass, and steel poles)
Power port for air conditioner/jack
Ample storage pockets
Two doors

CONs

Partial-coverage rainfly
Pricey
Bottom-Line: A well-made, extra-robust shelter that offers a little more waterproofing than other tents with a partial-coverage rain fly.
How to Choose a 12-Person Tent
Size and Liveability: Capacity, Center Height, and Vestibule Space
If you're on the hunt for a 12-person tent, the chances are that livability is a top priority.
Livability depends on various factors, the most important of which are the overall floor space, the center height, and both external and internal storage space.
Floor Space
Although all the tents on our list are dubbed "12-person" by their makers, the difference in overall square footage varies significantly from model to model.
This is exemplified by the biggest and smallest tents we tested – the Ozark Trail Instant Cabin and the KTT Extra Large, which offer 255 square feet and 141 square feet of living space respectively. Given that these totals equate to 21.25 and 11.75 square feet per person, the difference between the two is vast.
We recommend opting for a model that provides a minimum of 14 square feet of space per sleeper. If any of the campers in your crew are kids, however, around 12 square feet should suffice. The take-home from this is that tents like the Ozark Trail will be roomy, whereas models like the KTT will be a tight squeeze if filled to max capacity.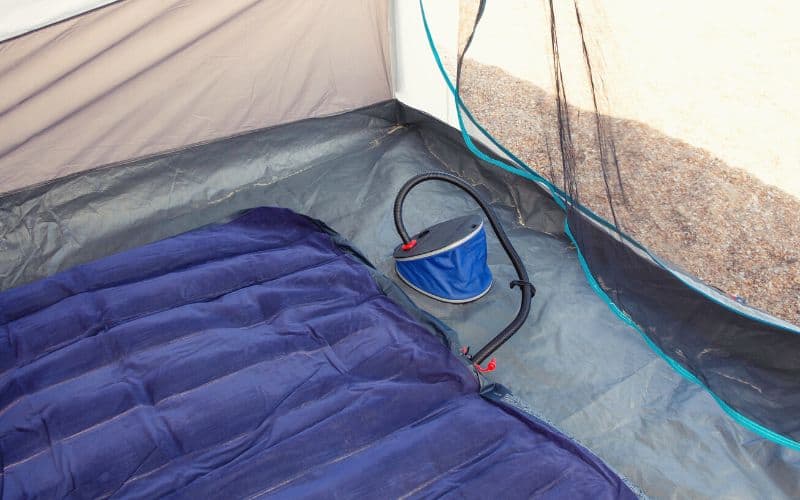 Center Height
This refers to the height of the tent at the tallest point. With cabin and dome tents, this is slap bang in the middle. With tunnel tents, this usually remains uniform lengthwise from one end to the other.
The ideal center height (aka 'peak height') is anything that allows all members of your group to move around inside without stooping, so around 74 inches if you're all under 6 feet tall.
External and Internal Storage
These features play an important role in a tent's livability, mainly because they free up interior floor space by allowing you to store your gear either outside or above the sleeping area.
External storage can take the form of a vestibule or screen room, both of which are ideal for storing larger items and drying off wet clothes. Inside, storage options take the form of stash pockets in the walls and "gear lofts", i.e. suspended mesh storage shelves in the canopy.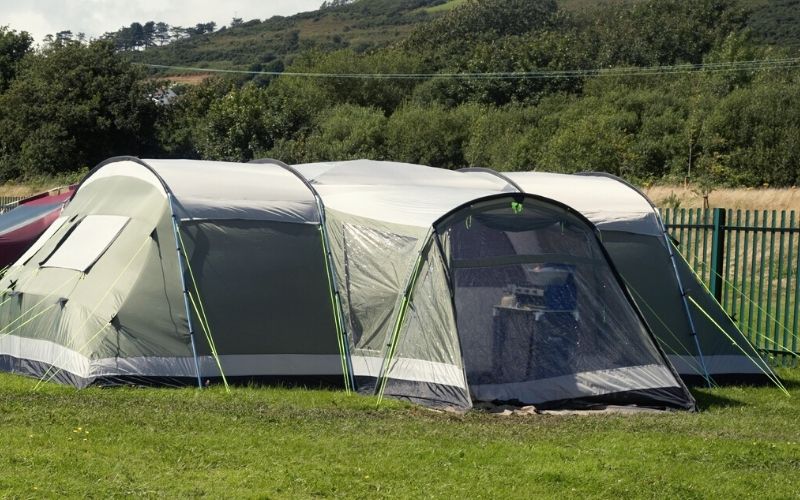 The only tent with dedicated vestibule/screen room space on our list is the NTK Super Arizona, though the Ozark Trail has a large awning that can provide a covered seating area.
Ease of Setup
Owing to their size and weight, 12-person tents are notoriously tricky to set up. This being so, any model that does a little of the legwork for you is the way to go – unless, that is, you have the time to spare, the patience of a saint, and/or a team of volunteers to lend a hand with the pitching.
The easiest tent to pitch on our list is, surprisingly, also the biggest – the Ozark Trail Cabin. Despite weighing an almighty 61 lbs., the Ozark can be pitched in less than 2 minutes thanks to its use of pre-attached poles and a central pole hub. This is closely followed by the Coleman Skylodge, which uses a similar freestanding design and pre-attached, telescoping poles.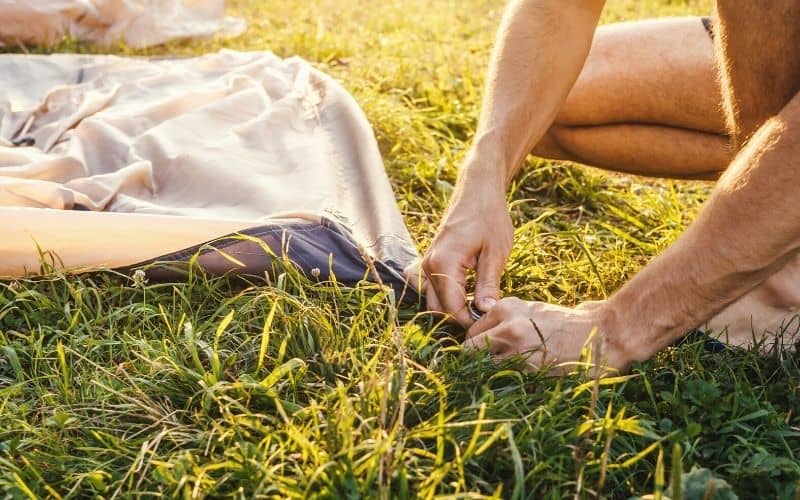 Weather Resistance
Most 12-person tents aren't designed for use in especially gnarly weather. That said, a few models on our list boast robust enough waterproofing to hold up in three-season conditions. The standout in this respect is the NTK Super Arizona which boasts a full-coverage rainfly with a hydrostatic head rating of 2500mm.
Let's unpack that a little…
A full-coverage rainfly, as the name suggests, is one that covers the entirety of the tent, thus providing complete protection against the elements. If you plan on camping no matter what the weather's doing, this is the way to go.
If you're more of a fair-weather camper, then tents with a partial-coverage rainfly will do the trick. The rain fly on these tents covers only part of the tent (the roof and part of the walls), so in most cases will only keep your tent dry in short and lighter rain showers.
And what about hydrostatic head?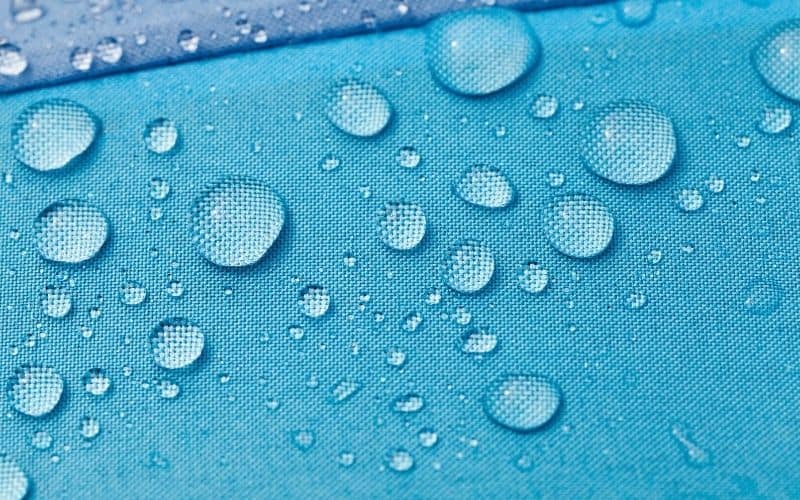 Hydrostatic head (HH) is the rating used to determine the waterproofness of fabrics. This is measured in mm, with the higher the number, the more waterproof the fabric.
For example, a tent such as the Eureka Copper Canyon, which has an HH of 1,200mm, will be twice as waterproof as models like the Ozark Trail, Coleman Skylodge, and CORE Instant, all of which have an HH of 600mm.
Materials
The materials used for both the poles and fabric of any tent are, as you might expect, the greatest determinant of durability.
With tent fabric, the biggest indicator of rip-resistance and durability is the fabric's density. Fabric density is measured in denier, usually represented in the product specifications by a solitary 'D', i.e. '30D', '60D', etc. The higher the number before the 'D', the denser and more durable the fabric.
The most durable tent on our list is the KTT Extra Large, which uses 210D, double-layer Oxford Polyester, making it something of a shoo-in for buyers who prioritize longevity.
With tent poles, the two most common materials used are fiberglass and aluminum. Aluminum is the better of the two because it's both tougher and easier to replace than fiberglass.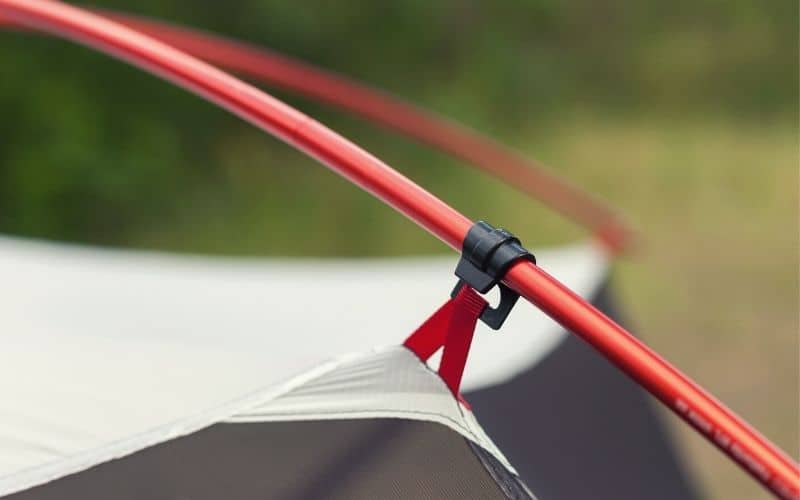 Room Dividers?
Once upon a time, group campers had no option but to endure the lack of privacy entailed by the entirely open-plan design of large tents. Luckily, times have changed, and many (perhaps most) brands throw in a room divider or two to provide a little more personal space.
Of the tents featured above, the NTK Super Arizona, KTT Extra Large, Eureka Copper Canyon, and Coleman Skylodge have a single room divider, whereas the CAMPROS, CORE Instant Cabin, and Ozark Trail all have two, which allow you to create three rooms.
Ventilation
While often overlooked by would-be tent purchasers, ventilation is every bit as important as waterproofing. Why? Two reasons…
First and foremost, ventilation prevents overheating and stuffiness in the summer months or when the tent is at full capacity. Secondly, it helps to minimize condensation – aka 'the bane of every camper's life' (!) – by optimizing airflow.
Features that promote ventilation include extensive mesh panels in the walls and canopy, air vents, and double doors that provide a channel by way of which stale air can escape and fresh air can enter.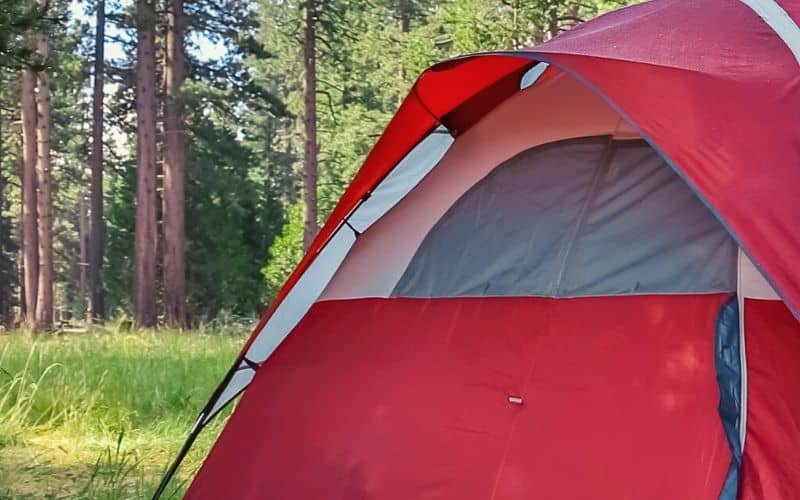 Features
The addition of a few non-standard features can boost any tent's practicality and convenience. The most important of these are a vestibule or screen room for gear storage, hinged doors, awnings, room dividers for privacy, e-ports (power ports), and internal storage features like gear loops, a gear loft, or stash pockets in the tent walls.
Best 12-Person Tent: The Verdict
Just in case you're still undecided, let's have a little recap to help you out.
For year-round family camping, we can't recommend the NTK Super Arizona highly enough. The SA is the most waterproof tent on our list and it's also roomy, well-ventilated, and a cinch to pitch and pack away.
If convenience is more of a concern, or you need (a lot!) more extra space, go for the Ozark Trail Instant Cabin. With 256 sq. ft. of interior space, the Ozark is more of a mansion than a make-do shelter.
And if you're looking for a more affordable option for the occasional summer camping trip, the KTT Extra-Large is a solid option. It may not be as large as the name suggests, but it ticks every other box for fair-weather adventures
So, how did you like our article? If we missed anything or you have any questions, let us know! And if you'd like to share this post with your friends, please do!