Camping in a large group might seem like a fun way to share some quality time with your family and friends. But unless you're equipped with the best camping gear you can get your hands on, there's a high chance your trips will turn into ones that are memorable for all the wrong reasons instead of the right ones!
The most important piece of kit for family or group camping adventures to consider is your tent.
Choose a good 8-person shelter, and you'll soon be packing your Instagram feed with dozens of smiley snaps of you and the crew having the time of your lives. Choose a less-than-good one, and you'll soon be packing your things and hightailing it home!
To make sure you're doing the former, rather than the latter, we're here to help you find the best option for your needs, budget, and group size.
Editor's Choice
Eureka Copper Canyon LX 8
The Copper Canyon is an affordable 8-person tent that ticks all the boxes for 2- or 3-season family camping trips.
The Copper Canyon has 130 square feet of floor space and a peak height of 84 inches, which makes it capable of accommodating 8 adult sleepers and even the tallest members of the family.
It's made with burly, extra-durable 75D polyester taffeta fabric and uses steel-reinforced fiberglass poles. While the rainfly only provides partial coverage, it has a hydrostatic head of 1,200mm and covers enough of the tent to keep you dry in light or moderate rain showers.
In terms of convenience, the CC is a standout. It's easy to pitch, has a divider curtain for privacy, 6 storage pockets, and two oversized "gear hammocks" in the canopy that let you free up floor space by stashing your kit in the "rafters."
Bottom line: A roomy shelter with an awesome peak height and a wealth of convenience-enhancing features.
At a Glance: Quick Recommendations
Best 8-Person Tent
Eureka Copper Canyon LX 8
Editor's Choice
Our vote for the best 8-person tent out there goes to the Eureka Copper Canyon LX 8-Person Cabin Tent.
It's not often that the winner of our 'top pick' award goes to a product at the lower end of the price scale, but the Copper Canyon does more than enough to justify its place at the top of the table.
This 8-person tent is all about livability. It has 130 square feet of floor space, an 84-inch peak height, and near-vertical walls that maximize headroom throughout the tent. While some tents for 8 people are better suited for a combo of adults and kids, this one can genuinely accommodate 8 full-grown oldies, and with room to spare.
Compared to other tents in or around this price range, like the Core Instant Cabin Tent and the Wenzel Klondike, the Copper Canyon wins out on account of its extra space, superior weather resistance, and more durable materials.
As for features, the CC is a winner too, packing an extended awning, multiple interior pockets, adjustable vents, and a duo of mesh gear shelves.
PROs

Roomy
Tall center height
Ample interior storage
Two doors
Room divider
Extended door awning

CONs

Partial-coverage rainfly
No vestibule
Bottom-Line: An affordable, well-made family tent that's ideal for 2- or 3-season camping trips.
Marmot Lair 8-Person Tent
Best Basecamp Tent
If you're planning on more serious camping expeditions in three- or even four-season conditions, look no further than the Marmot Lair.
This waterproof tent may be pricey, but it's the only one on our list – and one of few 8-person models on the market – that is built to withstand extreme weather.
The Lair is made with 40D ripstop nylon fabric and has a 1,800mm HH rainfly and 5,000mm HH floor. This makes it both the second toughest tent on our list, after the Whiteduck Regatta, and by far the most waterproof.
The Lair is also a massive tent, boasting 169 square feet of floor space, a peak height of 96 inches, and 40 square feet of vestibule space to store gear or use as a screen room.
PROs

Lightweight
Fully waterproof
DAC aluminum poles
Lifetime warranty
2 doors
Vestibule

CONs

Pricey
Overkill for summer camping
Bottom-Line: Planning an extended camping trip where livability and weather protection are the top priorities? If so, this is the tent for you!
Core Instant Cabin Tent
Best Instant Tent
This cabin-style tent takes convenience to the next level, using poles that are pre-attached to the tent body to allow for easy-breezy, instant pitching.
The Core Instant tent is also spacious enough for two queen air beds and boasts a peak height of 76 inches. The addition of hanging storage pockets in the walls also means that all of the Core's 126 square feet of interior space is usable.
What we love most about this tent, instant setup aside, is how well it ventilates. In addition to its huge mesh doors and windows, the Core has "adjustable air intake vents" that draw in cool air from the ground while allowing hot air to escape through the mesh ceiling – a feature that makes it a standout performer in warm weather.
The only downsides to the Core Instant are its partial-coverage rainfly and low waterproof rating, but this is to be expected of a shelter in this price range.
PROs

Spacious
Zippered privacy panel
Hanging storage pockets
Takes one minute to set up
Electrical cord access port
Room divider

CONs
Bottom-Line: One of the best tents out there for buyers keen to enjoy hassle-free camping.
Wenzel Klondike
Best Value
Need a tent with a little more external storage space or somewhere to kick back and enjoy the sunset? If so, the Wenzel Klondike is well worth considering.
While this freestanding tent is a little short on space (98 sq. ft.), its main USP is a huge, 60-square-foot screen room. This feature can be utilized in various ways – as a "gear shed" for all your kit, a covered dining area, a seating area for pre-sleep card games and drinks, or even as a second sleeping area. It's so big you could probably park your car in there…!
Storage space aside, the Klondike's a very practical camping tent. Its extensive mesh panels mean it provides plenty of airflow when camping in warm weather, while Its freestanding design makes it easy to pitch and its interior pockets help you keep things tidy and organized. The all-mesh roof also makes it great for stargazing when the rain fly is removed.
While the Klondike lacks the weatherproofing of tents like the Copper Canyon or Marmot Lair, its partial coverage rainfly and Weather Armor polyester fabric will stave off any light rain showers. And while small compared to most other tents in its price range, the oversized screened room makes it ideal for camping families of 6 to 8 people.
PROs

Affordable
Huge screen room
Good ventilation
Easy to set up
10-year warranty
Functional carry bag

CONs

Small interior for 8 people
Partial-coverage rainfly
Bottom-Line: What the Klondike lacks in interior dimensions it makes up for with a huge (and hugely practical) 60-square-foot screened room.
Coleman Red Canyon 8-Person Camping Tent
Honorable Mention
This 8-person dome tent is a great choice for buyers who need extra space…and lots of it.
The Red Canyon has a whopping, 170-square-foot floor area, making it the largest in this 8-person tent review. Its dimensions are such that calling it an "8-person" feels a bit of a misnomer because you could easily squeeze at least a few more humans in there and still have room to spare.
Interior space aside, the Red Canyon does pretty much what you'd expect from a tent at this price point. It uses a partial-coverage rainfly, offers modest weather resistance, and has a few nice features, such as wall vents, room dividers that create three separate rooms, and a few wall pockets.
The main benefit of buying a Coleman tent is that you know what you're getting. The Red Canyon, like all Coleman tents, offers outstanding value for money. And while it lacks a few bells and whistles, and is a little short on weather resistance, it still holds its own compared to competitors that cost up to twice as much.
PROs

Huge!
Affordable
Good ventilation
Easy to set up
Large mesh windows
Two doors

CONs

Short on weather resistance
Low peak height
Less durable materials
Bottom-Line: A cheap, lightweight, multi-room tent with enough space to accommodate a small army, never mind a large family!
CORE 9-Person Extended Dome Tent
Best Budget
The CORE 9 Extended Dome Tent has it all: it's roomy, airy, weather-resistant, easy to set up, and far above average as regards durability and its ability to deal with rough treatment from both tent occupants and the elements.
Boasting 144 square feet of floor space, the CORE 9 can accommodate up to three queen air mattresses or 9 adult sleepers. And thanks to the addition of two extra ridge poles and a 72-inch (6 feet) peak, it also offers oodles of headroom, making it ideal for taller campers or those prone to catching "cabin fever" in smaller tents.
But this tent isn't all about the space…
It's made with CORE's water-resistant, H2O Block technology, which pairs a PU rainfly coating with heat-sealed seams to keep you dry in rainy conditions. And when humidity is high, the CORE 9's adjustable vents, mesh ceiling, and mesh windows will help keep things cool and stave off condensation.
Finally, despite having no vestibule area, this tent's palatial interior dimensions, combined with its internal pockets and gear loft mean it's also blessed with plenty of storage space.
PROs

Cheap!
Spacious
Lightweight
Adjustable vents
Gear loft and interior pockets
Power port

CONs

Partial-coverage rainfly
Fiberglass poles
Bottom-Line: Practical, comfortable, and just about as spacious as 8-person tents come, this is the ideal choice for families or groups of friends who like a little more in the way of livability.
Whiteduck Canvas Tent
Best for Glamping
If you're looking for an 8-person tent that feels like a true "home away from home," then the Whiteduck Canvas is well worth a place on your shortlist.
Made with 8.5 oz army duck cotton canvas and galvanized steel poles, this is about the closest to brick and mortar you can get in the world of temporary backcountry shelters. As such, it's a great pick for camping in foul weather and a dead cert to last at least a lifetime.
This is also the only tent on our list that has a stove jack. This feature allows you to heat the tent with a roaring log fire, just as you would with a wood-burner at home. Needless to say, this makes it the perfect pick for winter camping.
At 83 pounds, this is the heaviest tent on our list by a country mile. This makes it a better pick for long-stay trips – few campers, after all, are likely to be willing to lug all that poundage every time they want to spend a few nights away from home.
PROs

Extra-sturdy
Pre-installed heat resistant silicone-coated stove jack
3 windows and 3 roof vents
116-inch peak height
Waterproof

CONs

Heavy
Only ~90 square feet of sleeping/living space
Tricky to set up
Only one door (albeit a big one!)
Bottom-Line: One of the best tents out there for winter camping and campers looking for a shelter that feels just like home.
How to Choose an 8-Person Tent
Capacity, Peak Height, and Liveability
If you're in the market for an 8-person tent, the chances are that livability is a priority.
How livable any tent is will depend upon several factors, but most importantly the tent's floor dimensions, peak height, vestibule space, and storage features.
We recommend choosing a tent that will provide each sleeper with roughly 14 square feet of floor space, though 12 square feet should suffice if some of the 8 occupants are kids. Concerning peak height, the ideal is anything that won't force anyone in your group to crouch over when moving around inside, so around 74 inches and up if you're all under 6 feet tall.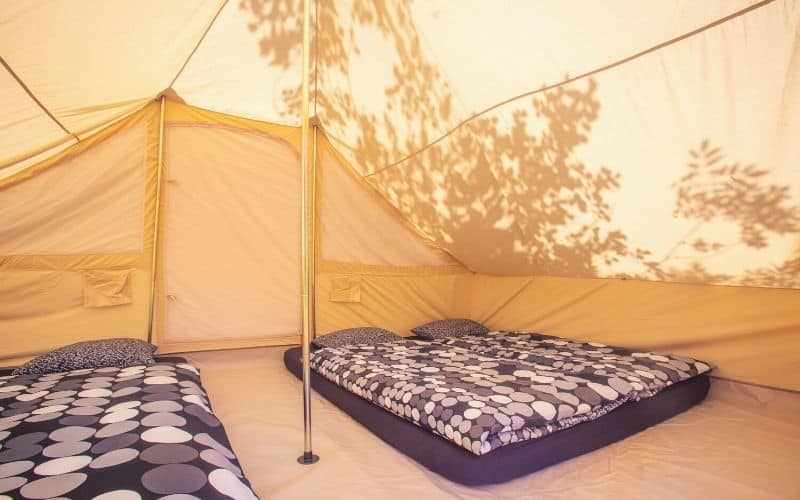 Vestibule (or screen room) space and storage features play an important part in a tent's livability, mainly because they free up interior floor space by allowing you to store your kit either outside or above the sleeping area.
While all of the tents on our list have wall pockets and/or gear lofts for storage, the only two with external storage (a vestibule or screen room) are the Marmot Lair and Wenzel Klondike Tent.
Weather Protection
A tent's weather protection is determined principally by two things: the extent of coverage provided by the rainfly and the hydrostatic head of the rainfly fabric.
Most 3-season tents have a full-coverage rainfly. This means the fly covers the entire tent, thus providing complete protection from the elements.
Many 2-season and budget tents, on the other hand, use a partial-coverage rainfly that leaves part of the inner tent exposed. This enhances ventilation but as you might imagine also weakens this type of tent's wet-weather protection.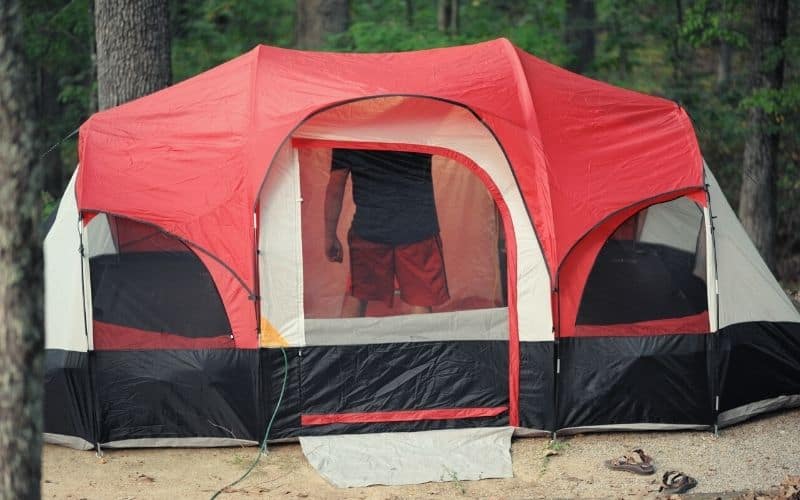 In our review, only the Marmot Lair has a full-coverage rainfly. As such, this is also the only fully waterproof tent on our list.
What about hydrostatic head? This is the rating system that distinguishes the degree of water resistance in fabrics. Simply put, the higher the hydrostatic head (HH), the more waterproof the fabric will be. For example, a tent with a HH rating of 2,000 mm, like the Marmot Lair, will offer more robust protection than one with a HH of 1,200 mm, like the Eureka Copper Canyon.
Material
When comparing options, it's advisable to pay attention to the materials used both in the poles and in the tent fabric.
With tent poles, the two most common materials used are fiberglass and aluminum. Aluminum is by far the better of the two as fiberglass is both easier to break and harder to fix or replace when broken.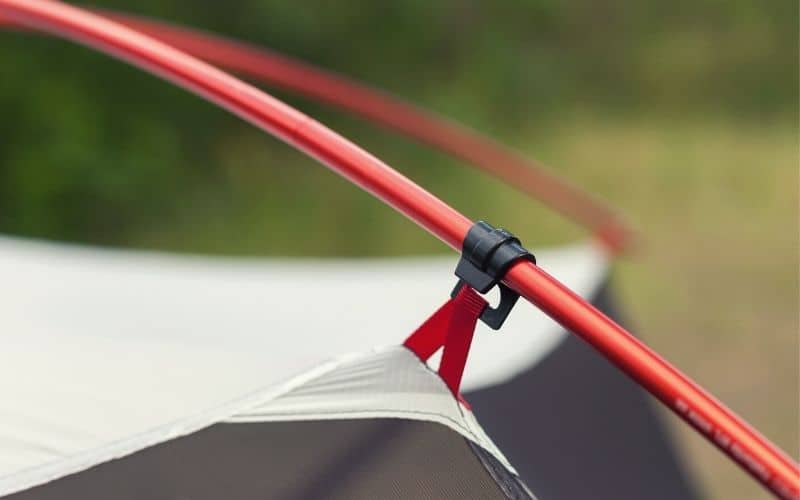 The most common fabrics used for tents are polyester and nylon, though canvas tents still occupy a small corner of the market and are enjoying a revival thanks to tents like the Whiteduck Regatta.
Canvas tents are, in short, tough as nails, but weigh a ton. As such, they're only a good option if you a) plan on camping very near where you park your vehicle, b) have a team of family members or friends to help with the pitching or c) enjoy a good struggle and have time and energy to spare.
With polyester and nylon tents, the differentiating factor is the density of the fabric and the type of weave used to create it. Fabric density is measured in denier, which is usually represented in the product spec as a single 'D', i.e. '40D', '60D', etc. The higher the number before the 'D', the denser and more durable the fabric.
The toughest tent on our list, after the Whiteduck Regatta, is the Marmot Lair. This not only uses burly 40D fabric but also a ripstop weave that, as the name suggests, makes it less likely to tear.
Ventilation
This is important for two reasons, especially when warm-weather camping. First, it prevents overheating in the summer months or when your tent's capacity is maxed out with occupants. Secondly, it helps to stave off condensation by allowing fresh air to circulate throughout the tent.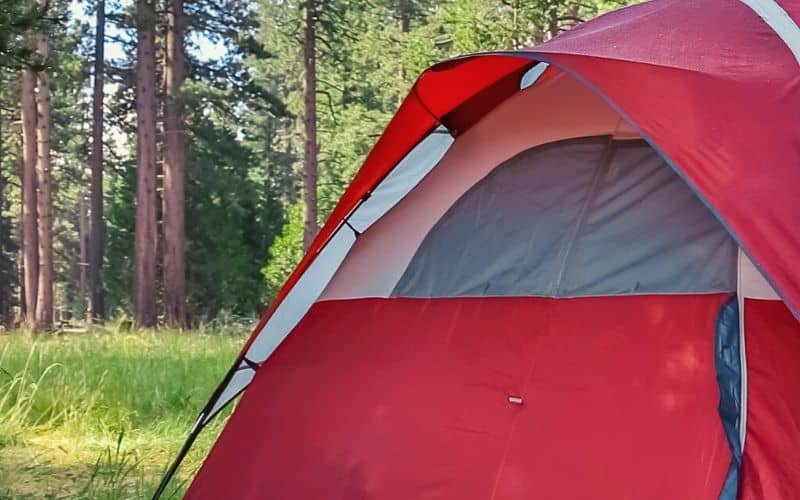 Ventilation-boosting features in camping tents include mesh panels in the canopy, vents in the rain fly and/or body, and large doors – ideally two of them.
Ease of Setup
Eight-person camping tents are, by definition, big. This being so, they're far trickier to pitch than their 6-, 4-, or 2-person siblings. Unless you can list 'wizardry' as one of your personal aptitudes, most of these tents are going to need an extra pair of hands to put up.
The easiest to pitch is the Core Instant Tent, which can be set up in roughly a minute thanks to its use of pre-attached poles. The toughest to pitch is the Whiteduck Regatta, which weighs 83 lbs. and is the only tent on our list that isn't freestanding.
Weight and Portability
All of the eight-person tents on our list are designed for car camping, though a few of the lighter models, like the Marmot Lair, Coleman Red Canyon, and CORE Extended Dome could feasibly be carried further afield if their weight was split between multiple carriers.
The heaviest tent on our list, by a large margin, is the 83-pound Whiteduck Regatta. If you end up buying this tent be prepared for a serious workout schlepping it from your vehicle to your campsite! The lightest model is the 18.2-pound CORE Extended Dome, though it's worth bearing in mind that this only has a partial-coverage rainfly.
Tent Features
A handful of features can seriously enhance any tent's practicality and convenience. The most important of these are a large vestibule for gear storage, a hinged door, room dividers for privacy, and internal storage features like a gear loft or built-in pockets in the tent walls.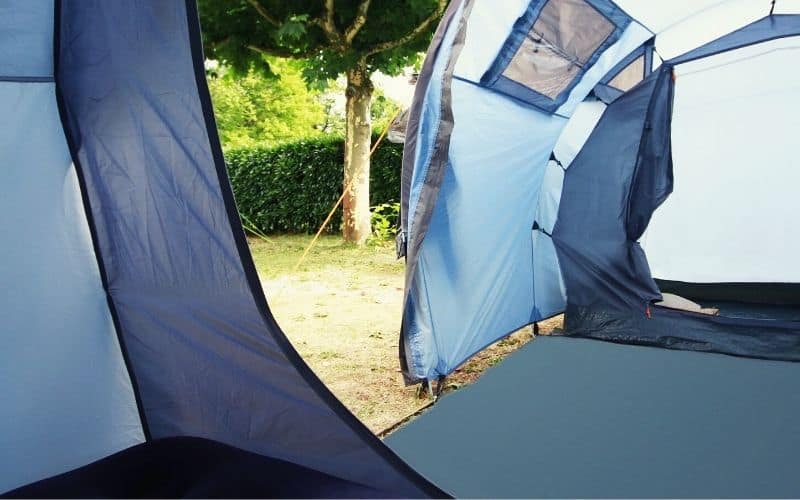 Best 8-Person Camping Tent: The Verdict
To recap, our favorite 8-man tent for group outdoor adventures is the Eureka Copper Canyon. This extra-large camping tent can comfortably accommodate 8 adults and boasts the perfect blend of solid weather resistance, convenience, and features that boost livability.
Heading to climes that require a hardier shelter? If so, our recommendation is the Marmot Lair. The Lair is more fortress than tent, boasting extra-robust waterproofing, a semi-geodesic design, and rugged materials that make it a standout in suboptimal conditions.
And if you're looking for bang for your buck, look no further than the CORE 9-Person. This dome-style shelter offers the most square footage per $ and boasts a wealth of handy features to boot.
So, how did you like our article? If you have any questions or comments about our favorite 8-person tents, please drop us a line in the box below. And feel free to share this post with your friends!
And for more information on camping tents (by size) be sure to check out these guides next: