What's the key to getting some healthy shut-eye during your nights under the canvas?
A good sleeping bag and sleeping pad help, of course. Non-snoring tentmates or a pair of effective earplugs are likewise advisable. But one other thing that can transform your backcountry bedtime experience from restless to "much more like home" is the humble but altogether invaluable backpacking or camping pillow.
In this article, we'll introduce you to 9 awesome pillows. We'll also provide all the advice you need to find the best option your budget will stretch to, whether you're looking for an ultralight pillow for thru-hikes or a luxury affair for front-country camping trips.
Editor's Choice
Sea to Summit Aeros Down
Imagine what it would be like to have a trail pillow that was so comfortable you'd be happy to swap it in for the pillow in your bed at home. The Aeros Down is that kinda pillow.
The Aeros Down is a hybrid-style model that combines the support of an inflatable camping pillow with the comfort of a compressible. The thermoplastic urethane lower chamber can be inflated to the desired height and is topped off with a plush, super-soft down fill.
But that's only part of the story…
The Aeros Down weighs a mere 2.5 oz., making it one of the lightest options on our list. As far as weight-to-comfort ratios go, it can't be beaten. Period.
And it gets better. Most inflatable and hybrids get a bad rep for sliding around while you sleep or being prone to punctures, but not the Aeros. It's made with robust 20d underside fabric for added durability and employs S2S's nifty PillowLock system to ensure it stays where you want it throughout the night.
There's no getting around the fact that this is a pricey option. Nevertheless, if you're here to find the pillow that will provide the most home-like experience at the lowest weight, this is it!
Bottom Line: An ultralight camp pillow you'll be tempted to use for car camping, in the van, and even at home!
At a Glance: Best Backpacking & Camping Pillows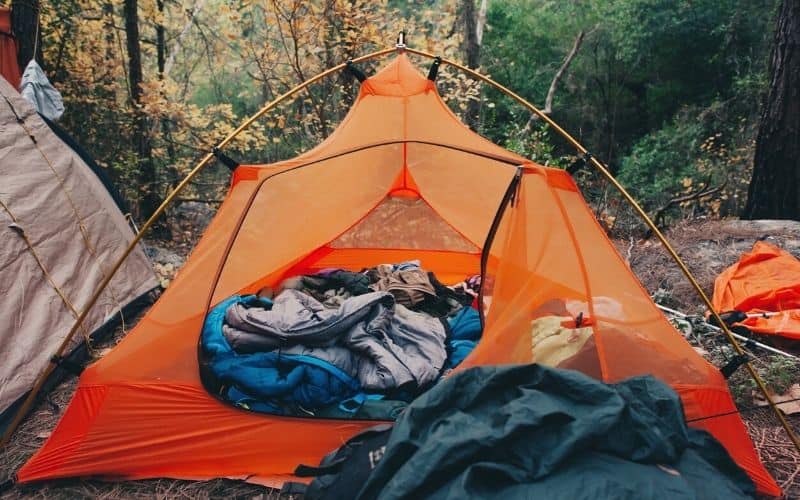 Reviews of the Top Backpacking Pillows
Sea to Summit Aeros Down
Editor's Choice
Whatever type of sleeper you are, and no matter what type of adventures you're planning on, the Sea to Summit Aeros Down is a great bedtime companion if comfort, support, and weight savings are – as they should be – high on your list of priorities.
Combining a thermoplastic urethane inflatable bladder with a luxurious down topper, the Aeros marries the best bits of inflatable and compressible styles of pillows. The bladder provides ample support even for side sleepers and the warm, lofty down topper offers comfort levels on a par with compressible models that weigh 5 times more.
That, in a nutshell, is the Aeros' genius and the USP that makes it well worth its slightly inflated price tag.
You're probably wondering if the above couldn't be said of all hybrid-style backpacking pillows. And yes, it's true that most hybrids tick the support and comfort boxes whilst also keeping weight to a minimum. However, the Aeros' down fill and use of horizontal baffles that maximize loft make it a true standout even compared to the top competitors in the ultralight hybrid category.
In a head-to-head with our list's other hybrid, the Nemo Fillo Elite, the Aeros came up trumps on account of its added height and lighter weight. If you're a back sleeper, however, and are happy to carry those 5 extra ounces to save a few $, then the Fillo Elite's a solid alternative.
Specs
Type: Hybrid
Weight: 2.5 oz.
PROs

Lightweight
Tough underside
Responsibly sourced down fill
Great support
Very comfortable

CONs
Bottom-Line: This soft pillows awesome support and just-like-home comfort make it well worth the added expense.
Therm-a-Rest Compressible
Best Value
If you're sitting on the fence between choosing an ultralight backpacking pillow or a more substantial car-camping pillow, then the Therm-a-Rest Compressible might just be the solution you're looking for.
Weighing in at 9 oz., this is the lightest compressible pillow on our list. Sure, it isn't going to win any prizes for featheriness, but it isn't going to break your back on a multi-day backpacking trip either.
The important thing here, of course, is that the latter is something that can rarely be said of compressible-style pillows – cast your eye toward the specs of the HEST Pillow (below) and you'll see what we mean!
Compared to ultralight air pillows like the Exped Air or Nemo Fillo, the Therm-a-Rest delivers what you'd expect from a compressible. It's more durable, softer, and offers better next-to-skin comfort. It also, however, takes up a lot more room in your pack and is 3-4 times heavier.
Weight and packed size aside, this pillow does a lot to endear. It has a soft foam filling that feels amazingly home-like, a brushed polyester shell, and measures a generous 18 x 14 x 4 inches. It's also made entirely with recycled materials and comes with a reassuring 2-year warranty.
Specs
Type: Compressible
Weight: 9 oz.
PROs

Comfortable
Affordable
Lightweight for a compressible
Durable fabric

CONs

A little heavy for multi-day backpacking
Bottom-Line: A great pillow for anyone who wants the comfort of a compressible without such a prohibitive weight penalty
HEST Camping Pillow
Best for Car Camping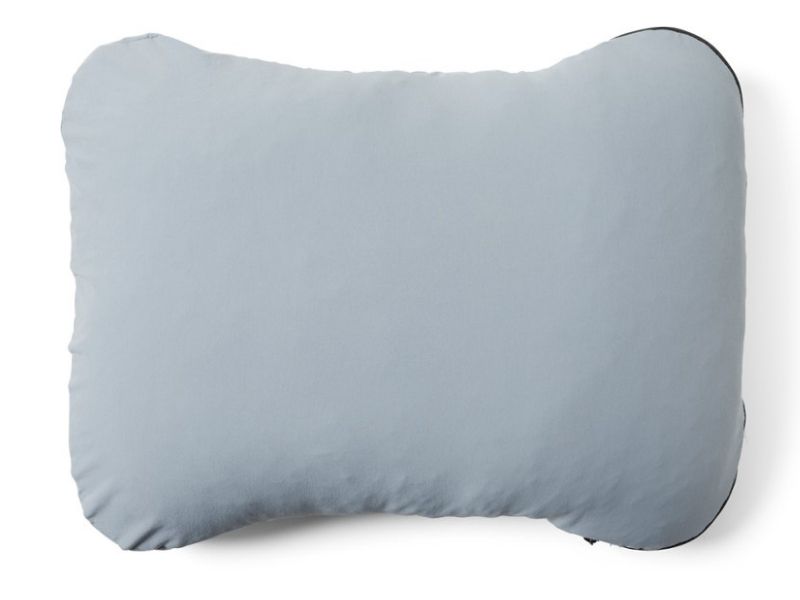 Some campers are simply unwilling to compromise on the comfort and coziness of their pillows at home. If that sounds like you, then the HEST is well worth a place on your shortlist.
This beast of a pillow is the heaviest and bulkiest on our list – by a large margin. Unless you happen to have a packhorse or personal Sherpa to haul your gear for you, then, it's far from ideal for backpacking.
But not all of us plan on venturing far and wide before setting up camp.
If you do most of your camping at roadside sites or from the back of your SUV, the HEST's heft and oversized dimensions are, in fact, a bit of a boon. They make it more supportive than the vast majority of its peers, as comfy as they come, extra-durable, and far less likely to slip out from under your head.
But the HEST has a lot more going for it than size alone.
Its shredded memory foam and polyester fill mean it won't flatten or lose its shape during the night, while zippered access to the fill allows you to customize the level of loft to your preference or sleep style. Unlike most pillows of this size, it also has a curved, ergonomic shape that sits snugly under your head and neck.
To top it all off, the HEST uses a stretch-woven face fabric cover that's soft against the skin, provides plenty of airflow, and is both water- and dirt-resistant.
Specs
Type: Compressible
Weight: 35.2 oz
PROs

Huge!
Comfortable
Ergonomic shape
Durable
Integrated stuff sack

CONs
Bottom-Line: Too heavy for backpacking, but an ideal pick for roadside camping if you want home-like comfort and are happy to pay for the privilege.
Nemo Fillo Elite
Best Hybrid Pillow
Looking for a super-comfortable hybrid pillow that doesn't break the bank? If so, your search can end here.
Let's cut straight to the chase. The Nemo Fillo Elite is one of the best ultralight backpacking pillows we've ever had the pleasure of popping under our wearied heads. It's light, highly packable, oh-so-comfortable, and far more affordable than most other hybrid backpacking pillows to boot.
It's made with a winning combo of I-beam baffled air cells and a thin layer of Primaloft insulation, which together provide ample support and oodles of comfort. The fill is also topped off with a soft jersey cover that's machine washable, cools the skin, and feels frickin' marvelous against the skin.
Wondering why this didn't win the award of best overall backpacking pillow overall?
Well, it might seem like we're splitting hairs, but there are a few (potential) downsides.
The most obvious of these is the Fillo's slender proportions – at 3" thick, this is the slimmest pillow on our list and therefore not ideal for side sleepers. And compared to the Aeros Down, the Fillo's less substantial base fabric did leave us wondering how long it would last if subjected to the odd spiky root or sharp rock around camp.
Specs
Type: Hybrid
Weight: 3 oz.
PROs

Cozy Primaloft synthetic-fill insulation
Soft face fabric
Tiny packed size
Made with recycled materials
Fits inside sleeping bag hood

CONs

Only 3" thick (great if you prefer flat pillows!)
Kinda pricey (but not bad for a hybrid!)
Bottom-Line: One of the most comfortable backpacking pillows out there for stomach and back sleepers. 
Nemo Fillo
Best Support
Tired of flat camping pillows? Or hard inflatables that leave your neck feeling like it's suffering a dose of whiplash come sunrise? We can sympathize. And we can also suggest a cure: the Nemo Fillo.
The above is a bold claim but the Fillo is, without doubt, the most supportive of all the inflatable, hybrid, or foam pillows we've ever tried.
Here's why.
The Fillo combines a tough air bladder base with a generously thick foam topper, providing you with 4 inches of firm but comfortable loft. There are thicker pillows out there, sure, but the foam used in this one offered just a little more "resilience" without feeling more like a basketball than something designed to let us sleep comfortably.
It also has a nice ergonomically shaped I-beam baffled air cell, an incredibly soft microsuede cover, and packs down to a bundle the size of a tennis ball,
The Nemo Fillo's 9-oz. weight makes it less suitable for long backpacking trips than other pillows on our list. But for roadside camping, travel, or shorter backpacking adventures, it's a great choice.
Specs
Type: Hybrid
Weight: 9 oz.
PROs

Luxury foam fill
Machine-washable microsuede cover
17" wide
Baffled air chamber reduces "balloon" feeling

CONs
Bottom-Line: A luxury pillow that provides a little extra width and the added support that side sleepers require.
Sea to Summit Aeros Premium Pillow
Best Inflatable Pillow
Are you a fast-and-light adventurer? Or someone who simply balks at the idea of sacrificing too much pack space to something that might be deemed a "luxury" item? If so, the S2S Aeros Premium is well worth considering.
Weighing just 2.7 oz., the Aeros Premium is only 0.7 oz heavier than the lightest pillow on our list, the Exped Air UL. As with all inflatables, both of these pillows are a little squeaky, prone to slipping, and a little hard under the head. But if you prefer a firm pillow and a little more loft, both are solid options.
If forced to choose between the two, we'd park ourselves firmly on the fence. For ounce-counters, the Exped's naturally a better choice given that it's a whole 4.7" wider. If durability is more of a concern, then the Aeros is your best bet – its 50D fabric is much more likely to survive rough treatment around camp than the Exped's 20D stretch polyester.
You might be wondering what differentiates the Aeros from the countless other worthy inflatables on the market.
For starters, we love the Aeros' ergonomic design. The top is contoured in a way that cradles the head, which makes it a little more stable than other inflatables.
Secondly, the mini-valve via which inflating's done through allows you to adjust the level of loft with ease, without a headlamp or even having to raise your head.
Finally, the Aeros' unique PillowLock system keeps your pillow exactly where it belongs when used in combination with an S2S sleeping pad, eliminating the most commonly cited drawback of nearly all inflatable-style backpacking pillows. The pad isn't included, of course, but if you need an excuse to buy one…
Specs
Type: Inflatable
Weight: 2.7 oz.
PROs

Lightweight
Adjustable
Tough fabric
Ergonomic design
Lock system attaches to S2S sleeping pads

CONs

A little bit wobbly
Not as comfortable as a compressible or hybrid pillow
Bottom-Line: A tough, lightweight backpacking pillow that's ideal for buyers who want the added support and packability of an inflatable without sacrificing too much in the way of comfort or durability.
REI Co-op Trailbreak
Best Budget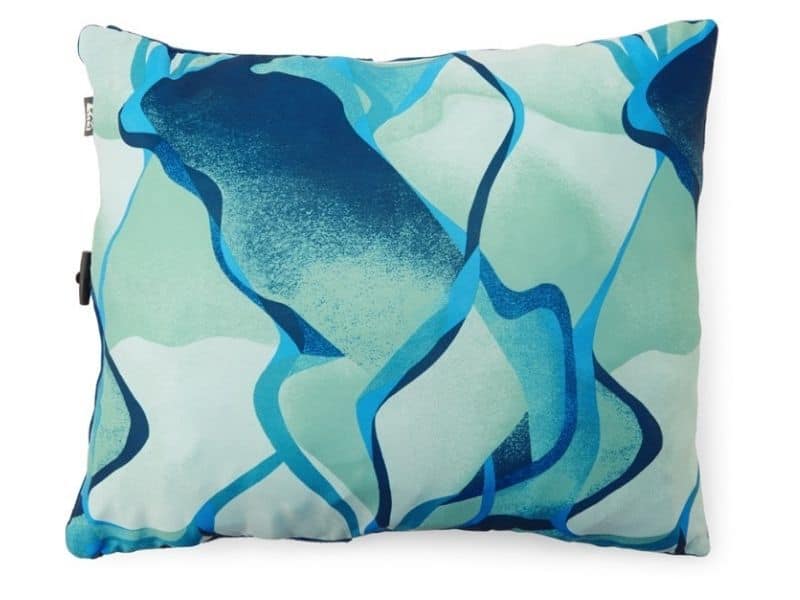 If you're the kind of backpacker who loves a bargain, get your pen out and scribble the name "Trailbreak" somewhere very near the top of your shortlist.
The Trailbreak is one of the most popular backpacking and camping pillows on the market. And with good reason.
At 10 oz., it's far heavier than the lightest pillows in our review. In return for that added heft, however, you get a high-quality, affordable foam pillow that ticks every other box.
The Trailbreak is made with upcycled scraps of foam that REI Co-Op use to make their self-inflating sleeping pads, which, handily, makes it one of very few self-inflating pillows on the market. When it's time for bed, all you have to do is pull it out of the storage pocket and watch as it transforms from a tennis-ball-sized bundle into a plush cushion five times its packed size.
Pretty neat, right?
Compared to its closest compressible competitor, the Therm-a-Rest Compressible, the Trailbreak's an ounce heavier, but also a little more affordable and packs down to a smaller size.
Specs
Type: Compressible
Weight: 10 oz.
PROs

Affordable
Made with upcycled foam
Small packed size
"Self-inflating"
Measures 18" x 14"

CONs
Bottom-Line: A nicely priced, highly packable, and generously sized self-inflatable pillow that's ideal for buyers who want the comfort of a compressible without paying through the nose.
Therm-a-Rest Trekker
Best Stuff Sack Pillow
The Therm-a-Rest Trekker is our go-to backpacking pillow for multi-day trips when pack space is at a premium.
This pillow packs down to the size of a large handkerchief and can easily fit inside a shirt pocket. When opened, however, it measures a healthy 17" x 14", making it one of the largest camping pillows on our list.
But how does it work? Well, as with all stuff sack pillows, the Trekker relies on your extra clothing for its loft, so we wouldn't recommend it if you're on a backpacking trip with your nudist colony or if you like to sleep in all the clothing you carry. (We tried filling ours with leaves once, but wouldn't recommend it!)
What we love most about this sack is that it weighs next to nothing but, thanks to its plush, brushed polyester exterior, allows us to enjoy a perfectly pillow-like experience without having to carry a separate pillow along for the trip. And when we're done with it in the a.m., we can also put it to work as a standard stuff sack for other bits of gear.
Gotta love gear that's multifunctional, right?
Specs
Type: Stuff sack
Weight: 2.3 oz.
PROs

Ultralight
Doubles as a stuff sack for other gear in daytime
Tiny packed size
Brushed polyester face fabric
2-year warranty

CONs

Comfort depends on what you fill it with
Bottom-Line: A great choice for backpackers happy to sleep on a makeshift pillow if it means saving precious cubic inches in their pack. 
Exped Air Pillow UL
Best Ultralight Backpacking Pillow
The Exped Air UL is ideal for backpackers and thru-hikers looking for a robust, thick pillow that provides plenty of support and at a (very) light weight.
Tipping the scales at just 2 oz., this is the lightest blow-up pillow on our list. But there are several other reasons why the Air UL has made a habit of picking up "Top Backpacking Pillow" awards over the years.
For starters: it may be a featherweight, but it's far from flimsy. While the Air UL's 20D fabric makes it less robust than the Aeros Premium, it's more than tough enough to deal with regular use and abuse.
Secondly, this is a large pillow – measuring 18.1" x 11.8" x 4.7", it's one of the widest and thickest pillows on our list, which makes it ideal for side sleepers.
Finally, if you're a stomach or back sleeper, the Air UL's low-profile FlatValve makes adjusting loft a cinch, while the anatomical shape means your head will be comfortably cradled and held in place no matter how much (or how little) you inflate it.
Specs
Type: Inflatable
Weight: 2 oz.
PROs

Ultralight
20D fabric
Soft face fabric
5-year warranty

CONs

Less comfortable than compressible and hybrid pillows
Pricey for an inflatable
A bit noisy
Bottom-Line: Light, large, comfortable, reasonably durable, and our favorite camping pillow for multi-day adventures. 
How to Choose the Best Backpacking Pillow
Backpacking pillows are more complex affairs than meets the eye. Different styles vary vastly in terms of what they offer in the way of comfort, support, and suitability for life on the trail. Earlier in this article, we promised we'd provide all the info you need to make a good choice. So, coming up you'll find all the advice you need to find the best backpacking pillow for you: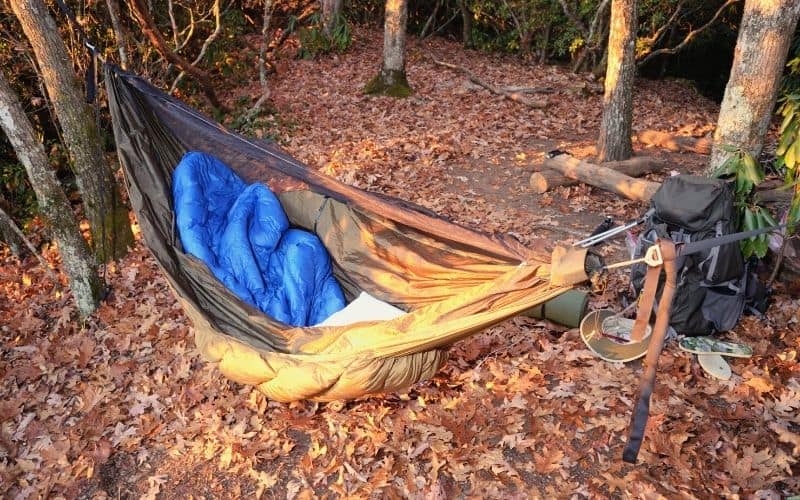 Inflatable Pillows vs Compressible Pillows vs Stuff Sack Pillows
Stuff Sack Pillows
Imagine how cool it would be to have a comfy, supportive pillow without having to pay (almost) any weight penalty? That, folks, is the main benefit of stuff sack pillows.
But what is a stuff sack pillow? As the name suggests, these pillows are modeled on the roll-top-closure bags used for storing gear, only they have a soft, brushed surface fabric for next-to-skin comfort. Come bedtime, you simply stuff them with a jacket, sweater, or other extra clothes, seal them up, and you're all set to snooze.
The ultralight weight of a stuff sack pillow makes them a shoo-in for ultralight adventures, whether you're thru-hiking or simply prefer to lug less burdensome loads. Moreover, unlike inflatables, they can't be punctured, and also serve as a handy stuff sack for other gear during the daytime.
The downside: these pillows, of course, will only be as comfortable as the materials you stuff them with.
Our list has only one stuff-sack pillow, the Therm-a-Rest Trekker. While there are plenty of good competitor models out there, this one's fair pricing, comfort, and intelligent design made it a standout.
Inflatable Pillows
Air. It weighs (virtually) nothing and yet can provide all the loft of the densest, heaviest fabrics out there when sealed inside an air-tight vessel. That's why inflatable pillows are popular with backpackers keen to shave ounces off their pack load without compromising on support.
Inflatable pillows are also highly packable and in many cases far cheaper than compressible or hybrid models.
There are however several drawbacks. What goes up, must/might come down, and inflatable pillows are the only type that will come down (i.e. deflate) when punctured. They're also a little wobbly and unstable as compared to a compressible pillow or stuff sack, and not nearly as soft.
That said, some inflatables, like the Sea to Summit Aeros, use nifty locking systems or anti-slip surfaces to help keep them in place. And all of them, of course, can be deflated to the level of firmness you desire.
Our list includes 2 inflatables, the S2S Aeros Premium and Exped Air UL.
Compressible Pillows
Want a pillow that closely resembles your pillows at home? If so, a compressible is the way to go.
These pillows are stuffed with materials that compress and expand, like shredded pieces of foam or compressible fiber. While this makes them heavy and bulky, it also makes them the most comfortable and supportive of the bunch.
As you might imagine, compressibles' weight and size make them less than ideal for backpacking. If you're car camping, however, or are willing to lug a few extra ounces in return for a little luxury and superior comfort, then this is the type of pillow you need.
Our list has 3 compressible pillows: the Therm-a-Rest Compressible, HEST, and REI Co-op Trailbreak.
Hybrid Pillows
These pillows use a combo of compressible materials and air to provide a happy medium between an inflatable and compressible pillow. In most cases, this takes the form of a lower inflatable bladder topped with a soft, upper layer of down or foam insulation that enhances comfort.
This design makes hybrids more comfortable than inflatables, but also heavier and equally prone to punctures. They're also lighter than compressibles but can be pricier.
There are 3 hybrids on our list: the Nemo Fillo, Nemo Fillo Elite, and S2S Aeros Down.
Comfort & Support
Let's start with the bottom line: a backpacking pillow that doesn't offer adequate comfort and support is not worth having.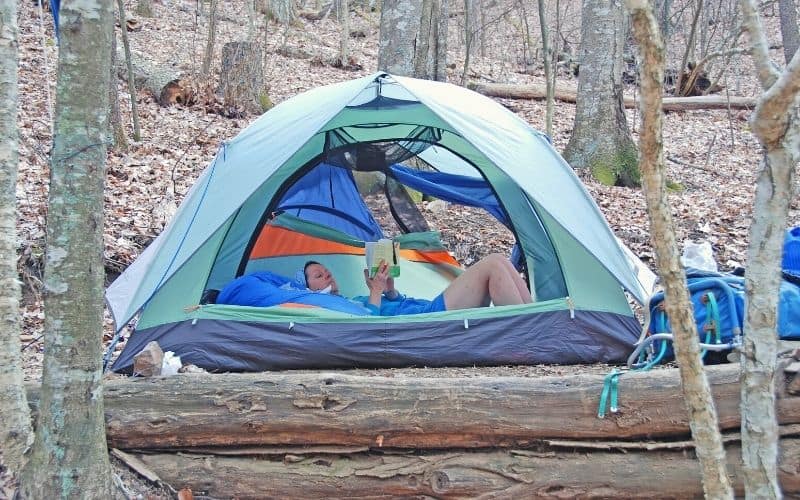 We chose all the pillows above because they deliver on these two core competencies, but certain models are more suitable for certain types of sleeper than others, and some of them are a little more supportive and comfortable than their peers.
Here's how to determine which will be best for you:
Side sleeper? If so, you'll need a little more height to support your neck and shoulders, which makes inflatables and hybrids the best option. A stuff-sack pillow will work well too, but only, of course, if you have something substantial to fill it with.
Back sleeper? In this case, a lower-profile pillow is usually preferable, which means any style of pillow might be a good match (even inflatables can be deflated to the desired height). That said, most back sleepers – and stomach sleepers – prefer the malleability of a compressible.
Generally speaking, we find compressibles and hybrids are the most comfortable of the bunch because they most closely mimic the coziness and loft of our pillows at home, especially when filled with down feathers.
Whichever style you choose, the next most important factor is the "face fabric" – i.e. the portion of the pillow that will be in contact with your phizog. The comfiest face fabric? Brushed polyester is the fabric of choice in many backpacking pillows on account of its soft feel and ability to absorb moisture. Because nylon can be slippery or sticky, it's best avoided.
We also prefer an ergonomically shaped or contoured pillow, like the Aeros and Exped Air. These provide better support for the neck and back and are also less likely to slip around while you sleep.
Weight & Packed Size
Solely car camping? If the answer is yes you'll not give one hoot about this metric and we advise you to proceed on to "Ease of Use." Why? Well, if your vehicle – rather than your legs – is responsible for carting your kit to your campsite, then you can afford to plump for a more comfortable pillow, weight and packed size be damned.
If you're backcountry camping, however, you want a hiking pillow that strikes the optimal balance between comfort, support, poundage, and packability.
What kinda pillow does that best? Inflatable and stuff sack pillows are good choices because they weigh almost zip and pack down super-small. But bear in mind these styles often entail sacrificing the comfort and support of a hybrid or compressible.
The lightest and most packable options on our list are the Therm-a-Rest Trekker (2.3 oz.) and Exped Air (2 oz.).
The weight of the compressibles above varies widely, from the relatively lightweight Therm-a-Rest Compressible (9 oz.) to the kinda cumbersome HEST (35.2 oz).
How to choose the best pillow for you? It's all about deciding how much comfort you're willing to trade for weight savings.
Ease of Use
This refers to three things: 1) how easy it is to deploy the pillow; 2) how easy it is to clean it; 3) how easy it is to sleep on the thing.
Deployment: Short on patience? If so, then you probably don't want an inflatable backpacking pillow that requires you to sacrifice around two minutes of your time to transform it from pouch to pillow, so the ready-to-roll configuration of a compressible pillow will be more suitable for you.
Cleaning: Machine-washable models like the Therm-A-Rest Compressible and Nemo Fillo are ideal if you're the type of camper who concerns themselves with things like hygiene. Most inflatables, on the other hand, can only be wiped clean.
Staying Power: Many pillows, especially inflatable ones, tend to slide out from under your head while you sleep. This, of course, sucks. Some manufacturers get around this by adding locking systems (see: S2S Aeros & Aeros Down), non-slip fabric, or contoured undersides that help keep them in place.
If you're a card-carrying tosser and turner, however, compressibles and stuff sacks are the type least likely to go AWOL throughout the night.
Durability
Make no mistake about it, the great outdoors is no place for flimsy, feeble fabrics. Rocks, trees, roots, foliage, twigs, crampons, tent poles, tent pegs, and clumsy campmates are just a few of the things that could send your pillow prematurely to pillow heaven if it ain't made with materials that cut the mustard.
Durability depends on a few factors. The most important, however, is the density of the fabric. Fabric density, or thickness, is measured in something called "Denier," which usually appears in product specifications as a solitary "D" – e.g., "20D," "50D," and so on. A higher denier count equals a more robust product, so look for models with 20-50D fabric if longevity is a concern.