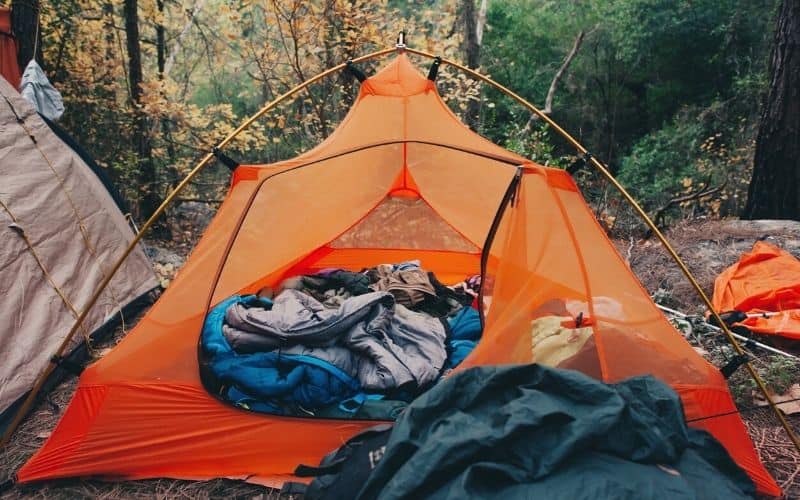 What Are The Best Camping Pillows?
Out of our best backpacking pillows shortlisted below the the Sea to Summit Aeros Down came out on top.
Sea to Summit Aeros Down
Therm-a-Rest Compressible
HEST Camping Pillow
Nemo Fillo Elite
Nemo Fillo
Sea to Summit Aeros Premium
REI Co-op Trailbreak
Therm-a-Rest Trekker
Exped Air Pillow UL
What Is The Best Camp Pillow Type For You?
Backpacking pillows are more complex than they appear, with various styles differing significantly in terms of comfort, support, and suitability for the trail. We've listed the main types below.
Inflatable
Compressible
Hybrid
Stuff Sack
Inflatable
Since air weighs almost nothing, inflatable pillows are popular with backpackers aiming to shave ounces off their pack load. They can offer the loft of the densest, heaviest fabrics without compromising on support.
Inflatable pillows are also highly packable and in many cases far cheaper than compressible or hybrid models.
There are however several drawbacks. What goes up, must/might come down, and inflatable pillows are the only type that will come down (i.e. deflate) when punctured. They're also a little wobbly and unstable as compared to a compressible pillow or stuff sack, and not nearly as soft.
That said, some inflatables, like the Sea to Summit Aeros, use nifty locking systems or anti-slip surfaces to help keep them in place. And all of them, of course, can be deflated to the level of firmness you desire.
Our list includes 2 inflatables, the S2S Aeros Premium and Exped Air UL.
Compressible
To resemble your home pillows, a compressible pillow is filled with materials that compress and expand, such as shredded foam or compressible fiber. While this makes them bulky and heavy, it also makes them the most comfortable and supportive option.
As you might imagine, compressibles' weight and size make them less than ideal for backpacking. If you're car camping, however, or are willing to lug a few extra ounces in return for a little luxury and superior comfort, then this is the type of pillow you need.
Our list has 3 compressible pillows: the Therm-a-Rest Compressible, HEST, and REI Co-op Trailbreak.
Hybrid
These pillows use a combo of compressible materials and air to provide a happy medium between an inflatable and compressible pillow. In most cases, this takes the form of a lower inflatable bladder topped with a soft, upper layer of down or foam insulation that enhances comfort.
This design makes hybrids more comfortable than inflatables, but also heavier and equally prone to punctures. They're also lighter than compressibles but can be pricier.
There are 3 hybrids on our list: the Nemo Fillo, Nemo Fillo Elite, and S2S Aeros Down.
Stuff Sack
Stuff sack pillows are designed based on roll-top-closure bags used for gear storage, only they have a soft, brushed surface fabric for next-to-skin comfort. Come bedtime, you simply stuff them with a jacket, sweater, or other extra clothes, seal them up, and you're all set to snooze.
The ultralight weight of a stuff sack pillow makes them a shoo-in for ultralight adventures, whether you're thru-hiking or simply prefer to lug less burdensome loads. Moreover, unlike inflatables, they can't be punctured, and also serve as a handy stuff sack for other gear during the daytime.
The downside: these pillows, of course, will only be as comfortable as the materials you stuff them with.
Our list has only one stuff-sack pillow, the Therm-a-Rest Trekker. While there are plenty of good competitor models out there, this one's fair pricing, comfort, and intelligent design made it a standout.
What Features To Look For In A Good Backpack Pillow?
To help you decide what style suits your needs best the following list shows what features to look out for in backpacking pillows.
Comfort & Support
Weight & Packed Size
Ease of Use
Durability
Comfort & Support
All the pillows in our review delivered on the two core competencies for pillows, comfort and support. However, certain models cater to specific types of sleepers better than others, with some offering superior support and comfort.
Here's how to determine which will be best for you:
Side sleeper? If so, you'll need a little more height to support your neck and shoulders, which makes inflatables and hybrids the best option. A stuff-sack pillow will work well too, but only, of course, if you have something substantial to fill it with.
Back sleeper? In this case, a lower-profile pillow is usually preferable, which means any style of pillow might be a good match (even inflatables can be deflated to the desired height). That said, most back sleepers – and stomach sleepers – prefer the malleability of a compressible.
Generally speaking, we find compressibles and hybrids are the most comfortable of the bunch because they most closely mimic the coziness and loft of our pillows at home, especially when filled with down feathers.
Whichever style you choose, the next most important factor is the "face fabric" – i.e. the portion of the pillow that will be in contact with your phizog. The comfiest face fabric? Brushed polyester is the fabric of choice in many backpacking pillows on account of its soft feel and ability to absorb moisture. Because nylon can be slippery or sticky, it's best avoided.
We also prefer an ergonomically shaped or contoured pillow, like the Aeros and Exped Air. These provide better support for the neck and back and are also less likely to slip around while you sleep.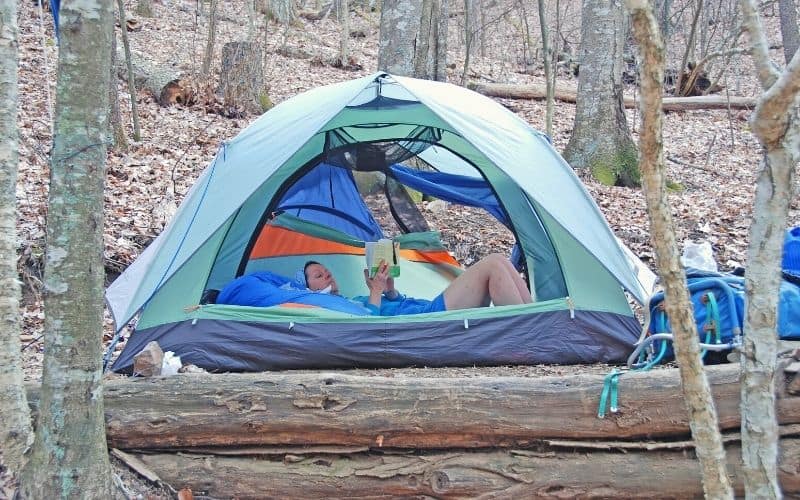 Weight & Packed Size
For car camping, the weight and packed size of your pillow are not significant considerations, but for backpackers, they are a critical concern.
If your vehicle – rather than your legs – is responsible for carting your kit to your campsite, then you can afford to plump for a more comfortable pillow, weight and packed size be damned.
If you're backcountry camping, however, you want a hiking pillow that strikes the optimal balance between comfort, support, poundage, and packability.
What kinda pillow does that best? Inflatable and stuff sack pillows are good choices because they weigh almost zip and pack down super-small. But bear in mind these styles often entail sacrificing the comfort and support of a hybrid or compressible.
The lightest and most packable options on our list are the Therm-a-Rest Trekker (2.3 oz.) and Exped Air (2 oz.).
The weight of the compressibles above varies widely, from the relatively lightweight Therm-a-Rest Compressible (9 oz.) to the kinda cumbersome HEST (35.2 oz).
How to choose the best pillow for you? It's all about deciding how much comfort you're willing to trade for weight savings.
Ease of Use
When it comes to backpacking pillows ease of use refers to three factors: 1) ease of deploying the pillow; 2) ease of cleaning it; 3) ease of sleeping on it.
Deployment: Short on patience? If so, then you probably don't want an inflatable backpacking pillow that requires you to sacrifice around two minutes of your time to transform it from pouch to pillow, so the ready-to-roll configuration of a compressible pillow will be more suitable for you.
Cleaning: Machine-washable models like the Therm-A-Rest Compressible and Nemo Fillo are ideal if you're the type of camper who concerns themselves with things like hygiene. Most inflatables, on the other hand, can only be wiped clean.
Staying Power: Many pillows, especially inflatable ones, tend to slide out from under your head while you sleep. This, of course, sucks. Some manufacturers get around this by adding locking systems (see: S2S Aeros & Aeros Down), non-slip fabric, or contoured undersides that help keep them in place.
If you're a card-carrying tosser and turner, however, compressibles and stuff sacks are the type least likely to go AWOL throughout the night.
Durability
The most important factor for durability is the fabric density of the pillow. Fabric density, or thickness, is measured in "Denier," often seen in product specifications as a singular "D," such as "20D," "50D," and so on. A higher denier count indicates a more durable product, so consider models with 20-50D fabric for increased longevity.
Make no mistake about it, the great outdoors is no place for flimsy, feeble fabrics. Rocks, trees, roots, foliage, twigs, crampons, tent poles, tent pegs, and clumsy campmates are just a few of the things that could send your pillow prematurely to pillow heaven if it ain't made with materials that cut the mustard.