A backpack is the most useful piece of gear you'll purchase for any hiking or backpacking trip. After all, there's no point in purchasing fancy or expensive gear if you have nowhere to put it!
For beginner and experienced hikers alike, the price of gear is often a sore point that has resulted in many DIY and duct-tape solutions throughout the years. When it comes to the top hiking packs, some of the best brand-name models can cost $200 plus. Ouch!
These days you can find a more affordable alternative that will provide the same comfort, durability, and fit as those expensive models – without the hefty price tags!
In this article, we'll help you find the best option to suit your particular hiking needs and style. We've also included all the important considerations you should make before choosing a pack, so read on to find out more!
Best Affordable Packs by Category
Cheapest: Neekfox 35 L and Outlander Lightweight
Best Value: Nevo Rhino Advance and REI Co-op Flash 22
Lightweight: Neekfox 35L, Outlander Lightweight, and Deuter Speed Lite 20
Comfortable: Nevo Rhino Advance, Teton Sports Scout 3400, and Deuter Speed Lite 20
Editor's Choice
Nevo Rhino Advance 45 L + 5 L
Looking for a durable bag to get you through everything from half-day trips to multi-day adventures?
The Nevo Rhino Advance is our top choice for cheap backpacking backpacks thanks to its high-quality build, good suspension and multiple storage compartments. You'd normally pay big bucks for a hiking backpack with so much value!
This pack has a 45-liter + 5-liter capacity and is loaded with all the essential features you'd normally find in premium bags. It has a steel internal frame, a highly-adjustable waist buckle system, multiple pockets and storage compartments and these are just some of the impressive extras this budget-friendly pack offers.
Overall, we feel like the Nevo Rhino is a premium backpack disguised as a budget one. It'll get you through any short to medium-length trips without too many compromises.
Bottom line: The Nevo Rhino offers incredible value and plenty of premium features all for a modest price.
Reviews of Our Top 9 Budget Backpacks
Nevo Rhino Advance 45 L + 5 L
Editor's Choice
Amongst all budget backpacks for hiking out there, the Nevo Rhino really stands out for all the premium features it offers yet at an affordable price tag.
The Nevo Rhino is an internal frame backpack with a 45 L + 5 L capacity (thanks to a top lid). It's made of waterproof and durable ripstop nylon and provides enough space for 2 – 3 day trips.
It's obvious that the Nevo Rhino was designed with comfort in mind. The highly-adjustable waist buckle system easily stands up to heavy loads while its thickly-padded shoulder and waist strap will keep you comfortable as you trek on. An ergonomically designed bracket structure disperses the pack's weight and relieves pressure from your shoulders.
For one incredibly convenient price, you'll get a bunch of very useful organization compartments and features. Two mesh side pockets, carabiners, webbing attachment points and more pockets at the bottom, top, and center allow you to easily access and organize your gear.
Overall, the Nevo Rhino has a high-quality and durable build you'd normally see on models that cost double the price. While it's not as highly adjustable as more expensive options like the Amazon Basics 75-liter pack, it's a well-rounded backpack for people looking for value while on a budget.
PROs

Lightweight
Affordable
Durable materials
Multiple storage compartments
Replacement parts warranty for 1 year

CONs

On the heavy side
Not as adjustable as some more expensive packs
Bottom-Line: Few budget hiking backpacks offer as much comfort, durability, and value for your buck as the Nevo Rhino.
Teton Sports Scout 3400 (55 L)
Runner Up
If you're an occasional outdoor enthusiast, the Teton Sports Scout probably isn't for you. This is a versatile and rugged backpacking pack that's slightly on the heavy side, so it's best for accompanying you on 2 – 5 day trips.
The Teton Scout is an internal frame backpack with a 55 L capacity. It offers you exceptional comfort that you can customize. This pack features a multi-position torso that can be adjusted to fit a wide range of body sizes and the aluminum internal frame and 600 denier Oxford canvas material allow it to handle loads up to 75 pounds.
There's no denying that at 4.5 lbs., it's a heavy pack. But the padded shoulders, waist belt, and open-cell foam lumbar pad provide all-day comfort even during your toughest treks. Storage compartments galore allow you to organize your gear and many are designed for quick, easy access.
We chose the Teton Sports as our runner-up due to its adjustability and good suspension system. If the weight of the Teton Sports is putting you off, try the Nevo Rhino instead. You'll be sacrificing adjustability but you'll get a similar capacity and number of storage compartments.
PROs

Big capacity
Good suspension system
Lots of padding
Lifetime warranty
Rainfly included

CONs

Heavy
On the pricey side for budget packs
Bottom-Line: While it might be a little heavy and a little pricey for some, the Teton Sports' large capacity and highly adjustable suspension system make it the ideal backcountry companion.
REI Co-op Flash 22
Best Value
The REI Co-op Flash is a comfortable and versatile daypack that's feature-packed for its reasonable price tag. A simple design and streamlined features allow this day pack to perform well across all metrics.
The REI Co-op offers robust suspension and padding for a lightweight pack. While the suspension system can't handle heavy loads, few other packs on our list balanced price, weight and function so well. The REI Co-op excels for day trips, running or even commuting (a 14-inch laptop fits snugly into the hydration sleeve!)
Other impressive features include breathable, stretch-mesh shoulder straps, a removable pack pad, a hydration sleeve, and multiple storage compartments both inside and outside the pack. As an added bonus, the Flash 22 is made from sustainable materials and has even been given bluesign® product designation.
While the Outlander Lightweight is lighter and less expensive, you'll be missing out on all the extra features of the REI Flash like the removable back panel and the customizable bungee.
PROs

Lightweight
Removable back pad, waist, and sternum straps
Comfortable suspension
Sustainable materials

CONs

Not as durable
Uncomfortable with heavy loads
Bottom-Line: Reliable and lightweight, the REI Flash 22 offers impressive all-around performance for a budget hiking pack.
Neekfox 35 L
Best Budget
The Neekfox is a comfortable, budget hiking pack made from tough, ripstop nylon. It's a good choice for anyone looking for a mid-range capacity pack suitable for day trips or short, multi-day trips in the wilds.
Where the Neekfox excels is in its simple and lightweight design. Coming in at an extra-light 0.91 lbs. and with a roomy 35 L capacity, it strikes a good balance between weight, durability, and price. For extra convenience, this pack can even be folded into its own storage pocket when not in use.
The Neekfox isn't the most adjustable pack on our list. While the s-shaped, breathable shoulder straps can be adjusted, the sternum strap cannot. If you're planning on carrying lots of bulky or heavy gear, you might want to upgrade to a heavier pack like the Nevo Rhino for the extra comfort.
PROs

Lightweight
Durable
Affordable

CONs

Sternum strap not adjustable
Bottom-Line: A lightweight and durable pack that doesn't compromise on comfort despite its affordable price tag.
Patagonia Refugio 26
Most Versatile
If you're looking for a day pack that's functional both on and off the trail, the Patagonia Refugio is likely a good fit for your needs.
The Patagonia Refugio is a 26-liter, lightweight day pack with 3 main compartments that adapt to a wide range of needs. It has a padded laptop compartment sleeve that works well for commuting or can transform into a padded valuables compartment and hydration sleeve while on the trail.
This pack is made from 100% recycled polyester which has a PFC-free DWR coating applied to it, making it durable and reliable. The convertible back panel is slightly padded for added comfort, but it does lack some of the ventilation of other lightweight packs.
If all these extra features are making your head spin, try the more streamlined Deuter Speed Lite. You'll enjoy a similar weight and capacity with a more simplistic and easy-to-use design.
PROs

Convertible back panel
Sustainable materials
Lightweight

CONs

No waist belt
Not much ventilation
Bottom-Line: The Patagonia Rifugio is a lightweight bag that works double duty as both a day pack and a commuter backpack.
Amazon Basics 75-Liter Pack with Rain Cover
Best for Backpacking
If you regularly head out into the backcountry for multi-day backpacking adventures, we suggest choosing the Amazon Basics 75-liter pack.
This high-capacity pack from Amazon features an internal frame and extensive storage pockets and compartments. But that's just the start of its long list of features! This pack also includes a water-repellent coating, a sleeping-bag compartment, multi-directional compression straps and an integrated rainfly. That's quite a long list of features for its reasonable price!
When carrying a pack with such a high carrying capacity, comfort and adjustability are crucial. The Amazon Basics pack has an adjustable torso length, a removable frame, and adjustable shoulder straps and belt around the waist. All these features encourage even weight distribution and allow you to customize the pack to suit your body type.
Overall, the Amazon Basics is our top choice as a multi-day backpacking backpack. It has the highest capacity on our list without skimping on comfort, making it ideal for long trips in the wilds.
PROs

Large capacity
Water-repellent coating
Rain cover included
Limited, 1-year warranty

CONs
Bottom-Line: A highly-adjustable, high-capacity pack with lots of added features that boost its comfort, convenience, and functionality.
Teton Sports Oasis Hydration Backpack
Best Hydration Backpack
Teton have taken their extremely popular hydration pack and made it even better. The Teton Oasis is an 18 L hiking backpack with an integrated, 2 L hydration system.
The Teton Oasis is adjustable in the shoulders, chest, and waist, ensuring a snug fit while out on the trail. It features a rugged high-denier ripstop shell and other extras like padded shoulder straps, bungee shock cord storage, a cushioned bike valve, a rainfly, and a safety whistle.
The Teton Oasis is the only budget hiking backpack on our list with an integrated hydration bladder. While both the Nevo Rhino and REI Co-up come with hydration sleeves, neither includes the actual hydration pack straight out of the box.
PROs

Hydration bladder included
High-denier ripstop nylon
Lifetime warranty

CONs

Less capacity
Less durability
Bottom-Line: A lightweight and comfortable day pack with the convenience of a built-in hydration bladder.
Outlander Lightweight Travel Backpack 33 L
Best Ultralight
The Outlander is a solid choice for anyone looking for a lower-capacity, lightweight backpack for day treks or short, multi-day trips.
Weighing in at just 0.7 lbs., it's the lightest pack on our list yet still offers a roomy 33-liter capacity. The backpack is made from highly rip and water-resistant nylon fabric, which protects your gear from the elements without adding extra bulk or weight.
While not exactly overflowing with extra pockets, you'll still enjoy a roomy main compartment and a front zippered pocket to hold small accessories. When not in use, you can fold the Outlander into its own storage pocket.
The Deuter Speed Lite is similarly streamlined and lightweight… but it's almost 3x the price. With extras like the Delrin® U-frame padded back panel and a removable hipbelt, you'll have to decide if the Deuter Speed's extra features are worth the added price.
PROs

Affordable
Ultralight
Reflectors
Durable nylon

CONs
Bottom-Line: A feather-light option that boasts some surprising, functional features for its affordable price tag.
Deuter Speed Lite 20 liter Hiking Backpack
Best for Day Trips
The Deuter Speed Lite is a good choice for people that need a simple, no-fuss pack to get them through half or all-day hikes.
The Deuter Speed is a lightweight pack designed for optimal comfort. It features a padded back panel and shoulders and a flexible, tensioned Delrin U-shaped frame for maximum comfort without weighing you down.
Whilst the Neekfox and the Rei Flash are similar lower-capacity bags that weigh slightly less than the Deuter Speed Lite, they skip on the comfort of having an internal frame. If you're not used to carrying a heavy pack, this frame could make the difference between a comfortable day trip and limping all the way back to the trailhead.
The Deuter Speed Lite's suspension system is adjustable at a number of points to ensure a proper fit. Another great feature is the removable hip belt. If your pack is light, just remove the hip belt to shave off extra weight.
While you won't be lugging much bulky winter gear in its 20 L capacity, the Speed Lite features a variety of specialized compartments to help you organize your essential kit, including a compartment for a 3-liter hydration system.
PROs

Lightweight
Internal frame
Reflectors
Durable ripstop nylon
Lifetime warranty on manufacturer's defects

CONs
Bottom-Line: The Deuter Speed Lite makes a fine choice for long-day hikes thanks to its balance between low weight, comfort, and simplicity. 
How to Choose a Budget Hiking Backpack: Important Considerations
When choosing the perfect backpack it's essential to know what features to look out for to ensure you have a comfortable journey. To get you started, we've included this guide with all the elements and variations you may come across when choosing a great hiking backpack on a budget.
Backpack Size & Capacity
Backpacks are not one size fits all! Backpacks range from tiny daypacks to full-sized models designed for lengthy adventures. Pack volume refers to how much space there is in the pack and is measured in liters. The lightest packs typically have a 10 – 20 L capacity while large packs can even reach 80 L.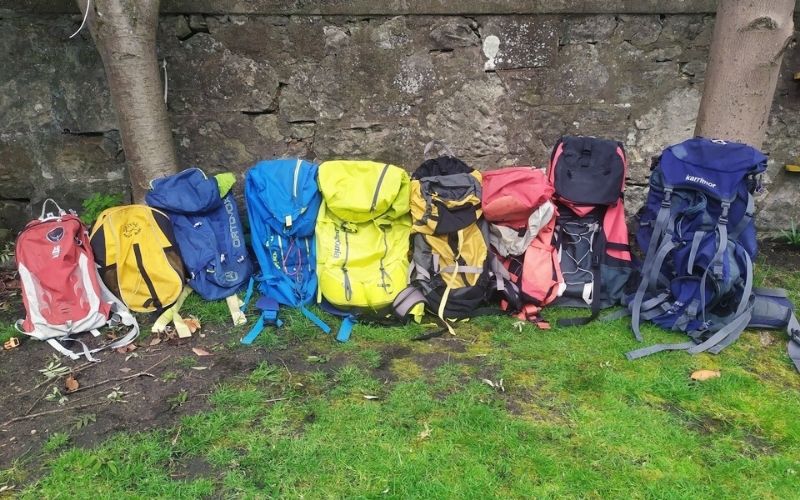 To determine the capacity you need, consider the length of your trip and how much weight and bulk you're willing to carry. If you're planning some lengthy overnight trips, then you'll want the least amount of weight on your back as possible, and that means choosing a lighter pack.

Here are our recommended backpack capacities based on the length of trip:
| Length of Trip | Pack Volume (Liters) |
| --- | --- |
| Single Day/Overnight (1-2 nights) | 20 – 30 |
| Weekend (2-3 nights) | 30 – 50 |
| Multi-day (2-5 nights) | 45 – 55 |
| Extended (5+ nights) | 55+ |
If you're a typical backpacker, as opposed to an ounce-counting minimalist, opt for a pack that's 10 – 15% bigger than what you need. Remember that for winter backpacking you'll need even more room to compensate for bulky gear like cold-weather sleeping bags and tents.
Some backpacks have an adjustable torso length, meaning the shoulder strap and hip belt can be lengthened or shortened. These are a great option as it is unlikely you'll find a backpack that offers the perfect fit straight off the rack, even if it is available in multiple sizes.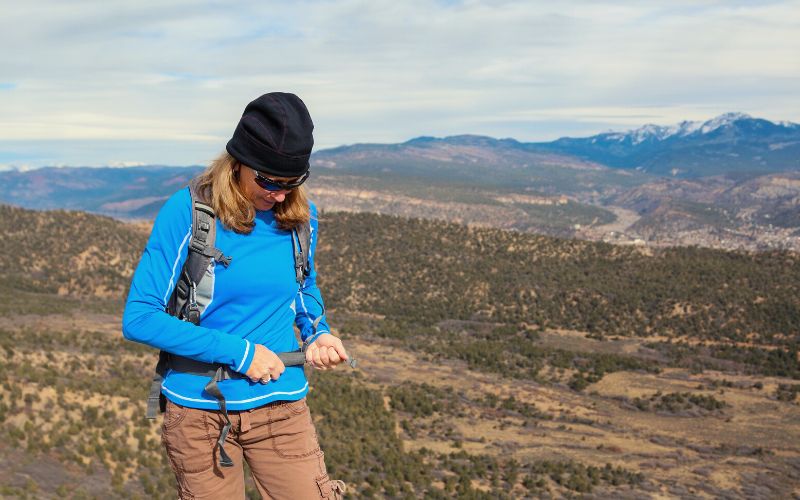 Weight
Weight is one of the most important considerations when choosing a pack. While 6 lbs. might not seem like a lot of weight, it feels a heck of a lot different when it's strapped to your back for 6 hours!
A reasonable backpack weight for the average hiker is anywhere between 3.3 lbs. and 6.6 lbs. A good rule of thumb is to make sure your backpack never weighs more than 10% of the weight of the total load you're carrying.
There is one caveat though – heavier backpacks tend to have extra features for added comfort, padded straps for example. If you're planning on hauling 40 lbs. of gear with you, it might be worth it to choose a slightly heavier pack if it results in a more comfortable carry.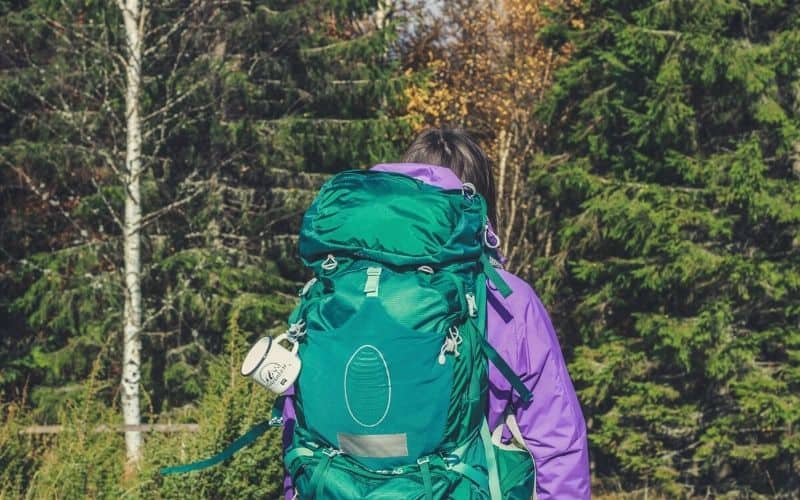 The Outlander Lightweight is the lightest pack on our list at just 0.7 lbs. while the Amazon Basics pack is the heaviest at 5.1 lbs. This reason for this weight discrepancy becomes apparent when you look at the carrying capacity – the Outlander can hold 33 L while the Amazon Basics has a whopping 75 L!
Comfort – Padding, Suspension, and Hip Straps
Padding
Comfort is essential when it comes to hiking gear, but especially so when it comes to backpacks. You'll be carrying heavy gear on your back for extended periods of time, so the ride needs to be comfortable.
Great hiking backpacks are fitted with padding over all the straps that come in contact with your body to prevent chafing and discomfort. Padded shoulder straps are important, as are padded hip belts since most of your pack load sits on your hips.
Suspension systems
Backpacking and hiking packs have a suspension system designed to support the load of the weight you're carrying. The suspension system means every part of the pack that comes into contact with your body – think shoulder straps, load lifter straps, the waist belt, the sternum strap, and the back panel.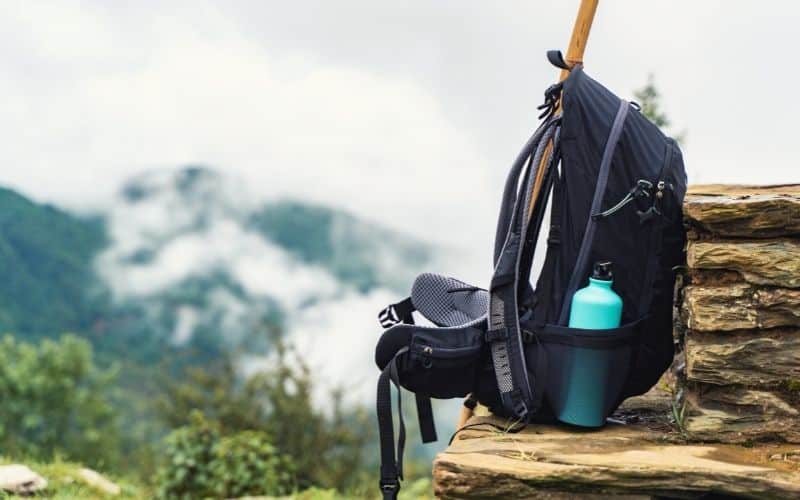 A well-fitted suspension system allows you to properly balance the load on your back and carry it comfortably. Here are some of the qualities you should look for in each of these features:
Shoulder straps help your shoulders to carry some of the load of your hiking pack. If your pack is evenly distributed then your shoulders should only bear about 20% of the load, but that can get mighty uncomfortable, mighty fast, if the shoulders aren't padded or ventilated.
Choose a backpack with wide, padded shoulder straps for maximum comfort. If you regularly hike in warm weather, you might also want to look for breathable, mesh shoulder straps which allow for better ventilation.
Load lifter straps are found at the top of the shoulder straps and are used to shift some of the load onto your back. When you cinch these straps, they will snug your pack closer to your body which should lead to a more comfortable carry as you adjust the weight off of your lumbar. Ideally, load lifters should form a 45° angle between your shoulder straps and the pack.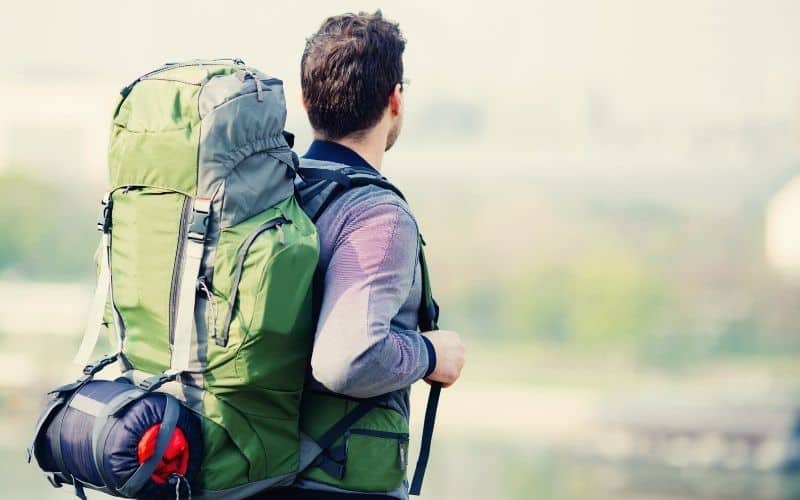 The hip or waist belt is by far the most important part of the suspension system. A fitted and well-padded hip belt helps transfer most of the pack weight from your shoulders to your stronger lower body.
The back panel (or lumbar pad) is the padded section that rests against your back. Some back panels are heavily padded for comfort while others are made of breathable mesh for ventilation. Some ultralight backpacks skip the back panel altogether to save on weight.
Materials and Durability
Hiking backpacks come in all sorts of materials and each has an effect on the comfort, durability, and weight of your bag.
Nylon is one of the most popular materials you'll see in hiking backpacks because it's strong, durable, and mold and water-resistant. Nylon comes in different deniers – the higher the denier, the higher the durability and water resistance, but also the higher the price tag.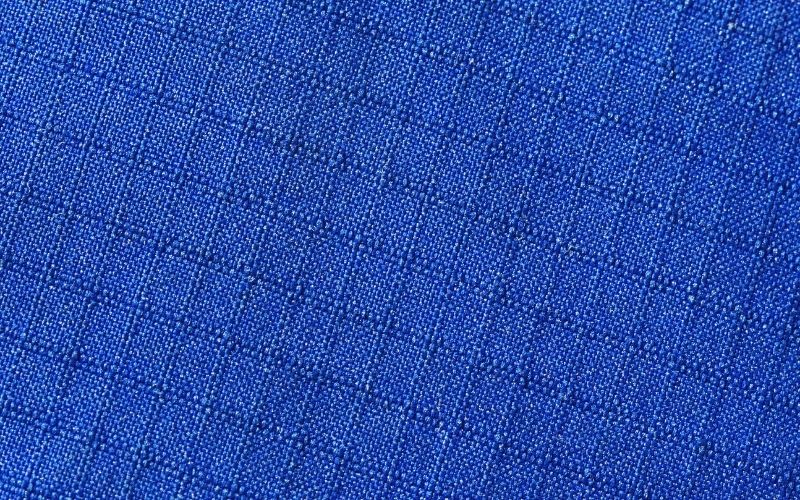 Polyester is another plastic-based fabric that shares many similarities with nylon. Like nylon, polyester is durable and water-resistant, although you'll want to use a pack liner or raincover when dealing with a moderate or heavy downpour. Polyester bags also tend to be heavier than nylon bags.
Adjustability and Fit
You haven't experienced pain until you've carried a fully-loaded yet ill-fitting backpack on a rocky mountain trail! No amount of padding will save you from a poorly fitted backpack that is forcing most of the pack's weight onto your shoulders.
Backpacks come in a variety of sizes and torso lengths. Some packs also come with adjustable suspension systems which are an excellent choice since it's always tricky to find a pack that matches your torso length right off the rack. The only drawback is that an adjustable suspension system adds weight.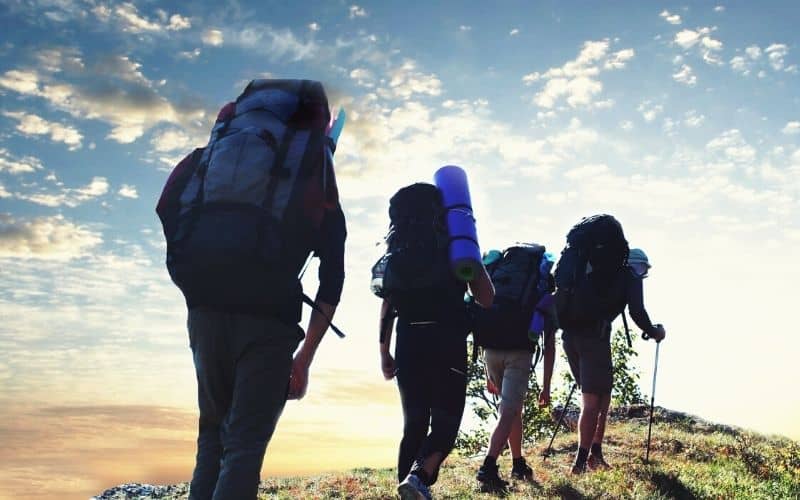 To get the right fit, start by measuring your torso – this means measuring from the nape of your neck all the way down to the 'iliac crest' – or the center point of your spine between the tops of your hip bones. This is your torso length.
Next, get your hip measurement by wrapping your tape measure around your hips while hugging the iliac crest. While it's rare for a backpack's torso length and hip sizing to be off if you've chosen the correct torso length, it can't hurt to check. You'll be carrying the majority of your pack's weight on your hips, so a good hip belt fit is important for your sanity!
Backpack Features
Sleeping Bag Compartment
This is usually a zippered pocket located on the bottom of your pack. It's a water-resistant compartment that allows you to load or unload your sleeping bag without unpacking your entire backpack.
Water Bottle Pockets
This one's fairly obvious. Water bottle pockets are usually mesh pockets located on the sides or front of your backpack, designed to hold water bottles. If you're using a hydration bladder you can store other loose gear here.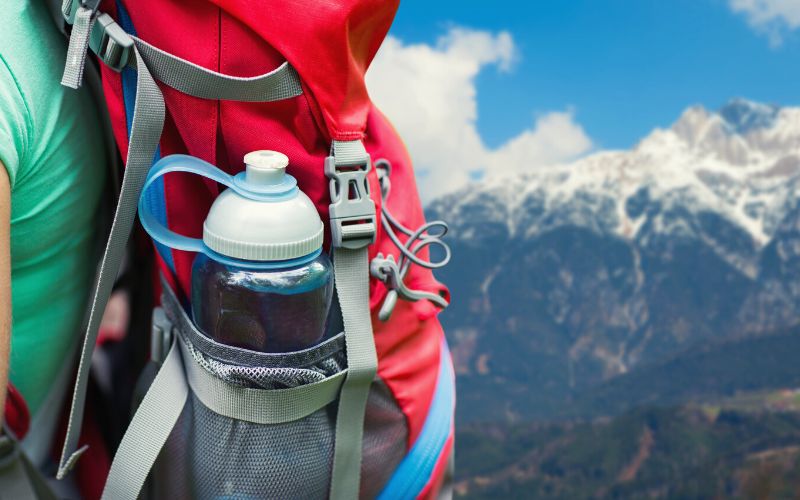 Compression Straps
Ever wonder what all those straps that seem to be going nowhere are? They're called compression straps and they do actually have an important purpose.
First, they help you adjust the size of your back to match the amount of gear you're carrying. Second, if you tighten the straps it keeps your pack closer to your body allowing you to distribute the weight more evenly. Lastly, you can use them as bungee cords to quickly stash gear.
Daisy Chain
A daisy chain is a fabric loop that's stitched to the front of a hiking pack. They are most often used to attach carabiners so that you carry a water bottle, helmet, or other gear that doesn't fit into your pack.
Hydration Sleeve
Some backpacks have a hydration sleeve where you can stash your hydration bladder. Make sure you double-check the size of the compartment as most can only accommodate up to a certain size of hydration bladders.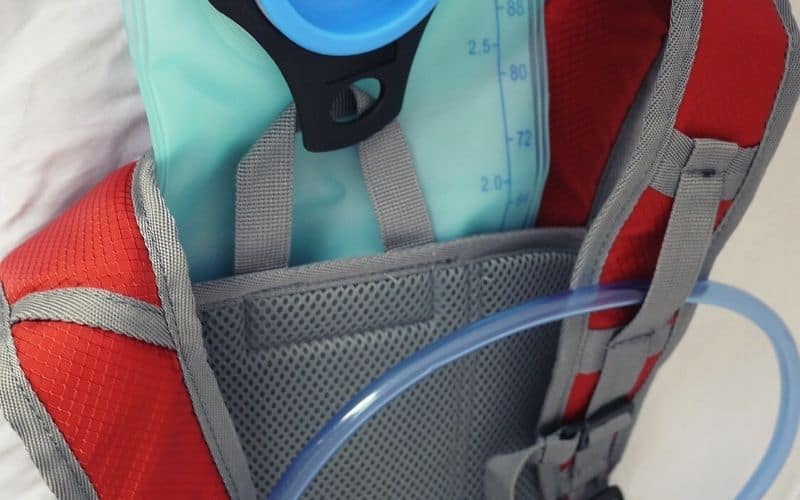 Rain Cover
A rain cover is a protective covering that's usually built right into your pack and stored in its own compartment. It's designed to keep rain from soaking into the material of your pack. It's important to note that a rain cover usually won't keep your pack dry in a heavy downpour – for that you'll need a dedicated pack liner.
Sternum Strap
This is the strap that runs across your chest and connects your shoulder straps. The sternum strap is designed to pull your shoulder straps into the center of your body, which can boost stability. They can be tightened or loosened across your chest and can usually be adjusted vertically along the shoulder strap.
Hip Belt Pockets
Zippered hip belt pockets allow you to quickly access important gear while on the trail. They serve a similar purpose as top access pockets, but they're even more convenient since you don't have to remove your pack to access them.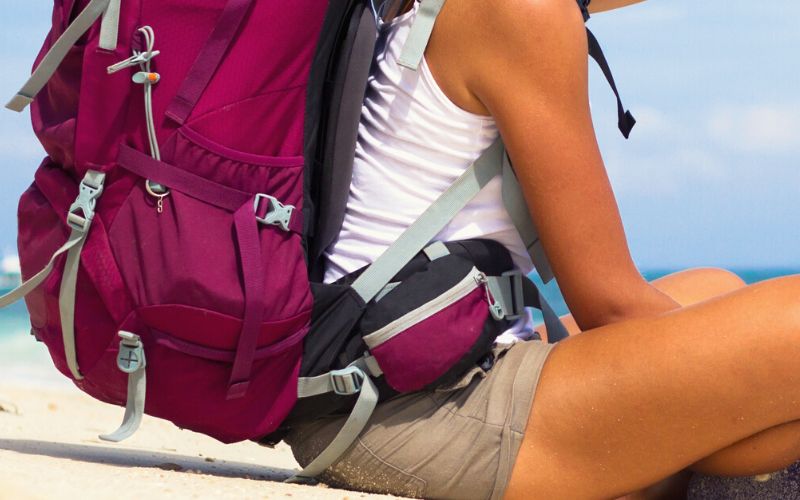 Warranty
Some outdoor brands offer either a limited or lifetime warranty on their gear (although the latter seem to be going the way of the dodo). With a limited warranty, the brand will replace something that they deem to be a manufacturer's defect. This means that if you accidentally rip your pack, it's likely not going to be covered.
A lifetime warranty usually means the brand will provide replacement parts, do repairs and even replace gear, no questions asked. The Deuter Speed Lite and the two Teton packs all come with a lifetime warranty.
Just remember that it's the brand that decides whether that rip in your pack came from regular wear and tear or a manufacturer's defect.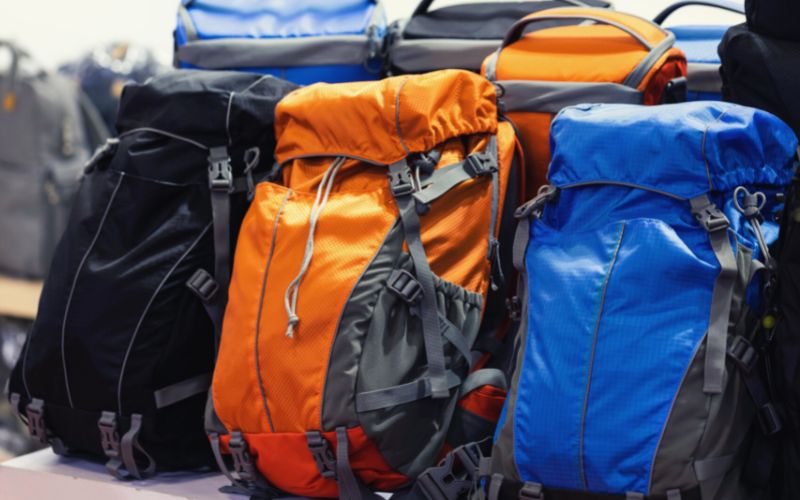 Best Cheap Hiking Backpack FAQs
What size hiking backpack do I need?
The size of the backpack you choose should depend on the length of your hiking trip and how much gear you need to carry. A small-sized pack between 10 – 25 L will suit most average hikes. If you regularly head on multi-day treks or hike in winter, then you'll want to choose a larger pack in the 25- 30 L range.
How do I find a backpack that fits?
When choosing a hiking backpack size remember that the key measurement is your torso length – not your height. Measure your torso and compare it to the torso ranges listed on each pack size. If you fall between sizes, opt for the bigger size. Remember that even if your pack size is correct for your torso length, it's still important to check your hip measurement.
How should I pack a backpack?
Start by placing your bulky gear and items you don't need until you camp at the bottom. Keep heavier items near your core to maintain the balance of weight closer to your back. At the top of your pack store your essential items, like your first aid kid, fleece, or map. Lastly, the accessory external pockets are good for storing small items you might need urgently or often.
Best Budget Hiking Backpacks: The Verdict
When choosing the overall best affordable backpacking pack, the Nevo Rhino came out as the clear winner. Despite losing a few points for adjustability, no other pack provides the same level of comfort, convenience, and function for such an affordable price tag.
If you're looking for an ultralight model, we suggest the Deuter Speed or the Outlander Lightweight – both will seriously lighten your load. If instead, you're heading on a multi-day adventure, the Amazon Basics pack will provide customizable comfort, mile after mile.
If you've got any questions about the best budget hiking backpacks on our list, feel free to give us a shout in the comments below. And if you enjoyed this article, don't forget to share it with your hiking and backpacking pals!