There are few better ways to relive the wonders of a backpacking trip than by looking at photos of your expedition.
But snapping all those superb photos requires a quality hiking camera. Although you could use your smartphone, packing a backpacking camera is by far the best way to ensure your photos capture the moment as well as you remember it.
If searching for the best model makes your head spin with all those specs and technical jargon, worry not—we're here to help.
In this article, we'll introduce you to 10 of the best trail-ready cameras. We'll also offer in-depth guidance to help you choose the perfect model for your needs.
Editor's Choice
Sony Alpha a6400
If you're going to have one camera in your quiver, you better make it the Sony a6400.
This lightweight and weather-resistant model has a 24.4-megapixel APS-C sensor and the ability to shoot video in 4K. It's also compatible with all of Sony's FE and E series lenses, providing you with exceptional flexibility in your photography.
Of course, the crop sensor design and lack of in-body stabilization in this model is a bit of a bummer. Despite this, it's still a winner in terms of all-around performance and image quality.
Bottom Line: There are few cameras available that can compete with the Sony s6400 in terms of versatility and quality.
The Best Camera For Backpacking: Things To Consider
Cameras are not easy pieces of gear to shop for. So, whether you want to go backpacking with DSLR cameras or day hiking with a mirrorless model, here's what you need to know to get started.
Camera Type
Before we discuss the finer points of cameras, it's important that you understand the different types on the market. Here's a quick glance at the different cameras you might encounter as you shop:
Point and Shoot – These models are as simple as they get. They have built-in lenses and pre-set exposure settings so you just have to position them and shoot. While lightweight, these models create lower-quality images.
DSLR – Digital single-lens reflex, or DSLR, cameras are a type of photo-taking device that uses a mirror to project an image onto the sensor. They provide superb image quality but are heavy and bulky.
Mirrorless – Mirrorless cameras ditch the mirror found in DSLRs in exchange for weight savings. They're high-quality and very versatile but tend to be pricey.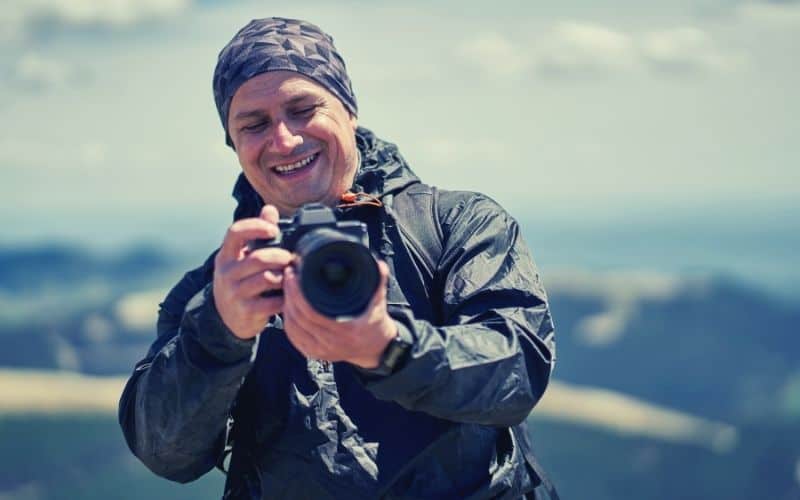 Weather Sealing
If you're going to take your camera hiking and backpacking, you need a model that's water-resistant.
The good news is that most models are designed to be fairly weather-sealed. However, if you want a truly weather-sealed model that you don't have to worry about in the rain, a waterproof camera is your best choice. There aren't many fully waterproof cameras out there, though, and those that do exist are often compact models.
So, it's often best to look for a model with a modest amount of weather sealing than to limit your search only to truly waterproof cameras.
Focal Lengths & Lens Selection
The focal length of a camera lens is effectively the distance between the sensor and the lens's optical center, expressed in millimeters.
The actual physics behind this is not important. But the idea is that smaller focal lengths allow for wide-angle shots while longer focal lengths allow for more magnification.
However, longer focal-length lenses aren't always better. If you want to photograph something far away or to get more detail in a shot without approaching your subject, they can be nice. But smaller focal lengths (24mm to 50mm) provide a wide-angle point of view that's nice for landscape photography.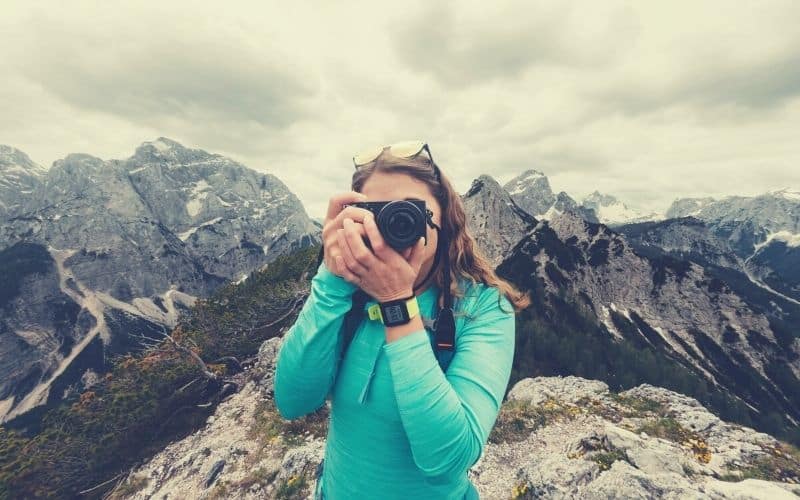 If you go hiking with DSLR or mirrorless cameras, you will have access to interchangeable lenses. In these situations, you can change your lens to suit your needs. Alternatively, compact cameras rarely allow for interchangeability. So, what you see is what you get.
Battery Life
In cameras, battery life is expressed in terms of the total number of shots you can take on a single charge. However, the total shooting time you get out of a single charge will also depend on how much time you spend messing around with settings and flipping through images.
That being said, you can always carry spare batteries with you on the trail. While this isn't ideal from a weight perspective, you'll find that a second set of batteries is a must for backpacking, anyway.
Therefore, while battery life is important, we wouldn't make it your sole criteria for selecting your next camera.
File Format Support
Depending on how much you like to edit your photos after an adventure, the type of file formats supported by your camera may be a concern. These days, most models shoot in one or more of the following formats:
You could take a whole class on the pros and cons of each file format. But, suffice it to say that RAW and JPEG are the most popular choices, but for different reasons.
RAW files (alongside TIFF files) are uncompressed formats. In somewhat simplified terms, this means that they do not reduce the quality of the file to save space on your memory card. If you like to do extensive post-production editing on your photos with software like Lightroom, you'll want to use RAW or TIFF files.
Meanwhile, JPEG (and DNG, but this is not a common format) are compressed formats. This means that they reduce the size of your image to save space on your memory card. Doing so is fine if you don't plan to edit your photos with a specialist software. But if you enjoy editing, RAW or TIFF capability is important.
Sensor Resolution & Size
The sensor of a digital camera is essentially the digital equivalent of film. A sensor captures the image you take and helps convert it into a photo. However, every camera's sensor is different both in terms of its size and resolution.
The standard sensor size is called a full-frame (35mm) sensor, which is 36x24mm. Why? Well, this was the size of the film used back in the day.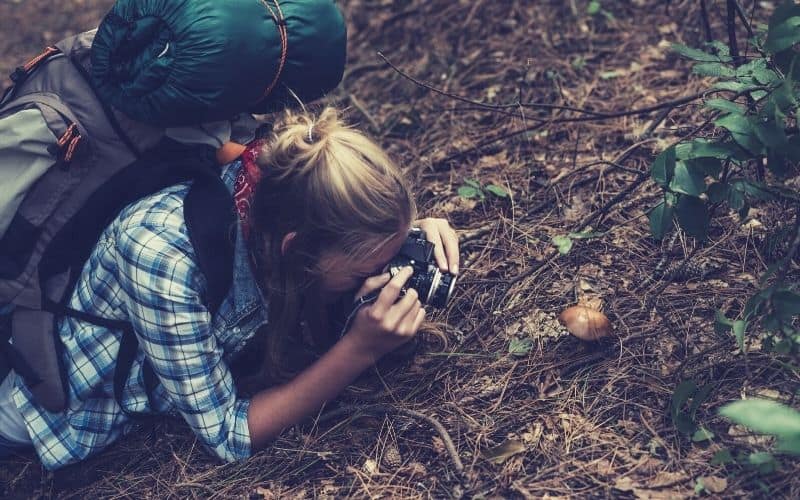 Smaller sensors (called crop sensors) exist, too. These crop sensors, such as APS-C, are cheaper to produce, though they are sometimes correlated with lower image quality.
Meanwhile, resolution refers to the sensitivity of the sensor, measured in megapixels. All else being equal, you can usually expect a higher resolution (i.e. more megapixels) sensor to create higher quality images.
But, we could talk for days about the nuances of sensor resolution and how it impacts cameras. So, the moral of the story is that resolution is something to consider, but it shouldn't be the only factor in your decision-making.
Weight & Portability
When in the mountains, the weight and portability of your gear are essential.
As far as cameras go, you're usually going to find that point-and-shoot models are the most compact. Meanwhile, your standard DSLR camera is going to be heavy and bulky.
But, what you save in weight on the trail often comes at the cost of image quality. So, many folks find that mirrorless cameras offer the best balance of weight savings and functionality on the trail.
Photography Inspo Across the States
Need some inspiration for your next shots? Then look no further than our hiking guides:
The 9 Best Backpacking Cameras
Point and Shoot
Olympus Tough TG-6
Best for Waterproofing
Decidedly durable, the Olympus Tough TG-6 is one of the best compact cameras on the market for outdoor photography.
Olympus crafted the Tough TG-6 to be fully waterproof up to 50ft, so it's the perfect companion in the mountains. It's one of the lightest models available, too, with a weight of just under 9oz.
As far as image formats go, the Tough TG-6 can shoot both RAW and JPEG, which is rare in compact models with this kinda price tag. It also offers 4K video and a battery life of up to 340 images, so it's a great compact camera for hiking.
The downside to the Olympus TG-6 is that it has a pretty small optical zoom range of 25mm to 100mm (35mm equivalent). It also has no exposure compensation settings and its manual controls are fairly tedious. But, when getting a weather-resistant camera is your priority, the Tough TG-6 is hard to beat.
PROs

Lightweight and highly portable
Fully waterproof camera body design
High quality 4K video capabilities
Decent battery life

CONs

Menu navigation is confusing
Poor focal length range and zoom power
No exposure compensation settings
Bottom-Line: The Olympus TG-6 is a fully weather-sealed camera that every true adventurer ought to have in their pack.
Sony RX100 VII
Best For Image Quality
If you won't settle for anything but the finest in image quality, the Sony RX100 VII might be what you need.
This high-end point-and-shoot is made with a ZEISS zoom lens, which is one of the finest in the industry. It offers an impressive 20.1-megapixel sensor size with both digital and optical image stabilization to ensure crystal-clear photos.
Although it doesn't have an interchangeable lens, the ZEISS Vario-Sonnar T* f/2.8-4.5 lens on this camera offers plenty of focal range with 24 to 200mm of zoom. It also offers 4K video and superb auto-focusing for quick snaps in the mountains.
While the battery life on this model isn't ideal (240 frames), the RX100 VII is light enough that you could easily carry a spare. Plus, even though this model is a bit pricey, it's a great camera if quality images are your goal.
PROs

Fantastic ZEISS lens
Great focal range for hiking
Very high-resolution sensor
4K video and quality images

CONs

Expensive for this type of camera
Relatively low battery life
Canon Powershot G7 X Mark II
Best Value
With the Canon G7 X Mark II, getting a quality camera for hiking doesn't have to cost a fortune.
As one of the best value options on the market, the Canon G7 X Mark II is a mid-range point and shoot that boasts a solid 20.1-megapixel resolution. It's a compact camera with a weight of just 11.25oz, so it's a nice option for remote adventures.
It features an easy-to-use tilting screen electronic viewfinder as well as the ability to shoot RAW and JPEG. Furthermore, it has optical image stabilization for higher-quality photos as well as a packable lens hood to cut glare while you shoot.
While the G7 X Mark II's relatively small focal and aperture ranges aren't ideal for all photography styles, it is great in low light. Additionally, despite the lack of 4K video capabilities, the G7 X Mark II is still an amazing choice for aspiring photographers.
PROs

Great 20.1-megapixel screen resolution
Total weight of only 11.25oz
Tilting screen for ease of use
Nice performance in low light

CONs

No 4K video capability
Limited aperture range (f/1.8 to 2.8)
Zoom isn't great (only 100mm at 35mm equivalent)
Bottom-Line: If you need a compact camera for outdoor adventure that doesn't break the bank, it's hard to go wrong with the Canon G7 X Mark II.
Mirrorless
Sony Alpha a6400
Editor's Choice
An all-around performer in remote terrain, the Sony a6400 wins our award as the best backpacking camera available.
This mirrorless camera tips the scales at just 14.22oz, making it one of the lightest on the market. It has a 24.4-megapixel APS-C sensor with the ability to capture both JPEG and RAW. Furthermore, it has a 180-degree tilt screen to ensure ease of use while you're outside.
As with all Sony mirrorless cameras, the Alpha a6400 is compatible with all Sony E and FE lenses. So, you have a spectacular range of high-end lenses to choose from for image quality.
While the Alpha a6400 is a quality camera for outdoor photography, we should mention that it doesn't have body image stabilization. Its kit lens selection will also leave the professional photographers among us wanting. But you can always upgrade to a lens that suits your needs.
PROs

Low weight and super packable
180-degree tilt screen for ease of use
Compatible with all Sony lenses
JPEG and RAW capabilities

CONs

Kit lenses aren't great
Lacks built-in image stabilization
Bottom-Line: For folks that want one camera body for backpacking and hiking to do it all, the Sony a6400 is your go-to.
Olympus OM-D E-M5 Mark III
Best Compact Mirrorless
When cutting weight in your pack without sacrificing quality is your main priority, you ought to consider the Olympus OM-D E-M5 Mark III.
This compact mirrorless camera has a timeless aesthetic with great weather sealing for outdoor use. In addition to being weather-sealed, this model boats built-in image stabilization and 4K video for increased versatility.
It can also capture both JPEG and RAW on its 20.4-megapixel sensor. Furthermore, the OM-D E-M5 Mark III is compatible with the Micro Four Thirds system. So it offers the ability to use a slew of affordable and highly compact lenses during your adventures.
The downside to this model is its smaller image sensor, which can affect clarity in certain conditions. It also has a mostly plastic body construction, which is a bit of a durability concern. However, if you need a smaller mirrorless camera for hiking and backpacking, the Olympus OM-D E-M5 Mark III is worth considering.
PROs

Weather-sealed for outdoor adventure
Micro Four Thirds (MFT) compatible
Lightweight and compact
4K video capabilities
Built-in image stabilization

CONs

Small image sensor
Plastic construction affects durability
Bottom-Line: Small and portable, the Olympus OM-D E-M5 Mark III is one mirrorless camera that feels custom-made for a life on the trail.
Fujifilm X-T3
Best for Video
Jonesing to shoot some sweet footage while you're hiking and backpacking? The Fujifilm X-T3 might be what you need.
Featuring 4K functionality for video and the ability to shoot up to 60fps, the X-T3 is a go-to for up-and-coming videographers. It also has an excellent 26.1-megapixel crop sensor with the ability to use up to four CPUs for improved image processing.
Additionally, the X-T3 has fantastic auto-focus capabilities and an overall high-quality image output. It's also a relatively affordable price for a mid-range mirrorless and it has a touch-screen for ease of use.
The primary drawback to the X-T3 is that it's fairly heavy and that it doesn't have image stabilization. Plus, Fujifilm lenses are known to be quite pricey, so this is something to consider before you invest in a camera body.
PROs

4k quality on videos
Can shoot up to 60fps video
Great 26.1-megapixel sensor
Excellent auto-focus abilities

CONs

Compatible lenses are pricey
Relatively heavy
No built-in image stabilization
Bottom-Line: Amateur cinematographers can rejoice with the video capabilities of the Fujifilm X-T3.
Sony Alpha a7R IV
Best Full-Frame Mirrorless Camera
One of the world's top mid-range full-frame mirrorless cameras on the market, Sony Alpha a7R IV is a must for ambitious photographers.
Boasting a mind-boggling 61-megapixel sensor and the ability to shoot 4k, the a7R IV blows the competition out of the water in terms of image quality. It also has both sensor-shift and 5-Axis image stabilization and the ability to shoot JPEG and RAW.
If that wasn't enough, this model is compatible with all Sony FE lenses, which include everything from high-end wide-angle lenses to telephoto options. It also has an amazing battery life of 530 shots and a light weight for portability.
Of course, mirrorless models like this aren't cheap, so you can expect to shell out a pretty penny for the a7R IV. But, its superb image quality and ease of use make it the ideal full-frame camera for hiking.
PROs

61-megapixel full-frame sensor
Compatible with quality Sony FE lenses
Built-in stabilization
Impeccable battery life

CONs
Bottom-Line: The Sony a7R IV is a full-frame mirrorless camera that no stickler for top-end image quality should leave home without.
DSLR
Canon EOS Rebel T7i
Best Starter DSLR
If you're looking to break into the world of photography with a DSLR, the Canon EOS Rebel T7i might be the camera you need.
Featuring a relatively lightweight build and an affordable price point, the Rebel T7i is a great starter model. It has built-in image stabilizers, the ability to shoot RAW or JPEG, and both Bluetooth and Wi-Fi connectivity.
Furthermore, the Rebel T7i has a crop sensor and a versatile lens mount that allows it to be used with all Canon EF and EF-S lenses. As a result, you'll have access to some of the finest lenses on the market as you start your photography career.
That being said, the Rebel T7i is fairly bulky, even if it is light. It also doesn't support 4K shooting for videos, nor does it have very high sensor resolution for a DSLR. But, for a starter model, it offers solid value.
PROs

Relatively lightweight
Wi-Fi and Bluetooth connectivity for quick photo uploads
Built-in image stabilizer
Compatible will all Canon EF and EF-S lenses

CONs

No 4k for video
Fairly bulky
Relatively low resolution sensor for a DSLR
Bottom-Line: The Canon EOS Rebel T7i is a solid choice for new photographers looking to get started in the world of DSLR.
Pentax K-70
Best Budget DSLR
Want a DSLR on a budget? The Pentax K-70 should be toward the top of your wish list.
This highly affordable DSLR has a 24-megapixel sensor with an APS-C crop factor for functionality in the field. It can shoot JPEG, RAW, or even DNG for maximum versatility.
Plus, the K-70 comes complete with weather-sealing to protect your gear from inclement weather. It also has both in-body stabilization for clearer photos and a tilting display for ease of use.
The downside to the K-70 is that it's designed for use only with Pentax K-mount lenses. These lenses are not nearly as common as those from Canon, Nikon, or Sony, so you're limited in your selection as you shop.
PROs

Affordable for a DSLR
Offers the option to shoot in DNG
In-body stabilization
Tilting display
Weather-resistant construction

CONs

Pentax K-mount system is limited in lens selection
Bottom-Line: When affordability triumphs over all else, the Pentax K-70 reigns supreme.
Canon EOS 5D Mark IV
Best for Avid Photographers
One of the most popular DSLRs on the market, the 5D Mark IV has a full-frame sensor with 30-megapixel resolution for high-quality images. It also boasts an optical pentaprism viewfinder for a crystal-clear look at your subject as you shoot.
As an added bonus, the 5D Mark IV comes with an expanded ISO range for sharper images in low-light environments. It also has 4K capabilities for video to help you get the perfect shot. Oh, and it's compatible with all Canon EF lenses. So, you can choose from one of the finest lens collections on the market.
Of course, all these features don't come cheap, which is our biggest complaint with the 5D Mark IV. It's also heavy and it doesn't offer in-body stabilization. But, for quality in your images, it's tough to top.
PROs

Compatible with all Canon EF lenses
Good sensor resolution (30MP)
Optical pentaprism viewfinder with great visual coverage
Full-frame format

CONs

Expensive
Heavy and bulky
No in-body stabilization
Bottom-Line: The Canon EOS 5D Mark IV is one of the world's foremost cameras for keen photographers.