The rugged red rock walls of the Grand Canyon in striking contrast with the shimmering, bright blue pools at Havasu Falls make this one of the top trails on every hiker's bucket list.
The Havasupai, or People of the Blue-Green Water, who have inhabited the land for at least 800 years, are the guardians of the 100-foot-tall Havasu Falls. There are a total of five waterfalls to visit here, Fifty Foot, Navajo, Havasu, Mooney, and Beaver Falls…and all of them are nothing short of spectacular!
Hiking to see these famous waterfalls is a popular activity that requires proper preparation, permits, and planning. Not sure where to start? Don't worry! Read on to learn everything you need to know, including how to get a permit, what to take, and a step-by-step trail description.
Key Takeaways
Plan Well in Advance – a hiking permit and reservations are required
Bring Plenty of Water – there's no water along the desert trail
Physically prepare –you should be in good shape and able to hike in heat
Stay Overnight – you must stay at least one night to complete this trail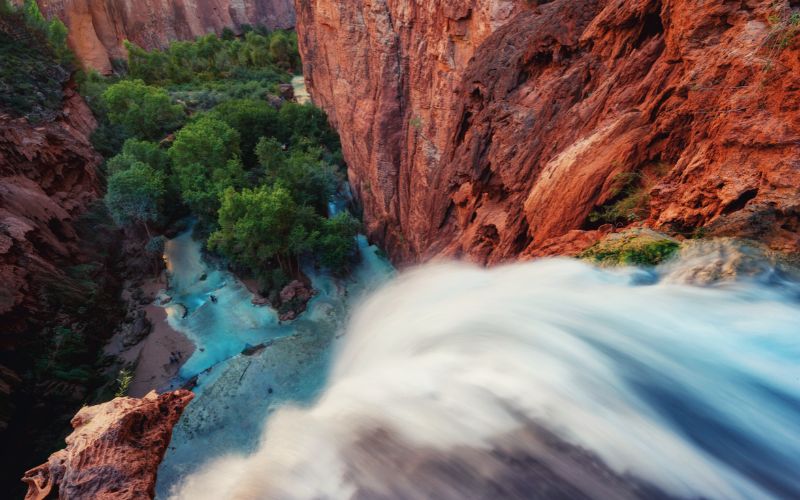 Warning: The Havasu Falls Trail is currently closed to all tourists until 2023, check HavasupaiReservations.com for updates and more information.
Trail Info, Logistics, and Step-by-Step Trail Description
Havasu Falls is an incredible hiking experience to see one of the most memorable landscapes in the country (and possibly the planet!). From how to get to this remote destination near the Grand Canyon to our best tips for getting a highly-coveted hiking permit, here's everything you need to know.
Location & Getting There
The stunning Havasu waterfalls are located on the Havasupai Indian Reservation, just outside of Grand Canyon National Park in northwestern Arizona. There are no roads directly to the falls with a 10-mile hike from the parking lot trailhead to the waterfalls instead.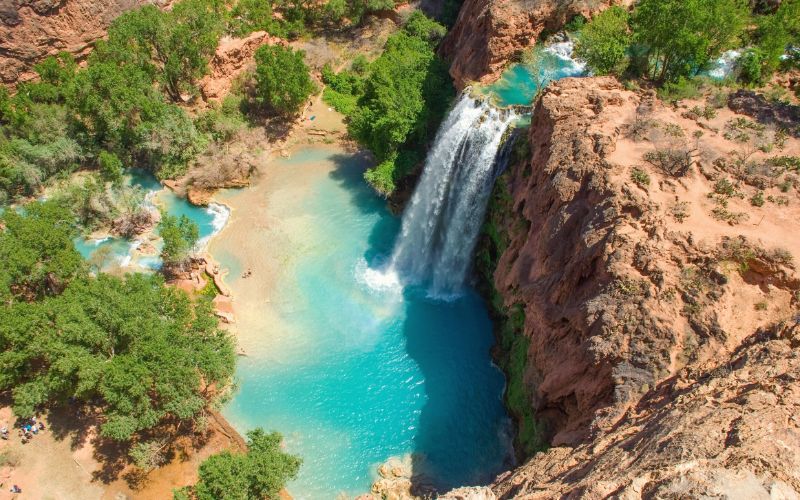 The nearest international airport is in Las Vegas, Nevada. It's about a 4-hour drive from Las Vegas to the trailhead.
The next closest major airport is in Phoenix, Arizona, about a 5-hour drive away. There is also a smaller airport that you can fly into in Flagstaff, which is about a 3-hour drive from the trailhead.
Many people do this hike as part of their visit to the Grand Canyon. If you're coming from the national park, it's about a 4-hour drive from the Grand Canyon Village in the South Rim area of the park to the trailhead.
The trailhead is at the Hualapai Hilltop parking lot on the reservation. To get to Hualapai Hilltop, reach Route 66, then turn north on Indian Road 18 (Hualapai Hilltop Highway), and continue for about 65 miles until you get to Hualapai Hilltop. The road from Route 66 to Hualapai Hilltop is paved but it's best to avoid driving here at night because animals frequently cross the road.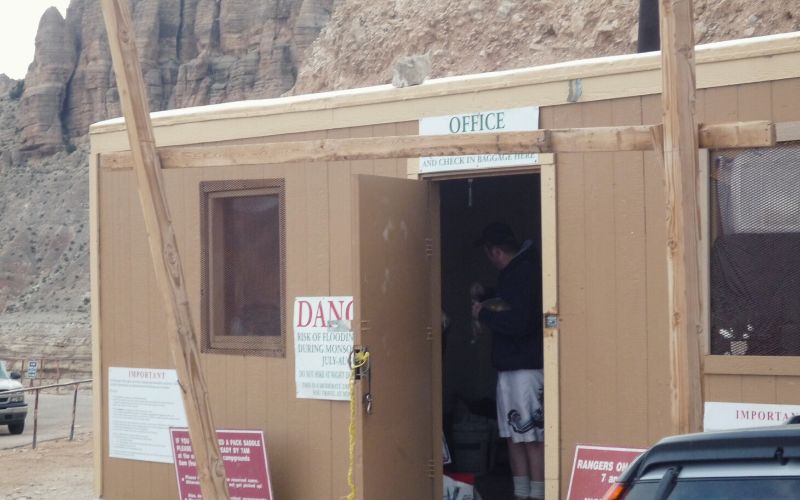 Be sure to stock up on gas, food, and water before you arrive because there are no services available nearby. The nearest town with services is Peach Springs, Arizona, located about an hour and 20 minutes southwest of the trailhead and parking area.
Trail Basics
In total this hike is roughly 20 miles on an out-and-back trail. This is a desert hike on rocky, sandy terrain, and it has minimal shade. It's 10 miles from the trailhead at Hualapai Hilltop to the waterfalls, with the village of Supai eight miles in. It's another two miles from there to the campground. It's an easily navigated trail downhill to the waterfalls and uphill on the return. 
The entire trail and waterfall are part of the Havasupai Indian Reservation and all hikers need to have a permit and overnight reservations to do the hike. Permits are difficult to get and you need to buy one well in advance to even enter the reservation.
This is not an easy day hike! You should allow yourself at least two days, preferably three, to complete this trail. Day hiking to the waterfalls is not allowed and hiking at night is prohibited.
You need to come prepared with the proper hiking gear and camping equipment for desert conditions. There are few amenities and no drinking water along the trail (spring water is available at the campground).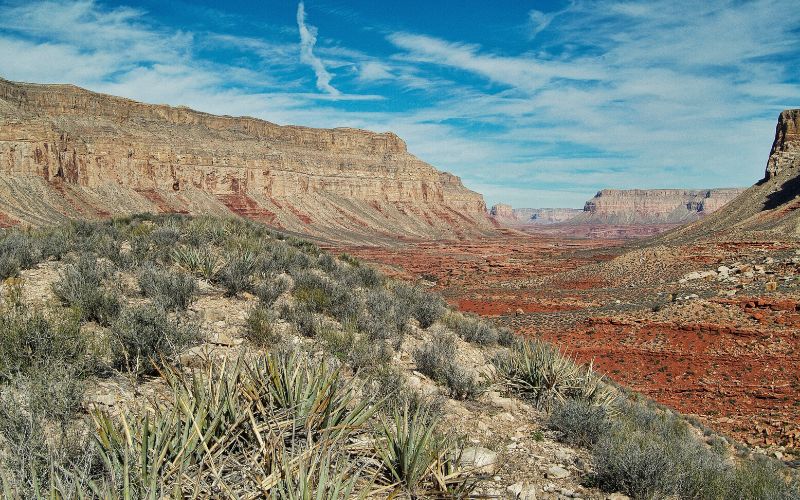 To avoid the often intense heat, we recommend starting hiking as early as possible. It's also crucial to check the weather before you start. Temperatures here can soar above 115​​°F and flash floods are common in the canyon.
Permit Information
The Havasupai tribe limits access to the area to protect this pristine wilderness near the Grand Canyon.
You must have a hiking permit and campground or lodging reservations to access the tribe's land and to hike to the waterfalls. This is a popular hike that is usually at capacity, so don't expect to have the trail to yourself! Remember that you are a visitor on Havasupai land and you need to be respectful of their home.
A permit to see these highly coveted waterfalls is therefore on every hiker's wish list! The competition is intense and getting a permit requires preparation and planning. 
Hiking and camping permits for the entire hiking season are released on HavasupaiReservations.com on February 1 and usually sell out within hours.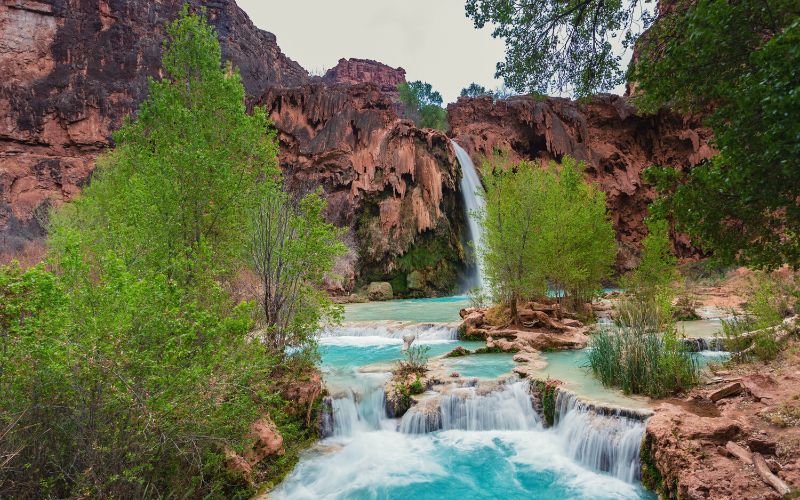 For the best chance at snatching a permit, create an online account before the release time. Make sure the name on the account matches the name on your ID.
On February 1, you need to be on the reservation website at 8 AM Arizona time (MST) and ready with your payment card. If you're hiking with a group, have one person use their account to buy the permits for the entire group to get the same arrival dates.
The price for camping is included in the permit reservations. You will need to make a campground reservation for at least three nights because it's the minimum required to purchase a permit. The price per person per weekend night is currently slightly higher than per person per weekday night.
Double-check your arrival dates before purchasing because you pay upfront and permits are not refundable. You cannot change the reservation dates or transfer your permit to another person's name.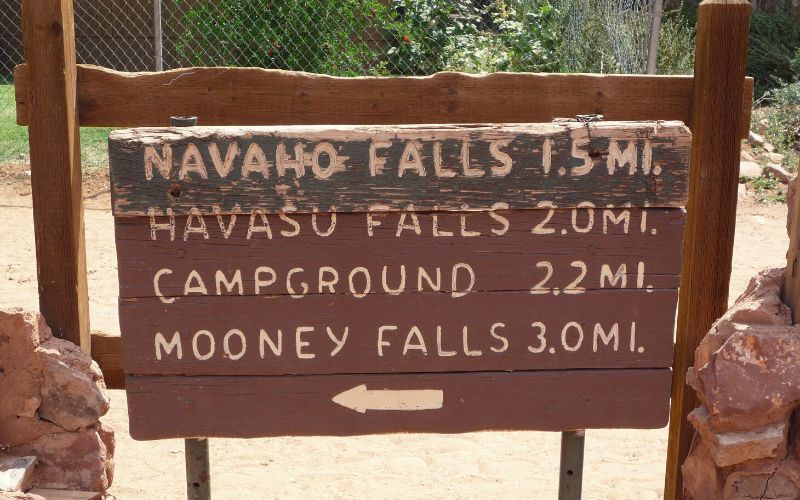 There will be thousands of other hikers trying to get their permits at the same time. It may take you several hours on the website to finally get a permit. Don't give up!
If you don't get a permit on February 1, check back frequently because the Havasupai tribe does allow hikers to resell tickets but only through the official website.
Once you have your permit, print out your confirmation and bring it with you on the hike. Keep a copy on your phone as a backup. All visitors must have proof of their permit, a reservation, and a photo ID available while on the Havasupai people's land. There are checkpoints along the trail where you will be asked to show your permit and ID.
All hiking permits are granted through the reservation's official website. They do not give permits to commercial tour companies. Getting a permit through the Havasupai tribe is the only way to reach Havasupai Falls.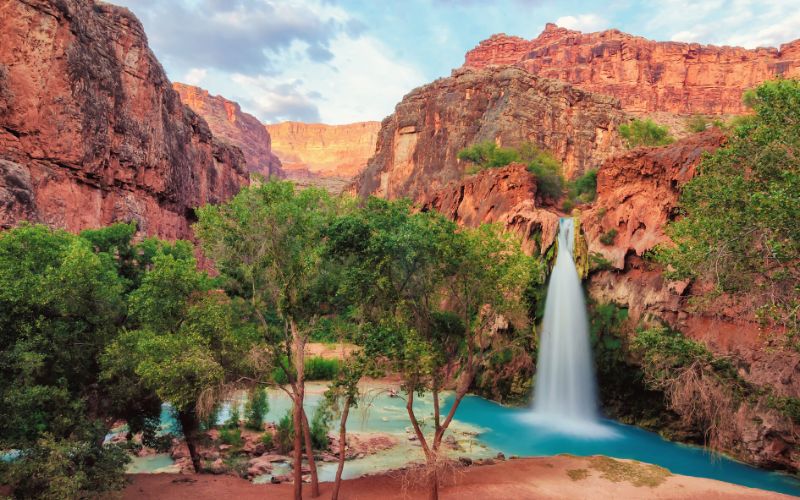 Parking
Parking for this hike is available at Hualapai Hilltop, which is found at the end of Indian Road 18, off Route 66. This large parking area has toilets and a helipad for transportation and emergencies, but no water.
Overnight parking is allowed here since you'll need to spend, at the very least, one night down in the canyon to complete the hike. You are allowed to sleep in your car or camper at the parking lot, but it can get noisy due to cars coming and going throughout the night, so bring earplugs.
There is a security guard on-site, but they encourage you to remove all valuables from your vehicle.
The trailhead is located at Hualapai Hilltop. This is the farthest you can get by car and you must leave your vehicle in this parking lot.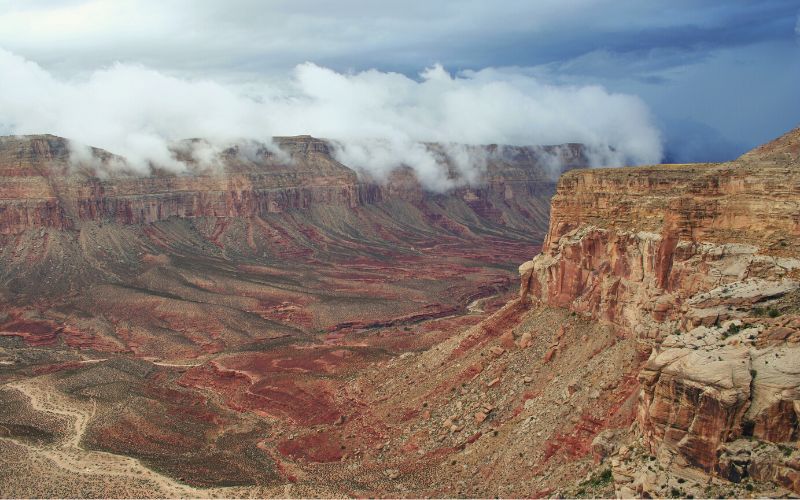 Best Time to Visit
The Havasu Falls trail is open year-round. The peak season for tourists is from May through September when the temperature of the pools is around 60-70°F.
The winter months bring cold weather and more cloud coverage, but it might be too cold to splash around comfortably in the bright blue pools.
During the summer months, temperatures can reach over 115°F. Monsoon season in Arizona is from mid-July to August and heavy rain poses a serious threat in Havasu Canyon. Flash floods can come out of nowhere, even when it's not raining where you are, and they are extremely dangerous.
Always check the weather before descending into Havasu Canyon. The hiking trail is subject to closures during floods and extreme heat, so check the National Park Service website for updates.
The best time to go for comfortable hiking temperatures and fewer people is in the early spring or late fall.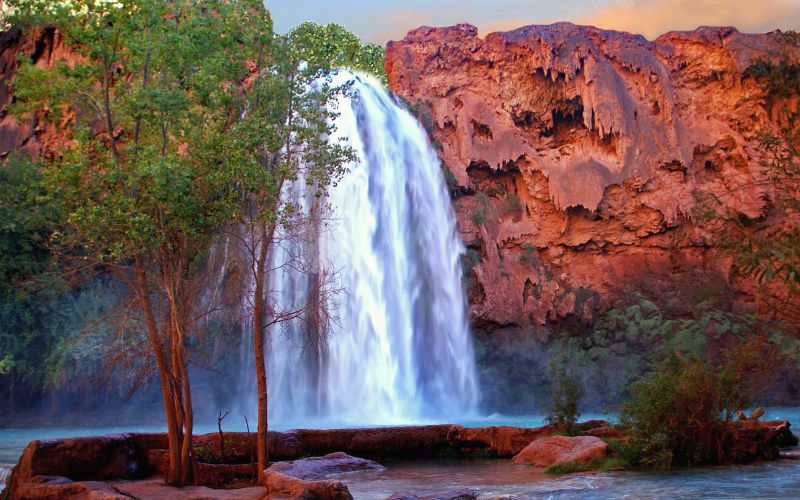 If you'd rather go when the water is warmer and don't mind it being busy, try visiting just before or right after the summer months.
No matter when you visit, it's best to start hiking early in the morning, preferably around sunrise, to avoid hiking during the peak desert heat.
What to Take
Havasu Falls' relative isolation makes it extremely important to pack everything you need for this hike in advance.
There is no water available at the parking lot or anywhere along the trail. Bring plenty of water, at least 1 gallon of water per person, for this hike. Do not attempt to hike this desert trail without enough water! There is a freshwater spring once you reach the campground where you can fill up on water. Be sure to bring a water filter or water purification tablets.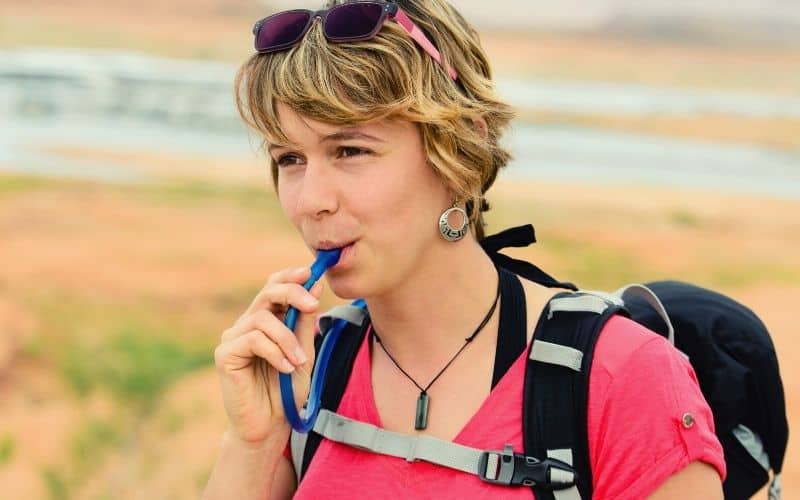 Bring gear for hiking in desert conditions with little shade and steep switchbacks. Water, snacks, a first-aid kit, and sun protection are essential, and trekking poles are a good idea.
Bring a backpacking pack and everything you need to camp overnight, including a tent, sleeping bag, backpacking stove, and food. Try to keep it as lightweight as possible because the desert heat can make this hike more challenging than you expect.
You'll probably want water shoes or sandals, a bathing suit, a dry bag, and a towel for hiking and swimming in the multiple waterfalls and pools along Havasu Creek.
Don't pack alcohol, drugs, drones, or weapons! These items are prohibited from entering the reservation and all bags and vehicles are subject to search by Havasupai tribe officials.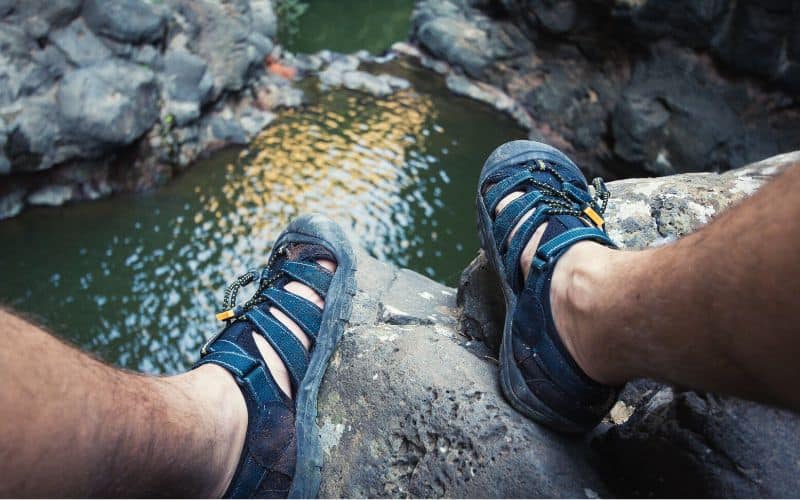 What to Wear
The Havasupai hike starts along a rocky and sandy trail with steep switchbacks as you progress down toward the Grand Canyon. There is minimal shade along the trail and, depending on the season, it may get insanely hot.
Choose sturdy, closed-toed shoes, like hiking boots or hiking shoes, with grippy soles and ankle support to avoid losing your footing. Hiking poles can help with stability when carrying a heavy pack on your back on uneven terrain.
Protect yourself from the intense desert sun with plenty of sunscreen, a long-sleeve shirt, a sunhat, and sunglasses.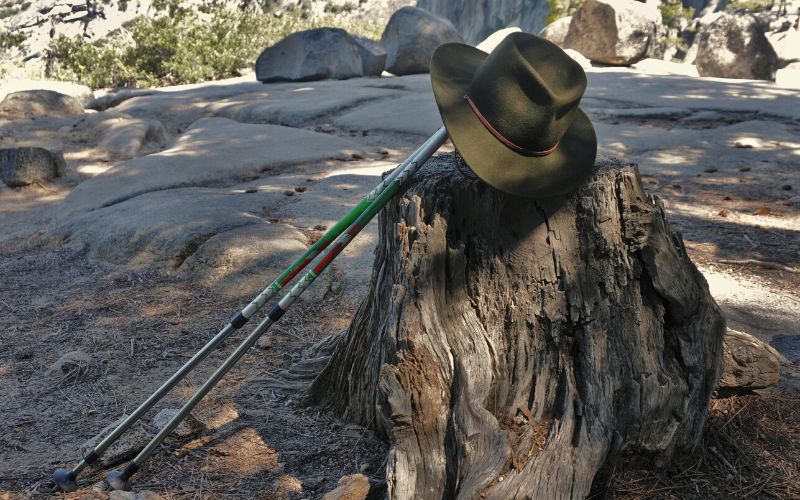 How Difficult is the Havasu Falls Hike?
The trail is a moderate to difficult, 20-mile out-and-back hike. It has a 1,800-foot elevation change within the first two miles. There is the possibility of extreme heat, especially in the summer, with no water available along the trail, and little emergency assistance. All this means it's a trail not to be underestimated!
The difficulty level depends on your degree of fitness, your hiking ability, and the heat, but overall this is not a trail for beginners.
You should be physically prepared for a hot, 10-mile hike down to the bottom of Havasu Canyon while carrying everything you need to camp overnight, more walking to explore the surrounding Grand Canyon and waterfalls, and then the most strenuous part of the hike, a 10-mile uphill trek back to the parking lot.
You might want to consider training for this hike by walking at least 10 miles with a loaded backpack.
You need to stay at least one night at the Havasupai campground or lodge just to do this hike. Day hikes to the waterfalls and hiking around at night are both prohibited by the Havasupai tribe.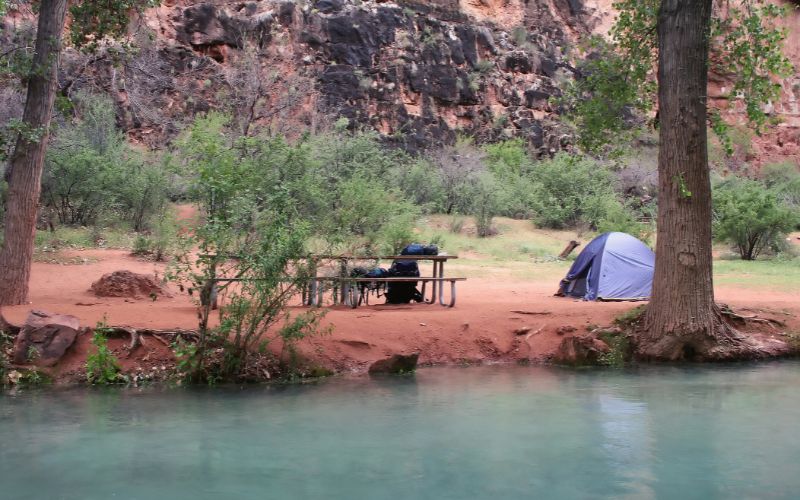 Under Your Own Steam, or by Mule or Helicopter?
Although trekking down to the bottom of the canyon and then hiking back up is the main way people reach Havasu Falls, there are other options for those that are unable to complete the long trail, including an adventurous helicopter ride.
By Helicopter
Airwest Helicopters provides helicopter rides down to Supai Village at the bottom of the canyon. From there it's a relatively flat 2-mile stretch to the campground and waterfalls.
The helicopter ride takes about 15 minutes to fly from the helipad at Hualapai Hilltop to Supai. You can take the helicopter both ways, but some hikers opt to hike down and then catch a flight back up to avoid the strenuous uphill hike in the sun.
Seats on the helicopter are available on a first-come, first-served basis for tourists (make sure to sign up for a seat before 10 am at Hualapai Hilltop) and tribal members have priority boarding. You are allowed one carry-on bag per person. There's an additional fee for any extra baggage. Helicopter flights are not daily and are subject to cancellation due to bad weather.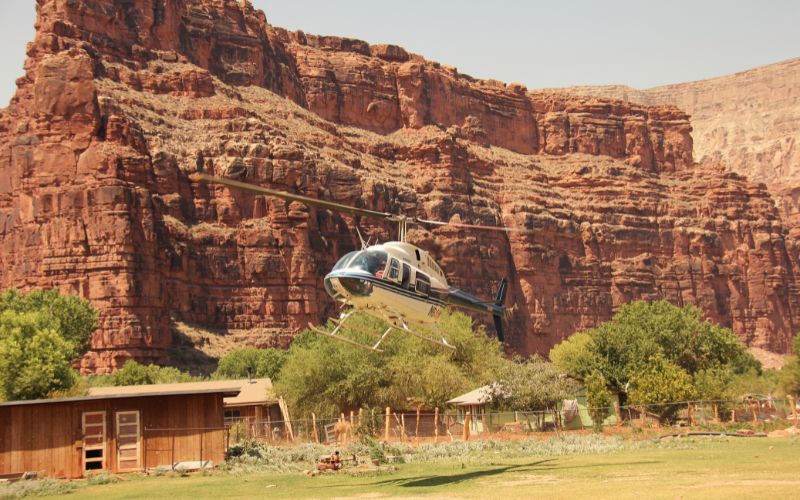 By Pack Mule
If you'd rather hike but want help carrying your camping equipment, you can hire a pack mule to deliver your baggage to the campground when purchasing your hiking permit online. Pack mule reservations must be done online before your visit.
Food and Water
You must bring all the food you need for your entire trip and plenty of water for your hike. There's no food or water once you arrive at Hualapai Hilltop. The nearest services, including food and water, are in Peach Springs.
There are usually basic supplies and food for sale at Supai, a small village at the 8-mile mark of the trail, but you shouldn't rely on these for your trip. The supplies are flown in by helicopter and are not always in stock. The store and restaurant hours vary and they may or may not be open when you arrive.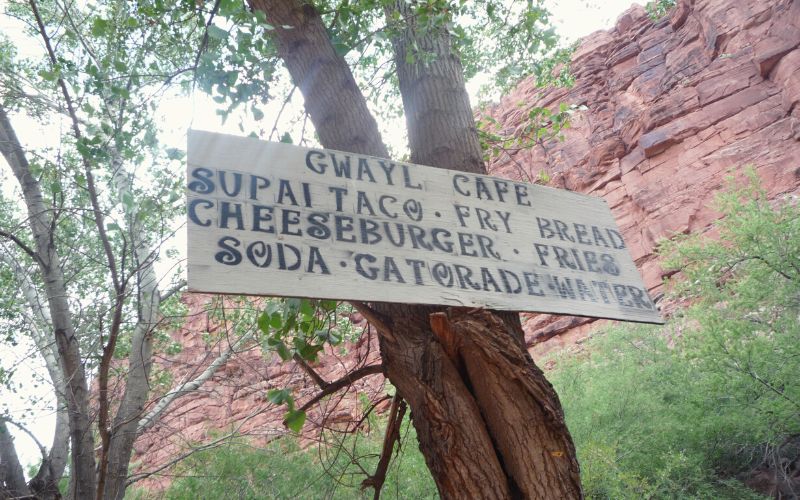 Luckily, there are no bears here, but there are plenty of other hungry critters. You need to keep your food safe from animals, especially squirrels. Bring something secure to store your food in that they can't chew through because hanging your food bag from a nearby tree won't protect it from the acrobatic squirrels.
Five-gallon plastic buckets with lids for food storage are sometimes available at the campground entrance, but it's always best to bring your own food storage solution.
There's drinking water available at Supai Village and at the campground. A freshwater spring is located at the beginning of the campground where you can fill up on water once you arrive at camp. There are also waterfalls, pools, and creeks where you can get water from, but don't forget to purify it before drinking.
Bring a water filtration system, a purification pen, or water purification tablets to get rid of bacteria, protozoa, and viruses and make the water safe to drink.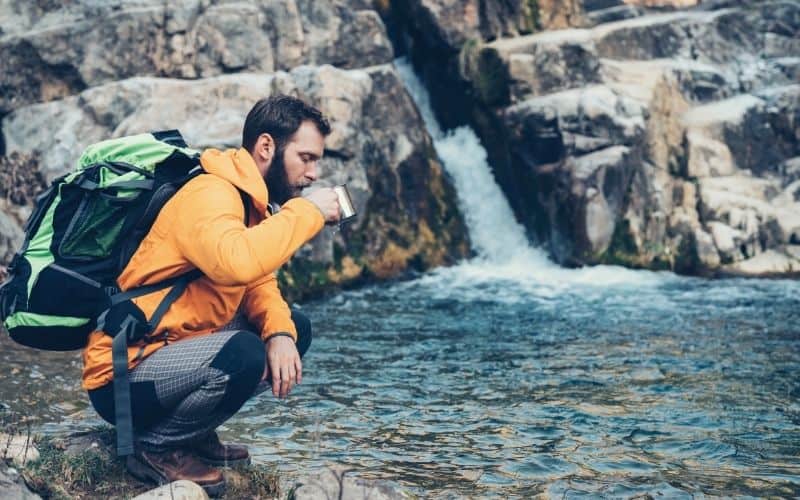 Staying at the Falls: Havasu Camping & Accommodation
Since day hikes and hiking at night are prohibited, you must stay at least one night to hike the Havasu Falls trail. You'll already be paying for three nights since that's the minimum required to get a hiking permit, so why not stay longer and enjoy the scenery?
There are two options for accommodations in Havasu Canyon: Havasu Falls Campground and Havasupai Lodge.
Havasupai Falls Campground
This campground is an open camping area without designated sites. Camping is available on a first-come, first-served basis and you can camp anywhere in the camping area.
The campground stretches for about a mile from Havasu to the top of Mooney Falls along both sides of Havasu Creek. You can cross a bridge to camp on the island or camp along the canyon walls.
This is a wilderness area with few amenities. There are three restroom areas with pit toilets and picnic tables. There's no electricity, running water, or trash cans. You need to pack out all of your trash and carry it back up. Be mindful of the waste you'll have when packing your gear and food. There are no fire pits because fires are not allowed (backpacking stoves are okay).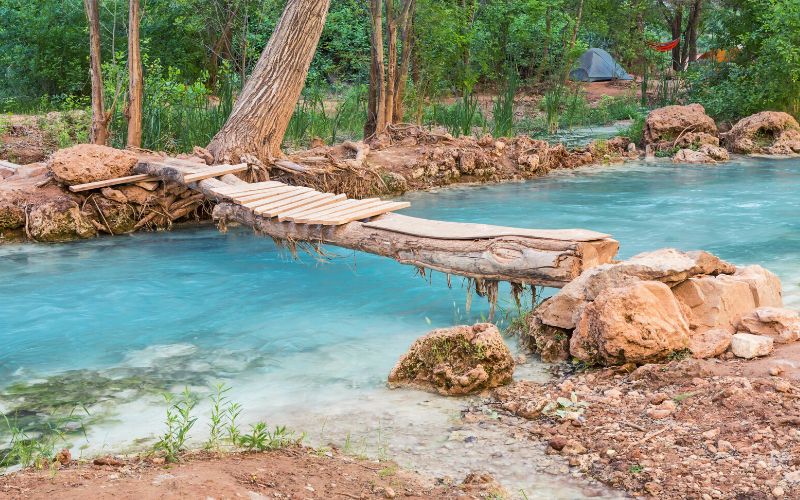 Drinking water is available at a freshwater spring, called Fern Spring, near the start of the camping area. Basic necessities can be purchased at the village store.
The Havasupai Falls Campground is located 10 miles from the trailhead and parking lot, 2 miles from Supai, ½ mile from Mooney Falls, and a 5-minute walk from Havasu Falls.
Havasupai Lodge
Havasupai Lodge is a hotel offering basic yet comfortable rooms, each with two double beds and a bathroom. There are no TVs or telephones, but they do provide electricity and WiFi.
Bring your own food because there are no kitchen facilities or restaurants at the lodge. Food may be available in the village's cafe and store.
There are only 24 rooms here and they are usually fully booked. Try to make your reservation online at HavasupaiLodge.com as soon as you buy your permit. Lodge reservations open up on June 1. The lodge is located in Supai, 8 miles from the parking lot and 2 miles before the waterfalls.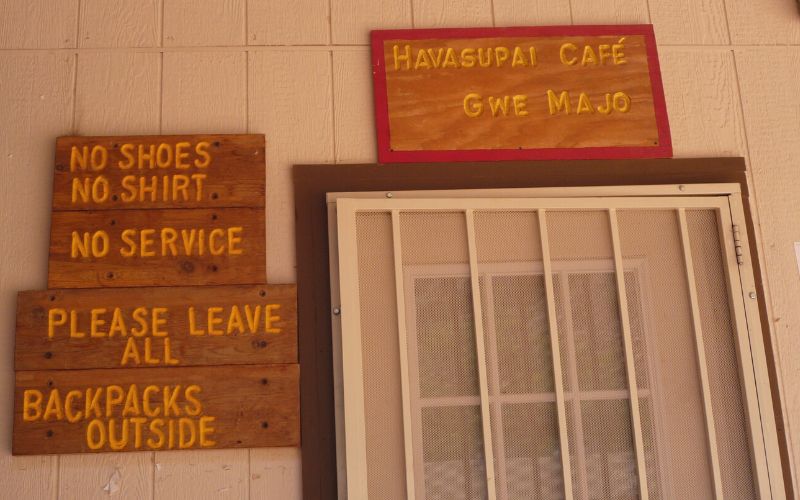 Photography
Photographing the waterfalls and bright blue pools below is best in the early morning or late afternoon when the desert sun's rays are not as intense and there are fewer shadows.
Cameras are allowed but drones are prohibited anywhere on the Havasupai Reservation.
Be respectful of the locals' wishes. Part of visiting means being careful not to take photos where it's not allowed. There are signs throughout the village requesting no photography. Do not take photos of the village, the residents, or their property.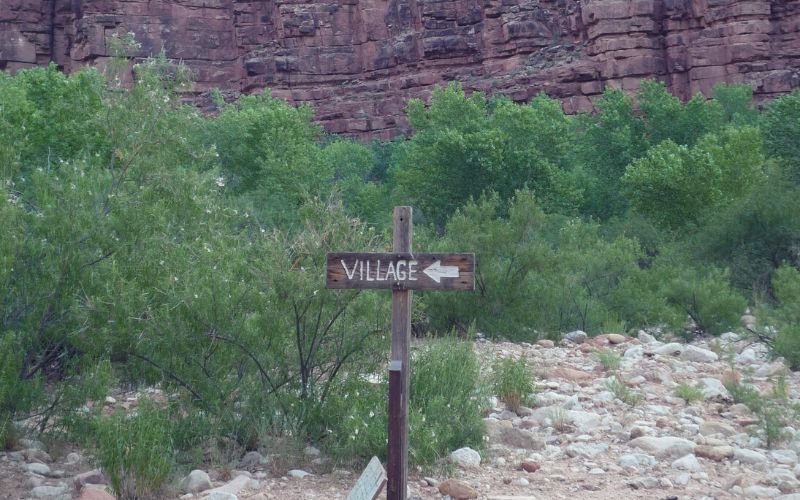 Supai Village
Supai Village is a small Havasupai Tribe community located in Havasu Canyon, about eight miles out from the trailhead and two miles before the waterfalls. There are no roads to Supai. It can only be reached by foot or horse via the trail that begins at Hualapai Hilltop or by helicopter.
The village has a post office, lodge, school, church, store, cafe, food stands, and tourist office. The Supai Cafe typically serves breakfast, lunch, and dinner, but opening hours can vary and prices are high since supplies are flown in by helicopter. If they're open, make sure to stop by to try some authentic (and awesome) Indian fry bread!
You'll need to stop at the Tourist Check-In Office upon arrival to show proof of reservation. The person who made the reservation must show an ID, and a copy of the reservation email, and give the license plate number of the vehicle in the parking lot.
If you've arrived in Supai and are looking for your accommodations, the lodge is in Supai and the campground is two miles farther along the trail.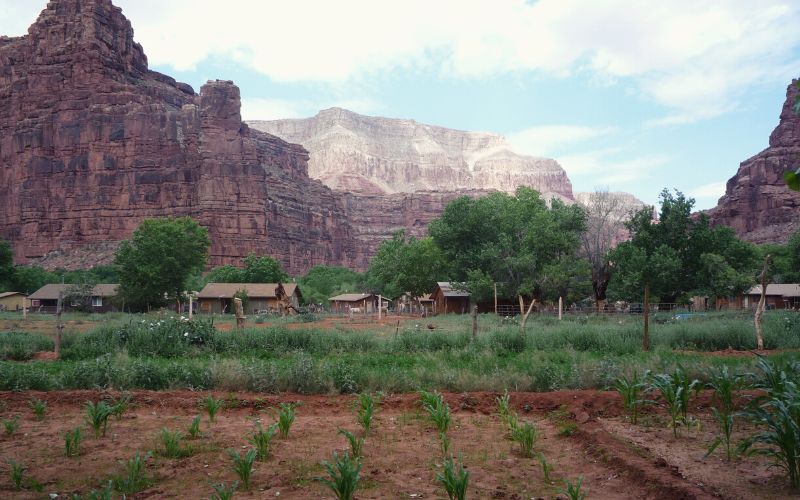 Nearby Hikes: Mooney Falls, Beaver Falls, and the Colorado River
Once you make it down to Havasu Falls, you're in for a treat because there's more than one waterfall here! Relax for the night and then spend the next day hiking to the other waterfalls near Havasu, like Beaver and Mooney Falls, and exploring the surrounding area near the Grand Canyon, like the majestic Colorado River.
Mooney Falls
The top of Mooney Falls is a short, ½-mile hike along the creek from Havasu Falls. You'll find these waterfalls at the northern end of the campground.
While getting to the top is an easy walk, getting to the bottom of these waterfalls is another story. The hike to the base is a short but steep climb down slippery stairs and slick rocks.
Prepare to get blasted with waterfall mist while holding on to the chain that guides you down to the blue-green waters. It's not for everyone, but it's only a 15-20 minute hike to the bottom. Be sure to wear water-friendly shoes with good traction!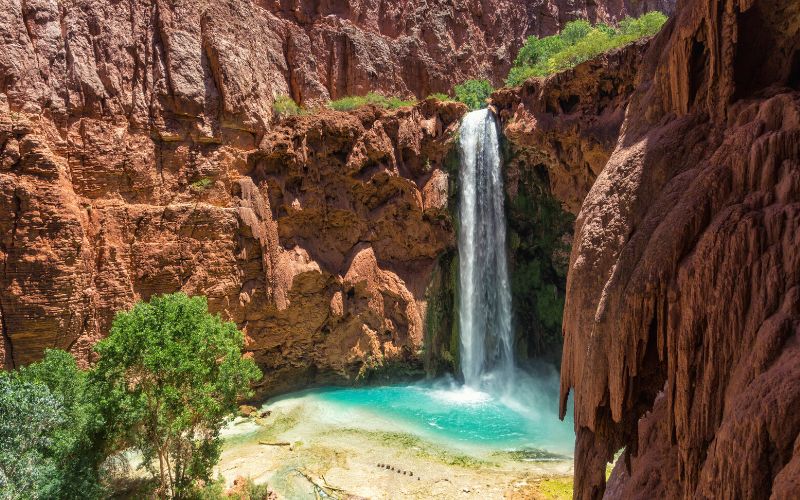 Beaver Falls
Getting to Beaver Falls requires a 4-mile one-way trek through the canyon north of Mooney. It might seem like a long hike after the 10-mile hike down to the campground, but it's totally worthwhile!
You'll find the trail to Beaver Falls to the left once you reach the base of the waterfalls at Mooney. The path takes you across the creek several times and has stunning views. It's best to wear water shoes for this hike. Don't forget your bathing suit to take a dip!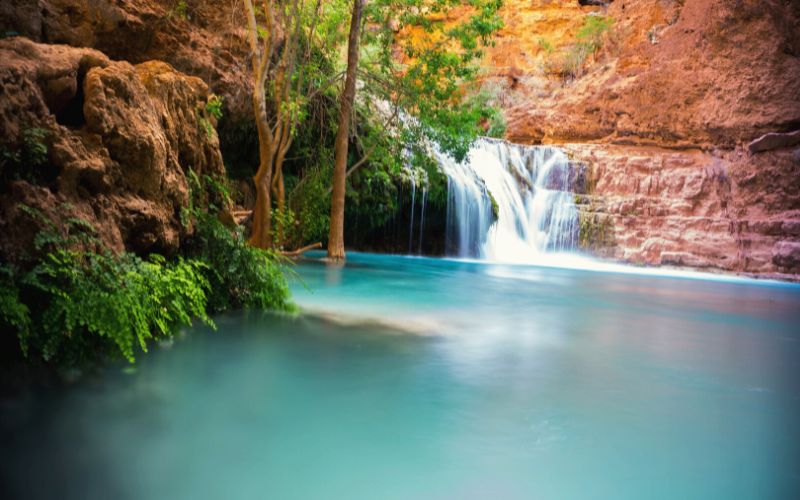 Colorado River Hike
If you're an ambitious hiker, check out the 16-mile out-and-back trail to see the Colorado River as it flows through the Grand Canyon. You need to leave early in the morning and wear water shoes since the hike is mostly through the water.
Fifty Foot Falls and Navajo Falls
You'll pass by Fifty Foot and Navajo Falls on the trail from Supai down to Havasu Falls, about ½ mile up from the campground. Once you see the small cascades, walk down to Navajo Falls for a visit to these off-the-beaten-path waterfalls.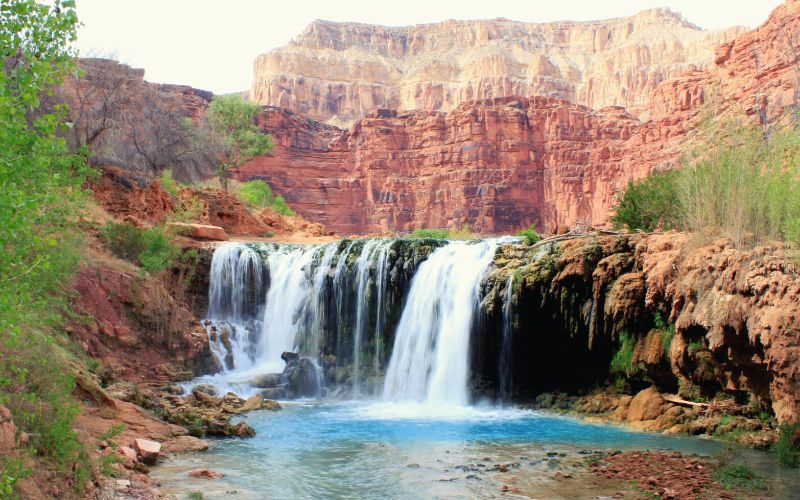 Step-by-Step Trail Guide
The out-and-back trail begins at the trailhead near the Hualapai Hilltop parking area. Check out this hand-drawn Havasupai trail map for a map of the area and the hiking trail. 
For the first two miles, the trail has steep downhill switchbacks and a 1,800-feet elevation drop. The path is well-marked but rocky and sandy as it winds down to Havasu Canyon. Watch out for pack mules along the path!
Once you reach the bottom of the canyon, it's a relatively flat six-mile trek to Supai Village. The trail takes you through a dry creek inside the canyon's red rock walls.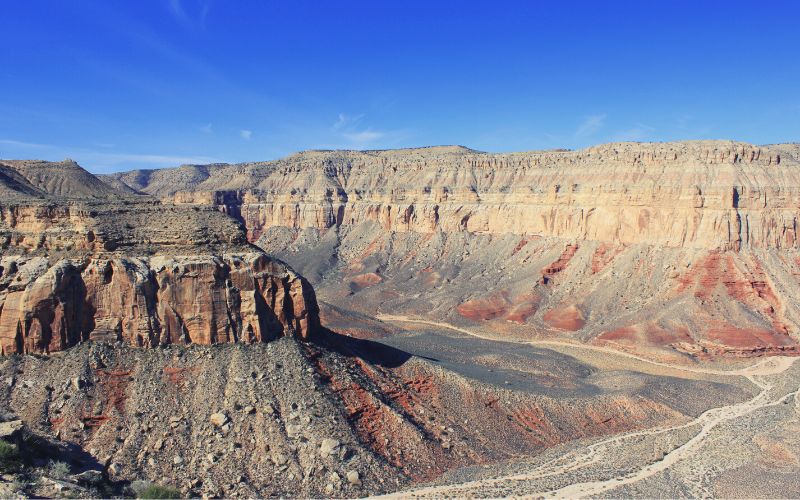 After that, the canyon walls fade away and the trail becomes surrounded by trees and greenery. You'll eventually reach the bridge that crosses over Havasu Creek, a tributary of the Colorado River in the Grand Canyon, and leads you into Supai Village.
When you arrive in Supai, you need to go to the Tourist Check-In Office to check-in. You will need to show your reservation confirmation, photo ID, and give them your car's license plate number.
You can either check-in at the lodge in Supai or continue through the village and head back on the trail along the canyon wall to the right to reach the waterfalls and campground.
From Supai, it's less than a two-mile walk to Havasu Falls. The path will take you across two bridges, down towards Havasu Creek, and into an area shaded by cottonwood trees.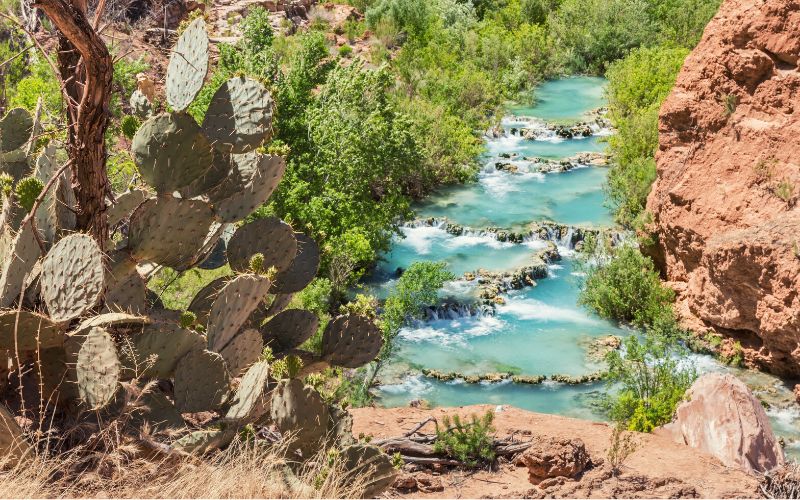 At this point, the trail points you toward the first of several Havasupai falls. Fifty Foot Falls is about a mile north of the village and Little Navajo Falls, sometimes called Lower Navajo Falls or Rock Falls, is just below it. Navajo Falls is a relatively new waterfall that was formed during a massive flood in 2008. It's about 30 feet tall and has pools that are perfect for taking a cool dip.
From here, the famous Havasu Falls lies less than a mile downhill on the trail. Once you reach the waterfalls, it's about half a mile to the start of the camping area.
Most people also make some time to explore the other waterfalls. You'll find Mooney Falls at the northern end of the campground, and Beaver Falls is another four-mile hike out from there.
Once you've spent some time swimming in the pools and taking in the sights in this desert oasis, you'll need to head back out along the same trail you came in on.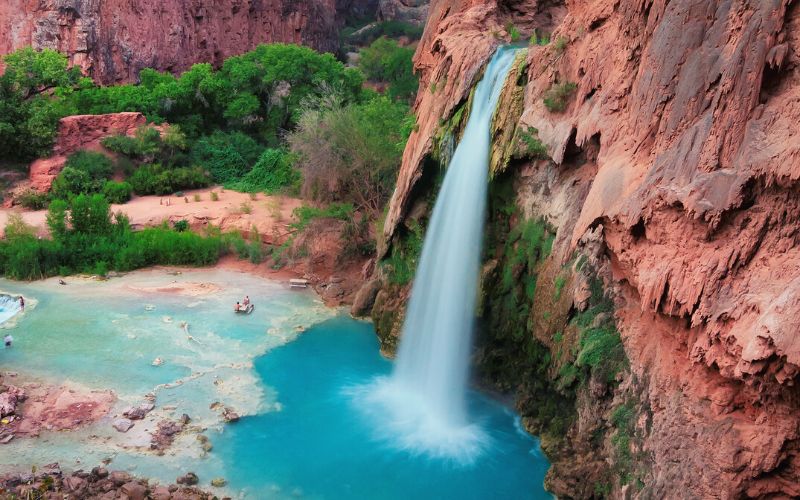 It takes most hikers about one to two hours longer to hike back up to Hualapai Hilltop than it does to hike down to the waterfalls.
The most strenuous part of the entire trail is the uphill stretch along the steep switchbacks. You'll reach this part during the last two miles of the trail, just before arriving back at your car at the Hilltop parking lot.
Happy Hiking!
Ready to get your mind blown by a unique hike to a desert oasis unlike any other? The Havasu Falls hike near the Grand Canyon is a once-in-a-lifetime experience that should be at the top of your hiking bucket list.
With its impressive red rock canyon walls and sky blue pools below the thundering 100-feet-tall waterfall, Havasu Falls is well worth the sometimes difficult trek to get there – or, rather, get out of there! But if you're in good hiking condition and you avoid the summer heat and flash floods, the hardest part is simply getting the hiking permit!
Do you have any tips for hiking to Havasu Falls? Let us know in the comments below! Did you enjoy this article? Please share it with your family and friends.