Also known as the Pine Tree State, Maine is famous for its spectacular rocky coastline, forested interior, rolling mountains, and pretty waterways. It's also renowned for its lobster and clams, which are caught fresh and served in the many beachfront cafes and bars that pepper the coast.
In Maine, summers are long and balmy, making it a perfect location for a camping vacation. You can enjoy beachside camping at points along the state's 3,478 miles of coastline including islets, peninsulas, and deserted sandy beaches waiting to be explored.
Alternatively, you can head into the National Parks to check out nature at its finest, or head along the Appalachian Trail amid majestic granite escarpments and fragrant pine forests.
Right across the state, you'll find over 100 well-equipped campgrounds that offer a dazzling array of summertime activities, such as trails, forts, lighthouses to visit, historical sites, beautiful beaches, shore fishing, and wildlife watching.
We've found ten of the best camping locations that the Pine Tree State has to offer. Whether you're going camping in Maine for a weekend or a week, there is something for everyone!
Top 10 Campgrounds In Maine
1. Cobscook Bay State Park, Dennysville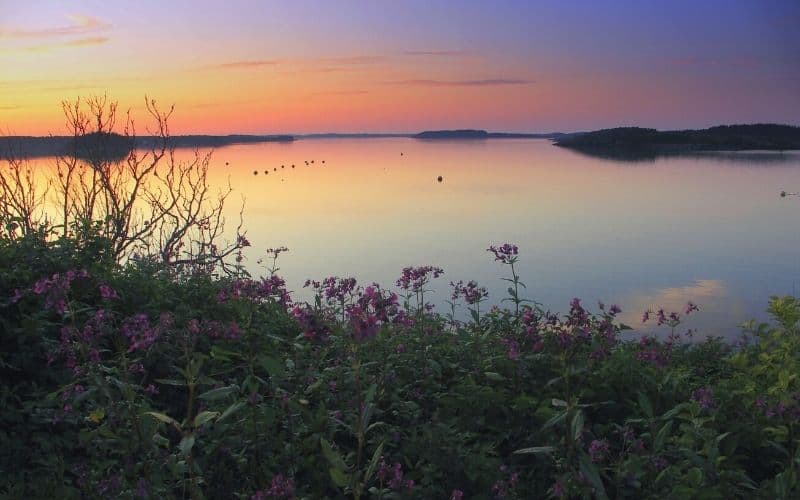 Cobscook Bay State Park has an incredible average tidal range of around 24 to 28 feet, making it one of the more unusual parks here in Maine.
The area is also fabulous for those who love to explore with an endless craggy shoreline and multiple rivers and streams feeding into it. Thanks to the nutrient-rich waters of the Gulf of Maine that stimulate plankton growth, there is a vast array of sea and land animals that you can observe from one of over 100 camping spots dotted along the shoreline. At low tide, you can dig for softshell clams or spend your day birdwatching among wildflowers in the woodlands and meadows in the nearby Moosehorn National Wildlife Refuge.
Here, you'll find Adirondack shelters, RV camping for vehicles over 35', and small pop-up tents for those who prefer to travel light or backpack.
RELATED READING: For more outdoor adventure check out the best hikes in Maine.
2. Sebago Lake State Park, Casco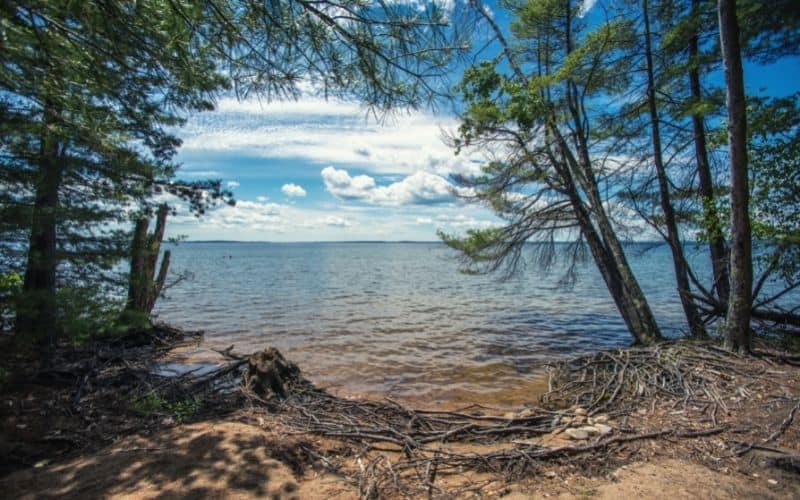 Sebago Lake State Park is the largest in southern Maine.
It opened in 1938 and is one of the original five state parks in the Pine Tree State. The parkland is forested and sits on the shores of Maine's second-largest lake. Lake Sebago is also Maine's deepest lake and was created millennia ago by the passage of ancient glaciers and rivers. Today it provides a 45-acre recreation facility for thousands of visitors every year.
The park is located close to the foothills of the beautiful White Mountains and includes a stunning array of environments for visitors to explore across its 1,400 acres including sandy beaches, bogs, a river, ponds, and extensive woodland. Popular summer vacation activities include sport fishing, swimming, and boating. There are also plenty of biking and hiking trails and park roads.
There are over 250 sites, including both non-reservable and reservable areas, many of which have electric and water hookups. Note that you'll need to book reservable sites for at least four nights during the official camping season from mid-May through mid-September.
3. Bradbury Mountain State Park, Pownal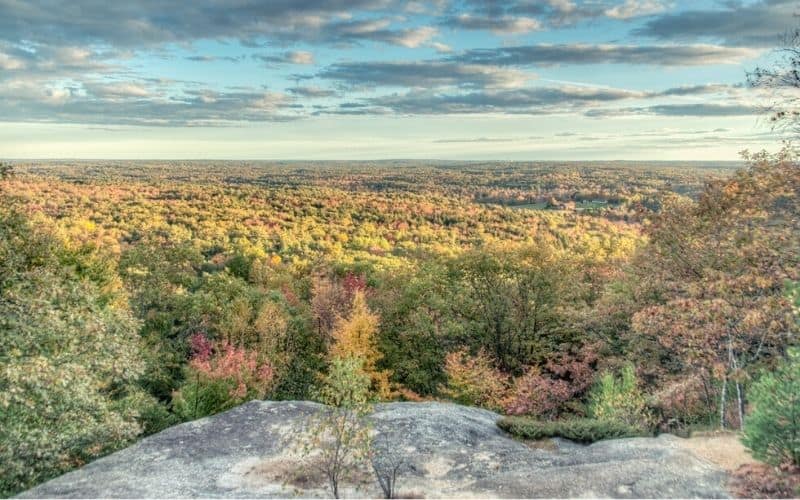 Bradbury Mountain State Park in southern Maine is located in Pownal and is one of the original five state parks that were founded in 1939 by the Federal government.
This Maine campground offers visitors access to an extensive network of trails to explore, including spectacular views from the summit of the mountain. For those less energetic visitors, the shady canopy of trees provides plenty of perfect picnic spots.
There are 35 campsites here that have access to showers, restrooms, drinking water, a dishwashing station, and a telephone. The sites can accommodate everything from pop-up tents to 35' RVs. All the facilities here are handicap accessible. Be aware that all the sites must be reserved in advance.
4. Natanis Point Campground, Coburn Gore
Natanis Point Campground is located in Coburn Gore in the Chain of Ponds, adjacent to the border with neighboring Canada.
Many of the 61 spacious campsites at this breathtakingly beautiful location lie directly on the waterfront, although it isn't only the lake that makes this location wonderful. Site owners, Tasha and Bob will help arrange a local hunting guide if that's your thing, and they will also offer ATVs for use in and around the immediate area.
Natanis Point offers you an authentic wilderness camping experience if that's what you crave. Whether you want to relax by your campfire or participate in some of the numerous activities that are on offer here, you'll find something to please. There's a secluded campsite too that's only accessible by canoe or boat.
5. Baxter State Park, Millinocket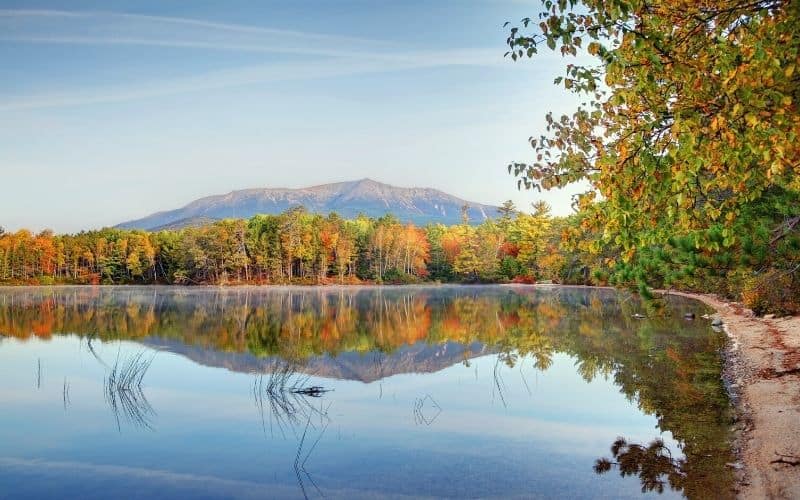 Baxter State Park is located in Millinocket, northern Maine.
This location is for those who want a backcountry camping experience close to nature, taking you far away from the noise and crowds of the city. There are 337 campsites to choose from, including two backcountry spots. One of those sites requires a three-mile hike from the Roaring Brook campsite to the Chimney Rock site.
Here, you'll find nine lean-tos and a ten-person bunkhouse. If you're feeling even more adventurous, you can stay at the other backcountry site of Russell Pond. To get to this site, you need to undertake a relatively strenuous hike of around seven miles from Roaring Brook. There are five lean-tos, three tent camping sites, and an eight-person bunkhouse.
As this is a backcountry, wilderness camping experience there are some essentials that you must bring with you, including
Potable water (there's no drinking water provided here)
Cooking equipment. You can cook on a Coleman-style stove on your porch or on the picnic tables provided outside your cabin. All cabins may use the fireplace that's located on the lawn.
Flashlight
Bedding (mattresses are provided)
Dishes and cooking utensils
Dishwashing equipment
Bucket for washing-up
No trash facilities are provided, so you must be prepared to take all your garbage with you when you leave.
You are not allowed to bring pets into the park and the trails are also not suitable for large vehicles, including RVs. Bringing firewood into the park is prohibited since it could transport pests into the local area and generators are not permitted so the park can remain as peaceful as possible!
6. Lily Bay State Park, Beaver Cove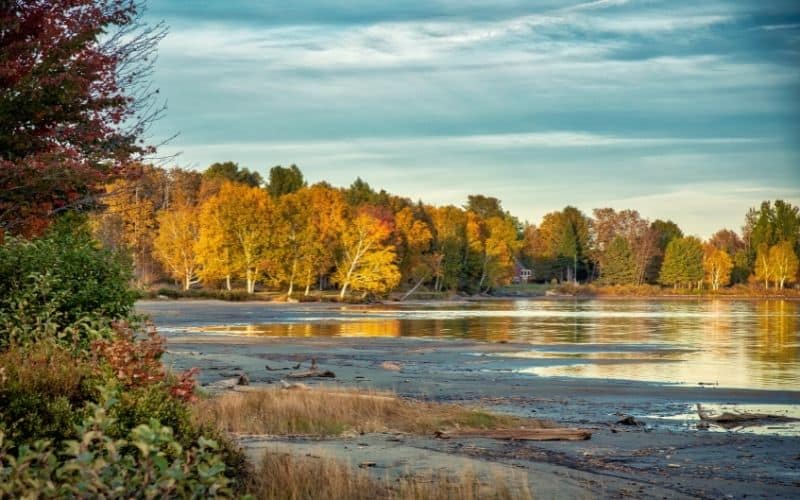 Lily Bay State Park is located in Beaver Cove.
Some of the campsites are located here on the shores of beautiful Moosehead Lake while most are in secluded forest nearby with sites well-spaced for privacy. Beaver Cove provides visitors with access to boating, hunting, swimming in the pool, fishing, hiking, and leaf-peeping all year round.
The largest lake in New England covering an area of 117 square miles, Moosehead Lake basin was created by glacial activity and is now home to brook trout, togue, and landlocked salmon. The area is famous for its moose, but you also stand a good chance of seeing deer, bears, and many other wild animals during your stay.
The most spectacular mountain peak in the Moosehead Lake region is Mt. Kineo, which rises right out of the lake's center. The mountain's cliffs tower a full 800 feet above the water and have to be seen in person to be fully appreciated. The park is open during the winter too, and visitors can enjoy snowmobiling, ice-fishing, and cross-country skiing through the magical, wintry landscape.
Campsites here can accommodate small pop-up tents through to 35' RVs. Note that most of the campsites must be reserved in advance.
7. Warren Island State Park, Penobscot Bay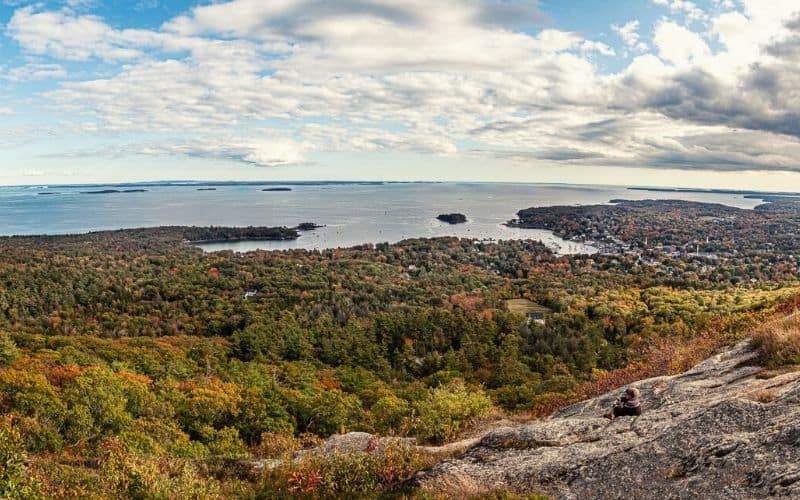 Warren Island State Park is located in Penobscot Bay.
Warren Island State Park provides the opportunity to visit a serene location that can only be accessed by private boat. If you want somewhere remote and peaceful to enjoy some quality time with your loved ones, this could be the perfect vacation location for you.
There are 12 camping spots on the island, primarily tent sites only, although there are two Adirondack shelters available as well. Campsites must be pre-reserved.
If you want to double up your trip, then a visit to Acadia National Park is only a little bit of island hopping away.
8. Hermit Island, Phippsburg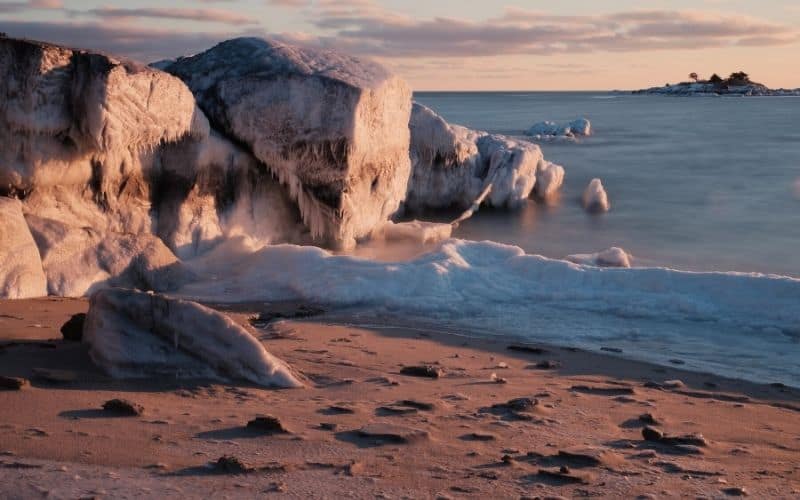 Hermit Island is located in Phippsburg.
This campground was opened in 1952 and since then many generations of visitors have enjoyed the island. It is mostly unchanged since it first opened with a slower pace of daily life to be had. Accommodations are rustic, and everything is in tune with the natural environment.
The island has 271 campsites spread right across its southernmost region with each site being unique. Tents, truck campers, and pop-up trailers up to 25' are all welcome, but hard-topped campers and RVs are not permitted. Unfortunately, dogs are not allowed here either.
There's a snack bar where you'll find a pool table, a few video games, two outdoor ping-pong tables, and a sand volleyball court for the more athletic. Bathrooms are also provided. You'll find seating both inside and outside the snack bar where you can enjoy views out over Head Beach.
After a blissful day spent relaxing on the sandy beach or hiking around one of the many trails on the island, you can rent a pot and cook some of the clams and lobsters that are sold in the snack bar. If you don't feel like cooking, order some ready-to-eat seafood instead and take it back to your campsite to enjoy by the fireside.
9. Cape Neddick Oceanside Campground, York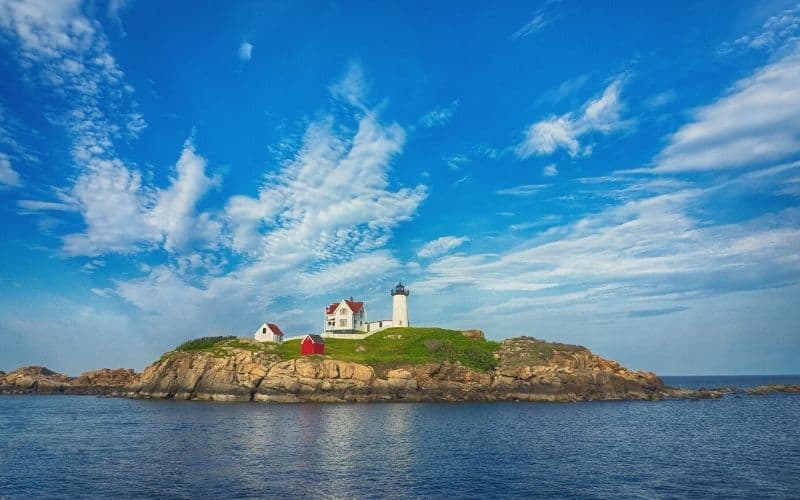 Cape Neddick Oceanside Campground is located in York.
If you want to enjoy your vacation in a peaceful environment right beside the ocean then Cape Neddick Oceanside Campground should be on your list of must-visit destinations. You can choose to pitch a tent or stay in your tent camper for some oceanfront camping where everyone gets to enjoy a sea view!
There are two beautiful, pristine sandy beaches nearby and a vibrant scene in the town of York Beach for entertainment in the evenings. You can also check out the Nubble Lighthouse from Sothier Park, a view that's been enjoyed by visitors to this charming resort since 1879. Drive up to the summit of Mount Agamenticus to gaze at the impressive panoramic views or the more energetic among your party may prefer to take a hike or mountain bike along the extensive trail network.
If you don't fancy cooking, you must visit the Cape Neddick Lobster Pound Harborside Restaurant conveniently situated right across the road from the campground. Enjoy delicious locally-caught lobster while watching kids skipping stones, paddlers and kayakers drifting past, and gulls soaring overhead against glorious sunsets.
10. Bayleys Camping Resort, Scarborough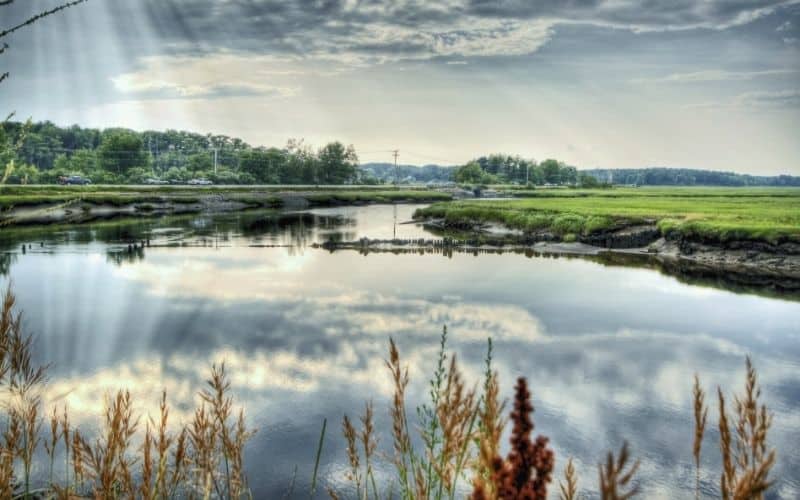 Bayleys Camping Resort is located in coastal Scarborough, one of southern Maine's finest campsites.
A family-oriented campground – this is a camping paradise for families with kids of all ages! There are three heated swimming pools, a game room, an arcade, four hot tubs, three playgrounds, three fishing ponds, and not one camp store but two! As if that wasn't enough, the resort has a recreation center where nightly entertainment and scheduled daily activities are provided.
If you run out of things to do in the resort, Bayley's puts on an hourly shuttle service to Old Orchard Beach and Pine Point Beach where you can soak up a few rays, enjoy spellbinding views out over the ocean, and check out the famous pier at Old Orchard Beach.
Even more, to keep old and young entertained there are twice-daily shuttles provided that will take you to the super-fun amusement centers of Funtown Splashtown U.S.A.
When you need a bit more peace and quiet you can cycle or stroll along the Eastern Trail that winds its way through Scarborough Marsh with its vibrant wildlife population, or there are canoe and kayak rentals available for you to spend a blissful afternoon paddling along the Dunstan River.
The Top Campgrounds In Maine: Wrapping It Up
Maine is a camping enthusiast's dream destination.
If you're looking to get far away from the hurly-burly of your daily routine then you can head to the great Maine wilderness for some time-out. Alternatively, if you'd rather spend a fun-packed vacation by the sea, taking in some of Maine's fascinating, picturesque historical sites and enjoying local cuisine caught fresh from the mighty Atlantic Ocean then Vacationland is still where it's at!