In this guide, discover the might and majesty of Maine with our selection of the 8 best hikes in Acadia National Park.
To go low, or go high? To see ocean, or see sky?
Craving stunning sunrises, exhilarating cliffside walks, and scenic strolls on the beach? Why not all of them in one park?
With over 120 miles of hiking trails, Acadia National Park has something for everyone. Read our guide to find the best hikes for you. 
ProTip: A mostly one-way 27-mile corridor called the Park Loop Road connects many of our best Acadia hiking trails. It begins at Hulls Cove Visitors Center on Mount Desert Island (off of route 3) and ends near Sand Beach.
Acadia National Park Trails: Our Top 8 Picks
1) Precipice Trail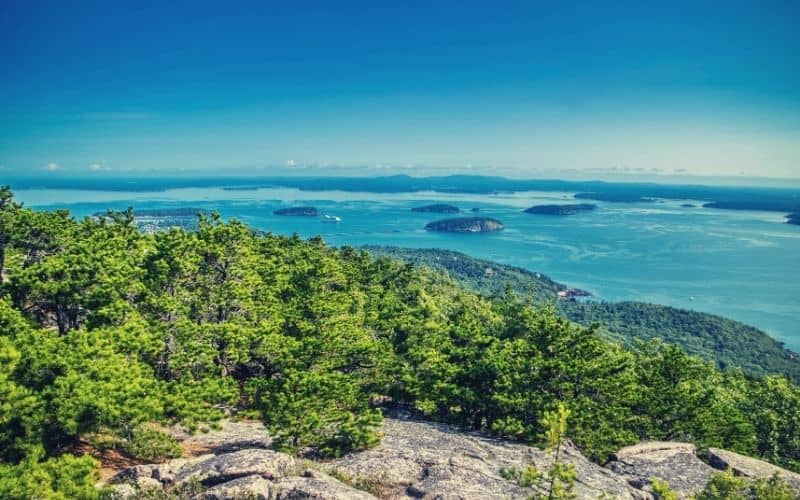 This 2.51-mile loop trail features heavy use of iron rungs and ladders. With just over 1,200 feet of ascent, and tons of exposure, this is a strenuous hike with a high degree of difficulty. It takes roughly 2 to 3 hours to complete,
But don't let the stats deter you. This is one of the most memorable hikes in Acadia and number #1 on our list for a reason.
ProTip: Going up the iron rungs and ladders is much safer than down-climbing them. For that reason, we also recommend this hike be done as a loop rather than an out-and-back, especially if you have a fear of heights.
Traveling steadily up the east face of Champlain Mountain, with the use of iron rungs and ladders, this trail brings you into contact with the raw power of the oldest national park east of the Mississippi. Some sections of the trail are just a few feet wide, with the rock face on one side and a precipitous drop on the other, so a good head for heights and composure are a must.
The first .3 miles from the lot brings a steady 300 feet of elevation gain with a slight dip before coming to a fork. Take the left for the steep route upwards. If you are feeling at your limit, it may be better to go right or turn around. If you are up for a bit of a thrill and happy to be crawling beneath boulders and clambering over rock on exposed sections of trail, take the left.
The following half mile brings with it 700 feet of ascent. A tall order, granted, but one that will reward you with sweeping views of the coastline and an altogether thrilling ride on the way to the top. Once you have summited, take the North Ridge path to the Orange and Black Path to get back to your car.
Due to returning and endangered peregrine falcons nesting in the area, this trail is usually closed late spring to mid-August. As such, it's wise to check for updates from the National Park Service before setting off to do this hike. Winter conditions on this trail can also be treacherous, so the best time to go is from mid-August to mid-fall.
Warning: People have slipped, fallen, and died on this hike. Do not attempt this when it has been raining or if it may rain while you are on the mountain. The views are sensational, but they are not worth risking life or limb over.
The parking area for the trail is north of the Schooner Head entrance fee station on the Loop Road. As one of the more popular hikes, parking fills up fast. Spots are limited and you are not allowed to park outside of designated sites. The early bird gets the worm! Get there no later than 8 am at the latest to avoid disappointment.
RELATED READING: Check out our article for more of the best hiking in Maine.
2) Beehive Trail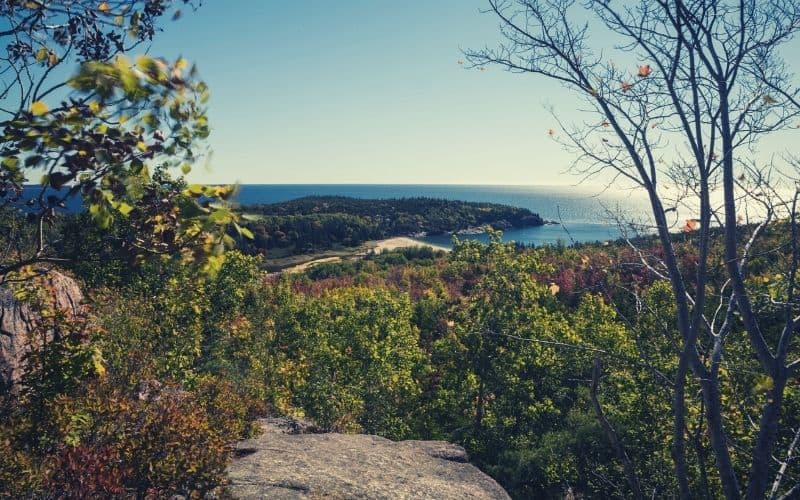 This 1.38-mile loop involves 571 feet of ascent and takes 1 hour to 2 hours to complete. Aptly categorized as strenuous, this is an outing for the athletic adult hiker, and not the best bet for younger kids. The Beehive also requires the use of iron rungs and is not for those who feel uncomfortable with heights.
Start from the Sand Beach parking area and hustle onto the Bowl Trail. You'll gain elevation quickly from the beginning. Take the right turn onto the Beehive Trail 0.15 miles into the trail. From here, you'll begin to climb in earnest and arrive at the Beehive (518) summit after just .2 miles.
When descending, you can take a shortcut by taking a left onto the Bowl Trail .2 miles after the summit. This, however, will take you away from The Bowl, a beautiful lake that is snuggled away in the mountains a short distance further along the Beehive.
Once you reach the bowl, allow the sight of this idyllic little spot to soak in for a while and then take the left to continue your descent on the loop. Once past Halfway Mountain on the return, do not take a right onto the Gorham Mountain Trail, but continue on the Bowl Path to get back to the parking lot.
ProTip: We recommend that you summit The Beehive in the first half of the hike. As with the Precipice trail, this ensures that you go up the rungs instead of down them, which is a trickier undertaking by far. And if conditions are in the slightest bit slippery, it's best to bank this one for another day.
Like the other parking lots, this one gets full quickly, so get there before 8 or 9 am.
3) Jordan Pond Path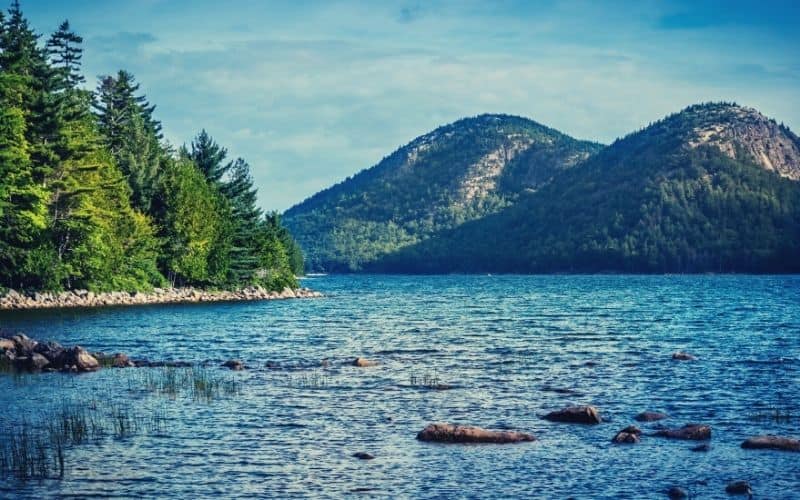 This pleasant, family-friendly 3.3-mile loop requires lots of gentle ups and downs but is far easier-going than the trails we've mentioned so far. The Jordan Pond Path will take around 1 hour 30 minutes to 2 hours to complete and the walk can also easily be turned into an out-and-back if you run out of steam.
The trail skirts around the edge of Jordan Pond, a quaint little body of water that teems with salmon and trout and is exceptionally clear, allowing you to peer down to depths of 46 feet.
This hike is also easily combined with South Bubble Mountain. If you choose to hike the South Bubble Trail, you'll be able to take in Bubble Rock, a giant boulder resting precariously on a slope at the summit.
Park in the Jordan Pond lots, not at Jordan Pond House.
Your route will weave in and out of carriage roads financed by John D. Rockefeller, Jr. Much of the original road is still in the park today! Bikers and skiers use these roads throughout the year.
At the end of your hike (or beginning, if you prefer your dessert first) "pop" into the Jordan Pond House (open daily from late May to late October) to enjoy their famous popovers!
4) Cadillac Mountain South Ridge Trail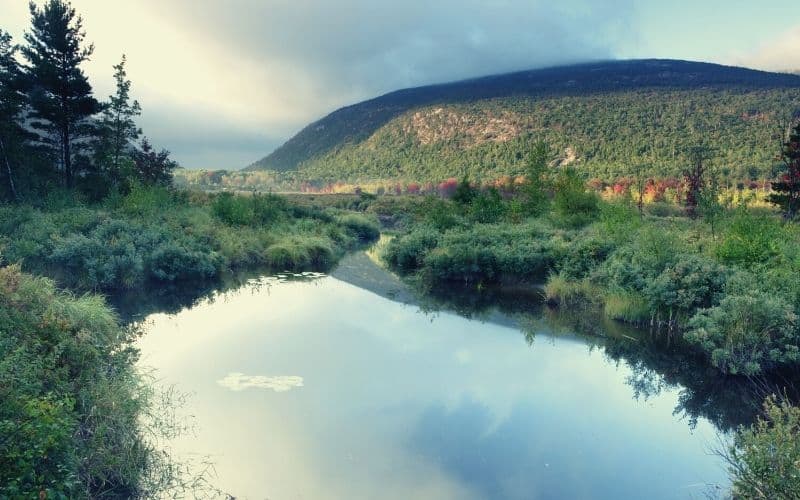 This 4-mile, point-to-point trail can be hard or easy, depending on where you begin. If you start at the summit of Cadillac Mountain, you're in for a pleasant downhill dawdle to the Blackwoods Campground. You'll pass by The Featherbed, a hidden gem of a lake nestled in between the highly popular viewing point of Cadillac Mountain and Dyke Peak and Eagle's Crag.
If you decide to set out at sea level, on the other hand, this is a hard hike with a gradual but sustained 1,400 feet of ascent.
Either way, the logistics are a bit tricky. You can get to Blackwoods Campground by riding the free Island Explorer shuttle bus. Once you summit Cadillac Mountain, you can arrange to be picked up or continue down on the Cadillac Mountain North Ridge Trail, where a bus stop awaits.
Always be sure to check that the bus is running, as weather conditions can cause temporary road closures or a suspension of service.
5) Cadillac Mountain Summit Loop Trail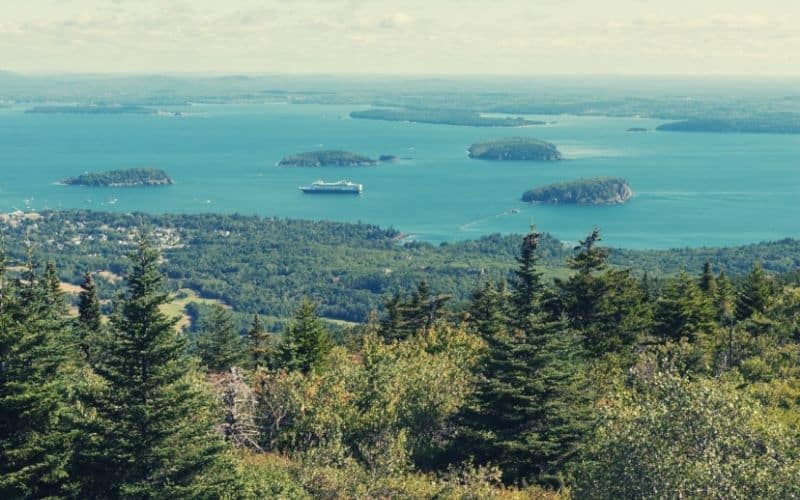 At 0.3 miles, this very easy loop provides the best views around at very little physical cost. It begins and ends nearly at the top of Cadillac Mountain.
If you need a great view in the park and a big win with a fussy family, this is where you should take them when hiking Acadia National Park. It boasts spectacular views of Bar Harbor, Dorr Mountain, and the many small islands that pepper the ocean's surface.
Pro-Tip: Owing to this trail's popularity, the lot gets full fast! There will be a vehicle reservation system for Cadillac Summit Road costing $6 beginning in May 2021.
Cadillac Mountain is the tallest point on the Atlantic coastline. It is also one of the first spots in the United States to feel the sun's embrace every morning, making it the ideal spot for sunrise photo ops. The Native Americans that lived in Acadia, in fact, were called the Wabanaki, or the "People of the Dawnland."
6) Bowl Trail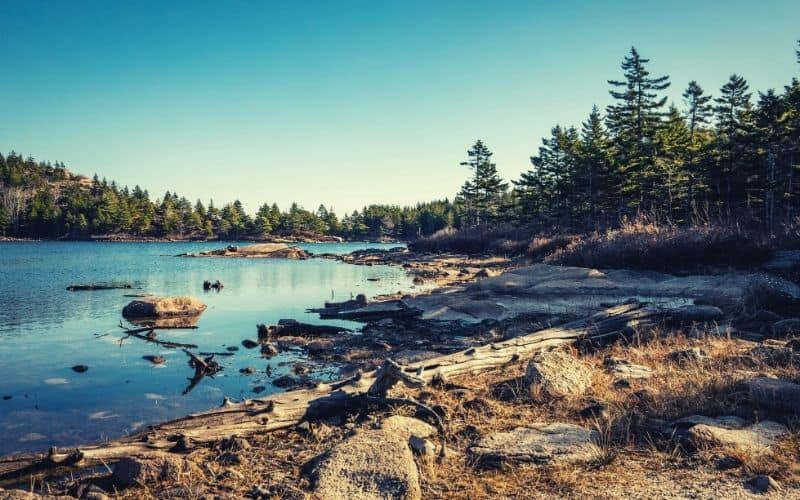 At 1.4 miles and with 420 feet of ascent, this out-and-back trail is a moderate hike that allows you to take in the picturesque Bowl Lake while skipping the more daunting aspects of The Beehive Trail. It takes only 1 to 2 hours to complete but features some steep gradients, meaning it's not the best trail in the park to take on with younger kids.
The lake showcases a wealth of different features, from ponds to forests and granite ledges. The hike is pleasant and not too challenging and the trail gives you a small but satisfying taste of everything Acadia National Park has to offer.
Autumn visits are especially recommended. Then, the orange, red, and brown foliage is worth the price of admission alone! Peak foliage usually occurs in mid-October, depending on the year.
The trail starts at the same lot as The Beehive Trail, around 100 feet north of the Sand Beach parking area,
7) Acadia Mountain Trail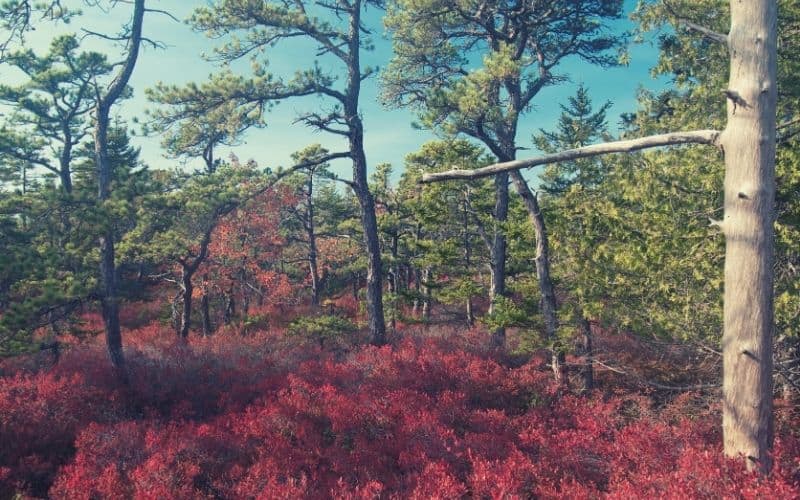 If you would like to connect with the land and get far from the madding crowd, head west, leave the loop road behind, and enjoy the thrilling Acadia Mountain hike. This is a vigorous 2.5-mile loop with an impressive 700 feet of ascent in just under 1 mile, meaning it's a little harder and more strenuous than the other short hikes on our list.
The reward for your efforts are commanding views of Somes Sound to the east and Beech mountain to the southwest. This trail's a little less traffic than others on Mount Desert Island, so there's a far better chance of having the summit all to yourself, too.
The trailhead and lot are located along Route 102, across from Echo Lake. Cross the road to find the standard trailhead marker and begin on the St. Sauveur Trail, then take the left heading toward Acadia Mountain at the next fork.
Descend using the Man O'War Brook Fire Road by taking a left after the overlook. On the way down, you'll pass a gorgeous little waterfall and enjoy further outstanding views of the sound.
8) Ocean Path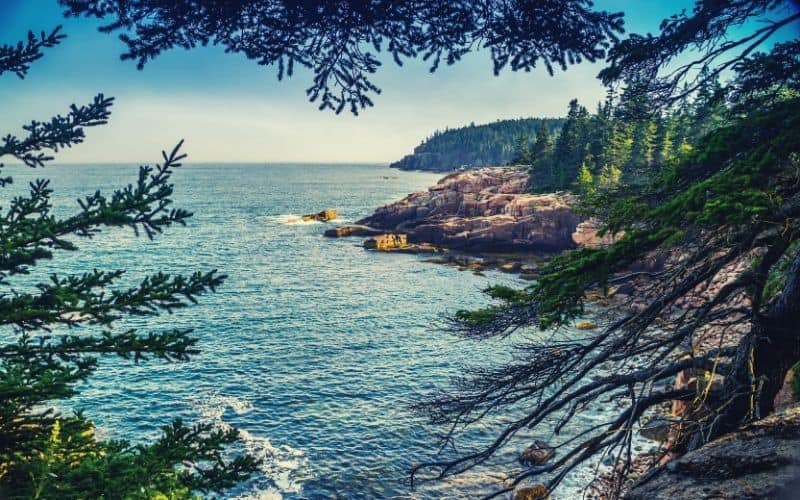 This one's a very easy 3.8-mile (round trip) out-and-back hike that will lead you from Sand Beach past Thunder Hole to Otter Point. Starting from the upper parking lot at Sand Beach, this hike runs parallel to the Park Loop Road. While popular and often busy, it offers a great way to see the park's best features without putting in any stiff ascents.
This is one of the most popular Acadia National Park hikes, especially around noon every day, so it's not the best option for lovers of solitude. That said, there are plenty of features that make the Ocean Path well worth doing.
About 2.5 miles into the walk, you'll encounter the Otter Cliff. With cliffs reaching 110 feet high, this is the highest headland north of Rio De Janeiro and a true sight to behold!
ProTip: When the route looks slippery, especially around Otter Cliffs, do not attempt to continue. And remember, you can walk back and drive to any of these great landmarks if you don't have time to hike Ocean Path in its entirety in a single day.
Next up is Thunder Hole, a natural feature on the rocky shoreline that takes its name from the thunder-like sound it emits when large waves crash into the shore, sending sprays of water up to 40 feet high.
Finally, at Sand Beach, you'll find the perfect spot for a post- or mid-hike dip. A lifeguard is on duty at the beach in the summer, so you don't have to worry too much about those thunderous waves!
Acadia National Park: Further Tips
There is a fee to enter the park: $30 per vehicle; $25 per motorcycle; and $15 per person if you enter on foot, horse, or bike. An annual pass for Acadia National Park specifically is available for $55.
The park is dog-friendly, but pets need to be leashed at all times.
Most visitor centers are closed in winter
There is limited cell service and no public wifi
Awesome Acadia!
With the great variety of hikes in Acadia, this one-of-a-kind park is an absolute must for the bucket list of any hiker keen to explore the world's most unique and exhilarating hiking destinations. We hope our list and tips help you find the best hikes in the park for you and your hiking companions!
Did you enjoy our roundup of the best hiking trails in Acadia National Park? Tell us what you think in the comments! We'd love to hear from you!