New Hampshire is full of natural beauty, including waterfalls, breathtaking mountains, and expansive lakes. The best way to experience the Granite State? By making a basecamp at one of its many awesome campgrounds.
When it comes to camping, there is something for everyone here, from oceanfront RV parking to remote, paddle-in tent sites.
Use our guide to find the ideal New Hampshire staging ground for your next adventure.
1. Lafayette Place Campground, Franconia Notch State Park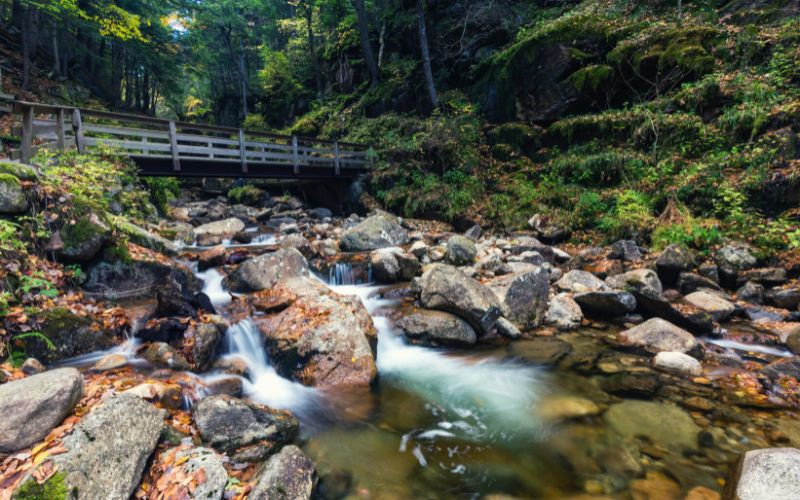 Nestled in the epicenter of a glacially carved mountain pass or notch, Lafayette Place Campground is the perfect base for exploring all things New Hampshire. Whether you're pitching a tent, pulling a travel trailer, or camping out of your RV, this campground has plenty of space for everyone.
From the campground, you can hike the Appalachian Trail or Pemi Loop, explore the Flume Gorge, or swim in Echo Lake. Take North America's first-ever cable car, the Cannon Mountain Aerial Tramway, to the top of Cannon Mountain, or check out the unique New England Ski Museum.
The campground also offers free interpretive nature programs for all ages to learn about the area's natural environment, so your trip can be an educational experience, too.
Choose from 97 spacious, shaded sites. Lafayette Place Campground is open all year, but certain services, including the showers, are only available from May thru October.
Pro-Tip: Do NOT bring dogs to Lafayette Place Campground in Franconia Notch State Park. If you bring your pets, you will not be able to enter the campground, and you will lose your reservation.
2. Bear Brook State Park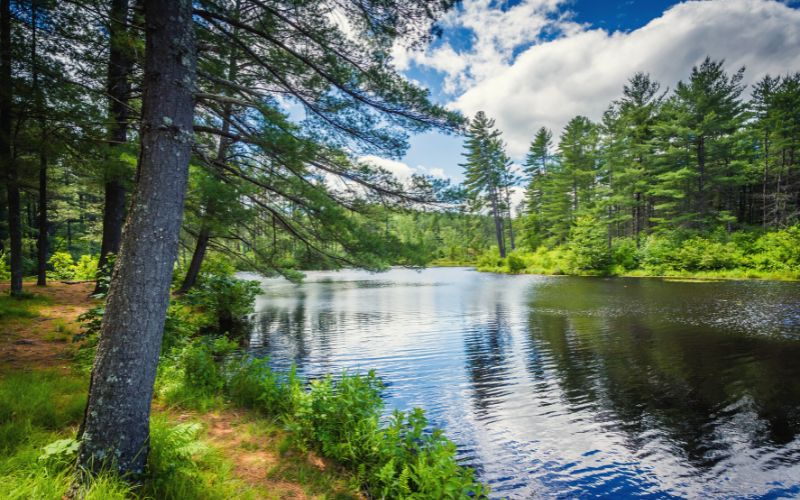 Home to 10,000 acres of New Hampshire forest, bogs, and ponds, Bear Brook State Park gives you that wilderness feeling without making a long drive. You can access forty miles of trails for hiking, horseback riding, and mountain biking from your site.
You can rent boats and canoes to spend the day on Beaver Pond. Bear Brook even has two archery ranges to use with your gear.
You can also visit the Richard Diehl Civilian Conservation Corps (CCC) Museum from your campsite. The depression-era camp is on the National Register of Historic Places. While visiting the most intact CCC camps left, check out the New Hampshire Antique Snowmobile Museum.
Bear Brook State Park campground has 110 sites in the woods surrounding Beaver Pond. There are showers, laundry, a store, and an RV dump station.
3. Lake Francis State Park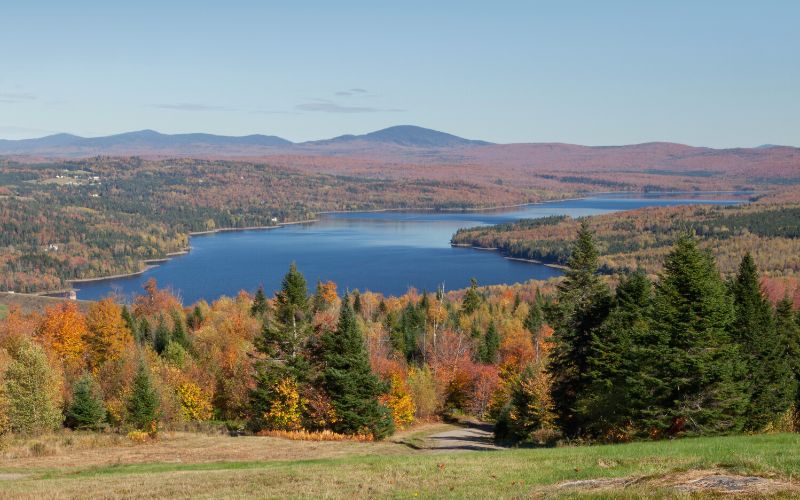 Located in very northern New Hampshire, Lake Francis State Park is a one-of-a-kind beauty. Escape to the Great North Woods of New England, where you can enjoy fishing, canoeing, kayaking, and off-roading.
ATV enthusiasts can ride 1,000 miles of off-highway trails right from camp. Lake Francis offers 200 acres of pristine lake paddling for kayakers and canoeists. You can even paddle all the way to the Canadian border via the Connecticut River.
Being one of the top campgrounds in the state, Lake Francis has spots designated for ATV camping and places for RV campers. Find the small camp store if you forget any necessities. There are only 45 sites, so reserve yours well in advance. 
4. Sugarloaf Campgrounds, White Mountain National Forest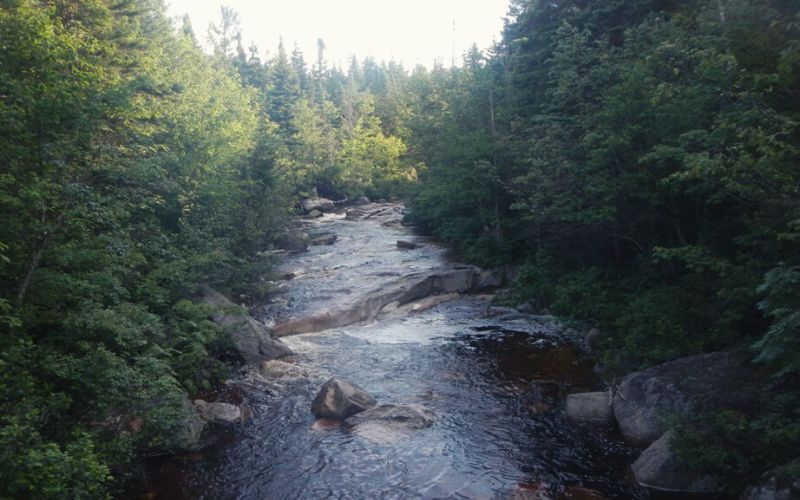 The US Forest Service maintains two campgrounds in the western White Mountains, Sugarloaf I and Sugarloaf II. Both have large, well-separated spots for hikers and backpackers who don't mind skipping a shower.
Sugarloaf I has water spigots, making it the preferred place to get water. Sugarloaf II has a hand-operated water pump, but the two are close enough to carry water. Most campsites have fire pits for cooking. They all enjoy the soothing sounds of the Zealand River singing you to sleep.
From the camping area, you can reach the Sugarloaf Mountain Trail for a challenging 4.4-mile hike to the summit. Or try the family-friendly walk along the river to Zealand Falls Hut, an AMC-staffed hut along the Appalachian Trail.
From the Sugarloaf campgrounds, you are only a few miles from climbing nearby Mt. Washington. You can reserve one of 29 spots at the Sugarloaf Campgrounds online or by calling a toll-free number.
5. Jigger Johnson and Blackberry Crossing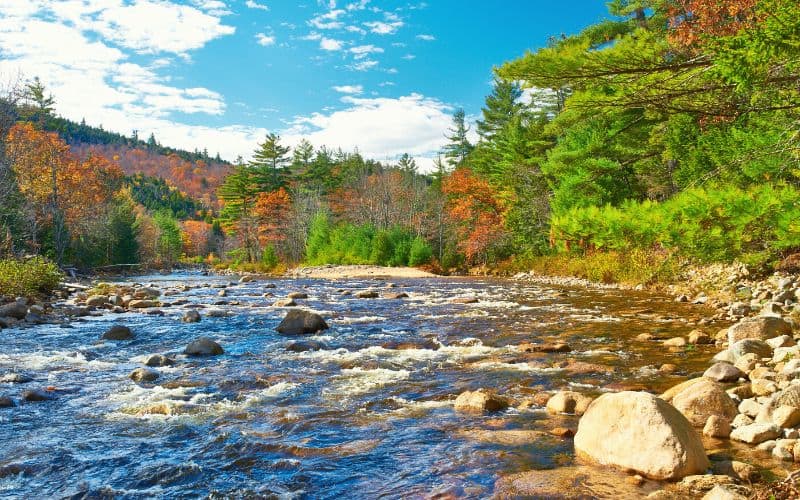 If you're headed to the White Mountain National Forest, check out the Jigger Johnson or Blackberry Crossing campgrounds. The two campgrounds are six miles apart, but both have large tent sites along the banks of the Swift River for some of the best campgrounds in NH.
Both areas are close to Mt. Chocorua and Sabbaday Falls hiking trails. From Jigger Johnson, you can access the Russell-Colbath Historic Site, a historic homestead house and barn from the 1800s.
Blackberry Crossing used to be a Civilian Conservation Corps camp, and you can take a self-guided tour to learn more about the area. Blackberry Crossing also offers a short walk to the iconic Albany Covered Bridge.
Jigger Johnson is larger and has more amenities, but both areas afford stunning stays in the depths of White Mountain National Forest.
Pro-Tip: Neither Jigger Johnson nor Blackberry Crossing is reservable in advance. Both campgrounds are first-come, first-served. Have a backup plan in case the spot you want is already occupied.
6. Pawtuckaway State Park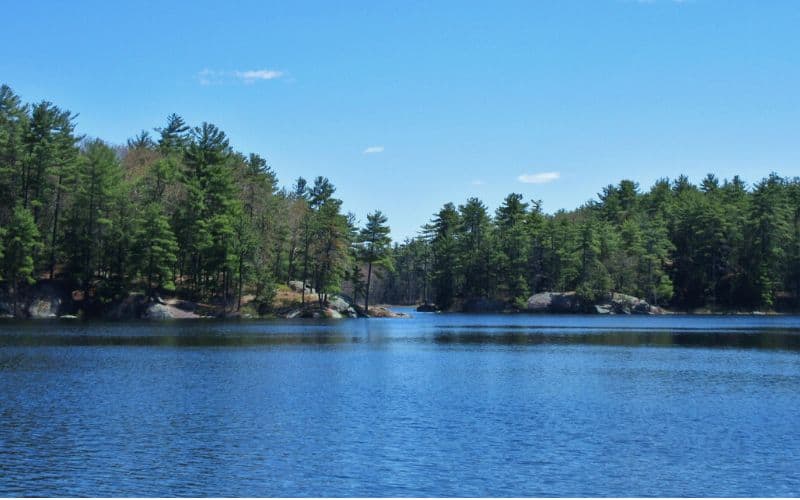 Pawtuckaway Lake is a popular destination for hiking, canoeing, and family beach days. You can follow trails to a mountaintop fire tower. There is a geologically fascinating boulder field shaped by ice-age glacier movements. You can also explore a marsh for a chance to see beaver, deer, and great blue herons.
Pawtuckaway State Park has nearly 200 campsites with lake views and all the other amenities you could ask for. There are 6-person cabin rentals with electricity for those who don't want to rough it in a tent. There's a beautiful sandy beach for swimming, a boat ramp, and canoe and kayak rentals.
A camp store and showers are also there for when you get off the water. Pawtuckaway State Park highly recommends a reservation for camping.
7. Umbagog Lake Campground, Umbagog Lake State Park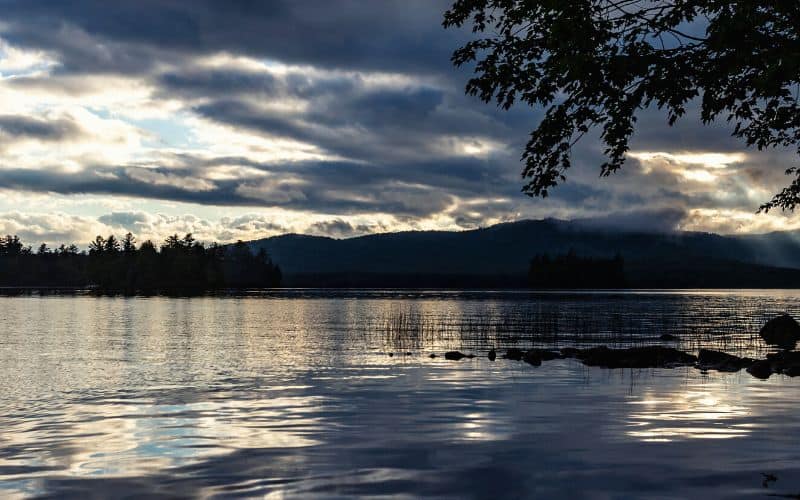 Lake Umbagog is in northern New Hampshire and Maine and is one of the top kayaking spots in New England. To spend some quality time enjoying the lake, Umbagog Lake Campground is the place to be.
You can swim, fish, and try wildlife and bird viewing from camp. Keep your eyes peeled for moose, deer, eagles, and other birds.
There are lakeside spots for tents and RV hookups and remote sites that you can only reach by way of the lake. The park can provide transportation to these sites, or you can rent a canoe, kayak, or rowboat.
8. Greenfield State Park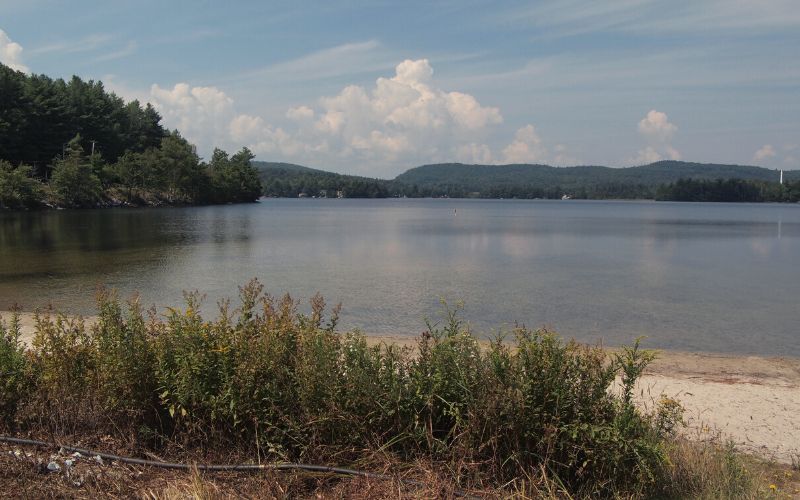 The best part about camping at Greenfield State Park is Otter Lake and the 900-foot private sandy beach reserved for campers. Day visitors use a separate beach. You can rent boats and spend a day fishing or paddling around the undeveloped area.
If being on the water's not for you, try walking along the state park's many trails to bogs, ponds, and enchanted woodlands. You can also use Greenfield State Park as a base for climbing nearby Mt. Monadnock.
There are a whopping 255 sites here. Although there are no RV hookups, RVers can use the larger sites. About half the sites are first-come, first-served, while the other half you can reserve.
9. White Lake State Park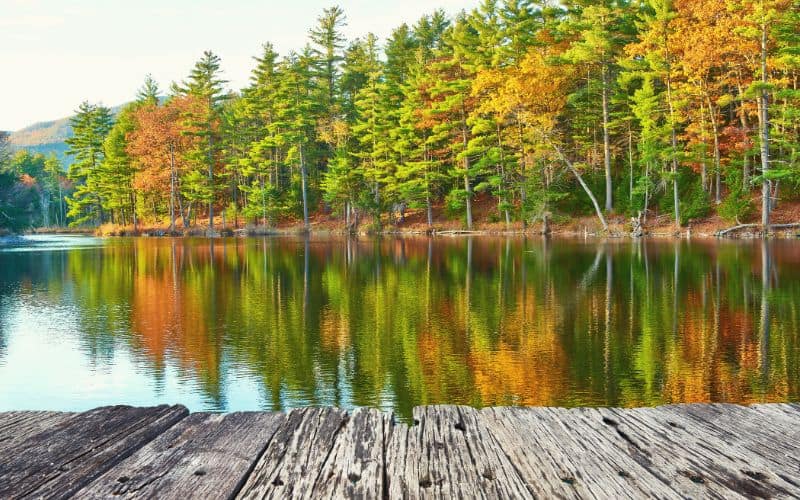 White Lake State Park campground is one of the largest in the White Mountains and the only lakeside campground with a swimming beach. White Lake formed at the end of the Ice Age when ice became buried under glacial debris and then melted into the lake we know today.
The lake is an excellent place for fishing, boating, and simply enjoying the sun and the water. There are also walking trails around the lake where you might also spot wildlife, including loons and beavers.
The campground boasts about 200 campsites situated under large pine trees. Most have views of the lake. You can book your spot online but be aware youth groups reserve some of the larger sites.
10. Lost River Valley Campground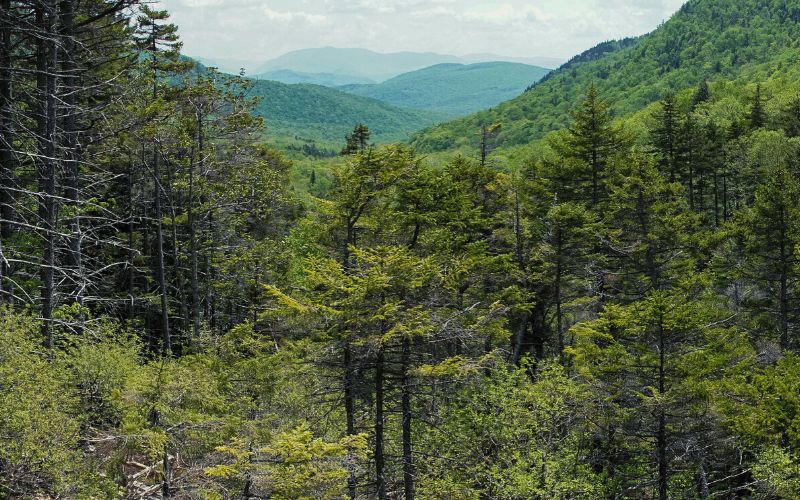 Lost River Valley Campground is surrounded by White Mountain National Forest and is close to some of the area's major attractions. Within a half-hour drive, you can access the Kancamagus Scenic Byway, the Lost River Gorge, and Franconia Notch.
That being said, you might not want to leave the campground at all thanks to all its awesome amenities and facilities. There is a game room, playground, and basketball, tennis, and badminton courts. You can also check out the volleyball court, paddleboard and kayak rentals, and two stocked brooks for fishing.
Lost River Valley is a privately-owned campground. There are 125 riverside campsites with plenty of shade and privacy. Some have RV hookups, or you can try one of their cozy camping cabins. They do not accept reservations from late June through Labor Day, and during this time there is a three-day minimum stay requirement. Make your plans in advance.
11. Israel River Campground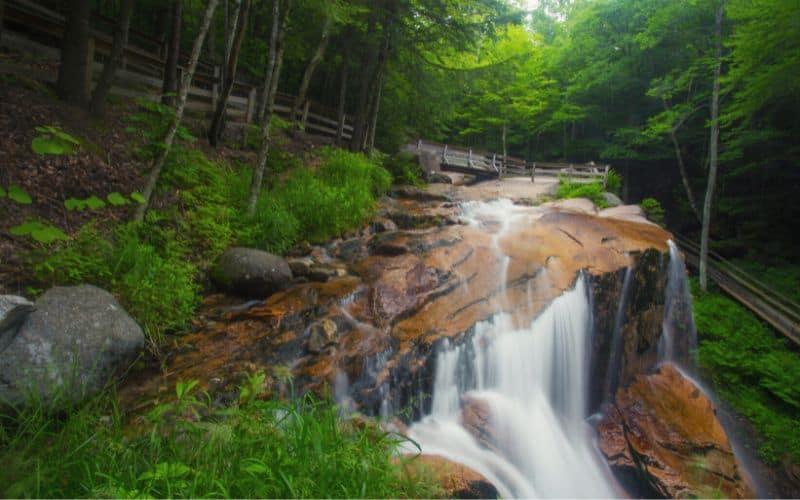 For another great place to enjoy the White Mountains, try Israel River Campground near Jefferson, New Hampshire. The campground is a short drive to some of New Hampshire's most popular sites, including the Mount Washington Cog Railway, the Flume Gorge, and Wildcat Mountain.
While at Israel River, you can play horseshoes and shuffleboard, fish or tube the river, and check out the arcade. There's a lending library and a hot tub for those seeking a quiet and relaxing trip.
There are 102 sites at Israel River. Both full hookups and water/electric sites are available. You can even rent a camper if you don't own one but want to try camper living for a few days. Spots fill up quickly at this well-maintained campground, so book early.
12. Hampton Beach State Park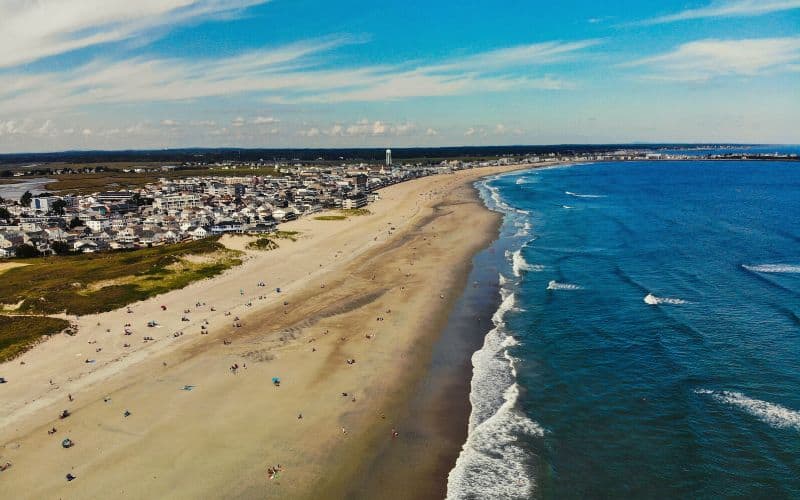 The state of New Hampshire only has 18 miles of coastline, but what it does have is stunning. Hampton Beach State Park offers the only ocean-front camping in NH you'll find. 
You only have to take a few steps from your campsite to enjoy miles of white sand beaches and rolling waves. The state park hosts various events throughout the season, including live music, fireworks, and a sand sculpture contest. Keep an eye on the events calendar for more fun activities.
The campground is at the mouth of the Hampton River on the south end of the park. The 28 sites are exclusively for RV camping only. No tents or pop-ups. Between May and Indigenous Peoples' Day, you will need a reservation.
13. Dry River Campground, Crawford Notch State Park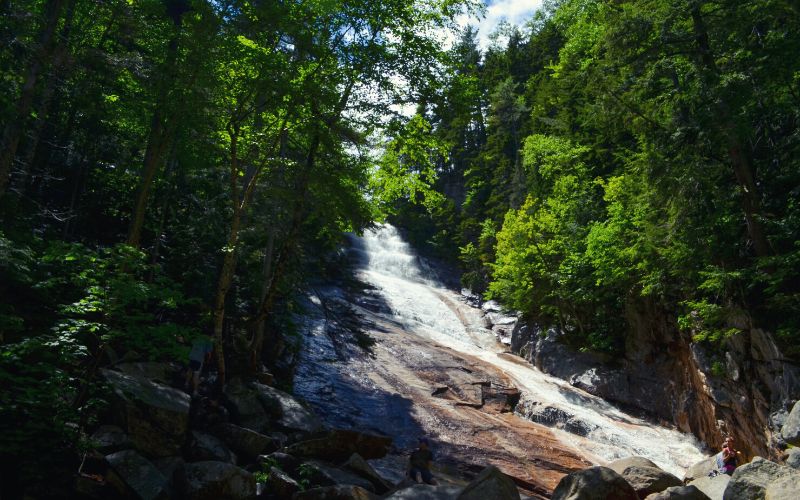 Although small, this campground has a lot to offer. It's also the ideal starting point for many must-do New Hampshire hikes, including the Sam Willey Trail and the Pond Loop Trail.
You can also reach the Ripley Falls Trailhead from camp, an easy hike to a breathtaking 100-foot waterfall. If that's not enough, you're not far from Arethusa Falls, a 200-foot waterfall. For those willing to drive, Dry River Campground is only 20 miles from the Conway Scenic Railroad and the local shops and restaurants of North Conway.
Dry River Campground is for tent camping only and does not offer any RV spots. There are showers, laundry, and flush toilets available.
14. Jericho Mountain State Park
Camping at Jericho Mountain State Park is primitive but worth it. The campground provides access to over 75 miles of off-roading recreational vehicle (OHRV) trails. The trails are also perfect for mountain biking, hiking, and snowmobiling.
Enjoy the campground's pavilion for picnics and other celebrations. The lake itself offers swimming, fishing, and boating opportunities. In the late summer, the state park hosts the.
There are a total of 20 camp spots, 6 of which are for tent camping. There are 9 RV sites, and 5 cabins. Water is available at the sites, but there's no electricity. However, there are porta-potties throughout the campground. Parking is limited, especially on weekends and holidays. You can reserve your spot online.
15. Mount Sunapee State Park
Mount Sunapee State Park encompasses almost 3,000 acres of rugged New Hampshire wilderness. For avid hikers, the campground offers access to many hiking trails, including a 75-mile trail that connects Sunapee, Winslow, Rollins, and Wadleigh state parks.
If hiking isn't your cup of tea, there are boat rentals, fishing, and beautiful beaches in the state park. Mount Sunapee State Park also hosts an annual Arts and Crafts Festival.
Camping at the park is limited. There are 11 tent and lean-to sites available, and only one is for walk-ins. Don't forget to reserve your spot!
16. Deer Mountain Campground, Connecticut Lakes State Forest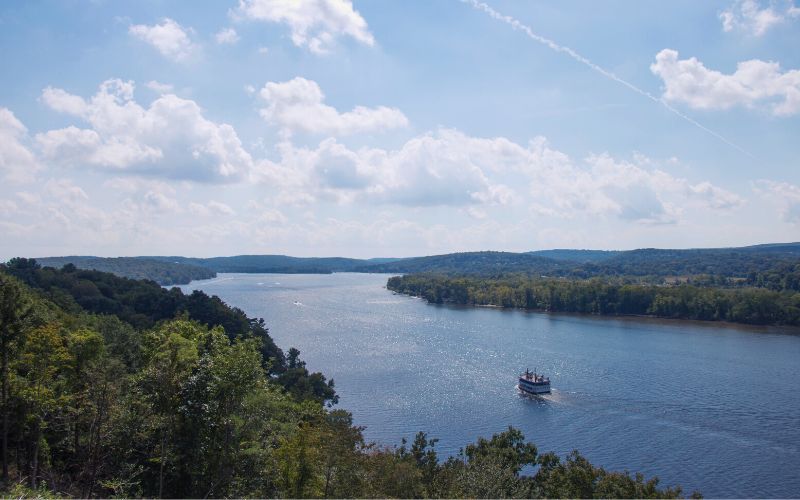 Five miles south of the Canadian border and adjacent to Moose Alley, you will find Deer Mountain Campground in the Connecticut Lakes State Forest. This area of the state has world-class hiking, hunting, and fishing.
Most camping spots are right along the shore of the Connecticut River. At the far end of the campground, you can access the trail to Moose Falls and the northernmost dam on the river. Here you can fish, canoe, and swim in the summer months. You won't have to look far to spot moose and other wildlife.
The 23 campsites open at the end of May. There is one cabin available, along with sites for tents. The sites are all considered primitive, but the campground has bathrooms and water.
17. Coleman State Park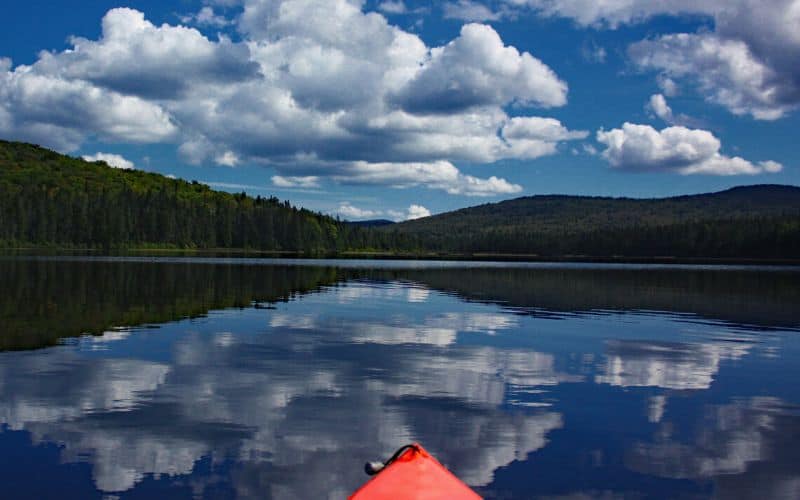 Coleman State Park is every outdoor enthusiast's dream. The park's Little Diamond Pond and nearby streams are full of brook trout. Take your boat out on the boat launch or enjoy a day in the remote wilderness of the Great North Woods. The park is part of an extensive trail network for mountain biking, hiking, and off-roading.
Although secluded, the campground has amenities like hot showers, flush toilets, and a laundry room. The sites are primarily primitive, but a dump station is also available. Twenty-seven different sites can accommodate any camper, from RVs to tents only. There are also four cabins available, but they go fast! Book online to ensure your spot.
Best Campgrounds in NH: Happy Camping!
New Hampshire is overflowing with amazing camping opportunities; from oceanside to mountain-high, there is something for everyone. Whether you are a full-time RVer or a weekend tent warrior, you'll find something perfect for you in the Granite State.
If you found this article helpful, let us know in the comments. And don't forget to share this for your next outdoor adventure.