When you think of Florida, you may think of Disney World or exclusive resorts on the beach. But have you ever heard of Dry Tortugas National Park? How about Anastasia State Park? Apalachicola National Forest? Bahia Honda State Park?
These are a mere few of the incredible destinations that await those who are willing to forego the fancy hotels and get back to nature with a few nights under the canvas or in their RV.
To help you find and make the most of the wilderness areas, national and state parks, and national scenic areas this one-of-a-kind state has to offer, we've compiled a list of the 18 best camping areas in Florida for tent and RV campers alike. 
Read on to find out more!
Our 18 Favorite Florida Campgrounds
1. Long Key State Park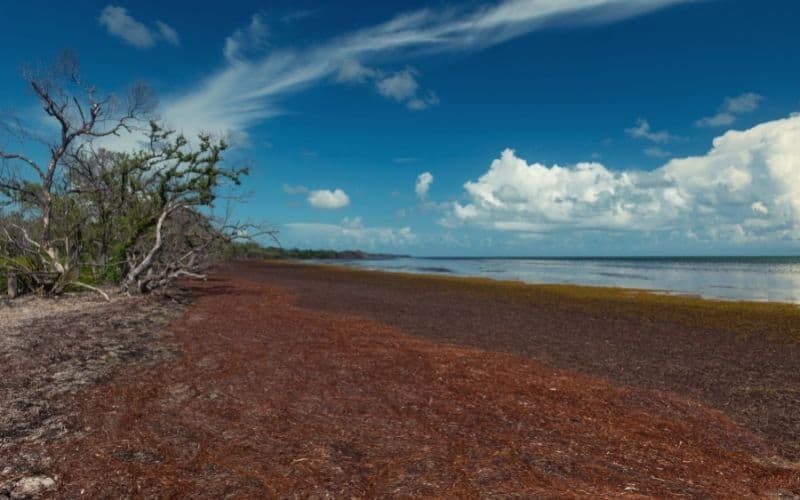 Type: Tent, walk-in
Full RV hookups: No
Nearest town: Layton, 1.2 miles
Once a luxury destination for the rich and famous, Long Key State Park is now a popular destination for those hoping to explore the natural flora and fauna of the Middle Keys and enjoy some of the best camping in Florida for land-lovers and ocean addicts alike.
The park, located where the Gulf of Mexico and Atlantic Ocean meet, was damaged by Hurricane Irma and restoration efforts are still in progress. As such, the park currently offers only walk-in tent sites.
There's plenty of exploring to be done on the whole island. You can rent a kayak from the ranger station or bring one yourself to delve into the wildlife in the mangroves and aquamarine shallow waters.
There are also two hiking trails on the island for inland exploration. You can bring your binoculars and meander down the 1.5-mile Golden Orb Trail, which is known for hosting rare songbirds and the endangered white-crowned pigeons.
RELATED READING: Find out more great ideas to get out into the great outdoors in Florida.
2. Myakka River State Park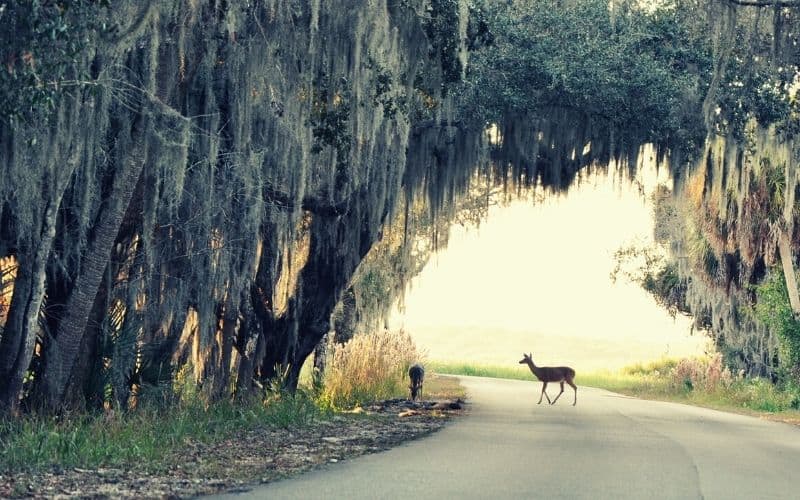 Type: Tent, RV, cabins
Full RV hookups: Yes
Nearest town: Sarasota, 18.8 miles
As one of Florida's oldest parks, Myakka River State Park is one of few places in the entire US that looks today as it would have done hundreds of years ago.
In this idyllic park, you'll find thriving oak savannah and palm trees lining the banks of the Myakka River, Florida's first state-designated 'Wild and Scenic' river.
You can rent canoes and kayaks from the ranger station to explore the vibrant wetlands, or hire a bike to explore the many miles of hiking/nature trails and backroads inside the state park. With any luck, you might even see a few alligators and turtles basking in the sun.
You'll find plenty of amenities here: Full RV camping hookups, hot showers, laundry facilities, picnic tables, a dump station, and even Wifi.
3. Fort De Soto County Park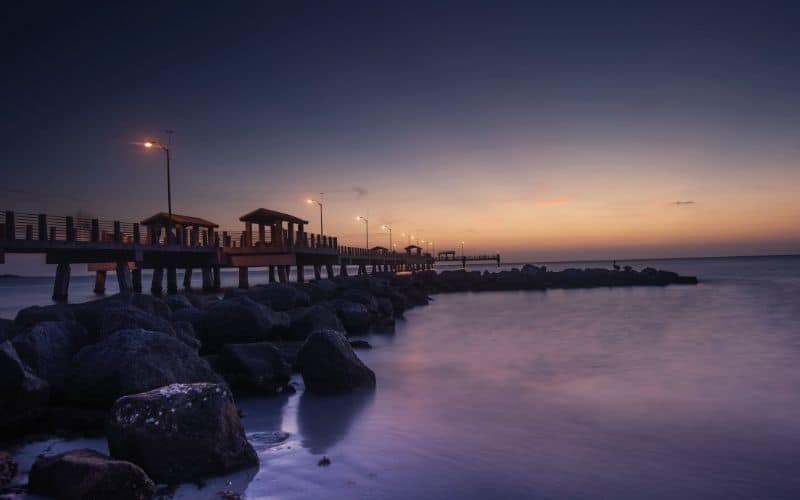 Type: RV, tent
Full RV hookups: Yes
Nearest town: Tierra Verde, 4.4 miles
Located near St. Petersburg with stunning ocean views, Fort De Soto Park is a beautiful area for exploring via kayak, bike, or on foot.
The campground has 236 sites with full hookups, modern restrooms, showers, a dump station, boat ramp, dog park, picnic tables, and laundry facilities, and is perfect for RV camping.
You can comb the beach to look for sand dollars, swim in the shallow waters, kayak, fish, hike, or mountain bike here. Fort De Soto Park is also a popular destination for birdwatching, so bring your binoculars for coveted glimpses of snowy egrets and tricolored herons.
4. Biscayne National Park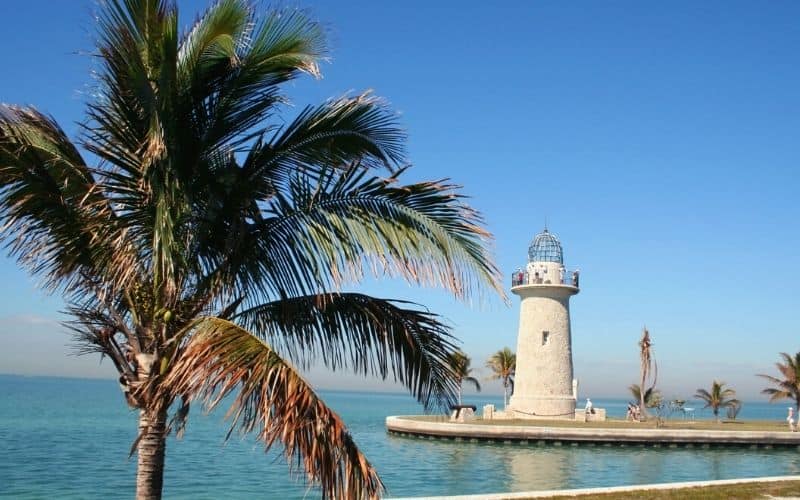 Type: Tent
Full RV hookups: No
Nearest town: Homestead, 9.2 miles
It will be hard to believe you're within sight of Miami when camping at the ecological wonder that is Biscayne National Park. With aquamarine waters, green islands, and vibrant coral reefs, the park is a nature enthusiast's heaven!
You can take a guided eco-adventure or just relax on the beach. For ocean lovers, rent a kayak or canoe to explore the mangroves, shipwrecks, and coral reefs. This 95%-water national park is also a popular spot for anglers.
You'll camp at either Elliott Key or Boca Chita Key, where you can have up to two tents and six people. You'll need a boat to get to each island, so there is no RV camping available. It's free to camp and dock here from May 1 to September 30.
5. Jonathan Dickinson State Park: Pine Grove Campground and River Campground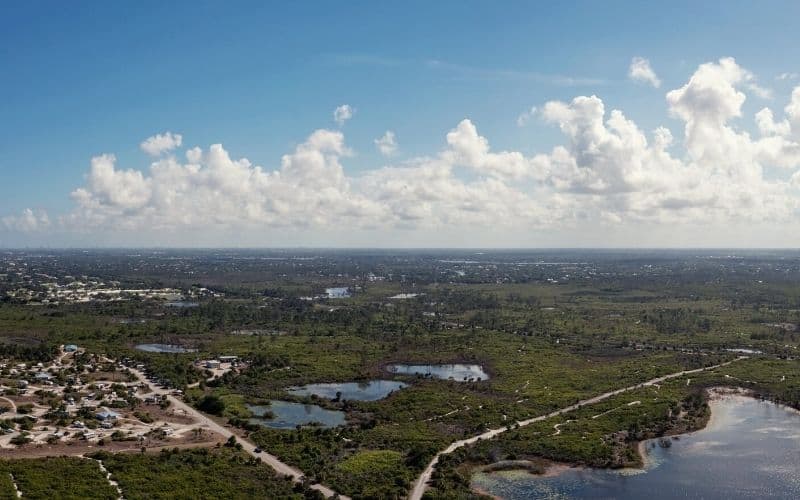 Type: Tent, RV
Full RV hookups: Yes
Nearest town: Jupiter, 8.5 miles
Named after a shipwrecked Quaker, Jonathan Dickinson State Park is chock full of historical significance and ecological wonders.
You can drive into or pitch your tent in Pine Grove Campground, which boasts 90 tent and RV sites.
And for fun? You can rent a kayak or canoe to explore the Loxahatchee River where you can explore Trapper Nelson's homestead, named after the legendary Wild Man of the Loxahatchee. You also have the option of exploring this state park horseback riding or by bike, while anglers can get their fix of fishing from the riverbank or on a boat (rentals available).
6. Anastasia State Park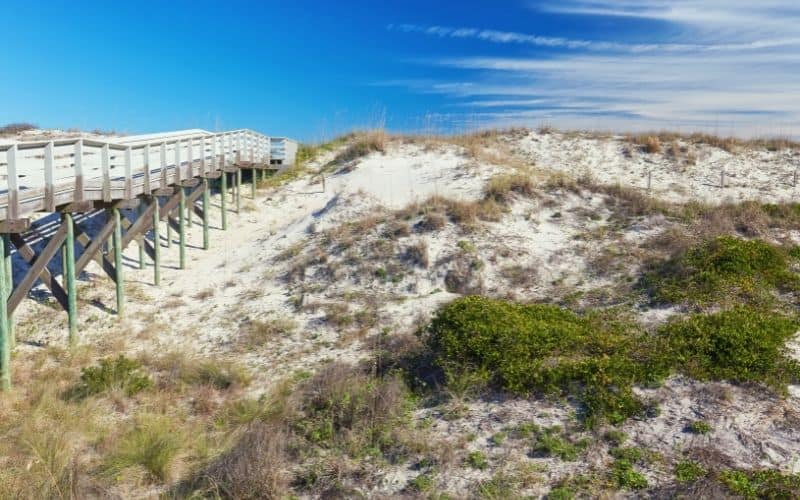 Type: Tent, RV
Full RV hookups: Yes
Nearest town: St. Augustine, 2.7 miles
Located off the Atlantic Coast in North Florida, the 1600-acre Anastasia State Park is home to abundant wildlife and one of the best camping spots in Florida for beach lovers. The park is open for tent and RV camping, and has full electric and water hookups at all sites.
The park has over 4 miles of white sandy beach and a thriving tidal marsh. You can also wander along a delightful nature trail to see ancient sand dunes and maritime hammocks.
You can rent canoes and kayaks here for a day on the water, and beachcombing and birdwatching are virtually unavoidable – the park is home to over 195 species of birds and the park is renowned as a great place to find shells.
7. Rainbow Springs State Park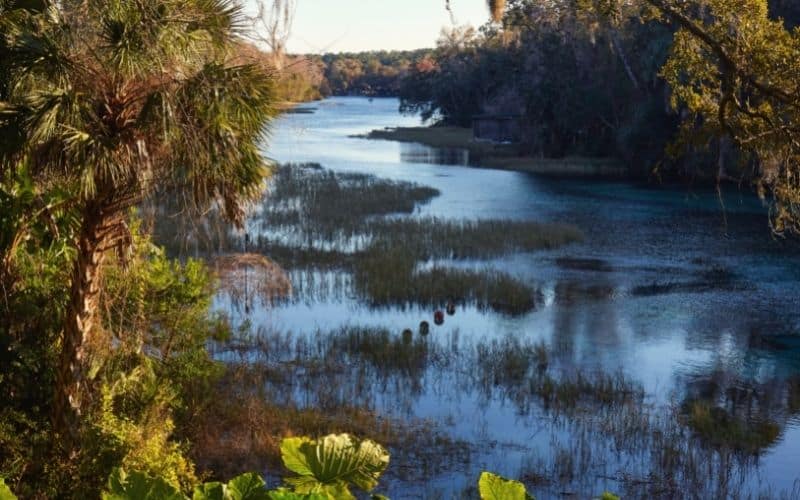 Type: Tent, RV
Full RV hookups: Yes
Nearest town: Dunnellon, 3.5 miles
Rainbow Springs State Park in Marion County is one of the most idyllic camping locations on our list. The park is famed for its artesian springs and their stunning turquoise waters, which are the focal point of everything you can do here and make for a unique natural swimming pool.
You can take a stroll through the gardens and take a dip in the springs in between your kayaking or canoeing journeys, and also check out the cascading, man-made waterfalls in the gardens.
The campground is just along the river and has modern restrooms, laundry, picnic tables, and full electrical hookups.
8. Blackwater River State Park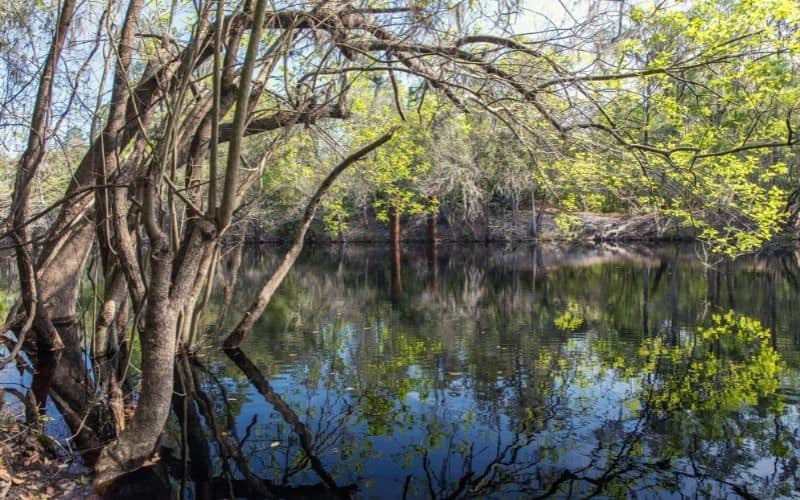 Type: Tent, RV
Full RV hookups: Yes
Nearest town: Holt, 10.5 miles
You'll find no shortage of things to do around the thriving waterway that gives Blackwater State Park its name.
The area is the largest contiguous longleaf pine/wiregrass ecosystem left on Earth, an ecosystem that is rarer than a tropical rainforest.
The water itself is brownish against the white sandy beach, as it is stained by the tannins from roots, leaves, and trees of the shoreline flora, but this only adds to the uniqueness of its beauty.
You can kayak and canoe along the waterway and check out the myriad wildlife this precious ecosystem holds. Swimming, hikes along the river banks, fishing, and cycling are other great ways to immerse yourself in the park's lush environment.
The park's campground boasts 30 sites with full electrical hookups and a playground for the kids.
9. Cayo Costa State Park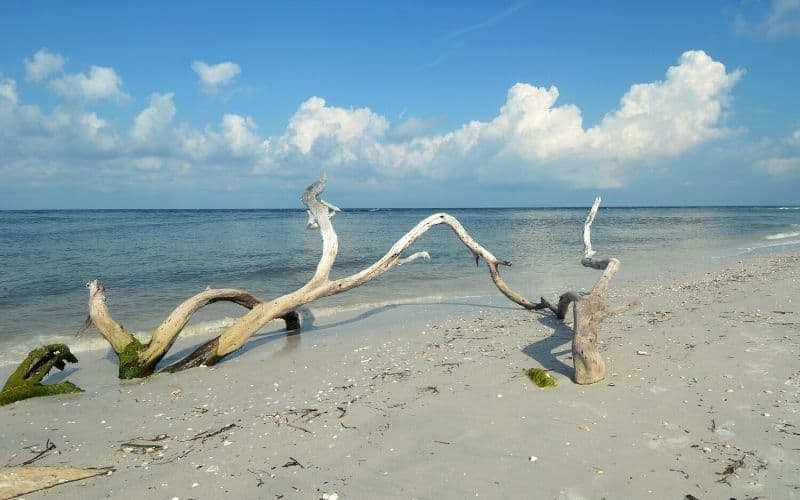 Type: Tent, boat, cabins
Full RV hookups: No
Nearest town: Bokeelia, accessed only by boat or helicopter
This white-sand-beach island is accessible only by boat or helicopter. It may take a bit of effort, but once you get there you'll find many miles of pristine sandy beaches, pine forests, and flourishing mangrove swamps that make it all worthwhile.
There are multiple camping options on Cayo Costa State Park: 30 primitive sites, rental cabins, and boat camping. There are modern restrooms with showers available as well.
Explore the island via bike, kayak, or paddleboards, all of which you can rent from the ranger station.
10. Fort Pickens Campground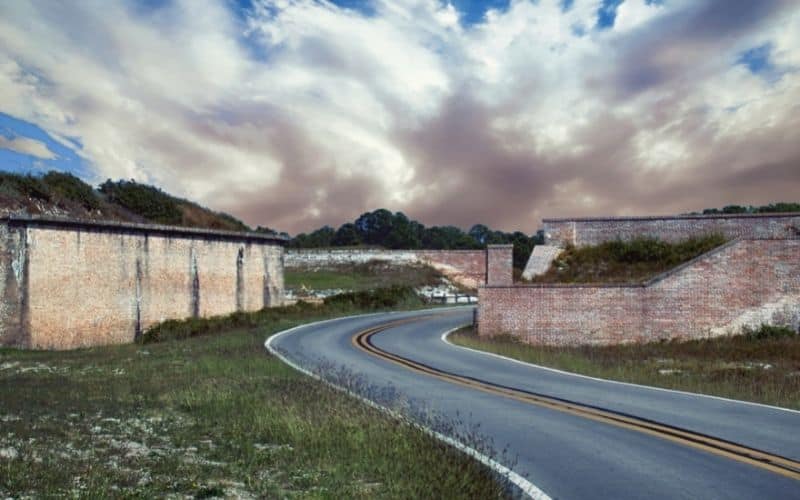 Type: Tent, RV, walk-in
Full RV hookups: Yes
Nearest town: Pensacola, 17.4 miles
Fort Pickens Campground in Gulf Islands National Seashore features full electrical hookups and quick access to the beach. The campground is a popular stopover point for those doing the 1500-mile Florida Trail, and is one of the busiest campgrounds in the whole of the US. To ensure you get a spot, then, it's wise to book well in advance.
The area boasts miles of white sandy beaches and emerald waters, and nature lovers will bask in the myriad interpretative nature trails and educational opportunities hosted by the park service.
While wandering the beaches, be sure to keep an eye out for green turtles and olive-sided flycatchers.
11. Henderson Beach State Park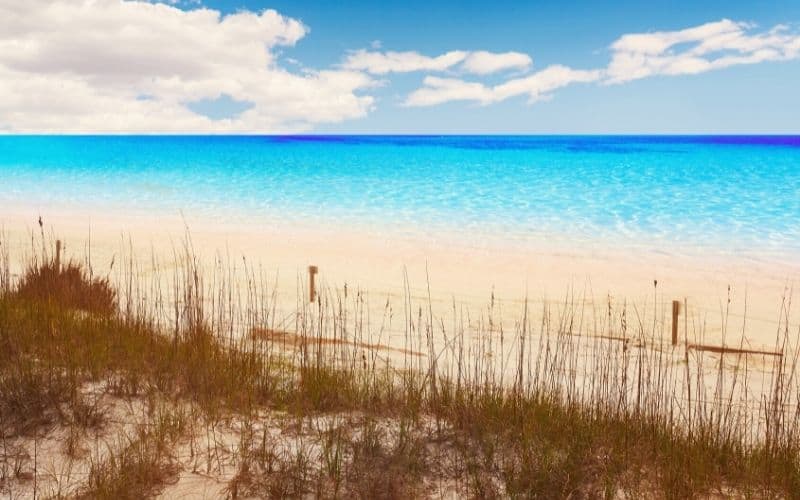 Type: Tent, RV
Full RV hookups: Yes
Nearest town: Destin, 3.1 miles
Henderson Beach State Park is located just off the Emerald Coast Parkway and provides visitors the chance to enjoy miles of beautiful shoreline and Caribbean-like setting.
The highlights of the park are its fascinating shifting dunes (some up to 30 feet high!) and diverse ecosystem. While basking in the balmy, 75-degree water, you can look for tropical fish, dolphins, even sea turtles.
The campground here has 60 campsites with water and full electrical hookups for RV campers. There are also air-conditioned bathhouses, a laundromat, picnic tables, and a dump station.
12. Bahia Honda State Park, Big Pine Key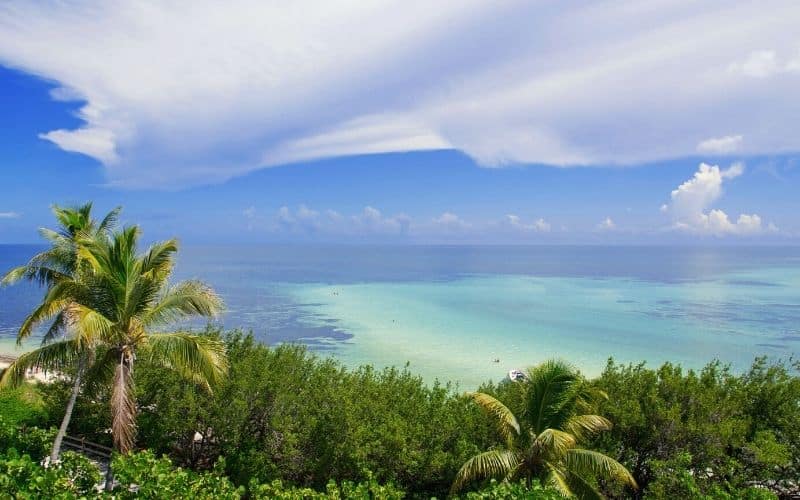 Type: Tent, RV
Full RV hookups: Yes
Nearest town: Marathon, 15.7 miles
You can get a perfect taste of the Florida Keys by heading to Bahia Honda State Park, one of Florida's southernmost parks.
You have two options for camping on this South Florida island: Buttonwood and Bayside. At Buttonwood, you'll find waterfront RV sites and full electrical hookups as well as hot showers. Bayside is a bit more rustic with just eight sites that have potable water, fire rings, and grills but no electrical hookups.
Recreational opportunities abound here. You can rent kayaks to explore the shallow waters off the soft beaches or cruise around the island on a bike. You can also take a boat, snorkeling, or scuba diving tour.
13. Dry Tortugas National Park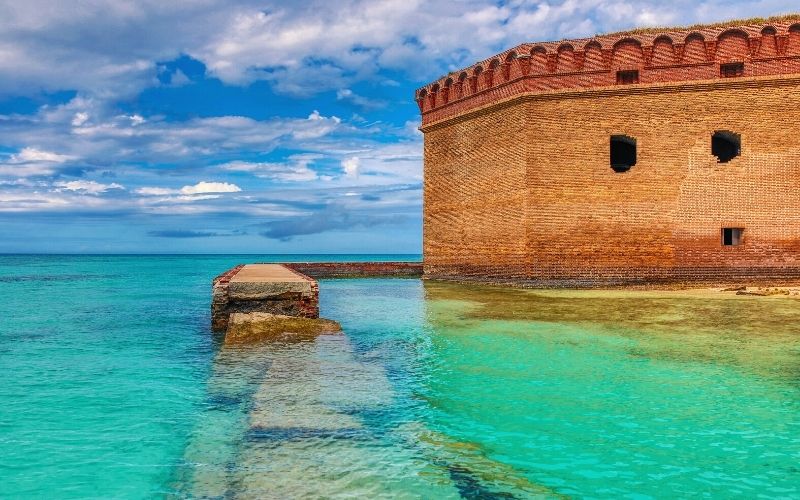 Type: Primitive
Full RV hookups: No
Nearest town: Key West, accessed only by boat or plane
If you're passing near Key West, continue for 70 more miles to get to the remote, haven-like wonder that is Dry Tortugas National Park. The catch? This park's seven picturesque islands are only accessible by boat or plane.
History buffs can enjoy the imposing Fort Jefferson, a huge fort from the 1800s. You can also take a high-speed catamaran for day trips from the islands.
The best way to explore the island is by swimming and snorkeling as only 1% of the park is dry land. Keep an eye out for coral, jellyfish, and even debris from shipwrecks.
Camping is only available on Garden Key, the same island as Fort Jefferson. Primitive sites are available on a first-come, first-served basis. The sites fit up to six people. Note that you must bring all your own supplies, including water, and take all trash with you upon departure.
14. Curry Hammock State Park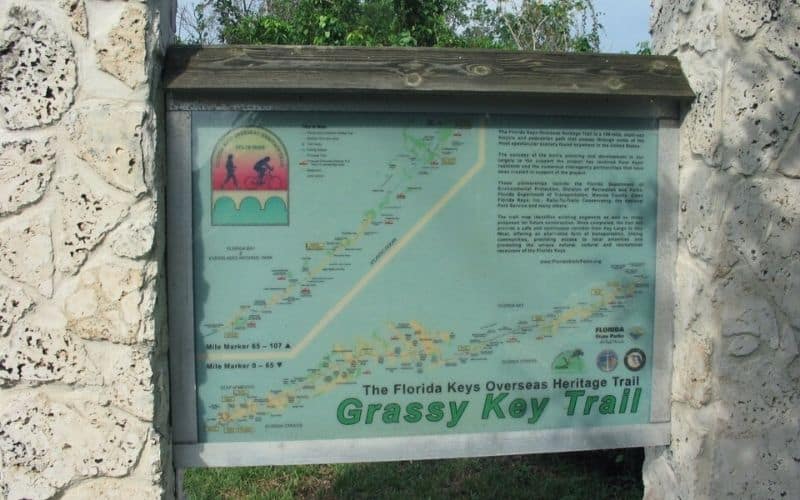 Type: Tent, RV
Full RV hookups: Yes
Nearest town: Marathon, 4.7 miles
Noted for its rustic nature despite the surrounding developments, Curry Hammock State Park is the largest undeveloped piece of land between Big Pine Key and Key Largo.
The park protects large swaths of habitat along both sides of US Highway 1 on Crawl Key and is visited by record numbers of peregrine falcons every fall, so be sure to keep an eye out or bring your binoculars.
Popular outdoor recreation activities in the park include exploring the mangrove swamps and seagrass beds via kayak or even kiteboarding on windier days. You can also hike or bike along the 1.5-mile Florida Keys Overseas Heritage Trail.
The campground has 28 sites, all of which have electrical service, charcoal grills, picnic tables, and hammock camping posts. It also has bathrooms with composting toilets and solar-powered hot showers.
15. Ocala National Forest, Ocala
Type: Tent, RV
Full RV Hookups: Yes
Nearest town: Astor, 17.9 miles
If you're anywhere near Orlando on your Florida vacation, you'll want to check out the stunning Ocala National Forest. The area has more than 600 lakes and rivers in which you can swim, fish, canoe, and snorkel to your heart's content.
Known for its aquamarine freshwater springs and rare plants, Ocala is an international traveler's dream destination.
There are many options for camping here, but only the biggest campgrounds offer full or partial RV hookups. In this case, you'll want to head to Alexander Springs, Big Bass, Big Scrub, Juniper Springs, or Salt Springs campgrounds. They'll all be within a short jaunt of the springs and picnic pavilions.
Ocala is a delight for nature lovers. It boasts the state's largest population of Florida black bears. Birders can keep an eye out for red-cockaded woodpeckers. You'll also find Sherman's fox squirrel and Florida sand skinks. Wildlife not found in Florida's more developed areas thrives in Ocala.
16. Caladesi Island State Park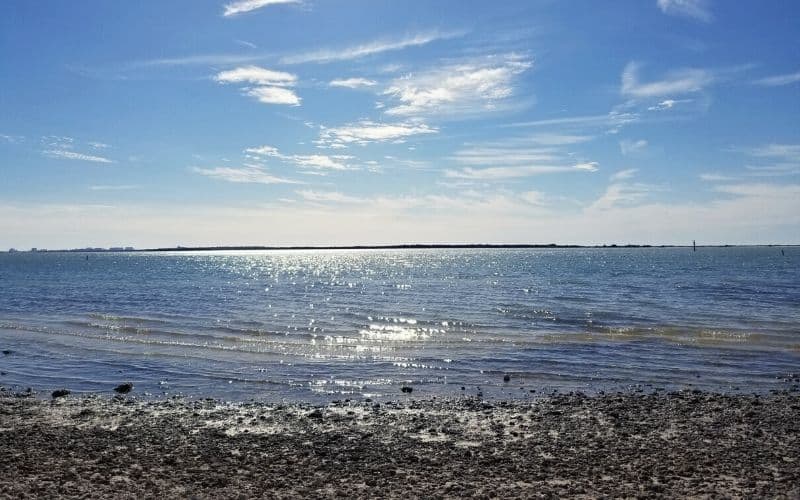 Type: Boat
Full RV hookups: No
Nearest town: Dunedin, accessed by boat
Caladesi Island State Park is one of the Gulf Coast's last completely natural islands. While only accessible by boat, you'll find it's worth the extra effort when wandering through the peaceful oak forests or basking on the blissfully quiet beach enjoying the ocean breeze.
Here you'll find boat camping with full electrical hookups and a boat ramp for your craft. There's also a snack bar, gift shop, and picnic area.
Swimming and beachcombing are two other popular ways to explore and enjoy the island. You can also hike the Beach Loop or Hammock Loop to see the abundant flora and fauna. Neither is particularly strenuous as the terrain is mostly flat, if a bit sandy.
Kayak rentals are also available and allow you to meander among the over three miles of majestic mangrove tunnels on Caladesi Island. You'll spot plenty of birds and fish along the way! Do note, however, that parts of the tunnels may be difficult to access at extreme low tides.
The ferry to access Caladesi Island State Park departs from Honeymoon Island State Park near the town of Dunedin.
17. Lake Kissimmee State Park, Kissimmee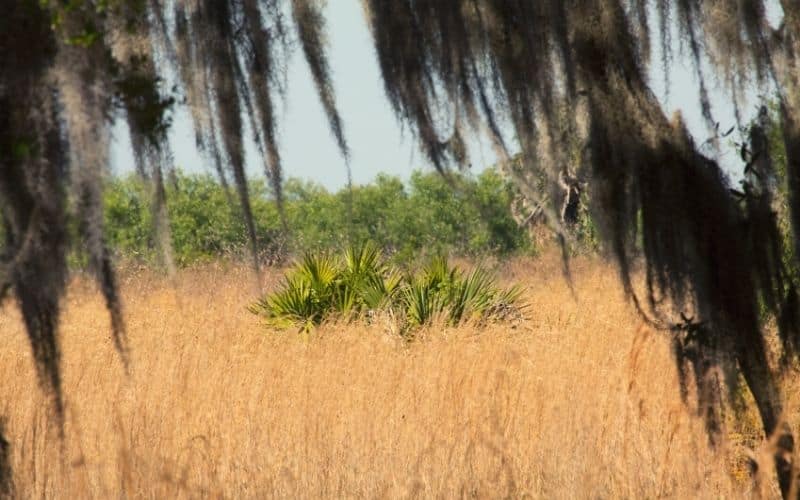 Type: Tent, RV
Full RV hookups: Yes
Nearest town: Lake Wales, 18.7 miles
History buff? If so, you will delight in Kissimmee State Park's living history demonstrations of Florida's cowboy past. You can stroll down a short trail to the Cow Camp, where there's a Florida cow hunter who will take you along his route on a cattle drive and share stories of his life in the 1800s.
You definitely won't be bored in this state park as there's plenty to do for the whole family.
Horse-lovers are in for a treat on the six miles of riding trails on Buster Island. Kayak and canoe rentals are also available at the park marina's camp store. This area is known as the headwaters of the Everglades, so keep an eye out for birds and wildlife as you paddle along the 10-mile Buster Island Paddling Trail.
At Lake Kissimmee campground there are 60 campsites with full electric and water hookups as well as two primitive youth tent-camping sites. Reservations can be made up to 11 months in advance.
18. Everglades National Park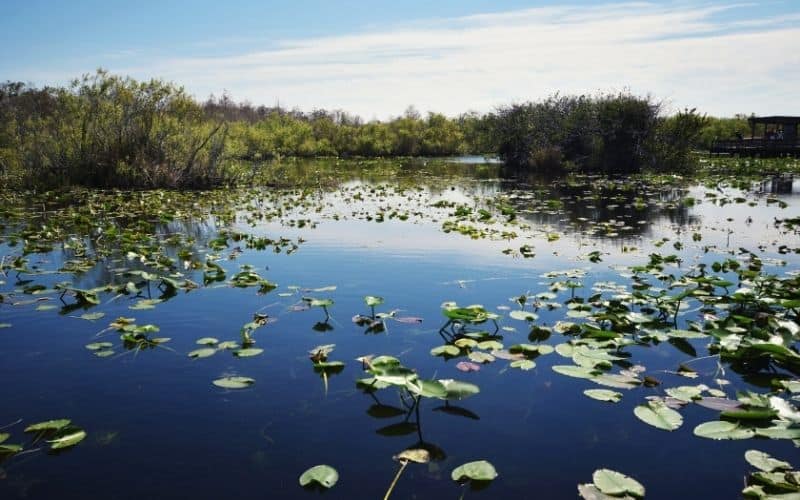 Type: RV, tent, backcountry
Full RV Hookups: Yes
Nearest town: Homestead, 25.2 miles
A Florida camping trip wouldn't be complete without a trip to the internationally-renowned Everglades National Park. The park protects important habitats that are home to rare and endangered species like the manatee, American crocodile, and the mysterious Florida panther.
There is both frontcountry and wilderness camping available in the park. For RVers, there's camping at Long Pine Key and Flamingo campgrounds. Electrical hookups are only available at Flamingo.
For backcountry travelers, there are ground sites, beach camping, and elevated camping platforms for tent campers and hammock campers located throughout the park. You can access these by canoe, kayak, or motorboat. Only a few are available to hikers. Note that a wilderness camping permit is required.
There's an overwhelming amount of recreation in Everglades National Park. You can explore the mangroves and teeming islands via kayak or canoe and camp on the elevated platforms scattered throughout the park. Three hundred species of birds inhabit the park, so be sure to bring your binoculars!
There are also five mountain biking trails in the park. You can even rent a full-power e-bike for an easier cruise around the area.
There are plenty of guided tours here as well. You can tour the park with rangers via tram, kayak, canoe, or airboat. For a spot of fishing, head north to Lake Okeechobee, a hotspot for Large Mouth Bass and Speckled Perch.
Best Camping Sites in Florida: FAQS
Where can I tent camp for free in Florida?
In Florida, free camping is referred to as "boondocking." For a state that's surrounded by ocean and covered in lakes, finding a place to pitch your tent without a boat can be a bit tricky.
The area's most accessible and popular free camping areas exist mostly inland away from the crowds of Miami and Orlando. You may want to check out beautiful places like Ocala National Forest (see more information above) and head to Davenport Landing at Salt Springs. You'll love the rope swing into the spring!
You may also want to check out Hampton Tract Green Swamp Wilderness Preserve in Lakeland, Central Florida for some real Florida wilderness camping. However, this area is prone to flooding during the rainier summer months.
Unfortunately, camping on the beach isn't allowed in Florida. However, finding campsites within a short walk of the beach on public inland property is rarely difficult.
Your best bet for primitive camping in Florida is in the Panhandle, namely Perdido Key. There's no fee for camping, but there's a $20 vehicle fee if you don't arrive there on foot.
What is the most popular campground in Florida?
All of the state parks listed above are popular for different reasons. However, Fort De Soto park campground and Myakka State Park are probably the busiest as regards Florida state parks camping. The most popular RV resort is probably Nature's Resort Homosassa RV Resort.
Many national and state parks allow you to make reservations up to 11 months ahead of time, so book early to secure your spot!
Is it safe to tent camp in Florida?
As with any other camping trip, it's important to consider the weather when camping in Florida, particularly if you're going to be near the beach. If you come in the summer months, you should expect rain and (potentially!) hurricanes. You may want to prioritize visiting in the winter months when Florida is dry and mild and sunny, but be prepared for the cooler nights.
In the summer, moreover, temperatures rarely drop below 80 and the humidity may make it feel well over 100 degrees.
Whenever you come, follow the Leave No Trace principles and keep your campsite clean of food and other smelly items that could be tempting for wildlife. In campsites where there are bears, you'll probably find bear-proof boxes. If you're backcountry camping, consider bringing a bear bag to hang your food and smellies out of reach.
It depends on where in Florida you choose to camp, but you'll probably run up against wildlife of some kind or another. You may see classic rabbits and squirrels and also more frightening animals like alligators. No matter what animal, they should be left alone. Give them a wide berth.
It's best to avoid snakes altogether, but it's especially important to know which venomous snakes exist in whatever region of Florida you're camping in.
There are 44 species of snakes in Florida, only six of which are venomous. The eastern coral snake, the southern copperhead, the cottonmouth, the eastern diamondback rattlesnake, the timber rattlesnake, and the dusky pygmy rattlesnake. Check here for more information on Florida's snakes.
It is unlikely you'll see the rare Florida panther, but if you're in a panther's habitat you can take some precautions to keep it that way. Keep your pets safe and secure, and supervise children. Always be sure to hike with a friend and never approach a panther if you see one.
See Ya in the Sunshine State!
If you're headed to Florida, we recommend you ditch the expensive beachside resorts and explore some of the area's beautiful national forests, seashores, and parks. You'll find everything from full electrical hookups to primitive tent sites, so bring your sunscreen and be ready for adventure!
If you enjoyed our article or have any questions about Florida camping destinations, let us know in the comments box below. And if you'd like to share this post on Florida camping with your friends, share away!