With some of the most varied landscapes in the US and pleasant weather year-round, it's no wonder California is such a popular camping destination. If you want to experience Cali camping for yourself without renouncing hot showers and cozy beds, you should try glamping!
Glamping is short for glamorous camping and refers to fancy or resort-style accommodations that provide easy access to the great outdoors – no tent or camping cot required. Canvas and safari-style tents are popular glamping options, but California offers so much more including everything from magical treehouses to decked-out vintage RVs.
Here we've rounded up our favorite glamping sites to help you plan a comfortable and luxurious adventure in the Golden State!
1. Sequoia High Sierra Camp, Kings Canyon National Park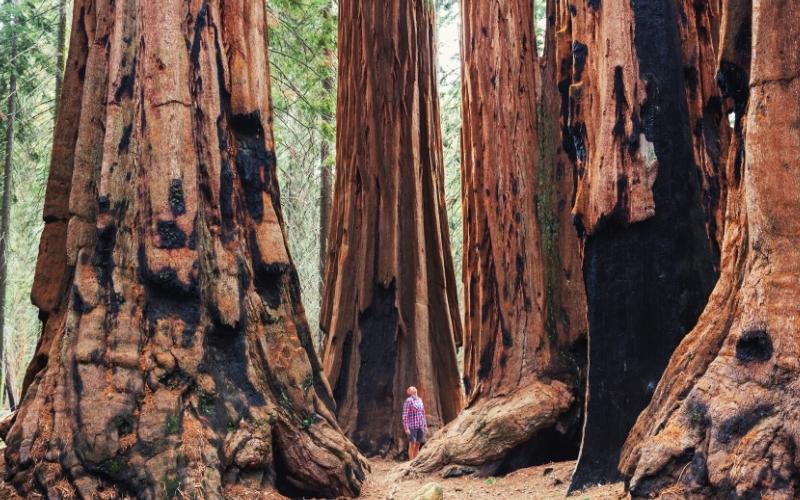 Sequoia High Sierra Camp is a gorgeous retreat in the High Sierra wilderness. Here you'll find all the amenities of a fancy resort but in a wild and rugged outdoor setting.
Sequoia High Sierra Camp offers deluxe cabins that are cozy, comfortable, and spacious, yet still reflective of their beautiful, natural surroundings. Each cabin includes luxurious amenities like local artisan furniture, plush mattresses, down feather pillows, and a casual seating area.
Each deluxe cabin and structure was constructed with the environment in mind including using natural materials, integrating solar panels, and taking extra care to preserve the native vegetation around the camp.
Within just a short drive of the camp are a number of hiking trails, streams, lakes, meadows, and peaks to explore. Activities in and around the camp include hiking, fly fishing, bird watching, and visiting the world's largest and most majestic of trees, the Giant Sequoias at Sequoia & Kings Canyon National Park.
2. Basecamp Hotel, South Lake Tahoe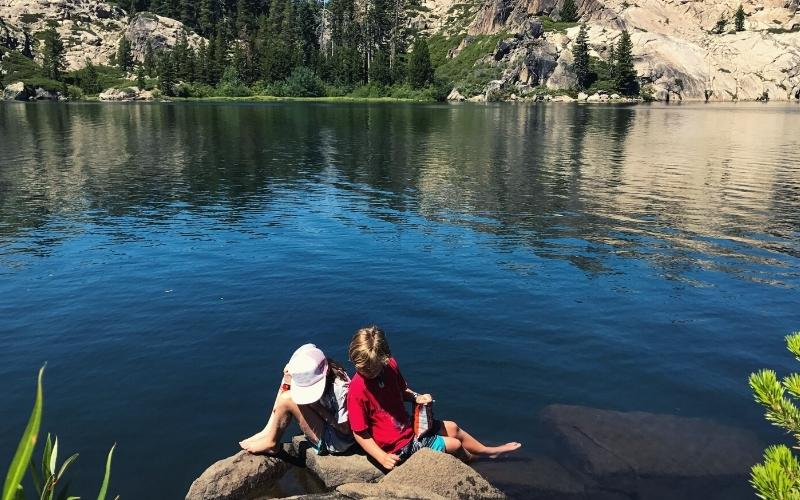 If you want to explore the trails, lakes, and peaks of the Lake Tahoe Basin, try the Basecamp Hotel located in the heart of South Lake Tahoe. Whilst not strictly glamping, it's a playful and affordable alternative to some of the pricer accommodations in the area.
Basecamp Hotel is a small, boutique accommodation with over 73 rooms. Each hotel room offers all the amenities of a modern resort with affordable inn-like prices. The aesthetic is rustic with a homespun feel including fun touches all over the place like wilderness survival guides and nostalgic camping artifacts.
Some of the unique amenities of the hotel include on-site fire pits for roasting complimentary s'mores, communal dinners in winter, and a free continental breakfast each morning.
The Basecamp Hotel has an amazing location for exploring Lake Tahoe and getting your fill of outdoor adventure. The Nevada state lines are just mere miles away, as are a private beach (guests get free passes!) and a ski resort gondola.
3. Castle House Estate, Joshua Tree National Park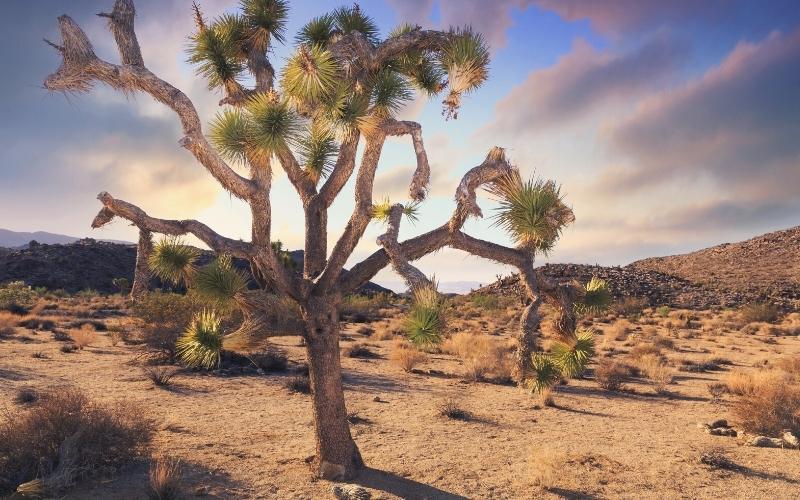 Joshua Tree National Park is a fascinating desert camping destination known for its sci-fi-looking rock formations, springtime wildflower blooms, and the iconic Joshua trees that grow, particularly stunning under a starry night sky. With over 100 hiking trails and world-class climbing, Joshua Tree attracts visitors from far and wide.
As if this incredible, otherworldly backdrop wasn't enough, Joshua Tree hosts some pretty amazing glamping spots. While the park has over 9 campgrounds featuring everything from cozy cabins to dome tents, we recommend trying the extraordinary Castle House Estate.
Situated on 8 picturesque acres, Castle House Estate offers 3 glamping yurts each designed with guest comfort in mind. Each yurt includes a queen-sized bed with 1600 thread count sheets, oversized plush floor pillows, carpeted floor, and a private firepit.
Activities near Castle House Estate include exploring Joshua Tree, hiking, climbing, off-roading, wildlife watching, and swimming in the campground's on-site swimming pool.
4. Treebones Resort, Big Sur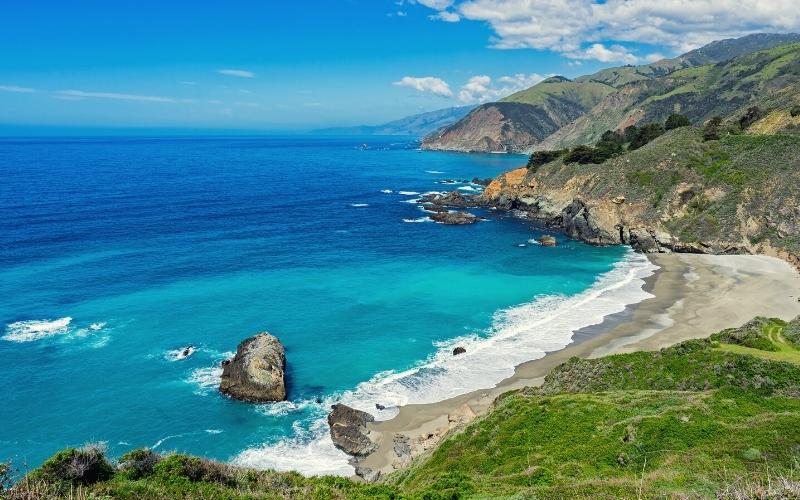 The Treebones Resort offers a variety of glamping accommodations among the stunningly beautiful backdrop of California's Big Sur coastline. It's a quiet and peaceful retreat that only allows children over 6 years old. Rental options include a treehouse, autonomous tents, glamping yurts, and campsites.
Treebones offers the perfect blend of nature without giving up on comfortable amenities. Ocean-view yurts have king beds and fireplaces; the rest have one or two queen beds. The main lodge has a big fireplace, games, and a well-stocked camp store and gift shop.
Perched on a hilltop, the entire property has stunning expansive views of the Pacific Ocean in all directions. On-site activities include massages, yoga, a spacious pool area, and a restaurant. You also have the dramatic, roughly 90-mile Big Sur coastline just next door, offering seasonal whale-watching opportunities!
5. Luxury Tent at Saddle Mountain Ranch, Carmel By the Sea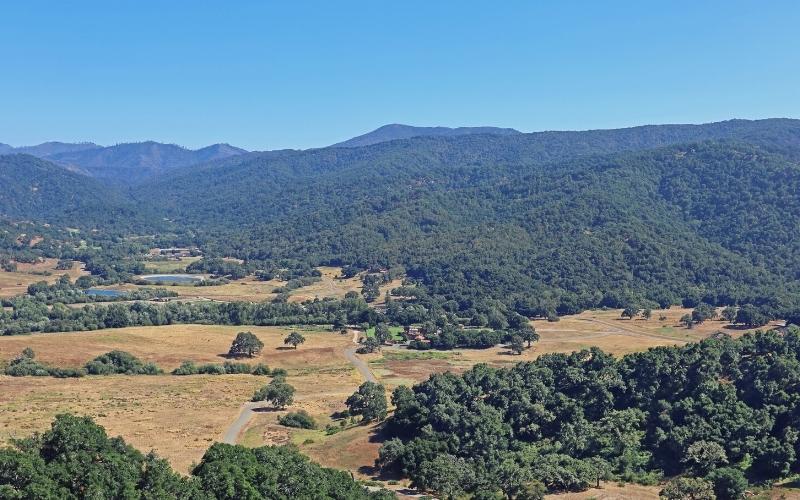 Saddle Mountain Ranch is a cozy mountain campground located on 89 acres of forest land off Carmel Valley Road, just 5 miles from HWY 1. Nestled within an oak and pine forest, it's the perfect spot to enjoy nature in a peaceful and tranquil setting.
Saddle Mountain provides a unique glamping experience thanks to its luxury tent rentals. Each of the glamping tents includes plush comfortable beds with linens, a comfortable seating area, and your own fire pit and outdoor BBQ. You'll find showers and restrooms just a short walk away from each tent.
Saddle Mountain has over five miles of hiking trails that lead all the way to the top. Other nearby activities include visiting Garland Park, horseback riding at Jack's Peak, and exploring "China Cove", said to be where Robert Louis Stevenson got his inspiration to write "Treasure Island"'.
6. Forest Camping Hut, Elk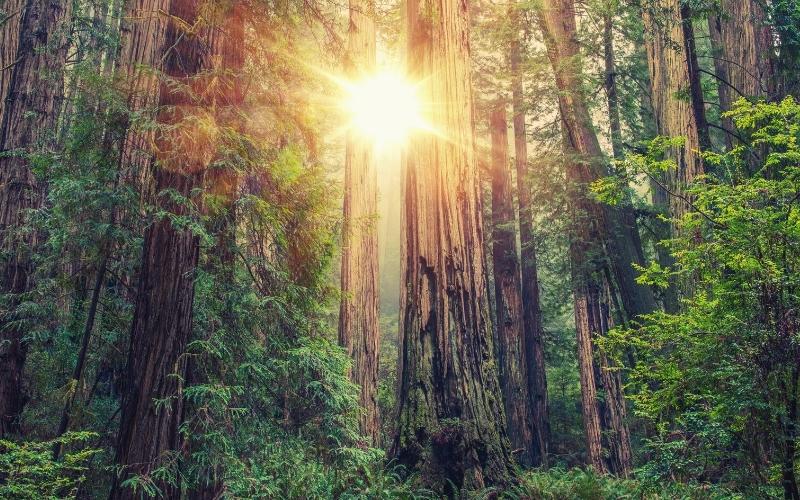 Need a break from the hustle and bustle of city life? Book a peaceful and relaxing holiday at the magical Forest Camping Hut, a rustic cabin nestled in a beautiful forest of redwood trees just 5 miles outside of Elk, CA.
If you can't live without your gadgets, this probably isn't the glamping site for you. The cabin has no Wi-Fi and spotty cell phone reception which does make it the ideal place to disconnect from your screens and reconnect with nature.
The cabin offers a plush queen-size bed, an outdoor bath with rain shower, and a fenced-off, dedicated outdoor area for your private use. Near the hut, you'll find endless opportunities for hiking and biking along the California coastline.
RELATED READING: In the Elk area? Check out our guide to the best hiking near Sacramento.
7. Rustic Forest Retreat, Forest Knolls
Looking for a secluded glamping spot to get back to nature? This spacious yurt has everything you need to camp in luxury! Located in the scenic West Marin Forest, you'll be just 30 minutes from the beach and 45 minutes from San Francisco.
This charming yurt includes a fully-stocked kitchen, a private bathroom, and a large private backyard. It's even equipped with heating and air conditioning for maximum comfort.
8. The Trailer Pond, Paso Robles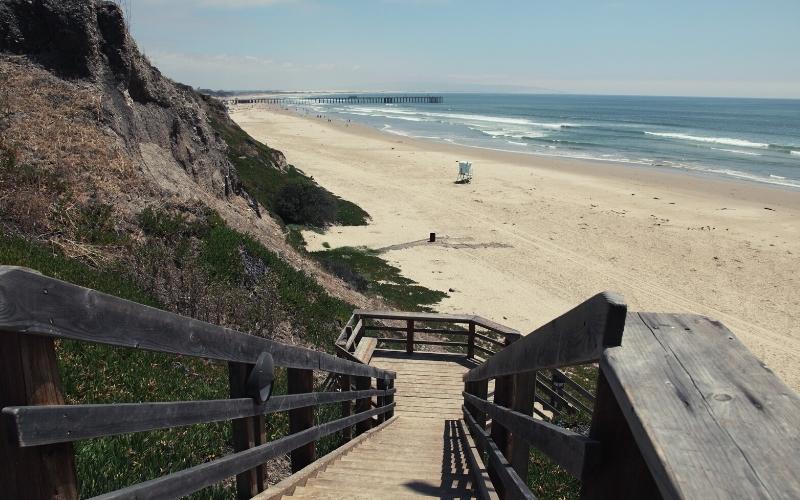 The Trailer Pond is a collection of 5 refurbished vintage trailers tucked away in the rolling hills of Paso Robles wine country. The trailers are all set on the shores of a scenic pond amongst a 130-acre sprawling, organically-farmed vineyard called Alta Collina.
Each of the trailers comfortably sleeps 1-2 adults. Inside your trailer you'll find a full-size bed with a down comforter, a modern electric refrigerator, fresh linens & towels, and a coffee maker with coffee.
Activities at The Trailer Pond include hiking the vineyard and lounging by the pond with a glass of Alta Collina's award-winning wine. The beach, Hearst Castle, and San Luis Obispo are also all just around 35-45 minutes away.
9. Mendocino Grove Tent Camp, Mendocino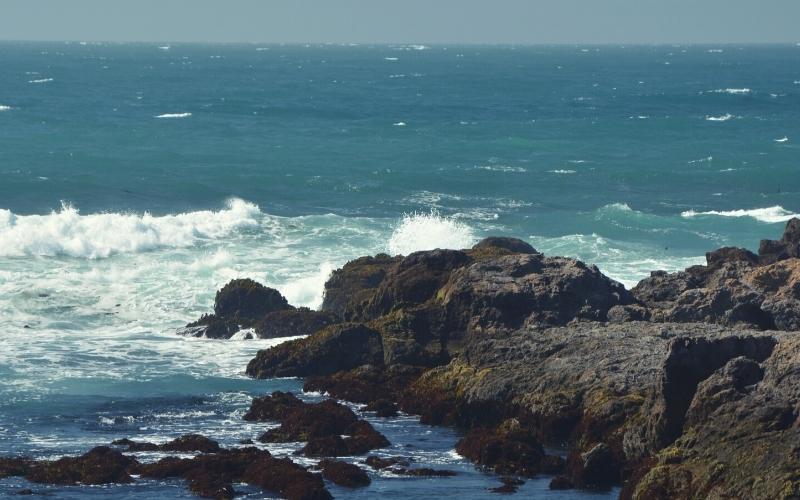 Mere minutes from the lively town of Mendocino you'll find the Mendocino Grove Tent Camp, a sophisticated campground for those that enjoy sleeping under stars on a real bed. On this 37-acre property, you can watch the sunset over the Pacific Ocean and then retreat to your luxurious safari-style tent.
Each glamping tent is situated on a wooden platform and features amenities like comfy beds, warm-down comforters, an outdoor seating area, and a fire pit with a grate for grilling.
There's plenty to do and see around the camp, too! There are canoe rentals just across the road, a short drive to New River Beach and there are numerous other beaches up and down the Mendocino County coast for your strolling pleasure.
10. Wellspring Ranch, Cayucos
Looking for a romantic couples retreat? Wellspring Ranch is a private sanctuary in the untouched Cayucos exclusively for couples. It's located on a gorgeous, 160-acre property filled with gardens, ponds, and hidden picnic spots.
On-site the ranch offers couples a number of relaxing activities to try. Book a private yoga lesson, a couples massage or enjoy immediate access to miles of casual, as well as more challenging, hiking and biking trails.
Accommodations range from plush rooms to yurt rentals and a luxurious Airstream trailer. Each accommodation has its own private bath and fresh meals are prepared and served to guests al fresco year-round.
11. Curry Village (formerly Half Dome Village), Yosemite National Park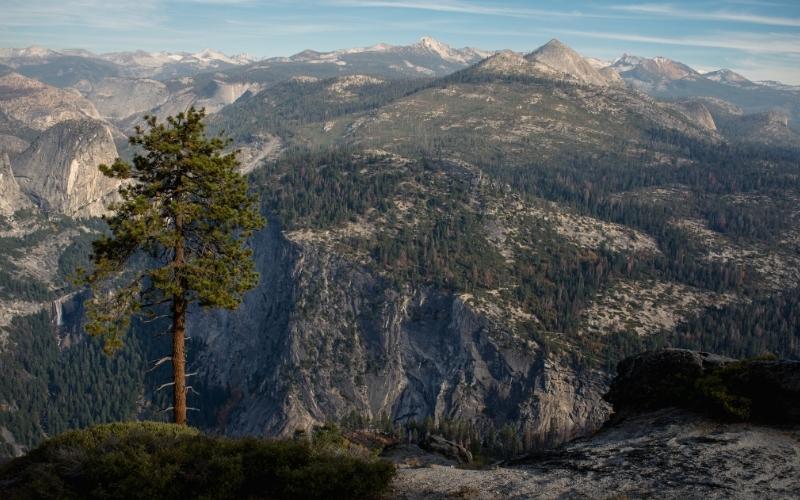 Curry Village is Yosemite's largest lodging facility nestled under the rugged splendor of the Sierra Nevada Mountains. There are a number of accommodations available including motel rooms, rustic cabins, and canvas luxury tents.
Curry Village is jam-packed with family-friendly amenities including a seasonal outdoor swimming pool and hot tub, an ice skating rink in the winter, an amphitheater, a camp store, and plenty of nearby dining options.
Nestled in the heart of Yosemite Valley, this is an incredible location just below Half Dome and Glacier Point. It's one of the most popular campgrounds in Yosemite, so be sure to book at least 10 – 12 months in advance.
12. Costanoa Lodge, Pescadero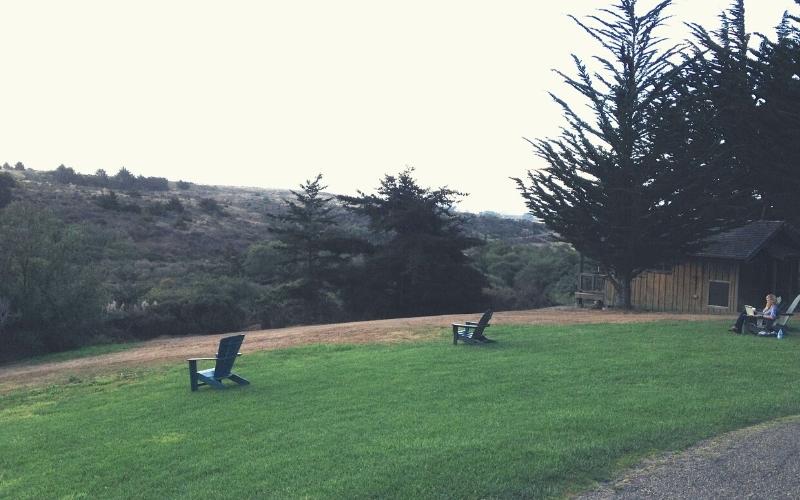 Costanoa Lodge is an eco-resort surrounded by acres of undisturbed wilderness, rolling coastal hills, and secluded beaches. Book a stay at the rustic lodge or enjoy a private accommodation like a cabin or glamping bungalow.
No two private accommodations are alike, placed throughout the property with a variety of layouts and views. All glamping tents include a comfortable bed, electricity and lighting, Adirondack seating, and complimentary Wi-Fi.

Pecadero is a stunning natural area along the California coast filled with endless sightseeing, hiking & biking trails, horseback riding, kayaking, and other outdoor adventures.
13. El Capitan Canyon, Santa Barbara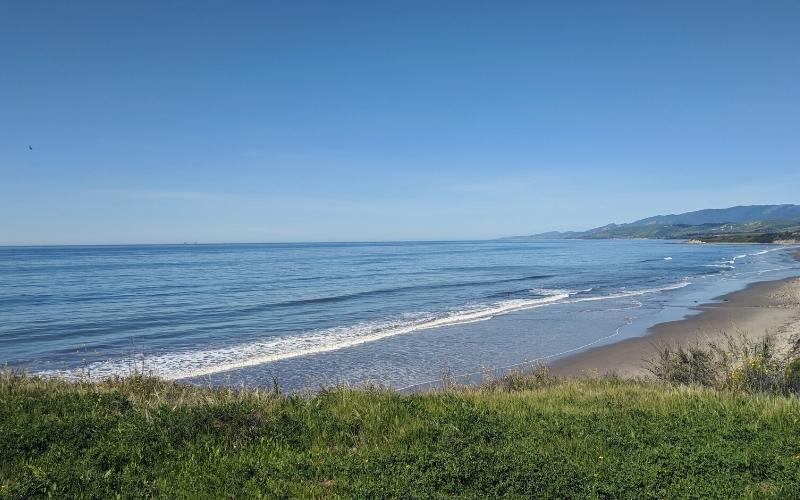 If you're hoping to camp just minutes away from the beach, El Capitan Canyon provides the perfect beachside glamping experience. With a spectacular setting on the Santa Barbara Coast, El Captain offers guests the choice between cedar cabins, adventure yurts, and luxury safari tents.
Each accommodation can sleep four and includes a queen bed and a twin daybed, along with electricity, a mini-fridge, a microwave, a picnic table, and firepit with removable grill. Bathhouse amenities are located just steps away.
14. Inn Town Campground, Nevada City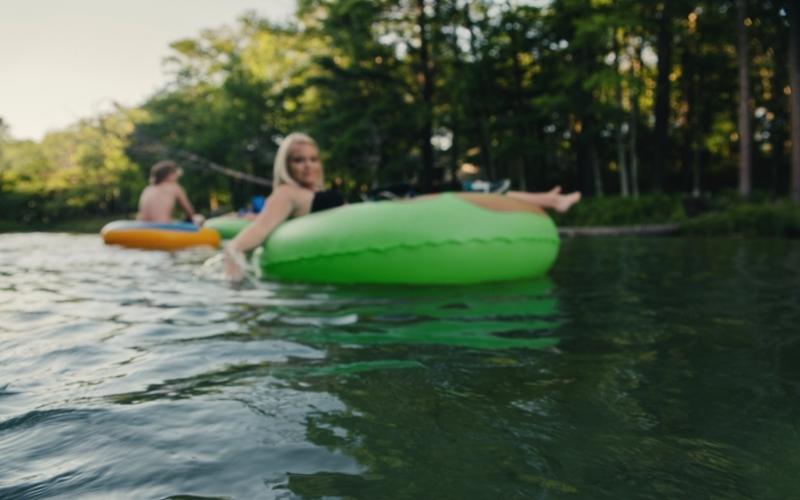 One of the top family glamping spots in California is the Inn Town Campground just a short drive from downtown Nevada City. This campground and RV resort provides several different accommodations including tent camping, full RV hookups, and deluxe canvas tents. 
Glamping tents come equipped with their own private balconies, and many comfort-inducing amenities like cozy beds, fresh linens, heated mattress pads, and outdoor seating.
Inn Town Campground has a wide range of activities happening all summer long including outdoor movie nights and local history hikes. Nearby Nevada City is also filled with recreational activities ranging from local breweries and wine-tasting tours to outdoor fun like swimming and tubing down the American Rivers.
15. African Safari Tent, Vista
Tucked away on a 2 ½ acre property in Vista, California are these eco-friendly safari tents. Here you can unplug and immerse yourself in a faux African safari experience. The beach is just a short walk away whilst other activities in the area include Temecula wineries, a Safari Park, and outstanding local Vista microbreweries.
Each of the available luxury safari tents sleeps two and includes a small kitchenette and private bathroom. Fresh linens and toiletries are provided and Wi-Fi is available in each tent.
Best Glamping in California!
California is truly a glampers paradise. If you want to experience nature without missing out on luxuries like hot showers and a comfy queen bed, any of these epic glamping spots will have you living like royalty in the great outdoors. 
If you enjoyed our guide to the best glamping in California, be sure to share it with your family and friends! Feel free to drop us a line in the comments below if you have any questions about glamping spots in California.