From scenic nooks along the San Juan River to rustic hideaways in the Rocky Mountains and high desert, New Mexico is blessed with countless spots that are a camping lover's dream.
In this guide, we'll introduce you to the most unmissable of the lot. Not only will you find a list of the Land of Enchantment's top 12 campgrounds, but we'll also provide all of the information you need to plan your trip.
1. El Vado Lake State Park Campground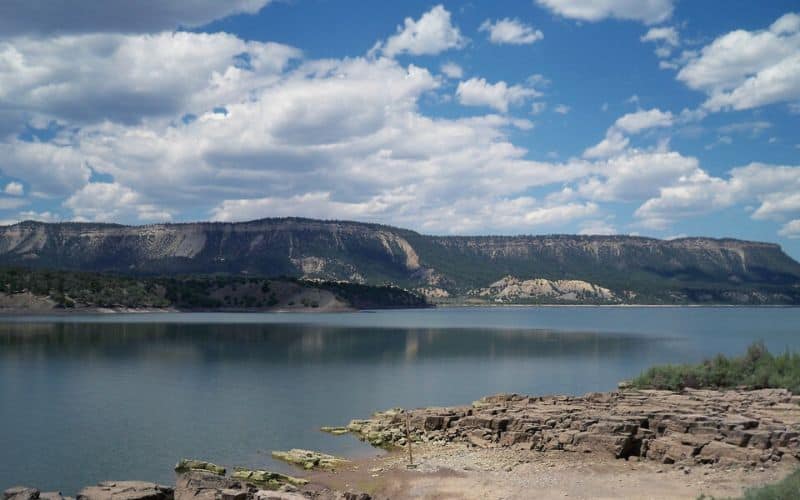 Type: RV, Vehicle, Primitive, and Tent
Hookups: Yes
Nearest Town: Rutheron/La Puente
El Vado Lake is one of the more accessible spots for camping of all sorts and a fantastic destination – you can rough it with a primitive site or have a bit of luxury and take advantage of the RV camping with electric hookups. Some spots will also include bathroom facilities and water access.
The developed campgrounds here are ideal for family gatherings and the area offers a ton of activities. There are numerous hiking trails nearby (Rio Choma is our favorite), kayaking and fishing, and much more to enjoy. If you're a birdwatcher, El Vado Lake is a hotspot for bald eagles and other migratory birds.
RELATED READING: Fore more outdoor adventure check out the Best Hikes in New Mexico.
2. White Sands National Park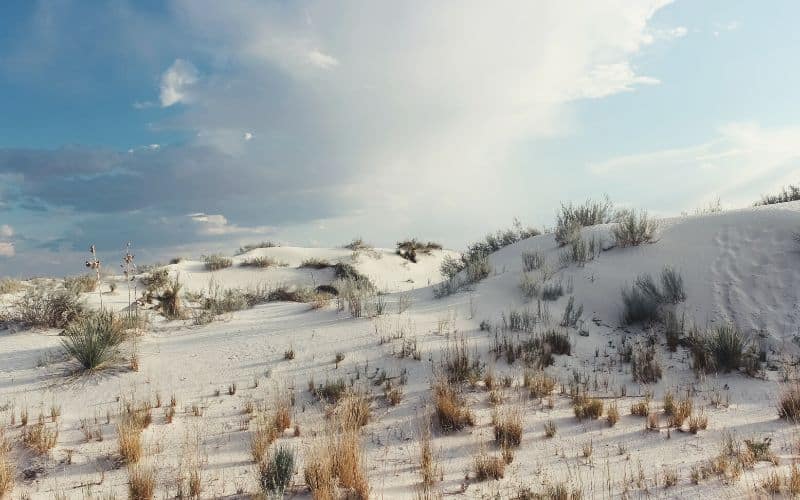 Type: Primitive Only
Hookups: No
Nearest Town: Alamogordo
White Sands National Park is a unique landscape with dunes stretching in every direction. The tricky part here is all backcountry permits are first-come first-served, meaning you should be in line at the White Sands National Monument visitor center as soon as it opens.
This site, however, is well worth the hassle as it's truly one of a kind. Some things to be aware of are the scheduled closures due to missile testing (yes, missile testing!), and to make sure you have a map and good navigation skills. It's very easy to get lost in this landscape as things tend to look very similar. 
The most comfortable times to visit in terms of weather are autumn and spring, as summer and winter have the most extreme temperature changes. This area is for those searching for true desert camping. Here for a short trip? If so, you can see White Sands National Monument then drive over to Lincoln National Forest to take in all the area's spectacular views in one day.
3. Bandelier National Monument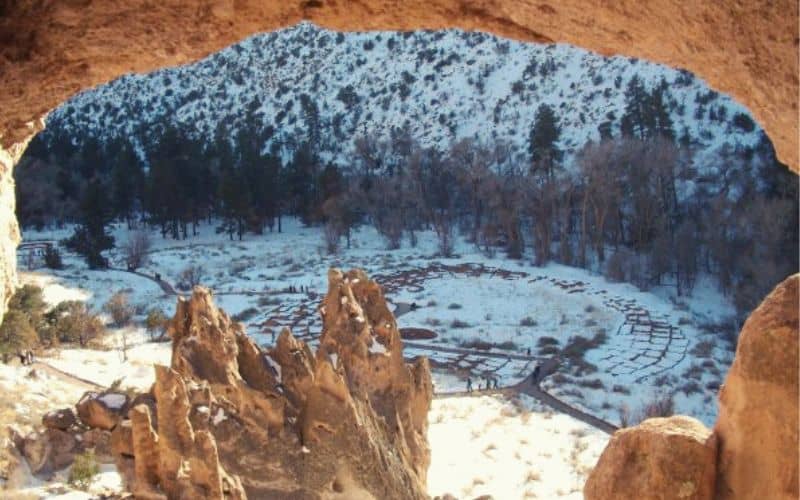 Type: Tent, RV/Vehicle, and Primitive
Hookups: No
Nearest Town: Los Alamos
These campgrounds are surrounded by ancient Pueblan historical sites and are a great way to experience the desert's intriguing culture and past, whether you're primitive camping or pitching up in one of the park's designated sites.
You have 3 main campgrounds to choose from. The Juniper Family Campground has bathrooms with running water and has sites appropriate for tents and RVs, with most of them having picnic tables. The Ponderosa Group Campground is a tent-only campground with pit toilets only and no running water.
The last option is obtaining a backcountry permit and camping out in the designated areas. If you're in the mood for exploration, the nearby Santa Fe National Forest and Pecos National Historical Park are well worth a visit.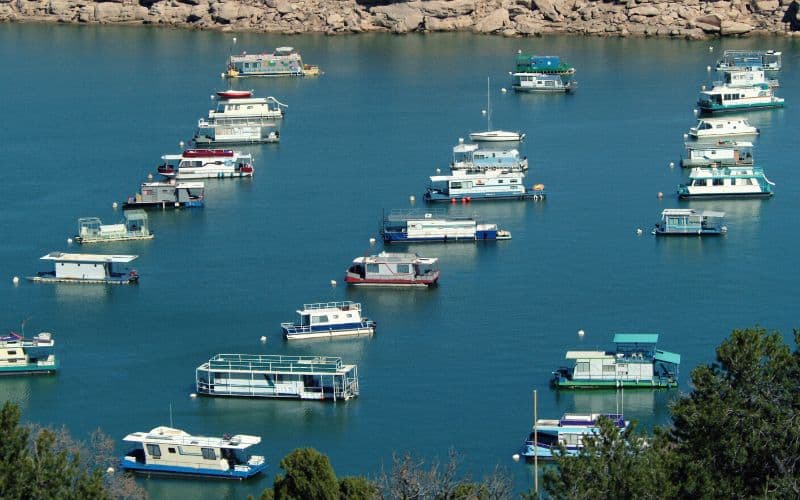 Type: RV and Tent
Hookups: Yes, at most sites
Nearest Town: Archuleta
Navajo Lake State Park is a fantastic destination for boating, fishing, and scenic walks along the several hiking trails on the shoreline. Navajo Lake campgrounds like the Cottonwood Campground are a hotspot for watersports and offer great views of the lake's utterly idyllic surroundings. You can even go scuba diving here!
If you'd like to hike there are a few trails we highly recommend – Simon Canyon Trail and the South San Juan River Trail.
5. Wild Rivers Recreation Area
Type: Primitive and Vehicle
Hookups: No
Nearest Town: Questa
Wild Rivers Recreation Area has some wonderful tent camping sites that offer views of the area's most scenic deep canyons and winding rivers. Even better, you have multiple hikes to choose from – don't miss the Red River Fault Trail and the Las Vistas de Questa Trail if you're keen to see the best this area has to offer.
The area has accessible drinking water and restrooms, and overnight fees and reservations are required for a majority of the campsites.
6. Elephant Rock Campground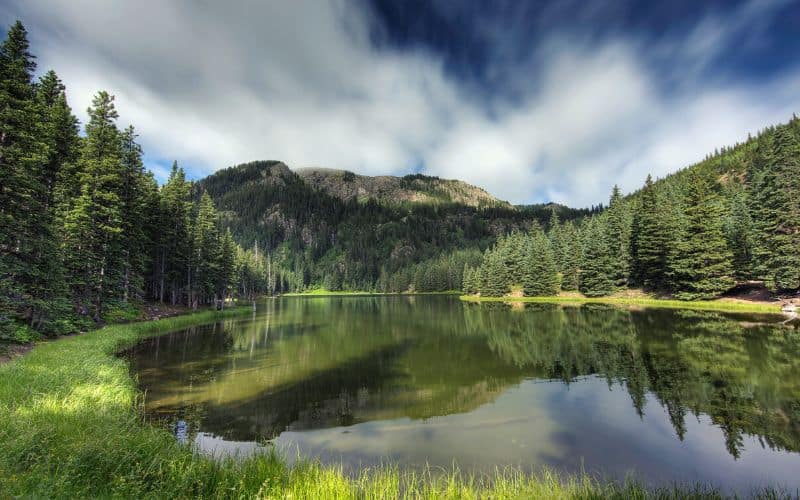 Type: RV and Tent
Hookups: No
Nearest Town: Red River
Elephant Rock Campground is located in Carson National Forest and offers easy access to fly fishing and Eagle Rock Lake.
This is a great place to see the high country New Mexico has to offer. You also have the local resort town of Red River to explore with plenty to learn about.
If you're up for an easy hike, check out the Fawn Lakes Trail. If you're into mountain biking there's also Elephant Rock Trail to enjoy while you're here. Want to crank up the thrill level? Take a jeep tour with Red River Offroad – the rides are wild and guide Gary tailors trips to your tastes!
All campsites have access to fire rings, toilets, water, and picnic tables.
7. Aguirre Springs Campground, Organ Mountains-Desert National Monument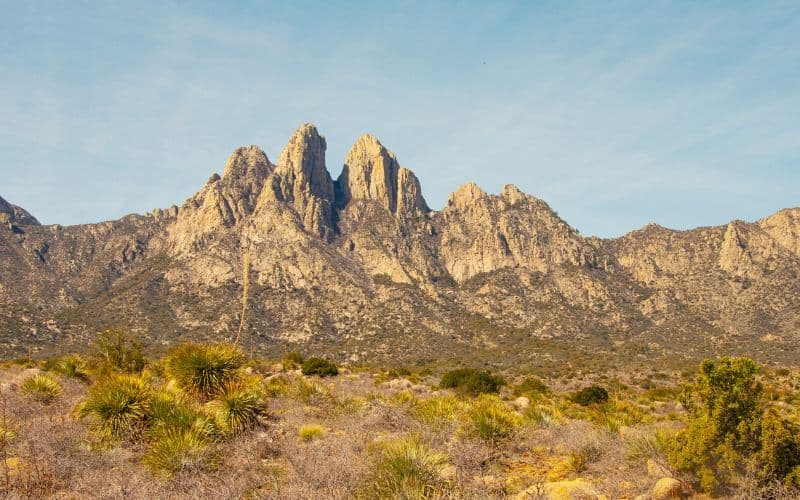 Type: RV/Vehicle and Tent
Hookups: No
Nearest Town: Organ
Aguirre Spring Campground offers over 55 first-come campsites and two group sites that can be reserved, so you have plenty of options.
This campground offers views of the Organ Mountains-Desert's steep angular peaks and rocky spires. If you have time, be sure to check out the Pine Tree Trail, which serves up some of the best views in New Mexico!
8. Carlsbad Cavern National Park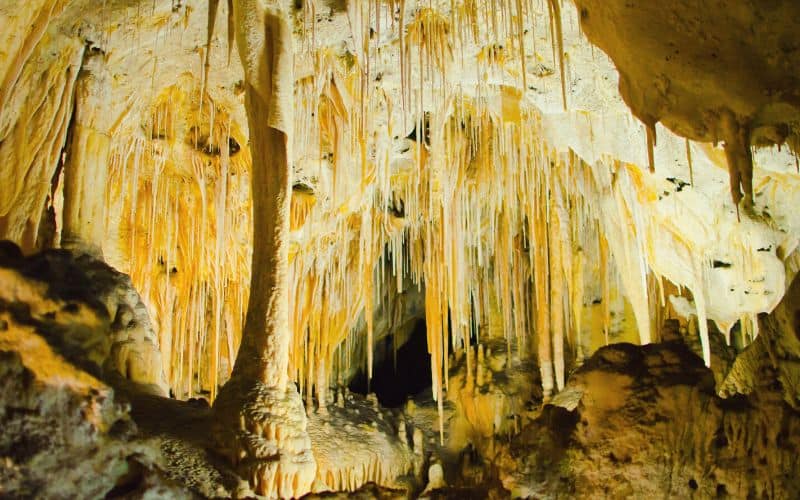 Type: Primitive only
Hookups: No
Nearest Town: Whites City
Carlsbad Caverns National Park is famous for its spectacular network of underground caves and outlandish speleothems (cave formations). Only backcountry camping is allowed within the park, but it's well worth roughing it for a night or two to enjoy the unique experience this area has to offer.
The BLM land surrounding the caverns allows free tent and RV camping if you don't mind being just outside the park itself. To learn more, contact the local BLM office or visit their website.
If you're interested in exploring the caverns you must have a permit or reservation. This website gives all of the information you need to explore the caves.
9. Jemez Falls Campground, Santa Fe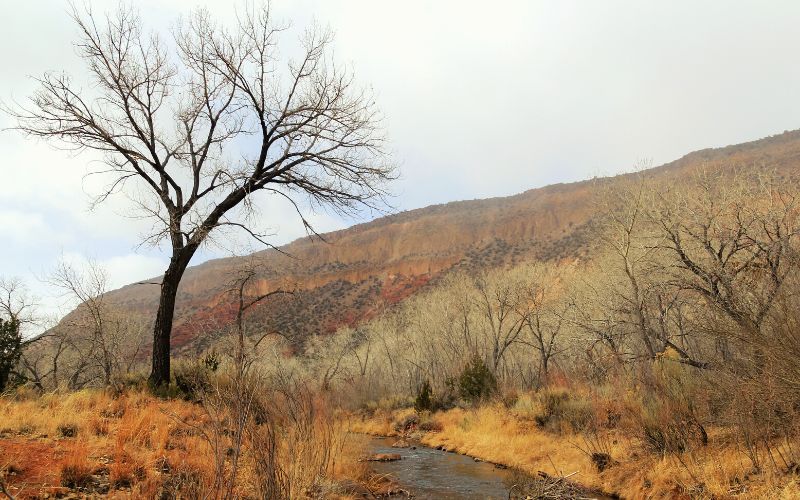 Type: RV and Tent
Hookups: No
Nearest Town: Jemez Springs/La Cueva
Located in a breathtaking and atmospheric pine forest not far from Santa Fe, Jemez Falls is the ideal spot for a relaxing getaway.
The campground offers 52 different campsites with RV camping, a fire ring, and all the views of the Jemez Mountains that you could ask for. You can access a variety of hiking routes via the campground. If you bring your bike, there are also a few good mountain biking trails to explore in Santa Fe National Forest, such as the Redondo-Jemez Falls Trail.
10. Heron Lake State Park
Type: Primitive and RV/Vehicle
Hookups: Yes
Nearest Town: Los Ojos
Heron Lake State Park has some of the best kayaking and sailing in New Mexico and is one of the more popular areas in the state. We recommend reserving your campsite and planning months in advance.
Heron Lake State Park is also known for its record-breaking trout and ice-fishing, and the towering cliff walls surrounding the terrain. Boats are required to run at no-wake speeds, so this is one of the quietest lakeside camping spots in the area. This peaceful lakeside spot is also a fantastic location for wildlife viewing.
11. Gallo Campground, Chaco Canyon National Historic Park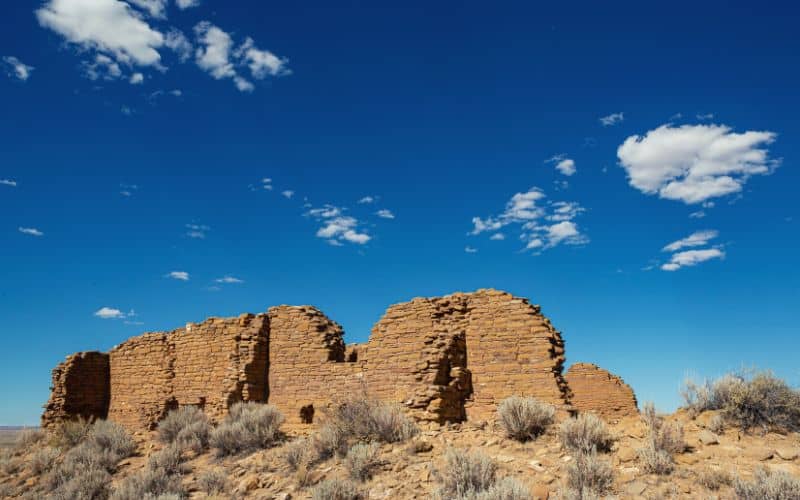 Type: RV and Tent
Hookups: No
Nearest Town: White Rock/Pueblo Pintado
This lowland desert campground is tucked away under towering cliffs and surrounded by fallen boulders, giving it a uniquely secluded feel. It's a very remote camping spot for tent camping and RV's. However, there are no RV hookups. The area has no services besides toilets, along with no cell service, so come prepared with plenty of food and water.
This campground's USP are the views of Chaco Canyon and the surrounding landscape, both of which are one of a kind. In Chaco Canyon Park you can enjoy guided tours, hiking and biking, and night sky programs.
12. Cosmic Campground, Gila National Forest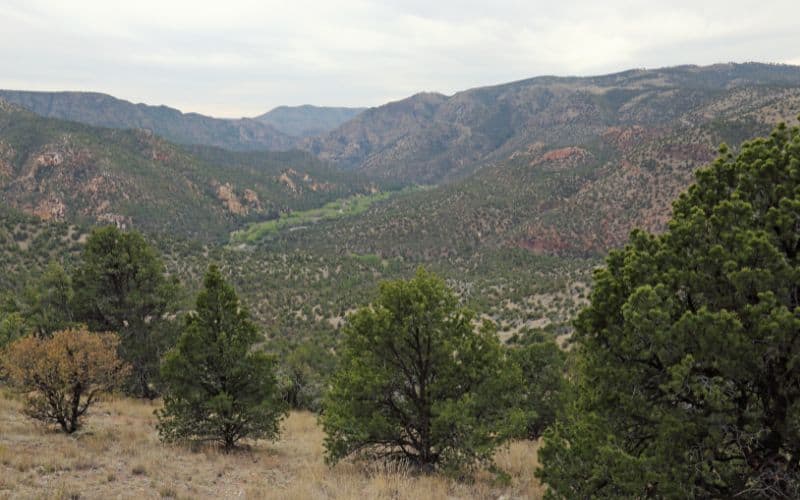 Type: Primitive and Tent
Hookups: No
Nearest Town: Alma
Cosmic Campground is one of the coolest on our list. It's an official International Dark Sky Sanctuary – one of 14 to boast this accolade in the entire world! If stargazing and breathtaking nighttime views are your thing, then this is by far the best campsite for you!
No reservations are required and all camping sites are first-come, first-served. The best seasons to visit are spring and fall, though the park is often magical in the wintertime, too.
This is a unique campground and we highly recommend you check out the campsite rules found here. They differ from traditional camping rules and the more aware we are of them the better we can preserve this special area of New Mexico.
Other Ways to Experience New Mexico!
Horseback Riding is another fun option for camping families. Travel through the Pecos Wilderness on horseback like a true explorer, or maybe take a scenic route along the Sangre De Cristo Mountains for a 10-star photoshoot!
Petroglyph National Monument provides a window into the history of New Mexico and the Native Americans who used to live in the area. It shows designs carved into rocks hundreds of years ago by both Spanish settlers in New Mexico and local Native Americans.
Museums in the state have a ton of information and history on Native American culture in New Mexico. If you're keen to learn more about this beautiful place and take a deep dive into its captivating roots, this website has a ton of resources on how to go about it.
Best Camping in New Mexico!
We hope that this guide has convinced you that New Mexico deserves a place on the must-see bucket list of any lover of wild and wonderful camping destinations. And whether you're keen on roughing it at a backcountry camping site or heading to an RV park with a full complement of amenities, you're sure to find the perfect campground for you on our list of the best camping in New Mexico!
If you end up using any of the information in the article and go camping in the aptly named Land of Enchantment, let us know! We'd love to hear any feedback regarding your trip or how we did in our guide. Any questions or comments are welcome – post them in the box below!