Everyone knows that Canada is big, largely uninhabited, and as such, it must provide great camping!
If we isolate the province of Ontario from the rest of the country, we're still looking at a massive plot of land. Covering over 415,000 square miles (imagine Spain and France combined!), Ontario is the second biggest province in Canada. It boasts 340 provincial parks and provides access to 4 of the 5 Great Lakes: Lake Superior, Lake Huron, Lake Ontario, and Lake Erie.
If you wanted to drive across the province, you'd better give yourself a full day. It takes 24 hours non-stop on the Trans-Canada Highway, taking you through ancient woodland, over rolling hills, ponds and marshes, past lakes that seem larger than seas, beaches . . . and much more!
Many of the landscapes in these Ontario Parks have long inspired some of Canada's most renowned painters, too.
In this guide, we'll help you get up close and personal with all of them!
1. Algonquin Provincial Park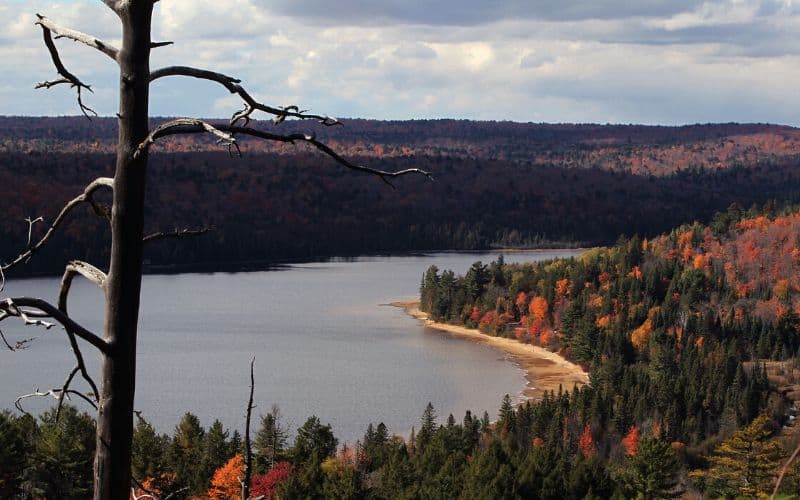 Nearest Town: Various
Type: RV & Tent
Electric Hookups: Yes/No
Established in 1893, Algonquin Provincial Park was Ontario's first official Provincial Park. Located in South-Central Ontario, it comprises 7,635 kilometers of some of the most beautiful landscapes in Canada: varied woodland, maple hills, lakes, rivers, bogs, rocky ridges, and outcrops.
If you want the true Algonquin experience, it's got to be done on foot or by paddle, via the canoe routes.
There are two types of camping in the park. 'Drive-to camping' is accessible by vehicle. Here, you can choose from 12 developed campgrounds, which are ideal for RVs and tents. Depending on the site, they offer electricity, flush toilets, hot and cold water, laundry facilities, and fire pits.
If you're up to six people, you can stay in yurts at the Mew Lake Campground and Achray Campground. These are eight-sided, tent-like structures with a wooden deck floor and electric heating. They're great for winter camping.
'Backcountry Camping' is accessible by canoe. This provides the most unique way to explore Algonquin Provincial Park. There are over 2,000 kilometers of canoe routes. There are 14 Ranger cabins to stay in, which are rustic wooden structures without electricity or running water.
If you can, we suggest visiting in the fall. The maples seem ablaze in their bright reds, oranges, and yellows. It is truly spectacular.
2. Killbear Provincial Park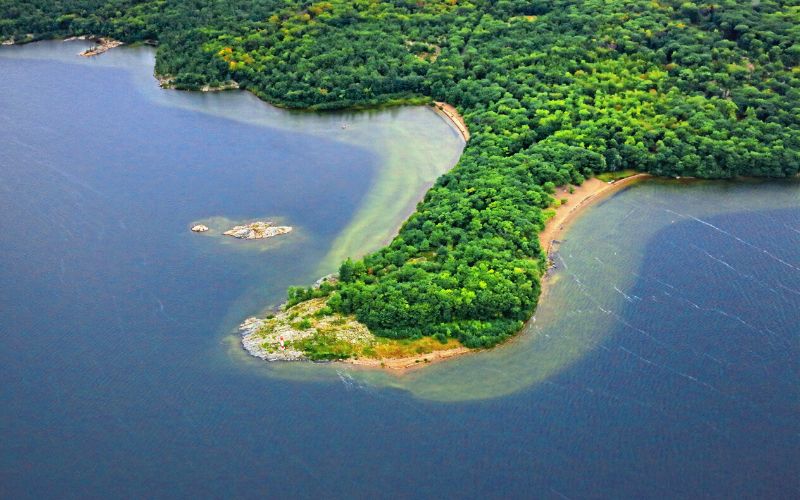 Nearest Town: Nobel (24km)
Type: RV & Tent
Electric Hookups: Yes/No
Watching the sunset from a granite cliff or sandy beach overlooking Georgian Bay is spectacular. It's also the best way to conclude an epic day of kite-surfing or completing one of the great hiking trails in Killbear Provincial Park.
There are seven campgrounds in Killbear Provincial Park, with a total of 880 sites. The most popular is the Beaver Dams Campground, which is close to the waters of Georgian Bay and Sunset Rock, where the infamous Killbear Tree is. The second most popular campground is the Lighthouse Point campground.
For those who love sandy beaches, we recommend Kilcoursie Bay or Harold Point campgrounds. The former is right by a huge sand beach, and offers some of the best sunsets over Georgian Bay. These are also close to the road.
For those seeking a more secluded experience, the Blind Bay Campground and Granite Saddle Campground are the go-tos.
Although there are many camping spots in Killbear Provincial park, we recommend booking between 3-5 months in advance. Some people spend their whole summers in the exact same spot.
3. Collingwood – Craigleith Provincial Park
Nearest Town: Collingwood (12.5km)
Type: RV & Tent
Electric Hookups: Yes/No
Collingwood is located on the southern shore of Georgian Bay at the base of Blue Mountain Camping here is a great family experience. The rocky shoreline is flat and provides one of the best places to launch your kayak, sailboat, canoe, or paddleboard on an Ontario camping trip!
All of the campsites in Craigleith Provincial Park are car-accessible, which is ideal for families and first-time campers. There are four camping areas.
Area A is non-electrical. Ideal for tents, facilities include toilets, showers, tap water, and laundry facilities. Area B is nearby, which contains both electrical and non-electrical sites. At the west end of the park there is a dog beach – these are the closest sites to the beach.
Area C is electrical and non-electrical. While this site has the same amenities as above, it also has a playground, dumping station, playing field, and volleyball court. Expect this to be a bit louder! Area D is an electrical site with water hookups.
Since you're so close to Blue Mountain, we recommend hiking up the Bruce Trail or riding your bike down the Georgian Trail.
4. Killarney Provincial Park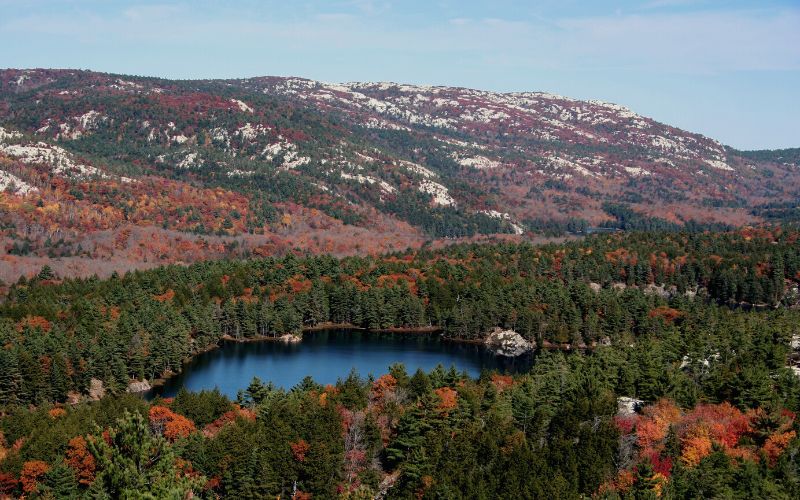 Nearest Town: Killarney (10.5km)
Type: Car/Tent
Electric Hookups: No
If you're interested to see where Ontario's artistic, historic, and outdoor spheres meet, then Killarney Provincial Park is the place for you. It comprises 645 kilometers and features some of the most incredible rock formations in eastern Canada: pink granite and white quartzite.
Throw in 50 lakes, the 80-kilometer La Cloche Silhouette Backcountry Trail, hills of Jack Pine, and the historic village of Killarney – an old fur trading post in 1820 – then you know why this is one of our favorite places to go camping in Ontario.
The best camping experience here is by foot or canoe. This is a massive park, and although the 100+ backcountry campsites, trails, and portages are well marked, it is your responsibility to know how to navigate. Each site is basic. They offer a fire pit and box privy. Reservations are made online.
George Lake Campground offers car camping and yurt rental. The park's gates are closed during the winter, but many hike into camp, carrying their gear on a toboggan.
5. Oastler Provincial Park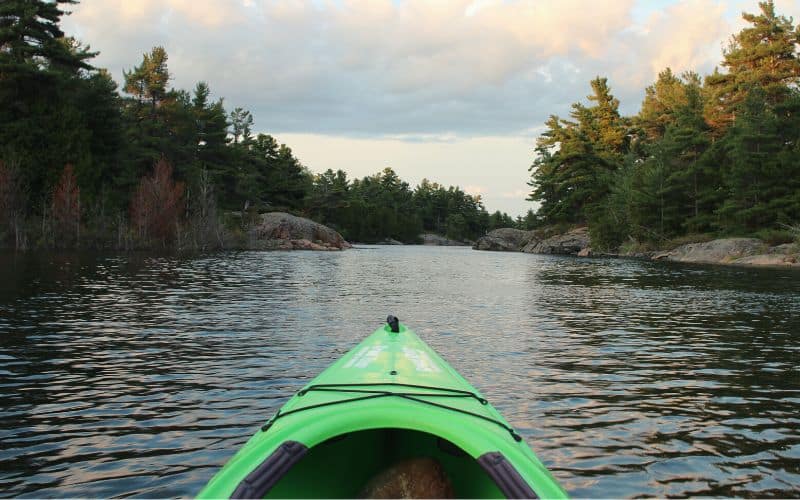 Nearest Town: Parry Sound (9km)
Type: Car & Tent
Electric Hookups: No
Five car-camping sites at Oastler Provincial Park make this a great option for families or those seeking a quiet weekend getaway without a backcountry slog. Expect plenty of drinking water and toilets.
Oastler Provincial Park is located on the Boyne River, near Parry Sound and Georgian Bay. The campsites offer wonderful views over Oastler Lake. However, you don't only have to admire it from afar – you can rent canoes, enjoy the big sandy beaches, or fish.
Nearby, you can enjoy great hiking and mountain biking on the Seguin Recreation Trail. The Seguin Valley Golf Club is beautiful, too.
6. Manitoulin Island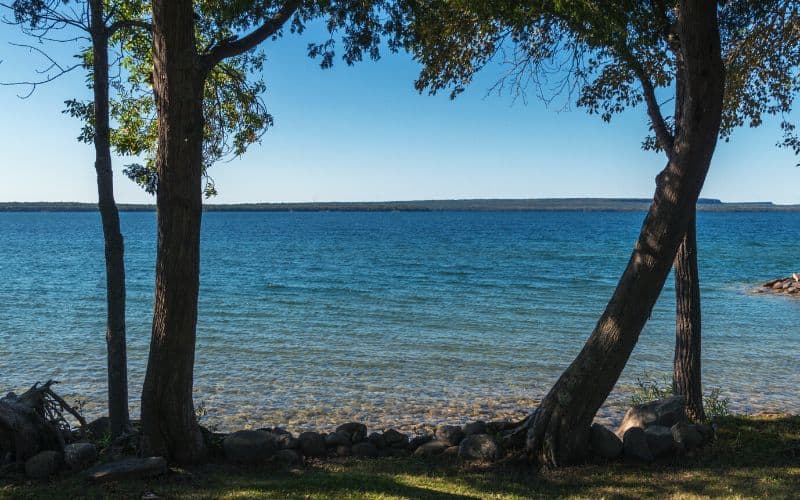 Nearest Town: Mindemoya (17km)
Type: Car & Tent
Electric Hookups: Yes
As the world's largest freshwater island, this place is simply epic. Although situated on Lake Huron, one of Canada's great lakes, it has over 100 small inland lakes! As you can imagine, it's huge. But, like most camping in Ontario, it provides RV, tent, and backcountry options.
For keen stargazers, we recommend Gordon's Park Campground. In 2009, it was recognized as a Dark Sky Preserve. There's also a mini golf course, great hiking trails, and a swimming pool.
Batman's Cottages and Campgrounds, as well as Idyll-Glen Camping on Lake Mindemoya, are great for RV camping. Being so close to the water, there are many water activities to do and there are plenty of services.
A small, rustic and unique camping option is available at Meldrum's Bay Marina & Campground. This is perched high above the former forestry village of Meldrum Bay. There are incredible water views from any of the 18 sites.
7. Bon Echo Provincial Park
Nearest Town: Northbrook (20km)
Type: Car & Tent
Electric Hookups: Yes
Bon Echo Provincial Park has some of the most impressive rock formations in Ontario, bringing rock climbers from all around the world.
There are a few lakes in the park, but the most famous is Mazinaw Lake, which is the seventh deepest lake in Ontario. Mazinaw means 'picture' or 'writing' in Algonquin. Here, you'll find pictographs painted in red ochre along a large escarpment of rock, rising 100 meters high and 2.5 kilometers long.
There are 25 canoe-in campsites on Joeperry and Pearson Lakes. These lakes offer great opportunities to fish bass, trout, and pike.
If you'd rather explore Bon Echo Provincial Park by foot, there are five backcountry campsites off the 17-km-long Abes and Essens hiking trail, which hugs the three lakes. Once your tent is pitched in its cleared area and you're sitting at the picnic table, this is a great place to spot wildlife.
If you have a trailer or want car access, Sawmill Bay, Midway, and Fairway at Mazinaw Lake Campground have electric hookups, tap water, and laundry. Similarly, though more secluded and without electrical hookups, Hardwood Hill is nestled in a maple forest.
8. Awenda Provincial Park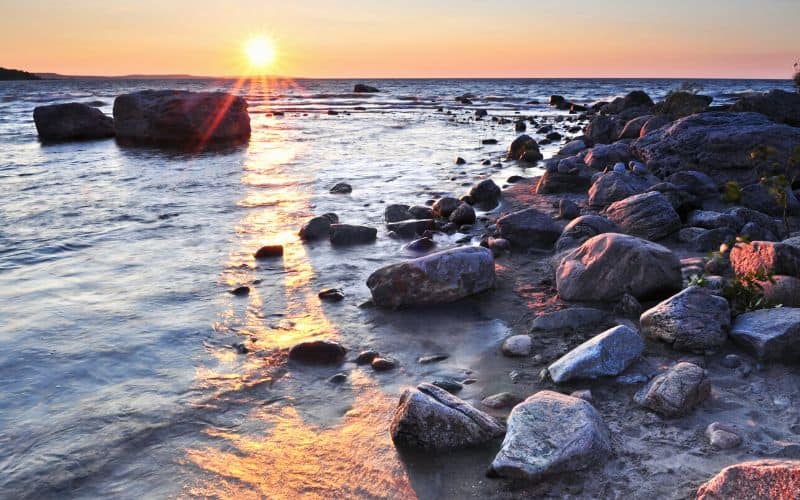 Nearest Town: Penetanguishene (10km)
Type: RV & Tent
Electric Hookups: Yes/No
On the shore of Georgian Bay, Awenda Provincial Park comprises 2,900 hectares of forested land. If you love trees, wildlife (there are over 120 breeding bird species!), and seclusion, this is for you.
There is 31 km of trails to hike in the summer and 17 km to cross-country ski in the winter. Cyclists are permitted on three different trails, you can fish or paddle on Kettle's Lake (a non-motorized lake), and there is an interpretive program, too.
There are 6 campgrounds here, and of all the Provincial Parks on our list, this may offer the best forested environment. All the sites are nestled beneath sugar maples and red oaks – in autumn, camping here is unrivaled. Wolf and Hawk Campgrounds offer electrical hookups, and all the campgrounds have tap water, flush toilets, and showers.
9. Grand Bend – Pinery Provincial Park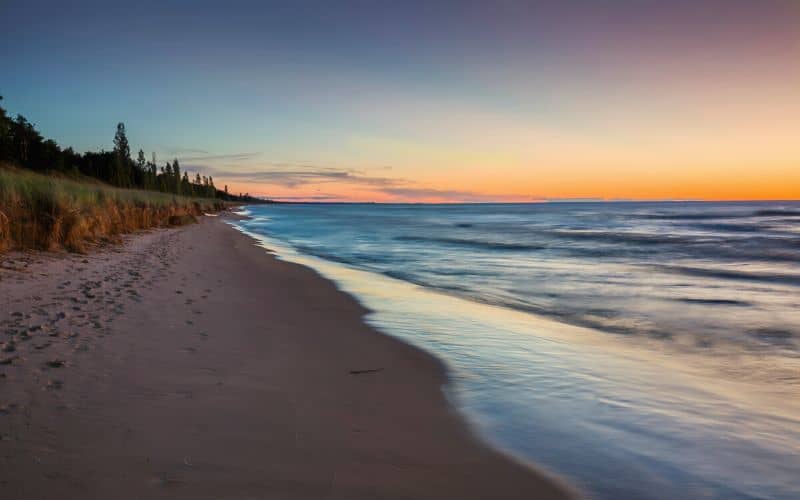 Nearest Town: Grand Bend (9.2km)
Type: RV & Tent
Electric Hookups: Yes/No
Until you visit one of Canada's Great Lakes, it's hard to believe their sea-like characteristics. But, if you want a beach holiday without traveling overseas, then Pinery Provincial Park is a must-see.
Ten kilometers of sandy beaches spread alongside Lake Huron, and the sand dunes are worth exploring. The shore features rare Oak Savanna and Coastal Dune Ecosystems, with over 800 vascular plants and 300 bird species . . . talk about biodiversity!
There are also various trails, and the chance to rent a paddle boat or canoe to meander around the Old Ausable Channel, which is one of Ontario's significant wetlands. In the winter, there are 38 kilometers of cross-country ski trails.
There are three campgrounds in Pinery Provincial Park. Riverside and Dunes Campgrounds provide electrical hookups and full amenities, while Burley Campground is a rustic, tenting experience. There are also four cabins to rent on-site.
10. Lake Superior Provincial Park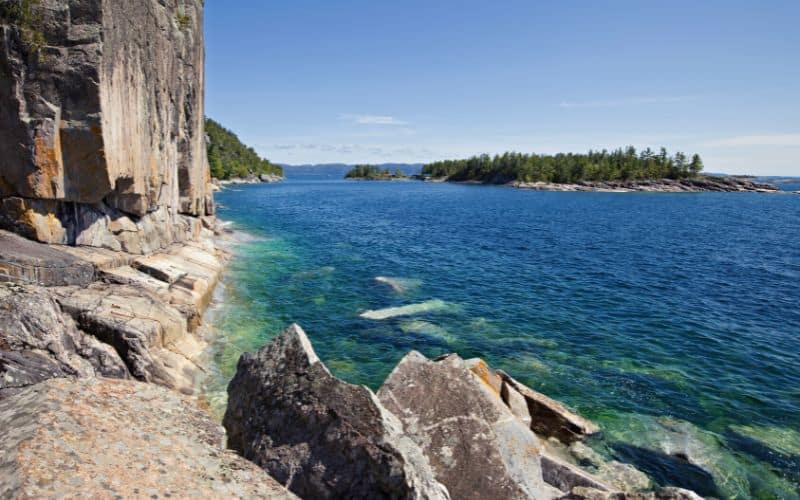 Nearest Town: Various
Type: RV & Tent
Electric Hookups: Yes/No
As one of the biggest freshwater lakes in the world, camping in Lake Superior Provincial Park is a sheer joy.
The hiking and canoe routes pass rocky beaches, lakes and rivers, dense woodland, and marshland, and provide you with numerous opportunities to view the park's wildlife. Whether you're looking for a day jaunt or a multi-day expedition, this is an incredible place to visit.
There are 176 backcountry campsites, separated into 76 zones. Amenities depend on where you are camping. Some sites may be equipped with metal fire pits, picnic tables, and food boxes. Check – and, where possible – reserve your spot in advance.
Lake Superior Provincial Park is massive. Careful planning is required. Backcountry access points include Sinclair Cove, San Rive, Orphan Lake Hiking Trail, Agawa Bay – only to name a few.
Two campgrounds are available for those wishing to car or RV camp.
Rabbit Blanket Lake Campground is situated on an inland lake and has 60 sites (⅓ are electrical). It has flush toilets, showers, and laundry services. Agawa Lake Campground is situated on a 3 km stretch of beach on Lake Superior. It has 147 sites (¼ electrical). Facilities include flush toilets, showers, and laundry. An amphitheater and visitor center are nearby.
11. Long Point Provincial Park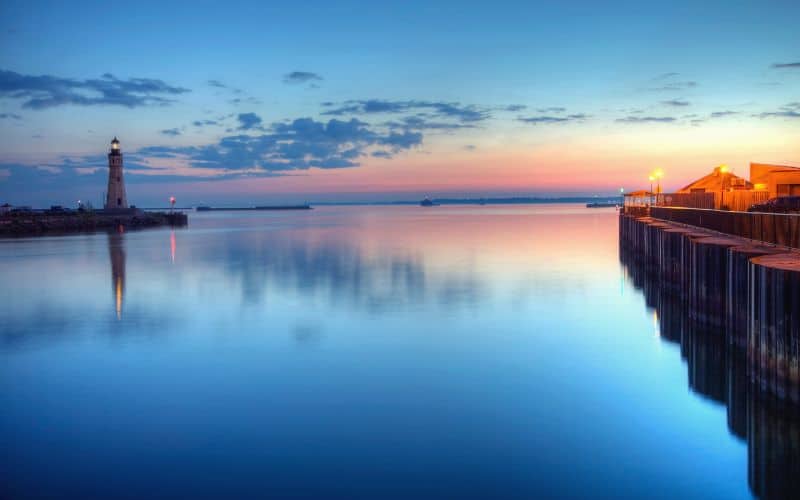 Nearest Town: Port Rowan (10.5km)
Type: RV & Tent
Electric Hookups: Yes/No
Established in 1921, Long Point Provincial Park is the fourth oldest in Ontario. It is located within a World Biosphere Reserve along Lake Erie. If you want to watch songbirds and waterfowl migrate, this is one of the best places in North America! Over 80 species of birds nest on Long Point, too.
The campground is open from mid-May to mid-October. There are four campgrounds separated into two sections. In 'New Park', Firefly Campground provides sites for large vehicles and RVs, each equipped with electrical service. These are all only a short walk away from the beach. Turtle Dunes and Monarch's Rest Campgrounds offer both electrical and non-electrical sites.
'Old Park' has Cottonwood Campground, radio-free, which also has showers and toilets.
12. Arrowhead Provincial Park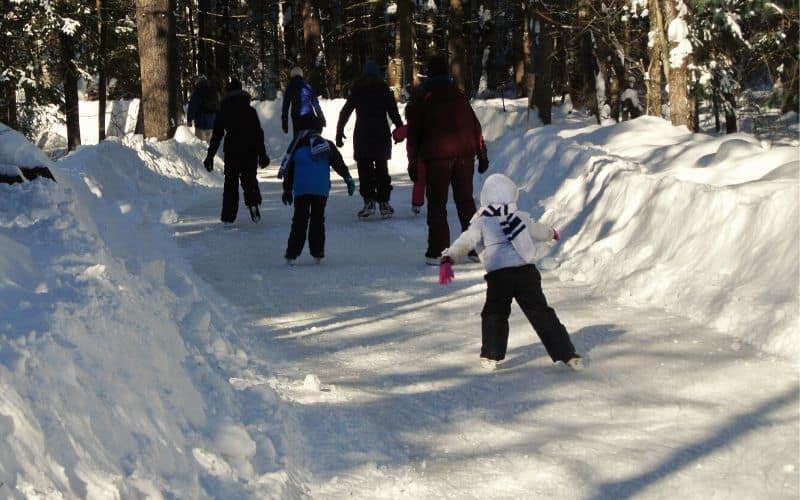 Nearest Town: Huntsville (7.2 km)
Type: RV & Tent
Electric Hookups: Yes/No
Open year-round and nestled in Ontario's cottage country, Arrowhead Provincial Park is always bustling with outdoor action. Popular activities include skating, biking, canoeing, snowshoeing, swimming, cross-country skiing (46 km or ski trails), bird watching, fishing, and hiking along one (or all!) of the park's five trails.
In the winter, the annual Muskoka Loppets takes place, and be sure to check out the 'Fire & Ice' nights, where the ice trail is lit up. There are also three motorboat-free lakes in the park.
Various camping options are available. Roe Campground provides the quietest, most private experience. For RVs, the East River Campground along Road 10 is your best bet (this also happens to be close to Stubbs Falls). Lastly, the Lumby Campground, which is separated into two sections and is sheltered by trees, offers great sites for tents.
Arrowhead Provincial park also has 13 sheltered cabins, which can fit up to 5 people.
13. Bruce Peninsula National Park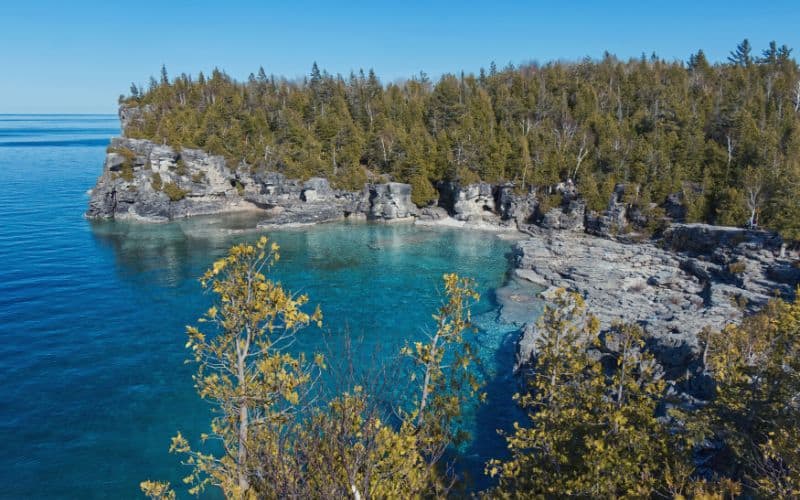 Nearest Town: Lion's Head (27km)
Type: RV & Tent
Electric Hookups: Yes/No
Situated between Georgian Bay and Lake Huron on the Bruce Peninsula, the 155-square-km Bruce Peninsula National Park is wild. It consists of limestone cliffs, deep caves, ancient cedars and woodland, clear lakes, black bears, and diverse wildlife. These all amass to what is considered the largest remaining natural area in Southern Ontario.
Cyprus Lake Campgrounds offers 232 unserviced sites. Split into three sections – Tamaracks, Poplars, and Birches – it is a perfect base for your time in Bruce Peninsula National Park. There is space for tents, trailers, and RVs, each site has a fire pit and picnic table, and nearby there are toilets, showers, and potable water.
In 2020, the 'Campground Hub' was opened, which has basic facilities, a basketball net, a soccer field, and an outdoor theater.
Backcountry camping is available at the Stormhaven and High Dump sites, whilst Yurt cabins are available, too.
14. Neys Provincial Park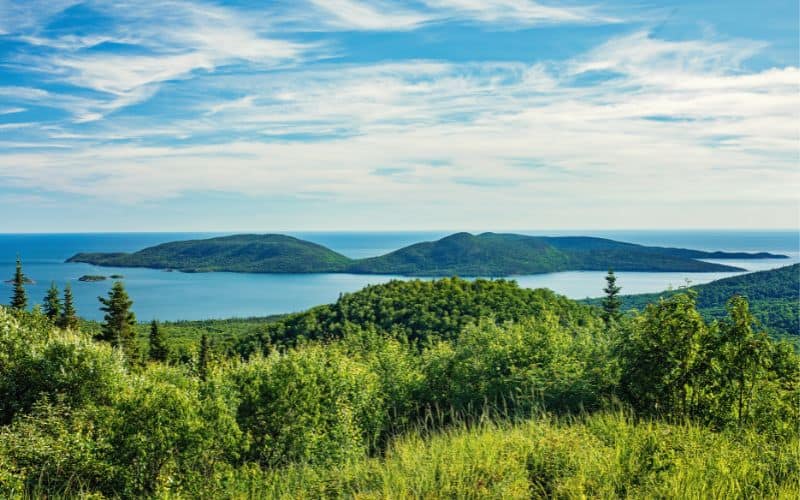 Nearest Town: Marathon (29 km)
Type: RV & Tent
Electric Hookups: Yes/No
Neys Provincial Park is full of history. Here you'll find caribou, a fine sandy beach, diverse plants, and Pic Island, the infamous centerpiece of Lawren Harris' 1926 painting, but the park's natural wonders are not its only attraction. Here, you can view the actual remains of a former prisoner of war camp, and view an old model at the Visitor Center!
There are four campground areas at Neys Provincial Park. The sites in Area 1 are fully pull-through, have electricity, and offer great views over Lake Superior. Areas 2 and 3 are more secluded, but also offer electrical options and have views over the lake. Area 4 is isolated in a wooded loop, and is best suited for tents.
There is also one cabin that can be rented here.
15. Sleeping Giant Provincial Park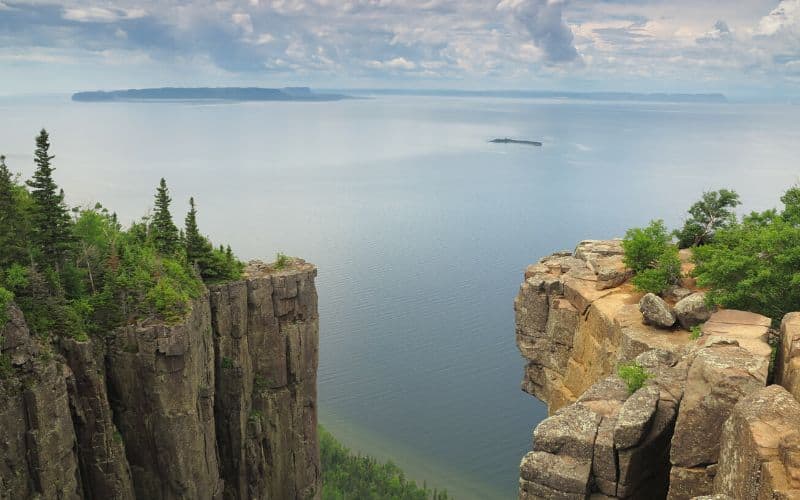 Nearest Town: Thunder Bay (75km)
Type: RV & Tent
Electric Hookups: Yes/No
Last on our list, but surely not to be missed! Sleeping Giant Provincial Park boasts over 100 km of hiking trails, and the geological features of Sea Lion and Tee Harbour are fantastic. If you're interested in the local mining history, there is a great model of the Silver Islet Mine, as well as an exhibition exploring the culture of Sibley Peninsula, both at the Visitor Center.
Although Sleeping Giant Provincial Park is open year-round, camping in the park is only available from mid-May to mid-October. All park users must display a valid parking permit on the dash of their vehicles.
Highway 587 cuts through the park and provides access to most trailheads. The most common backcountry access point, South Kabeyn Trailhead, is 37 km south.
The 27 backcountry campsites are separated into 7 zones. Ranging from fire pits, bear-proof stainless-steel lockers, etc., each site includes different amenities, so careful planning, preparation, and reservations are advised.
Marie Louise Lake Campground is the car-camping spot in Sleeping Giant Provincial Park. Each of the 200 sites includes a picnic table and fire pit, and half have electrical hookups.
Explore Canada!
Want to see more of Canada's epic beauty? Check out our handy guides to:
Best Camping in Ontario: Happy Camping!
Whether it's on foot, by canoe, or in your RV, there are so many ways to enjoy camping in Ontario.
With such a big province comes a large diversity of landscapes, flora, and fauna. Every provincial park changes with the seasons, too. Lush green in the summer, dazzling and white beneath a winter snow coat, and seemingly ablaze in autumn – camping in Ontario is always a unique experience.
If you liked this post, feel free to share it with your friends or anyone bound for Ontario! Drop us a line in the box below if you have any questions or comments.