Rhode Island may be the smallest state in the country. But what it lacks in landmass, it makes up for in epic coastline, gorgeous waterways, and rich history. As any Rhodian will tell you, you have to stay a while to experience what the state has to offer. But where?
In this guide to the top camping in the Ocean State, we cover eleven top-rated campgrounds, from primitive tent camping to luxurious RV-exclusive areas. We've included amenities and facilities at each and shared what to do for fun once you've set up camp.
1. George Washington State Campground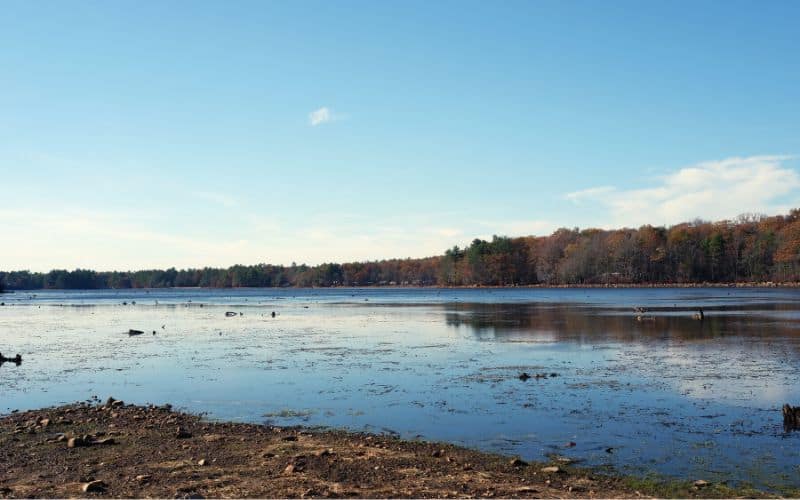 For an authentic, primitive camping experience, check out George Washington State Campground. Located on the shores of Bowdish Reservoir, this campground gives visitors access to 10 miles of hiking trails, a swimming beach, and a boat ramp.
There are 45 spots for tents and travel trailers. However, there are no electrical or water hookups. Water is available throughout the campground from shared spigots. Guests can use the shower facilities and flush toilets. There are also composting toilets available.
What this campground lacks in amenities, it makes up for in spacious sites and beautiful scenery. Bowdish Reservoir provides campers with incredible views and a place to swim, boat, and fish. George Washington State Campground is open from the second week of April to the end of October.
2. Burlingame State Campground, Burlingame State Park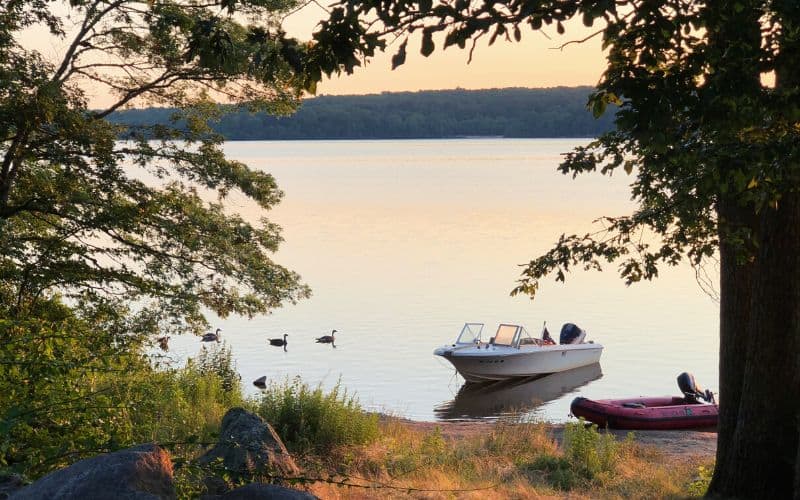 Burlingame State Campground is perfect for anyone looking for a rustic getaway in the heart of Rhode Island's largest state park. At 3,100 acres, Burlingame State Park is home to eighty different bird species and foxes, mink, and otters.
The best part about staying at Burlingame State Park is all the different ways to immerse yourself in nature. Try the campground's canoe rentals and spend a day on Lake Watchaug or use the freshwater beach. Use the park's many trails to explore the rocky woodlands and the neighboring Kimball Wildlife Sanctuary.
The campground offers 755 primitive sites for any type of camping or 20 cabins if you prefer to sleep inside. For cabin stays, air mattresses are recommended, and you must bring your own bedding. The campground provides showers, toilets, picnic areas, fire pits, and a playground. And don't forget about the camp store for necessities and souvenirs.
3. Whispering Pines Campground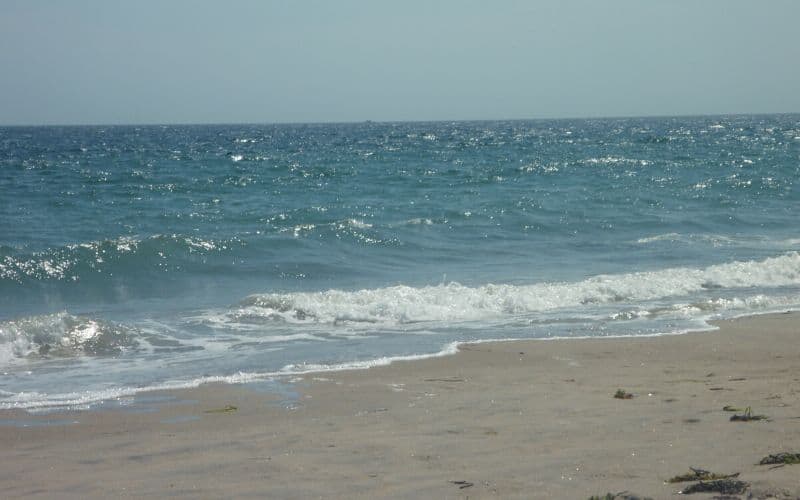 Conveniently located 20 minutes from the beach, Whispering Pines Campground is the ideal place for your adventure headquarters. Set up camp in the shade of towering pine trees and enjoy everything the campground and the area have to offer.
You can pitch your tent in a large, leveled site or park your camper in a full-hookup pull-thru spot. Tent campers and RVers can use the bathroom and shower facilities and the laundry room. There is a dog park for your furry friends and a covered pavilion.
You don't have to leave the campground to find fun activities. Your group can play mini-golf, ride a barrel train, play at the arcade, or head to the swimming pool or basketball courts. In the unlikely event, you run out of things to do, the campground is surrounded by local attractions.
Within a few minutes of the campground, drive to Misquamicut Beach, the Mystic Marinelife Aquarium, Quonset Air Museum, and Battleship Cove, to name a few.
4. Holiday Acres Campground
Families love Holiday Acres Campground. Since 1945 the campground has catered to families and nature lovers with full-hookup sites to fit any size RV or travel trailer. Tent campers are welcome, and there are cabin rentals available.
Amenities include laundry facilities, hot showers, bathrooms, picnic tables, and fire rings. More importantly, there is no shortage of things to do right in the campground. There is a game room, horseshoe courts, and an open field for frisbee, playing catch, or just running around. The Adult Area (21+) has a bar, big-screen TVs, pool, darts, a jukebox, and more.
The campground sponsors events all summer long, including live music, cornhole tournaments, raffles, and ice cream socials. For nature lovers, the campground lake offers fishing, boating, and swimming opportunities.
Holiday Acres fills up quickly. Make your reservations as early as possible.
5. Second Beach Family Campground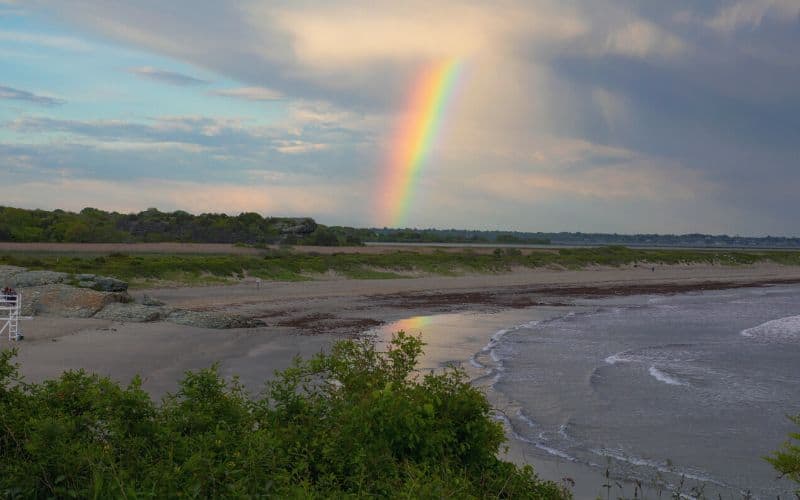 Second Beach Campground caters exclusively to RV campers looking for a quiet overnight or weekend experience. In addition to forty-four full hookup sites, the campground provides bathrooms, hot showers, and an ice locker.
As the name suggests, this campground is right on Second Beach, with walking access to surfing and Third Beach. Also, within walking/hiking distance, you can visit the Norman Bird Sanctuary or Sachuest Point National Wildlife Refuge, known for having the second-largest winter population of harlequin ducks on the Atlantic Coast.
The campground isn't far from Middletown, Newport, and Portsmouth, where you can find markets and museums, including the Newport Car Museum and the Cloud Hills Victorian House Museum. When planning your camping trip, be aware that dogs are not allowed at Second Beach Family Campground. Leave your furry friends at home.
6. Melville Ponds Campground/Newport RV Park
If you want to be close to hiking trails, the beach, and the historic town of Newport, Melville Ponds Campground is the place for you. Tent and RV campers can take advantage of the sizable sites and close proximity to area attractions.
The campground provides comfort stations, showers, a convenience store, free WIFI, and cable, and every site has its own fire ring and picnic table. For entertainment, campers can use the basketball and volleyball courts, horseshoes, and playground.
Explore the surrounding area, including Melville Park and five miles of easy hiking trails that wind around Melville Ponds. Or the campground is just a few miles from Sandy Point Beach and Weaver Cove, where you can swim, fish, and boat. No matter your plans, make sure you have a reservation.
7. Charlestown Breachway Campground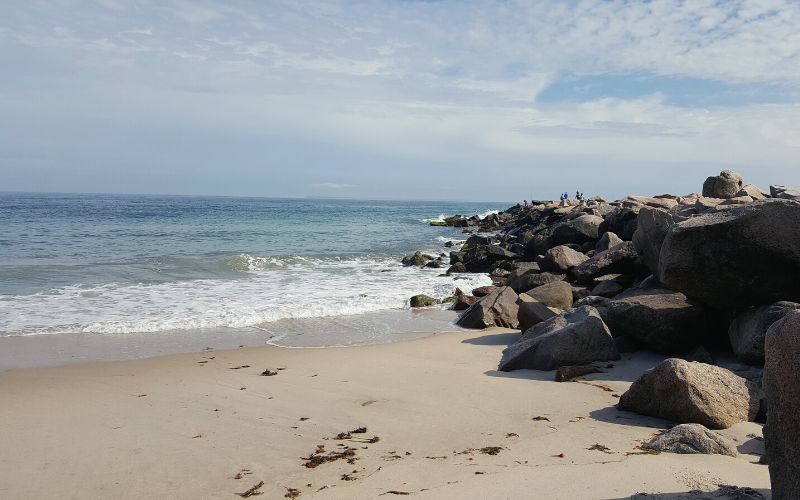 The expansive beach at Charlestown Breachway is a Rhode Island favorite. The best way to appreciate the sand and waves is by staying at the campground.
This state-run facility has 75 RV sites. There are no utilities or toilets at the campground, and all camping units must be self-contained. There are dump stations available at nearby campgrounds.
No toilets is a small price to pay for an oceanfront spot with stunning views of Block Island Sound. From your campsite, you can walk to the Breachway for sunbathing, boating, and some of the best saltwater fishing in the area. For swimmers, the beach is patrolled by lifeguards from 9:00 am to 6:00 pm.
Reservations can be made on the day of your stay; however, at this popular campground, we recommend booking as far in advance as possible.
8. Worden Pond Family Campground
Family-owned Worden Pond Campground is an RVers paradise. The wooded campground offers shady, electric, and water hookup spots right on the shores of Worden Pond. Although there are no sewer hookups, the campground has a complimentary dump station.
For things to do in the campground, head to the basketball and volleyball courts, the horseshoes pit, or the playground. Or spend a day fishing, canoeing, and swimming in the pond or simply admiring the views.
Worden Pond Family Campground is only a few miles from the Great Swamp Management Area, the largest swamp in New England. The swamp is known for its great hiking trails and world-class bird watching.
The relaxing atmosphere and private beach access bring campers back year after year. Be sure to make your reservation early.
9. Fort Getty Park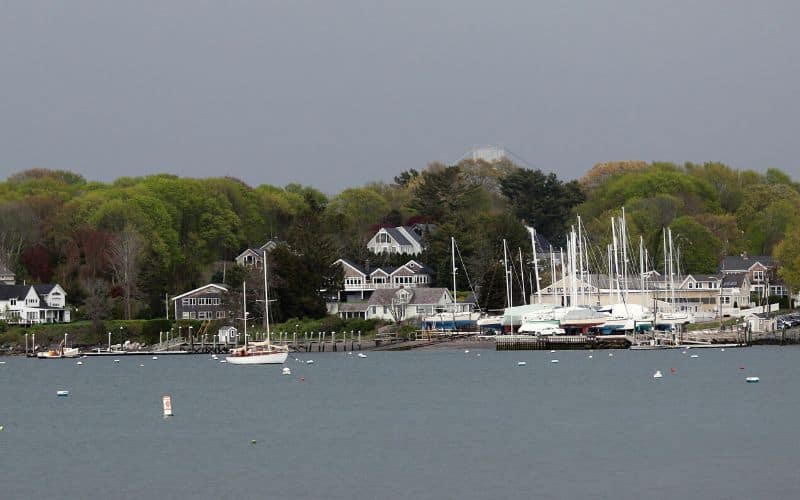 History buffs, outdoor enthusiasts, and families alike can find something at Fort Getty Park. The city-run park and campground are located right in Jamestown, Rhode Island, making it an excellent place for a staycation.
Choose from eighty-three RV sites and twenty-six tent sites. RV sites have water, electrical, and sewer hookups. For tent campers, there are toilets and showers. The campground also provides picnic tables and a pavilion that is a popular spot for graduation and wedding parties.
Use your site as a basecamp for scouting the area's fascinating history. Around the park and campground, you will find partially buried gun barriers and old fortifications that speak to the park's past as a military fort.
For outdoor enthusiasts, the campground has a wildlife observation platform and public boat ramp access. The park's 41 acres are connected by walking trails. Find the trail that leads to the rocky beach for beautiful views of Jamestown Bridge and the West Passage.
10. Fishermen's Memorial State Park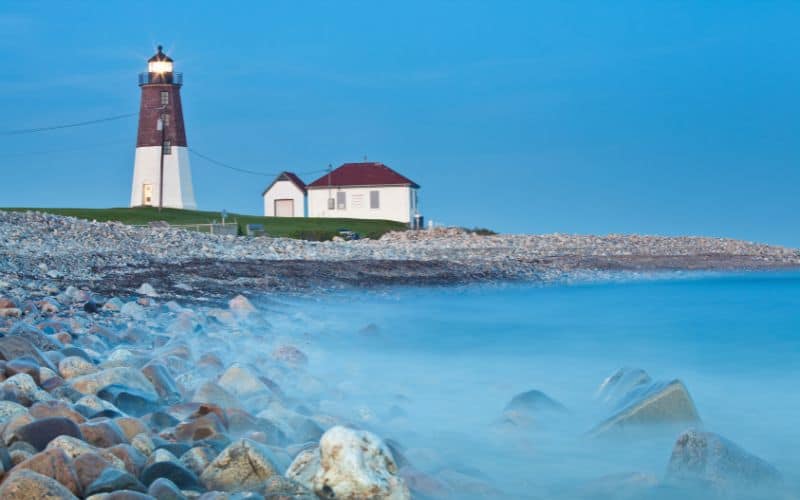 For a seaside camping experience, you have to try Fishermen's Memorial State Park. The campground welcomes tents, vans, RVs, and travel trailers to their shaded grounds. There is a combination of pull-thru sites and back-in sites, with some full hookups throughout the campground.
Although the campground has 182 sites total, the layout and landscaped bushes create a private feel at each site. There are clean bathrooms available, and showers cost a bit more. There are also basketball and tennis courts and fire rings.
The main feature of this state park is the nearby beaches. The campground is a few minutes from Roger Wheeler, Salty Brine, and Scarborough beaches. Or you can drive a mile to the Block Island Sound Ferry Dock.
Block Island is a great place to spend a day hiking high ocean bluffs and visiting centuries-old lighthouses. However you plan to spend your time, Fishermen's Memorial State Park Campground makes a great outpost.
11. Bowdish Lake Camping Area
You'll want to stay all season at Bowdish Lake Camping Area. And you wouldn't get bored if you did. The campground has close to 100 spots for RVs, trailers, and tent campers. (Maximum trailer length is 35 feet.) Every site has water and electricity, and there are three dump stations and six bathhouses in the campground.
Besides amazing amenities, Bowdish Lake Camping Area is jam-packed with entertaining activities. The recreation hall has free WIFI, pool tables, and darts. There is a craft house, hay rides, and a playground.
If you prefer to escape into nature while camping, paddle around the 226-acre Bowdish Lake, take a dip at the campground's private swimming beach, or explore nearby hiking trails.
Other RI Campgrounds Worth Visiting
Ginny B Campground, Foster
Oak Embers Campground, West Greenwich
East Beach Campground, Charlestown
Oakleaf Family Campground, Chepachet
Wawaloam Campground, Richmond
East Matunuck State Beach, South Kingstown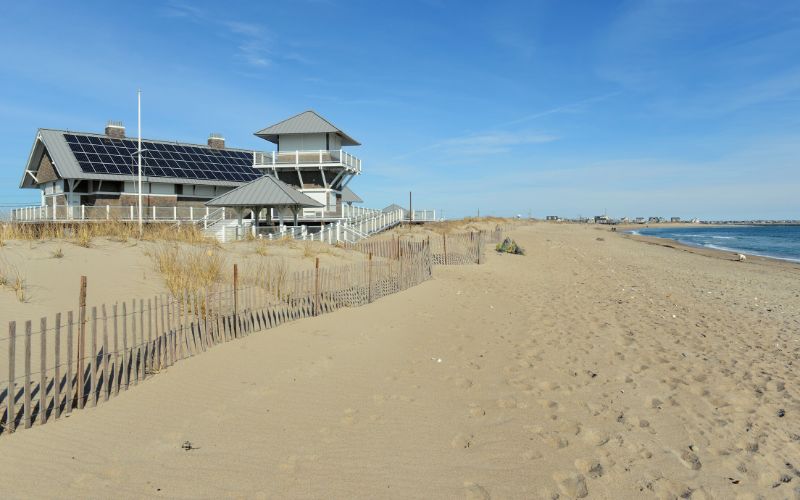 Best Camping in Rhode Island!
There's nothing like setting up camp for the night in a beautiful place. Rhode Island is full of such places; from seaside campgrounds to pine tree outposts, the Ocean State is a camper's paradise.
Was our guide to the best campsites in Rhode Island helpful? Where's your favorite place to stay? Let us know in the comments, and don't forget to share with your camping crew.