Planning a camping trip to Tennessee but feeling overwhelmed by the options? The Volunteer State offers something for everyone. Whether you love culture and history, enjoy backpacking the Appalachian Trail, want to immerse yourself in nature in Cherokee National Forest, or prefer fantastic whitewater rafting along the mighty Mississippi River, Tennessee has it all.
Camping enthusiasts can choose between primitive tent camping beneath the starry skies or the convenience of RV camping at fully-equipped campgrounds. Furthermore, free dispersed camping sites are available throughout state parks and various other areas in the state. Whatever your preference, you'll find something to please you in this list of our ten favorite camping sites in the Volunteer State.
What Are The Best Places To Camp In Tennessee?
Here are our top ten Tennessee camping spots in the following list.
Anchor Down RV Resort, Dandridge
Abrams Creek Ranger Station, Great Smoky Mountains National Park
Clarksville RV Park And Campground, Clarksville
Pine Mountain RV Park, Pigeon Forge
Frozen Head State Park And Natural Area, Wartburg
Smoky Mountain Premier RV Resort, Cosby
Savage Gulf State Natural Area, Palmer
Fall Creek Falls State Park, Spencer
Sun Outdoors RV Resort, Pigeon Forge
LeConte Lodge, Sevierville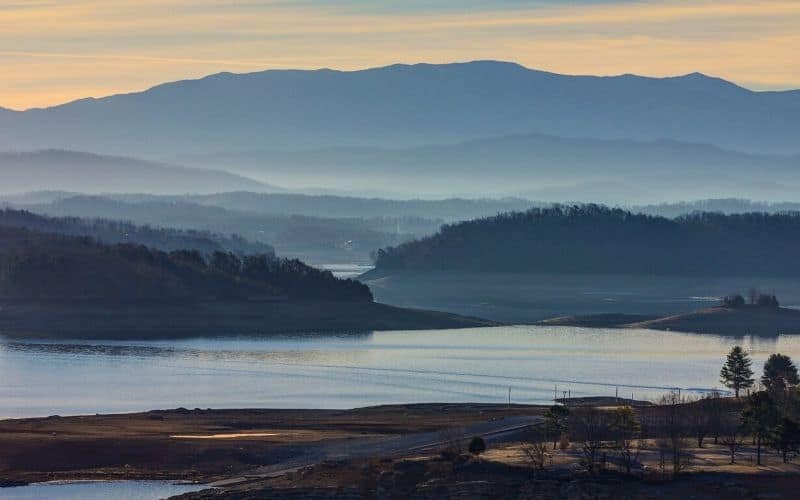 1. Anchor Down RV Resort, Dandridge
The Anchor Down RV campground and is one of Tennessee's newer RV parks, a luxury resort purpose-built for those who enjoy a camping vacation on wheels.
The site is located on Lake Douglas which gives you magical views out across the water with vistas of the spectacular Great Smoky Mountains in the background.
There's plenty for the whole family to do at Anchor Down. You may want to spend the day swimming and relaxing by the pool which has an excellent waterslide for kids of all ages! Or if you prefer peace and quiet, why not go fishing in the lake or hire a pontoon. For the more energetic, there's a basketball court.
Other practical amenities include golf cart rentals, a camp store, on-side trash pickup, and free wireless internet. There are both back-in and pull-through sites with full 30/50-amp electrical hookups. And with pets allowed you can also bring your dog on your camping vacation with you.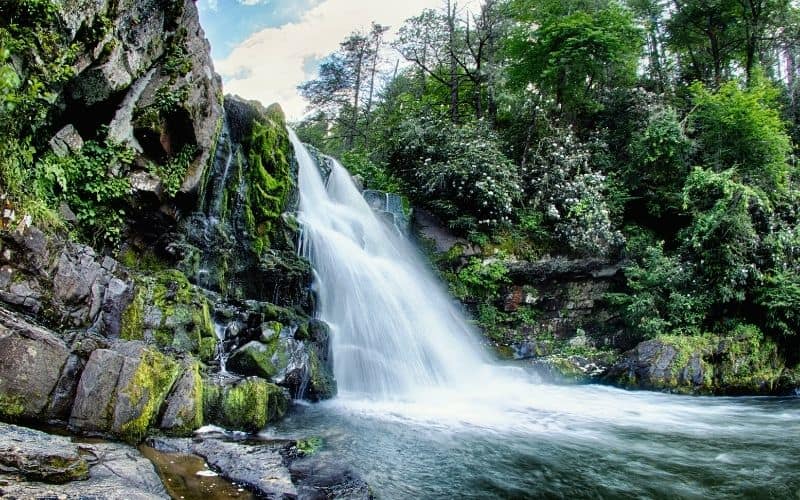 2. Abrams Creek Ranger Station, Great Smoky Mountains National Park
Abram's Creek Ranger Station in Blount County is a hidden gem in the northwestern part of the Great Smoky Mountains National Park, frequently passed over by campers.
Abram's Creek is secluded and peaceful, offering visitors a crowd-free setting where right on the doorstep you can enjoy some of the best hiking and fishing in the state, and in relative solitude. The climate here is moderate, thanks to its 1,125-foot elevation, with hot and humid summers and milder winters.
If you take the relatively easy trail through the peaceful wooded area you will find the 5.6-mile Ace Gap Trail which joins the Beard Cane Trail. Primitive camping is allowed out here too, and if you're lucky, you'll spot deer and many birdlife species along the way. If you decide to pitch your tent in the backwoods be aware that black bears are pretty common out there.
Abram's Creek runs alongside the campground providing a restful soundtrack as the clear water babbles tirelessly by. The setting here on the creek bank is absolutely beautiful and you can use a hammock provided it is over your campsite's footprint and has adequate padding so as not to damage any trees.
Although you have the convenience of drinking water and flushing toilets, there are no showers or electric hookups at the campground. There is a store with a limited selection of groceries and camping supplies, and a food and beverage service is available in the park. If you want to use firewood, you must buy what's on sale in the park.
Pets are welcome, but they must be kept on a leash at all times. You must also stick to designated pet-friendly trails when walking with your dog.
You can make a reservation for a site up to six months in advance by calling (877) 444-6777. Sites cost $17.50 per night, and there are some discounts available for seniors. Other great alternatives in the park include Cades Cove campground and Great Look campground.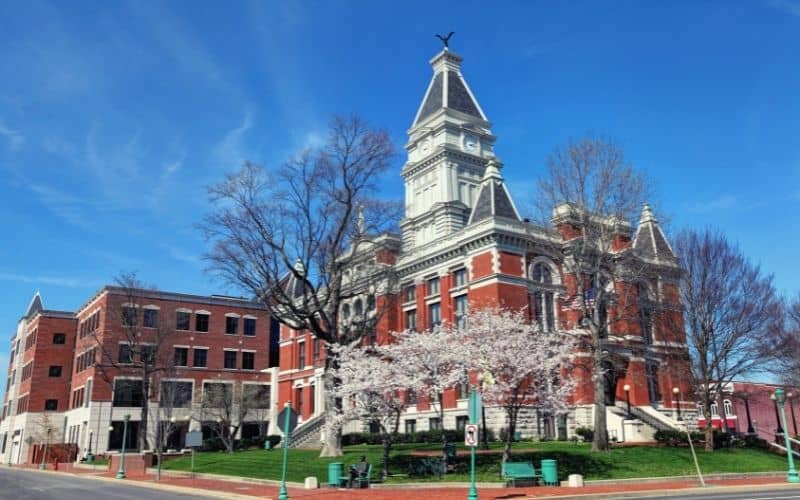 3. Clarksville RV Park And Campground, Clarksville
Clarksville RV Park and Campground located in Clarksville offers modern amenities and plenty to explore in the local area.
This site is a convenient and comfortable spot with full RV sites, modern amenities, and a general store. Here, you'll find a swimming pool, playground, free wireless internet, and good cell reception. Pets are welcome, and there's even a dog park!
You'll find plenty to explore in the local area, including the Land Between the Lakes National Recreation Area, Fort Campbell, and Mammoth Caves.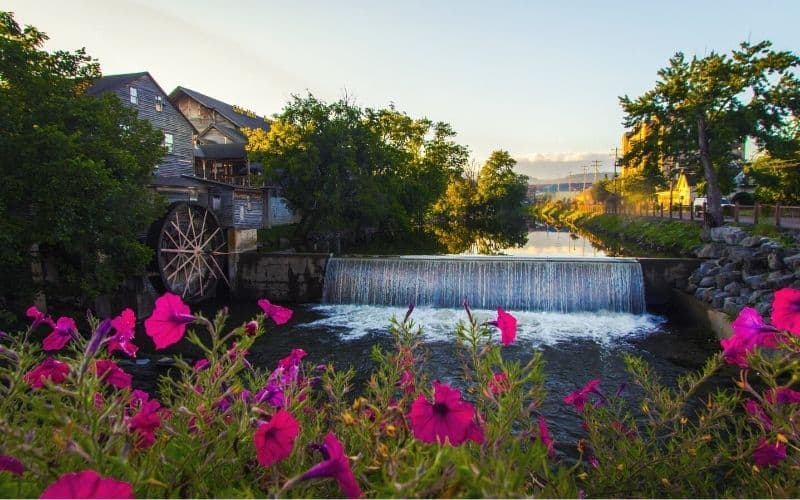 4. Pine Mountain RV Park, Pigeon Forge
Pine Mountain RV Park, nestled in the lush forests of Pigeon Forge, offers stunning views of the Smoky Mountains and the area's rolling hills, situated about 35 miles from Knoxville.
The area has plenty to offer with Dollywood just a couple of miles along the road and the Great Smoky Mountains National Park ten miles away.
Pine Mountain RV Park offers its visitors cable full RV hookups, laundry facilities, wireless internet, showers and restrooms, a hot tub, and a large splash pool. You can also bring your pets! There's a snack bar on-site, and a trolley stop located right by the park entrance, so visiting local attractions couldn't be easier.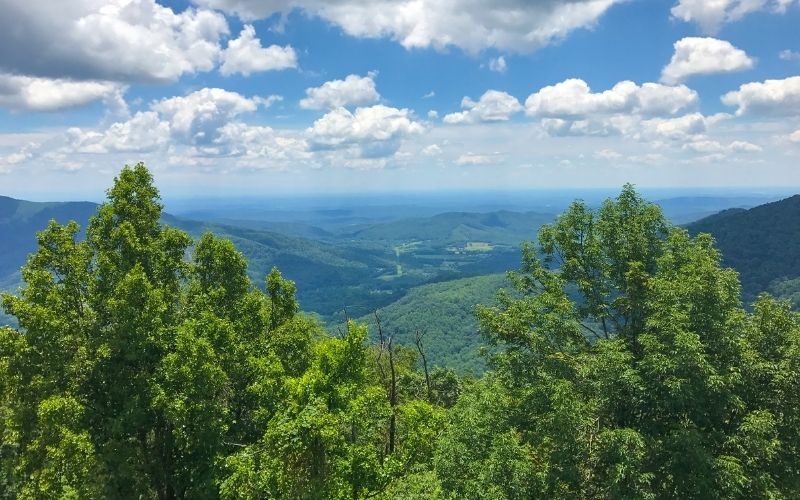 5. Frozen Head State Park And Natural Area, Wartburg
If you are looking for solitude, peace, and quiet then Frozen Head State Park is an ideal location to visit.
There are only 20 rustic campsites here, all of which are spread out around the Big Cove Campground. Here, you'll enjoy over 50 miles of scenic backpacking and there are incredible hiking trails found through the 24,000 acres of wilderness. The state park has waterfalls, stunning views across the countryside, and no trail is ever the same
Campers are provided with a modern bathhouse with hot showers. There's a centrally located water faucet that gives you drinking water, and you'll find a sink behind the bathhouse where you can wash your dishes. All the sites have a parking slip, grill, fire ring, lantern hanger, and picnic table. However, there are no dump stations or RV hookups provided.
There are two group sites catering for up to 20 people, which can be reserved up to one year in advance.
6. Smoky Mountain Premier RV Resort, Cosby
Smoky Mountain RV Resort, located on 16 acres of tranquil forests in Cosby, East Tennessee, provides shaded campsites and extensive trails, with many leading directly into the National Park.
The campground is set up to accommodate rigs of any size from massive motorhomes to petite pop-up campers. The setting here enables visitors to enjoy the full back-to-nature vibe while enjoying all the amenities that you'd expect to find in a luxury resort. There's a lovely pool with a spacious sundeck, a kids' playground, disc golf, and a designated pet area where Fido can frolic in safety with his new furry friends!
It almost goes without saying that you get free Wi-Fi here and decent cell reception, and there are well-maintained showers and restrooms.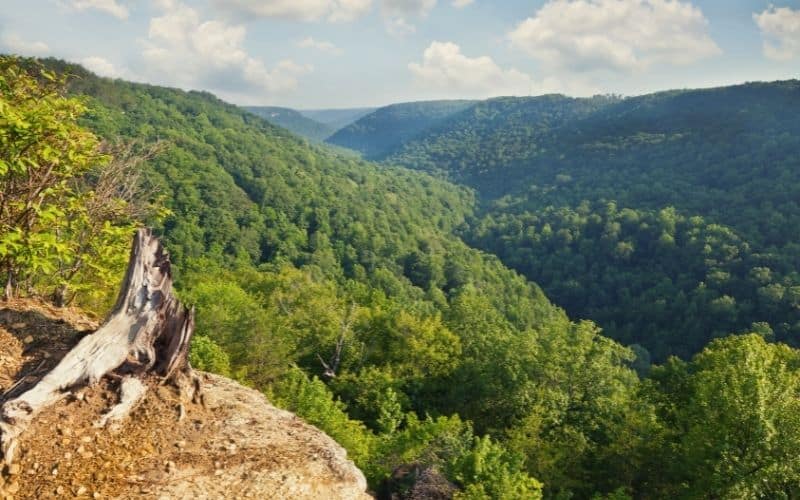 7. Savage Gulf State Natural Area, Palmer
Savage Gulf State Natural Area is an ideal destination for backpacking enthusiasts seeking primitive tent sites for camping. The area boasts waterfalls, breathtaking views of deep gorges, a remarkable suspension bridge, and a unique wilderness area unparalleled in the region.
You can take a day or weekend break option and hike the 50 miles of trails that wind their way through almost 16,000 acres of breathtaking countryside and across the Cumberland Plateau. Most of the trails you'll find within the park range from nine to ten miles long and are suitable for casual backpackers. There are also some more challenging routes ideal for more serious hikers too.
Be sure to check out Greeter Falls, Stone Door (a jaw-dropping ten-foot-wide crack in the rock that plunges to a depth of almost 100 feet), and Big Creek.
Throughout the Savage Gulf region, you'll find nine backcountry campsites to choose from.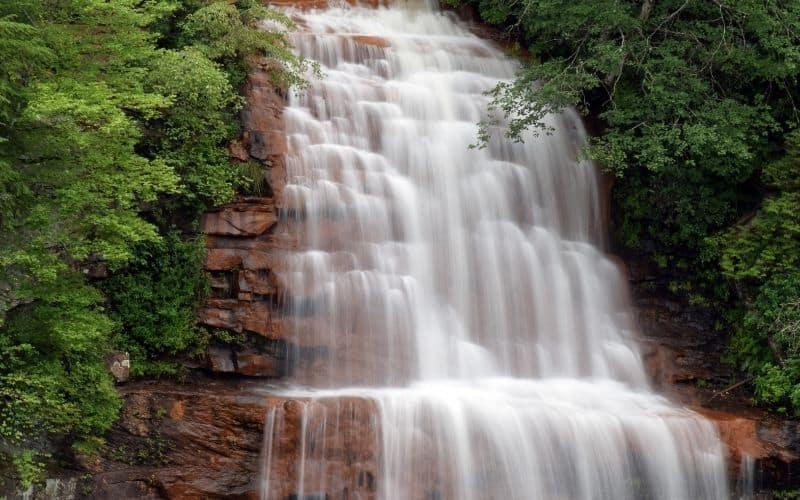 8. Fall Creek Falls State Park, Spencer
Fall Creek Falls State Park in Spencer showcases Tennessee's stunning natural beauty.
Fall Creek Falls State Park is Tennessee's largest state park, covering some 26,000 acres and encompassing tumbling waterfalls, heavily forested areas buzzing with life, crystal clear streams, and rushing cascades.
There are over 56 miles of hiking and mountain biking trails winding through the park, an 18-hole golf course, a huge swimming pool, an educational nature center, crafting and arts programs, and lots of awe-inspiring waterfalls that are sure to have visitors' cameras snapping!
All of Fall Creek Falls State Park's camping sites have grills, picnic tables, water, and electricity, and many also offer sewer and water hookups. There are back-in and pull-through sites, with 30/50-amp connections. Also, your dog is welcome to join you on your camping vacation here!
For those campers seeking a more rustic experience, there are 16 primitive campsites and three backcountry sites also available.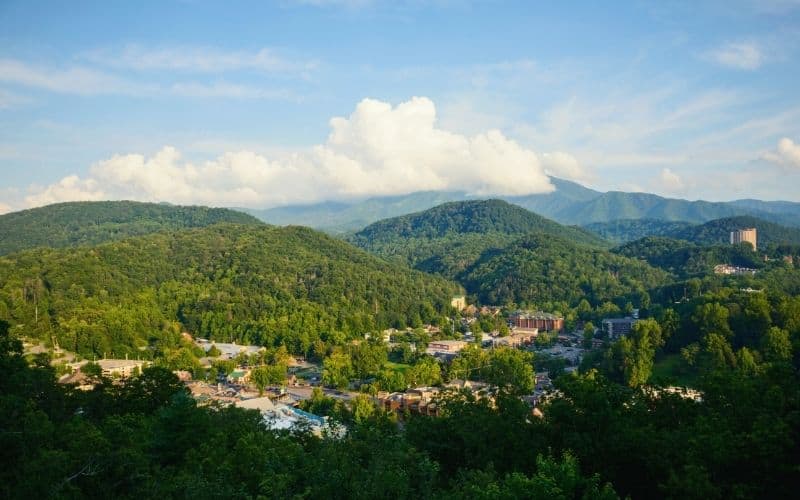 9. Sun Outdoors RV Resort, Pigeon Forge
Sun Outdoors RV Resort is beautifully located next to the Little Pigeon River, serving as a perfect base to explore the nearby towns of Knoxville, Gatlinburg, and Pigeon Forge.
There are excellent facilities for campers on-site with lots to keep the whole family busy. This includes several pools, a basketball court, and a hot tub where you can relax your aching muscles after a vigorous workout in the fitness center or a long hike along one of the many trails that crisscross the area.
As you would expect from a resort of this standard, well-maintained showers and restrooms are provided, as well as a decent Wi-Fi and cell reception, and pets are allowed.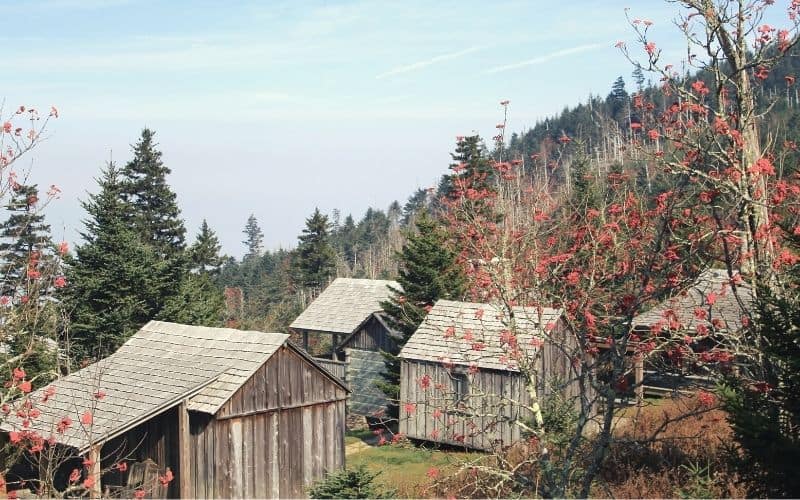 10. LeConte Lodge, Sevierville
If you're looking for a glamping experience, you'll love LeConte Lodge!
Located high up on the slopes of Mt. LeConte in the Great Smokey Mountains National Park, LeConte Lodge offers an authentic 1920s hiking experience as you've never seen it before! The site sits 6,400 feet above sea level, and, as there are no roads up there the beautiful wooden cabins can only be reached by hiking, ensuring that this place stays as pristine and untouched as it was way back when the lodges were built.
To get here, you'll need to follow one of five trails up the mountain, ranging from 5.5 to 8 miles long. You'll enjoy a few nights relaxing in a cozy, characterful hand-built log cabin where you can sit out on your private porch in a rocking chair to marvel at the glory of the sunset, listen to a silence that's interrupted only by birdsong, or enjoy delicious, home-cooked food in the family-style dining room.
As you'd expect from the highest guest lodge in the eastern U.S., the views over the Smokies from here are incredible! However, you must know that there's no electricity up here. Kerosene lamps provide lighting, and propane heaters are used to warm the cabins. Needless to say, there's no Wi-Fi, and the cell reception is pretty non-existent!
Although there are flush toilets, there are no shower facilities. You are provided with a bucket, there is a hot water spigot for communal use, and sponge baths are the order of the day here. That said, the temperature up here can plummet even in the summertime, so the demand for a full shower is somewhat limited anyway!
Which Tennessee Campgrounds Will You Visit First?
Tennessee is an incredibly beautiful state with a wide range of diverse landscapes and campsites, all deserving of at least one visit during your lifetime.
Whether you love to hit the road to do some RV camping, stopping here and there on a family road trip, you crave the silence of a deserted mountain primitive camping experience or the idea of a few nights away in a 1920s hiking lodge, the Volunteer State really has it all.