Covering almost 300,000 square miles of forest, beaches, deserts, and rivers, Texas is rich in both natural and cultural beauty. Visitors flock here every year to see world-famous landmarks like the Alamo, Space Center, and SeaWorld, but the real fun is in the great outdoors!
Whether you want to relax at a luxury RV campground with every modern convenience or prefer the idea of getting back to nature under canvas on a primitive campsite near the beach, the Lone Star State has what you need for the perfect camping vacation.In this guide to the best camping in Texas, we'll run you through our favorite 19 Lone Star State campgrounds so you can make the most of your time here.
RELATED READING: For more outdoor adventure check out our guides to the best glamping in Texas.
Best Camping Destinations In Texas: Our Top 19 Picks
In this guide, we'll give you the lowdown on nineteen of the best campgrounds in Texas. We think we've found something to suit every taste, so dive in and find your perfect vacation location right here!
1. Inks Lake State Park, Burnett County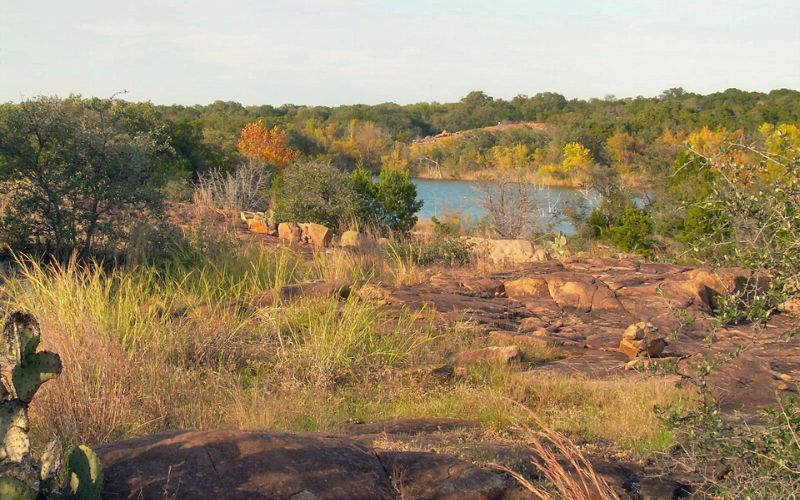 Inks Lake State Park is located in beautiful Burnett County and is one of the best places to camp in Texas for families, couples, and solo campers alike.
Here, you can enjoy lots of fun activities, including boating, swimming, hiking, geocaching, birding, and more. There's even a cliff-diving experience to be had at the Devil's Waterhole area of the lake.
Fishing is permitted here, and you don't need a license. You can also rent a boat and fishing gear if you don't have your own. Cast a line from one of two fishing piers or launch from the boat ramps and go in search of the sunfish and bass that are abundant in the lake.
There are 22 cabins and 200 campsites here, some of which are ADA-accessible. Many of the sites are lakeside or have effortless access to the water. Most of the sites have picnic tables, water, a fire ring or grill, 30/50-amp hookups, showers, and nearby restrooms.
There are RV camping sites suitable for rigs up to 26 feet, as well as tent and primitive campsites too.
Note that the primitive sites are walk-in tent sites and accessible only via a 1.58-mile hike. There is no water available at the sites, and there's only a primitive toilet available on the trail. You can't have a ground fire, and pets are not allowed on these sites, although they are permitted elsewhere in the state park.
2. Big Thicket National Preserve, Kountze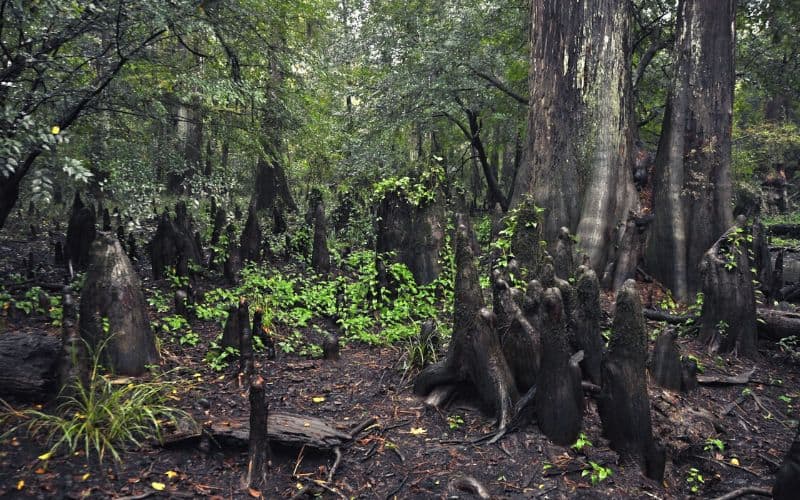 Big Thicket National Preserve is located in the Piney Woods region of the Lone Star State.
If you love nature, then you absolutely must come to see this magical place! The site sprawls across 112,500 acres of land. It is popular with visitors who enjoy a variety of outdoor pursuits, including mountain biking, hiking, canoeing, and horseback riding.
The area is known as "the biological crossroads of North America," being a transitional zone where deciduous forests, pine savannas, swamps, plains, and sandhills meet. There are many species of creatures that share the environment here, including reptiles, insects, birds, and 60 mammal species, not to mention hundreds of plants, trees, and grasses.
Keep an eye out for armadillos, skunks, white-tailed deer, foxes, bobcats, coyotes, and even the occasional black bear!
There are plenty of primitive campsites to choose from spread out among the cypress-lined bayous and longleaf pine forests. Although you do need a permit to camp or hunt here, there's no charge. Permits can be obtained from the Big Thicket National Preserve Visitor Center or by calling (409) 951-6700.
3. Colorado Bend State Park, Bend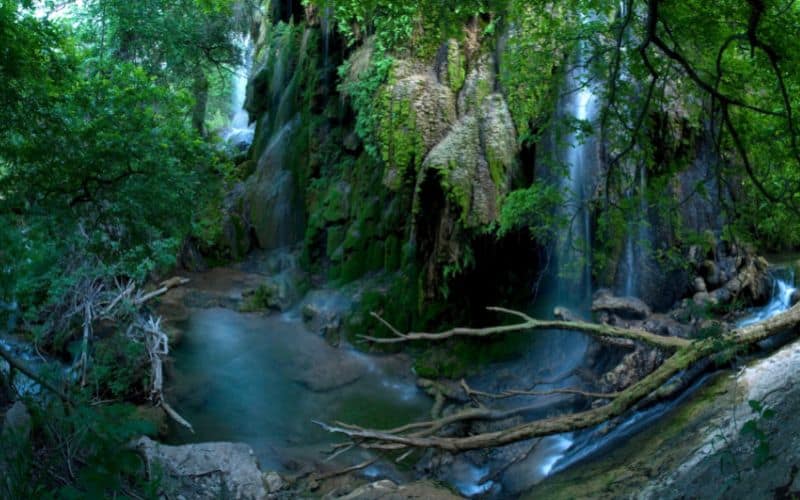 Colorado Bend State Park is one of the primary outdoor attractions in the state and provides visitors with the perfect blend of outdoor fun activities and mind-blowing views. A must for any list of the best Texas camping spots.
The state park is located a couple of hours' drive from Austin and is well worth the journey.
Perhaps the highlight of this location is the spectacular Gorman Falls, where water cascades down 65 feet into a fern-shrouded grotto. On hot summer days, you can cool off in one of the many pretty swimming holes here.
The state park offers visitors ample opportunities to enjoy the great outdoors by paddling in the river, fishing, mountain biking, and hiking around 35 miles of trails. While you're here, why not get down and dirty and take a guided cavern tour, too?
Fishing at Colorado Bend State Park is reputedly some of the best to be found in Central Texas, and you don't need a fishing license to cast a line here. There is a boat ramp in the park, enabling you to travel downstream to Lake Buchanan. You can also bring your own craft or rent double or single sit-on-top kayaks at the park.
There are drive-up campsites, primitive sites, and backpack sites all available in this stunning setting. The hike-in and drive-up sites all have water nearby but no hookups. Composting toilets are provided at one trailhead and close to the main camping area, and there's an open-air, rinse-off shower right by the campground.
4. Big Bend National Park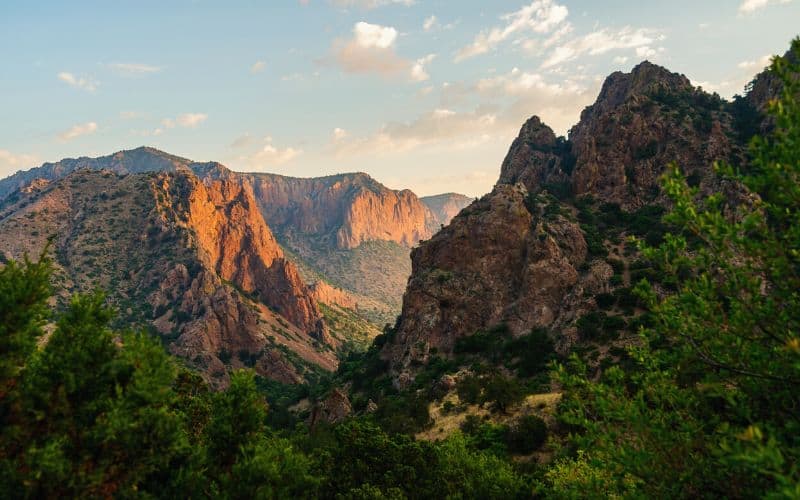 One of the best places for camping in Texas has to be Big Bend National Park in the southwest of the Lone Star State.
The park takes in the whole Chisos Mountain Range and encompasses a large swathe of the Chihuahuan Desert.
Take the Ross Maxwell Scenic Drive to see the ruins of Sam Nail Ranch, now home to many fascinating species of desert creatures. Check out the spectacular limestone canyon of Santa Elena, carved over millennia by the Rio Grande River, or historical Langford Hot Springs, where you can see the foundations of an old bathhouse and pictographs depicting scenes of desert life in times past.
The park extends for 114 miles along the Rio Grande and offers visitors the best primitive and roadside camping options in the entire state of Texas. Experienced backpackers will relish the challenge of tough hiking trails that ascend to almost 8,000 feet, where incredible panoramic vistas can be enjoyed in total isolation.
Families will love the dinosaur fossil experience, and there are over 4,000 species of creatures and insects to watch out for too. You can take a canoe or kayak and go paddling down the Rio Grande through Mariscal and St Helena Canyons, taking in some of the most beautiful, memorable views in the whole state.
5. Enchanted Rock State Natural Area, Llano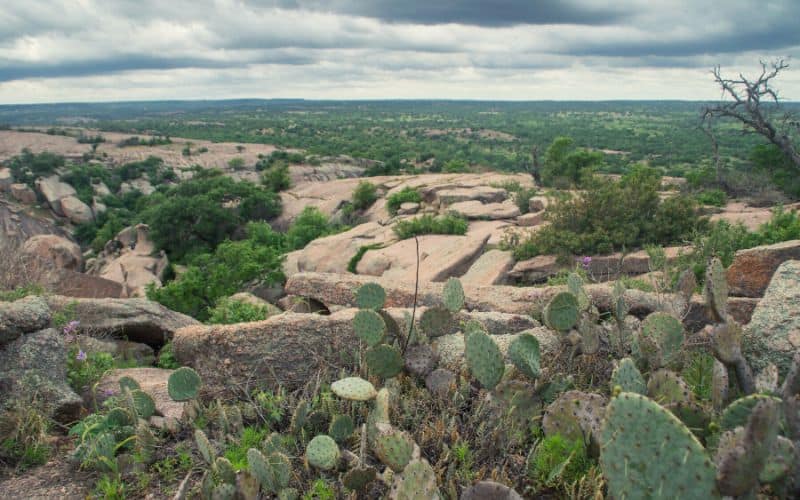 Enchanted Rock State Natural Area is located just outside of Llano in the central portion of the state and is home to the second largest monolith in the US: Enchanted Rock.
The area is probably most well-known for its colossal piece of pink granite rock, which is one of the largest known natural rock formations in the U.S and, indeed, feels just a little enchanted. There's lots to do here, making for a full and fun-packed vacation.
The area has almost 11 miles of hiking trails (biking is not permitted). You can even take a midnight hike to see the display of brilliant stars against the velvet-black summer sky without the interference of urban light pollution. Experienced rock climbers will find a challenge in scaling the pink granite cliff faces here, and there's plenty of desert wildlife for the kids to spot too.
For more on rock climbing in the area, check out the route descriptions and topos offered by The Crag.
Although dogs are allowed in day-use areas, in the campgrounds, and on the Loop Trail, you can't bring Fido if you want to go primitive tent camping, and he must be kept on a leash of fewer than six feet at all times.
Fredericksburg town is within reach for those who fancy taking in a taste of German culture with a Texas Hill Country twist. Here, you can dine, shop, and check out museums and other outdoor activities. You might also want to visit Llano, "Deer Capital of Texas," for music, museums, and lots more.
There are 35 walk-in campsites here, all of which are equipped with picnic tables, grills, water, tent pads, fire rings, and restrooms with showers. Sites cost $18 per night at the time of writing, plus the daily $10 entrance fee per person.
If you prefer to keep things super-basic, there are 20 primitive, hike-in campsites scattered around Moss Lake and Walnut Springs, accessible via a one to three-mile hike across rugged terrain. There's no water available here, and ground fires are not allowed. Sites cost $14 per night at the time of writing.
There's also a group camping primitive campground that can accommodate 75 people. The site has a private entrance and composting toilets but no water.
6. Fredericksburg RV Park, Fredericksburg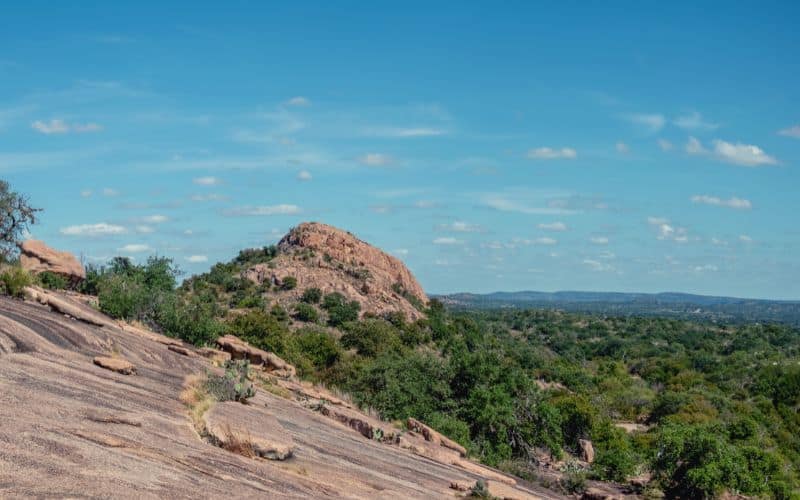 Fredericksburg RV Park is located within the Texas Hill Country town of Fredericksburg.
The park is conveniently situated close to many local attractions and boasts plenty of on-site amenities that are sure to keep campers happy. The facilities here are excellent, including free hot showers, an on-site laundry room, a spacious clubhouse, and delightfully landscaped gardens. And your pets are welcome too!
There's so much to do here, right on your doorstep! Check out the local farms, including Wildflower Ridge Alpaca Ranch, Warm Winds Trail Rides, and Wildseed Farms. Alternatively, take a stroll around the town's museums and historical sites.
The RV sites here are built to handle the biggest rigs and include full hookups, long, flat back-In or pull-throughs, and large concrete patios. All RV camping sites have 30/50-amp electricity, free cable TV and Wi-Fi, and good cell reception.
7. Padre Island National Seashore, Corpus Christi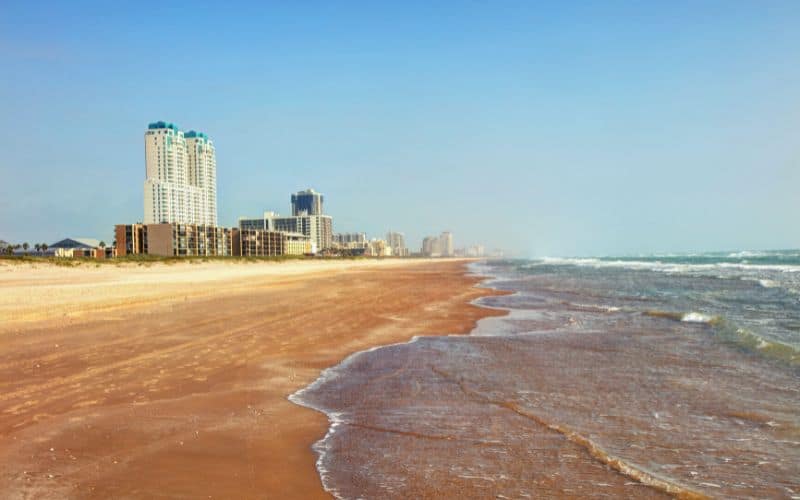 Padre Island National Seashore is located in Corpus Christi on the Gulf Coast.
If you love the beach and the sound and smell of the ocean, this could be the perfect getaway location for you. The seashore extends for almost 70 miles, separating the Laguna Madre from the Gulf of Mexico by an expanse of wild dunes, prairies, and coastline.
According to the U.S. National Park Service, this is the longest stretch of undeveloped barrier islands in the world, and it's the ideal place to come if you need a peaceful location where you can unwind and let the salty breeze carry your worries away.
The tidal wind flats here are teeming with a kaleidoscope of life, including over 380 species of birds, and the area is also a safe haven for the Kemp's Ridley sea turtle.
There are five official campgrounds here, all of which are open year-round. Camping is on a first-come, first-served basis, and no reservations are accepted. However, you do need a camping permit, which can be obtained at the entrance to each campground.
Note that there are no RV hookups anywhere in the park, although there is an RV dump station and water available for everyone who camps here. Primitive camping is possible right along the coastline.
8. Grand Texas RV Resort, New Caney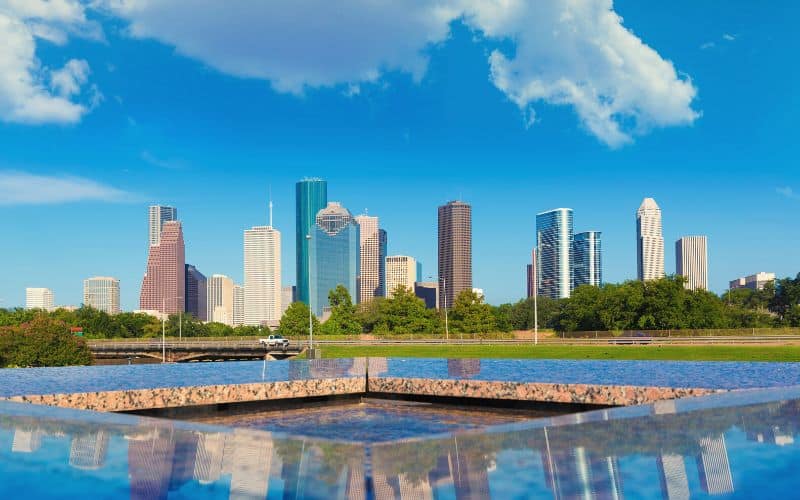 Grand Texas RV Resort is situated in New Caney.
If you're looking for a wonderful family vacation resort where everyone's guaranteed to have a good time, look no further than the Grand Texas RV Resort in vibrant, hospitable New Caney.
The resort is located right on the highway and is handy for you to get into Houston too. The park has excellent facilities, and there's so much to see and do, your only problem will be deciding where to start!
This is a Good Sam Club-affiliated campground and is complete with a jacuzzi hot tub and brand-new swimming pool. There's super-fast Wi-Fi, and you can chill out in front of cable TV, too, if you want. There's a fully-fenced kids' playground and a clubhouse where you can grab a coffee, play ping-pong, have a game of billiards, or watch a movie with your family.
Even the family dog is catered for with the fenced dog run where Fido can romp and frolic to his heart's content with his newfound furry friends. Shady picnic sites are scattered around the resort, all of which have grills that are free to use.
Every site is super-spacious and has full, modern hookups, including water, sewer, and enough power for the biggest rigs. Also, there's free garbage pickup, modern showers, and immaculate restrooms.
9. Lost Maples State Natural Area, Vanderpool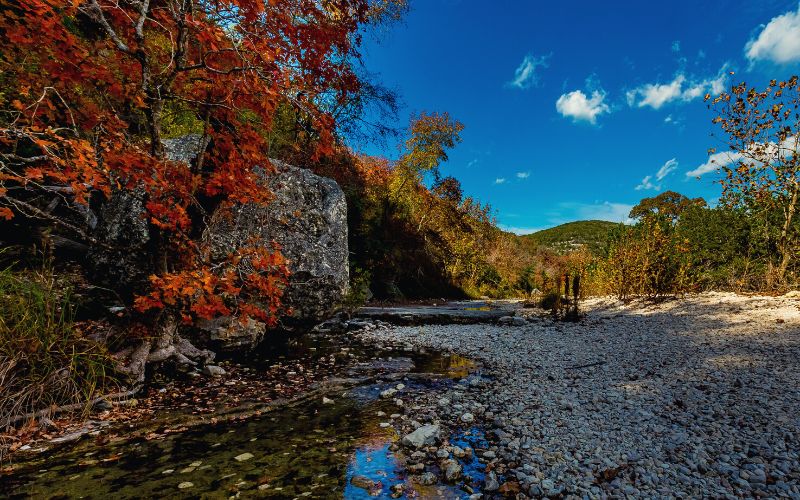 Lost Maples State Natural Area is located in Vanderpool in the Hill Country, just two hours northwest of San Antonio.
Visitors come to Lost Maples during the fall, when the glowing colors of the turning leaves are especially vibrant and you can almost smell the seasons changing. The best time to witness this spectacle is from mid-October through mid-November.
The area is also a fantastic place to go camping. Nature lovers will marvel at the wildlife and the towering rock walls that frame the tranquil Sabinal River. Here, you can enjoy scenic hiking along 10 miles of trails, fishing and swimming in the river, geocaching, birding, and stargazing without the interference of urban light pollution.
You can also visit the nearby towns of Bandera and Utopia, go swimming or fishing in Medina Lake, or check out the wildlife on the Rio Frio Loop of the Great Texas Wildlife Trail.
You'll find over 30 campsites here, each offering water and electricity, and charged at $20 per night plus the park entrance fee. Alternatively, if you want to get far from the crowds, you can backpack to one of six more secluded primitive sites, which cost $10 per night plus the entrance fee.
10. Dellanera RV Park, Galveston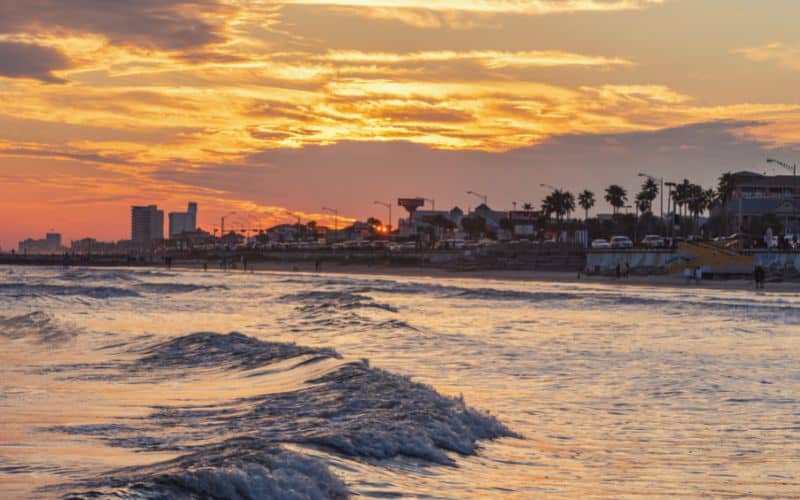 Dellanera RV Park is situated in the town of Galveston, which is home to many attractions worth seeing for kids and parents alike.
This site is ideal for those who want a base from which to explore the Gulf Coast. The site is newly renovated and offers 65 full-hookup campsites, many of which have ocean views right out across 1,000 feet of beautiful sandy beaches. All the campsites provide water, sewer, and electricity, and all have their own picnic table and barbecue pit.
On the beach at Dellanera, you'll find a pavilion with showers, laundry facilities, and a gift shop. There are picnic sites along the beach, and you'll also enjoy free Wi-Fi, weather permitting. Pets are also allowed. Rates start from $41 at the time of writing.
11. Guadalupe River State Park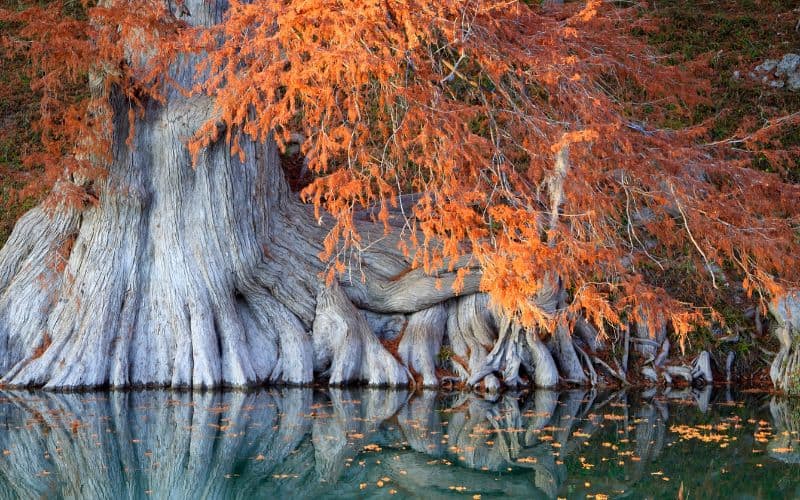 Guadalupe River State Park is a must-see desert oasis located in Kendall and Comal Counties, under an hour north of San Antonio.
The park offers a bounty of water sports along a four-mile stretch of the Guadalupe River. If canoeing, tubing, swimming, and/or fishing in stunning locations is your thing, this is the place to be. There are also 14 miles of hiking and biking trails for those who prefer to enjoy their outdoor adventures on dry land.
The state park is home to three campgrounds, which between them boast just under 100 campsites. The Turkey Sink and Cedar Sage Campgrounds are the biggest of the three and have full electric hookups, flushing restrooms, potable water, and shower facilities.
If you prefer primitive camping, you can head to Wagon Ford Campground, where you'll find 9 walk-in sites not far from the parking area. Wagon Ford doesn't have showers but restrooms are available.
12. Palo Duro Canyon State Park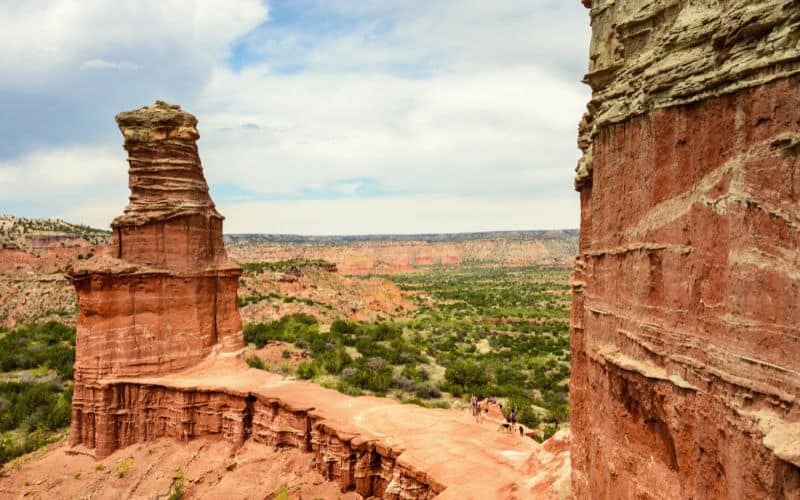 Palo Duro Canyon State Park is located in the Texas Panhandle, just 30 minutes from Amarillo.
Palo Duro Canyon is known as the Grand Canyon of Texas, and the similarities between the two are at times striking. Palo Duro might not be as deep as its larger sibling to the west, but its colored strata of cliffs and rock formations give the same sense of the interminable workings of geological time.
Palo Duro Canyon State Park is home to several campsites located in different parts of the park's 1,500 acres of land. The Juniper, Hackberry, and Sagebrush Campgrounds all offer electricity, and Sagebrush and Hackberry can accommodate RVs up to 60 feet long.
The state park boasts a handful of walk-in primitive camping sites for which you'll need a permit. Tent-only sites can also be found at the Cactus or Fortress Cliff areas, where you'll have access to water but no showers.
13. Caddo Lake State Park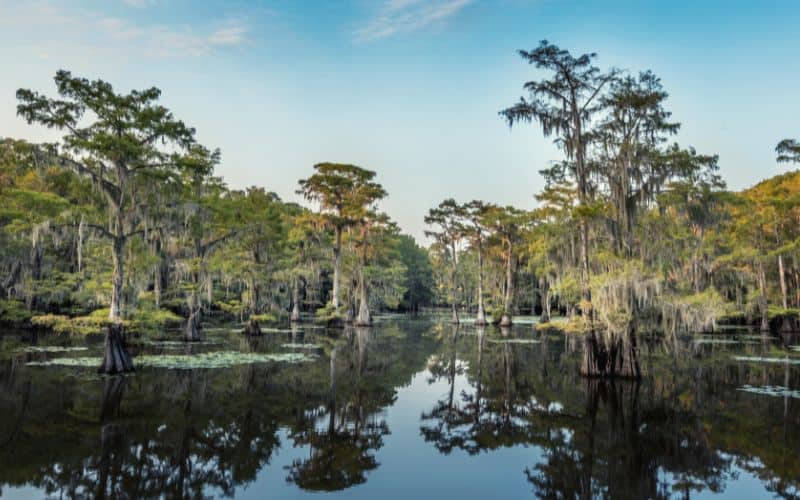 Caddo Lake State Park is located in northern Harrison County and southern Marion County and is generally regarded as one of the best places to camp in East Texas.
Situated just 10 miles from the border with Louisiana, Caddo Lake State Park is a far cry from the desert landscapes found elsewhere in the state. Here you'll find no desert, but lush bayous teeming with typical swamp flora and fauna.
Due to its scenic and seemingly never-ending waterways, Caddo Lake is a great spot for water-based recreation like canoeing, paddling, boating, and fishing. If you prefer to stay on dry land, there are mountain biking and hiking trails to keep you entertained, too.
Several camping options are available in the park. These include rustic cabins, full-service campsites, RV sites, and group sites. All have easy access to amenities like restrooms, hot showers, flushing toilets, and also a playground for the kids, and a park store.
14. Balmorhea State Park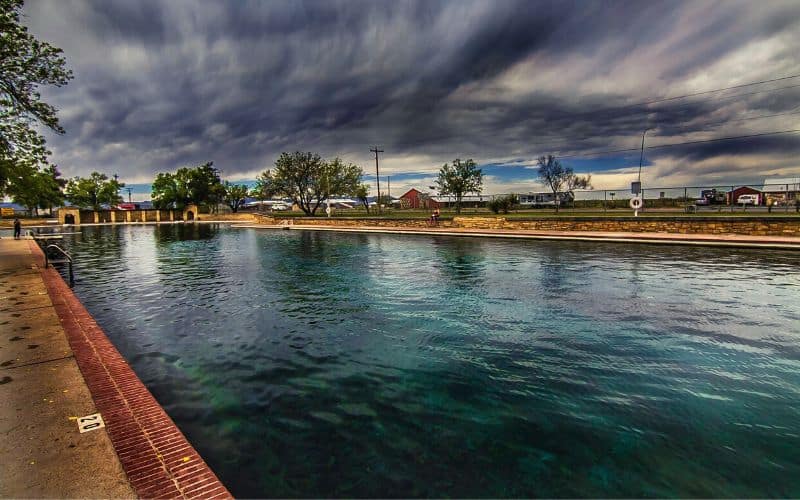 Balmorhea State Park is located in San Solomon Springs in Reeves County, West Texas.
While natural attractions have been the main highlights of most of the parks we've featured thus far, the unique selling point of Balmorhea is half man-made, half the work of an all-natural spring. Intrigued? The terminus of that spring is a man-made swimming pool that measures a mighty 1.3 acres. The result? One of the biggest swimming holes in the world!
Camping options here are distinctly upmarket. The park has just 32 RV sites with electricity, over half of which also offer cable TV hookups.
Activities in the park are largely water-based, with scuba diving the most popular of the bunch, but mellow hiking and bird watching are also available.
15. Dinosaur Valley State Park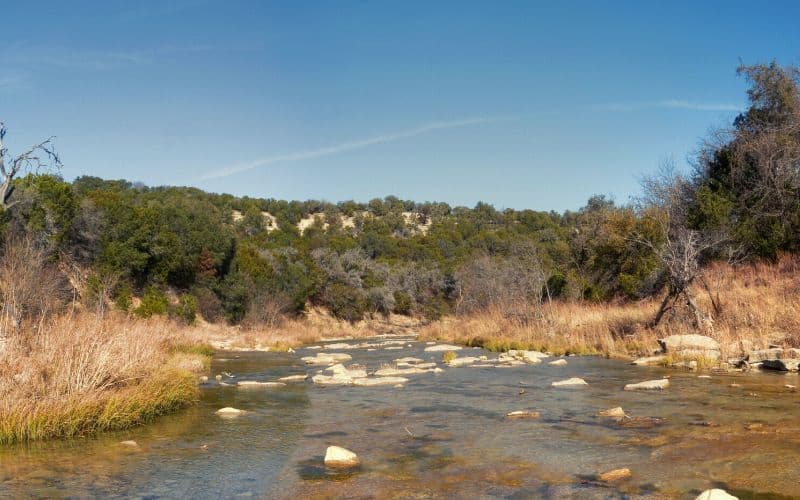 Dinosaur Valley State Park is located near the town of Glen Rose and just an hour's drive southwest of Fort Worth.
As the park's name implies, the main attraction here is of the Jurassic variety. Don't worry, you won't find any T-Rex or velociraptors waiting outside your tent in the morning, but you will find plenty of their contemporaries' footprints in the limestone embankments of the Paluxy River. When water levels are low, you can check out the prints and camp out at the nearby campground.
Dino footprints aside, Dinosaur Valley State Park is well worth visiting. There are plenty of easy, family-friendly hiking trails, biking trails, and you can even try a spot of archery or enjoy a ranger-led wildlife-watching tour. Horse riding is also available in the South Primitive Area of the park.
The park offers over 40 campsites with electricity, 15 primitive sites, and two group sites. Facilities include water, electricity, sewage, a dump station, an interpretive center, and picnic tables.
16. Goose Island State Park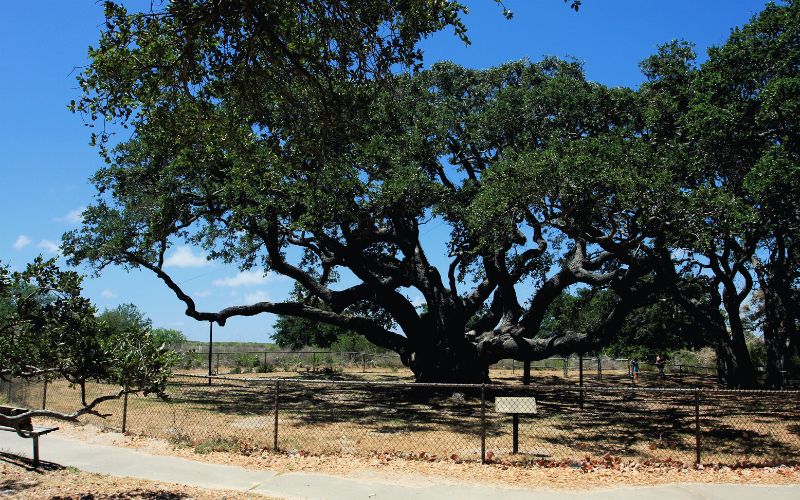 Goose Island State Park is located just north of the city of Rockport on the Gulf of Mexico coast.
There are several highlights to the park, but the undoubted main attraction is the Big Tree – an enormous live oak measuring 35 feet in circumference and 44 feet tall. The tree is thought to be between 1,000 and 2,000 years old, making it in all likelihood the oldest existing live oak tree in the world.
Botanical marvels aside, the island is well worth a visit. It's home to shaded forests, sandy beaches, and each year over 60,000 campers flock there to enjoy boating, swimming, birding, fishing, kayaking, and wildlife watching.
The park has a handful of campsites with drinking water, electricity and sewage hookups, picnic tables, and grills. There's also a lighted fishing pier, boat ramp, and a kayak/canoe launch.
17. Davis Mountains State Park
Davis Mountains State Park is located in Jeff Davis County in the Davis Mountains.
The state park measures over 2,700 acres and sits at an elevation between 5,000 and 6,000 feet. This elevation provides visitors with expansive views of the high desert and excellent stargazing opportunities.
The park's vast expanse of upland terrain makes it popular for hiking, mountain biking, horseback riding, bird watching, and wildlife watching. Other attractions included the nearby Fort Davis National Historic Site and the Indian Lodge, a full-service adobe hotel.
Davis Mountain State Park boasts several campgrounds: one full-hookup site with 30 and 50-amp hookups, sewer hookups, water hookups, and restrooms; one electric-only site; one water-only site; and one primitive walk-in site located 4 miles from (and 800 ft above!) the parking area.
18. Caprock Canyons State Park & Trailway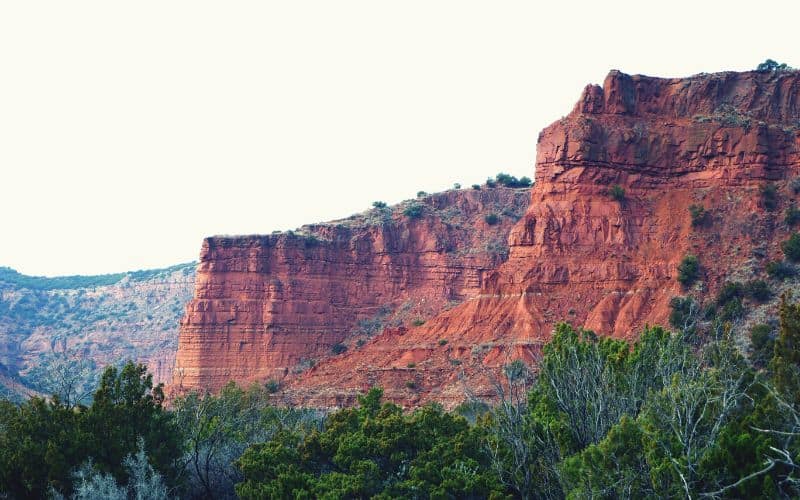 Caprock Canyons State Park and Trailway is located in Briscoe County in the Texas Panhandle. Measuring over 15,300 acres, it is the third-largest state Park in Texas.
Caprock Canyons is one of the most ruggedly beautiful state parks in the west, featuring mile upon mile of stunning desert landscape peppered with canyons, arroyos, red rock buttes, and grassland plains.
One of the park's main attractions are the bison that roam the plains – a sight to behold! In Clarity Tunnel, you can also take the chance to observe a huge colony of Mexican free-tailed bats who now call the tunnel home.
There are over 90 miles of trails to be explored in this park on foot, bike, or horseback. Water sports fans can also enjoy no-wake boating, fishing, and swimming on Lake Theo.
The campsites here range from drive-in sites with electric hookups to walk-in primitive sites. Equestrian campsites with corrals are also available.
19. Huntsville State Park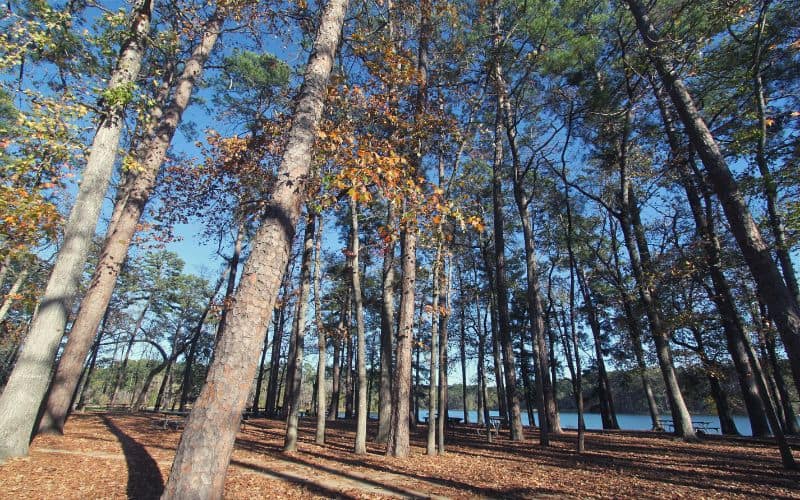 Huntsville State Park is located in Sam Houston National Forest, part of the East Texas Pineywoods region.
The activities available are numerous, including bird and nature watching, mountain biking, and geocaching, as well as boating, swimming, fishing, and paddling on the 210-acre Lake Raven. For hikers, you can stretch your legs on part of the epic Lone Star Hiking Trail.
Amenities and facilities in the park include over 150 campsites with drinking water, electric and sewage hookups, restrooms, and group pavilions.
Happy Camping!
Texas is the perfect location for a camping trip. Whether you enjoy a beach vacation, hiking through a rugged landscape, or dipping a line in a lazy river teeming with bass, you'll find something to suit you in this incredibly diverse state.
If you vacation here during the fall and summer months, you're almost guaranteed hot, sunny days, and warm, sultry nights. Imagine sitting around a glowing campfire, sipping something cold, and watching the stars coming out above you. What are you waiting for? Camping in TX has it all!
If you liked this article, let us know in the comments box below. And if you'd like to share it with your friends, please do!